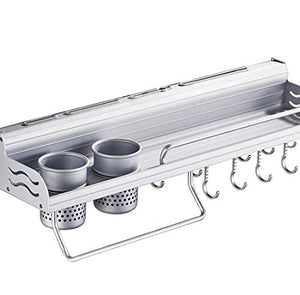 DECJ Wall Mounted Pot Pan Rack, Multifunctional Kitchen Bookshelf Storage Rack, with Bottle Rack Silverware Caddy Cutlery Blocks Hanger Hooks Pot Organizers Space (10Hooks),40cm9cm14.5cm
Size: (L*H*W) 40cm*9cm*14.5cm, 50cm*9cm*14.5cm, 60cm*9cm*14.5cm, 70cm*9cm*14.5cm, 80cm*9cm*14.5cm,
Material: Made of high-quality space aluminum, it is durable, light weight, waterproof and moisture
resistant, and high temperature, ensuring a strong and firm grip.
Features: Space aluminum, the rack is firmer, one-sided design, no deformation, longer use,
Excellent storage solution: Convenient and reasonable wall-mounted rack for storing frequently used
This wall-mounted shelf spice rack:
Movable spice racks, hooks and towel rails to meet your different storage requirements.
Solid hooks for hanging plates, soup spoons, spatula, chopping boards and more kitchenware.
Quickly dry the dishes and prevent bacterial growth.
The towel rail is designed to bend forward so that you can use the towel.
Extra-wide towel bar provides space for spreading towels for quick drying.
4 sipe for all sizes of tools and edge cover to prevent tool scratches.
Bottle holders store oil/vinegar or other seasoning bottles/cans/cans for easy access.
Product Details:
Aluminum alloy, polished and oxidized for appearance.
8 hooks for hanging kitchen utensils, chopping boards, pots, pans and dish towels.
2 cups can store knives, forks, spoons, chopsticks and even toothbrushes.
4 sipe can store knives of various sizes, such as kitchen knives, fruit knives, etc.
Installation method:
Use super nail-free glue (excluding glue) for installation. For the installation procedure, please
refer to the 7th picture.
DECJ Amazon ASIN B07FCSW5Y3
Liquid error (sections/product-template line 203): Could not find asset snippets/spreadr-reviews.liquid