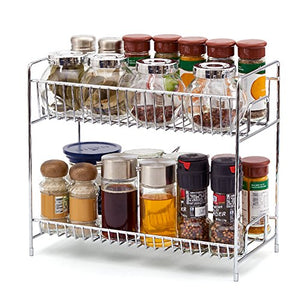 2-Tier Standing Rack EZOWare Kitchen Bathroom Countertop Storage Organizer Shelf Holder Spice Rack
Regular price $18.99 Sale
The EZOWare 2-Tier Free Standing Countertop Multi-Purpose Rack has wider taller shelves to ensure most spices, jars, cans, canisters, and condiments remain easily accessible when cooking or baking.
Multi-Purpose: Utilize in any room of the house to store, sort, and easily access items. Usable in cabinets, on shelves, or in pantry's. Kindly Note: Rack only. Pictured jars, spices or other items are not included.
Durable and Stable: Constructed or solid steel with chrome plating that is rust resistant. Solid base for a stable hold.
Wide / Tall Shelves: Each tier has a wider & taller shelves storage shelves than store more items. Dimensions: 11.8 x 10.2 x 5.7 inches (30 x 26 x 14.5cm). Space between tiers: 4.9 inches (12.5cm).
Perfect for storing spices, condiments, grains, canned goods, salt & pepper grinders, or home items such as lotions, make-up, nail polishes, face towels, cleansers, soaps, shampoo, and much more.
EZOWare Amazon ASIN B01M5JXAJ0 Home & Kitchen Kitchen & Dining, Kitchen Utensils & Gadgets, Seasoning & Spice Tools, Spice Racks
Liquid error (sections/product-template line 203): Could not find asset snippets/spreadr-reviews.liquid