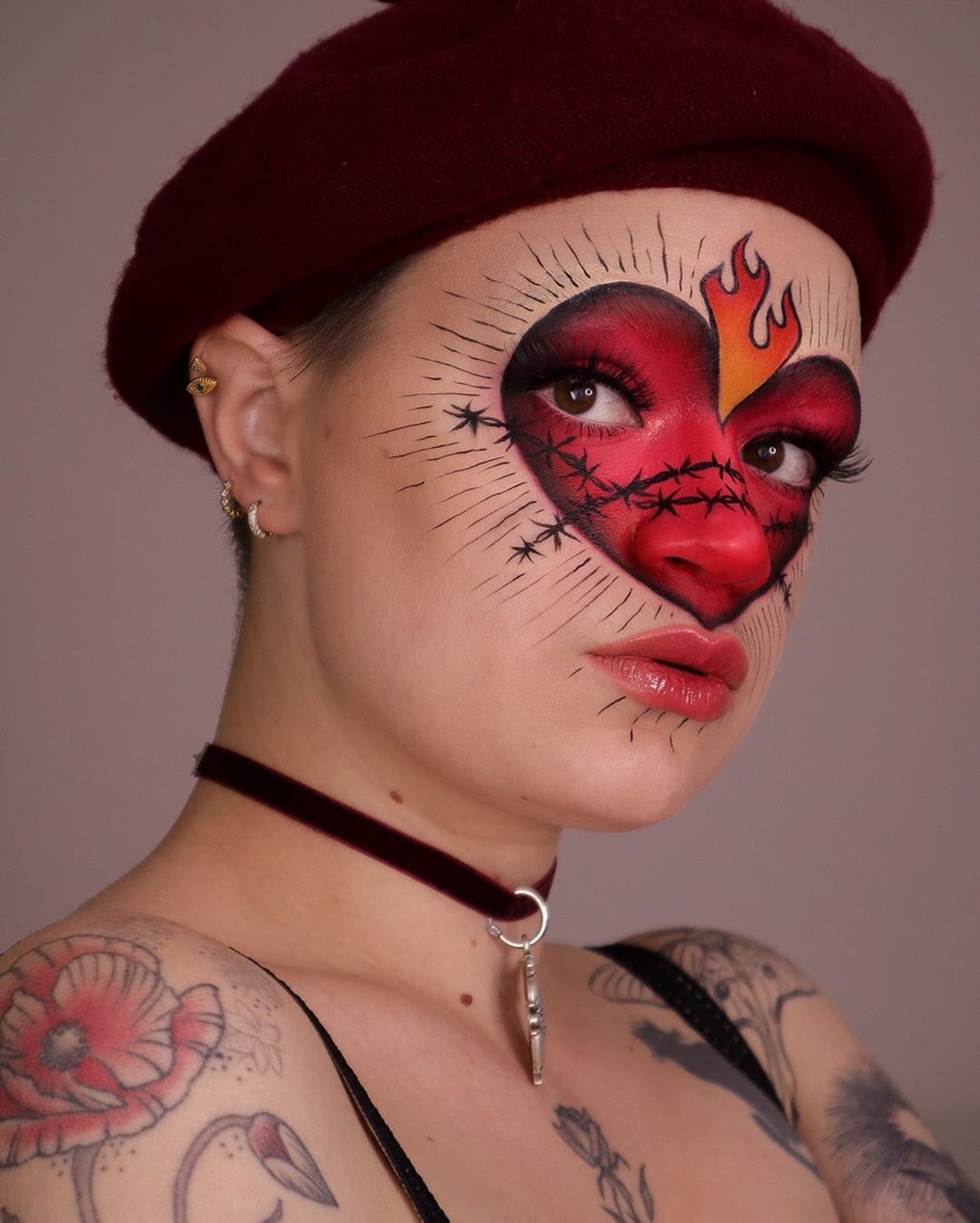 Alright, it's Valentine's Day and by now, you've probably read every recommendation on the internet for "Buying the Perfect Gift" and "Looking Your Most Kissable" on this capitalist-friendly holiday. But just in case you're either a later-than-last-minute person, or quite simply didn't know you had a date until, well, now... don't panic. We've enlisted help from five of Instagram's favorite makeup artists to craft some original, non-cliched "Love Looks" for your evening's plans, whatever they might entail. We've even included a step-by-step guide to save you some time. Because we love you!
Related | The Sad Girl's Beauty Guide to Valentine's Day
Who are you?
Reygan Blaise: My work ranges from makeup, painting and drawing, and jewelry making. I love experimenting and mixing mediums as a way to connect my art with my love of dressing up. My instagram is basically my public portfolio. It's a great way for me to see all my creations in one place.
What are your thoughts on Valentine's Day beauty?
Reygan: I think Valentine's Day in general is pretty cheesy, but it doesn't have to be. Typically the makeup people do on Valentine's Day consists of red and pink, maybe some hearts. That's always fun but i like things to be more dramatic! Just think more is more, and let your ideas come to you as you go. No matter what look you end up doing on Valentine's Day, the best look you could do is one that makes YOU feel great. Valentine's Day is about love, and self love is the most important!
Reygan's Look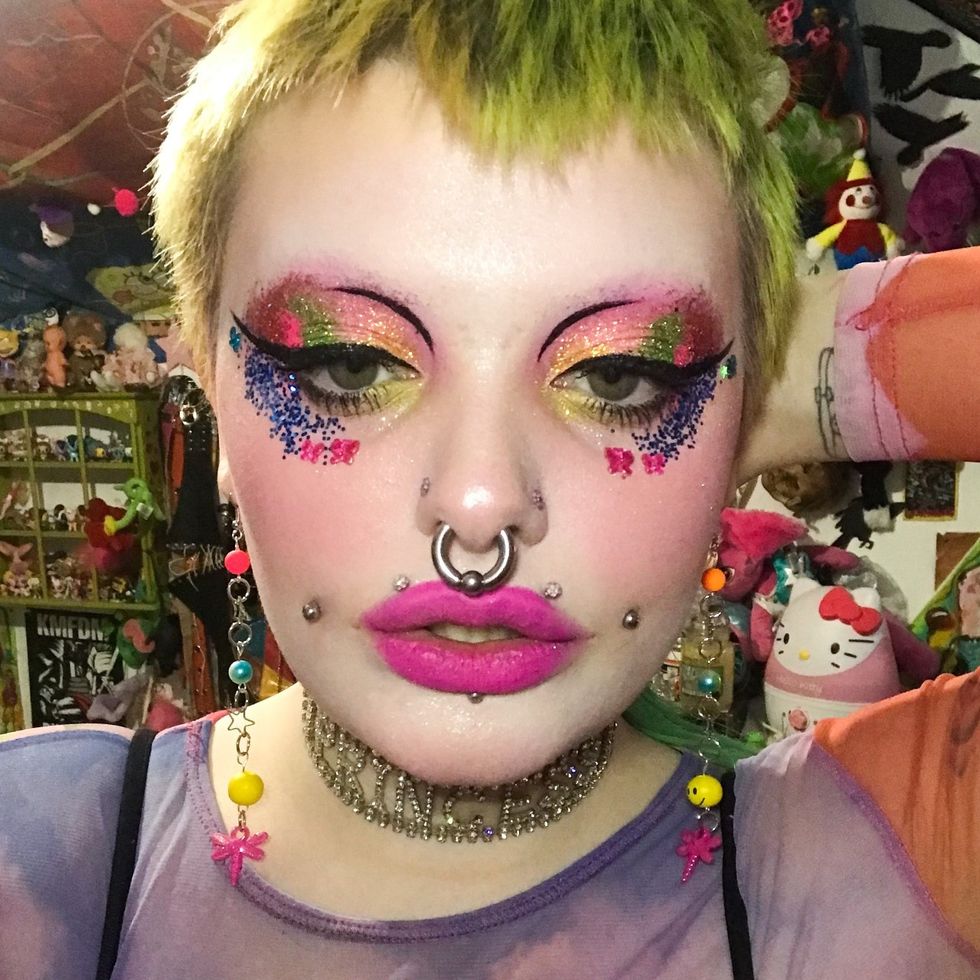 Reygan: The look is all about messy, multicolored glitter and rhinestones. Take a hot pink shadow and put it in your crease then add a shimmery peach shade to your lid and blend. I recommend the Claropsyche Real Fantasy palette for this! Then apply a glitter base all over the lid and anywhere else you want to sparkle, and use as many different kinds of glitter as you can. My faves are from Disco Dust London. Add some winged liner, rhinestones from the dollar store and some bright pink lips! No need to be perfect because makeup is fun!
Who are you?
Louise La Fantasma: I'm a self-taught makeup enthusiast (I hesitate to use the phrase makeup artist, since I don't actually do this as a profession, or work on other people on a regular basis). I started taking an interest in makeup as I got into the goth subculture, and that's still where I get a lot of my inspiration from. I enjoy all things unusual, extreme, unnatural and alien. Makeup is my chosen medium for self expression, stress relief and comfort. Transforming myself into whoever, and whatever, I want to be at that moment is so empowering to me.
What are your thoughts on Valentine's Day beauty?

Louise: Something people could do to explore their creativity for Valentine's Day is to choose the aspects they enjoy the most about their usual makeup and exaggerate that as far as they're comfortable. Valentine's is a day for love, so find what you love and do MORE of it. Do you enjoy bronzing your face to give it more shape and definition? Go all out with contouring and give yourself cheekbones you're afraid to cut yourself on. Are mascara and eyeliner your thing? Go for some dramatic faux mink lashes and extend that eyeliner further than you'd think to do, to create the cat eye of your dreams."
The Look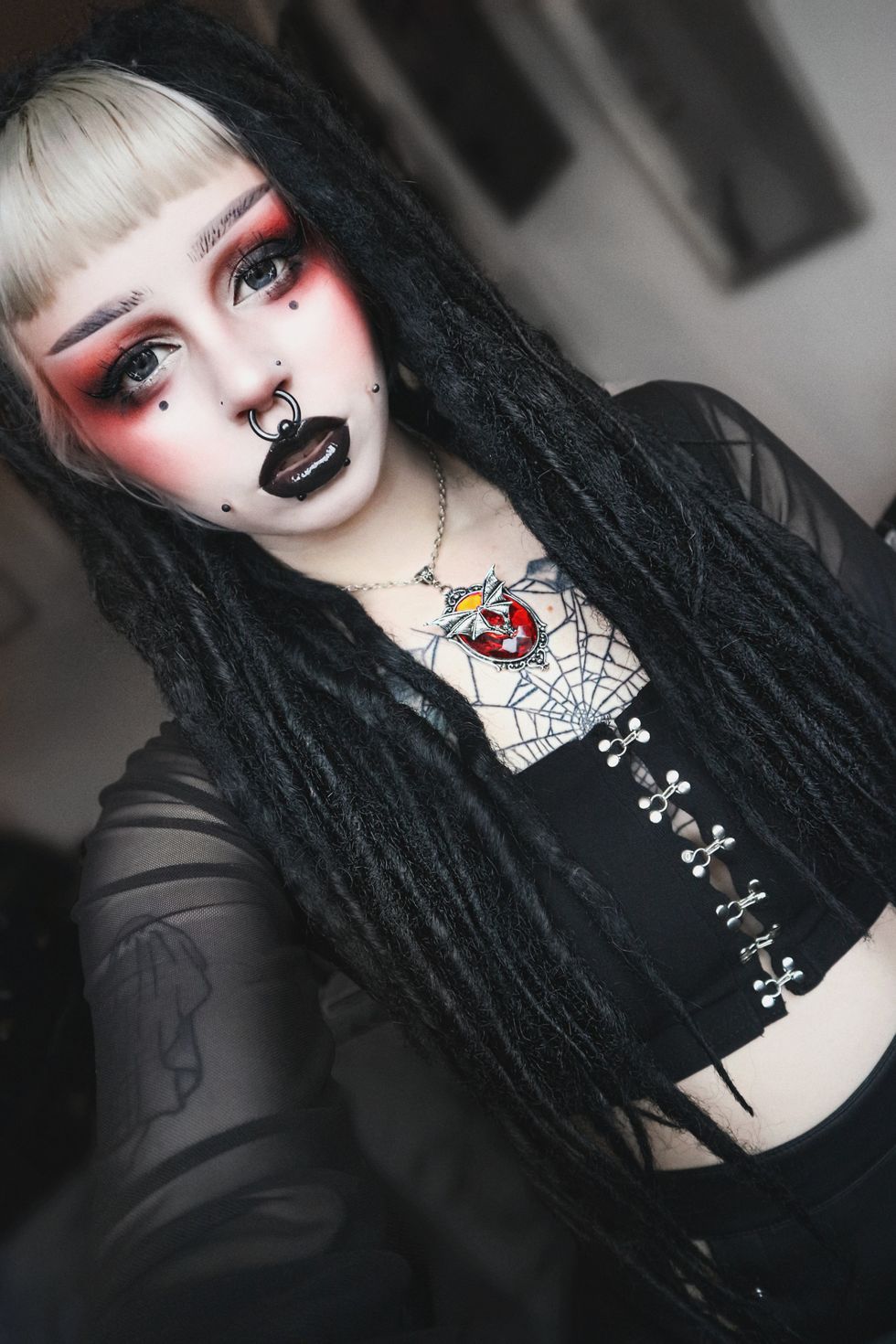 Louise: My choice would be this love sick, blush-overload dream. Apply your baseband brows as you normally would. Start layering up blush from the tops of your cheeks all the way up to your eye crease. Go for a lighter shade at first, then a more potent, bright one to concentrate the colour on the corners of your eyes. You can even use an eyeshadow at this point for the most colour payoff.
For blushes, I love the Juvia's Place The Saharan Blush palettes, and if you want a red eyeshadow for that extreme blush look, Sugarpill Love + is amazing. I add a little bit of blush to the tip of my nose as well for an extra touch of cuteness. Apply a dark brown eyeshadow in your eyelid crease and just below the lower lashes to deepen the appearance, blend this in thoroughly so the transition is soft between the brown and blush. Here I like to use the classic Anastasia Beverly Hills palette Modern Renaissance and the shade Cyprus Umber. Add a light, shimmery eyeshadow to the inner corner of your eye (I used the Primavera from the ABH palette).
Related | Happy V-Day From VINCINT
Next is eyeliner, and I like it long and thick! My favourite liner at the moment is Roller Liner by Benefit. Now, add mascara and/or false eyelashes of your choice. I went for glossy black lips for this look, but you could totally do a nude lip as well. For my lipstick I used the KVD Vegan Beauty Everlasting Liquid Lipstick in Witches, and topped it with a thick layer of gloss (since I'm single this Valentine's, no need to worry about getting a partner sticky and messy because of the gloss). Oh, and you're ready!
Who are you?
Heather Moorhouse: I enjoy all styles of makeup, but my main focus is the more colourful and creative side of beauty. For me the fun of it isn't necessarily enhancing my 'natural beauty' but using paints and shadows to to transform myself into totally different characters. It's quite an empowering process to sit down as one person and after a while as my makeup desk I can be someone entirely different. I have been creating and photographing my makeup looks for several years now and must have made hundreds of different characters using makeup, with a large portion of them based around different holidays.

What are your thoughts on Valentine's Day beauty?

Heather: Valentine's Day has become one of my favourite days to create makeup looks based around. There's such a cute, kitsch feel to the holiday with all the hearts and sparkles. The limited colour palette of reds and pinks that we associate with Valentine's Day can also be a really good way of focusing more on different shapes as a way of mixing up your style. I've also seen a move to seeing Valentine's as a day to celebrate self love and your friends with 'Galentine's,' so it can also be a great opportunity to dress up and do your makeup in a cute way for yourself without any concern over traditional date night looks. There are so many ways to take the theme and run with it, that can be as subtle or over-the-top as you like.
The Look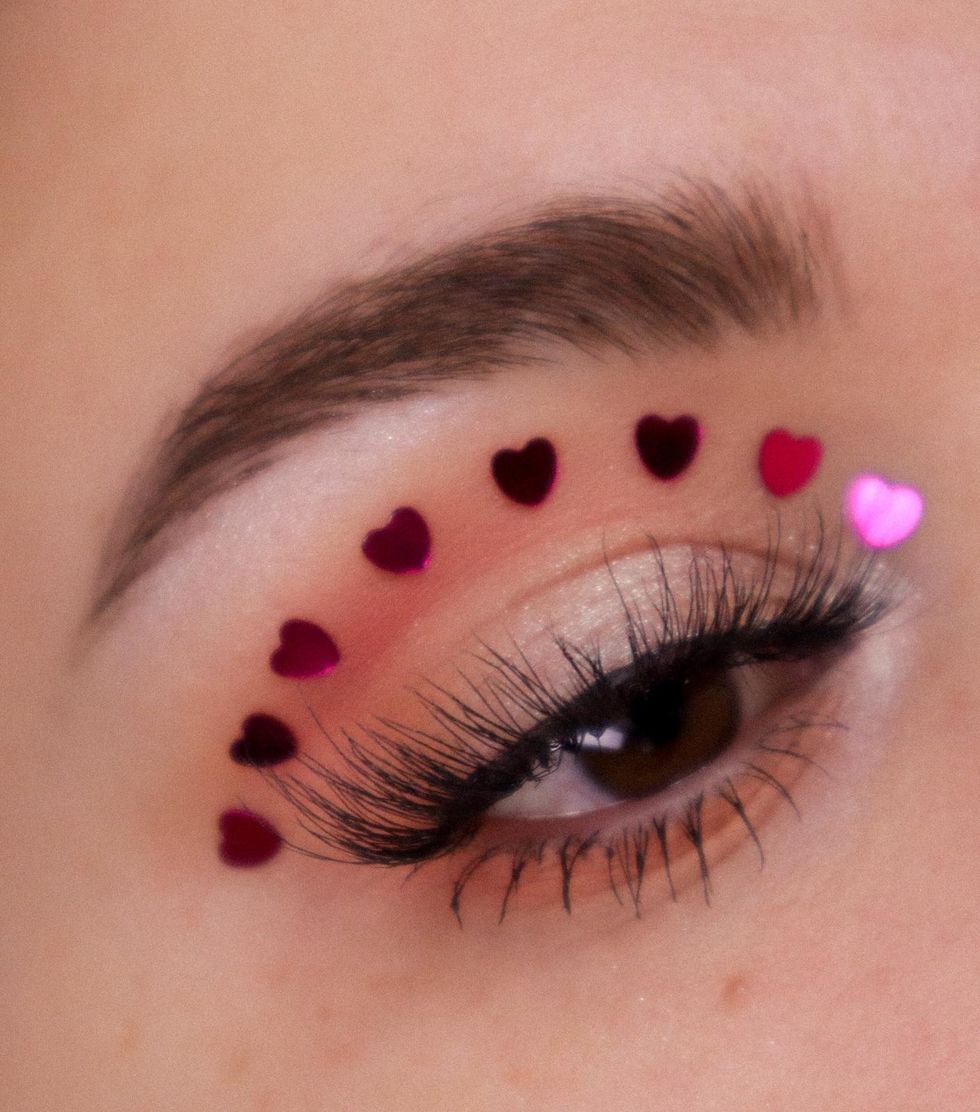 Heather: My look would be a more minimal, fresh base and light wash of pale shimmer shadow or highlighter over the lids. Lightning from Makeup Obsession is one of my favourites. Then, using pink or red heart shaped glitter or confetti and duo brush on lash glue, stick a line of hearts above the natural crease for a bold yet minimal eye look.
Who are you?
Vampryn: I'm Vampryn and I'm a professionally trained makeup and special effects artist. I mostly do makeup on myself because my style is a bit avant-garde. I use my Instagram page to share the fun looks I wear when I leave my house. I never wear the same look twice, and sticking to this has opened the doors to creativity I didn't even know I had. Makeup is so much more to me than enhancing your natural beauty it's all about expression. I struggle with mental health issues and being able to use makeup as a creative outlet has really helped me cope with a lot of day-to-day struggles I experience. I've always been a bit strange, and being able to express the way I feel on the inside helps everything make a little more sense in my world. I want other people to see what I'm doing and realize that you don't have to do the same smoky eye and nude lip everyday like everybody else. Blue lipstick exists for a reason!

What are your thoughts on Valentine's Day beauty?

Vampryn: I think a lot of Valentine's Day makeup looks are based around having your partner or love interest find you more attractive. So, if you remove this from the equation, anything can be possible. Go extra dark. Go extra light. Use colour combinations that you wouldn't normally associate with romance. Think about colours and shapes that represent your unique experiences. If you're dealing with heartbreak, let it out. Let your mind wander free without judgement. Most importantly, have fun.
The Look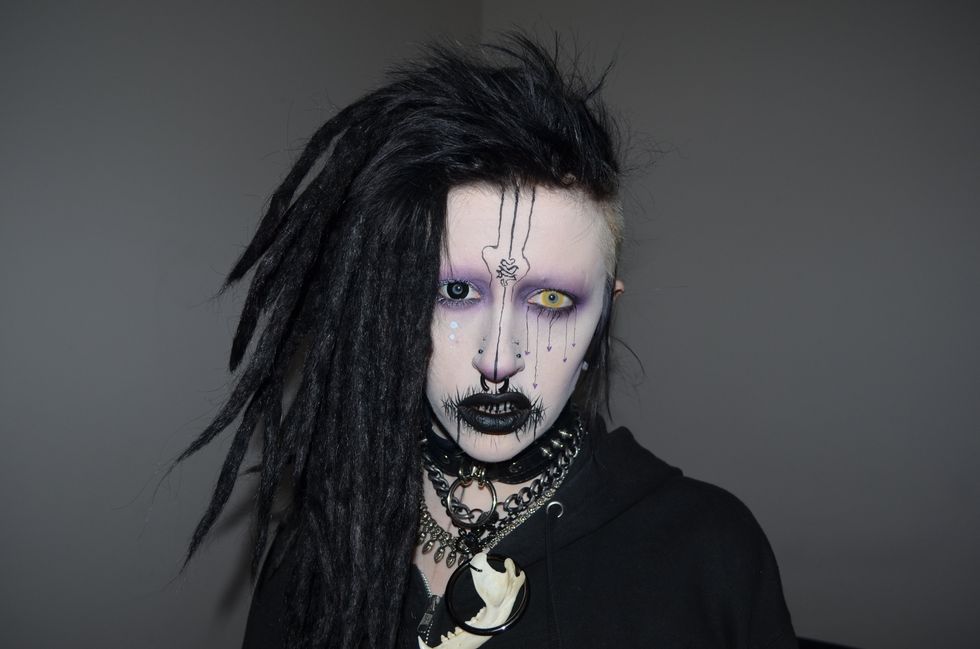 Vampryn: I call this one Purple and Spooky. To start, spray on Catrice Cosmetics Prime and Fine Fixing Spray. Then apply NYX Can't Stop Won't Stop foundation all over your face and neck, blending with a beauty sponge and setting it with Stargazer's white pressed powder. Apply Urban Decay's Primer Potion on both lids, and set with the same Stargazer powder. From the BH Cosmetics' Take Me Back To Brazil palette, use the medium toned purple as a base around your eye sockets, blending past the brow bone and leaving a skin break in the middle of the mobile lid. Now darken the purple tone with the shade truth from Morphe's Live in Colour palette, focusing on the outer corners and the inner corners. Emphasize the skin break on your eyelid with Milk (white) from that same Morphe palette. Darken the purple even more with NYC (black) from the Live in Colour palette, using a fluffy brush to diffuse the pigment.
Related | Get DSLs With These 8 Must-Have Lip Balms
Repeat all steps (except for adding Milk) to the bottom lid, and blend everything together with a fluffy brush, ensuring everything is even. Using the Wolfe Face Artistry & FX Essentials palette, add water to the black paint with a fine detailed paint brush. Now add a heart scribble to the center of your forehead, and the vertical lines for the hearts extending from your bottom lid to your cheek. None of the lines needs to be perfect, shake your hands very slightly to make them imperfect. Using the purple from the Wolfe palette, draw tiny hearts attached to the lines.
Contour your cheekbones and the tip of your nose using the medium purple shade previously used from the BH Take Me Back to Brazil palette. Scribble over your lips using the black watercolour from the Woife palette, using upward strokes for the top lip and downward strokes for the bottom lips. Fill in your lips with Color Pop's Friday liquid lipstick. Apply mascara to both eyes, covering one side of your eyelashes afterward with the white watercolour from the Wolfe palette. Spray some 99 percent alcohol into the Fleet Street Tooth Lacquer Palette 1, and mix it around with the same detail brush from before. Dry off your teeth with a paper towel, and apply the lacquer in stripes, making sure your teeth stay completely dry until the lacquer is set. Insert coloured contacts with clean hands mine are TTD Eyes Avatar and Dark Night Black contacts.
Who are you?
Bex Valdes: The truth is I'm not actually a makeup artist (I'm an English teacher here in Spain). But around 2014 I found a passion for makeup and I went from only using three eyeshadows (purple, burgundy and cranberry... what else would you need?) for every single look, to actually expressing myself through the looks I create. Nowadays, I continue to use makeup as therapy. Although I love creating detailed lip art that takes multiple hours to finish, my favourite looks to do are complex face paints. Especially if they include some sort of optical illusion. I find a lot of inspiration in science fiction movies and my dream job would be doing special FX makeup for them. But since I've never had the chance to afford that sort of education, I do my best to imitate those looks using regular makeup! I love mixing things up and showing people what they can do with their eyeshadows and lipsticks other than regular glam looks.

What are your thoughts on Valentine's Day beauty?

Bex: I'm one of those people who have never been too keen on celebrating V-Day, at least not until I realised that there were no limits to the looks that one can create to represent passion, love or romance. One of my favourite Valentine's Day looks I've ever created was a deep red glossy smokey eye that I did a couple of years ago. It's definitely different from most V-Day ideas but I love how intense, messy and fun it was. The reactions that it got from people? Some positive, some... not so much. It made people feel something and that's the essence of festivities. Love shouldn't only be a subtle pink sparkle and a nude lip, love is also passion, and passion is raw and powerful and intense.
The Look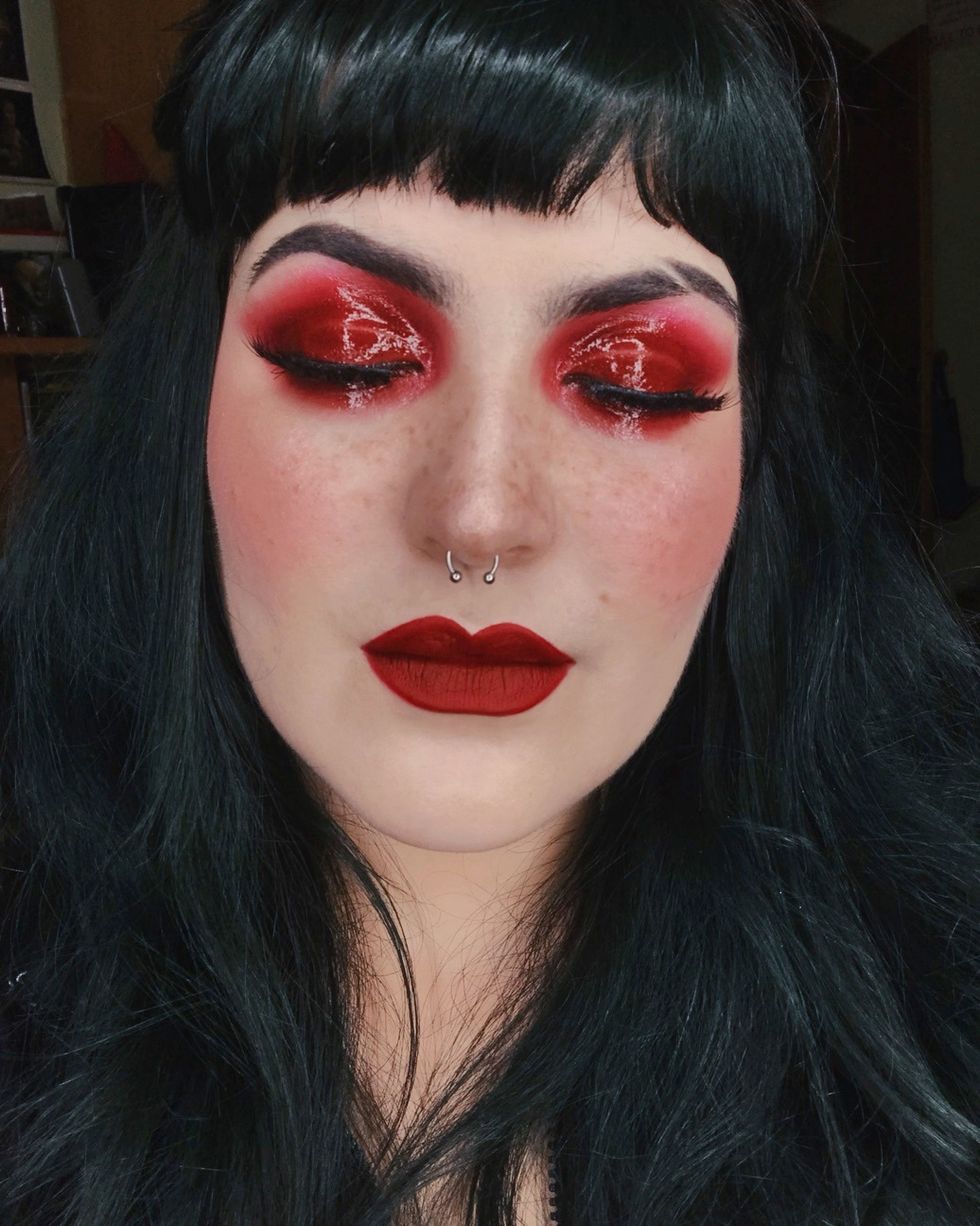 Bex: I wish people dared to express their passion on this day without feeling restricted to do something canonically 'pretty.' To achieve that look, I always start using a red liquid lipstick as the base all over the lid. Then I use a red eyeshadow, like Sugarpill' Love+ (how appropriate), to blend out the edges and get the smokey look. Some black gel liner on the waterline and smudged into the red will give it some dimension and finally a clear gloss, like Danessa Myricks Beauty's Colorfix in Clear Glaze will finish the look! The look is intended to be messy, but I'd recommend that you do not to apply the gloss too close to your lashes if you want it to last a bit longer. The great thing is that if it starts to crease too much for your taste, you can just pat the product around with your finger. Definitely messy and not for the faint of heart but you'll stand out for sure and you'll feel really bad ass.
Photo courtesy of makeup artists