Steamboat Springs is home to extraordinary thermal spas that make for a fun off-mountain experience.
In addition to on-mountain fun and eclectic dining options, Steamboat Springs is home to extraordinary thermal spas. These spot are the perfect place to soak tired muscles after a big day of skiing. 
Related: Plan your Steamboat Ski Vacation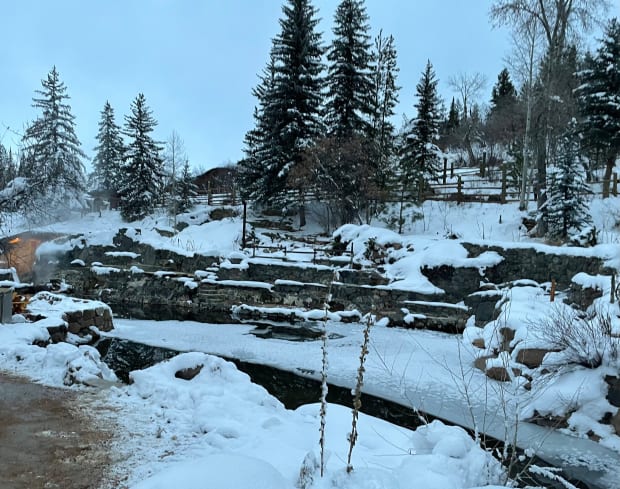 What is a Hot Spring 
A hot spring, hydrothermal spring, or geothermal spring is a spring that is heated naturally from below the surface. Geothermally heated groundwater can be heated by magma or by circulation through faults to hot rock deep in the Earth's crust.
The Benefits of Hot Springs
What's that smell? It's sulfur. This chemical is used to treat skin rashes and can benefit those suffering from arthritis. I've also read that the naturally heated waters can aid with menopausal symptoms and digestive disorders. I'm clearly not a medical professional, but I can tell you these springs feel GREAT on tired muscles.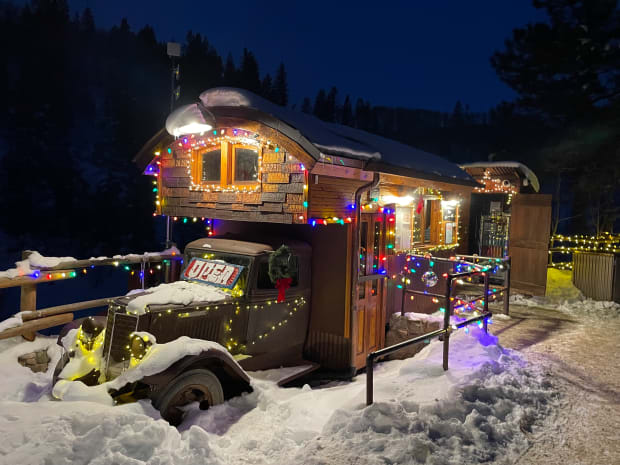 Strawberry Hot Springs
It's quite a meandering trip to this natural spring, and I'll admit there were a few moments my daughter and I thought we should turn around on the icy, steep and narrow road. But be brave--this destination is worth the trip. Note: 4 wheel drive and snow tires are legally required by the county to access this facility.
Unlike the Old Town Hot Springs, this one is all about relaxing. In fact, that's all that is one the list of activities. As you turn the corner from the sheltered entrance, there are a series of stacked rock formations with natural pools. Alongside the pools, there's creek weaving through the property. This creek provides the cold-water relief for bathers who want to do the option of alternation cold and hot for a true aqua therapy session. 
Most folks had swimsuits on at arrival. They casually peeled off layers and set them on chairs and tables. Waterproof bags could be nice to bring in case there is precipitation. I also suggest slip on shoes like Uggs. The ground is frozen and most guests meander from pool to pool as there are a variety of temperatures and views. 
The pools range from hot, hotter and hottest. I could barely stand the hottest pool. But I did manage a short stay after a cold water plunge into the creek.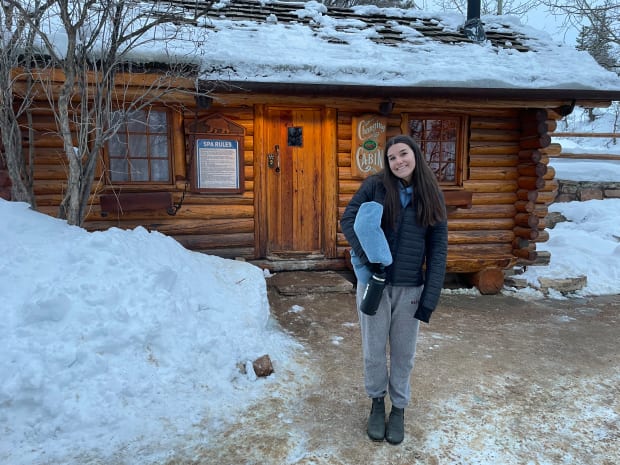 We hung out in the pools for an hour watching the snow fall gently around us, it was serene and lovely. This spot is definitely family-friendly during the day, but it's low-key fun, probably best suited to chill kids and teens. The younger ones will probably like the Old Town set up better. Please note: Clothing is optional once the sun goes down. No one under 18 is allowed at the hot springs after sunset.
When we were done, we climbed up to a small heated changing room to slip out of our wet suits and into dry clothes (note, there are no shower facilities and the changing room is very basic).
Massages are also available here, but I did not try them.
Getting there: Book a 2-hour reservation online or sign up for a shuttle package if you don't thing you want to take on the drive. There are two companies that offer four-wheel drive equipped vans to safely transport you from the Steamboat resort area to the Hot Springs. You can find the shuttle information here. Rates are $50/pp (less for kids) and include $20 Hot Springs admission.
The GPS location is 44200 Co Rd 36, Steamboat Springs, CO 80487. Head to https://strawberryhotsprings.com/ It was a 40 minute drive from the Steamboat Grand.
The cost: It's a cash-only operation ($20/pp). And be sure to bring your own towels (small towels are available for purchase at $5 per towel).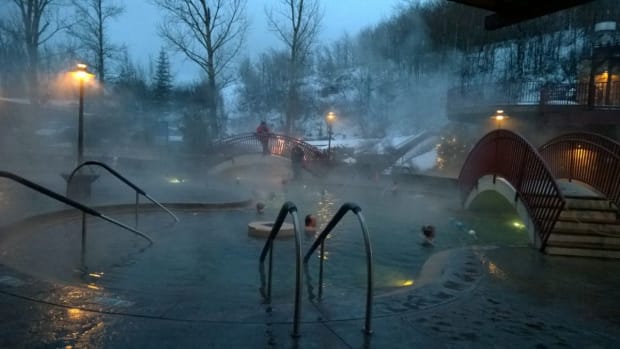 Old Town Hot Springs
In addition to on-mountain fun and eclectic dining options, Steamboat Springs is home to extraordinary thermal spas. These spot are the perfect place to soak tired muscles after a big day of skiing. there's a cool resource in town called the Old Town Hot Springs. Packed with heated outdoor pools this is a great place to head right after a long flight or when you want to give tired legs a break from skiing. 
There's a lap pool, full gym and a babysitting service—in case you've got tots and want to take a break. For bigger kids, there are awesome 225 ft. outdoor water slides and an "aquatic climbing wall." I was happy to just soak in the tub while snow fell gently around me. It was a great way to acclimate to Steamboat. Oh, and there's a full shower facility too.
The springs have been around for more than 100 years. Don't miss a soak in the mineral hot spring purported to have healing powers. Find them at 136 Lincoln Avenue (the main street in town) head to www.oldtownhotsprings.com for details.
If you take a Day Off from Skiing
More ideas of what to do with the kiddos.
During my visit, Steamboat Springs was celebrating the Winter Carnival. This February event is an ideal time for families to visit Steamboat. The local hill, Howelsen, has races for all ages. Did you know Steamboat has produced more than 88 Olympian Skiers? This festival is a celebration of the outdoors and a lot of fun for kids. I'm told one of the most popular events is the race through downtown where young tikes on skis get pulled by horses. Sorry I missed the instagram opportunities on that one!
MORE FUN IN THE MOUNTAINS
PIN IT!
Use Pinterest to save your favorite family travel features. Be sure to follow our Ski Moms Pinterest Board.