If you're tired of shopping and the hectic pace of Bangkok in Thailand, Hua Hin has become one of the more popular places for a relaxing coastal getaway. When SO Sofitel Hua Hin invited me up to check out their space, I was pretty excited to revisit Hua Hin and also check out what the surrounding Cha am district had to offer. Here's my detailed hotel review of SO Sofitel Hua Hin for you to plan your next Thailand beach getaway.
My stay was sponsored by SO Sofitel Hua Hin but the views expressed here are all my own. You can check out their official website or head over to booking.com [affiliate link] for more information.
Location: Charming Cha am
While Hua Hin is in its name, SO Sofitel Hua Hin is actually located 30 mins drive north of downtown Hua Hin where the train station and other attractions are. This area is known as Cha am, the quieter and more relaxed cousin of Hua Hin which has become more well known on the foreign tourist radar in recent years. Cha am is the Thai locals quick getaway destination for beautiful beaches and cheap good seafood.
The good news is that you save 30 minutes getting to Cha am from Bangkok's Suvarnabhumi Airport as compared to Hua Hin. The bad news is that it's still going to take a minimum of 3 hours to drive from the airport to SO Sofitel Hua Hin, which is longer than it takes to fly from Singapore to Bangkok, but hey you have to do a little bit of work if you want a real getaway from everyone right?
Getting from Bangkok to Cha am
SO Sofitel of course provides airport transfers from either Suvarnabhumi Airport (BKK) or Don Mueang Airport (DMK) to get you to the resort comfortably. More on their services here.
If you are planning to spend more time in Thailand, the resort can also arrange a Bangkok-Hua Hin package that lets you stay in both SO Sofitel properties over 4 nights and shuttles you in between Bangkok, Cha am and airport.
If you are planning to self drive so you can explore the area around Cha am more easily, you could stop over at Samut Songkhram which is about halfway between to stretch your legs. You can see the Tha Kha Floating Market or the famous Maeklong Train Market before continuing your journey. Read my Amphawa guide for more.
What I did was request to stopover in Petchaburi along the way (about 45 minutes away from the resort) to see the palace and temples on the hill of Phra Nakhon Khiri Historical Park (Khao Wang), as well as the cave temple Tham Khao Luang.
First impressions
SO Sofitel Hua Hin feels at first blush like idyllic palace gardens as you turn into its driveway, and then suddenly you're dropped into a contemporary art museum with its expansive marble stairs greeting you at the entrance. Check in is done against the backdrop of a long pond feature that I only realised later actually sits atop a giant stone-covered wall that cuts through the heart of the resort.
One interesting note upon checking in – the hotel asks that you download the Handigo app to your phone. At first glance it seemed like a real hassle to do that just for a short stay, but this pocket concierge app is actually very useful and saves you the hassle of calling reception for everything you need. There is a chat function where you can ask questions about facilities or call for buggy service, and it listed the various facility opening hours and shuttle bus timings and you could make a booking directly through the app. This can all be done in English with less of the language barrier that can happen while talking on the phone.
SO Studio Room Review
I stayed in a SO Studio Room with a pool view and balcony – these are located on the 2nd and 3rd storeys of the buildings surrounding the Signature pool. Despite the modern museum-like facades and hallways, the rooms are quite warm, welcoming and comfortable with a nature theme.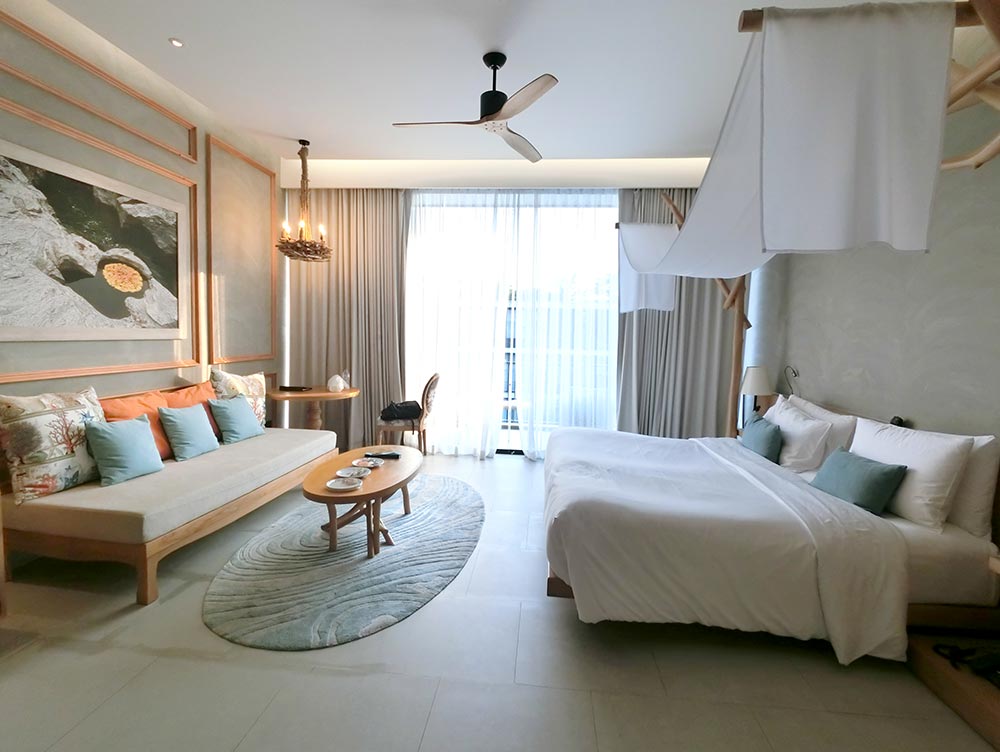 I liked the spacious open layout, which is because they've eliminated most of the walls within the room – you can cordon off the bathroom area from the bedroom/living area with thick curtains for a bit of privacy. The toilet and the shower are on separate sides of the room – useful because two people can get ready at once, but if you're someone who likes to swan around the bathroom like a naked queen, just know that the main doorway is right in the middle of the two.
There is a separate cute round bathtub and shower with a bench, and right in the centre of the bathroom area is a multi-functional wardrobe + TV console that can swivel around so you can watch TV from the bathtub or the bedroom area. I only wish that there were more hooks around the room, but that's because I don't like keeping my clothes tucked away in a cupboard.
The bed itself is large and comfortable – I quite like the wooden posts that added some design without blocking any light, and I also appreciate there being both power points and USB ports on both sides of the bed. There was also a nice couch and balcony seats for chilling out, and a convenient rack to dry wet swimwear on.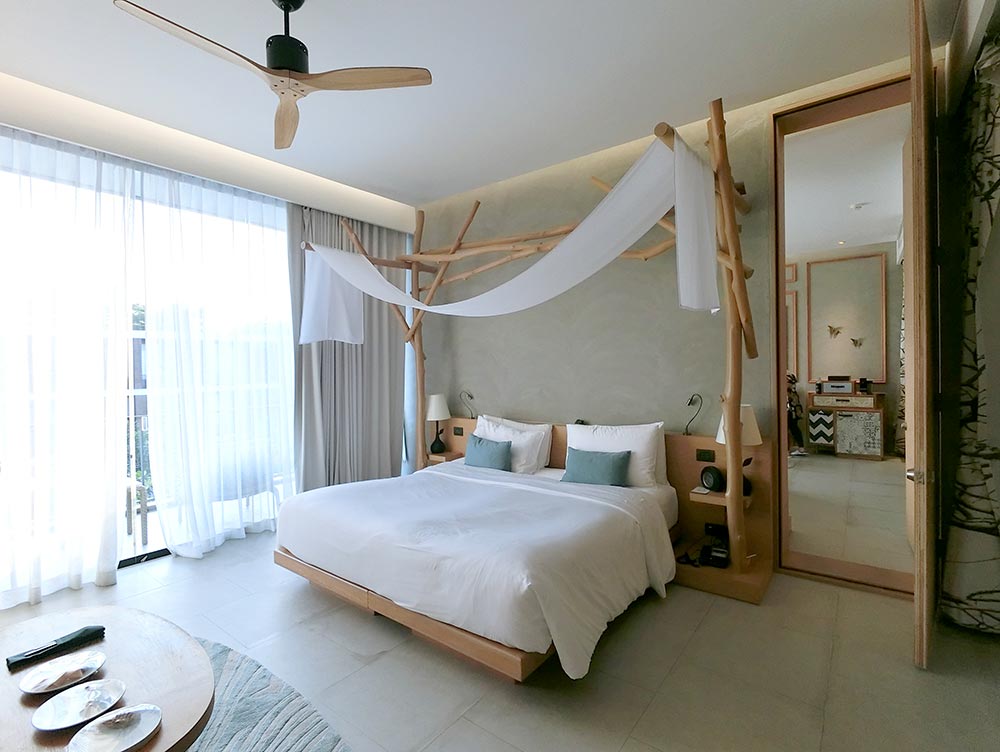 We were up on the 3rd level so a little stair climbing back to the room (no lifts!) but a bit more privacy since we were higher up, and a great view of the Signature pool and the giant Wibit inflatable obstacle course below. I thought it might get a bit noisy but it was surprisingly chill, even on the weekends.
There are plenty of other room options available at SO Sofitel Hua Hin especially catered towards families – pool access rooms, rooms with attached kid's house and fun bunk beds and even a slide from the upper level. For those who want more privacy, there are villas with private pools close to the beach for some exclusivity as well.
Facilities in SO Sofitel Hua Hin
3 Swimming Pools
SO Sofitel Hua Hin has 3 pools to choose from for all your swimming needs. The main Signature pool has a large inflatable obstacle course running down the middle and is the most popular with guests, and especially those looking to have a bit of fun pretending they're doing a Physical 100 course. Most of the seating and the shallow portion is at SO SUNDAE and there aren't many deckchairs here unless you have a pool access room.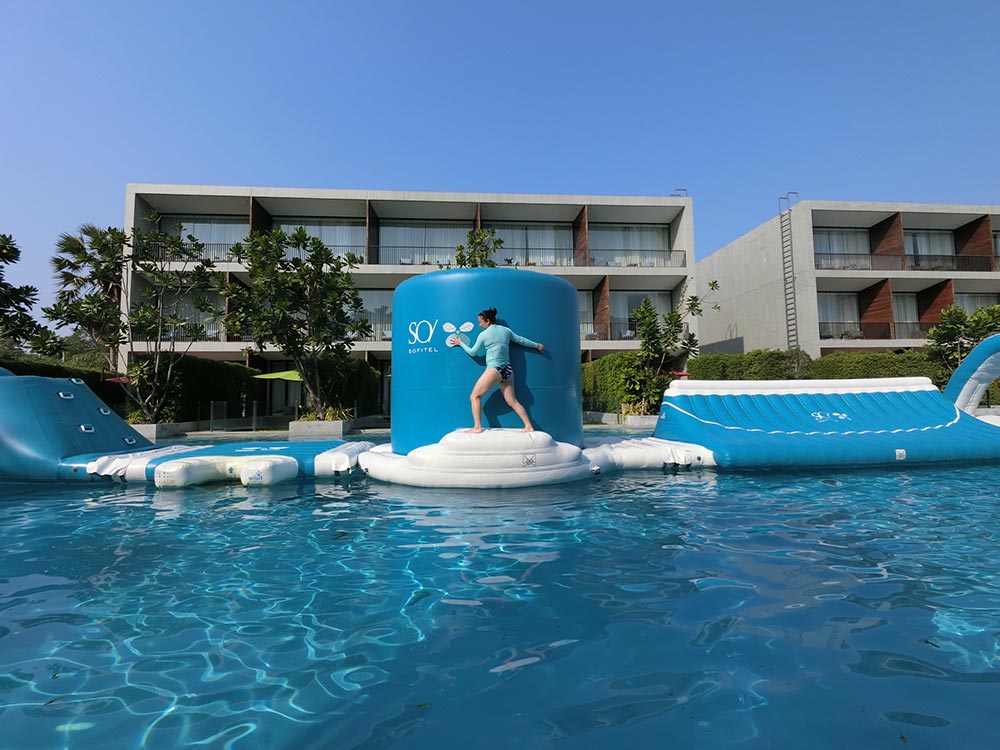 If you want a bit more quiet, the Solarium Pool is adults-only and located between the walls of the resort. The Spa and Recreation Rooms are also located here. There are deckchairs for sunning here.
And for the sound of the waves, there is the SO pool in between White Oven restaurant and the beach area with more daybeds, deckchairs and where you can take a dip.
1 cosy Beach
SO Sofitel Hua Hin is technically a beachfront property and they do have a cute little beach area with deckchairs, swings and a huge tree for some shade that's nice to chill out. However because the waves here can be quite strong and to prevent further erosion, there is a beach wall separating the resort's beach from the lower beach area. You can walk down to this lower beach area and along the coast when the tide is low, but keep an eye out do you don't get stranded!
Spa
SO Sofitel Hua Hin has its own spa and we indulged in a good Thai massage after a strenuous morning of hiking. This is the first spa I've been to that lets you pick your own music to get massaged to! We had a Thai massage, though overall this Thai massage is more relaxing and not as body contorting as what I've experienced in the past where the masseuses will really manoeuvre your body into all sorts of positions.
Something a bit unusual in this spa is this cocoon deep relaxation area that you are escorted to after your massage. There are two beds in the cocoon where you can just lie down for awhile and enjoy the twinkling lights until you're ready to change and exit.
Dining at SO Sofitel Hua Hin
SO Sofitel Hua Hin is home to two restaurants – White Oven and Beach Society. They also have a little cafe of sorts called SO Sundae next to the Signature pool where you can get a drink, snacks and ice cream.
White Oven
White Oven is where you get can get breakfast in the mornings. There is quite a substantial buffet spread set up both in the indoor area and outdoor area. There are stations for rice, noodle soup, western food, Thai food, salad stuff, yoghurts, breads, cereals, eggs, fruits and even a bagel bar. It really is quite a spread!
In the afternoons and evenings, you can get both Thai food and Western food here. The restaurant is open until 11pm so it's not a bad option for supper as well – I liked their Thai-style crab cakes and moo ping pork skewers. We also tried their premium Thai BBQ set for dinner on our first evening where a grill is set up at the table and you can cook your own meat and seafood right there. Since we were in Thailand I was half expecting a Mookata grill, but this is just an ordinary table top grill with a soup pot in the middle. Pretty filling dinner though I was hoping for more Thai seasoning overall.
On weekends you can pick your choice of live seafood as they have fishermen bring their wares directly to the hotel in the late afternoon for guests.
Beach Society
Closer to the beach is SO Sofitel's other restaurant known as Beach Society where you can dine on the sand if you want to. There is also a bar area here for drinks. The ambience here is a little more chill and the menu features western-style cuisine like steak, pizza and pasta.
We ate lunch here during their weekend brunch time where the food was set up buffet style with an additional roast beef and raclette cheese station. There is also a fair amount of seafood which is the highlight of Cha am.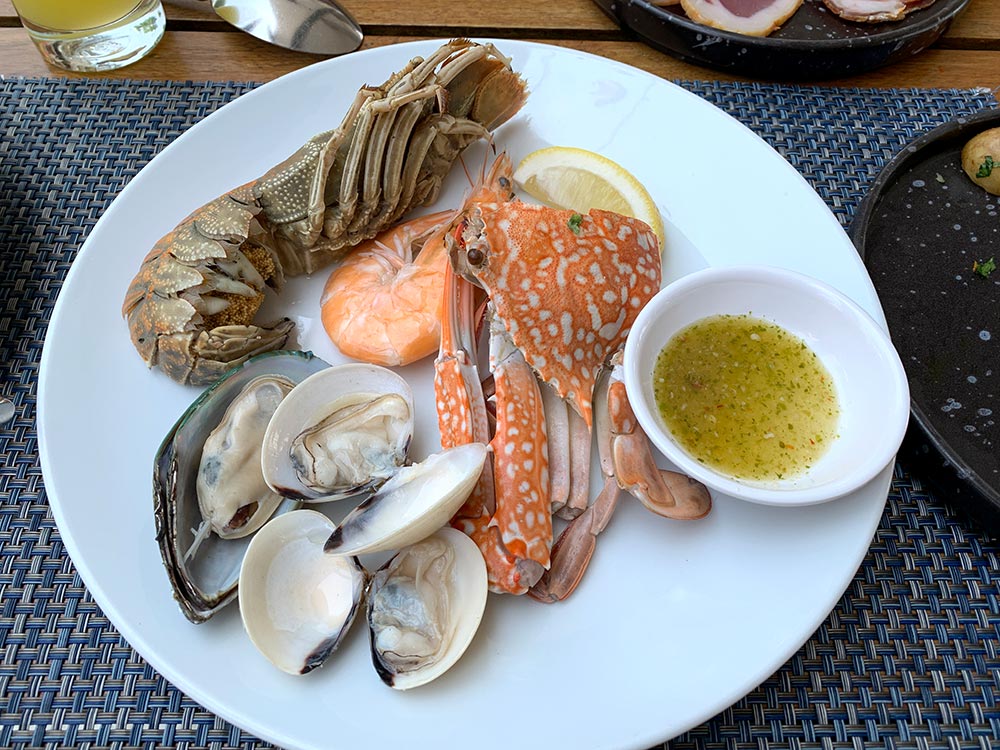 For dinner we tried out some of the cocktails and surf and turf dishes. Cocktails could probably do with a heavier pour and again I really enjoyed the seafood – the salt-crusted fish was very plump and fresh. The Surf and Turf was a pretty substantial dish for sharing with lobster, prawns and steak – we were so stuffed after that though there was still room for dessert – like the cute coconut creme brulee served in an actual coconut.
Things to do around SO Sofitel Hua Hin
You could easily spend your entire holiday just chilling in the resort, but Cha am does have some interesting sights to see, and SO Sofitel Hua Hin has an Explorer program to help you easily explore some of the sights around Cha am and/or Hua Hin even if you don't have your own car.
Sunset cocktails at Nayang Bat cave
Just 10 minutes away from SO Sofitel Hua Hin is a place known as Nayang Bat Cave. Amidst the village is a private house which set up a viewing platform that you can visit to see a natural nightly phenomenon where over 2 million tiny fruit bats were emerge from the cave in search of dinner.
You will need your own transport there, so the resort does organise an explorer excursion to see this which comes with 2-way shuttle transfer as well as snacks and drinks to consume while you wait for the sun to go down and the bats to emerge. Find out more.
This is one of those things that's a lot less exciting in pictures but a whole lot of wow when you see it in person. While it's not a batman situation where the bats all emerge at once and blanket the sky, watching them stream out of their cave like smoke feels like watching NatGeo in real life. Hawks circle the bats as well and dive in to catch them, making the stream weave along with the wind. The bats eventually disperse and will even flit by you as they go in search of fruit trees.
Morning hike at Khao Nang Phanthurat Forest Park
Khao Nang Phanthurat is a forest park found on the slopes of two mountains Khao Chaolai and Khao Chomprasart which apparently looks like a giantess lying on her side from afar and perhaps how this park got its name. Nang Phanthurat is from a Thai folktale called Sang Thong, a giantess who could disguise as a human and adopted a human son who she hid her giantness from. Many of the viewpoints and sights around here are named after Nang Phanthurat.
The park itself is a lovely place to hike, quite well maintained overall especially at the lower levels, though you should wear good shoes when you climb higher as the paved trails become sharp rocks the higher you go. Hiking sticks are also a good idea if you can to navigate the uneven terrain. The foliage changes as you climb higher, and the viewpoints of the surrounding countryside are quite nice, all in all it's a nice and vigorous to spend a morning.
SO Sofitel Hua Hin offers a shuttle service to Khao Nang Phanthurat where you can explore on your own, but also can organise a morning group or private tour with a guide that comes with water and hiking sticks, an ice cold fresh coconut drink and towel after the hike and even spa discounts so you can rub those aching muscles down after. Learn more about the Khao Nang Phanthurat Explorer Excursion.
regular Shuttles to hua Hin/Cha am
SO Sofitel Hua Hin has regular shuttles down to downtown Hua Hin (30-40 mins away) and Cha am Beach (10 mins away) so you can explore the area for 50-90 THB each way. You can book this shuttle through the Concierge app or at the front desk. This is also useful in the evenings if you plan to visit the night markets – Hua Hin has a daily night market while Cha am has one every Wednesday night. Learn more about their shuttle services.
Check out my guide to Hua Hin to see what else you can explore in the area and stay tuned for my Cha am guide.
Cycling around the hotel
One interesting thing I noted as we turned into the hotel was the presence of cycling tracks along the main road that looked even newer than the actual road. Turns out that there are plans to boost tourism to this area and cycling tracks are a part of that larger plan.
You can rent bicycles at SO Sofitel Hua Hin to cycle around Cha Am, and the resort has even planned out a cycling route that takes you north of the hotel – however the end point of the route is about 17km away and takes roughly 2 hours to cycle according to the bike rental desk. Also, most of the sights to see are only after that first 10km so you may want to check whether it's possible to arrange for a car/van to get you past that first bit so it's less arduous.
I woke up bright and early to see how far I could push – I made it as far as what's marked as the 'Shrimp Pond' on the map which is about 3km from the hotel. Decided to turn off the road and explore this mysterious looking lake of sorts and found it a lot smaller than marked out (could have dried up a little? My map markers had me in the middle of the lake lol). Those roads were also sandy and unpaved so that wore me out, and it was starting to get really hot (no cloud cover at all!)
SO Sofitel does have it own cycling paths within the compound if you aren't so ambitious and just want to get some exercise, or you have little ones having a go on the mini cars/bikes that they also rent out. There is a nice garden just opposite the entrance that you can cycle in as ewll.
Overall thoughts
SO Sofitel Hua Hin is a really lovely hotel if you want a restful vacation somewhere quieter and don't mind that it takes a bit of effort to get here. It's a property that you could easily spend all your time in if you were feeling lazy – nice modern design and the hotel grounds are expansive enough that it never felt too crowded even on the weekends.
I stayed at the hotel for 3 nights with a group of girl friends and we had a lot of fun. It's not somewhere I'd stay on my own as an indie traveller but it's definitely suitable for couples, friend groups and families. The vibe and facilities are all quite family friendly with enough activities to entertain both kids and adults around the resort.
Cha am town may not be at the hotel's doorstep if you're someone who likes to walk around on your own, but the daily shuttle services to nearby Cha am and the more lively Hua Hin give some exploration options, or you can always arrange for an excursion or a driver to bring you around.
My stay was sponsored by SO Sofitel Hua Hin but the views expressed here are all my own. You can check out their official website or head over to booking.com [affiliate link] for more information.
---
Want to see more of Thailand? Go beyond Bangkok and check out these latest Thailand posts: