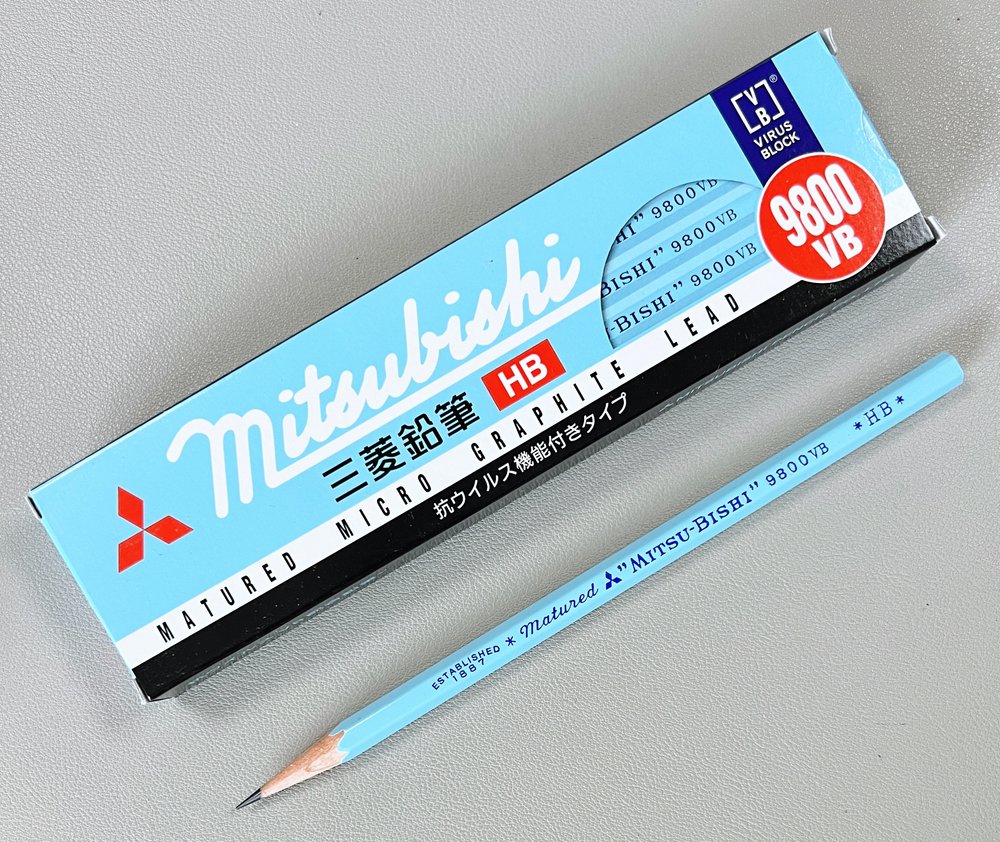 Anti-microbial stationery goods have been around for decades, but they haven't exactly been interesting for avid stationery fans such as myself. These products were generally a combination of low-quality/low-cost for bulk purchase and usage by schools, hospitals, and the like. And unless you wanted to go with a full copper-barrel product for it's natural anti-microbial tendencies, a premium writing experience was hard to find.
Now, don't let me lead you on too much in advance, thinking I'm going to tell you that the Mitsubishi 9800VB Pencil is going to break barriers and is the greatest pencil of all time. That's not going to happen. But what I will tell you is the combination of what's under the hood (i.e. the graphite core,) combined with a stylish and functional exterior, make for a pencil I want to use frequently-virus blocking or not.

Let's get the marketing specs out of the way up front. The "VB" in the 9800VB product name stands for Virus Block. From Mitsubishi:
"Here's the interesting part: that lovely sky-blue coating isn't just paint. It's made with a new antiviral coating called "Virus Block" (hence the 9800VB model number) that was jointly created by Tokyo Institute of Technology and Keio University.
In lab studies, towels coated with Virus Block had 99% fewer viruses and fungi on their surface after 60 minutes than an untreated towel, and 99.9% fewer after 24 hours. That makes the 9800VB an attractive choice for public settings like schools and offices, which even in non-pandemic times are sites of cold and flu transmission."
Awesome, right? Also, no one else will be sharing my pencil with me. That said, there are use cases you may have for this product, making them a good option. For me, I want great performance and beautiful design. The Mitsubishi 9800VB gives me both.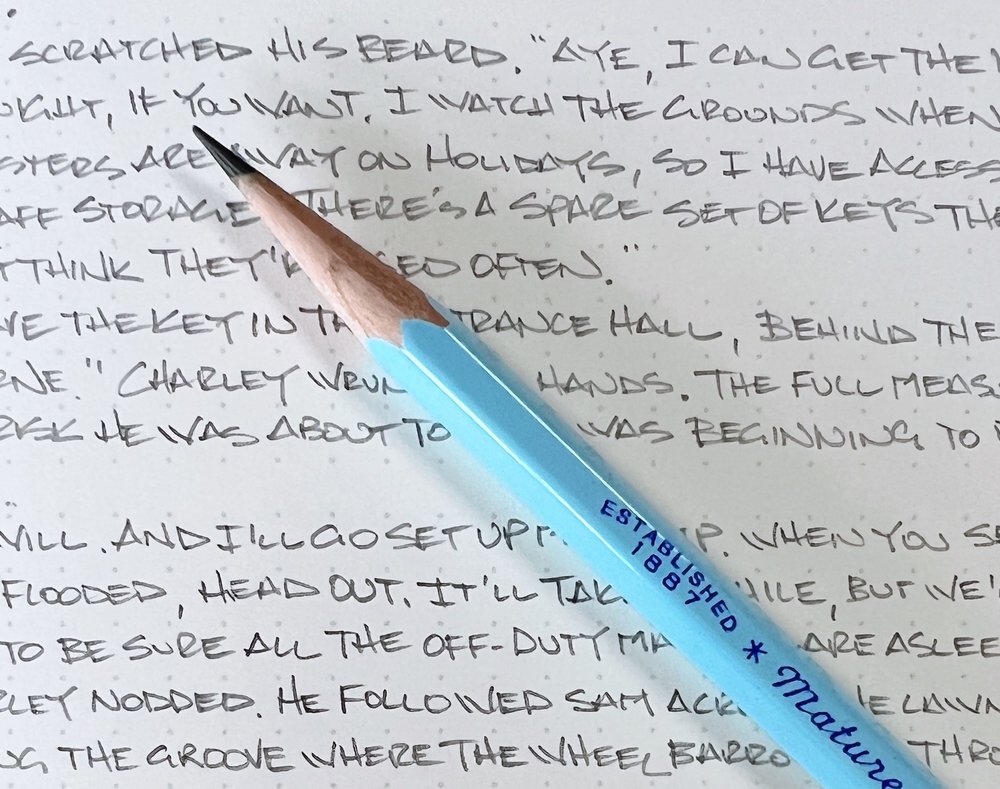 The key to any good pencil is a good core, and in using Uni Mitsubishi's 9800 core as a base, this one is off to a good start. While it may be their entry level HB graphite, it is a clear upgrade to any basic yellow #2 pencil you will come across. The core is smooth, but has a firmness that provides excellent point retention. It does fall shy of being as good as more premium cores, such as those found in Blackwing pencils, but at a fraction of the price, they are more than worth it.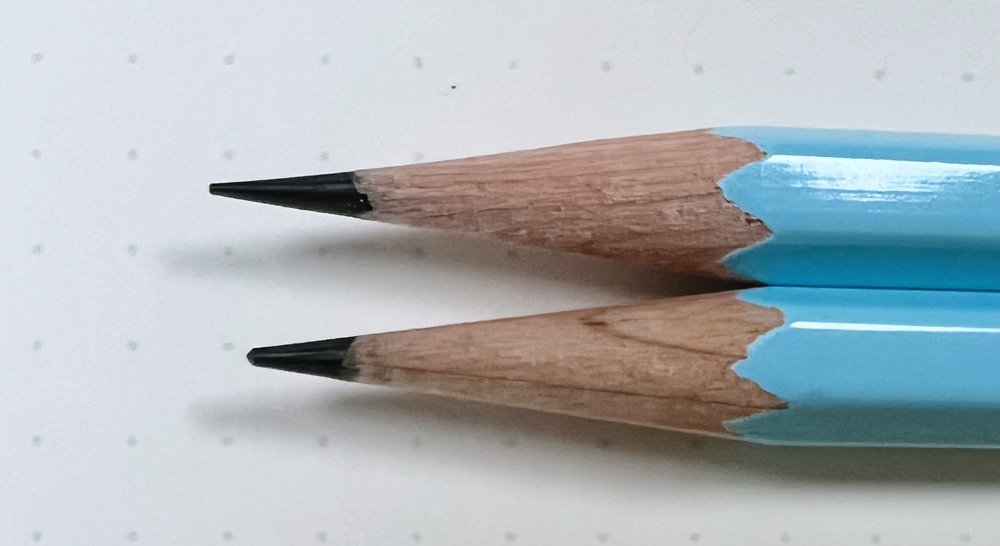 I'll readily admit that the aesthetic of the 9800VB makes me love this pencil even more. The light blue barrel coating, combined with at the royal blue foil stamping is chef's kiss goodness. The lack of an eraser never bothers me, and certainly was the correct choice in conjunction with the Virus Block feature of this pencil.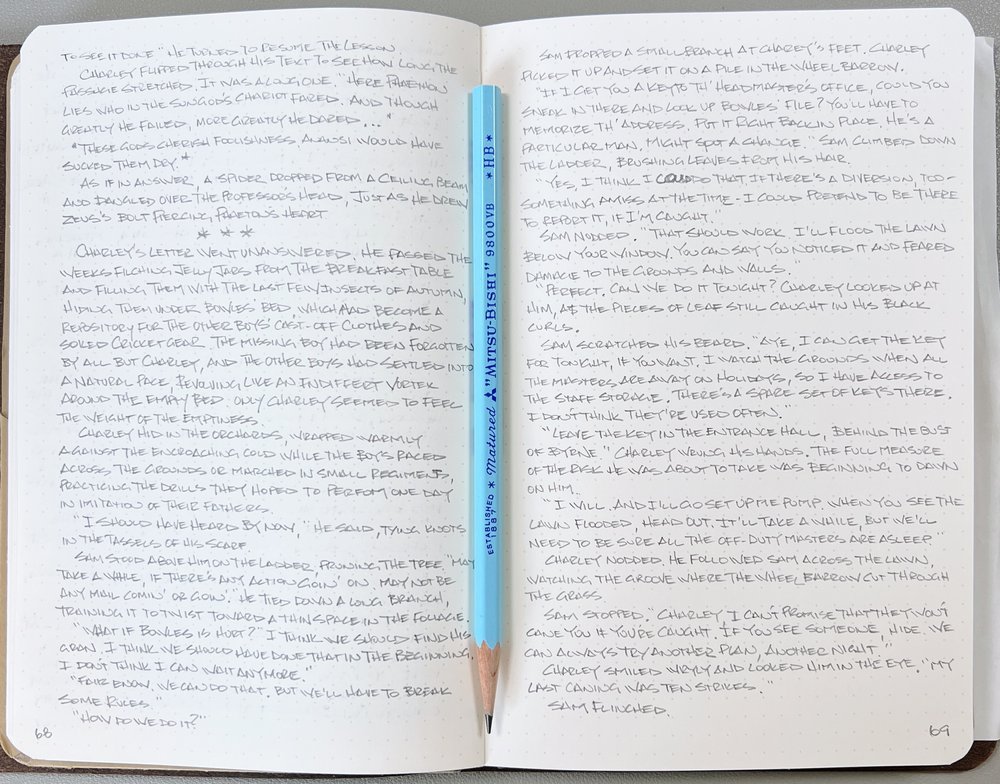 Do you need the Virus Block? If you are like me and will be the only one using this pencil, sitting at my desk, unshared with others, then no. Do you like the aesthetic, and the quality of Japanese pencils overall? For $1 per pencil, then yes. I'm clearly in the latter category. And for those who could use the Virus Block technology in their home or workplace, I think they are absolutely worth trying. I'd maybe even go for a bulk discount if you were looking at buying a gross (144 count) or more for your facility.

For a similar pencil, minus the Virus Block, you can grab the original Mitsubishi 9800, or for a softer, darker core (despite also being marked HB,) try the eraser-attached Mitsubishi 9850-both of which are at the same price point as the VB.
(St. Louis Art Supply provided this product at no charge to The Pen Addict for review purposes.)
---
Enjoy reading The Pen Addict? Then consider becoming a member to receive additional weekly content, giveaways, and discounts in The Pen Addict shop. Plus, you support me and the site directly, for which I am very grateful.
Membership starts at just $5/month, with a discounted annual option available. To find out more about membership click here and join us!