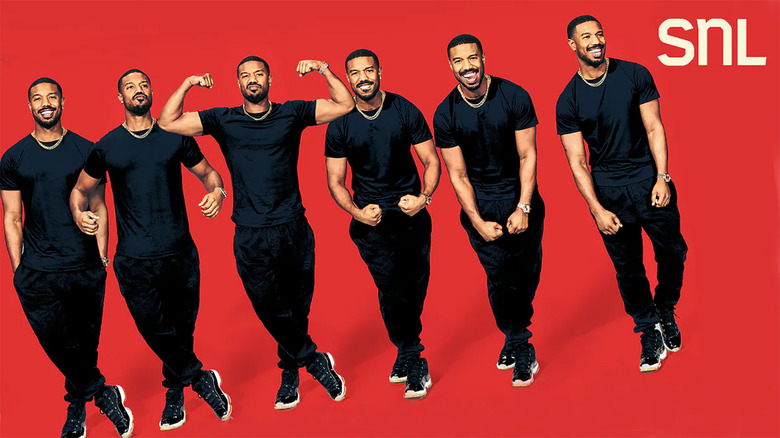 This March, we'll get to see how Michael B. Jordan fares with his feature directorial debut when "Creed III" hits theaters. But a little over a month before that, Jordan has made his hosting debut at "Saturday Night Live." 
Though Jordan has mostly stuck to more dramatic and action-oriented roles on the big screen, he's shown a hint of his comedic abilities with "That Awkward Moment" alongside Zac Efron and Miles Teller and a hilarious cameo in "Space Jam: A New Legacy." But thankfully, Jordan was more than willing to have plenty of fun when he took the stage at Studio 8H. Whether it was sloppy physical comedy, making fun of himself, appearing as Creed alongside a recurring character, or hilariously failing in an attempt at a Dominican accent, Jordan helped usher in one of the better episodes in the 48th season of "SNL."
Let's dig into some of the highs and lows of Michael B. Jordan hosting "Saturday Night Live."
What Was The Best Sketch Of The Night?
Jake from State Farm - Honestly, it's amazing that it's taken this long for "Saturday Night Live" to do a full-on parody of the commercials featuring "Jake from State Farm." Funnily enough, State Farm actually once used the "SNL" characters known as the Coneheads for one of its commercials. But this is something entirely different, with Michael B. Jordan putting on the red polo shirt and khaki pants to take the insurance mascot in a much different direction.
Framed as your average State Farm commercial with Jake helping out a family like a good neighbor, the commercial takes a worrisome turn when Jake just sticks around and becomes part of the family. Mikey Day plays the helpless husband who watches as Jake basically becomes the preferred husband and wife, with his son even throwing on a red polo and khakis while having a catch in the yard. The commercial slowly devolves into a horror movie where Jake becomes increasingly aggressive about being part of the family and pushing Mikey Day out.
One of the best parts of the commercial is how it keeps up the advertising elements even as it turns into a horror movie. When Jake menacingly whispers about low rates in Day's year, the commercial text still appears on screen as if nothing is wrong. But for me, what makes this an absolutely fantastic sketch is a real banger of an ending. "SNL" traditionally struggles with how and when to end sketches, but this is one of the best endings to a sketch that I've ever seen. Just as Day has given up on everything, and he readies himself to jump off a bridge to his death, suddenly there's a voice on a megaphone. No, it's not the police, but the commercial mascots Legal Emu and Doug from Liberty Mutual. Perfect. No notes. 
Fun Fact: Michael B. Jordan's "Creed III" co-star Jonathan Majors previously played Jake from State Farm in a commercial awards show sketch when he hosted "SNL" back in 2022.
How Was The Rest Of The Episode?
Roller Coaster Accident - The rest of the episode was pretty fantastic, featuring a wide variety of sketches. Most of them were entirely original, with only a "Street Fighter 6" voice recording session relying on a previous formula. Right on the coattails of the State Farm sketch was another feat of oddball comedy from the increasingly fantastic Sarah Sherman. Previously, Sherman brought plenty of laughs with a bug-eyed sketch that was not only funny, but featured some impressive makeup effects. This time, Sherman had another unsettling physical bit up her sleeve, and Jordan came along for the ride. 
In this sketch, a morning news show welcomes back their cooking segment host Francine, who is fresh off an incident that kept her stuck on a running roller coaster at a speed of 150 miles an hour for 19 hours straight. Inspired by that family game Speak Out, which finds players trying to say different phrases while wearing a mouthpiece that won't let them shut their mouth, Sarah Sherman plays Francine with her mouth wide ups, and wild hair and blouse perpetually blown by the wind. 
It's a simple gag, but Sherman's wild eyes and enthusiasm make it that much more hilarious, and it only gets funnier as she drinks wine and eats food, all of it falling out of her mouth and onto her shirt. The sketch takes things further when it's revealed that the show's weather man was also on the roller coaster, and we get to see a bearded Michael B. Jordan with his mouth forced open. Amusingly, Jordan wasn't shy about letting minestrone soup spill out of his mouth, with vegetables getting stuck in his faux beard. It's yet another example of a 10-to-1 type sketch being put in the primetime spot after the monologue, and we're not mad about it. 
King Brothers Toyota - This sketch had me cracking up for a variety of reasons. First of all, this pairing of Andrew Dismukes and James Austin Johnson was spectacular, and they really must be teamed up more often. Secondly, the sketch started off feeling like your average high energy car commercial, but then had the vibe of a wrestling video with one wrestler threatening another for the title. Furthermore, there's the increasing desperation of the King Brothers attempts to get rid of their overstocked automobiles that have them trapped at their dealership. And finally, the threats of long lines at the likes of trendy chain restaurants like Raising Cane's, Chik-fil-A, and In-N-Out Burger is totally real, and the fact that it's the basis for a commercial like this is truly hilarious. 
Towel Guys - Sadly, not all the sketches were winners. While this wasn't a downright terrible sketch, it ending up feeling like a poor man's version of the famous valet drivers from "Key & Peele." Marcello Hernandez and Kenan Thompson play the towel guys at a hotel in a Dominican Republican resort at Punta Cana, and they only have generic assumptions about Americans, which make them think a white woman they see is Ellen DeGeneres, or a guy from New Jersey must be like Tony Soprano. It's not unfunny, it's just not all that great. What made the sketch memorable though, was Michael B. Jordan appearing as their boss and doing one of the worst Dominican accents you'll ever here. Take this as a moment to remember that no matter how talented, ripped, and famous Michel B. Jordan may be, there are still things he's terrible at.
For the rest of the sketches, including riffs on Southwest Airlines, a male confidence seminar, an awkward bachelorette party (this is where Jordan pops and locks), and more, hit up the "Saturday Night Live" YouTube page.
How Was Michael B. Jordan As An SNL Host?
Since this episode of "Saturday Night Live" turned out so well, that must mean Michael B. Jordan was a great host, right? For the most part, the answer is yes. Jordan was clearly willing to have a lot of fun right off the bat. The actor's monologue was rather enjoyable, and it included a couple instances with Jordan making fun of himself. Not only did he hilariously address the public break-up he went through, complete with a viral image of the actor looking sad at a basketball game, but he showed off a clip from his teen acting years when he appeared on a soap opera and made an awkward wolf howl. 
However, no matter how game Jordan was to have a blast as the host of "SNL," it's clear that comedy isn't exactly his strong suit. It's not that Jordan can't be funny, but he just doesn't have a lot of comedic range. Jordan works best when he's leaning into a character as an actor, though not in the same serious fashion that a host like Adam Driver approaches the series. But there are times when Jordan is aware when he needs to ham it up, and he can't help but smirk a bit during sketches. Perhaps the only distracting moment where Jordan kinda tanked a sketch (though it admittedly wasn't all that great to begin with) was in a little Weekend Update segment...
Creed Made A Cameo!
The overall Weekend Update segment was another good entry, with Colin Jost and Michael Che feeding off each other's comedic energy and making each other laugh. But a little more notable were the guests at the desk. Though it wasn't nearly as satisfying as having Aubrey Plaza and Amy Poehler take the stage as their characters from "Parks and Recreation," it did allow for Jordan to make a cameo as Adonis Creed. 
Angel on the Return of Wendy's Vanilla Frosty - It's been a long time since we've seen Heidi Gardner as Angel, Every Boxer's Girlfriend from Every Movie About Boxing Ever, but when you have the actor who plays Adonis Creed in the "Rocky" franchise spin-off "Creed," there's no better time to bring her back. Unfortunately, the sketch isn't all that great. The introduction feels forced, though it's funny to take such a dramatic left turn fro talking about the return of the Vanilla Frosty from Wendy's (probably a paid promotion), and Creed's arrival at the desk felt rather stilted. It's mostly because Jordan has a hard time not reading from the cue cards, and for some reason, they didn't put them in a better spot so he could read them naturally while performing. But beyond that, the premise itself just doesn't warrant the forced reference to "Creed." Oh well!
Michael Che's Doorman Carl on the New York Rental Market - However, the Weekend Update did get a boost from Kenan Thompson, who has an impressive array of recurring characters at the desk. Personally, I hope this new character comes back again in the future, because he's a riot. This time, Thompson is playing the doorman at Michael Che's residence in New York, and he keeps talking about Che's private life, including everyone who keeps coming to the door looking for him, from previous romantic exploits to a kid who might be Che's son. The way Thompson keeps saying Che's name to get his attention is such a good repetitive bit, and the fact that those looking for Che only get more ridiculous makes it even better. 
That's all for this weekend's new episode of "Saturday Night Live." We'll be back next weekend when "The Mandalorian" and "The Last of Us" star Pedro Pascal makes his hosting debut on the show on February 4.
Read this next: All 10 Chris Farley Movies, Ranked Worst To Best
The post Michael B. Jordan Pops, Locks, and Gets Extremely Silly on a Superb Saturday Night Live appeared first on /Film.