Learn how to make toilet paper roll binoculars for kids! These are perfect for summer fun, and use materials you already have at home. Plus there are free printable papers if you need them.
Skills Required: None. Even if you've never crafted before, these are fun to make (and then use!). Kids of all ages can make these, including toddlers, preschoolers, and elementary age.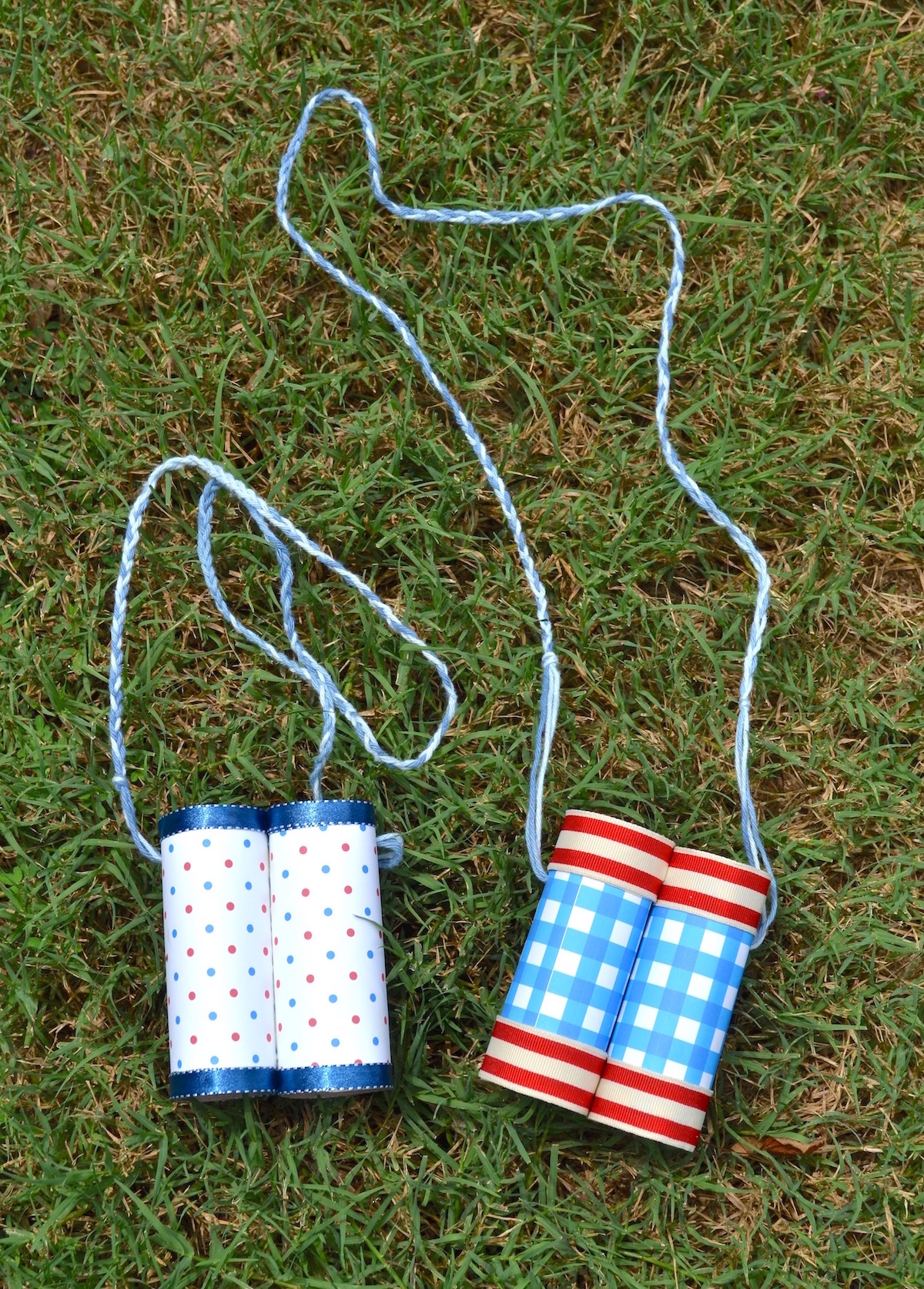 There is hardly a craft supply more admirable than the toilet paper roll! It's not necessarily meant to be used for crafting, but instead holds the material with which we wipe our bums on a regular basis.
The fact that these rolls happen to be pretty amazing craft surfaces is just a bonus.
I've made lots of crafts with toilet paper rolls over the course of my life, because I enjoy recycling but also because there's just a lot that you can do with them. I'm particularly into boredom busters and summer crafts for kids.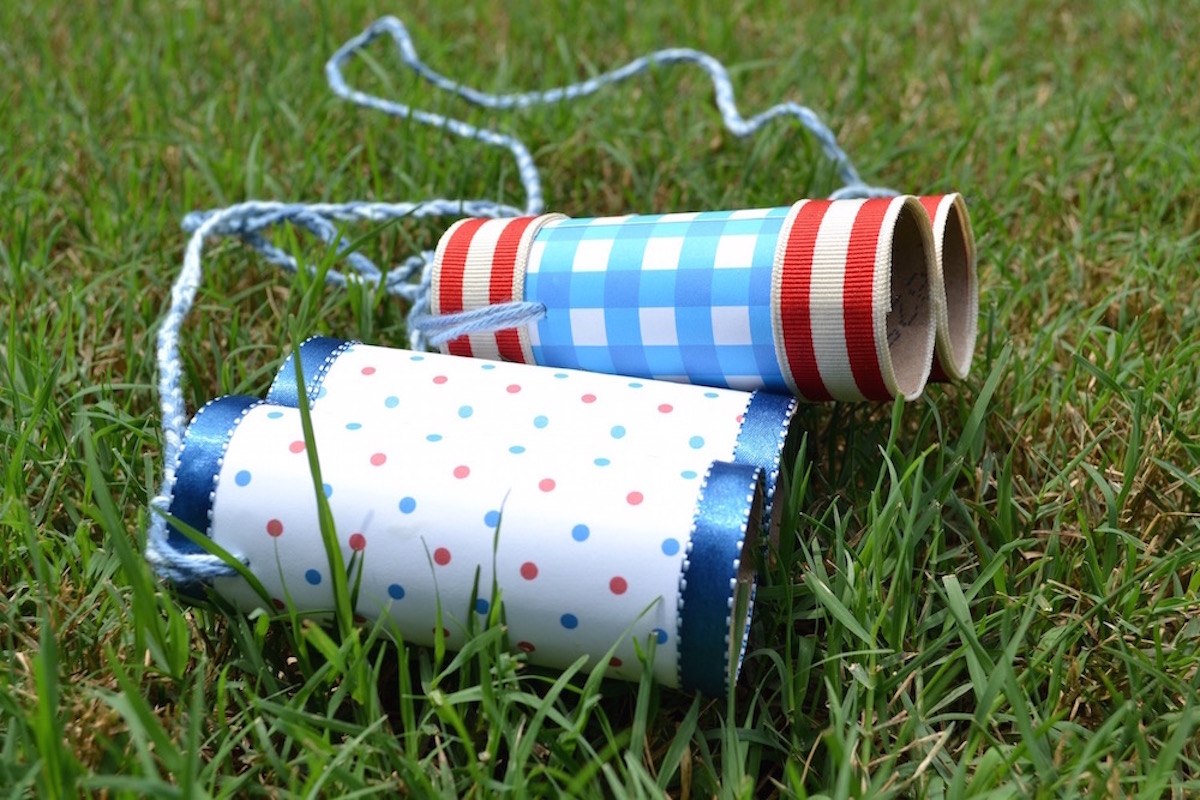 Crafting with Toilet Paper Rolls
You'd be amazed how creative kids are with a variety of supplies! TP rolls being one of them. And this post shows you how to make toilet paper roll binoculars . . . a very fun summer idea for kids of all ages! The really littles especially love this one.
They aren't working binoculars unfortunately, but the kids can pretend to be great adventurers. I do it all the time and I'm an adult!
These are great for homeschooling lessons if you have a nature chapter or focus – I know school teachers love to make these as well because they've told me. Plus they're just really cute.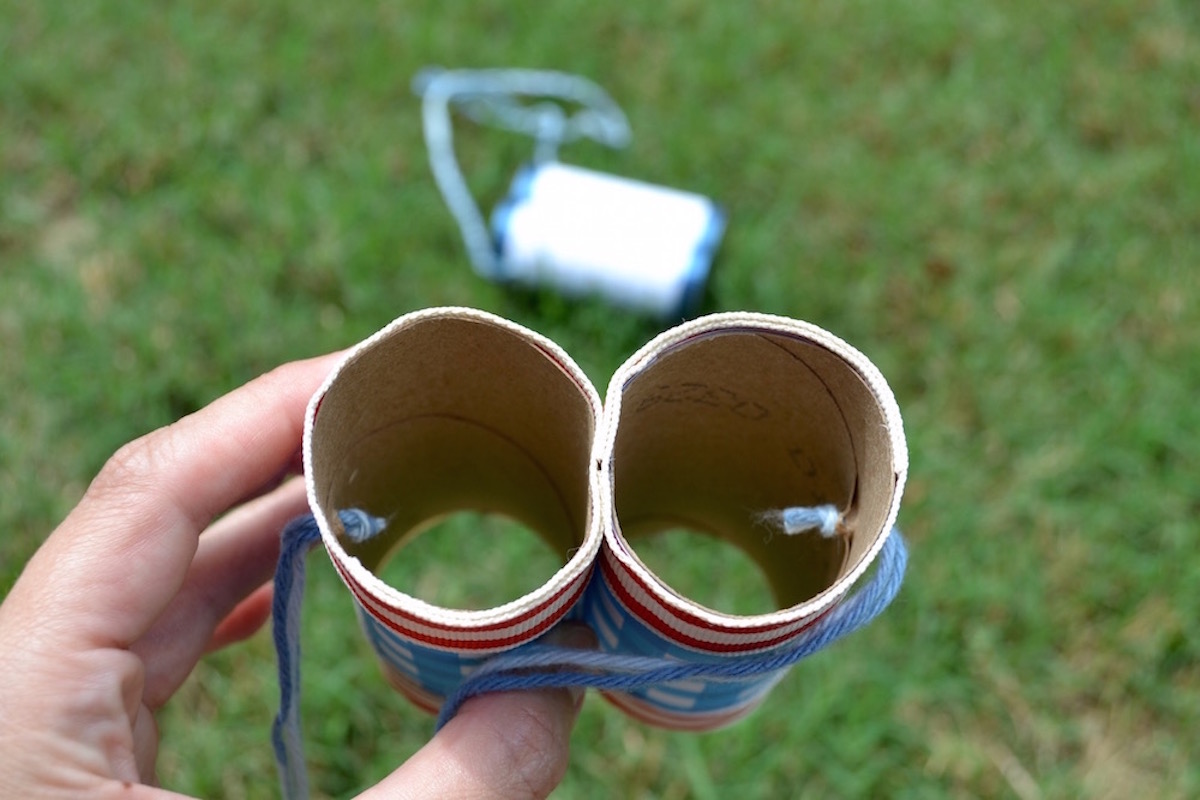 You can learn how to make these toilet roll binoculars the easiest way possible in this tutorial! You're going to make them in five easy steps: you'll cut the paper to fit the tubes, then tape it on. Then you'll glue down ribbon and glue the tubes together. Finally, you'll add the string "strap."
I love this project because you likely have everything around your home already. And if you don't have cute papers? I provide in the post! I provide four paper designs including the ones used in the photos.
They are summer themed and ready for fun.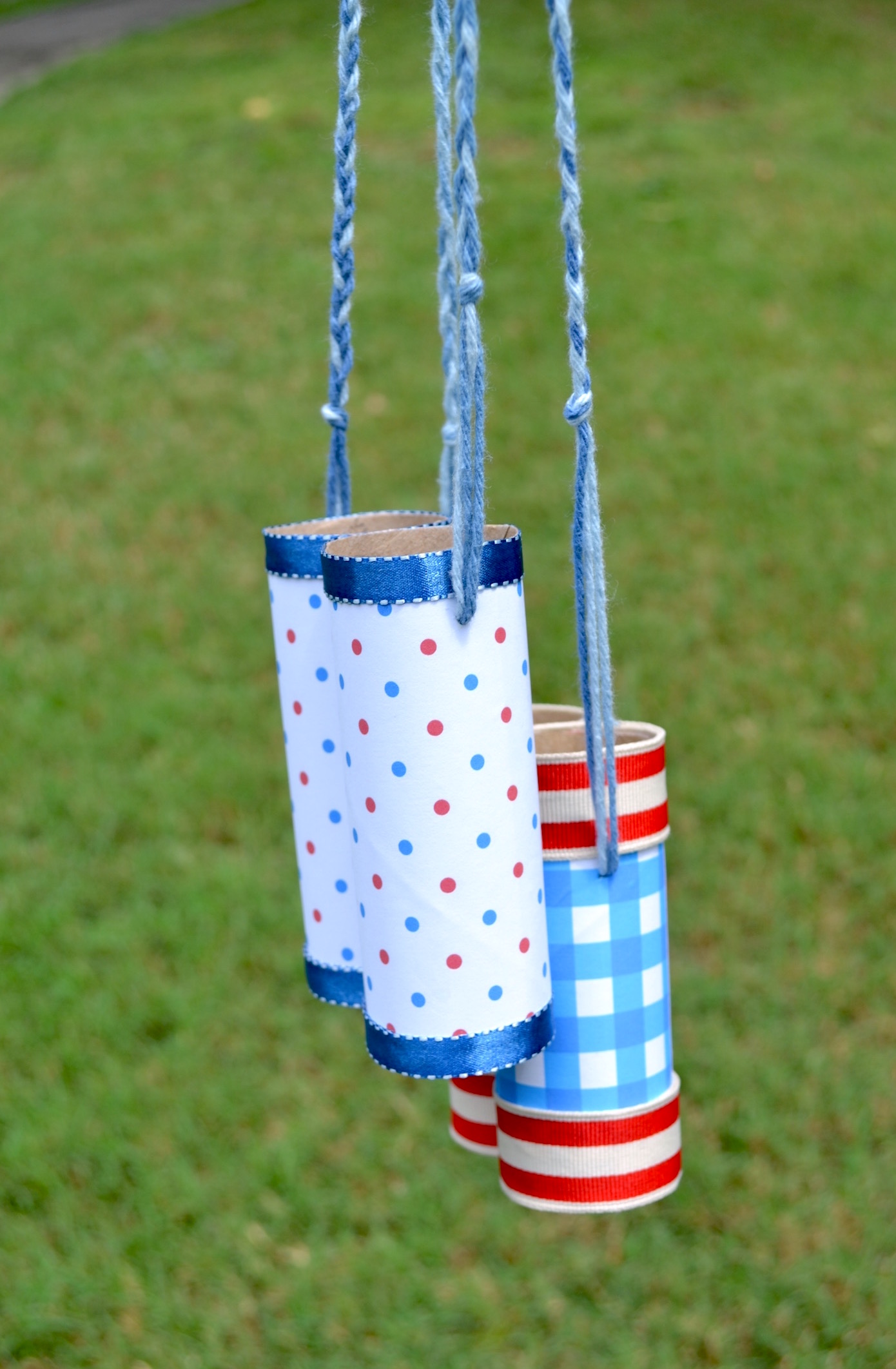 If you're ready to make these binoculars with your kids, grab the tutorial below!
Yield: 2 pair
Toilet Paper Roll Binoculars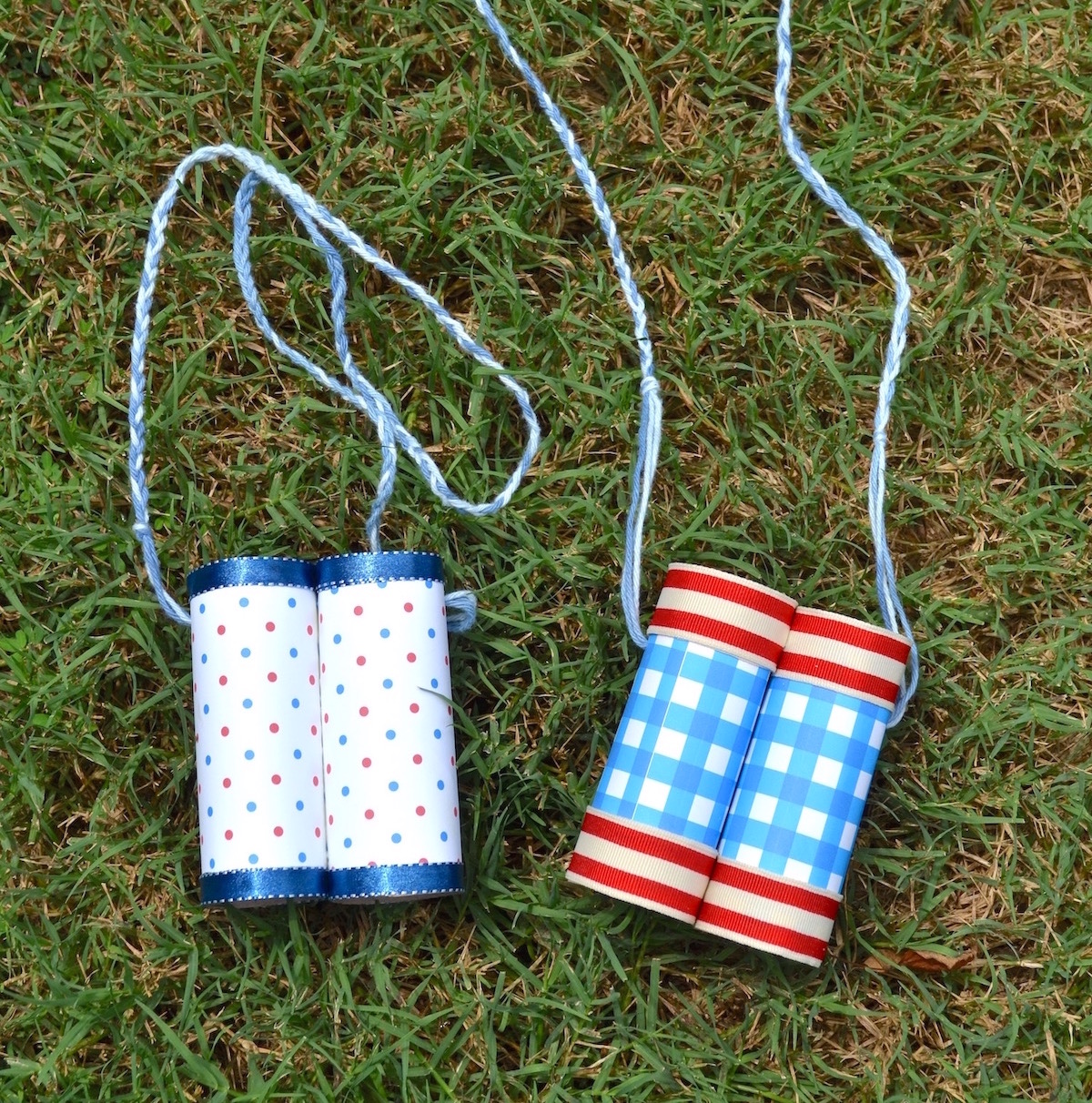 Learn how to make the cutest DIY binoculars wtih toilet paper rolls! This is a fun summer crafts for toddlers, preschoolers, and early elementary.
Materials
Toilet paper rolls or paper towel rolls
Double stick tape
Regular tape
Craft glue
Yarn or ribbon - 48"
Tools
Scissors
Ruler
Pencil
Paper punch or awl
Instructions
Measure the paper to fit the toilet paper rolls and draw a line with the pencil. Trim using scissors or a craft knife.
Trim two pieces of paper the same way for one pair of binoculars.
Grab one toilet paper roll and one piece of paper.
Place the paper design side down on the working surface and add double stick tape to the inside (you can also use craft glue).
Roll the paper around the toilet paper roll. I found it easy to use the glue bottle inside the paper tube, place at one end, and roll to the other. Secure where it overlaps with tape or glue.
Cut ribbon to fit around both ends of the toilet paper roll.
Glue the ribbon at each end of the toilet paper roll, all the one around, with the craft glue. Let dry. Repeat previous steps with a second roll.
Pick one of the tubes and put a dot of glue on both the top and bottom ribbon where the seams comes together.
Press the two tubes together and let set.
Add more glue at the seam where the tubes come together, on both the top and bottom. This keeps them secure with play.
Cut three lengths of yarn the same length to make the strap (measure for the child's size). Knot at a certain point and tape the ends.
Use a small hole punch or an awl to create a hole on both sides of the toilet paper rolls up near the ribbons, at the same height on each side.
Insert the ends of the length of yarn into the holes on either side and tie knots (a few) to secure.
Kids can use the string to hang the toilet paper tube binoculars around their neck!
---
If you love this binocular craft with toilet paper rolls, I'd love for you to check out these other ideas:
The post Make Toilet Paper Roll Binoculars for Kids' Summer Fun! appeared first on DIY Candy.