Manufacturers are expanding their lines of compact models. Here's how to determine if one would be a good fit for your household. Designed for small kitchens, 18-inch-wide dishwashers often lack premium features like targeted jets, lit interiors, and a WiFi connection.
By Perry Santanachote
Updated by Daniel Bortz
If you have a small kitchen or simply don't use that many dishes, a smaller dishwasher could be a great fit for you.
The standard dishwasher is 24 inches wide. Consumer Reports has reviews of more than 100 24-inch models in our dishwasher ratings, yet only seven reviews of 18-inch models. But manufacturers are expanding their lines of compact 18-inch models to keep up with rising demand.
Bosch, for instance, has tripled the number of 18-inch dishwasher models it sells in the U.S. to six from two in 2015. (For comparison, Bosch sells 83 different 24-inch-wide dishwashers.)
Here are important factors to consider when determining whether an 18-inch dishwasher would be a good match for your household, including cost, selection, usability, and how these dishwashers perform in our tests.
Below these factors, CR members can read reviews of two highly rated 18-inch models.
Space Savers, Not Money Savers
"Because 18-inch models are a little smaller, consumers may expect to pay a little less," says Dirk Sappok, director of product development at Miele. "But featurewise, they're in line with full-size dishwashers, so they're actually priced similarly. You don't buy an 18-inch dishwasher to save money or efficiency. You buy it to save space."
Sappok explains that the technology for both dishwasher sizes is almost identical, and 18-inch dishwashers use the same amount of water and energy as full-sized dishwashers, too. They're also installed underneath a countertop and operate the same way as full-sized models.
The biggest difference between the appliances is the width. Those 6 inches reduce the capacity of 18-inch dishwashers to eight or nine place settings vs. 10 to 12 for standard models.
Prices for the 18-inch dishwashers we've tested range from about $500 to $1,000, which is on a par with most of the 24-inch models in our ratings.
Features
Like 24-inch dishwashers, 18-inch models come in multiple styles: with control panels on the front or hidden on top, towel bar handles or pocket handles, and finishes in stainless steel, black, and white.
Some 18-inch models have water softeners, third racks, and cycle settings for china and crystal, short washes, or a rinse-and-hold cycle, but they often lack premium features like targeted jets, lit interiors, auto-open drying, and a WiFi connection.
If you're looking for Miele's knock-to-open feature or Bosch's patented CrystalDry technology, it may take some time before it trickles down to 18-inch models.
Selection and Availability
Although there's a rising demand for small dishwashers, you still won't find nearly as many models to choose from as full-sized dishwashers. Manufacturers often only have one or two models available.
Some retailers have showroom models that you can check out, but 18-inch dishwashers are not typically kept in stock. So you may have to order online or via telephone, as we did when we bought models to test.
It took one to two weeks for these dishwashers to arrive, and we had to send three back because they were damaged. We had to return one model twice. We haven't had any of these problems with the 24-inch models we buy to test.
We're not sure whether this was all a coincidence, but our shopper suspects that because these dishwashers are small and light, they get tossed around more. Also, because the demand is relatively low, they may get moved around the warehouse often and get jostled.
Test Results
The features and functions of 18-inch models nearly match what's available among standard 24-inch dishwashers. So we test them in the same way, just with fewer dishes.
We spend the usual 28 hours evaluating each model. Our testers load each machine with dishes that have baked-on food on them and use a photo-imaging machine to scan the washed items to determine how clean they are. To gauge drying performance, we use plastic sippy cups, because plastic can be difficult to get bone-dry. A panel of judges sits through the entire dishwashing cycle to assess noise levels.
"The results in our noise and efficiency tests are very similar among all the 18-inch dishwashers and comparable with the 24-inch models we test," says Larry Ciufo, CR's lead engineer for dishwasher tests. "But the results for washing and drying varied wildly."
When the dishwashers were loaded to the exact specifications in the manuals, they all cleaned well. (These results are what we scored each model on and what's represented in our dishwasher ratings.)
Loading your dishes according to the manufacturer's instructions is more important with 18-inch models than with 24-inch ones. In fact, the way the rack tines and cutlery trays are configured in these machines aims to discourage you from placing large dishes in the front and back.
In terms of drying, most of the 18-inch dishwashers did a poorer job at drying than their 24-inch counterparts. Still, some models perform well enough—for drying and cleaning—that Ciufo is considering buying one for his own small kitchen.
"I expected smaller dishwashers as a whole to underperform their larger counterparts, like how a compact car doesn't perform as well as a full-sized sedan," he says. "But that was not the case. Plus, look at how cute they are!"
Top 18-Inch Dishwashers
The 18-inch models below perform well in our tests and are built by brands that are reliable based on our member surveys. CR All-Access members can explore our full dishwasher ratings. For more information on dishwashers, including finishes, brands, and features, see our comprehensive dishwasher buying guide.
Whirlpool WDF518SAHM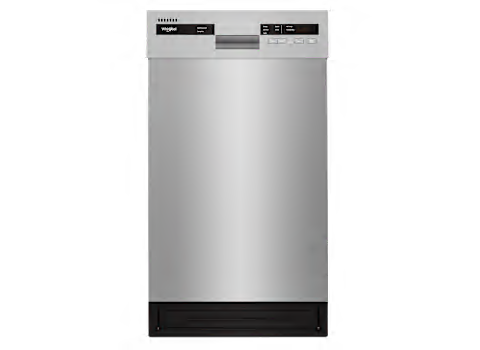 CR's take: The top-performing Whirlpool WDF518SAHM—a Green Choice product thanks to its eco-friendliness—receives above-average ratings in our tests for washing and drying. The machine's run time clocks in at 130 minutes, which isn't bad for an energy-efficient dishwasher. This model features a soil sensor and a delayed-start function. It comes in stainless steel, black, and white. Whirlpool dishwashers garner high marks for reliability and owner satisfaction in our member surveys.
Danby DDW1804EB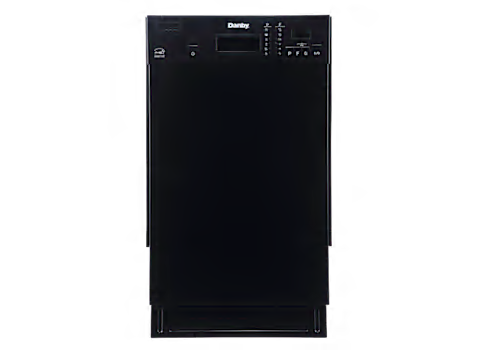 CR's take: If you're looking for a more affordable 18-inch dishwasher that still delivers strong performance, check out the Danby DDW1804EB. This low-frills model performs well in both our washing and drying tests. It's also energy-efficient, earning a Green Choice designation based on our test results. You have to clean the filter manually, though, and the machine is a bit noisy. CR hasn't collected enough survey data yet to rate Danby dishwashers for owner satisfaction and reliability.
Consumer Reports is an independent, nonprofit organization that works side by side with consumers to create a fairer, safer, and healthier world. CR does not endorse products or services, and does not accept advertising. Copyright © 2023, Consumer Reports, Inc.