When most of us think about Vietnam as a destination, it might not be white sand beaches, emerald water and diagonal palm trees that first come to mind. Instead, travelers might picture bustling markets, street food stalls, rice fields dotted with nón lá hats, colorful silk lanterns and ornate pagodas. 
In more recent years, though,  the very definition of tropical paradise has also come to represent the country. The reason is Phu Quoc. This island in the Gulf of Thailand once home to sleepy fishing villages now seems to be the epicenter of a tourism boom.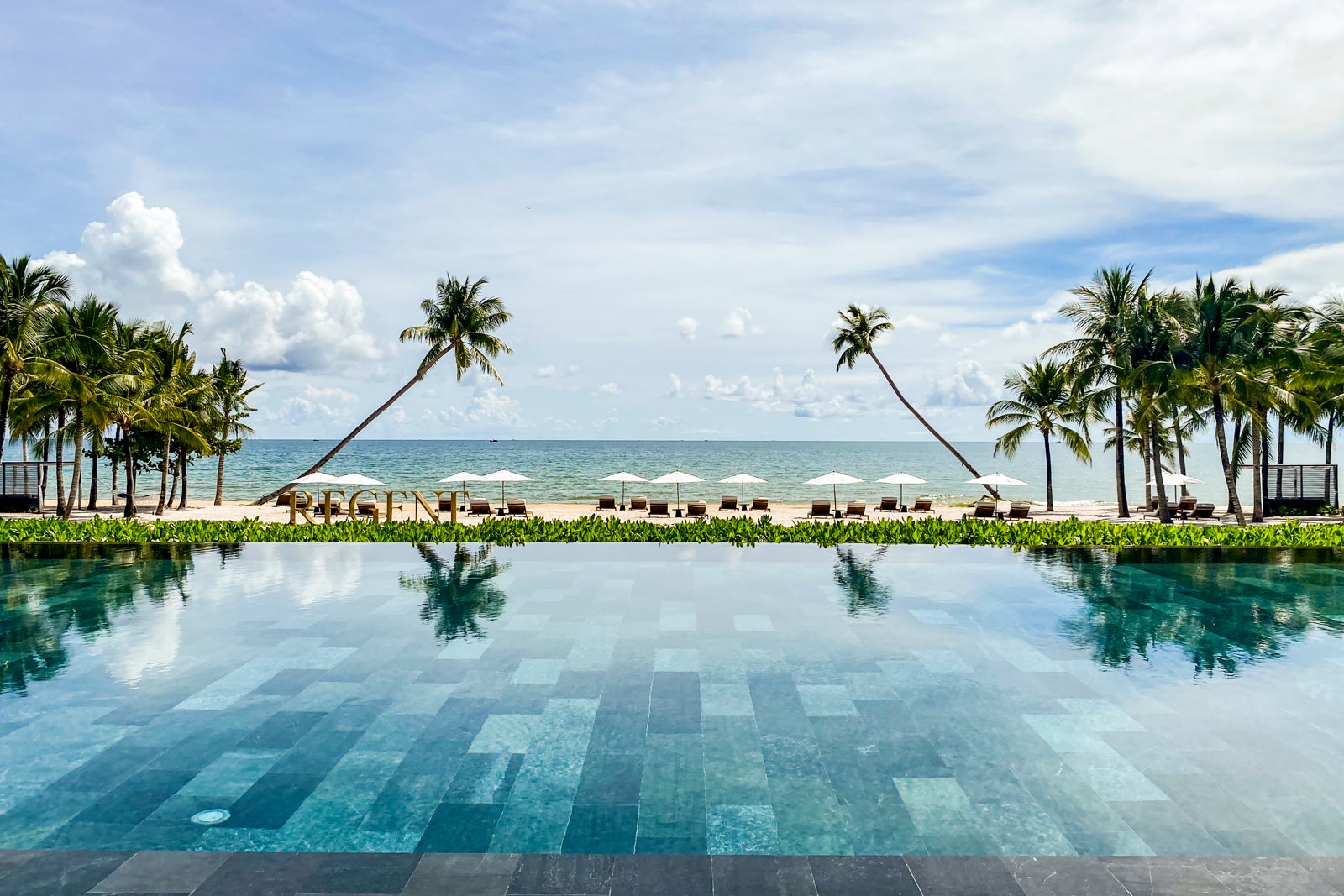 As Vietnam opened back up to the world this spring, I planned a trip from the north to the south of the country that would wrap up on the island, where development has taken off in recent years.
The Regent Phu Quoc is the newest and, arguably, the most luxurious outcropping of this growth. The all-suite and villa resort, which sits on the island's longest beach (beside the InterContinental Phu Quoc Long Beach Resort) has been in the works for quite some time. Although it's still being completed, it celebrated its long-awaited opening on Apr. 19, 2022.
For more TPG news delivered each morning to your inbox, sign up for our daily newsletter.
I was eager to see what the buzz was about firsthand. With 126 villas (all of which have pools) and 176 suites designed by Asian firm BLINK Design Group, I expected a certain level of sophistication. However, it far exceeded my expectations. 
The indoor-outdoor flow of the entire property is seamless and central to its airy aesthetic. Additionally, the generously sized private spaces nod subtly to Vietnamese design tradition while feeling sumptuous and totally up to date, befitting a newly-built five-star resort. The resort also offers plenty of complimentary amenities, such as a gratis and well-stocked minibar, going above and beyond standard operating procedure.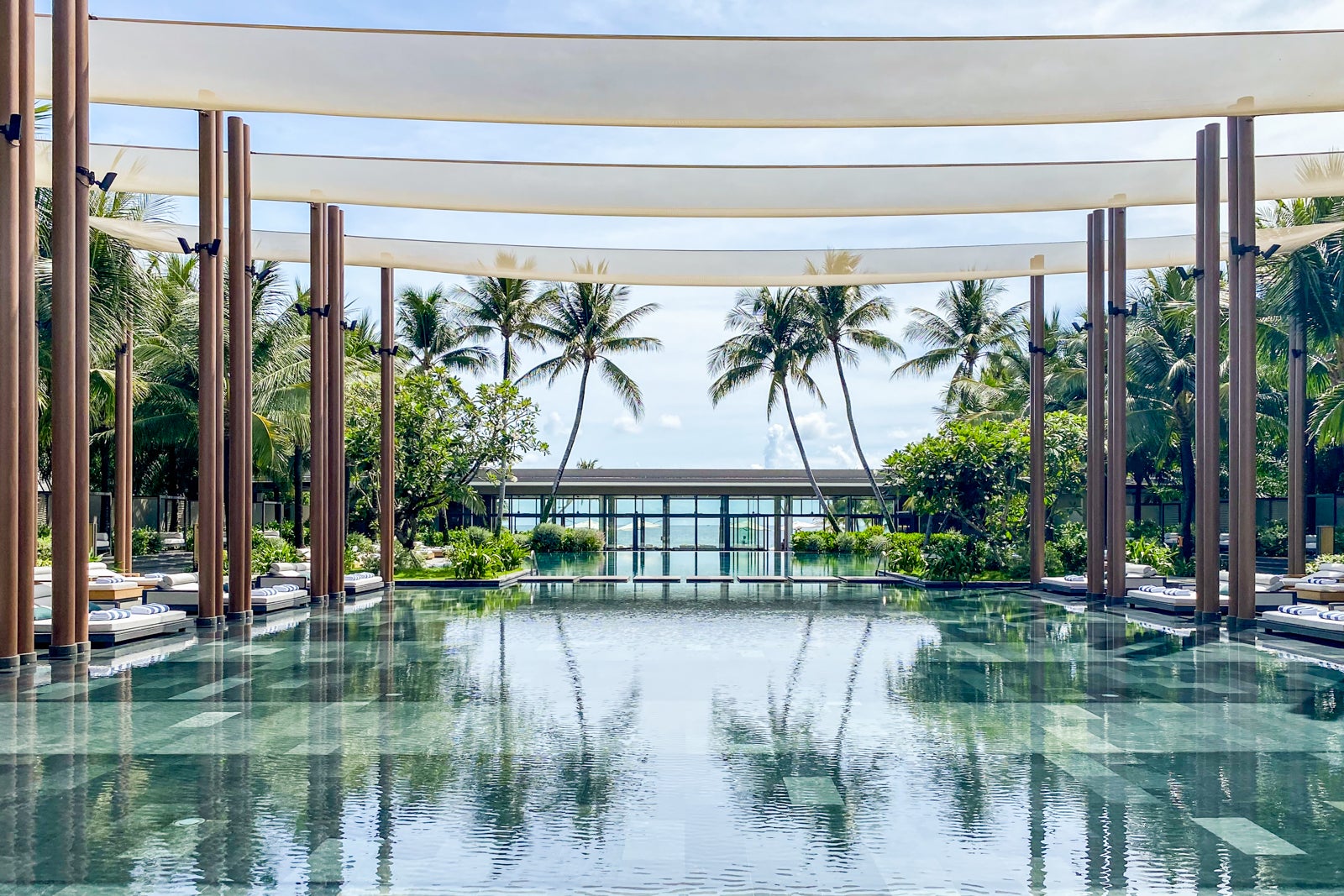 From the second my family and I stepped out of our taxi, we were made to feel very special — honored even. Realistically, that was because we were some of the very first international guests to grace the property.
However, the gesture felt genuine and, in a way, personal. Several team members expressed gratitude for us choosing to stay at the Regent. Throughout our time there, the staff showed interest in us and our daughter, taking special care of her with toddler-friendly amenities and gear. This is what our experience over a two-night stay in mid-June was like. 
Booking
For the dates I was looking at in June, there didn't seem to be much availability of points or paid nights, which made me nervous that it might be crowded. 
I shouldn't have worried, though, as the property was very sparsely occupied. Later, I discovered that was because less than one-third of the resort's suites and villas were open (a manager mentioned they hoped to be fully open by the end of 2022). 
The standard room type, a 1 King Bed Ocean View Suite, was going for $309.92 per night before taxes. The alternative was redeeming 39,000 points per night, which would have put me well above TPG's valuation of IHG points of just half a cent each. 
However, I opted to pay the full rate, which ultimately totaled $687.92 for two nights, netting me 6,199 IHG One Rewards points. Additionally, I used my Chase Sapphire Reserve card, meaning I earned 3 Ultimate Rewards points per dollar, or 2,064 points total, equaling another $41 or so in value per TPG valuations.
All rates at the resort include breakfast since it's not available a la carte, which was another nice add-on. There are quite generous amenities provided on a complimentary basis as well, including bottled water (still and sparkling), non-alcoholic beverages, beer and snacks in the room minibar. I didn't know any of that until we arrived. 
Location
There's plenty for tourists to do on Phu Quoc, such as exploring part of the Kien Giang Biosphere Reserve, a UNESCO-recognized biosphere reserve, and riding the nearly 5-mile-long cable car.
To be perfectly honest, though, the Regent Phu Quoc felt like the destination in and of itself to me. Even just between the pools and its heavenly stretch of beach, there was plenty of action — or glorious inaction — to fill a day. I expect that as programming ramps up and occupancy increases, that will only be more true.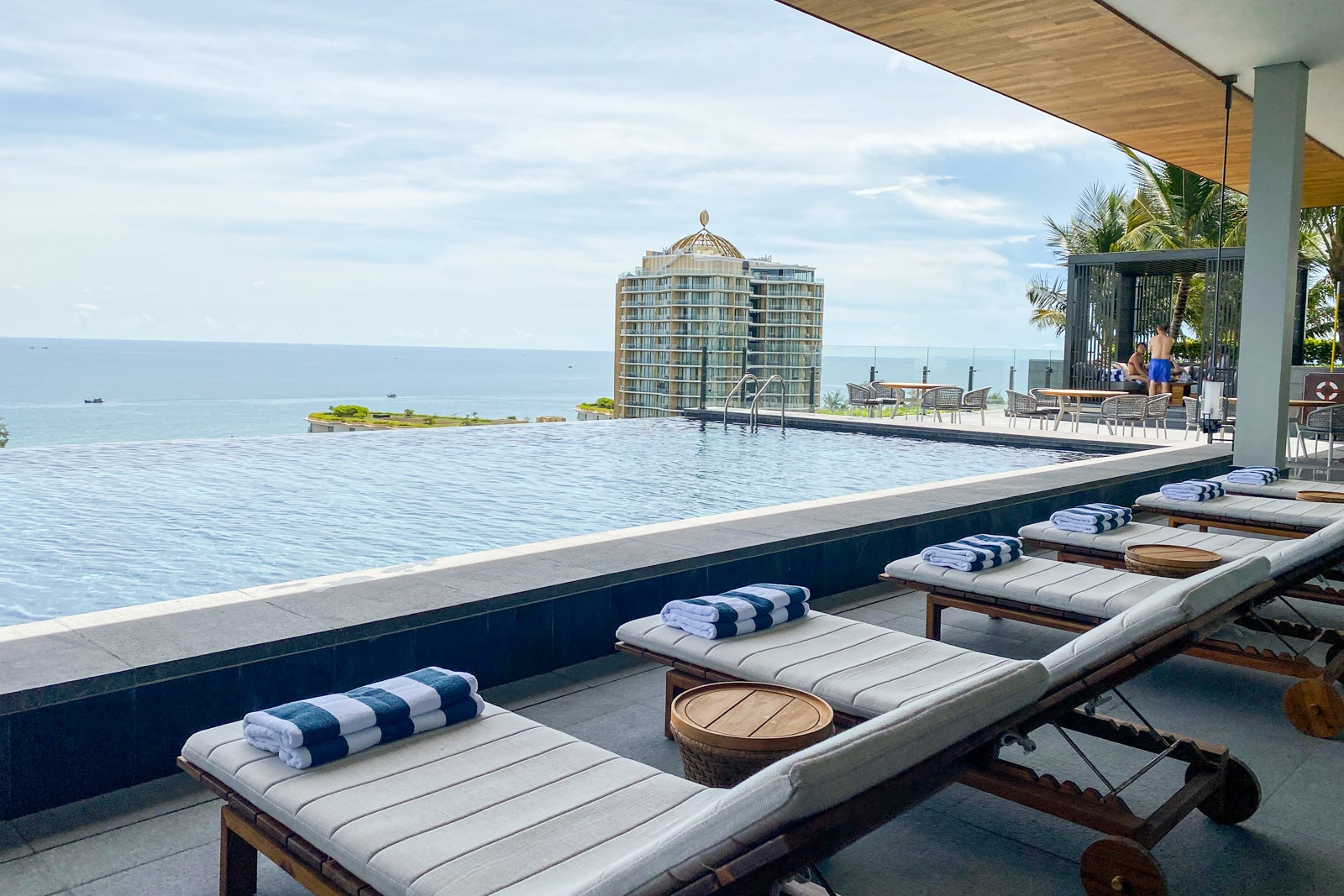 This is one of a handful of Regent Hotels & Resorts properties in Southeast Asia, and it feels peaceful and wonderfully secluded on the western coast of the island.
There seems to be more development on the other side, and that's likely owing to one reason in particular: The rainy season from July to September can apparently be pretty bad on this side of the island, with gusty winds and rough seas. During those months mountains protect the eastern coast. 
Still, it's safe to say the other nine months of the year — and the mesmerizing pink sunsets — make up for that. The resort stretches out along a portion of Phu Quoc's nearly 12-mile-long Long Beach, which lives up to its name physically. It was delightfully deserted during our stay, and we felt like we had the entire island to ourselves.
Appropriately for an island that's mostly covered in old-growth forest, a strong connection to nature pervades. Even the landscaping looks naturally lush, and there is fresh air flowing through just about every space. Also, even though the InterContinental Phu Quoc Long Beach Resort — which opened in 2018 — is right next door and visible from the guest room balconies, this resort still feels delightfully far away from civilization. 
Check-in and lobby
Our flight landed at Phu Quoc International Airport (PQC) around lunchtime and we reached the resort's long, stately driveway in our taxi at 12:45 p.m. The 15-minute drive cost 250,000 Vietnamese dong, the equivalent of about $11.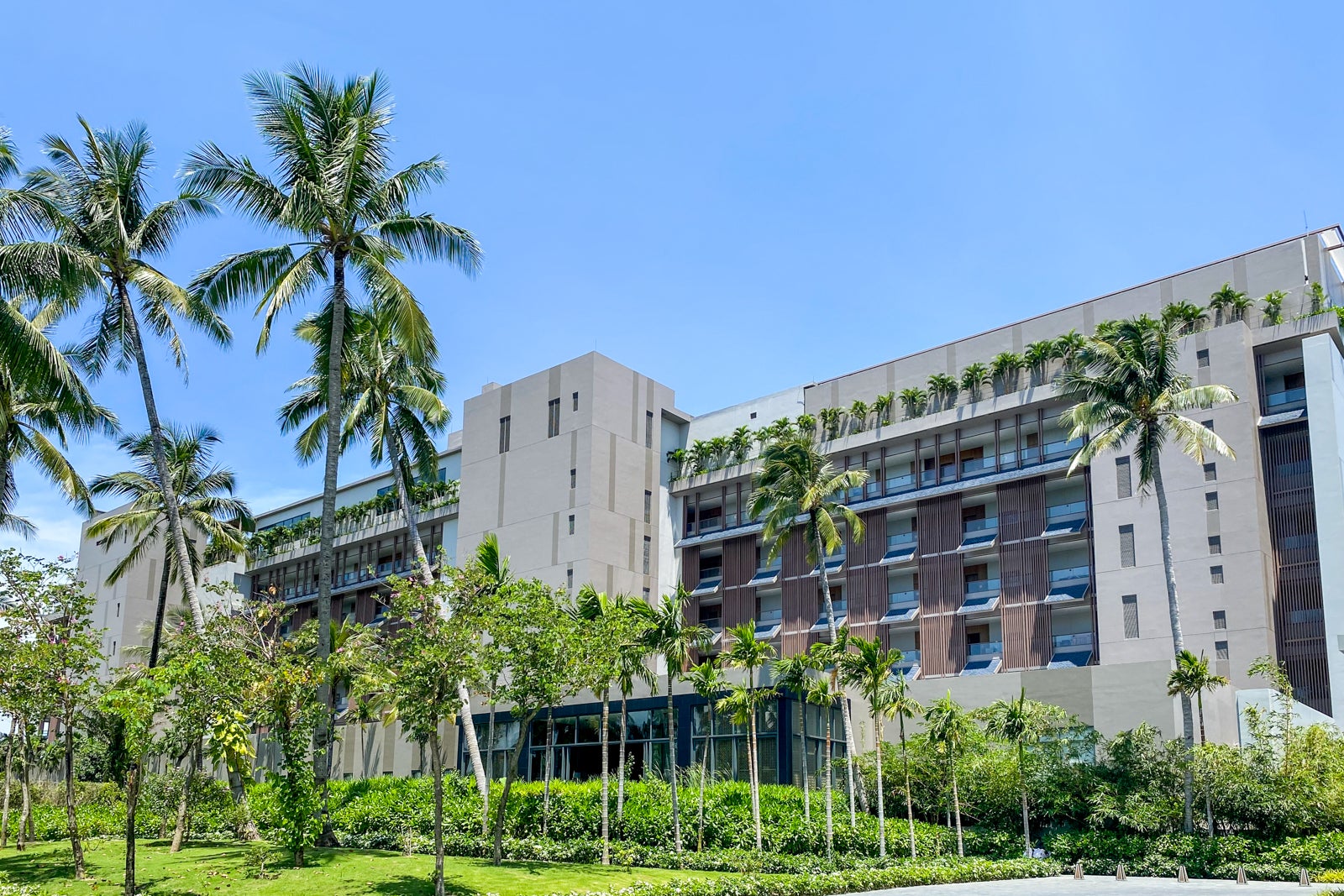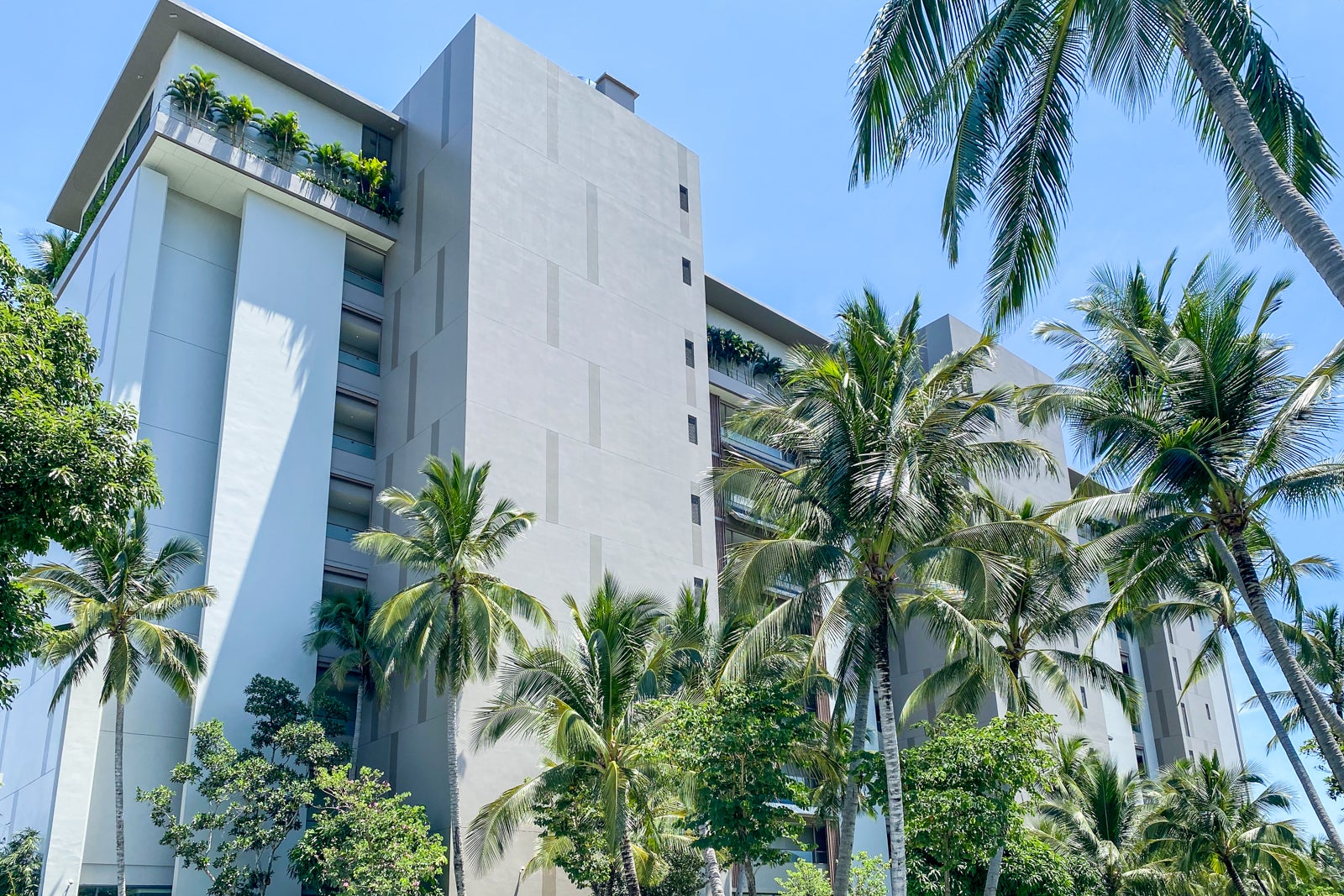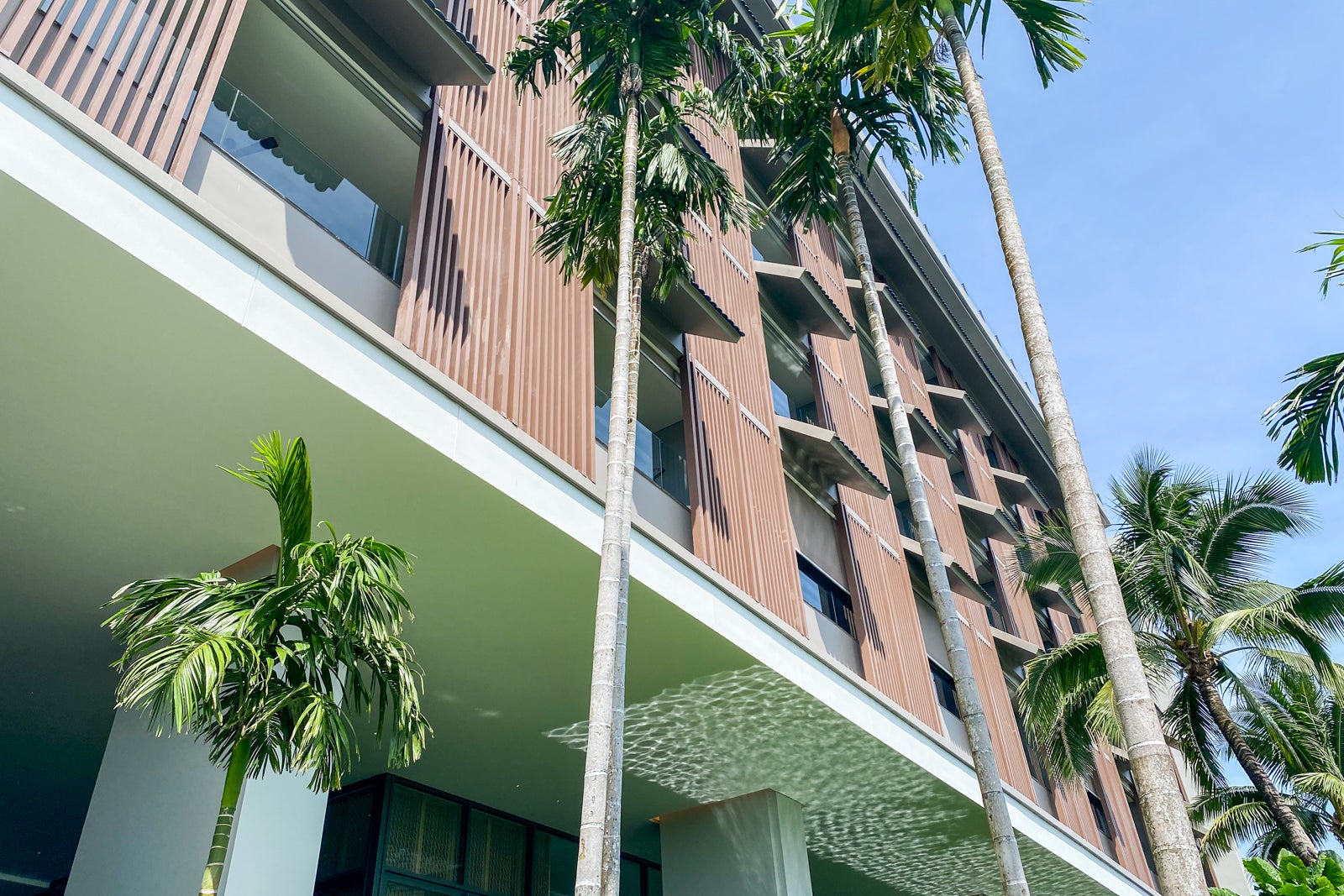 I doubted our room would be ready since check-in wasn't until 3 p.m., and I was happy to wait and eat lunch. However, from the moment we stepped out of the vehicle at the covered entrance, which was flanked by koi fish ponds, it was clear the staff were on top of things.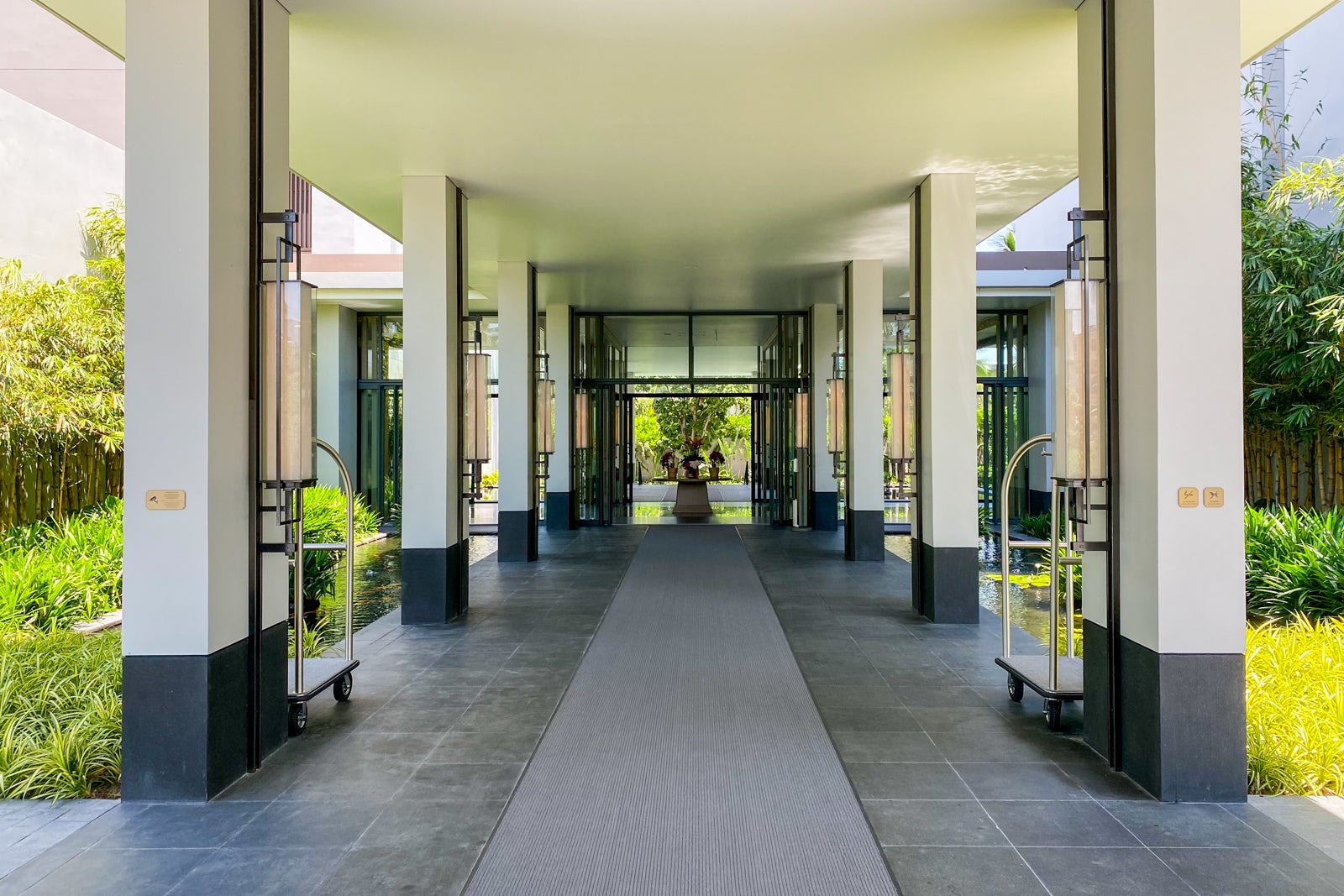 Porters unloaded our luggage immediately, and an elegantly dressed young woman greeted us and patiently waited while our 15-month-old ogled the giant orange and yellow fish.
We followed her through the lofty, open-air entry, with purple orchids spilling over their vases and sizable ceramic urns on pedestals lining the hall. She explained that the Vietnamese owner — based in Denmark — believes in spiritual things and that koi fish represent good luck in their culture.
She promised our daughter there would be many more places to watch the fish around the property, and she wasn't exaggerating.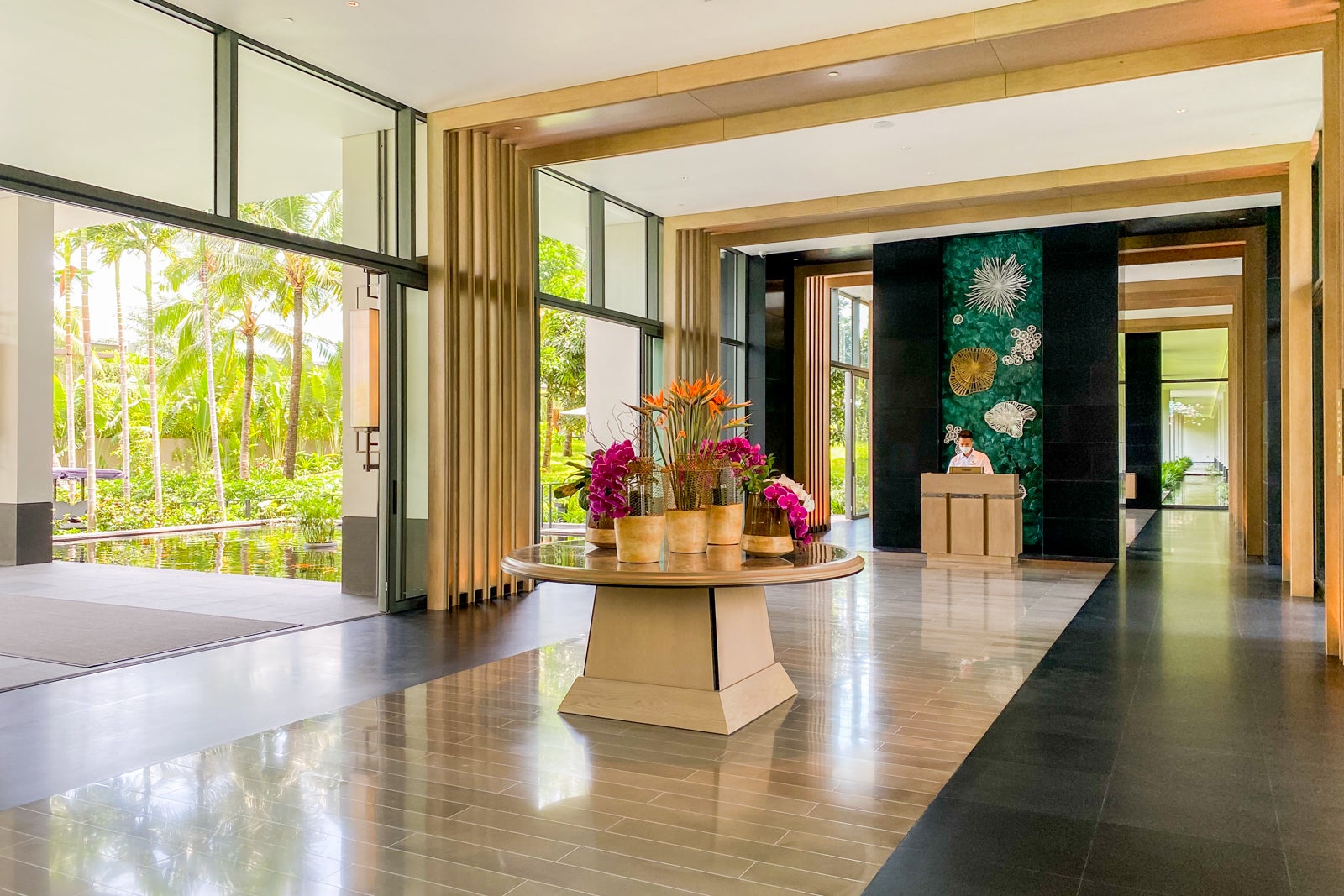 She escorted us into a spacious lounge with at least a dozen chic seating vignettes with colorful throw pillows. We chose one by a vast reflecting pond where we were welcomed with cold lemongrass-ginger tea with orange and honey, and lavender Madeleines.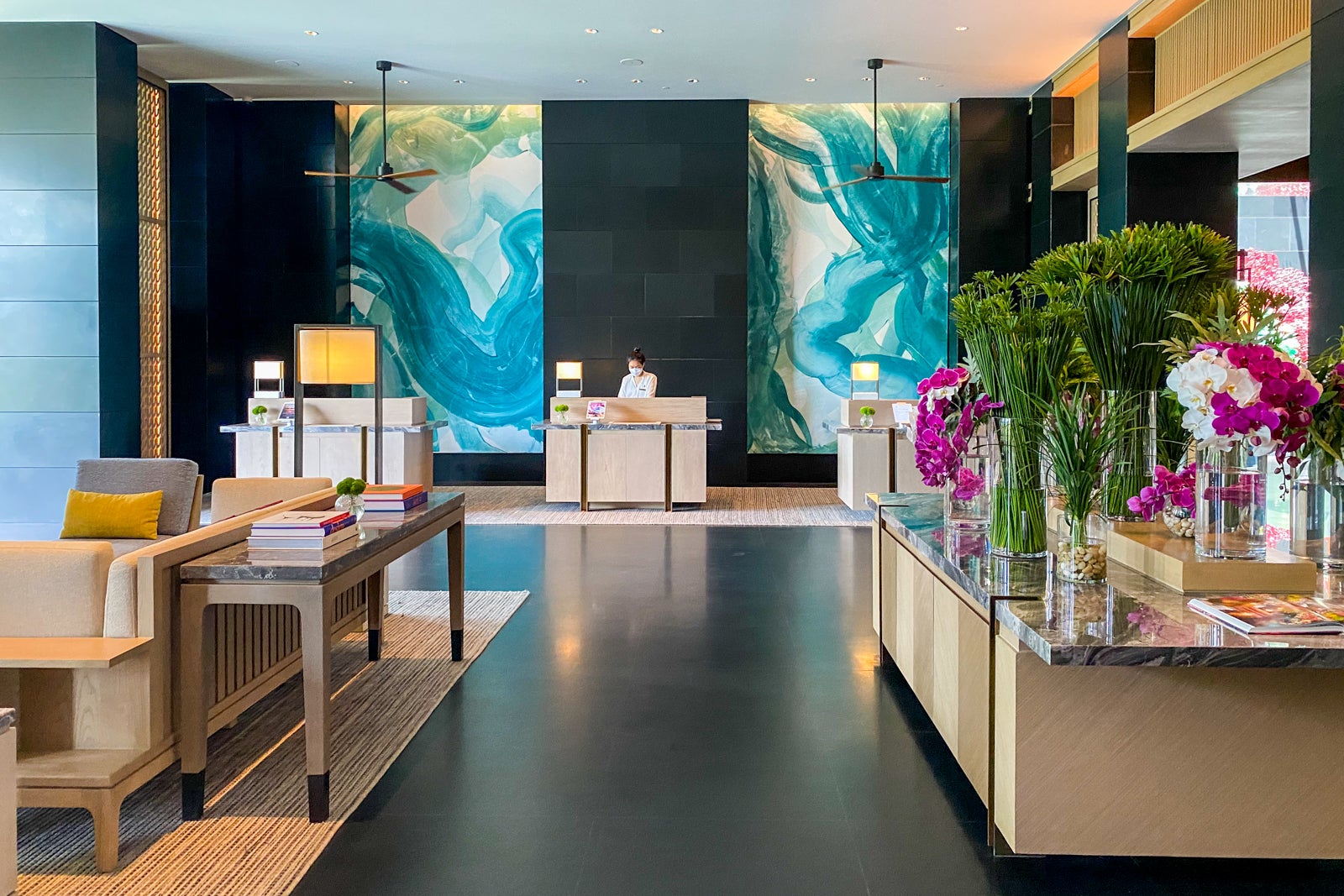 I was ready to apologize for arriving so early when the front office manager appeared and greeted us. She thanked us for choosing Regent and for being one of the very first international guests at the almost two-month-old resort.
She informed us our room was ready, and that as an IHG One Rewards member, I was eligible for early check-in, as well as late check-out upon departure, at 2 p.m.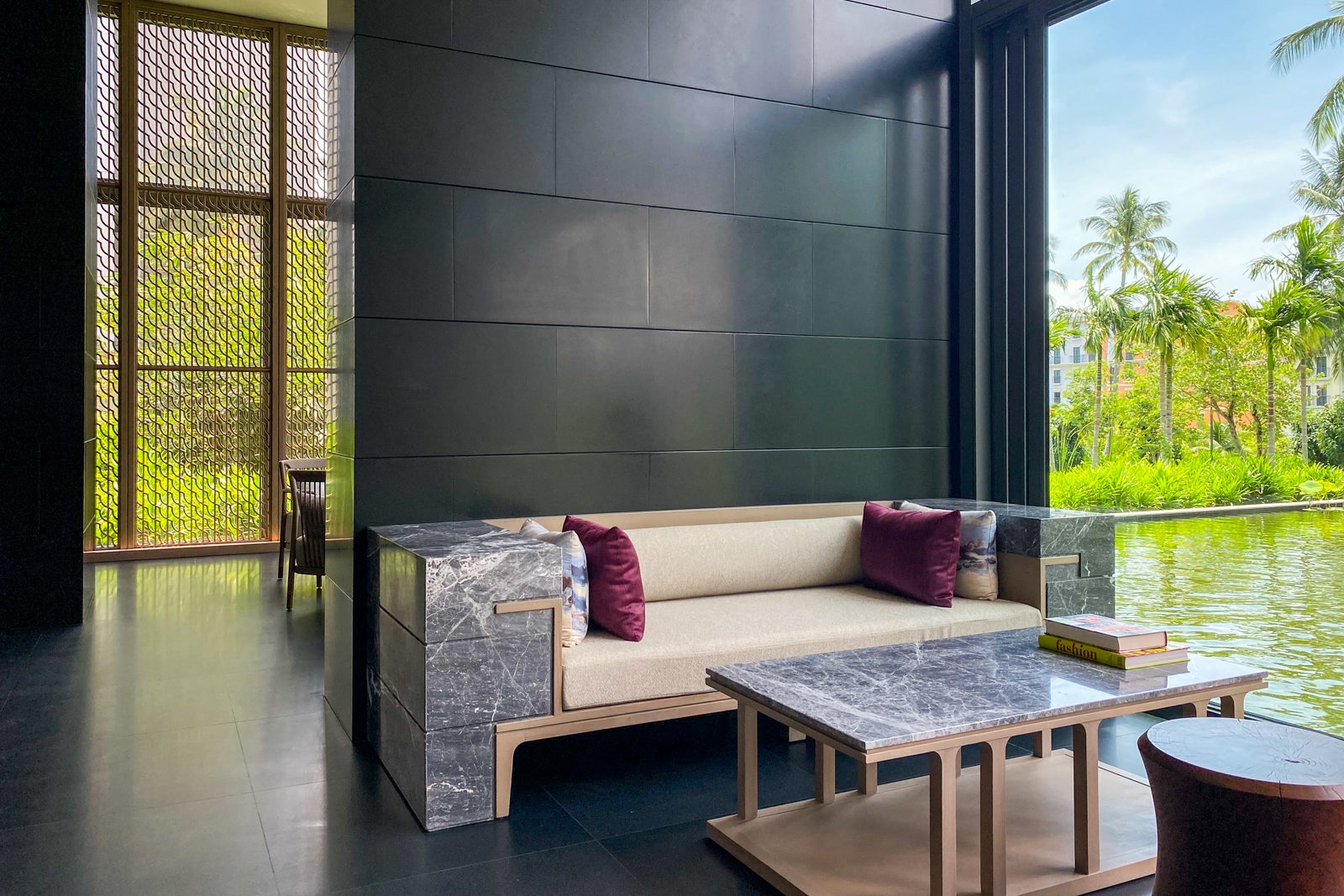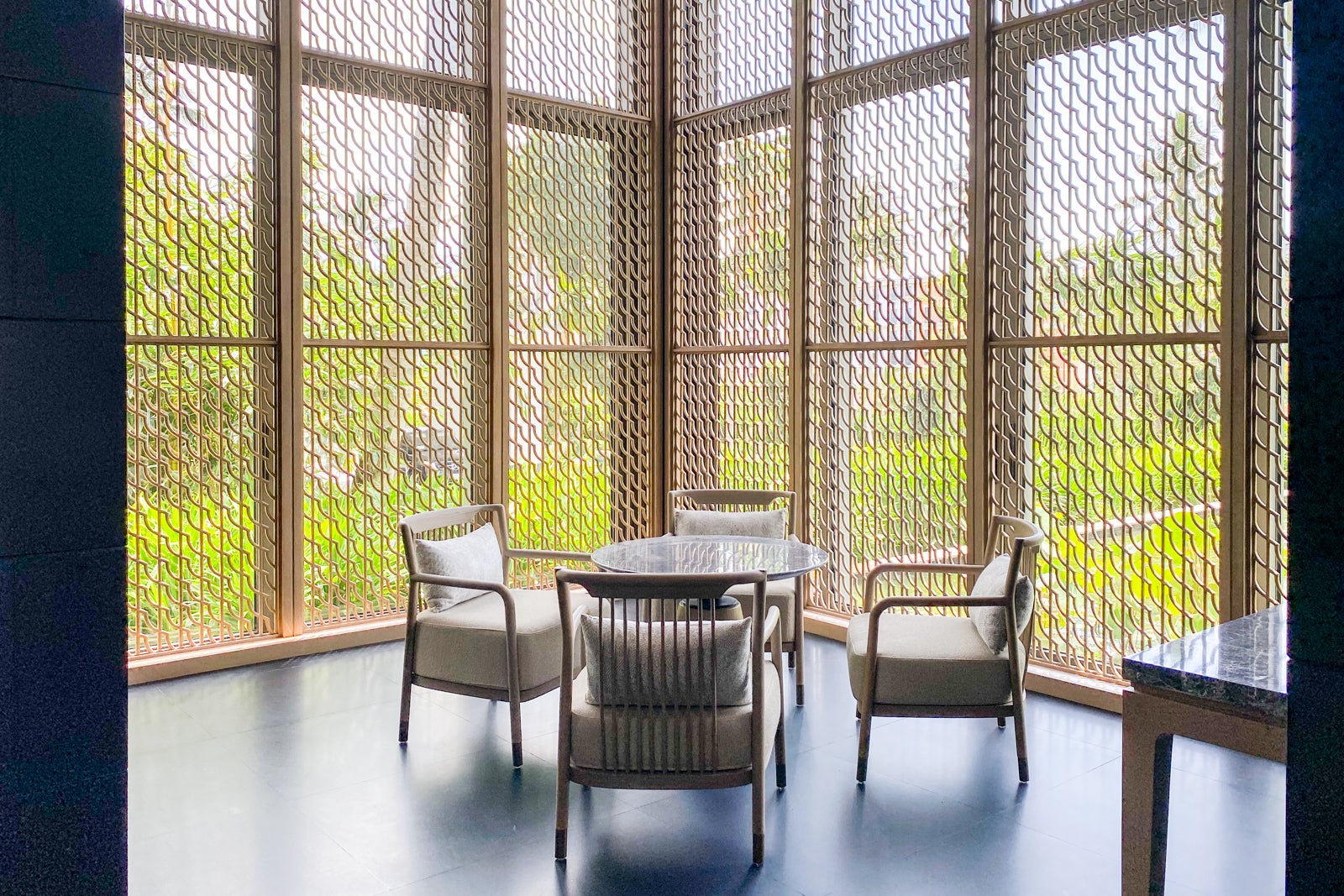 Paperwork was handled efficiently, and rather quickly we were off to our room, with a team member named Huy escorting us past a striking blown-glass coral sculpture.
He offered to make dinner reservations, which were encouraged by the manager, for the two dining outlets that were open, Ocean Club and Rice Market. En route, he explained how to walk to the restaurants from our room, pointed out the spa and told us the breakfast hours. He also mentioned that as IHG members we received a 20% discount on food (not alcohol) at the restaurants. He made note of when we wanted our room cleaned and turndown performed each day.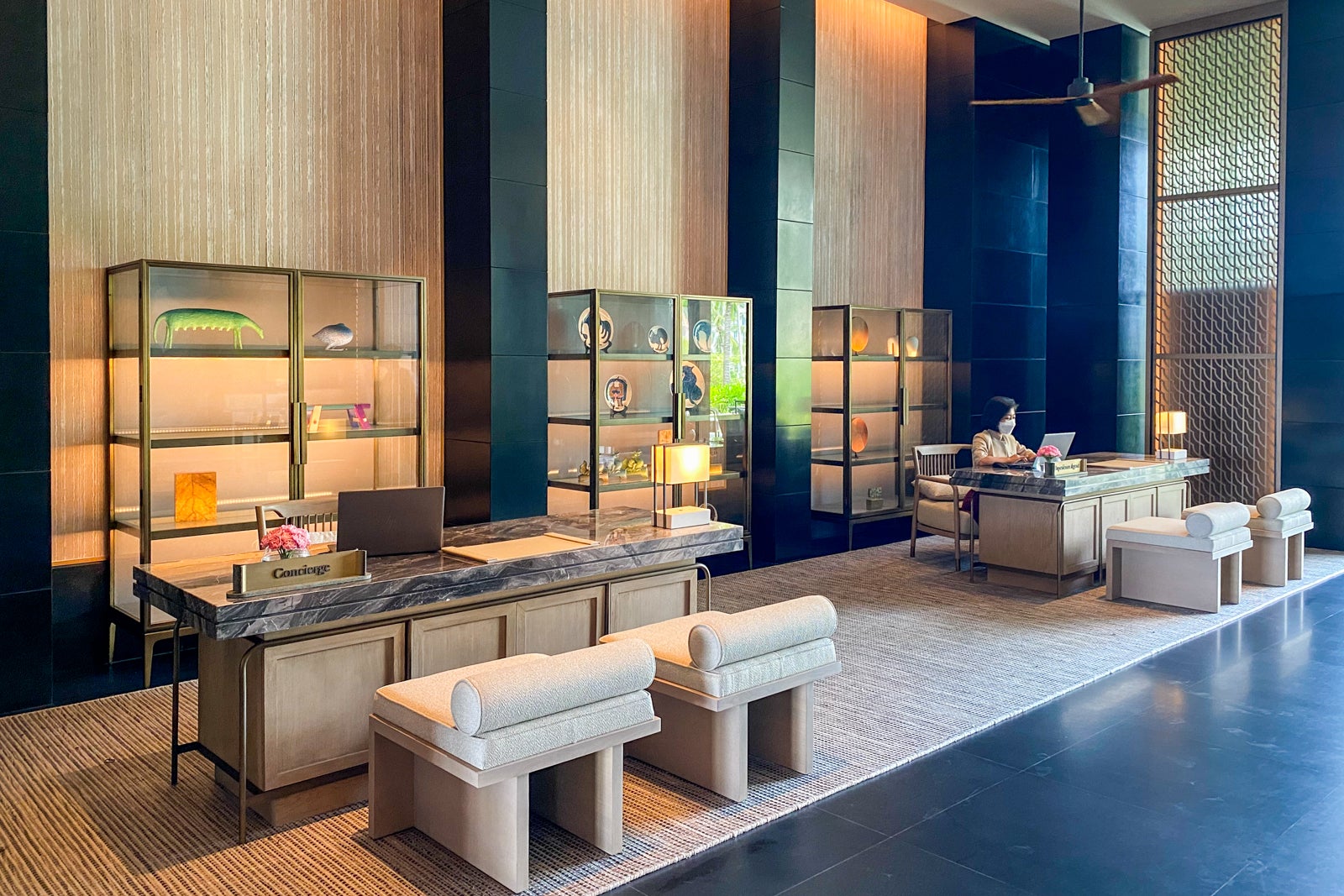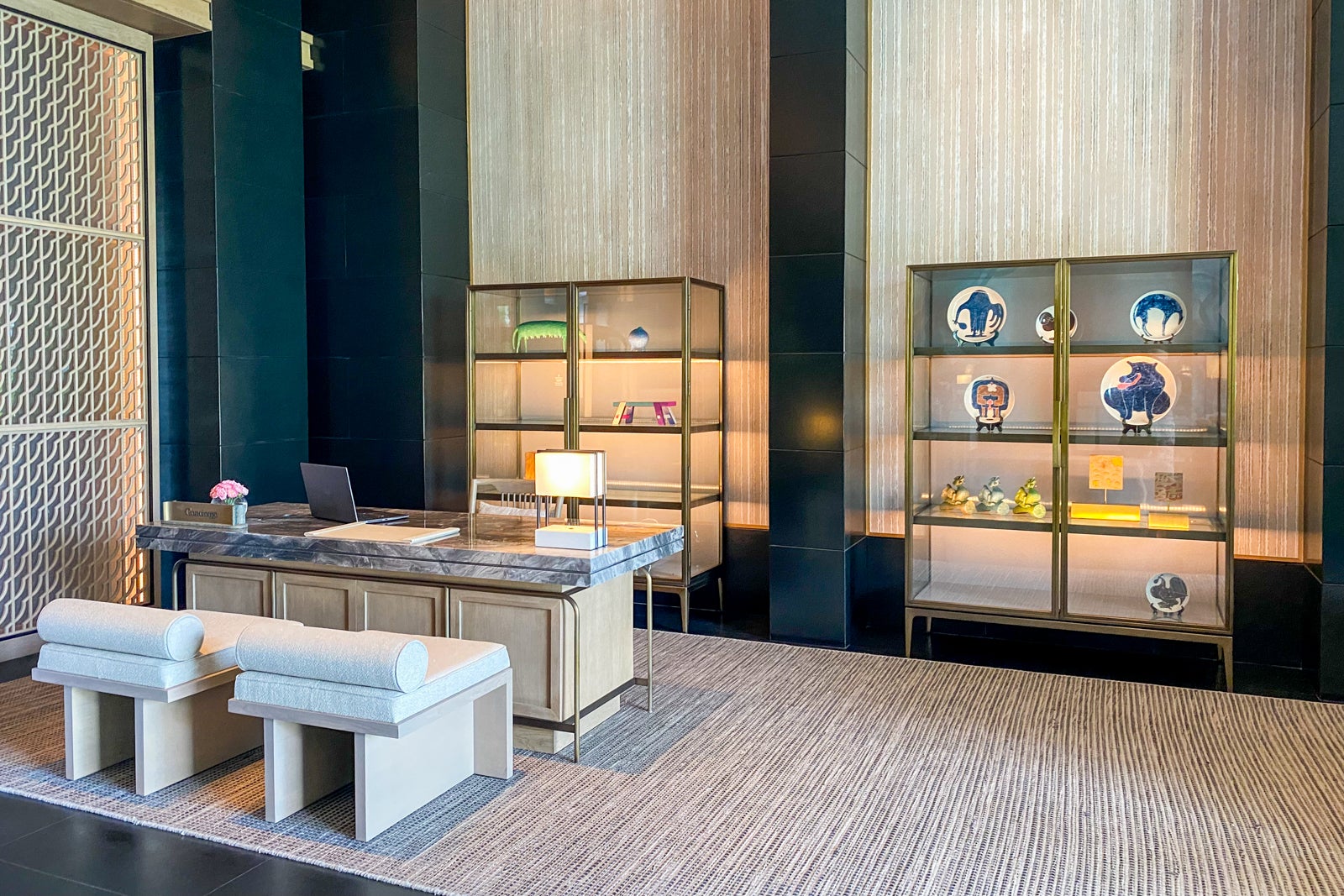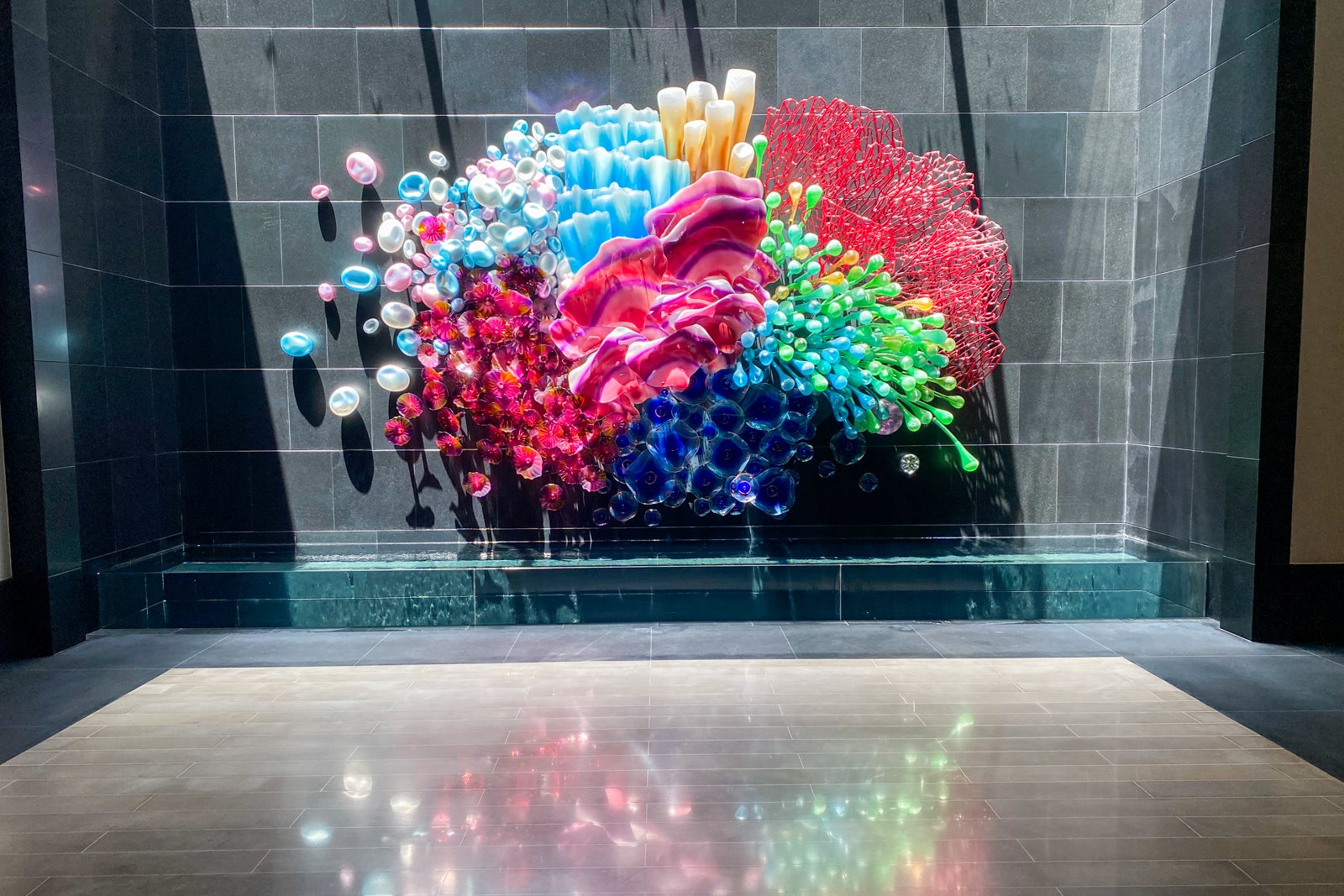 We never stood at the check-in desk. All necessary transactions were handled from the comfort of a sofa – even when we departed. That part of the lobby was vibrant, with swirls of turquoise that felt appropriate for the seaside setting, and more open-air places to admire the koi fish. 
Room
Our room was on the second floor (the resort's upper floors were not finished) and Huy proceeded to give us a thorough tour.
Perhaps the most idiosyncratic part was the meaning behind the vivid pattern on the bathrobes. Huy explained that it referenced the coral reef, starfish, waves, pearls, peppercorns and anchovies — used for Phu Quoc's famous fish sauce — found on the island, as well as a legendary former king.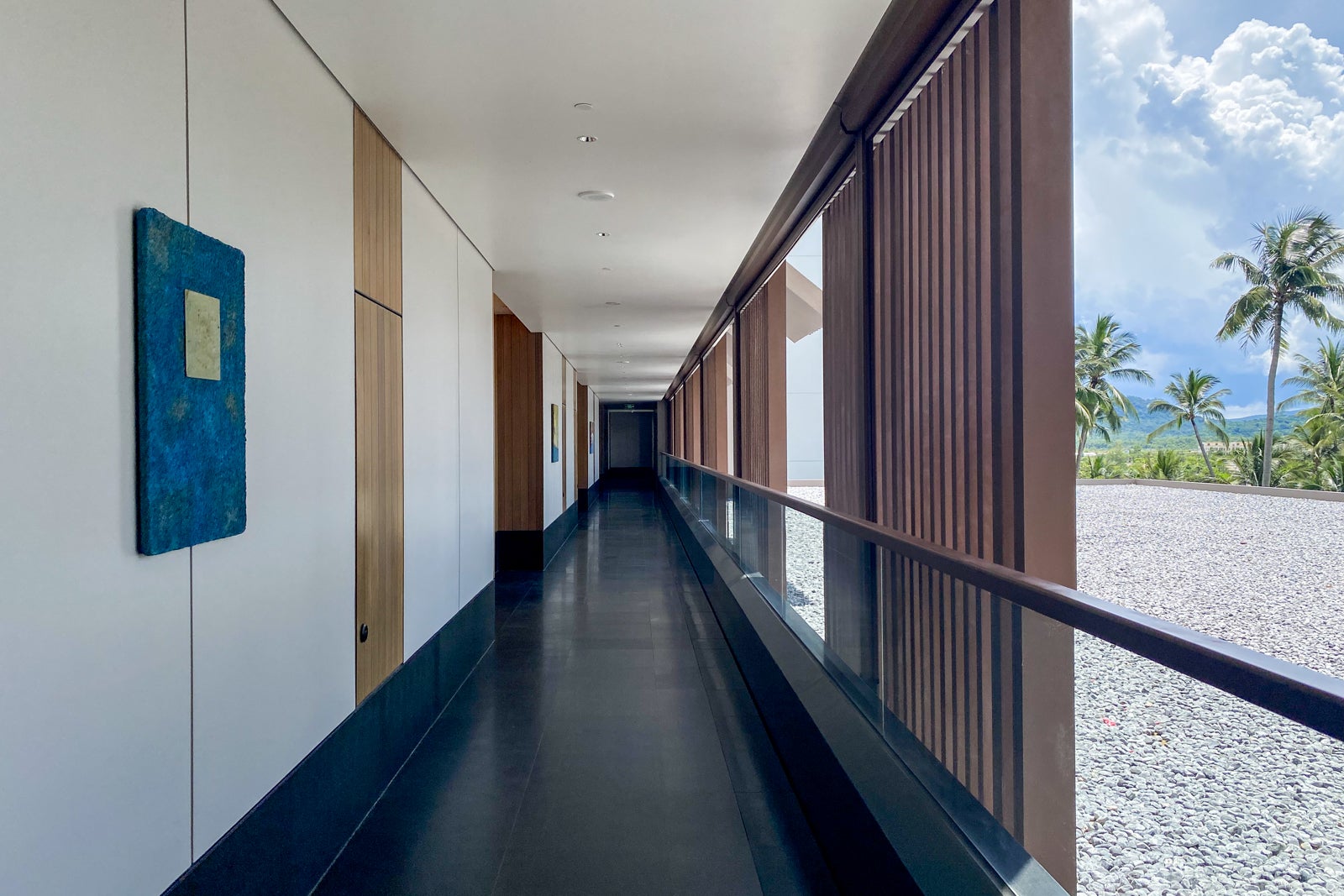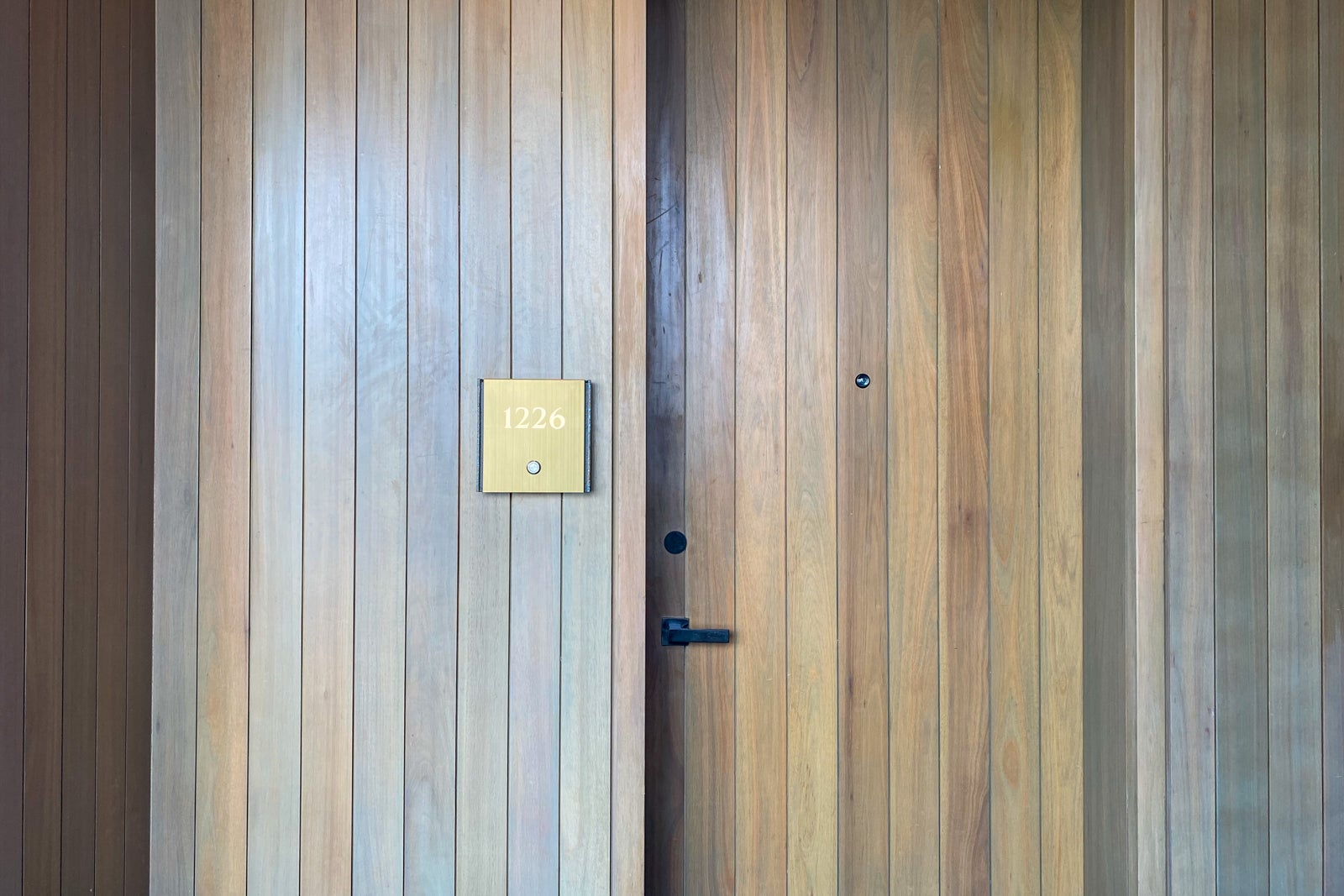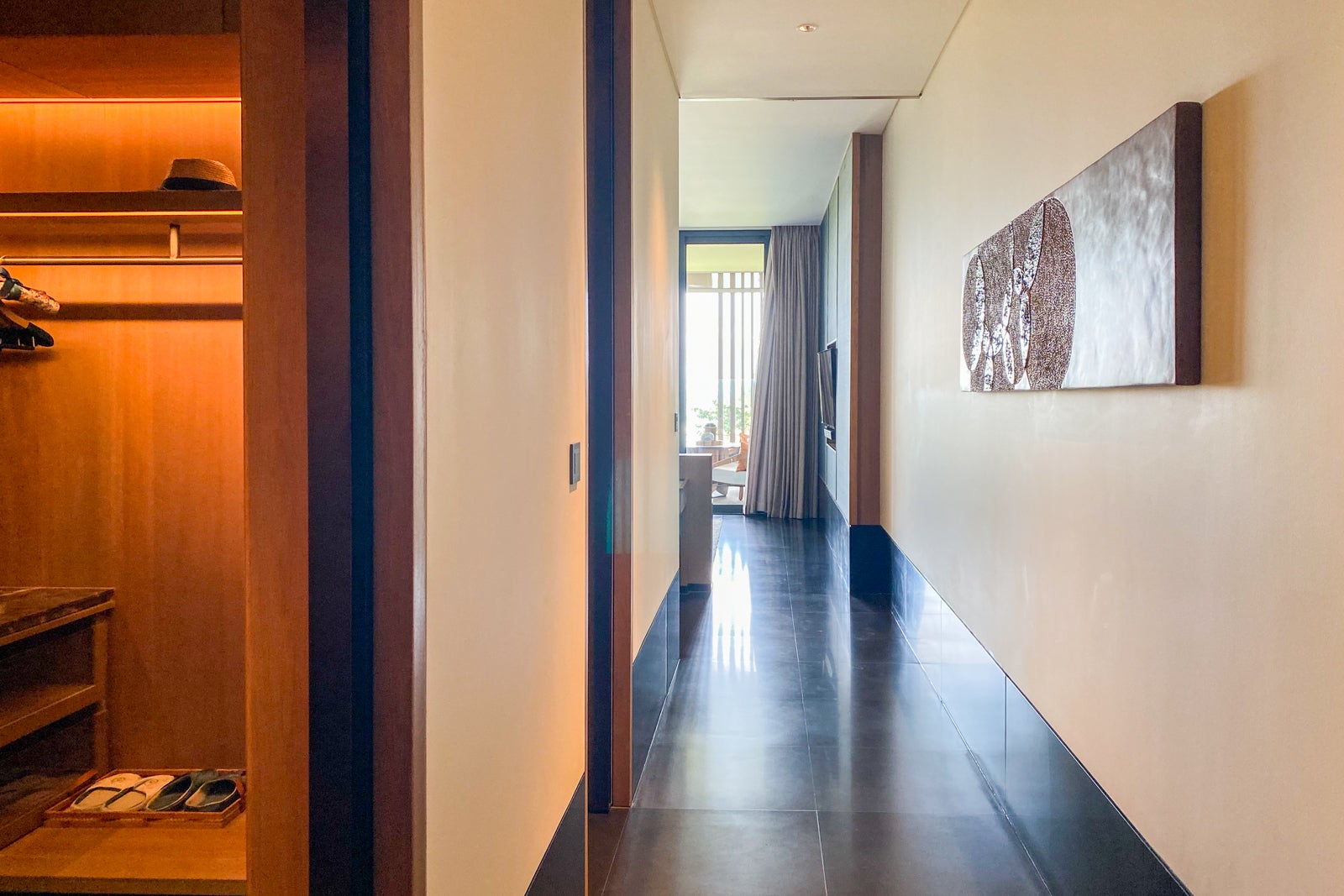 The large closet was the first space we came to upon entering the long hallway. It was stocked with velvety hangers, a hat box, laundry bags and a safe. There were also soft slippers, beach sandals, straw hats and the aforementioned robes for our use, including tiny versions of all for our daughter, which was a delightful touch.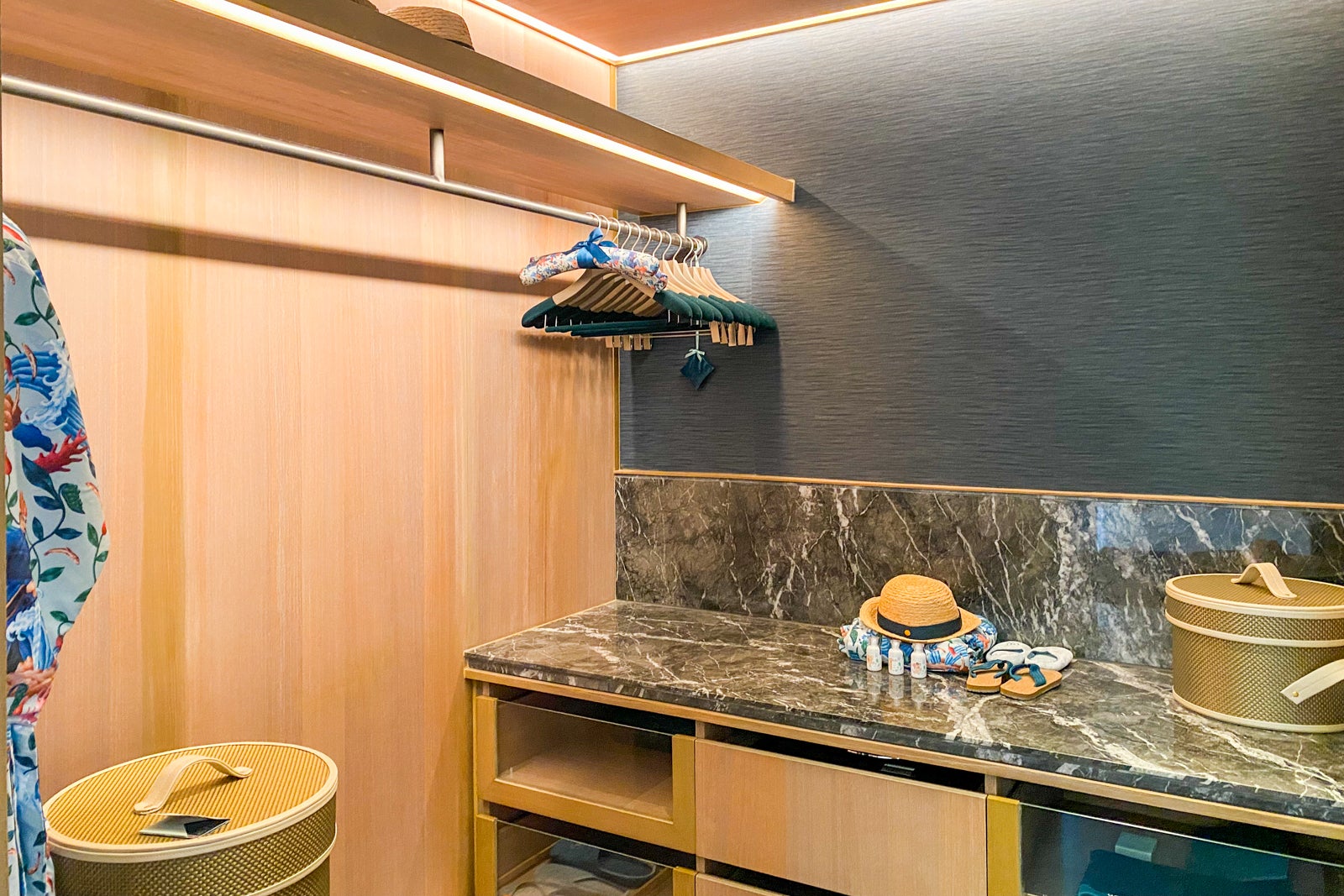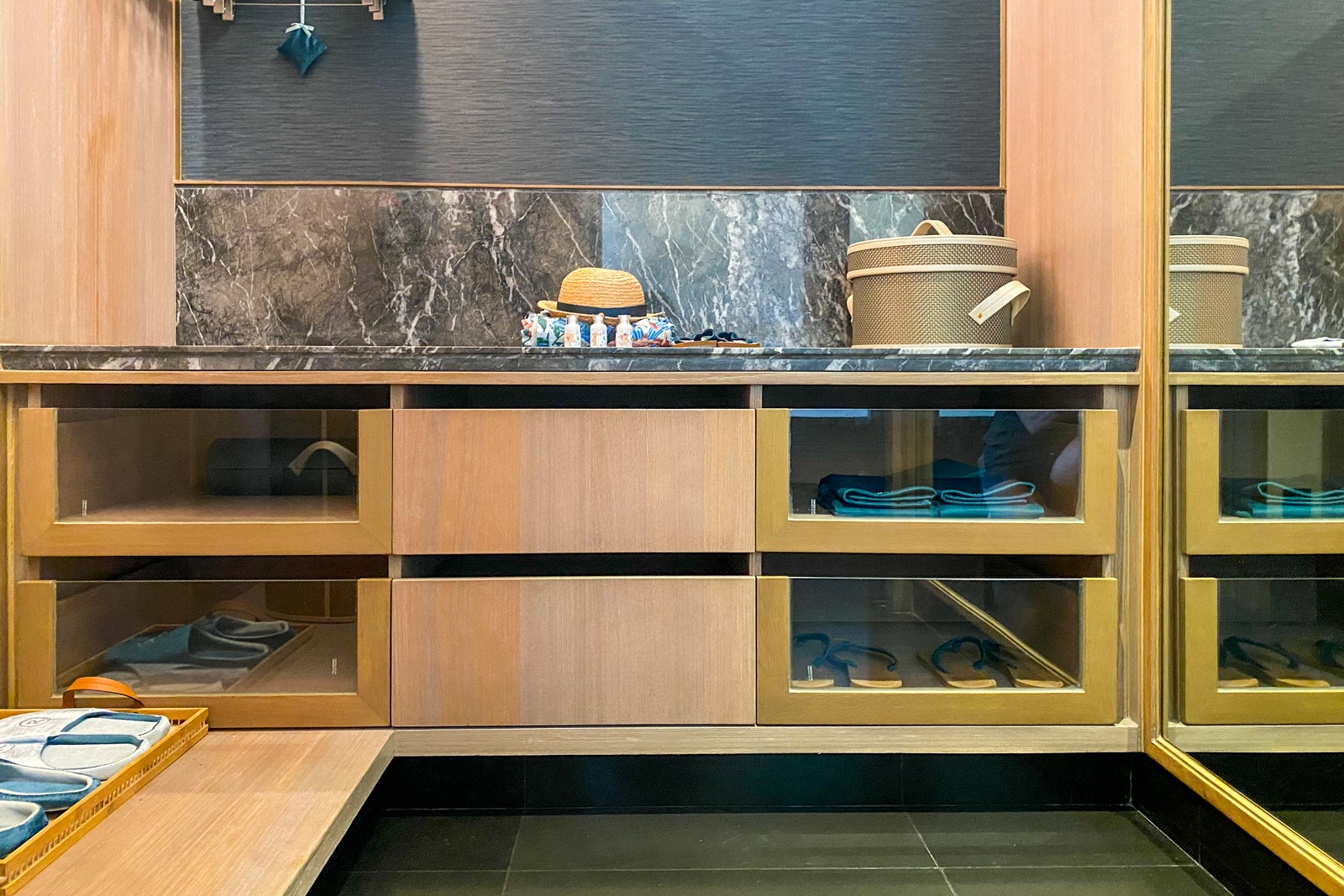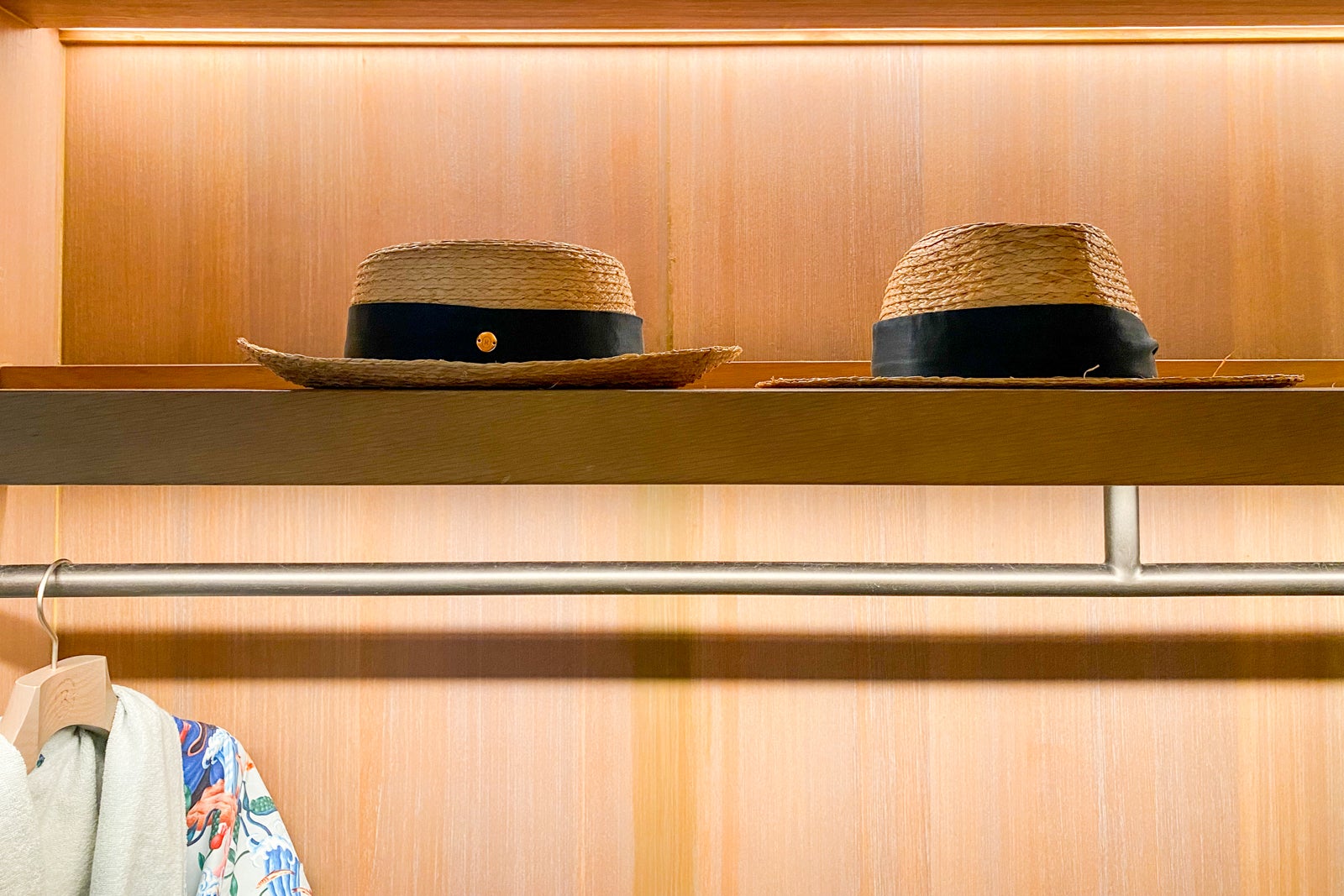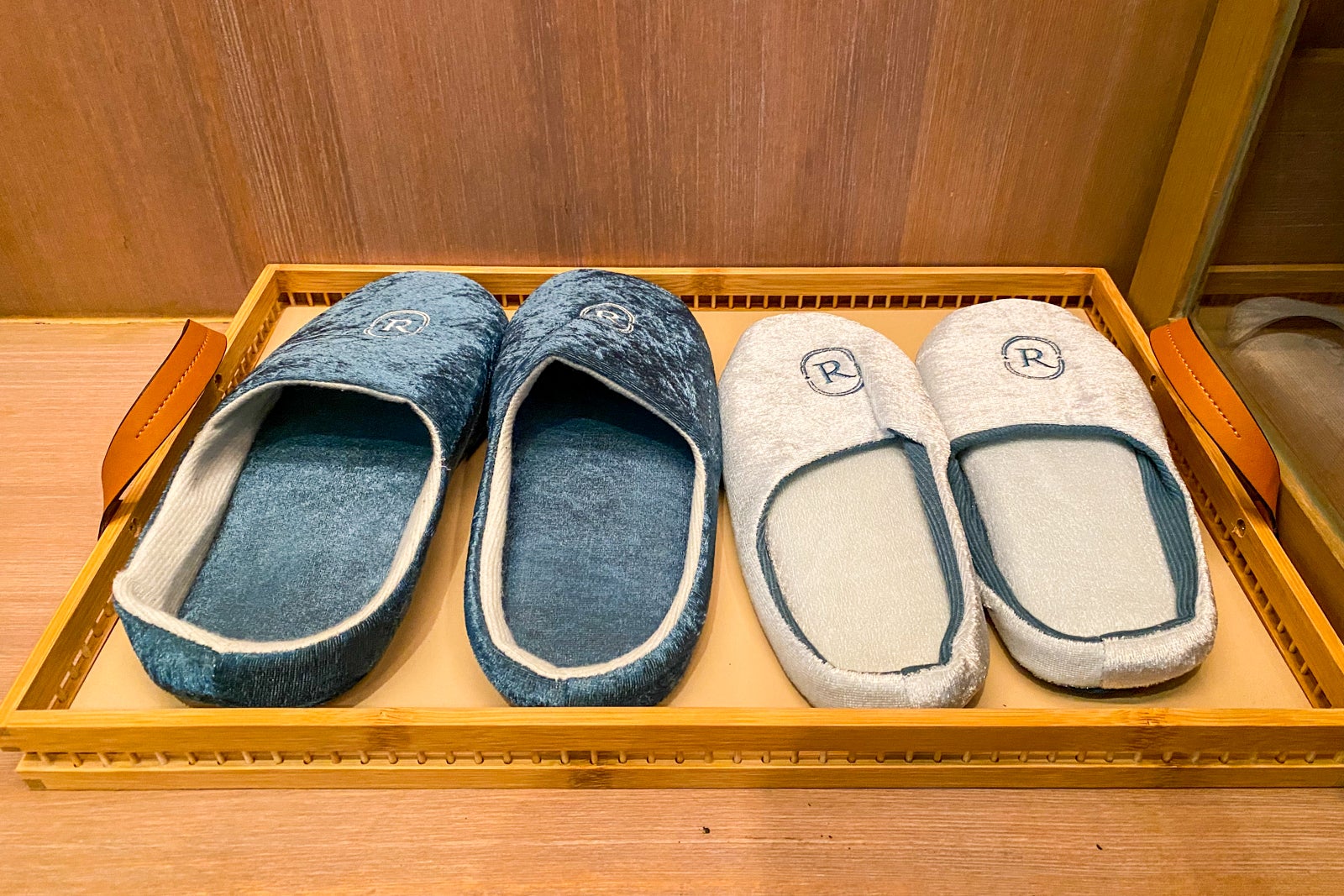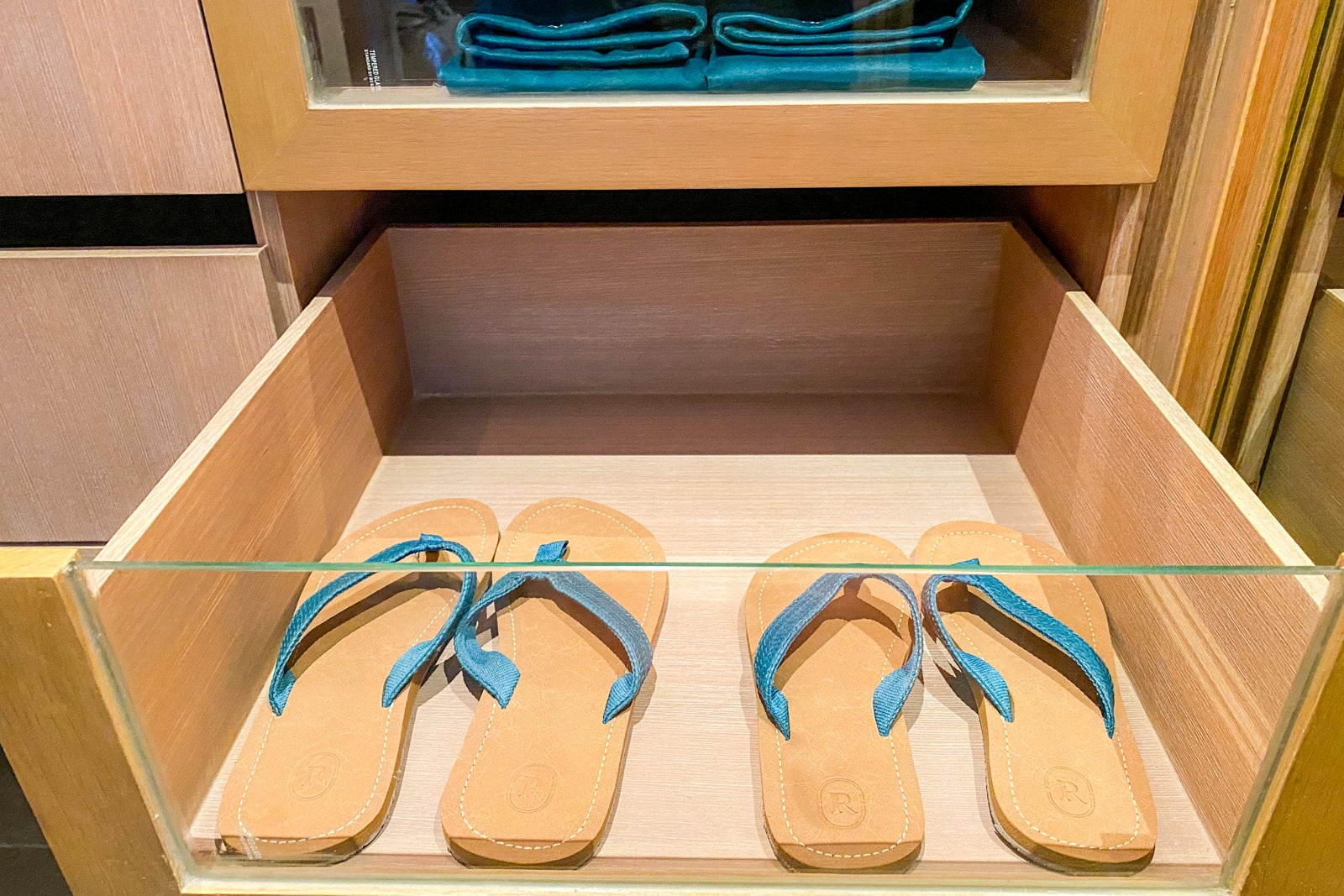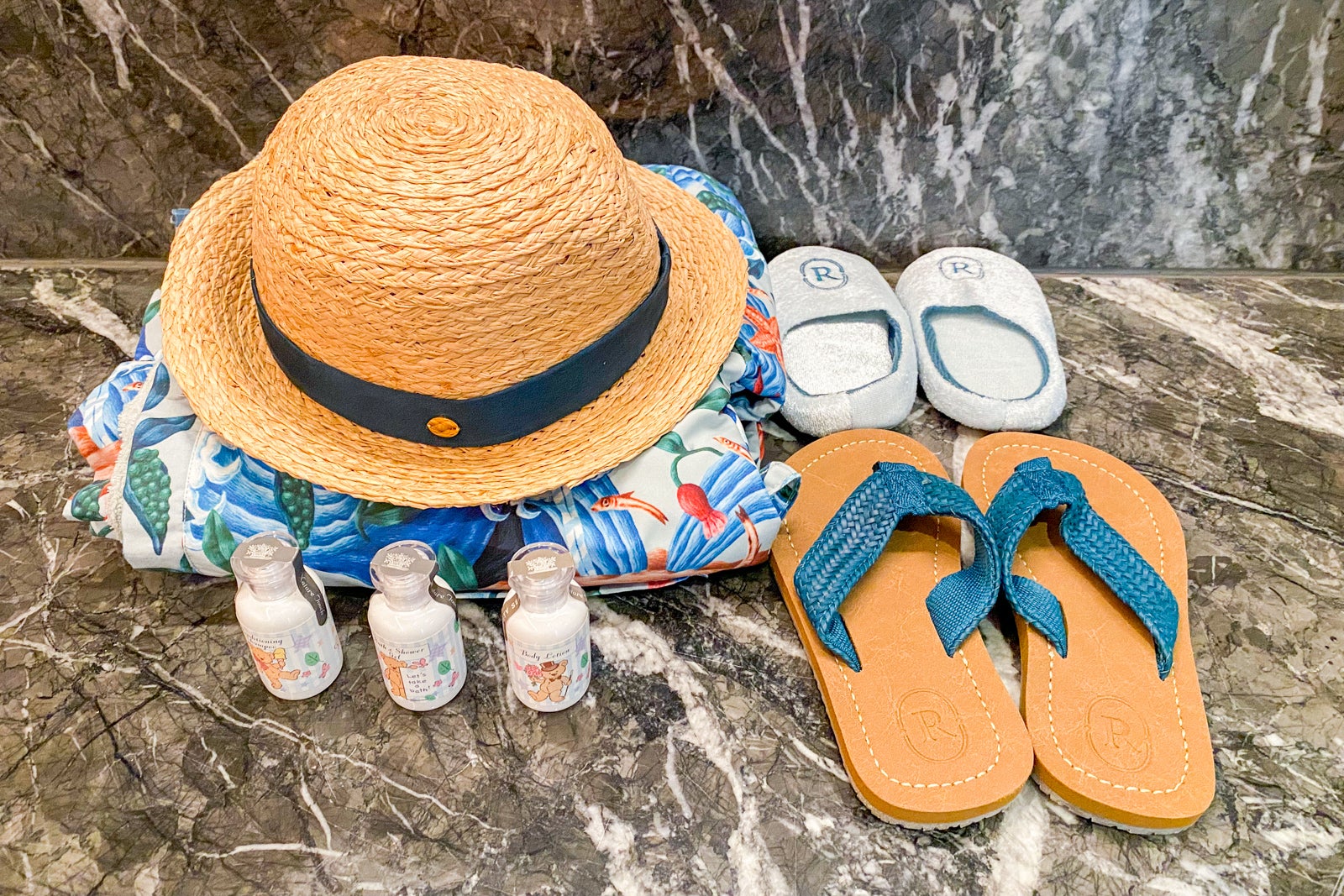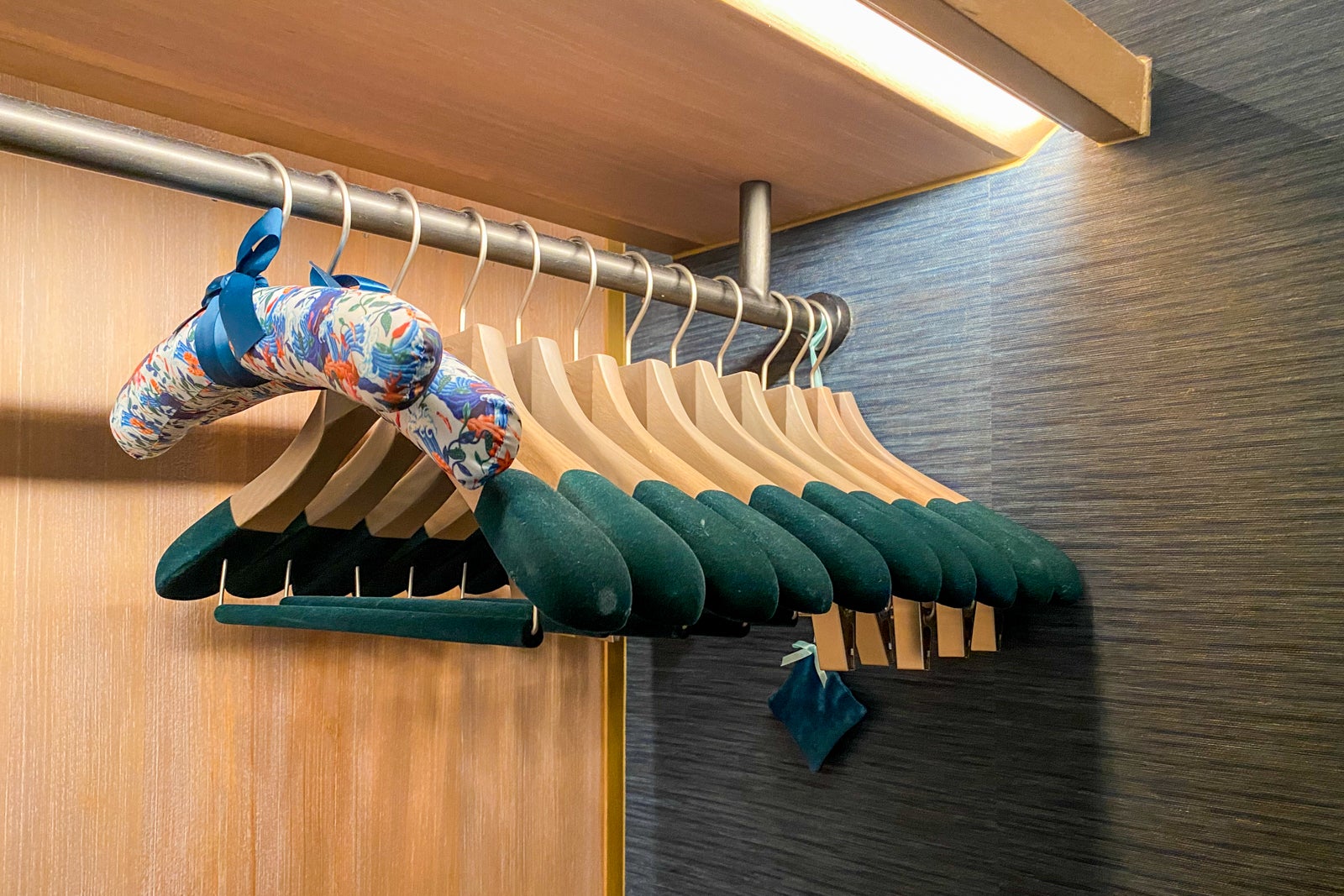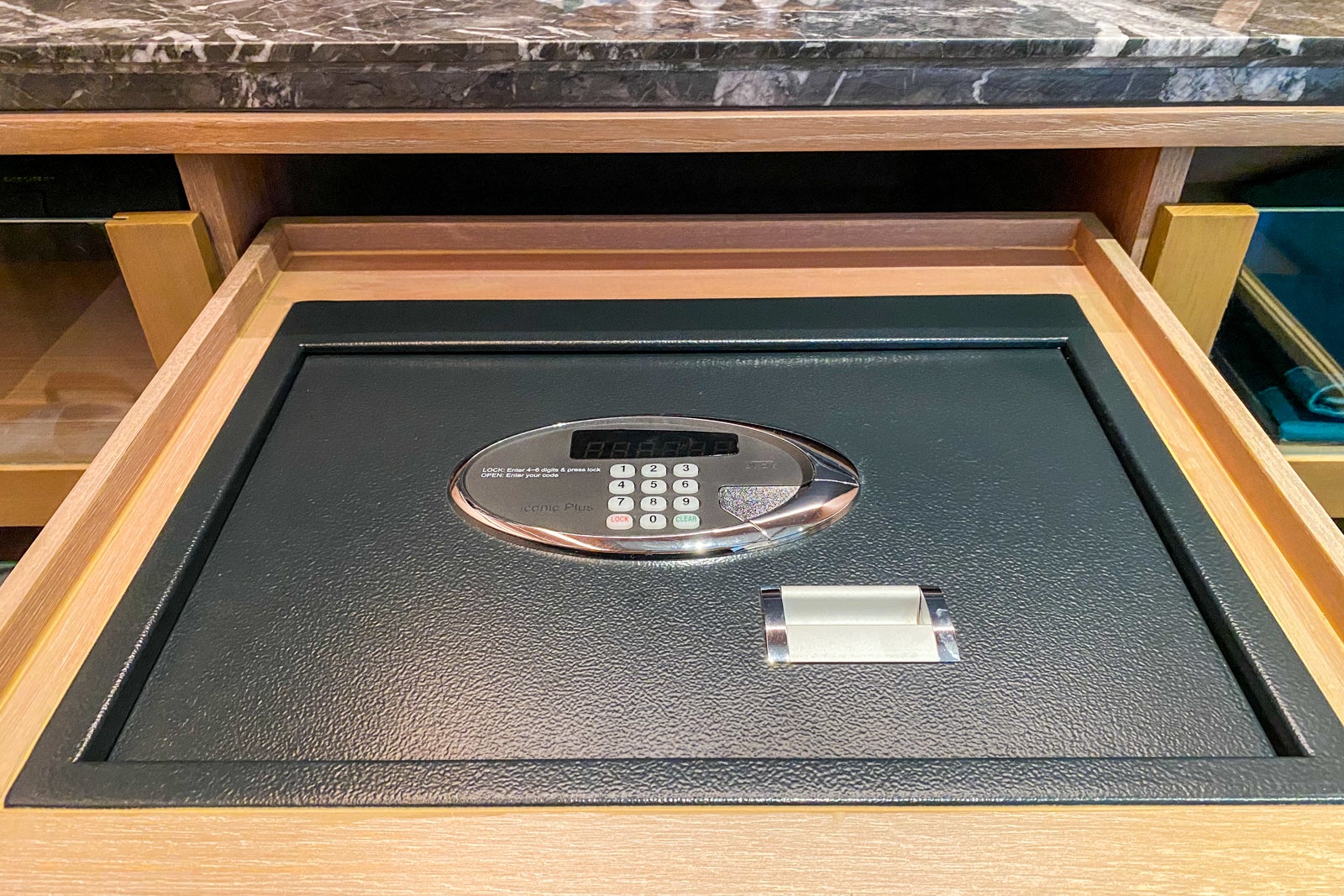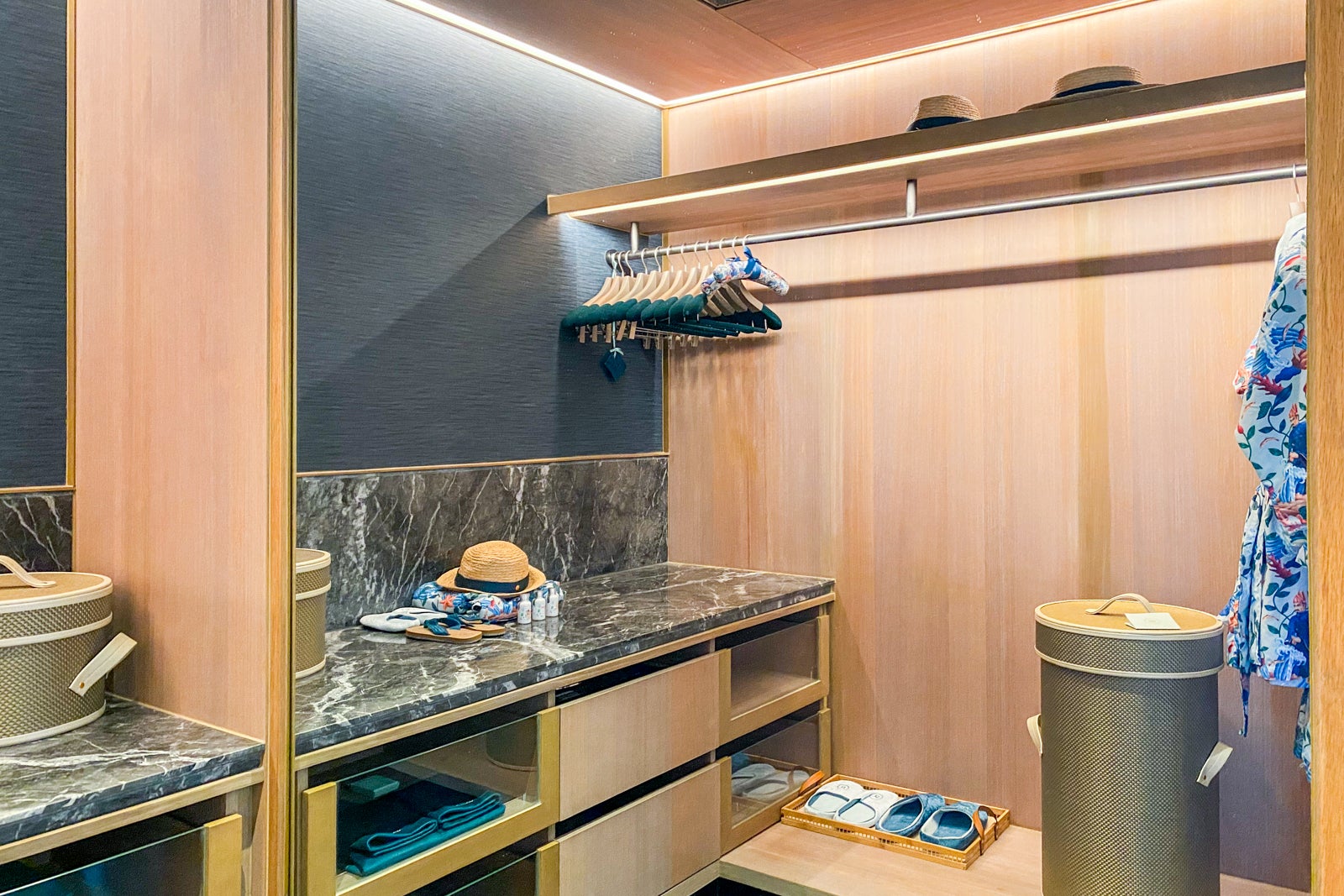 The bathroom was another well-sized space with double vanities and sky-high mirrors, a long bathtub complete with pillow, as well as a bath tray of salts and scrubs.
It also featured a separate automated toilet, a big stone-tiled shower with a rainfall shower head and additional wall-mounted attachment. Aqua di Parma toiletries sat in a niche there, and another set were at the tub alongside two types of bath salts.
Dental kits with multiple toothpaste options plus a loofah and pumice stone were by the sinks. A mirrored divider in the middle of the vanity slid open and pocketed to one side. It let in natural light from the bedroom and offered a fun peekaboo moment with a tall potted plant on the other side atop the bar.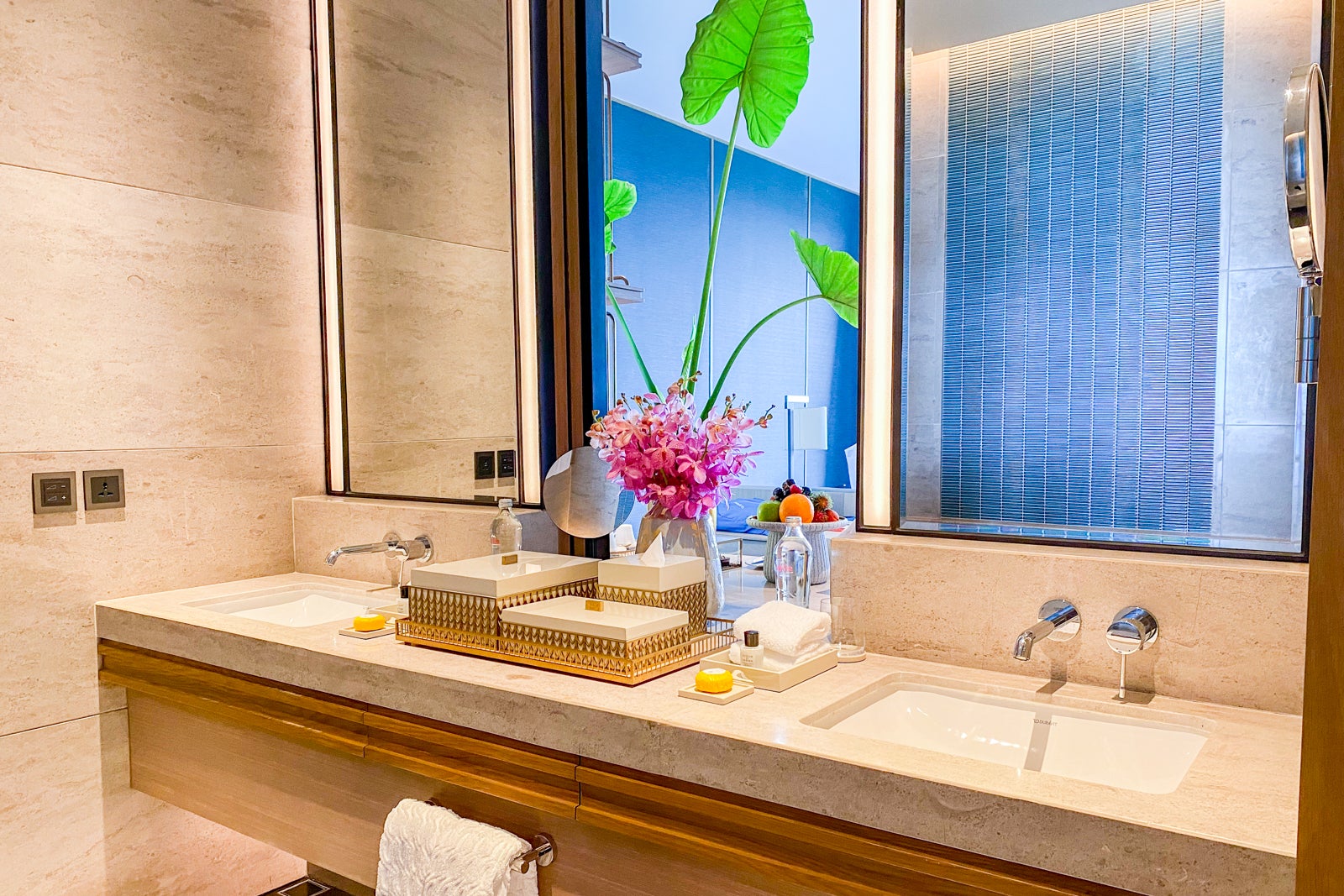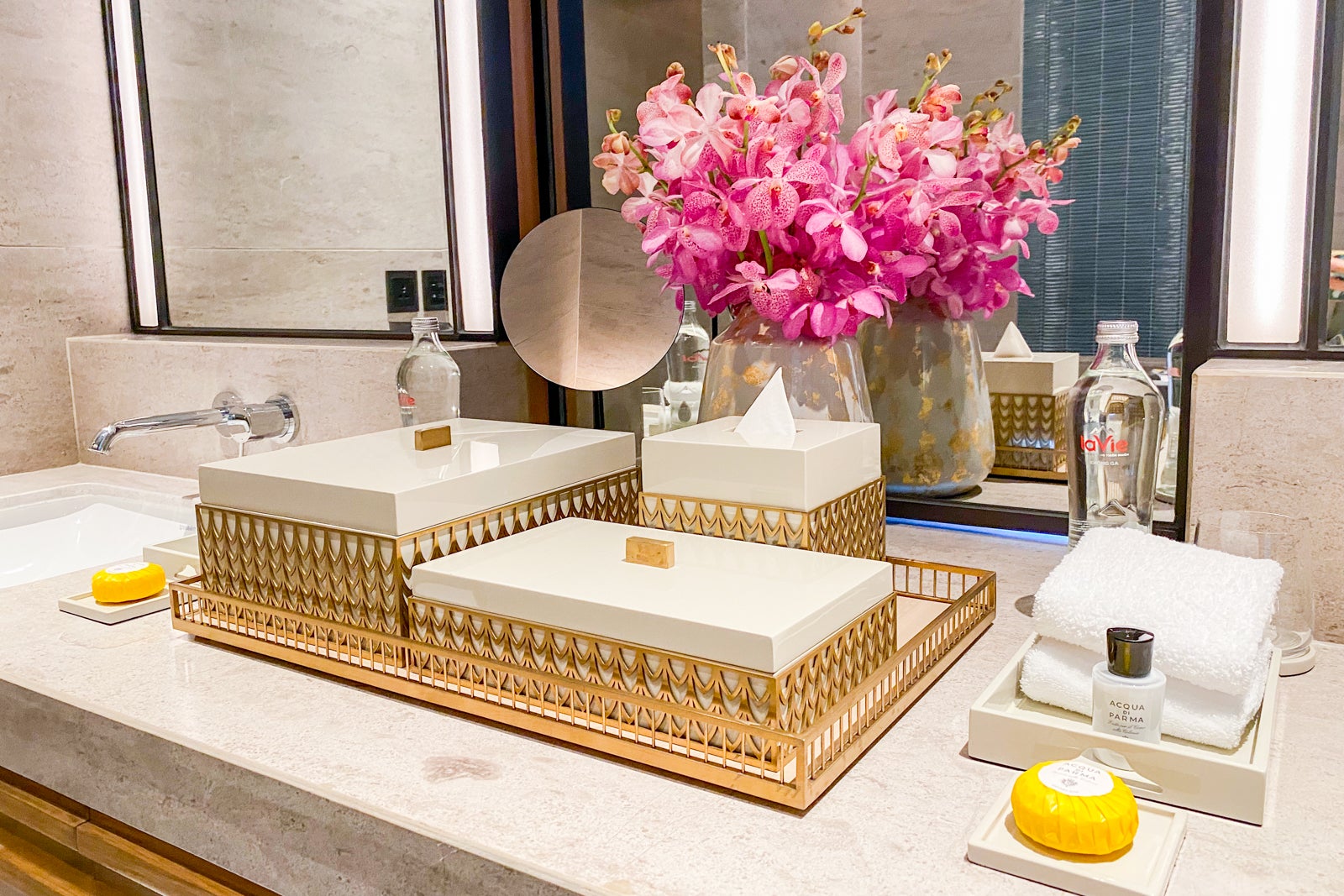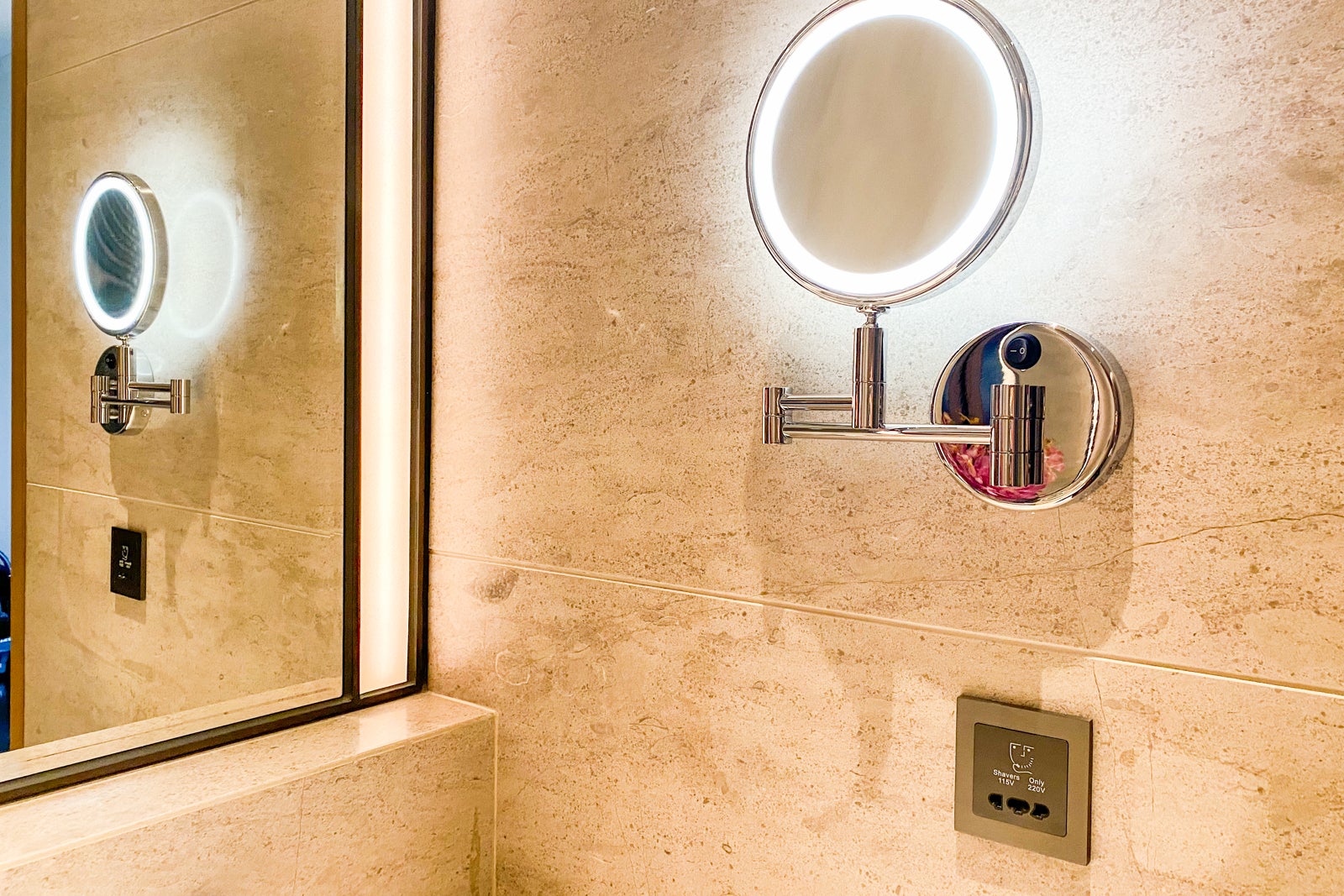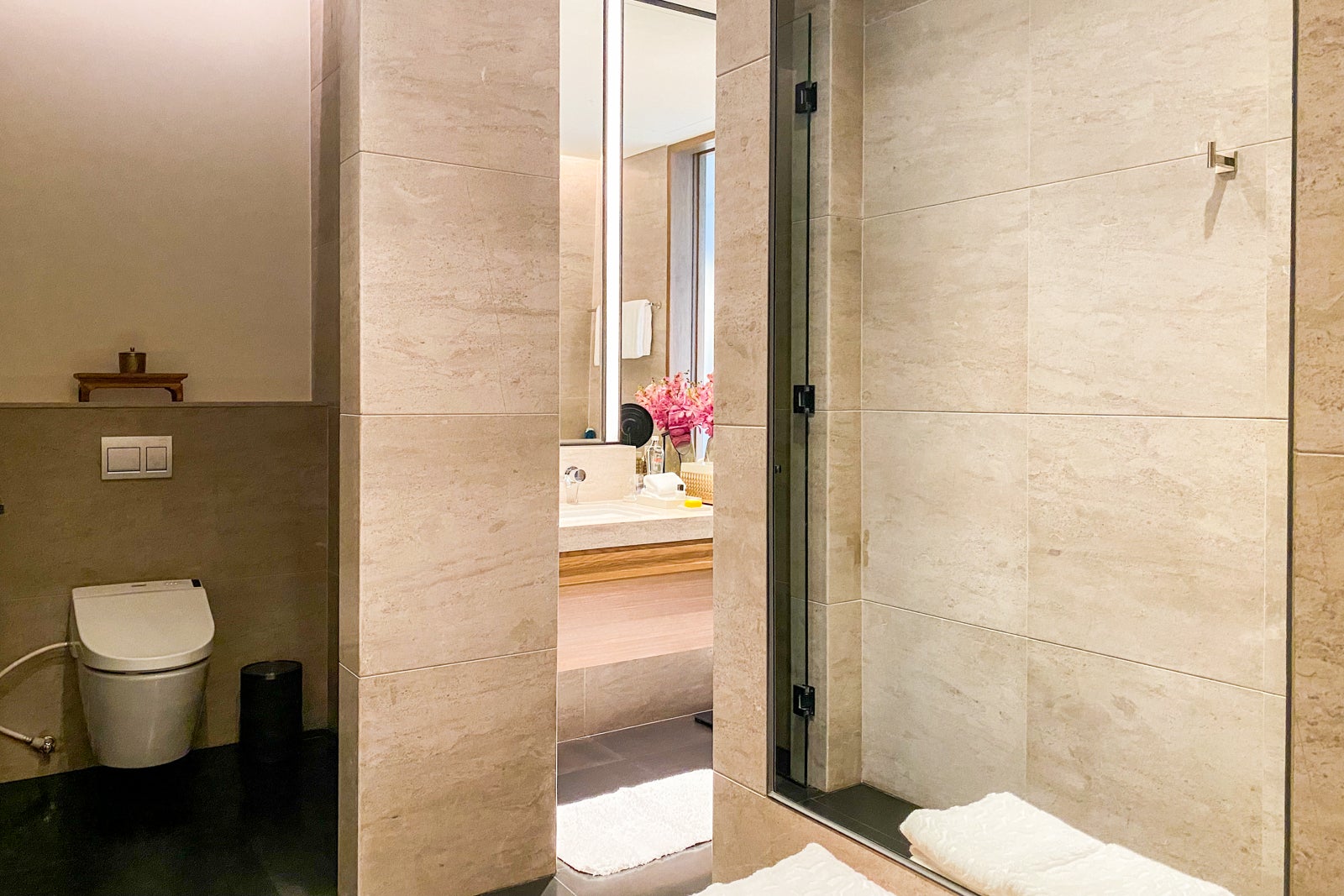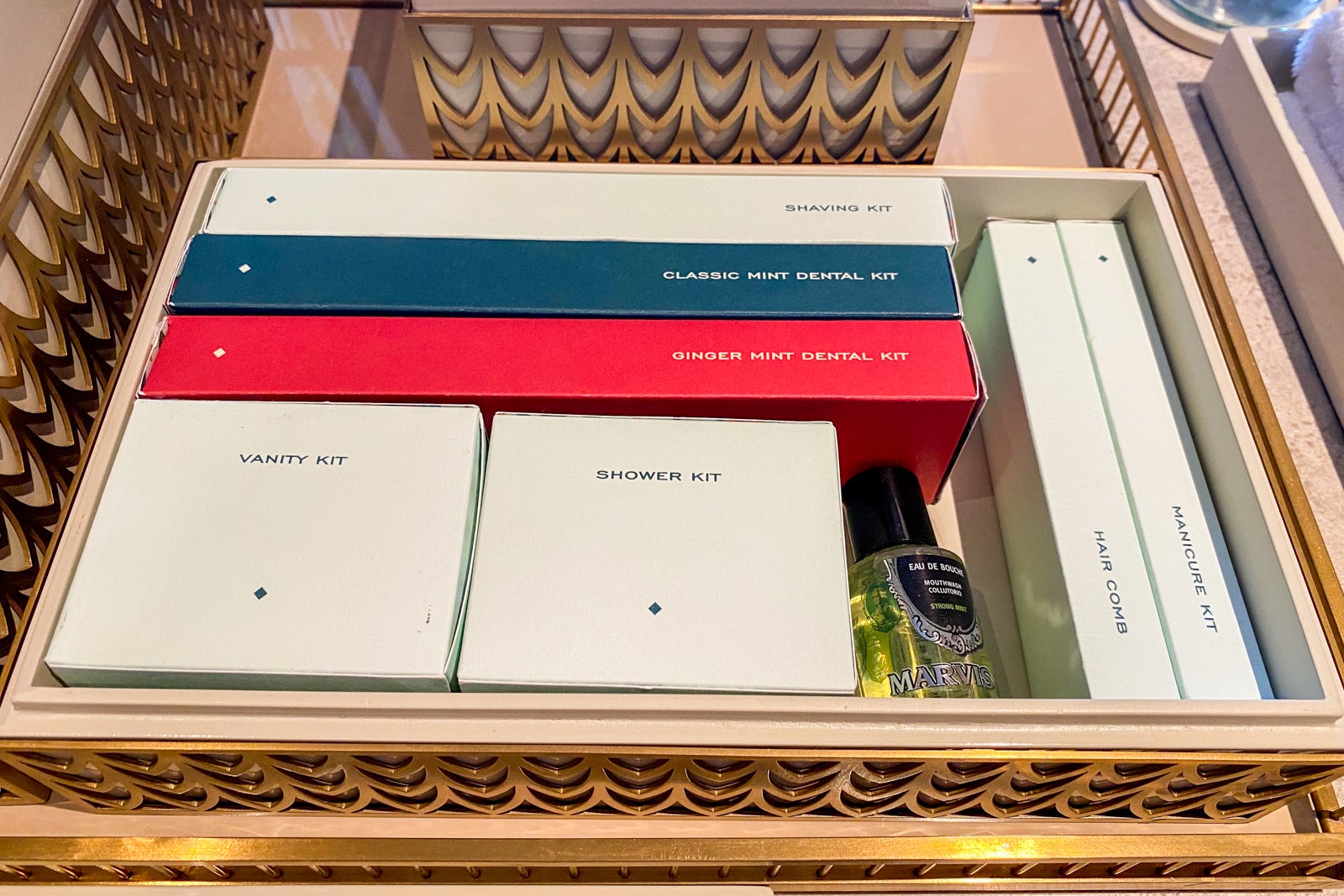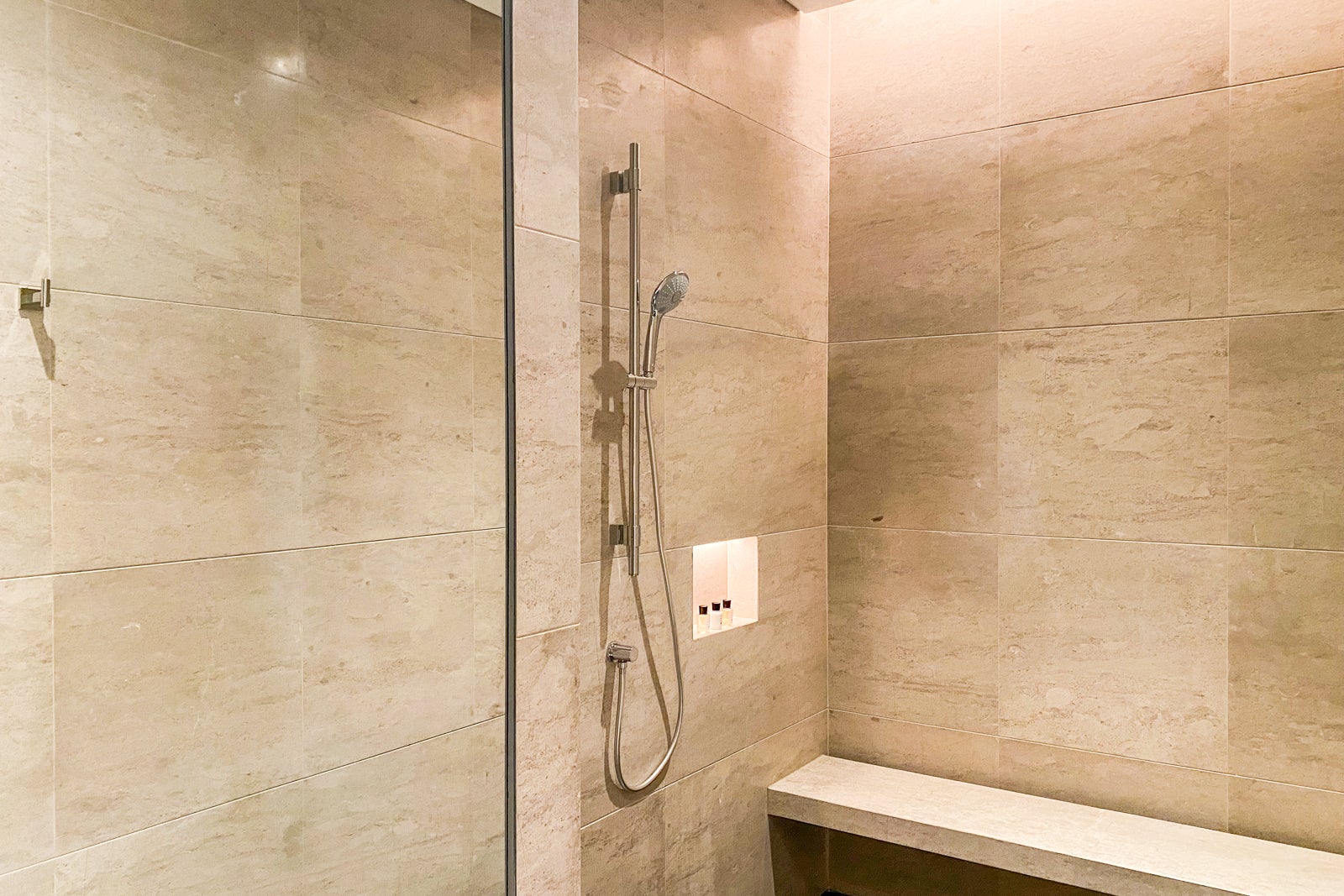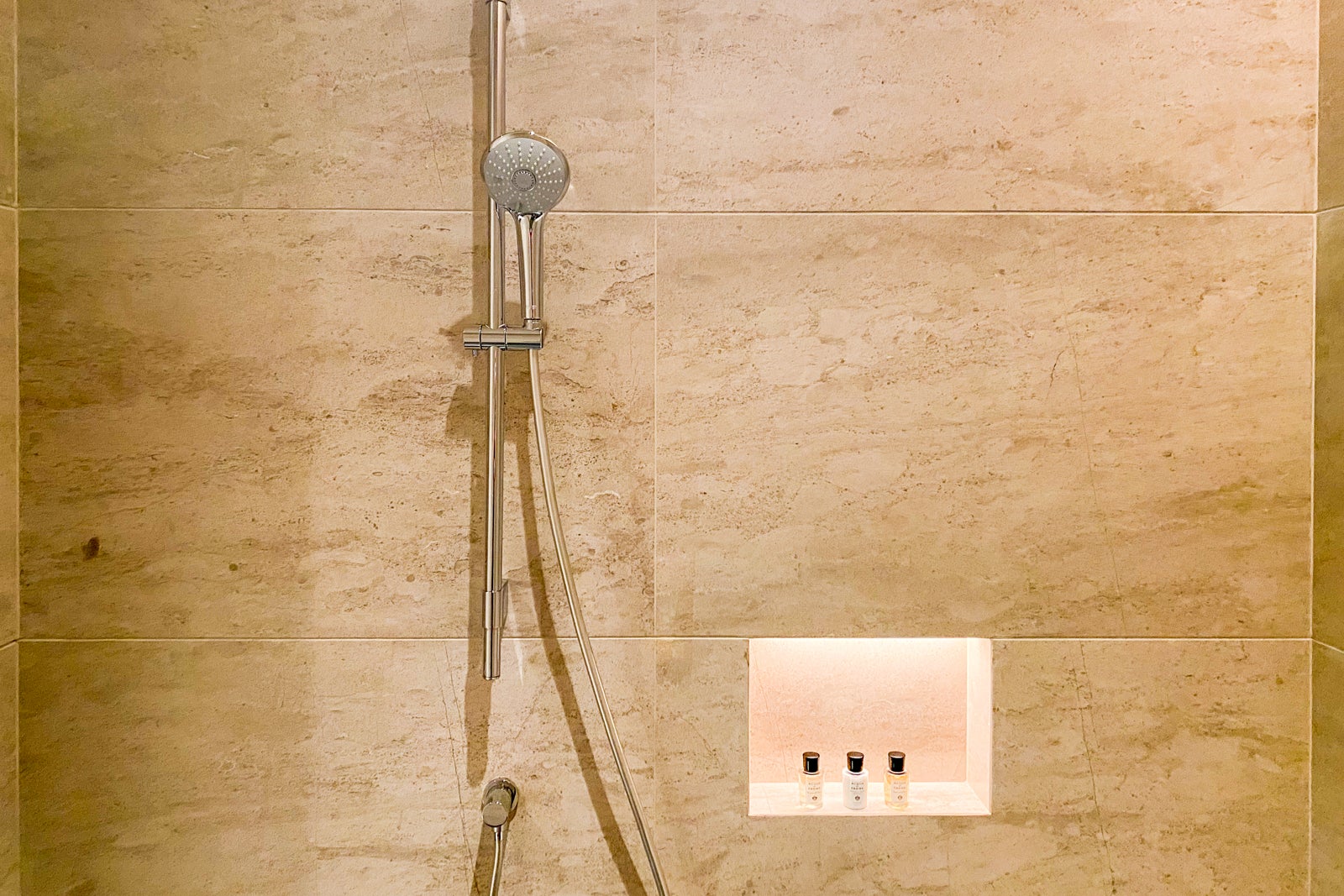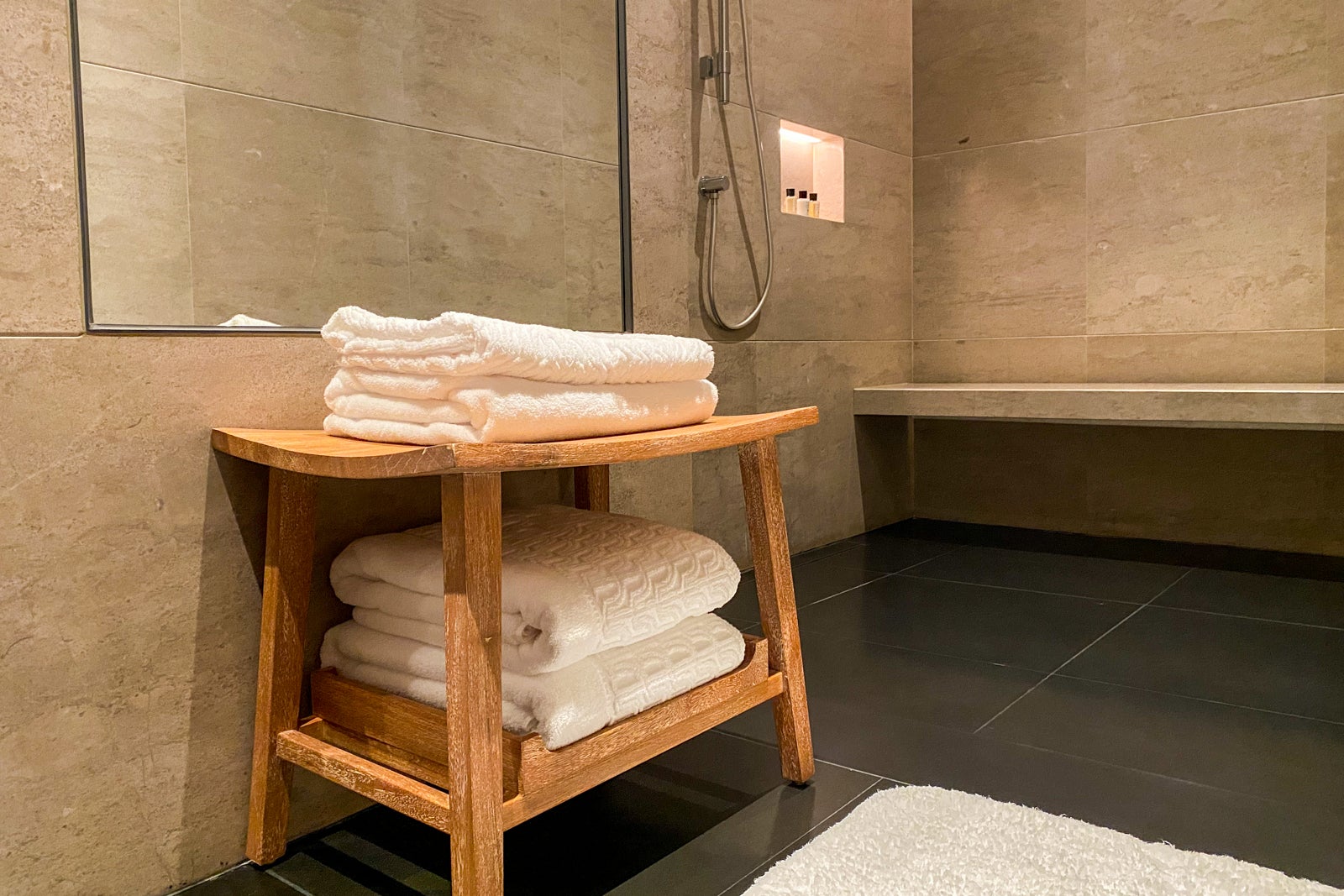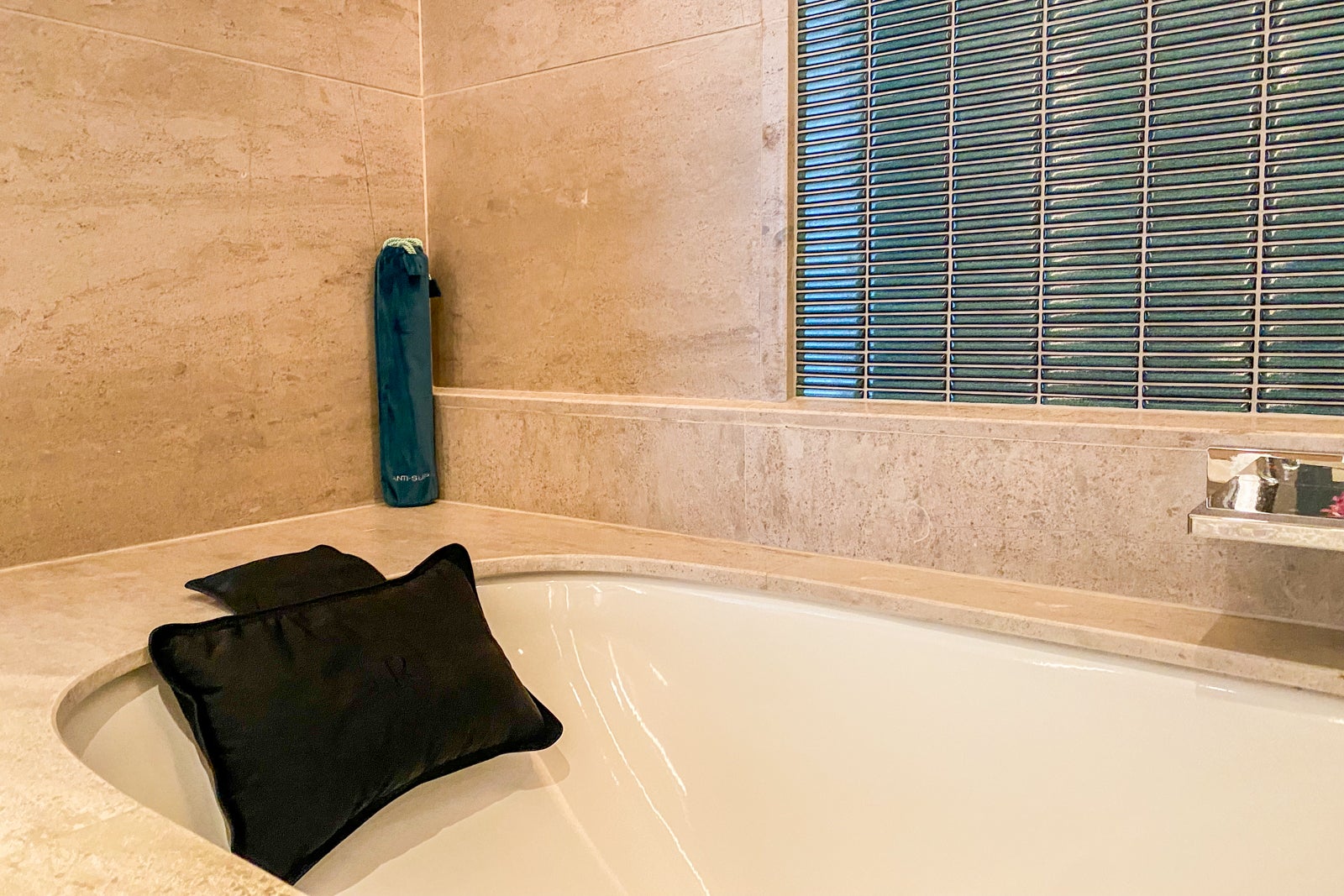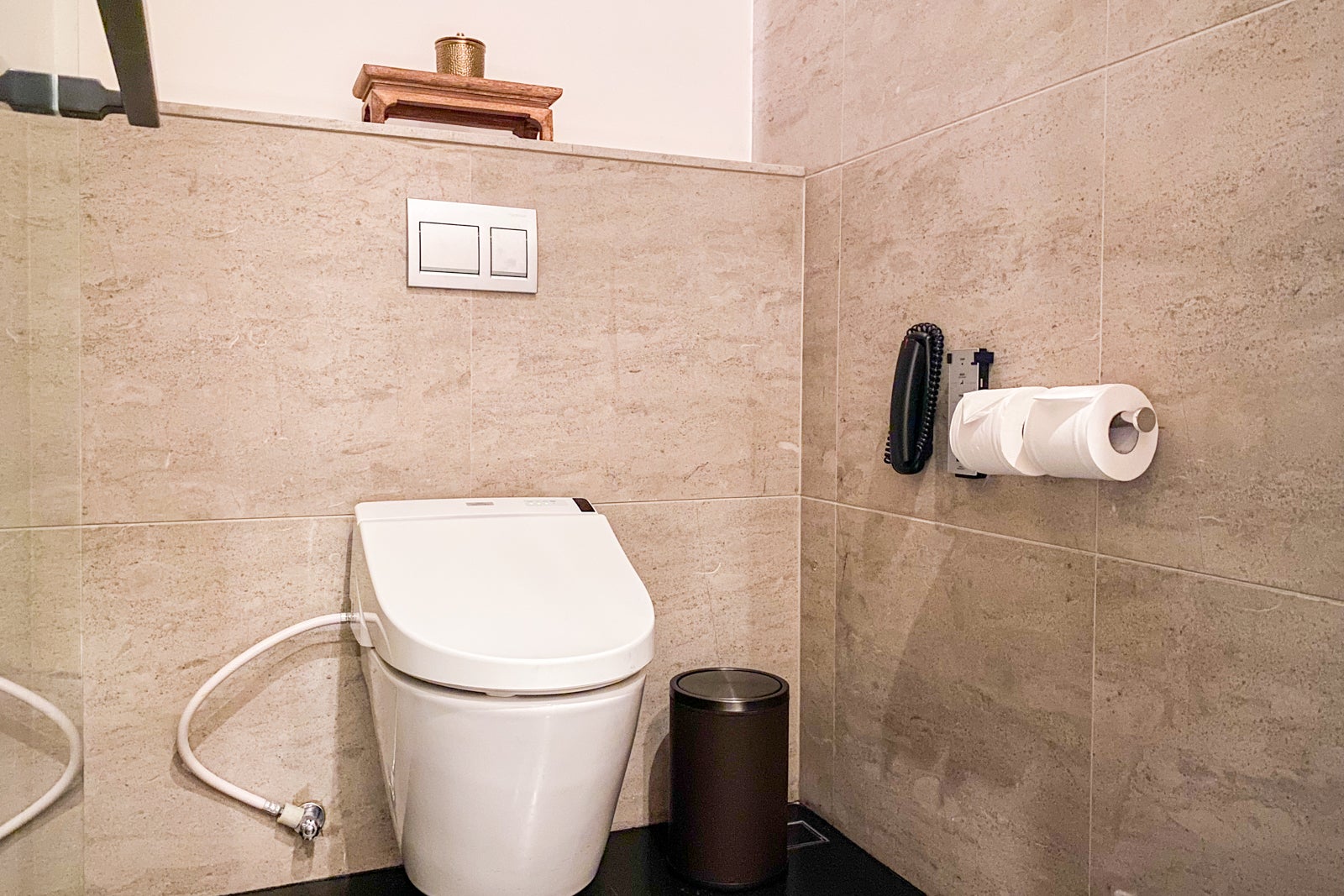 My initial reaction upon entering the main bedroom space was a genuine 'wow.' Even from the second floor, we had a beautiful view of the ocean and the resort's lower buildings, which featured reflecting pools, palm trees and lush green roofs.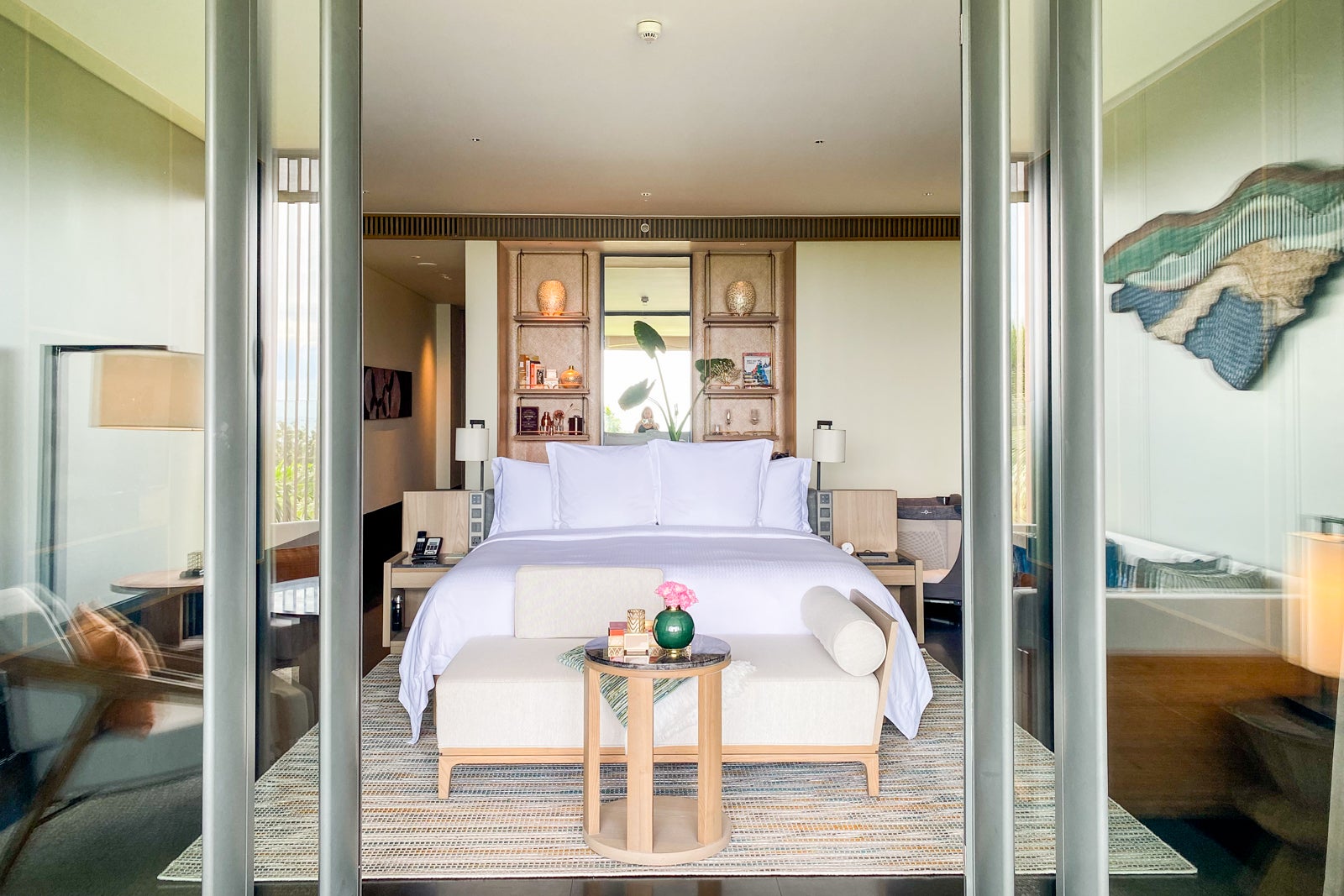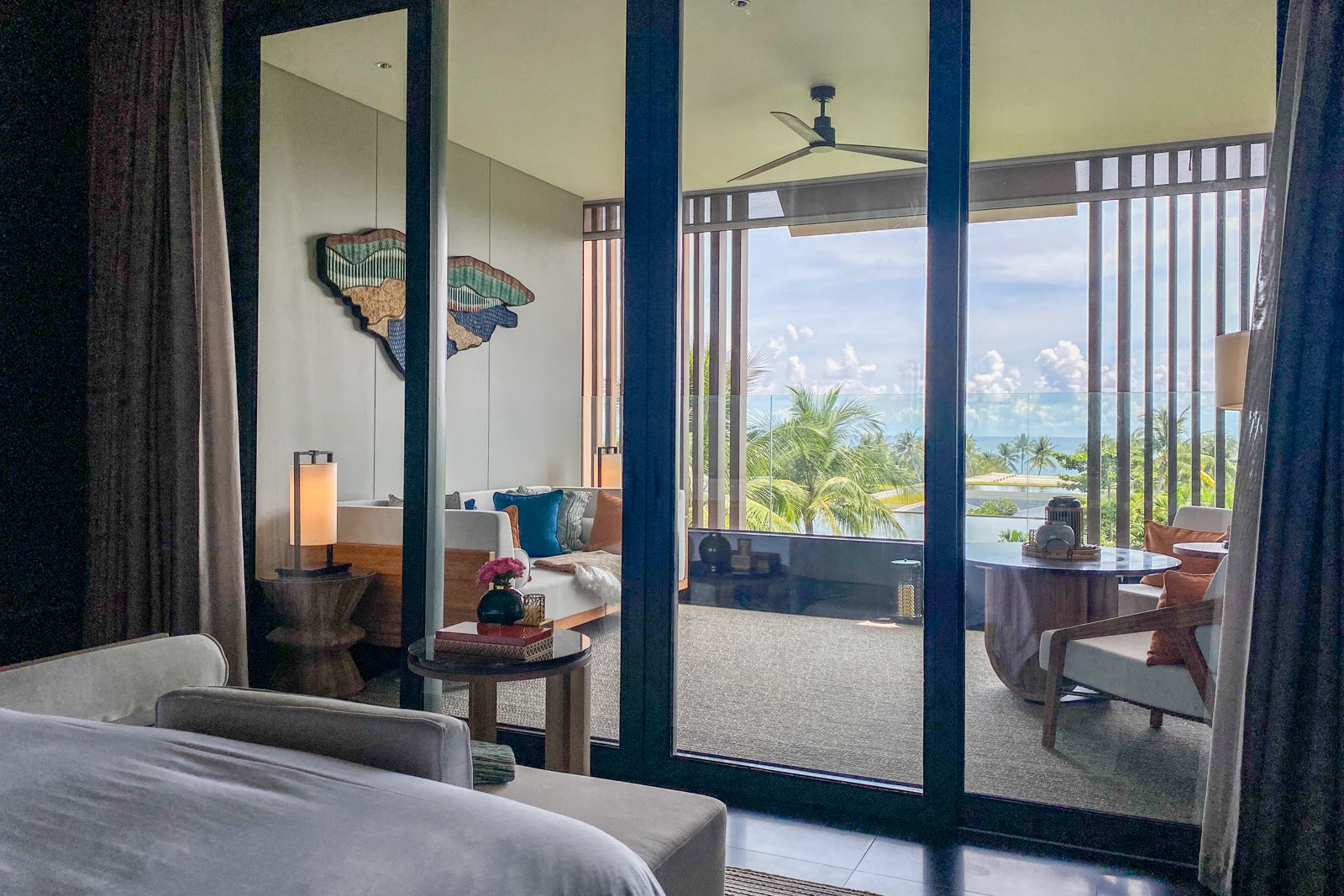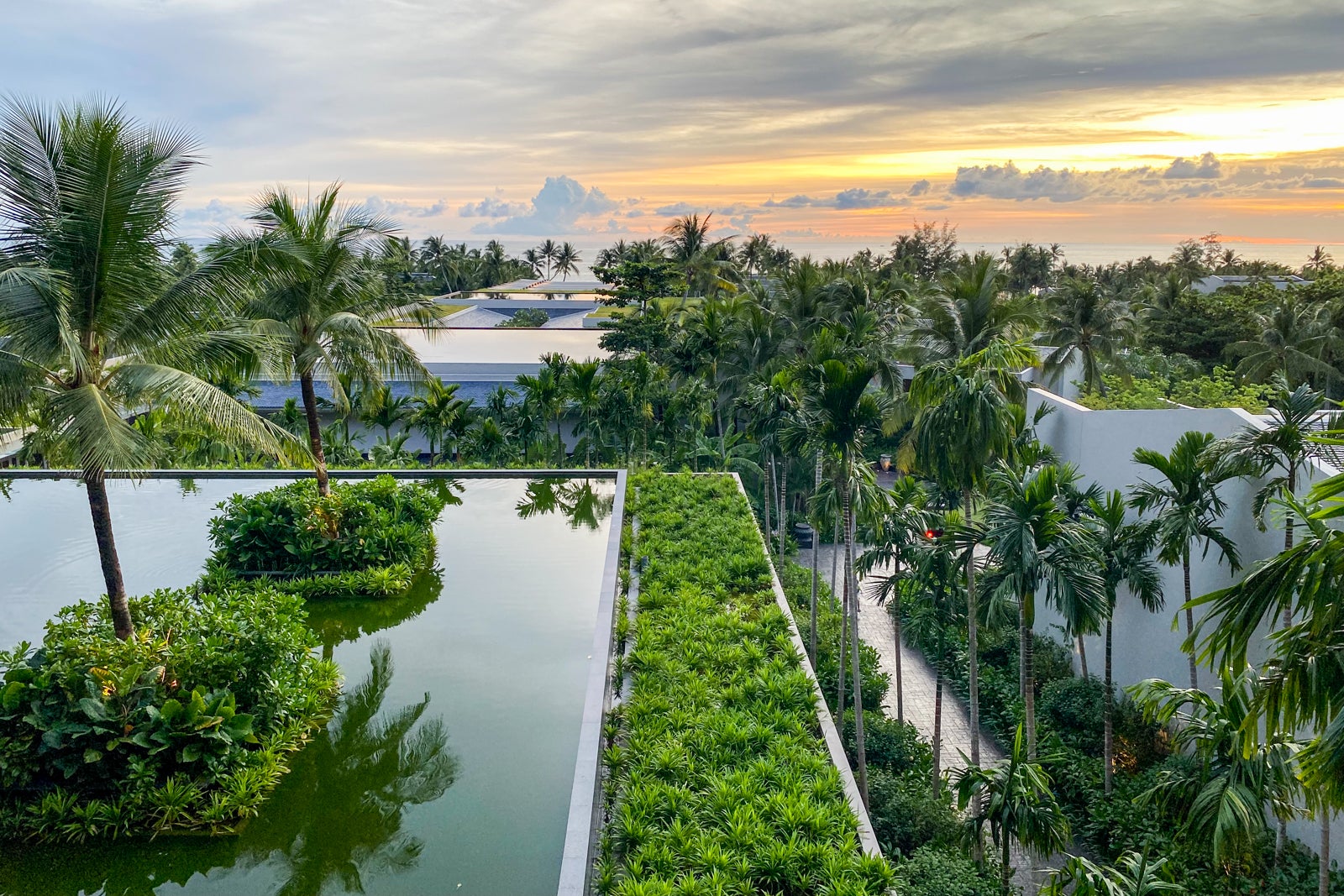 With soaring ceilings, the room felt more like a high-end residence than a hotel. Indoor and outdoor sofas were dressed with colorful throw blankets, gilded orange boxes hid TV remotes and tissues, and deep turquoise paneling added rich color to an otherwise neutral palette.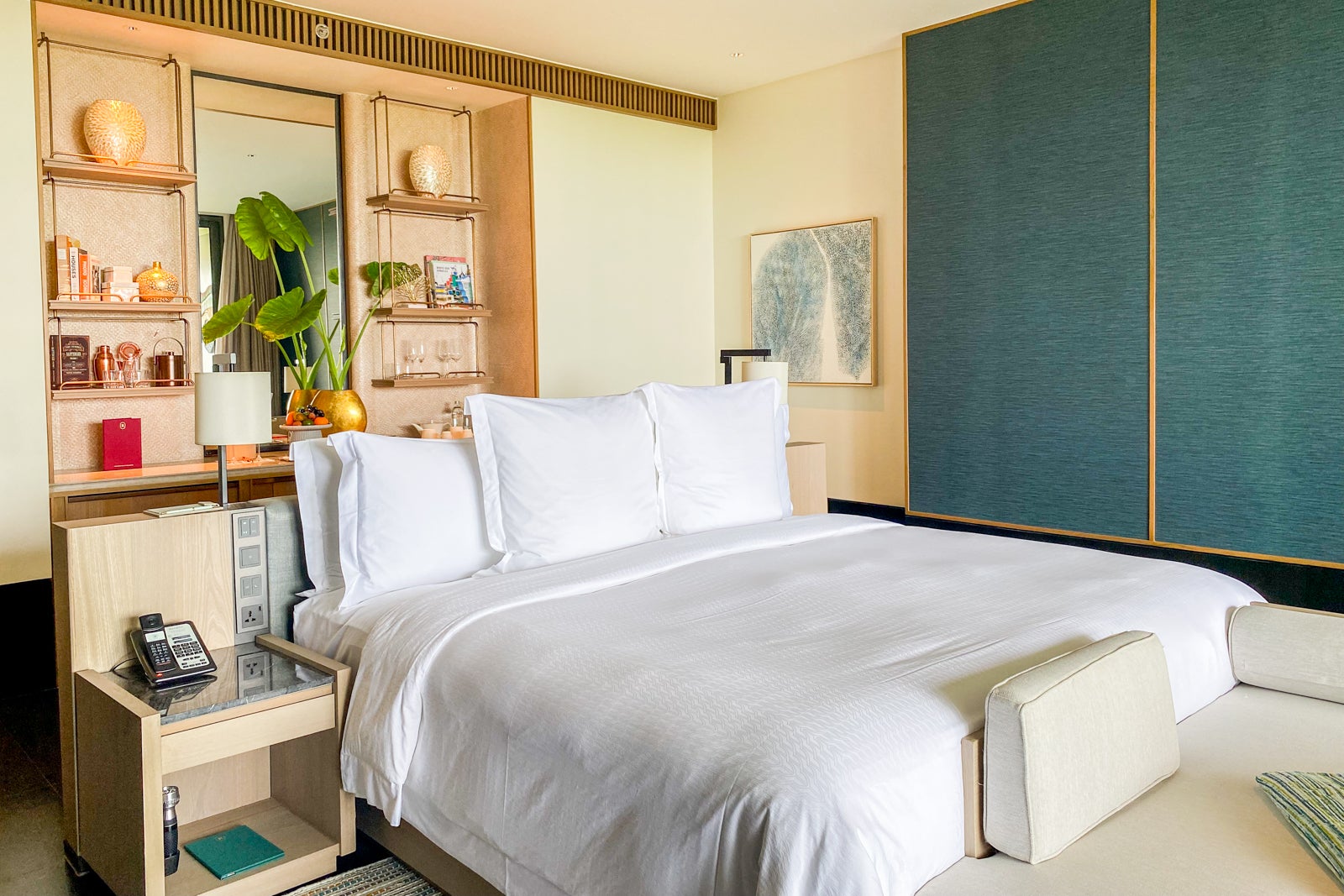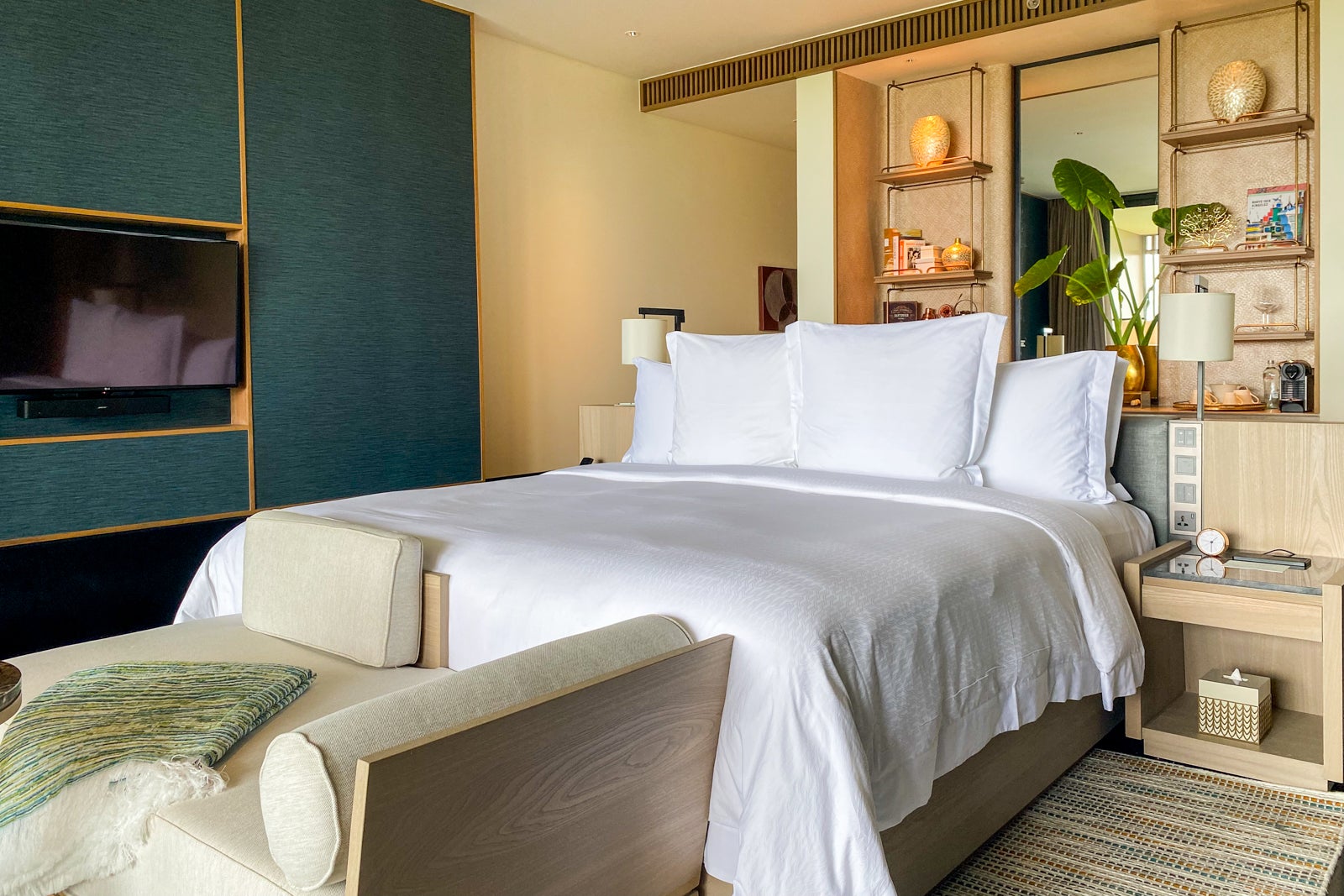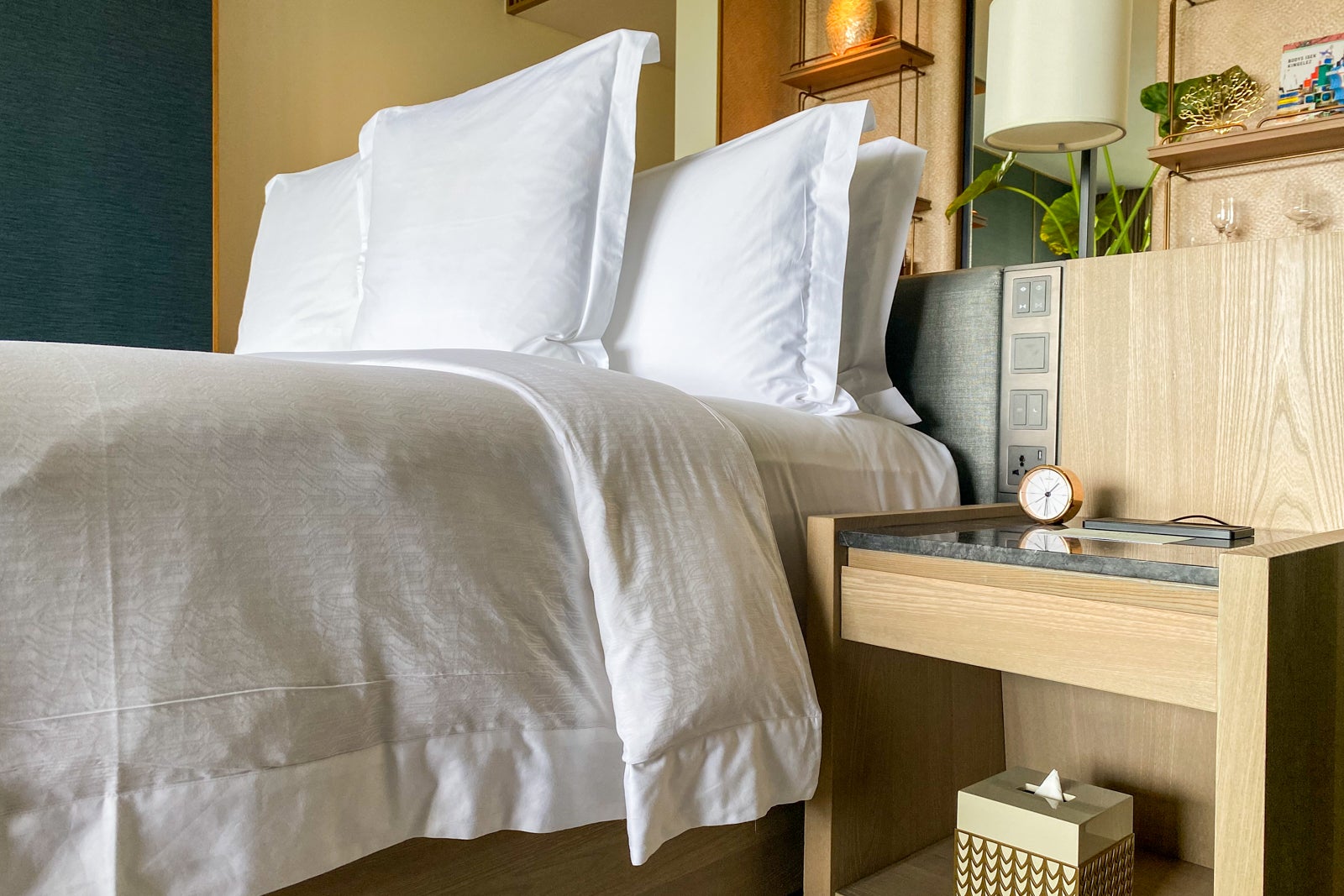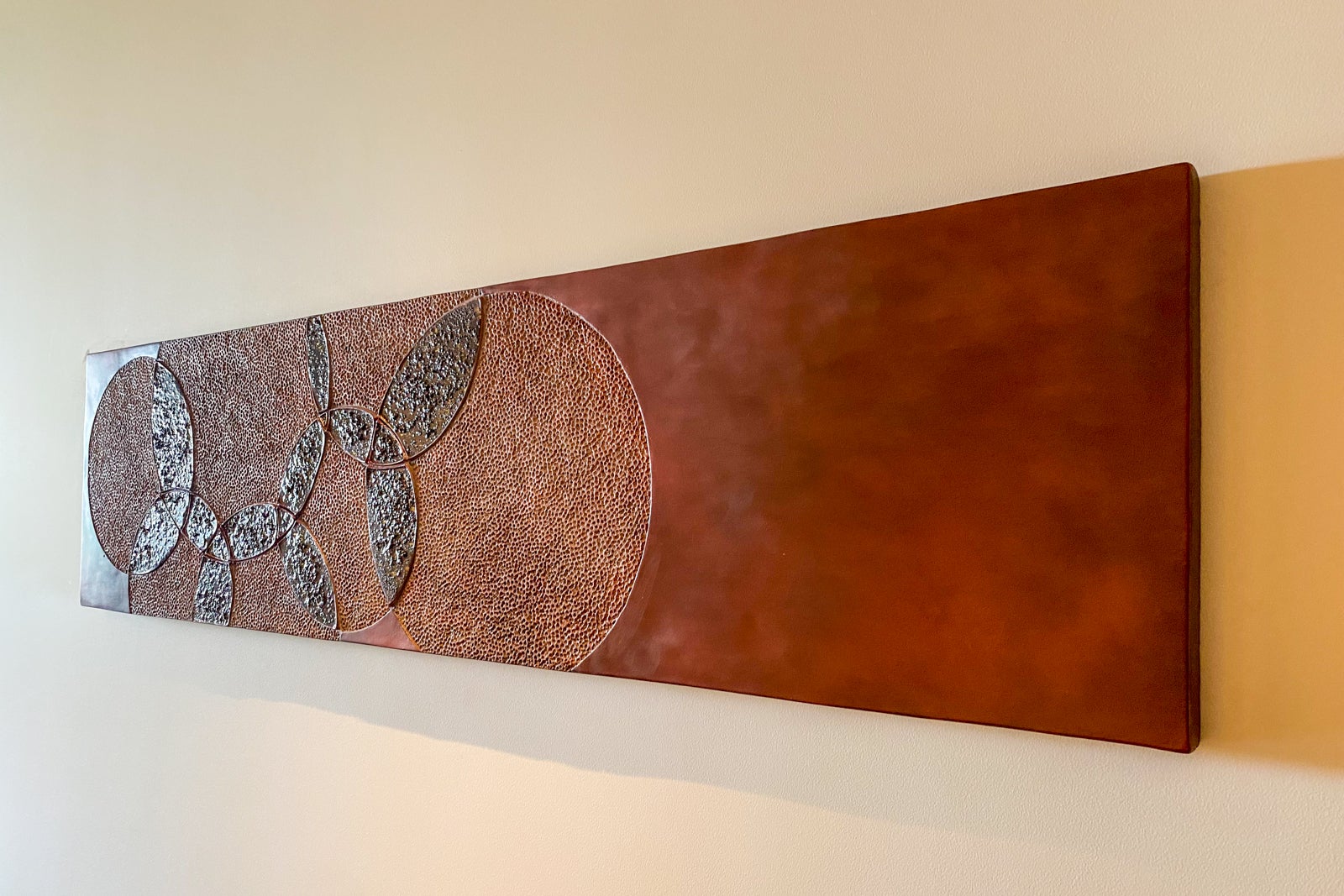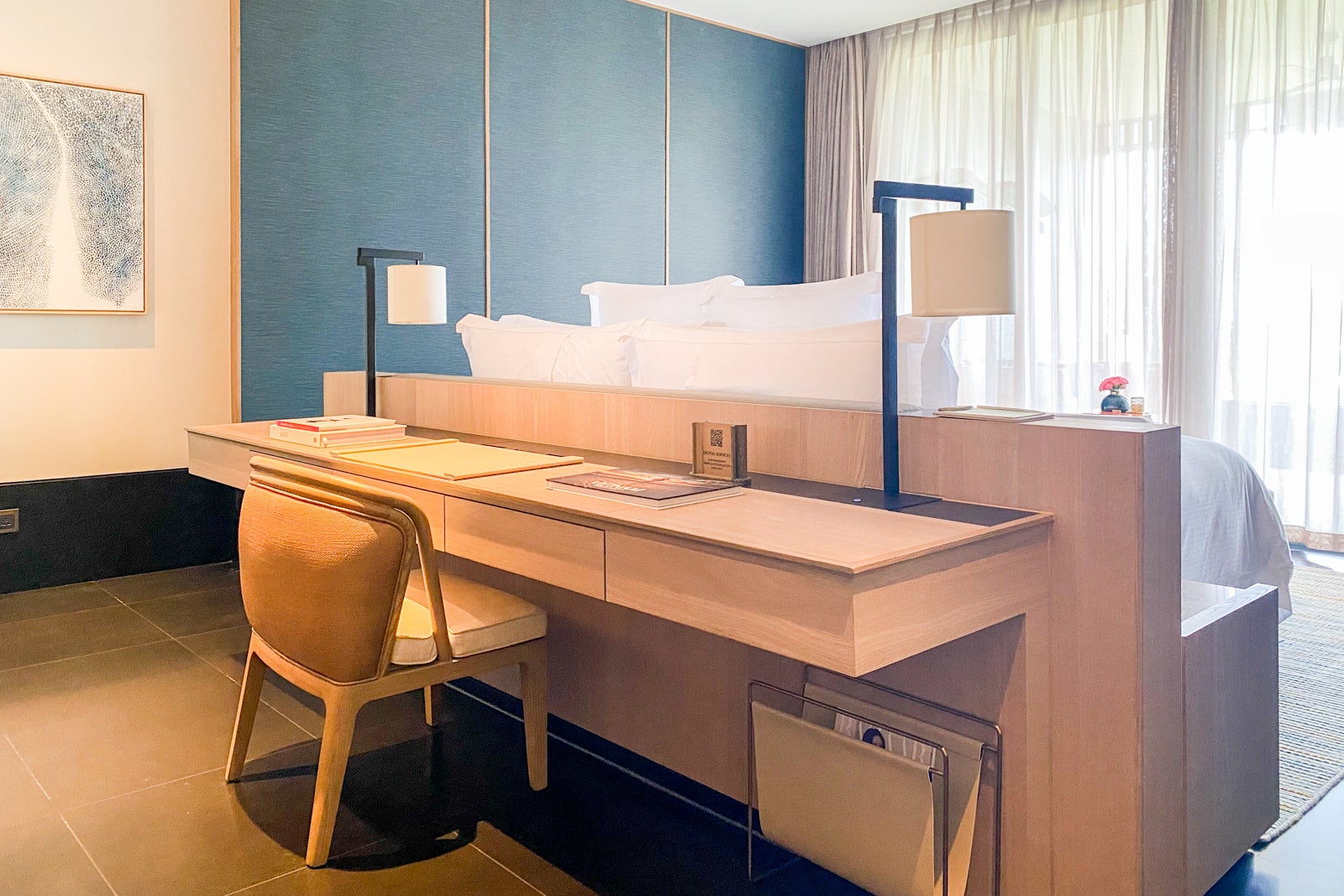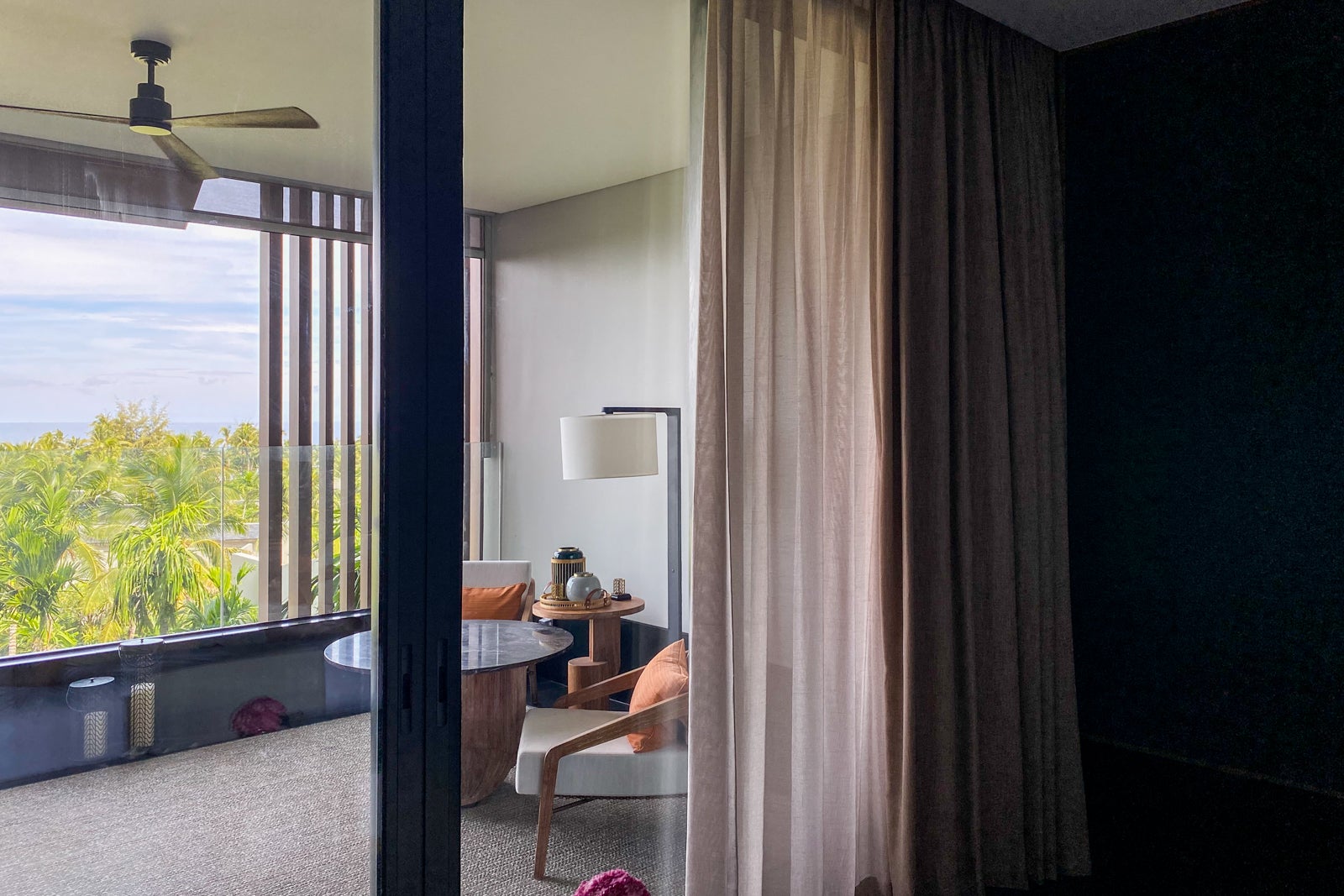 There were plenty of elevated accoutrements – a set of golden bartending utensils, an arrangement of fresh flowers with a large scented candle, design and lifestyle coffee-table books and ceramics that, along with a subtle wall covering, gave the bar a very cool vibe.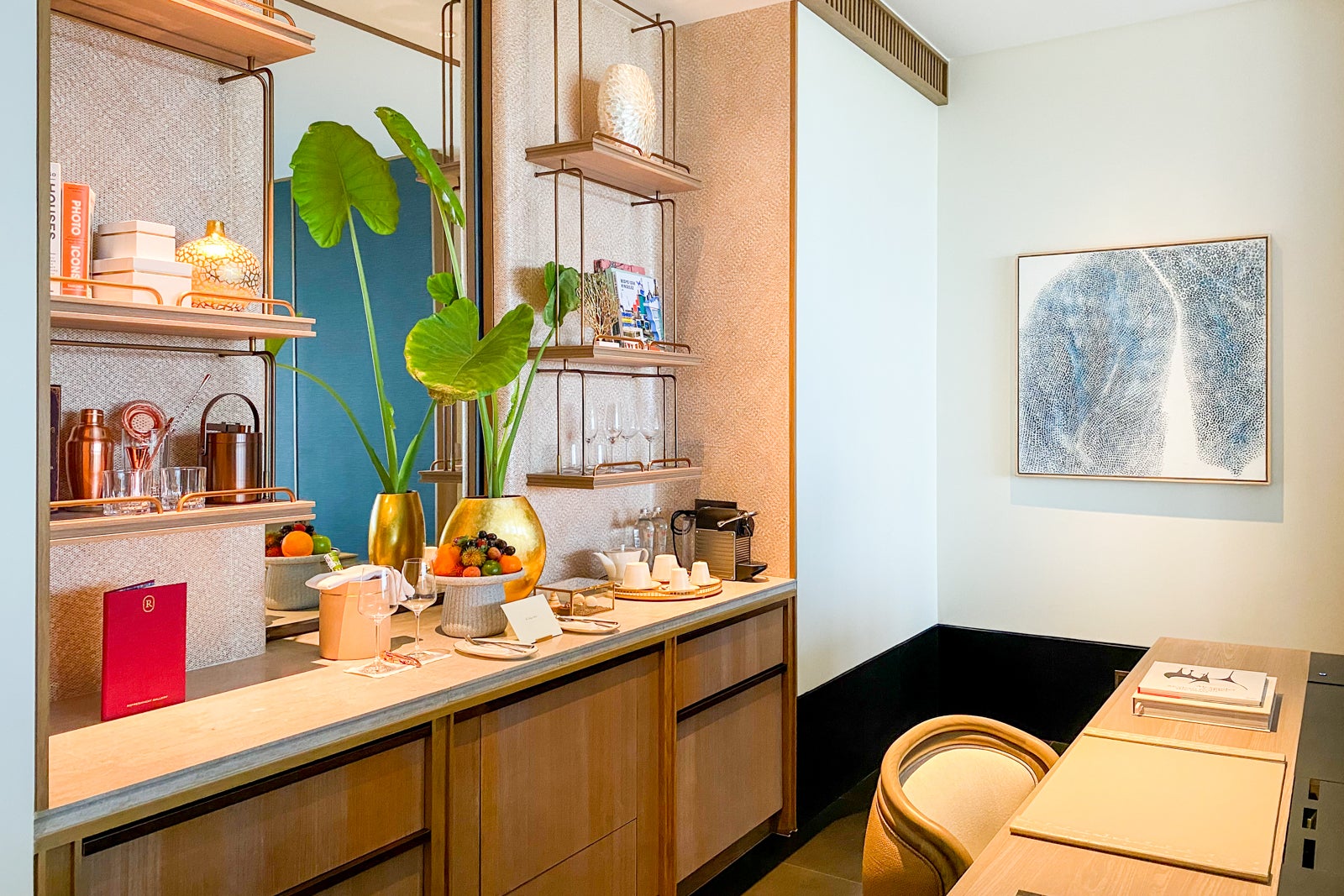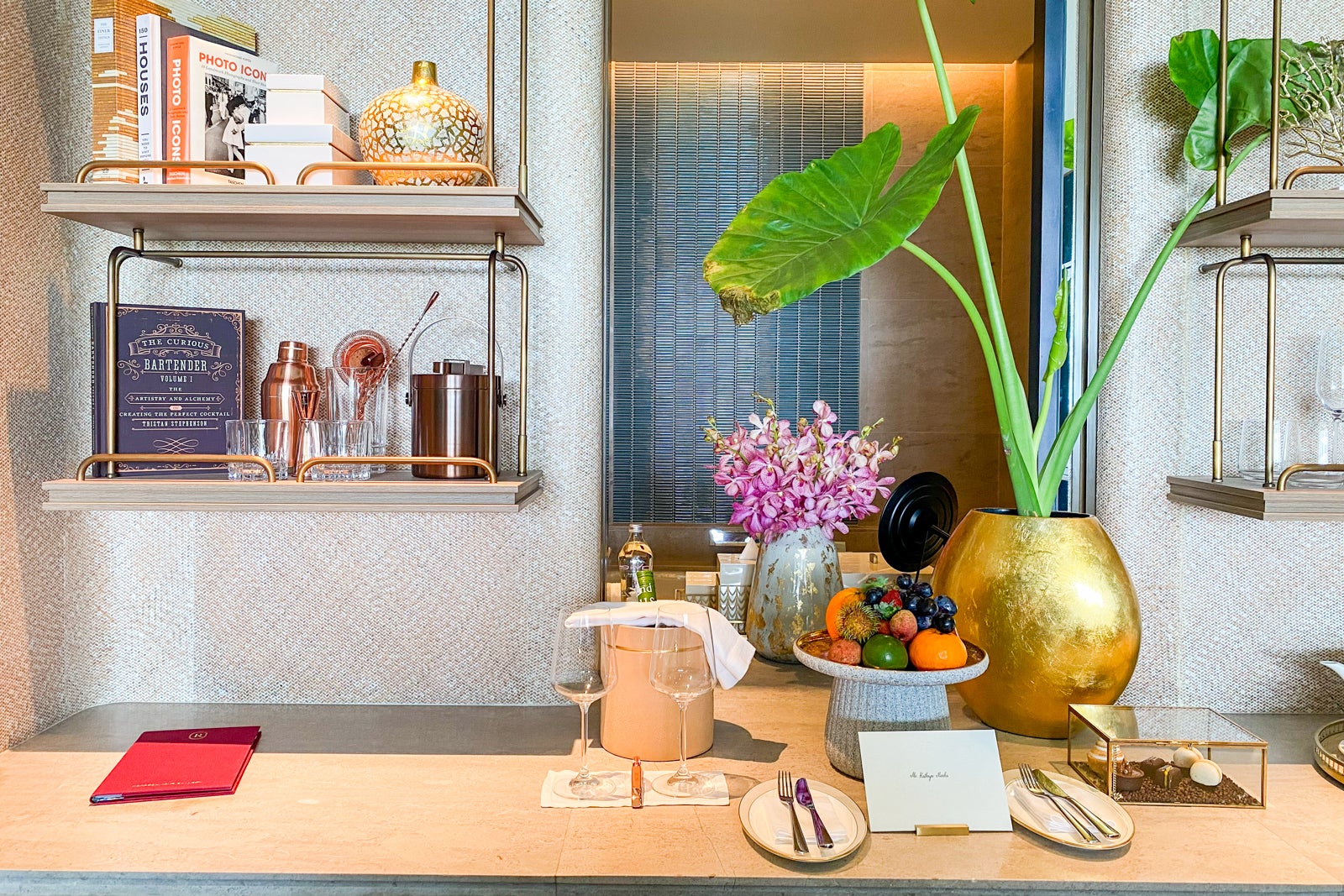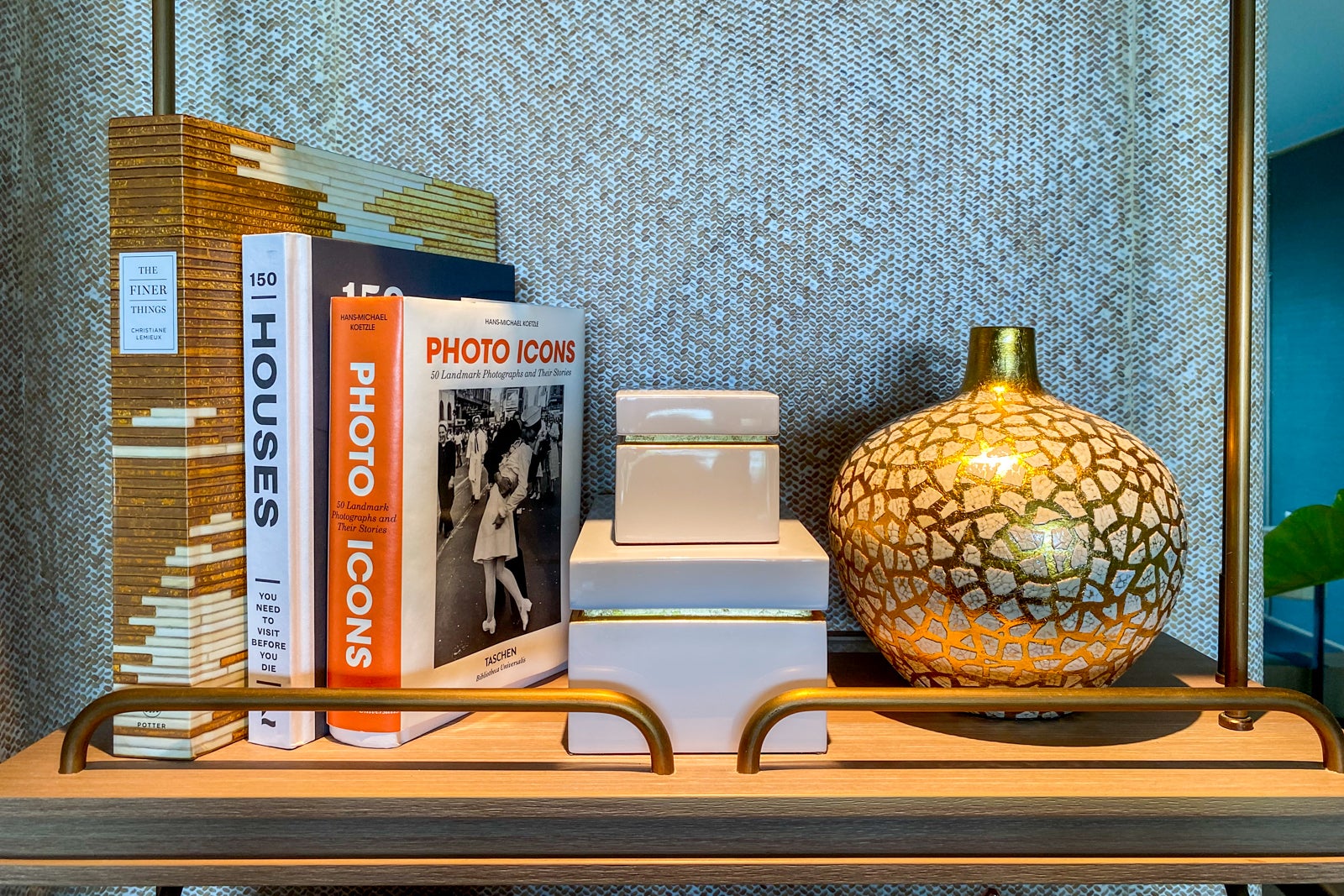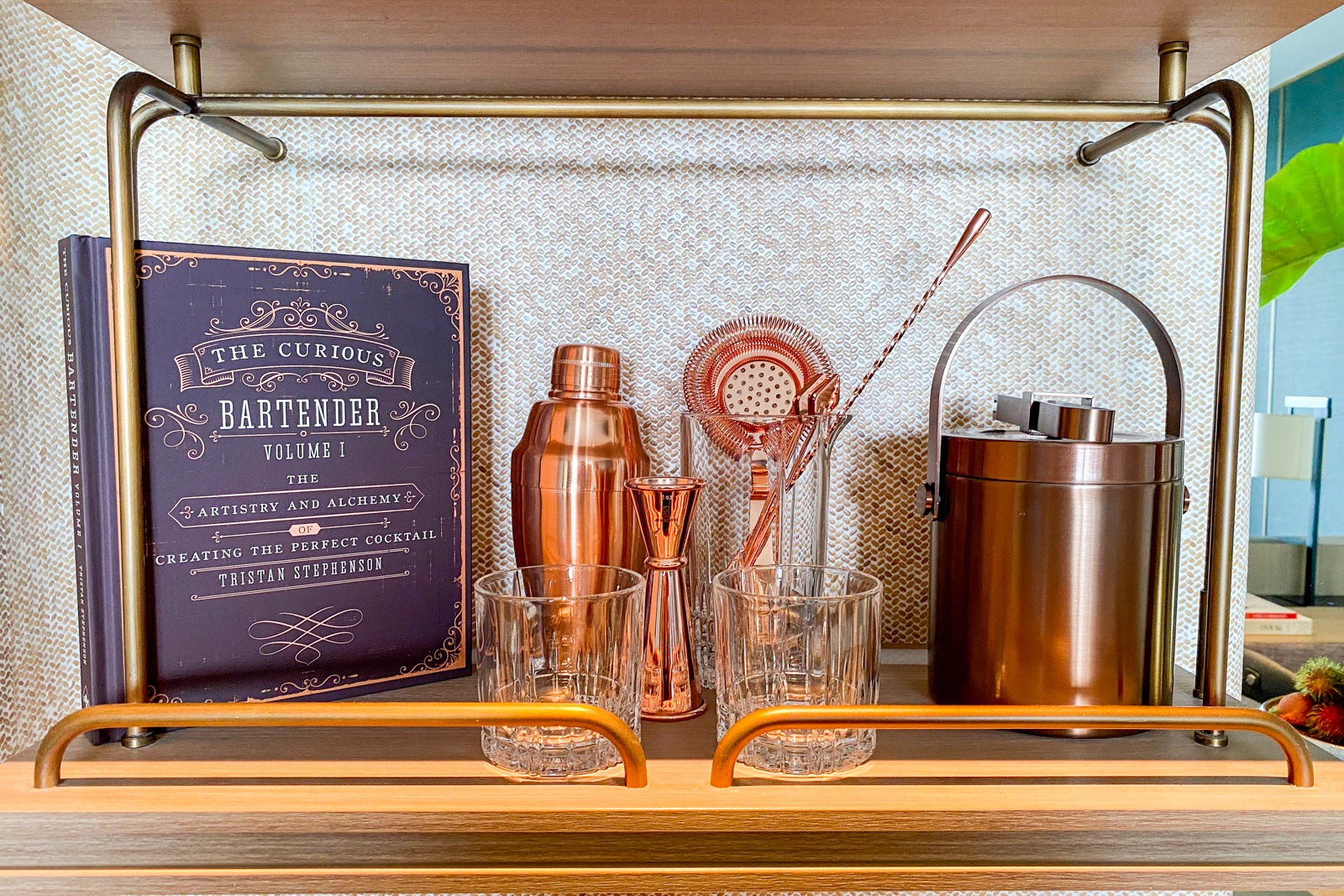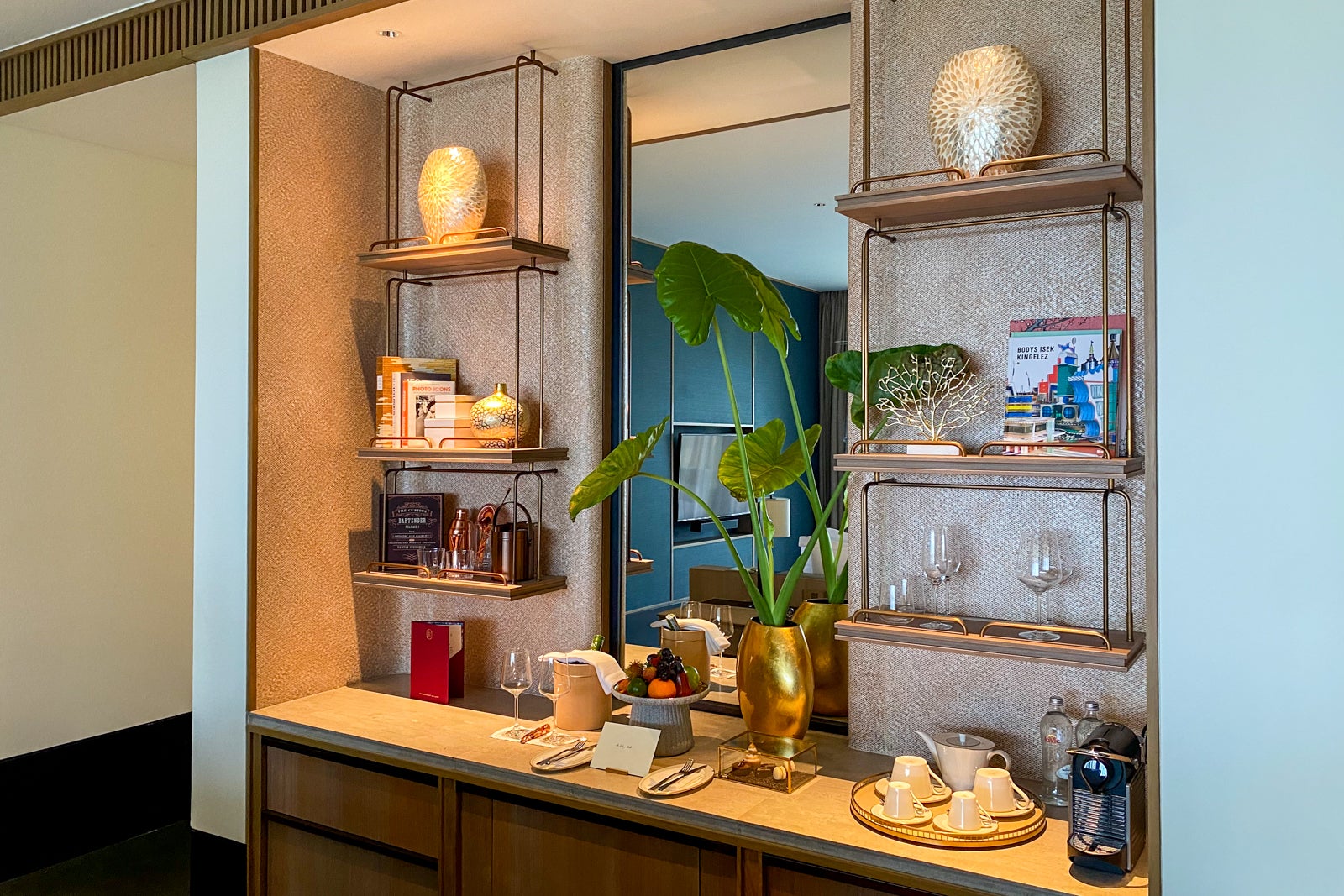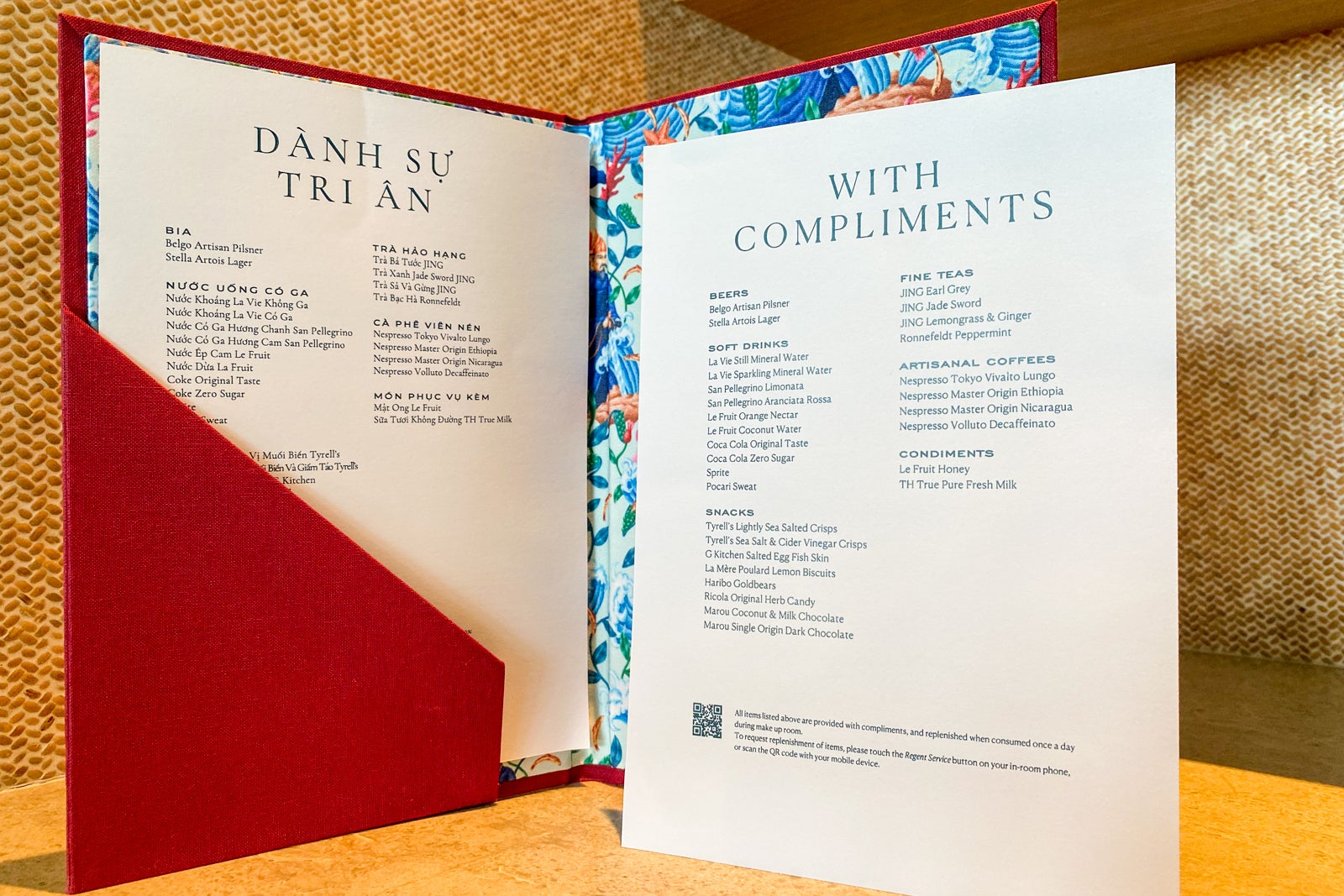 As another welcome and thank you for being some of the inaugural international guests, we were treated to a bottle of sauvignon blanc-semillon from Bordeaux, a hand-written card and a glass box of delicious, bite-sized desserts. A big bowl of fruit on a stand looked luscious.
They told us the minibar drinks and snacks were complimentary and would be refilled as needed, which happened like clockwork during our stay. This included Belgo Artisan Pilsner, La Vie sparkling and still water, San Pellegrino Limonata, sodas, Tyrell's chips, Haribo gummy bears and Marou chocolate bars. There was a trio of JING fine teas and four types of Nespresso pods, too. It was more than I expected and a very happy surprise.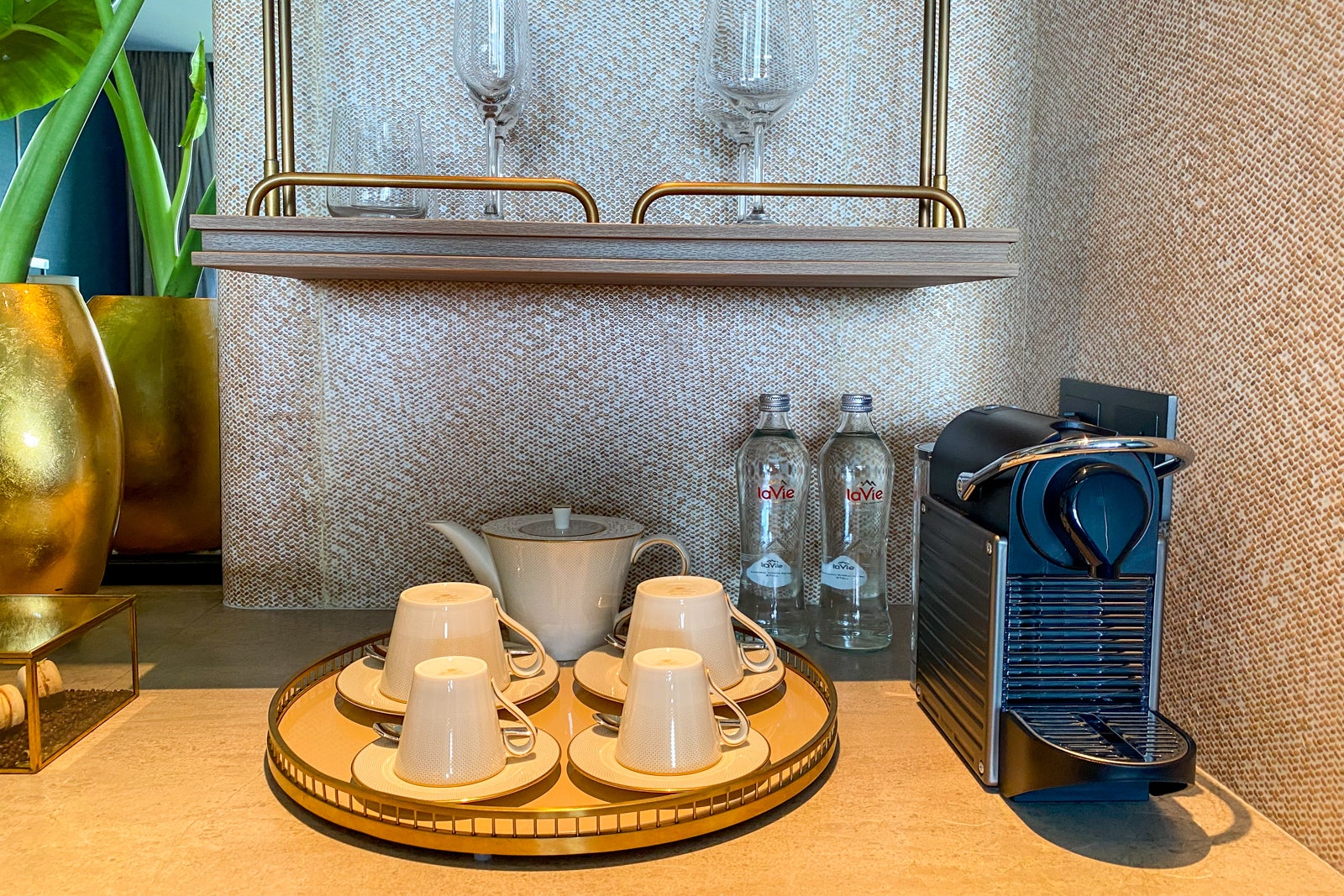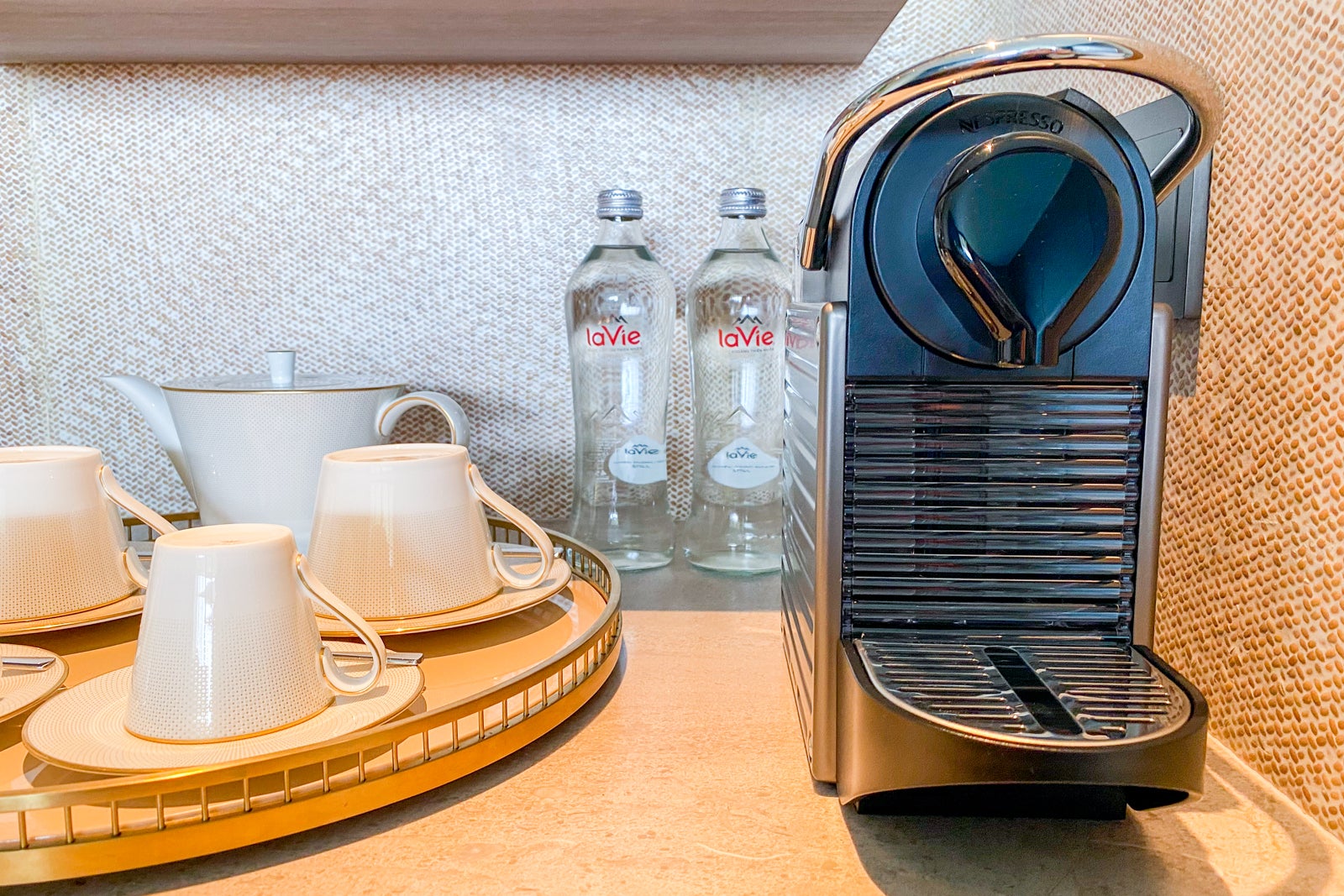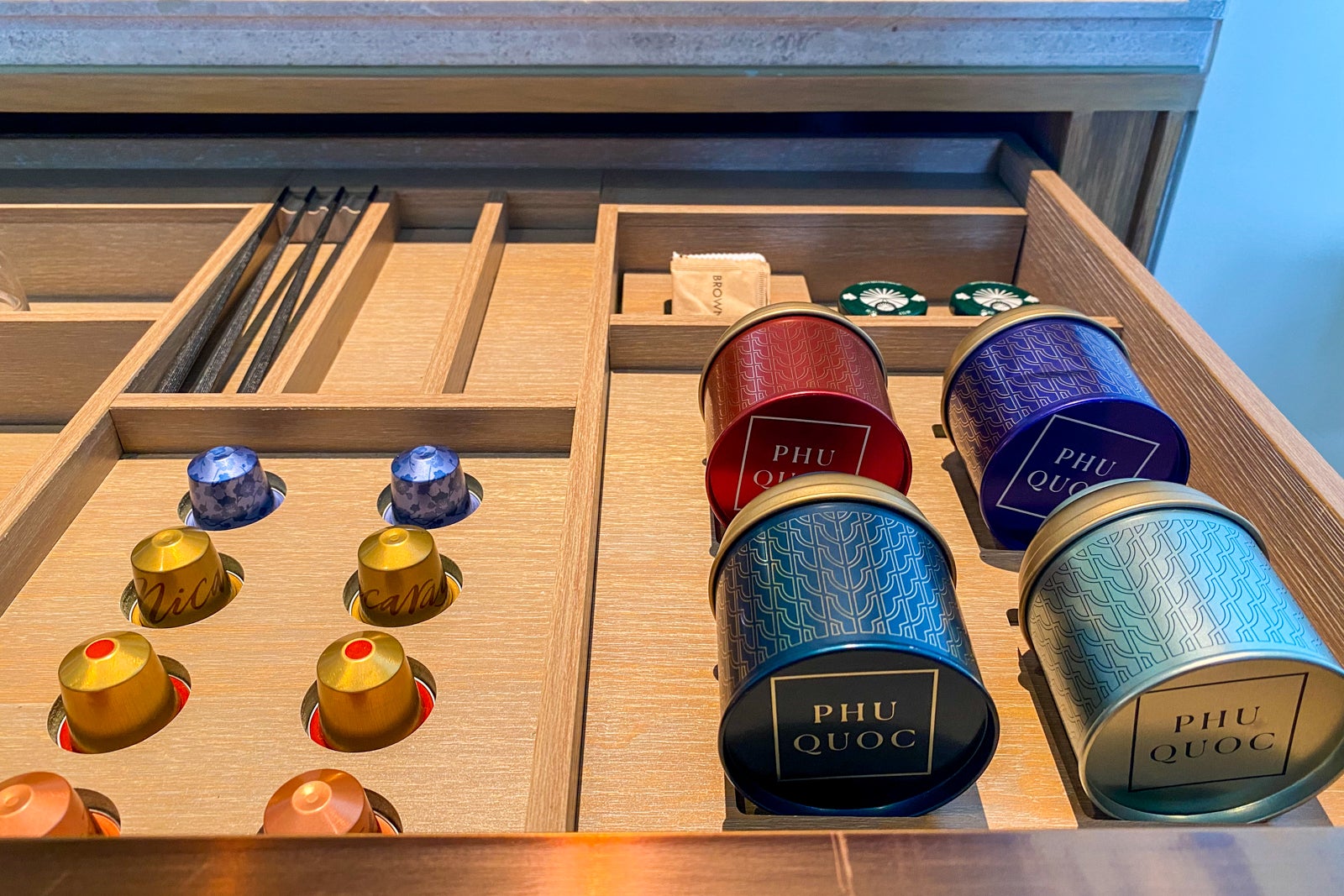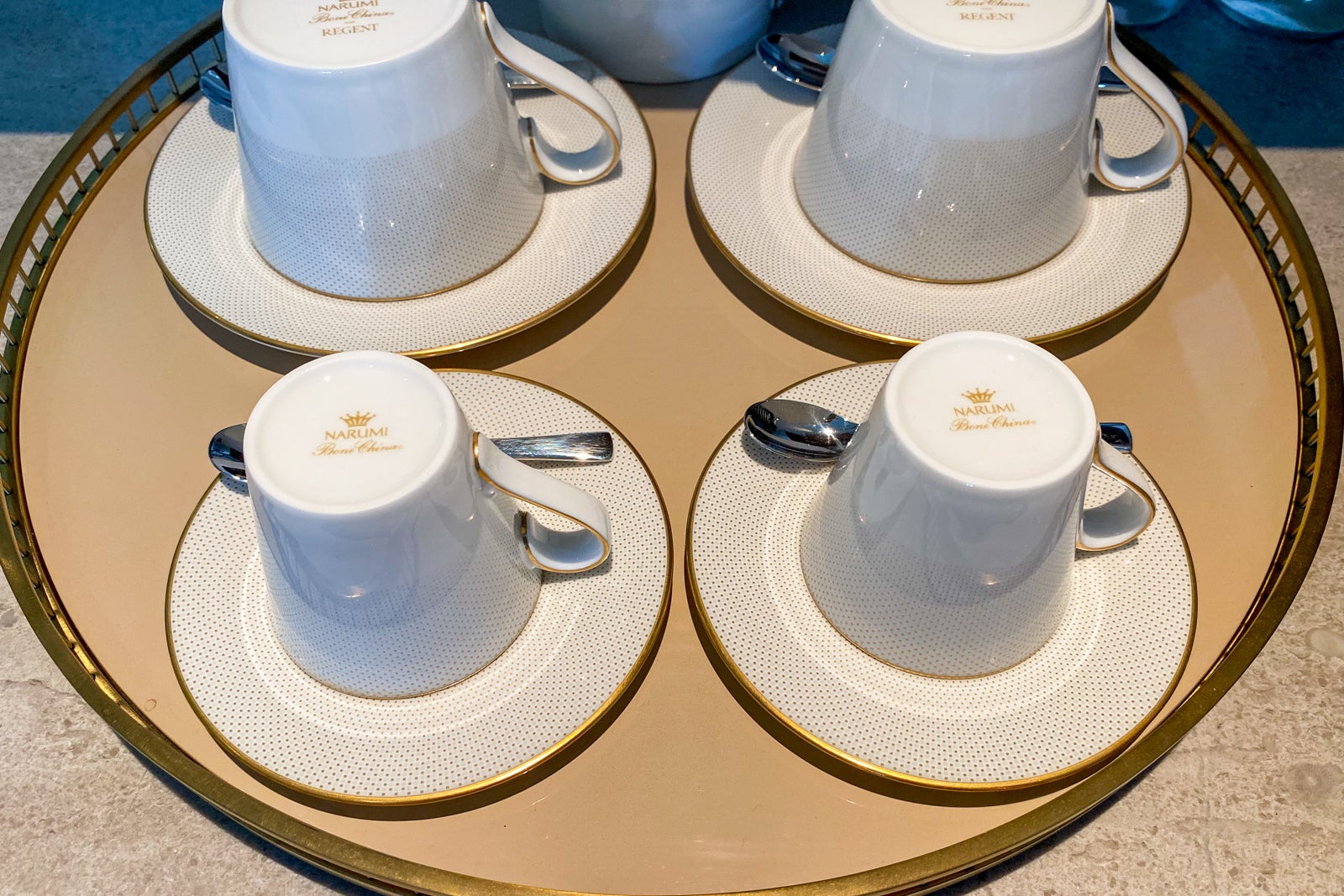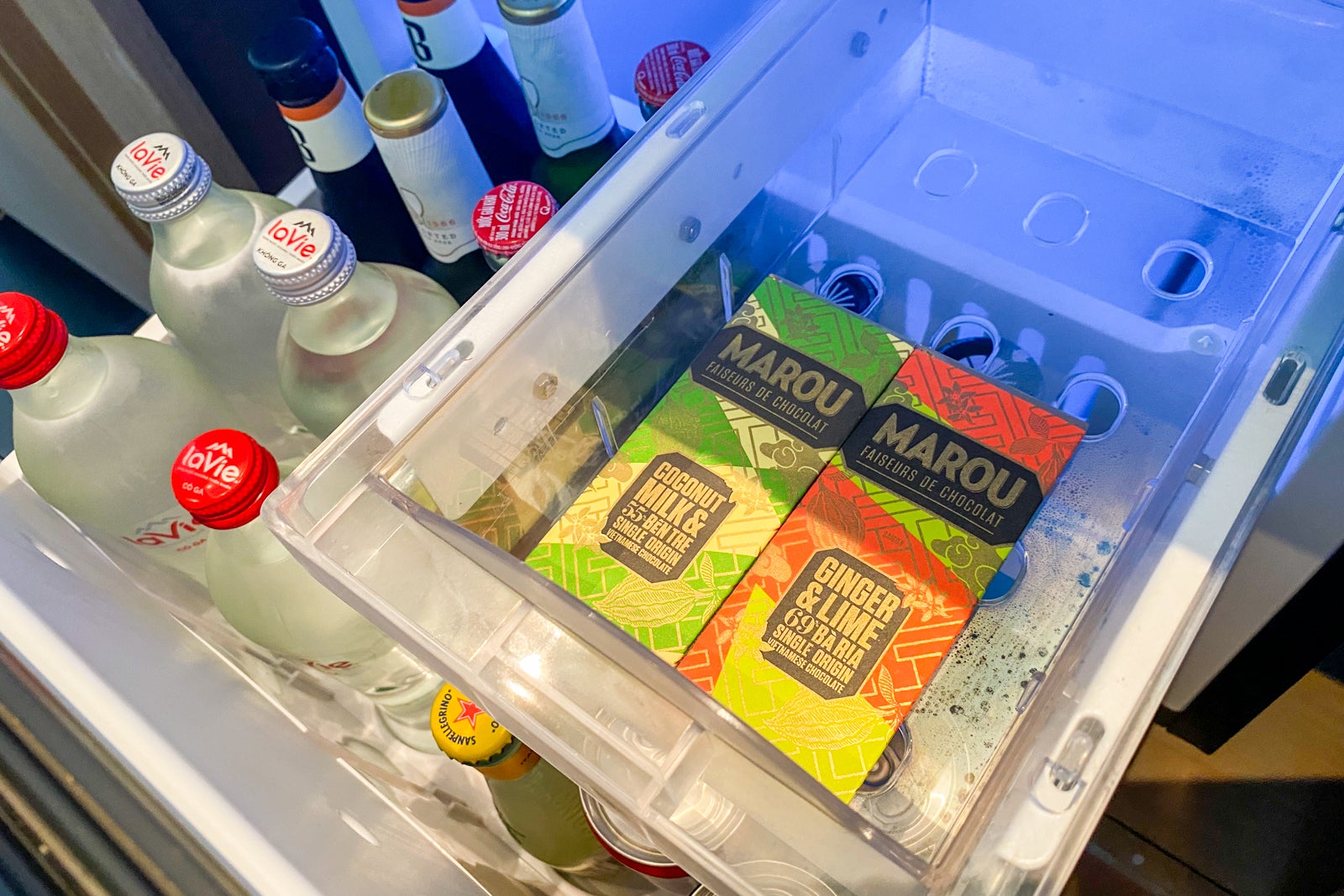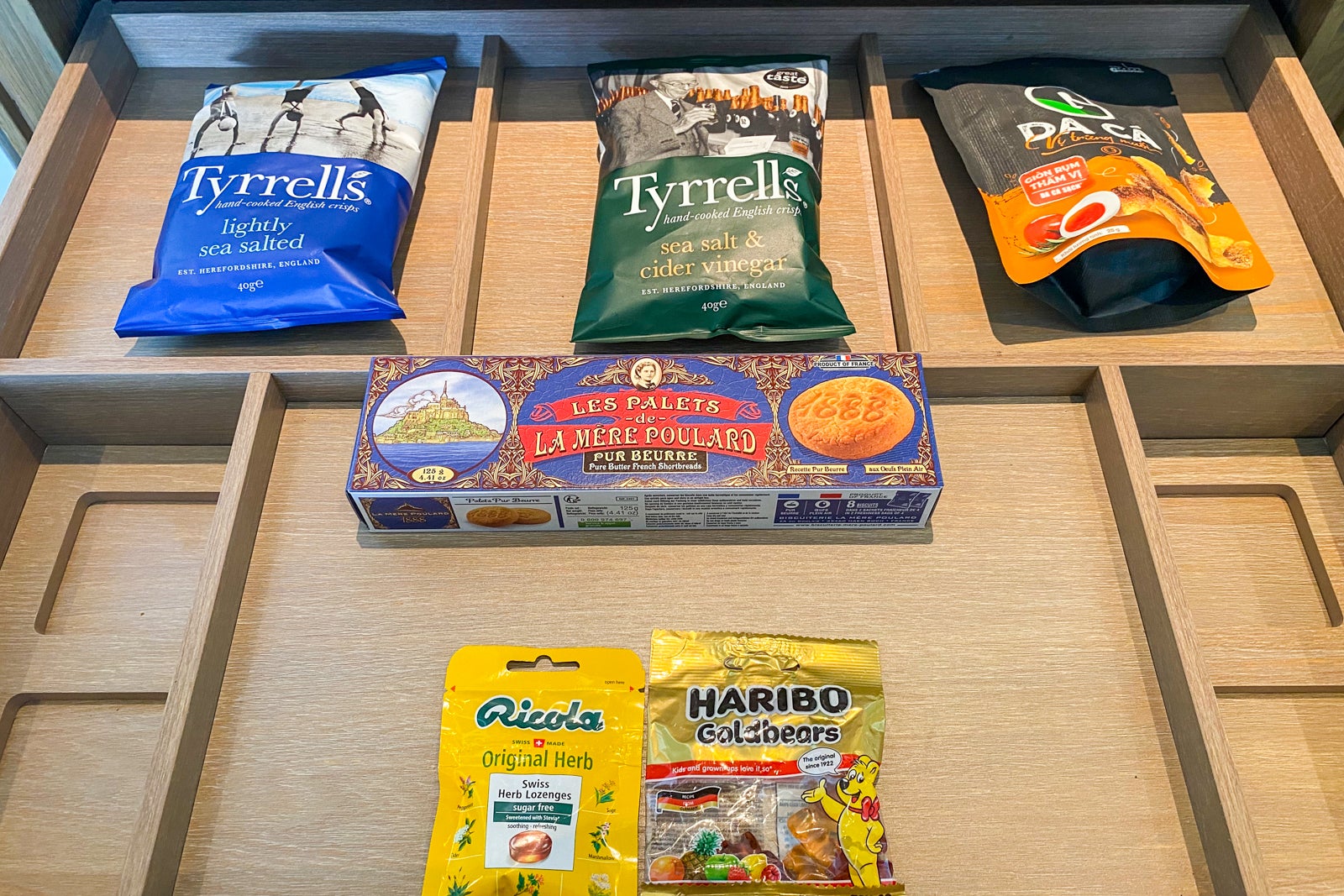 The suite's furniture style was laid-back enough to feel comfortable but still aesthetically pleasing.
That was especially true on the large balcony, which we used as a living and dining room, and even a workspace when my husband occupied the desk behind the bed. There, we enjoyed a stunning coral-hued sunset followed by a quiet in-room dinner — more on that later.
With plenty of privacy, shade and fresh air, it felt like a perfectly conceived space. There was even a screen that automatically lowered one afternoon during a 15-minute rainstorm and rose as soon as the weather cleared.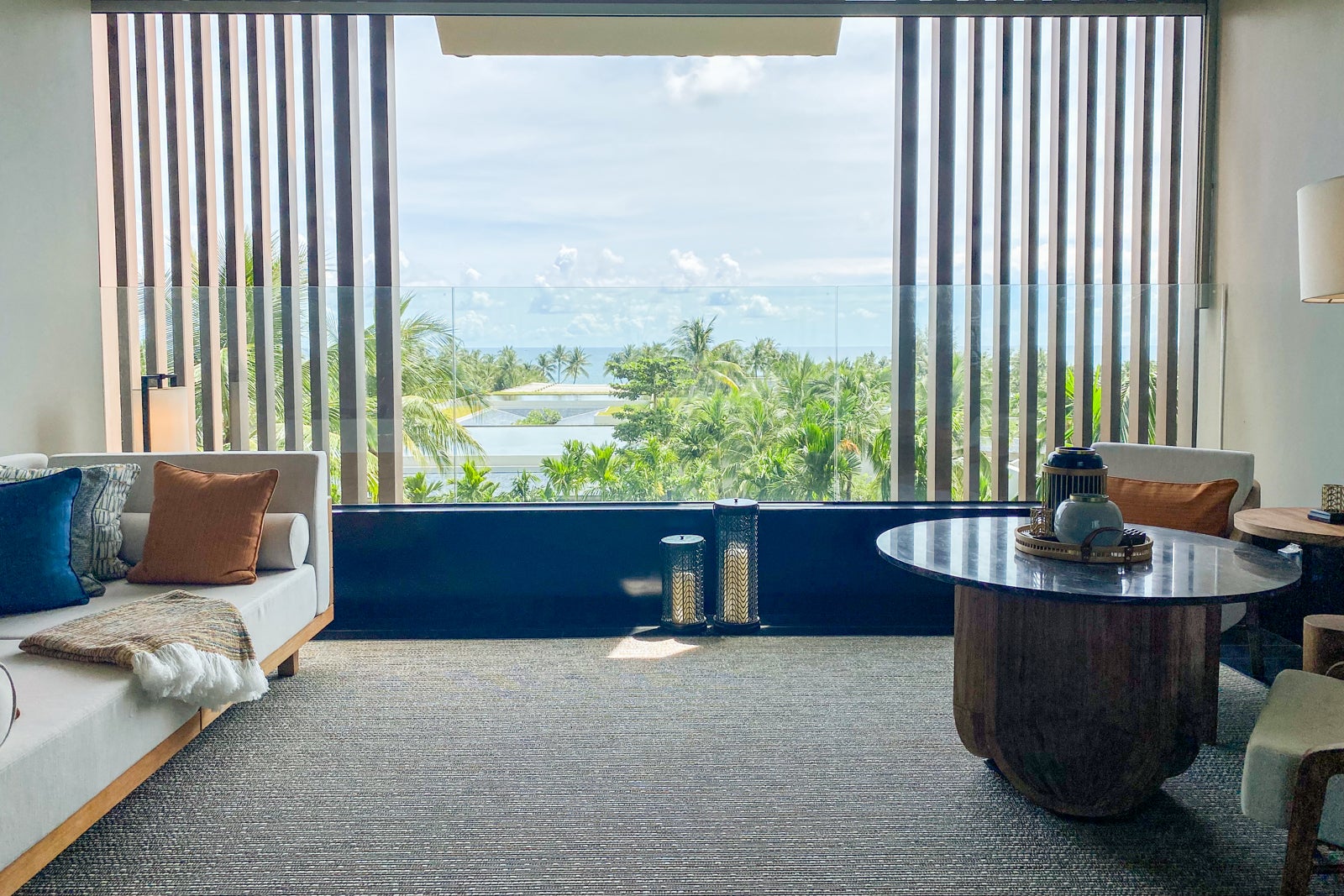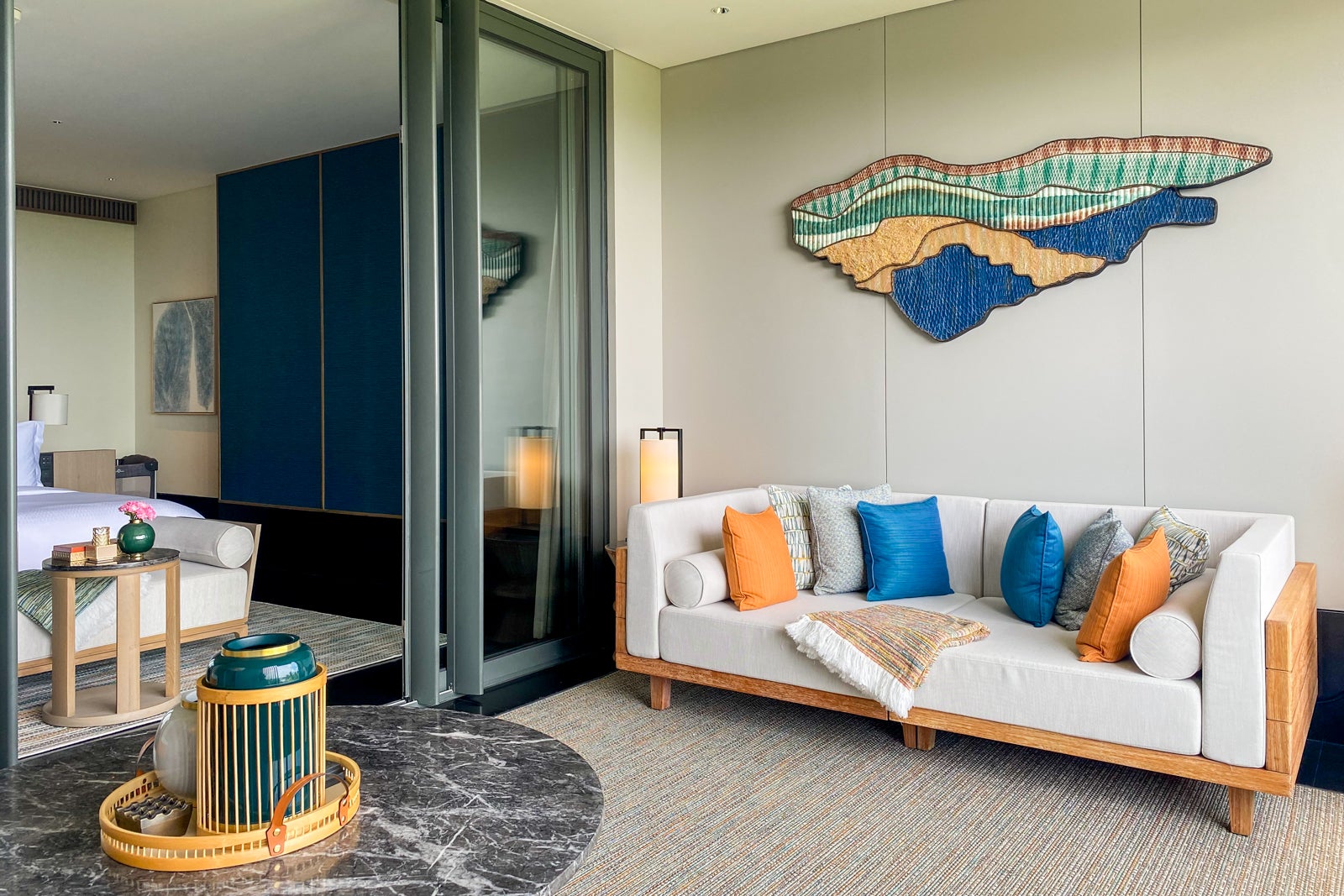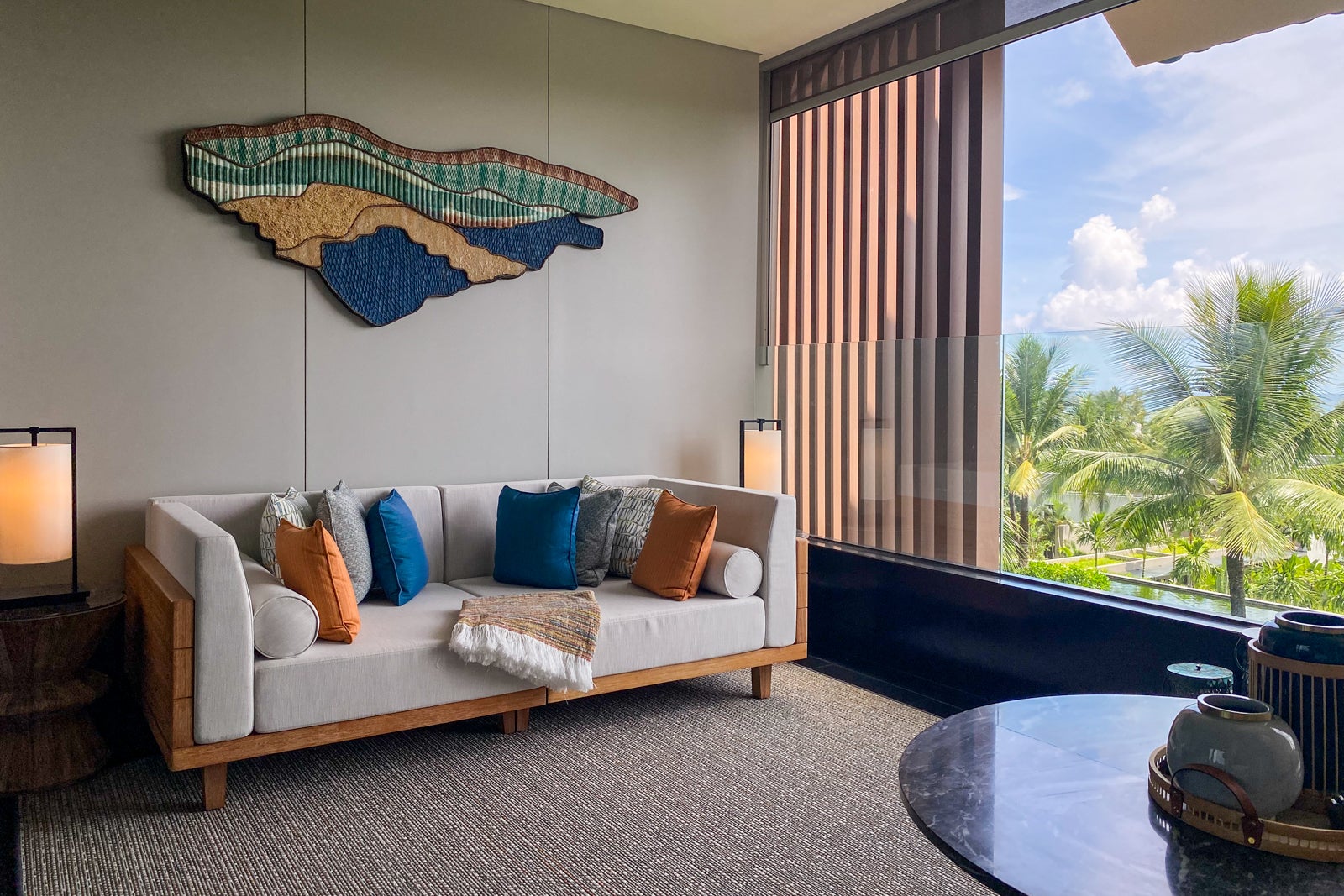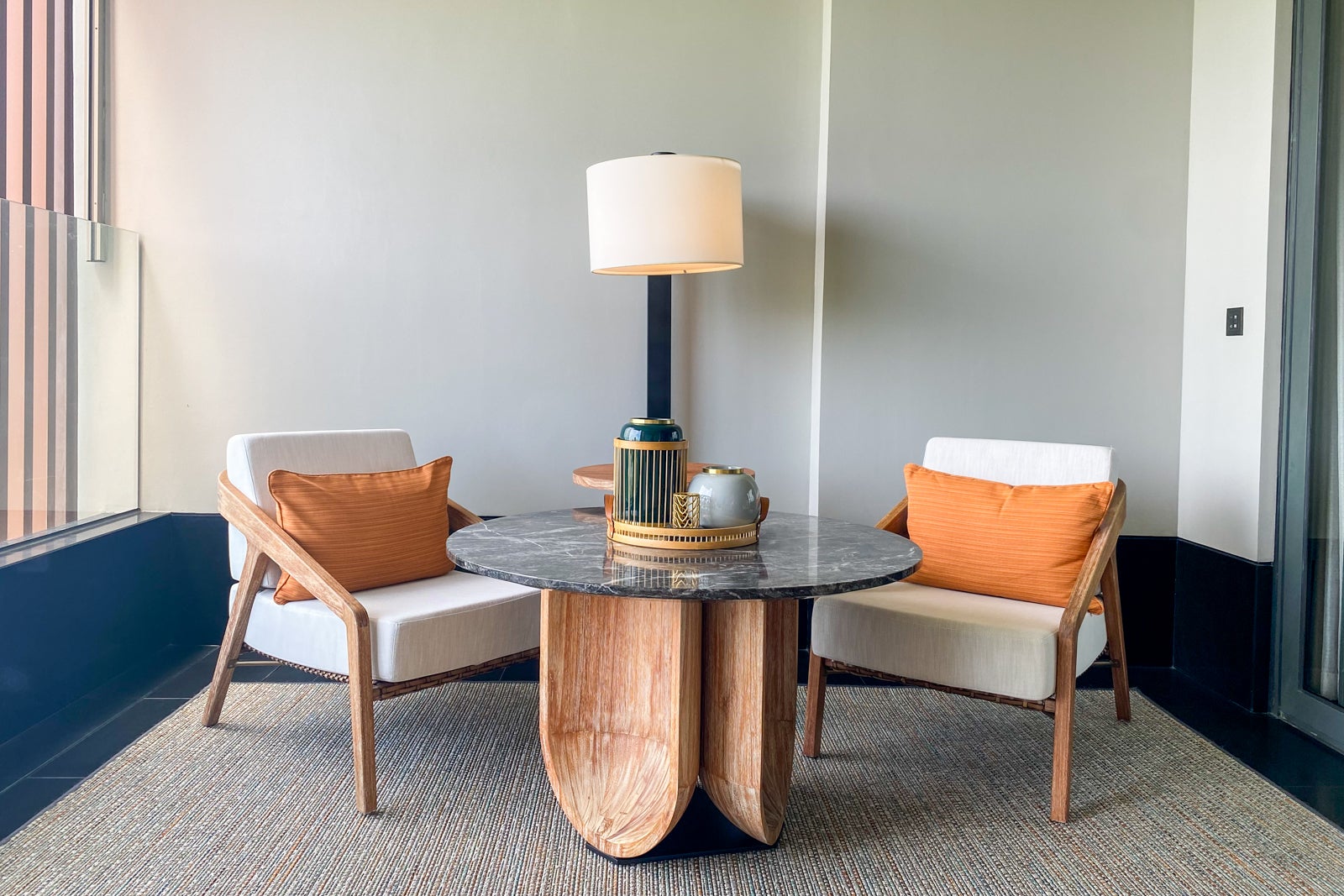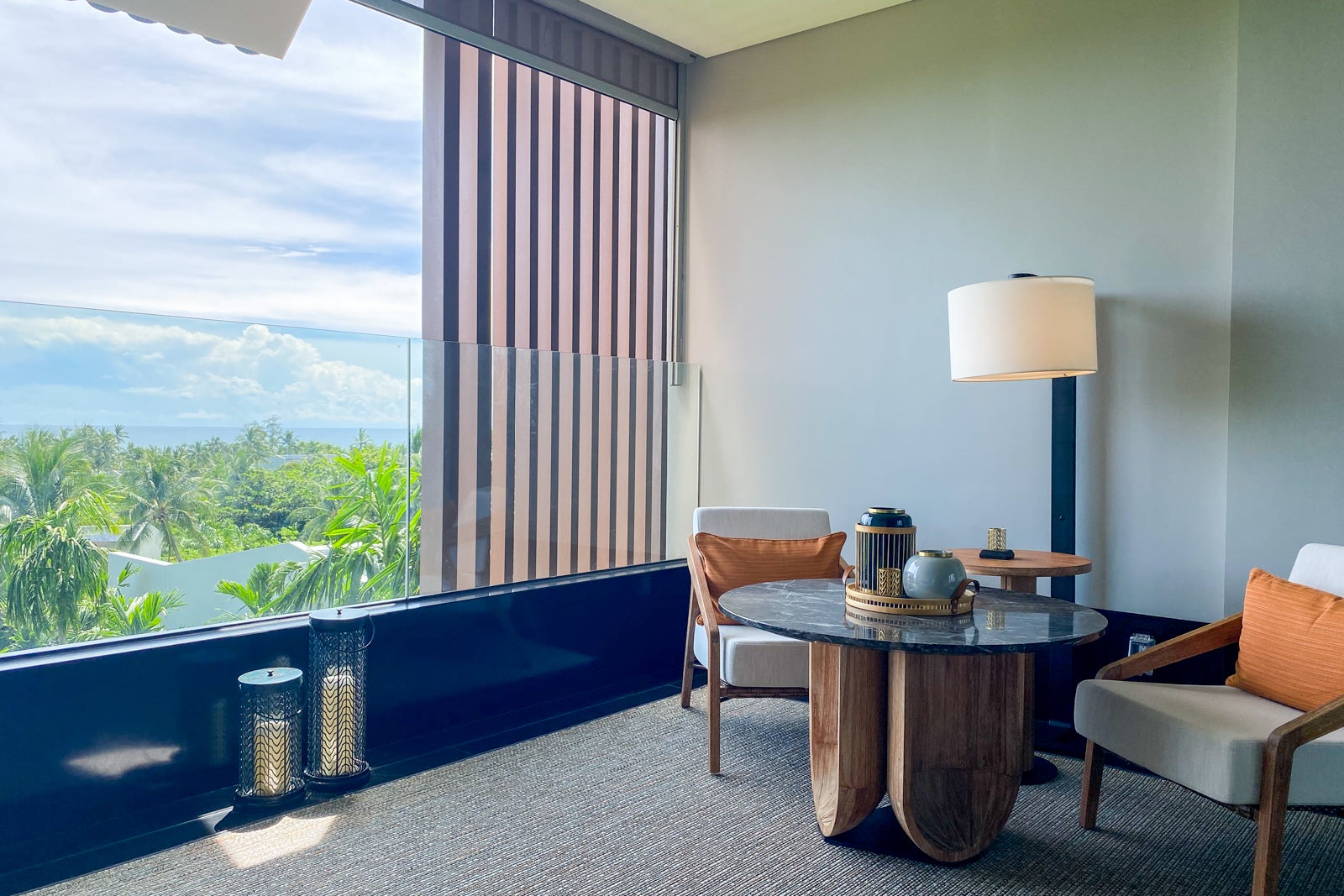 We found all the light switches intuitive and, without being labeled with words, easy to understand. I loved that the lamps featured glowing on/off buttons that I didn't have to search to find. Plentiful universal outlets and USB ports were in all the right places.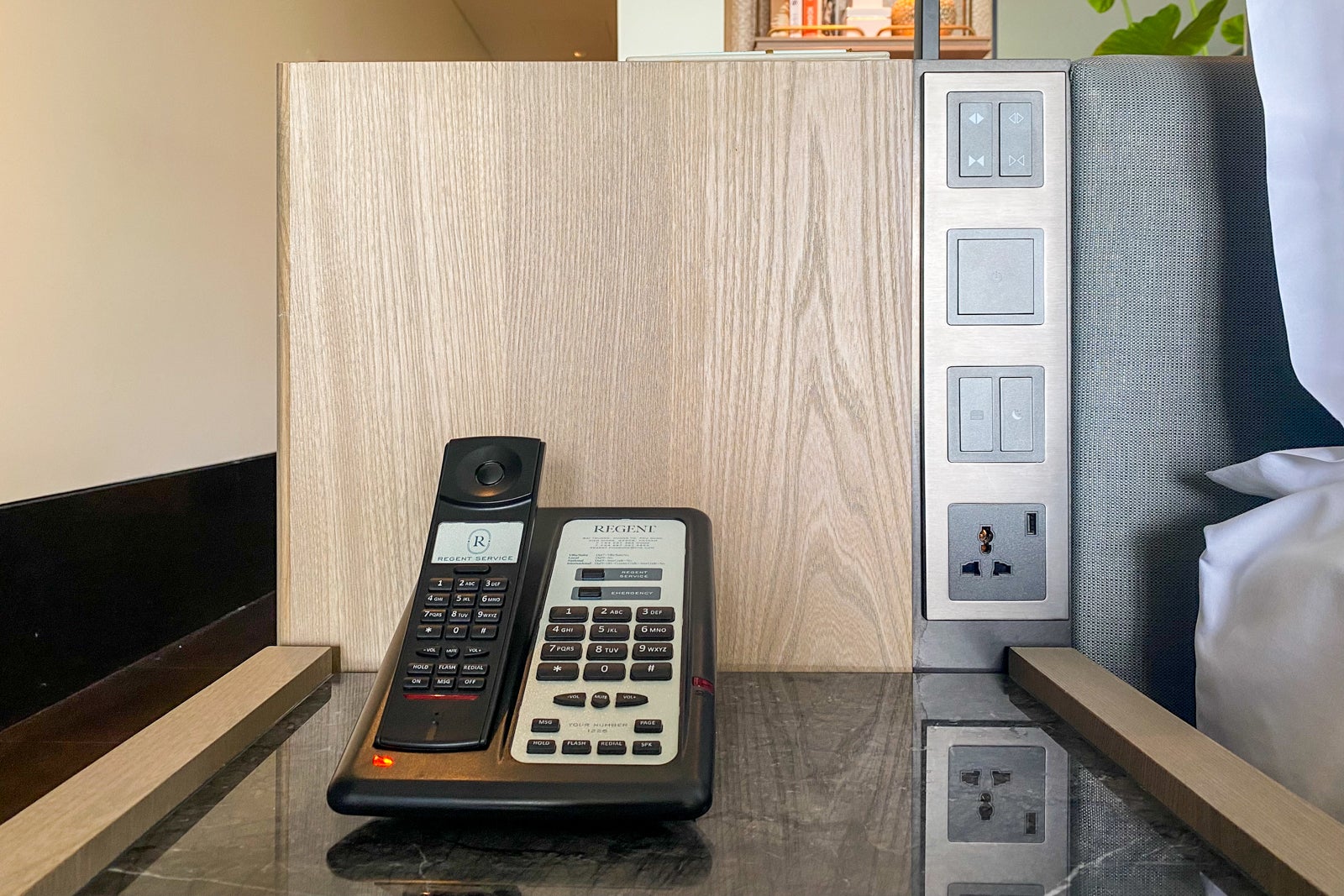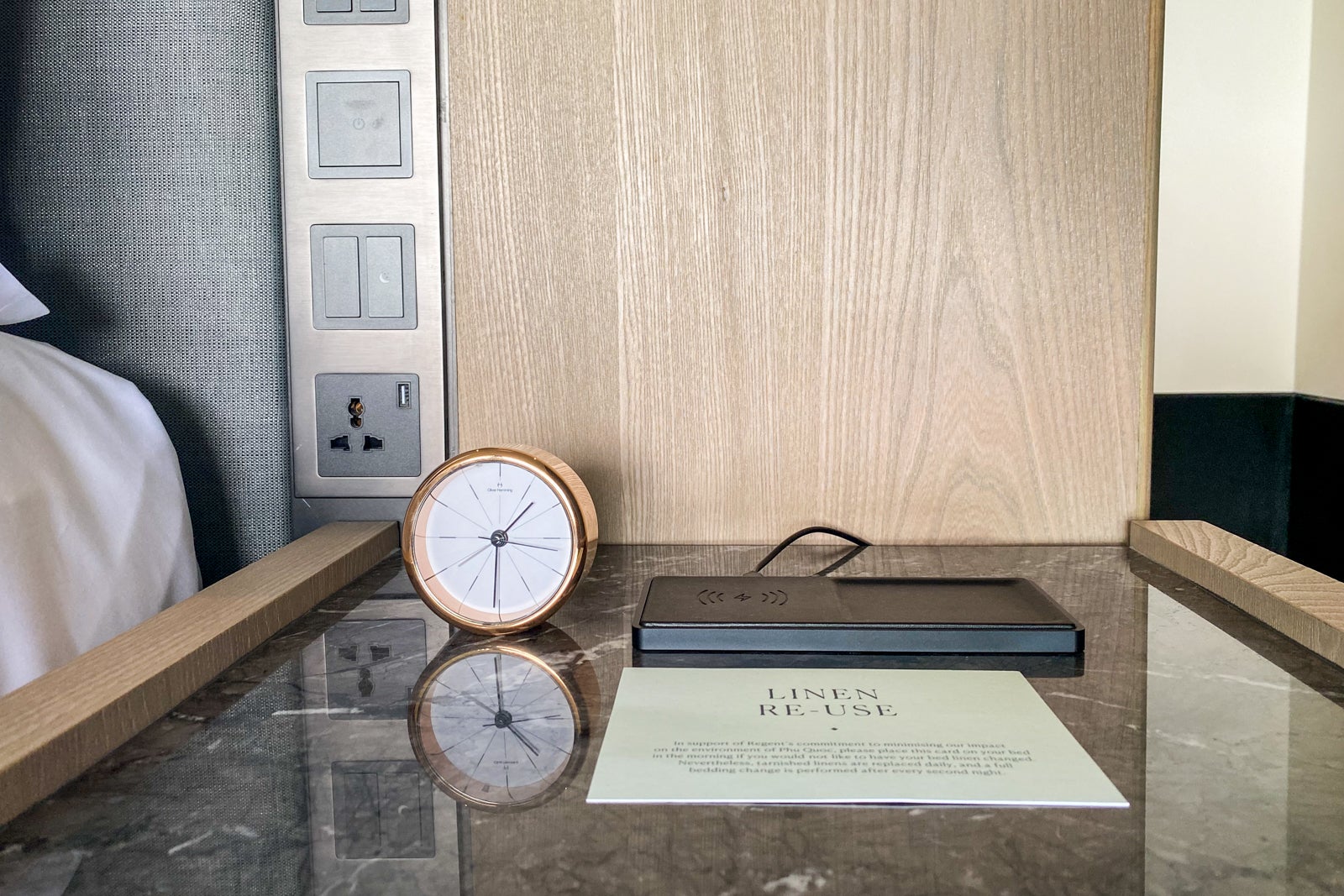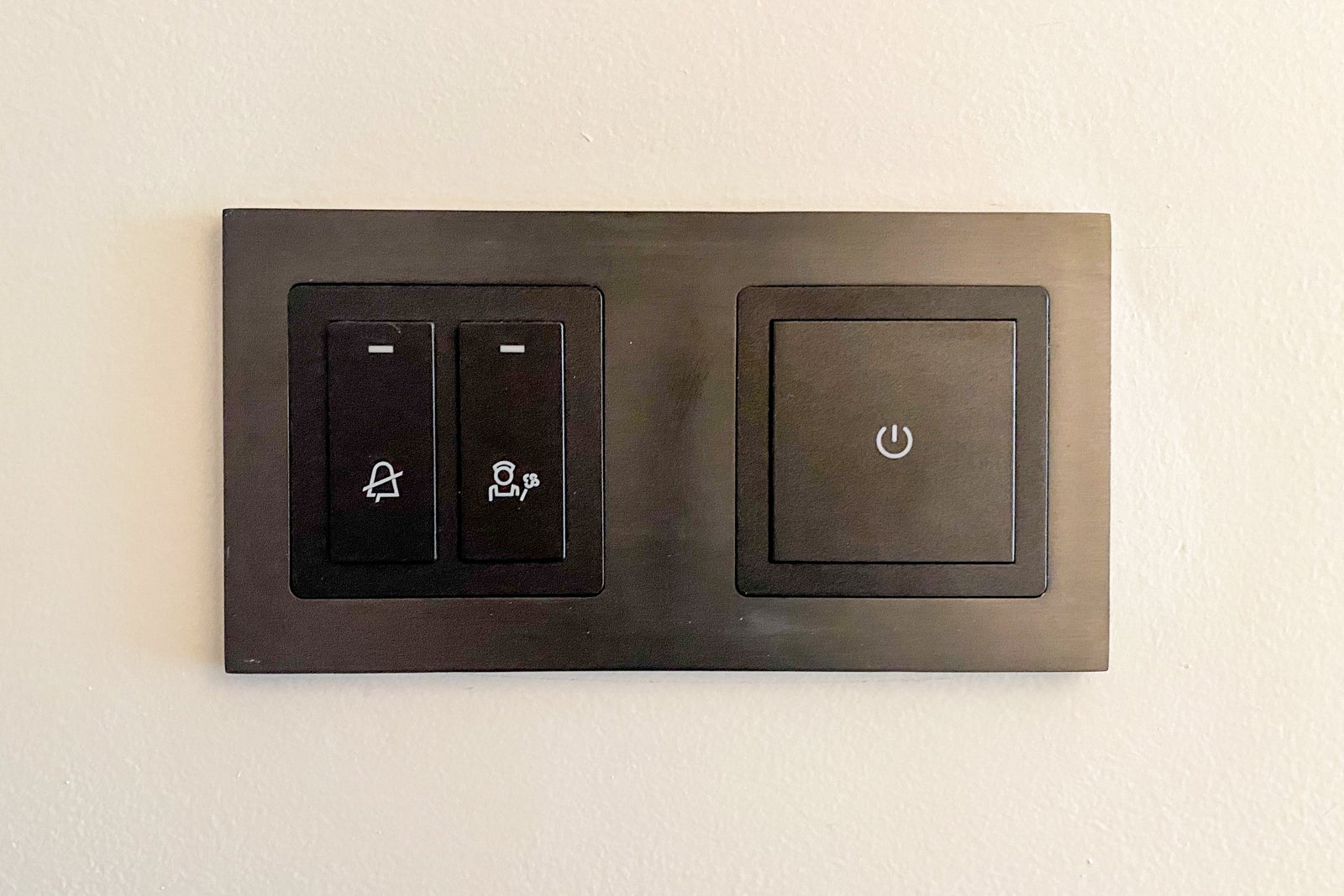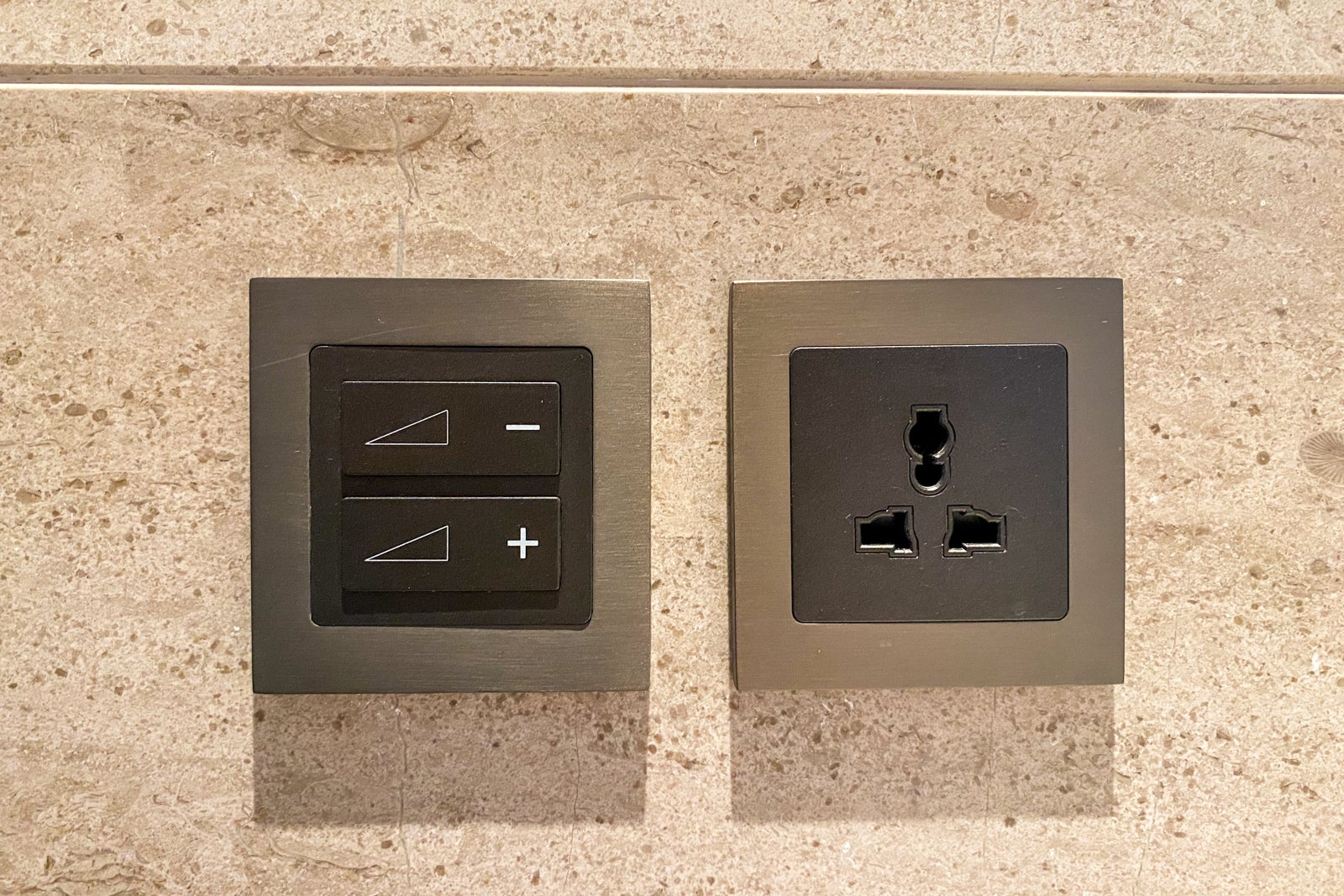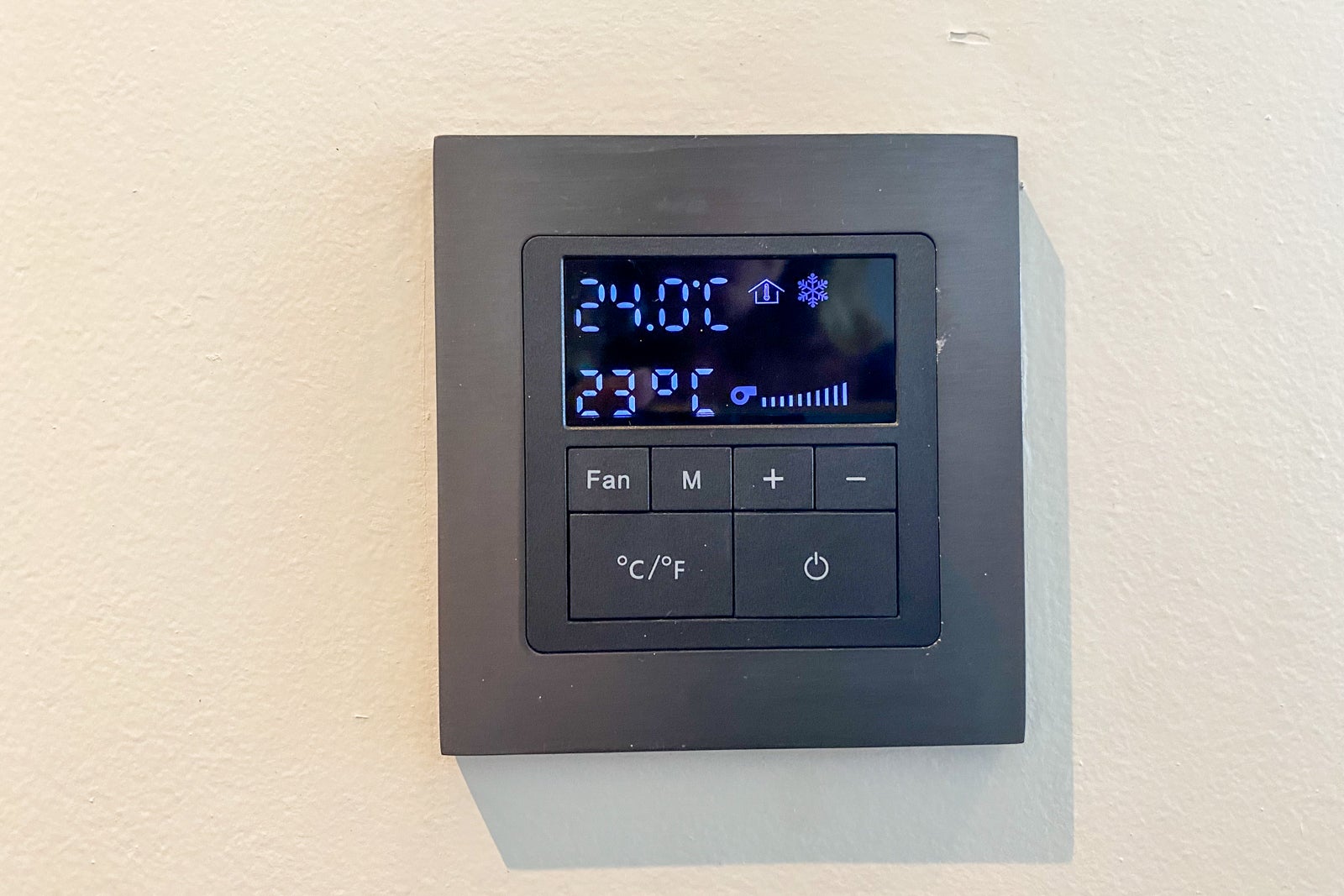 Strong Wi-Fi, a smart TV and an ultra-cushy bed all added to my satisfaction. Turndown service didn't hurt, either, with different tasty chocolates inside a little glass dome on our nightstands each night.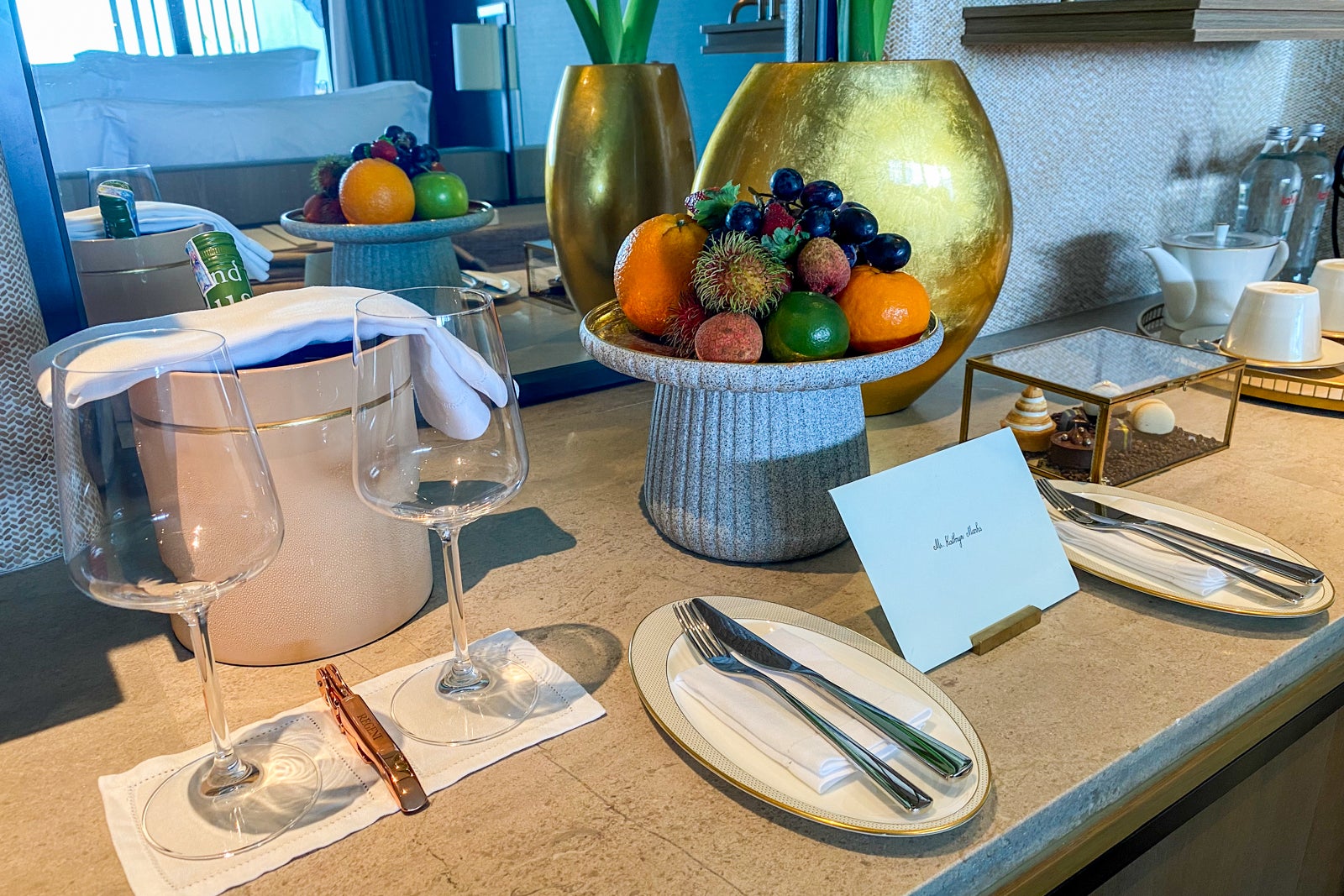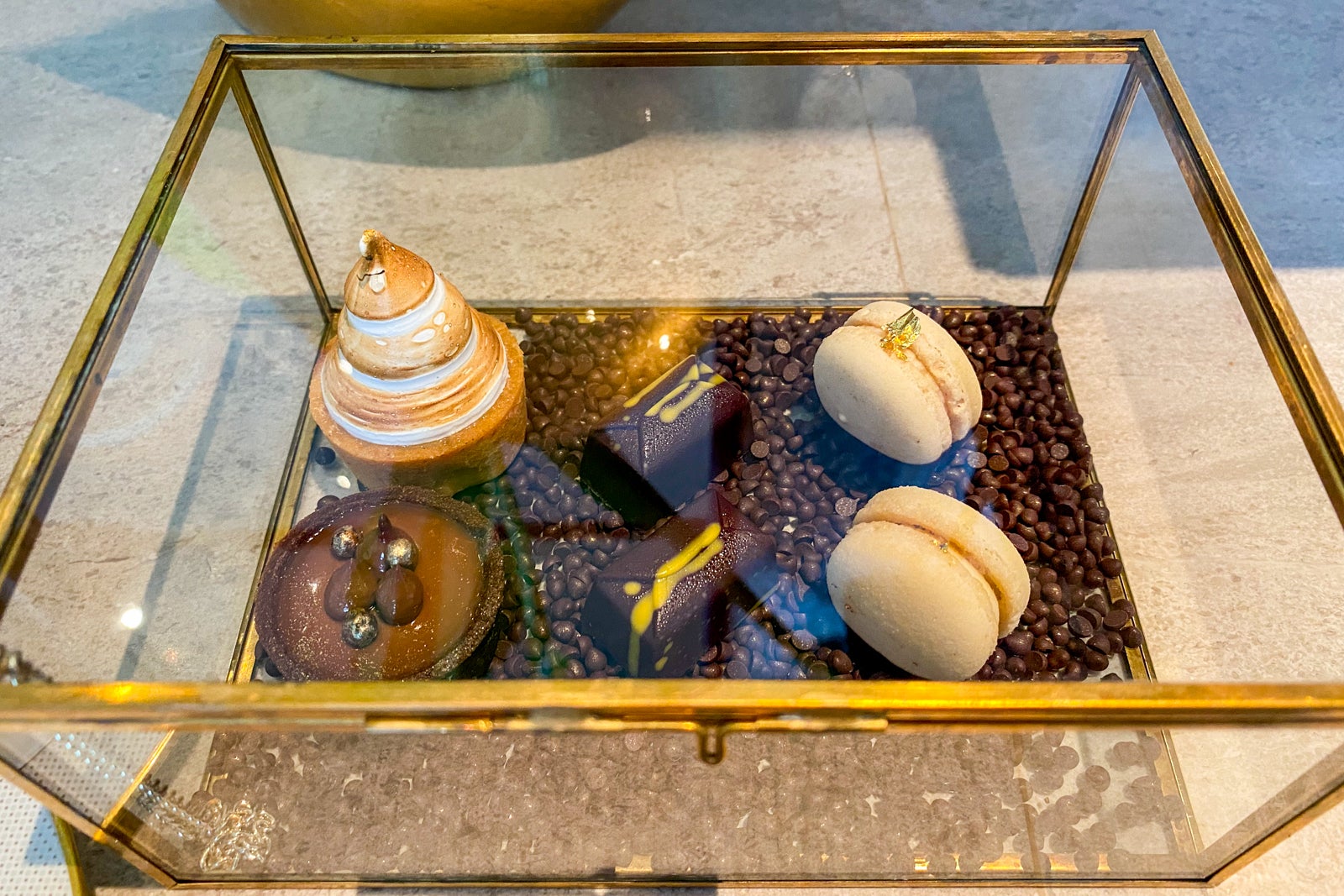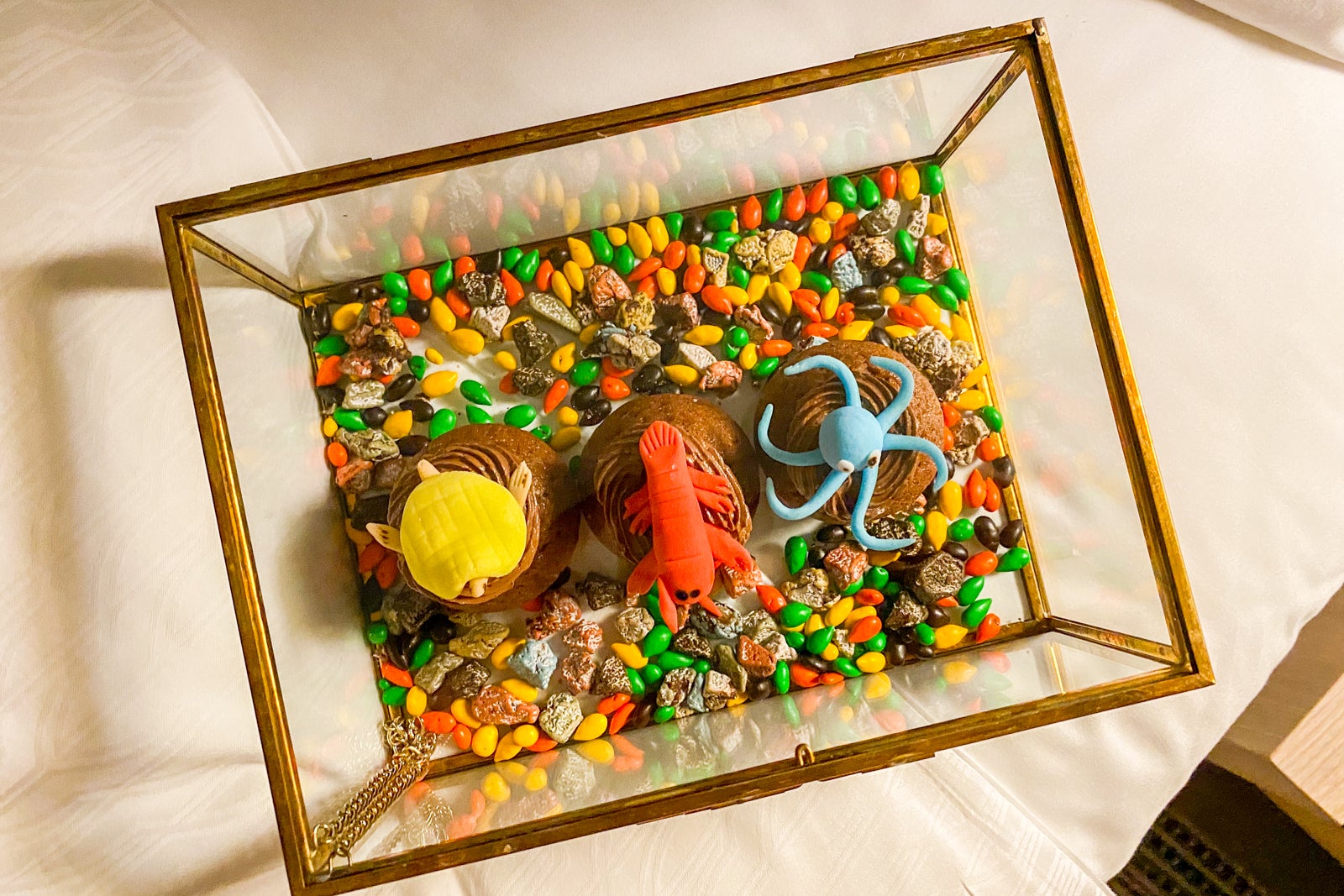 Food and beverage
Because the resort is so new, not all its restaurants were open.
We experienced Ocean Club, its chic beachfront lunch and dinner eatery serving Mediterranean cuisine and locally caught seafood. We also dined at Rice Market, the site of breakfast and all-day Vietnamese and Chinese dining. The Regent Club is for Regent Club guests only, on the same rooftop as the sunset-ready Fu Bar.
Coming online later are Oku Salon de Boeuf — Omakase Atelier and the speakeasy-inspired Jade Bar. 
Breakfast in Rice Market featured a gargantuan spread displayed over multiple rooms of virtually anything you could want, with countless seating options, too. It's included in the nightly rate, and was truly comprehensive.
One space featured a healthy bar for customized rice paper spring rolls and salads, freshly cut fruit, meats, cured fish and cheeses, yogurts and cereals. At another long bar, staff prepared Vietnamese coffees, cut open coconuts and blended juices and smoothies to order.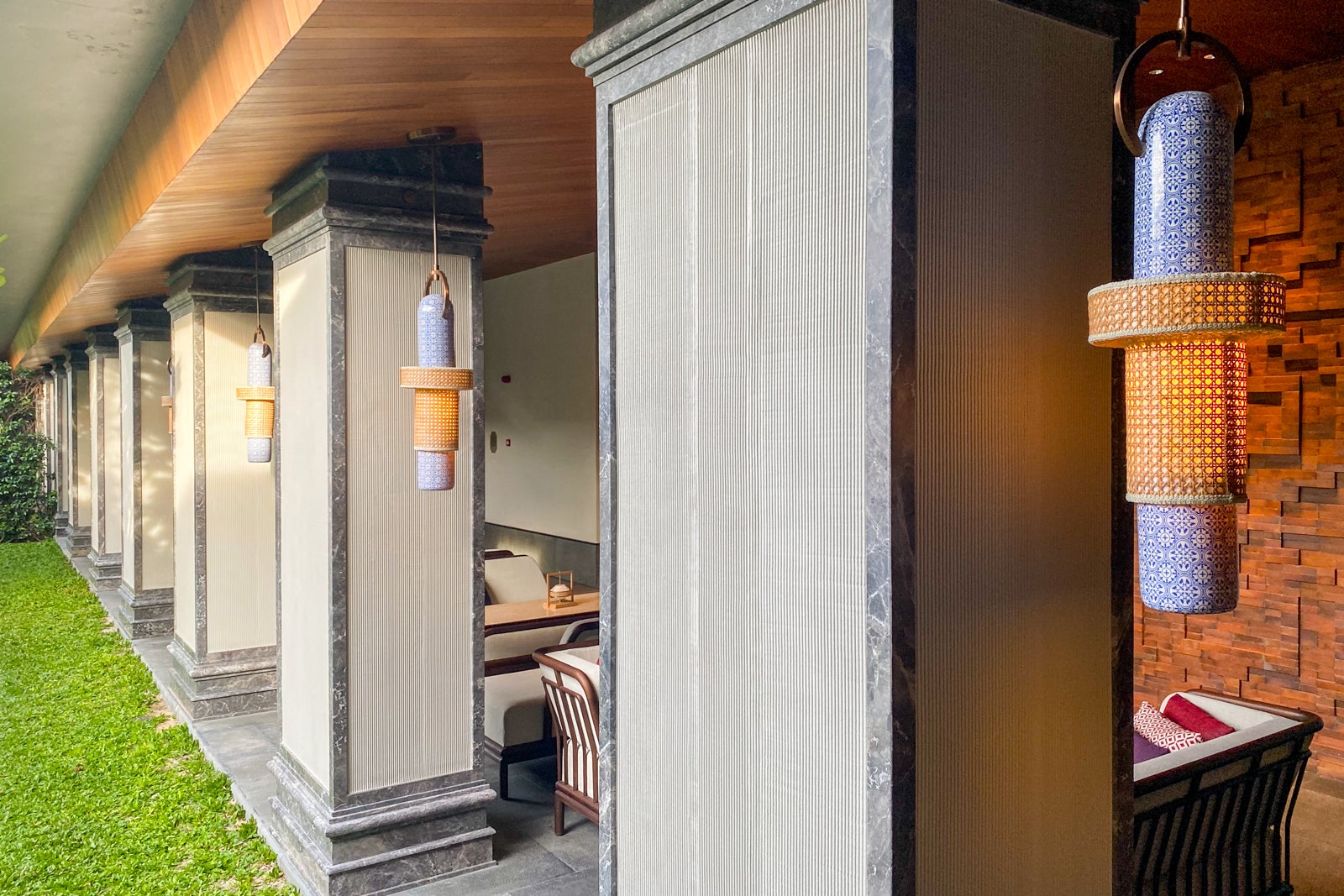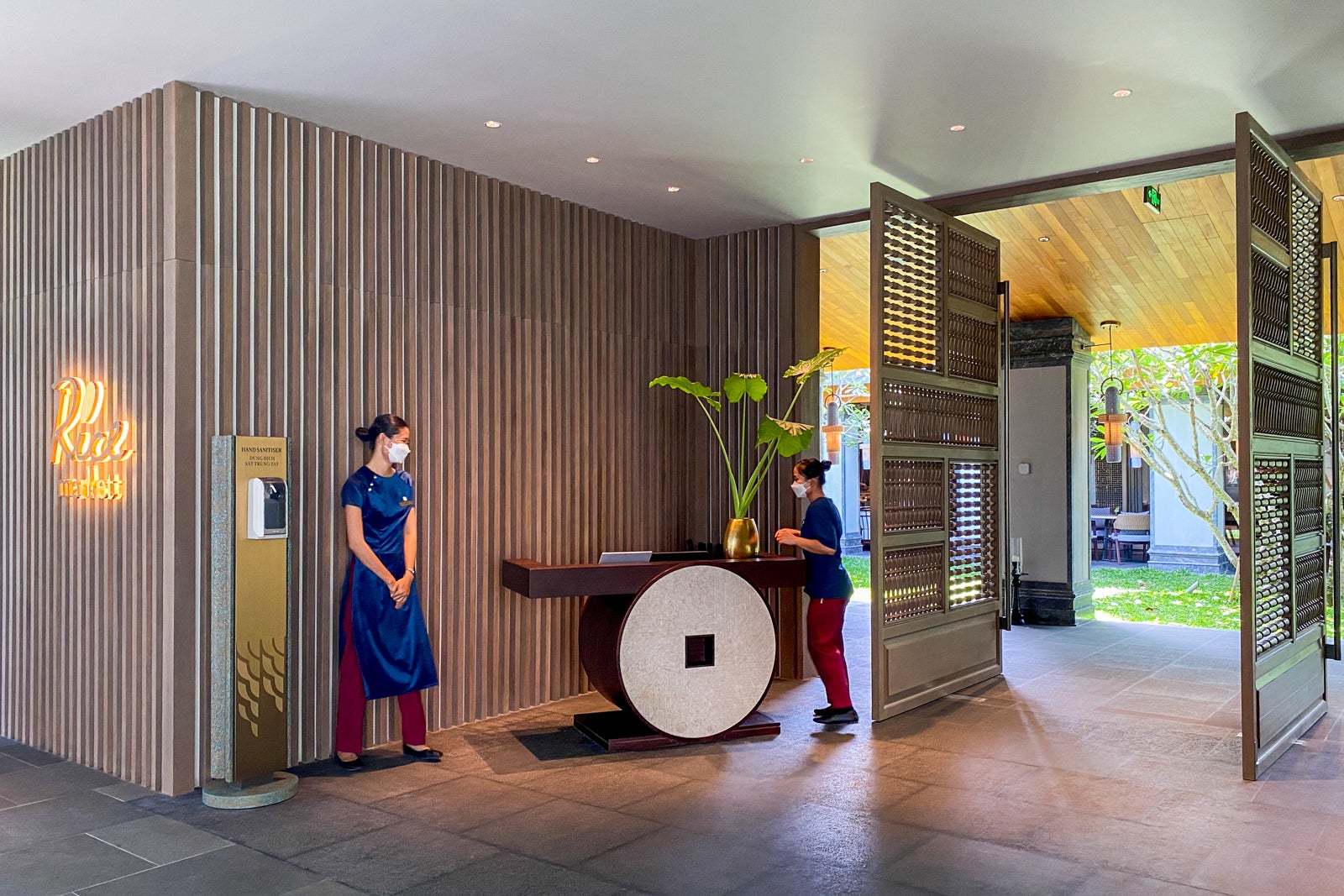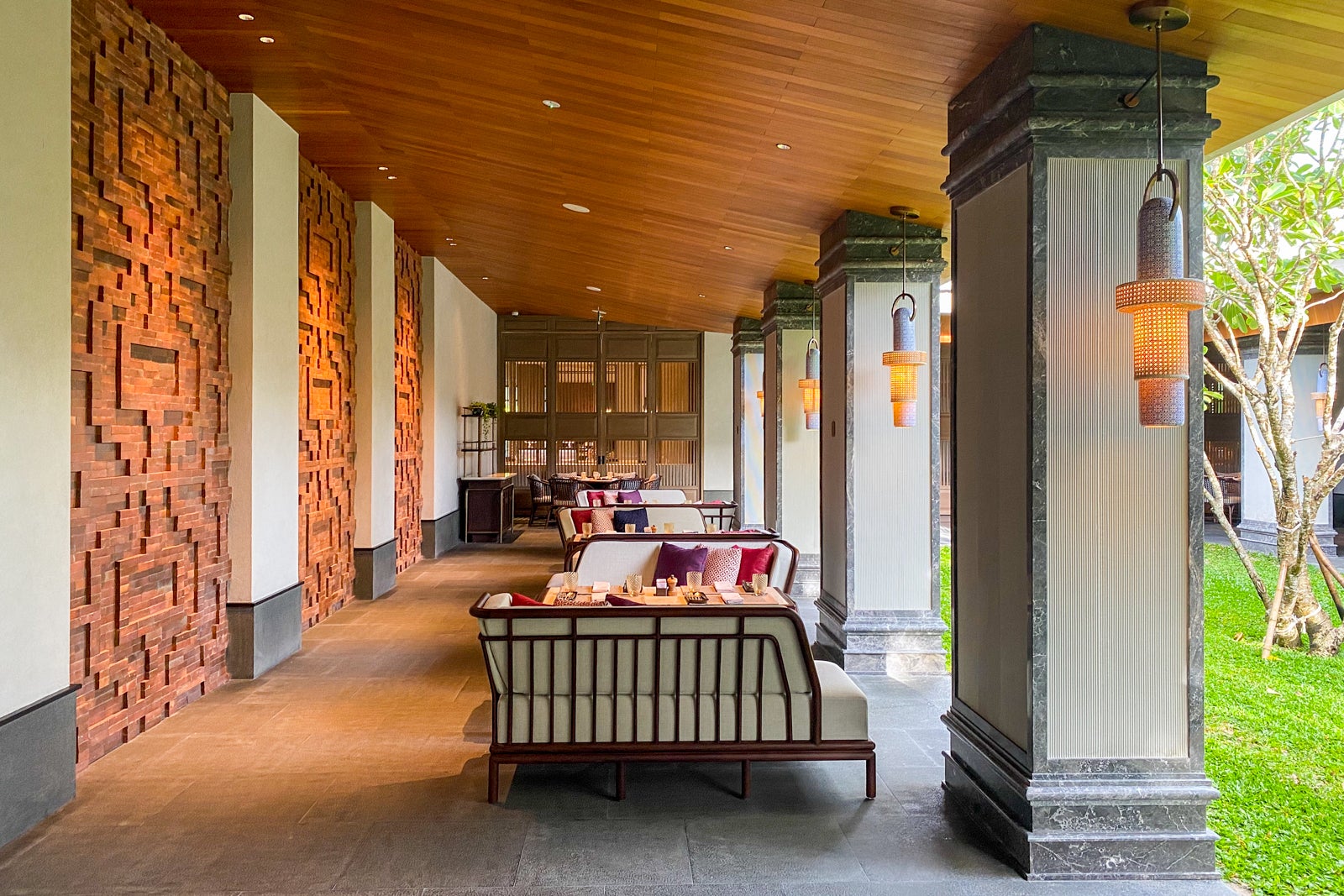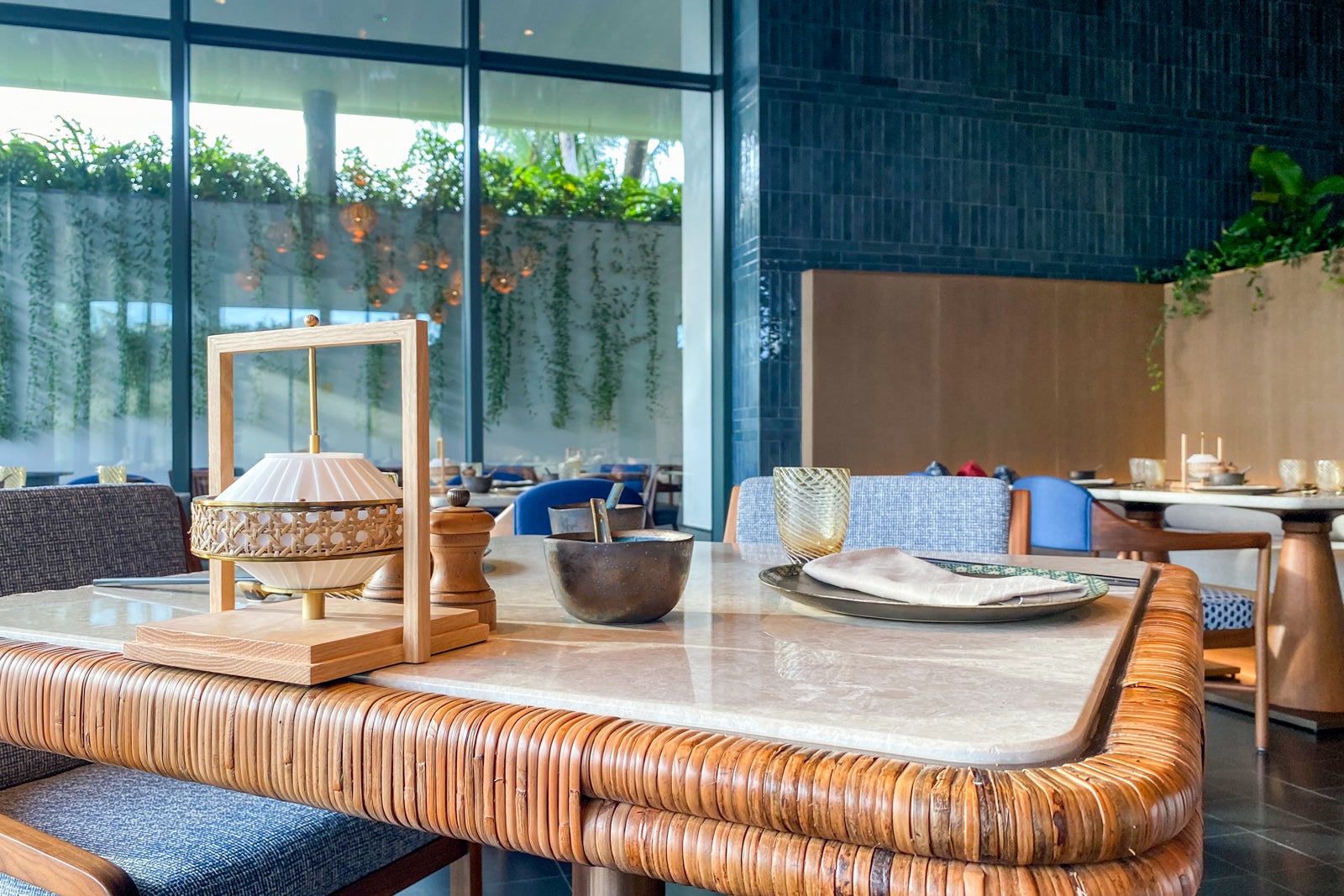 A station served two kinds of noodles that, in addition to the spicy Lamian noodles off the a la carte menu, my husband loved. Another one served up banh mi to order.
The selection of curries, dim sum, Western breakfast favorites, casseroles and other hot dishes was self-service. Made-to-order egg dishes were also available. The bakery room was a carb-lover's dream. I could have spent hours feasting and still not tried it all. One non-negotiable for us, though, was iced Vietnamese coffee with condensed milk — we each had two one morning.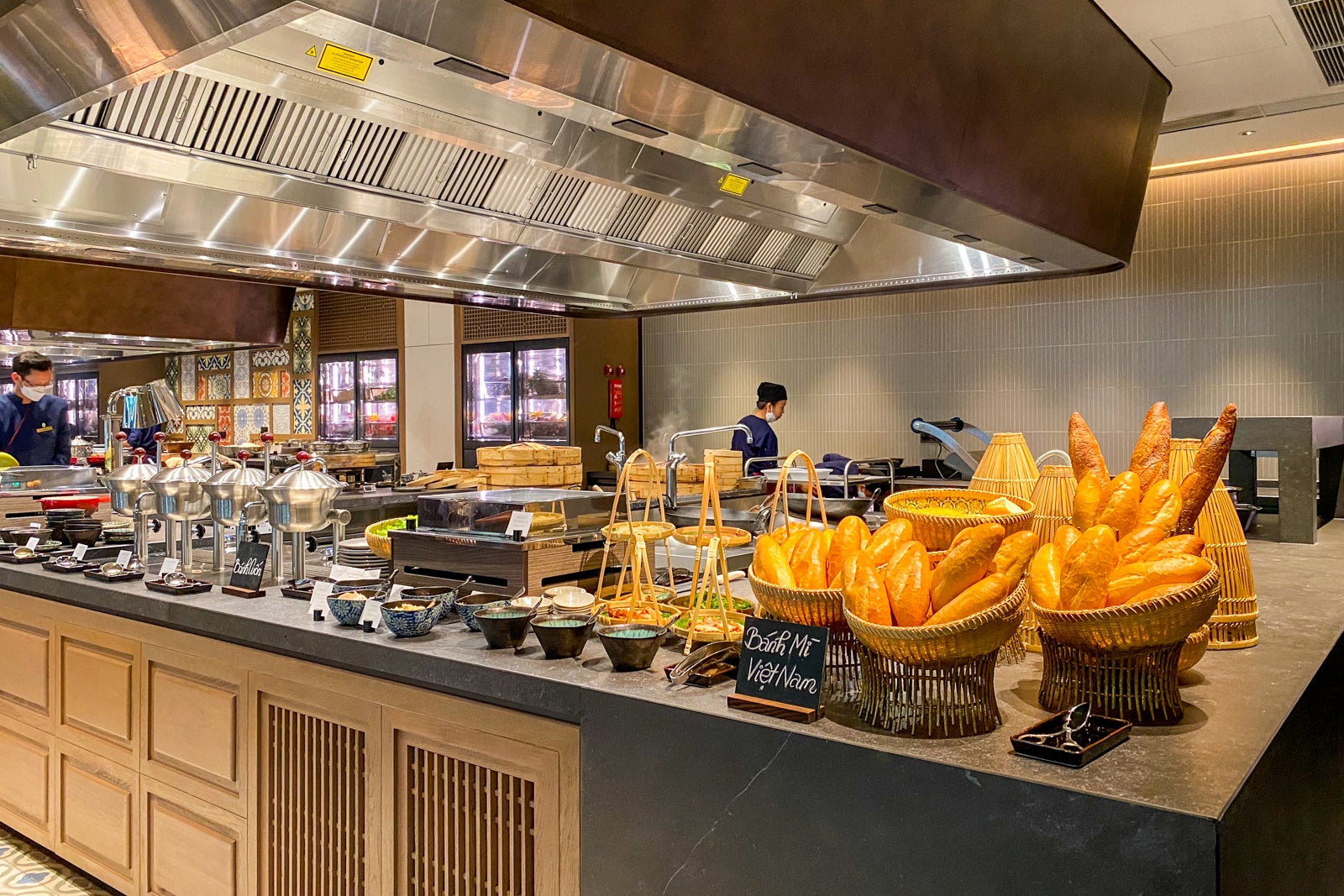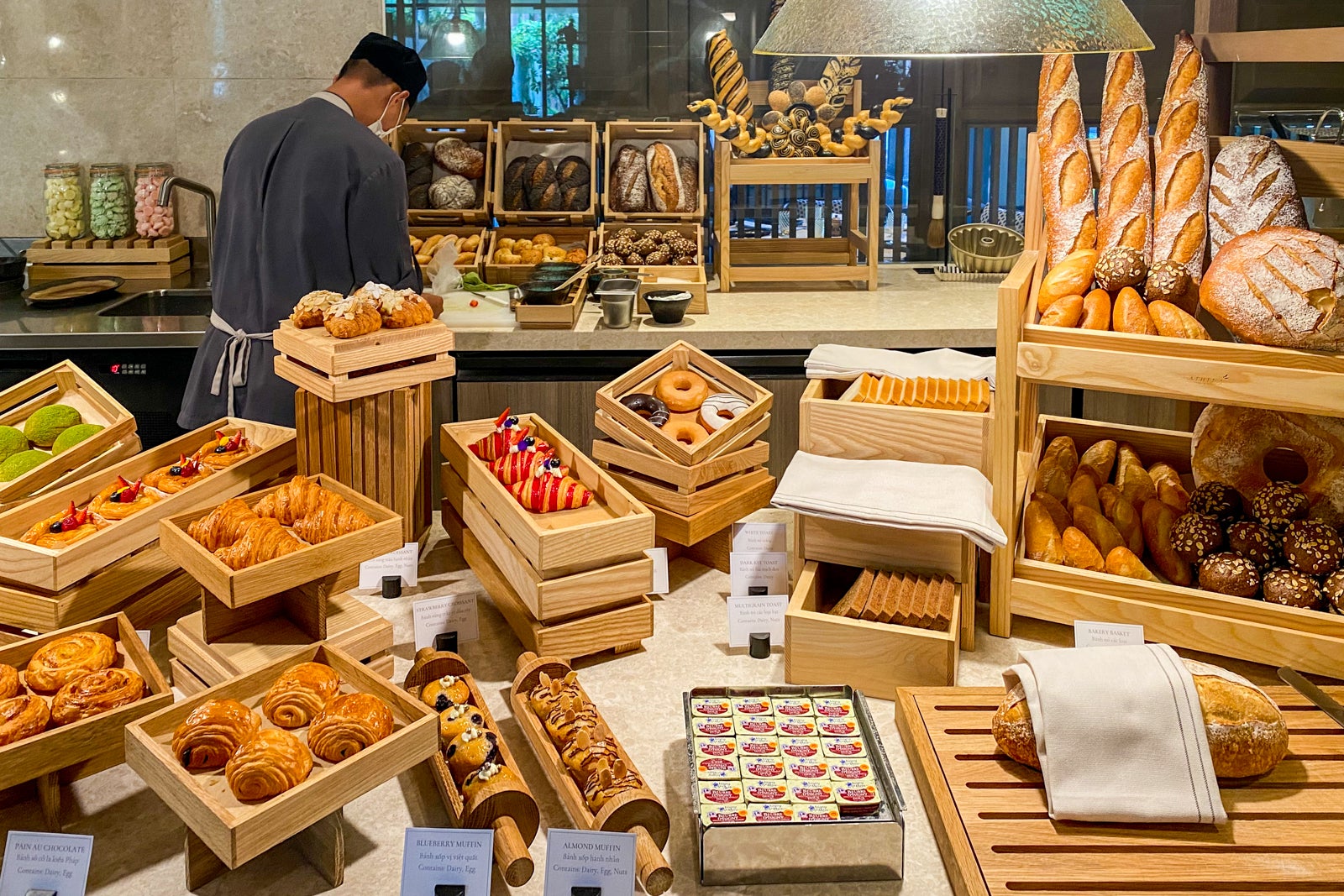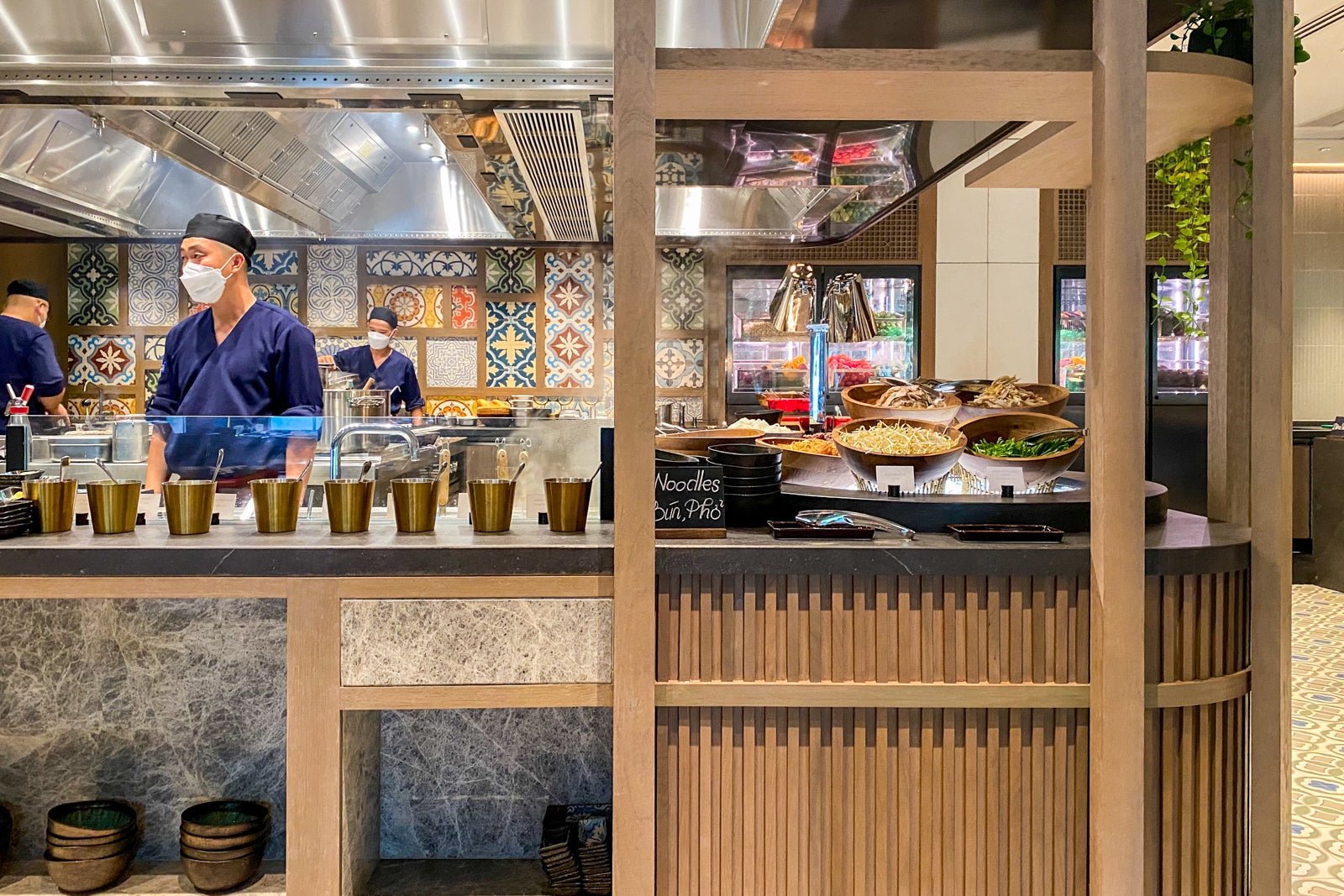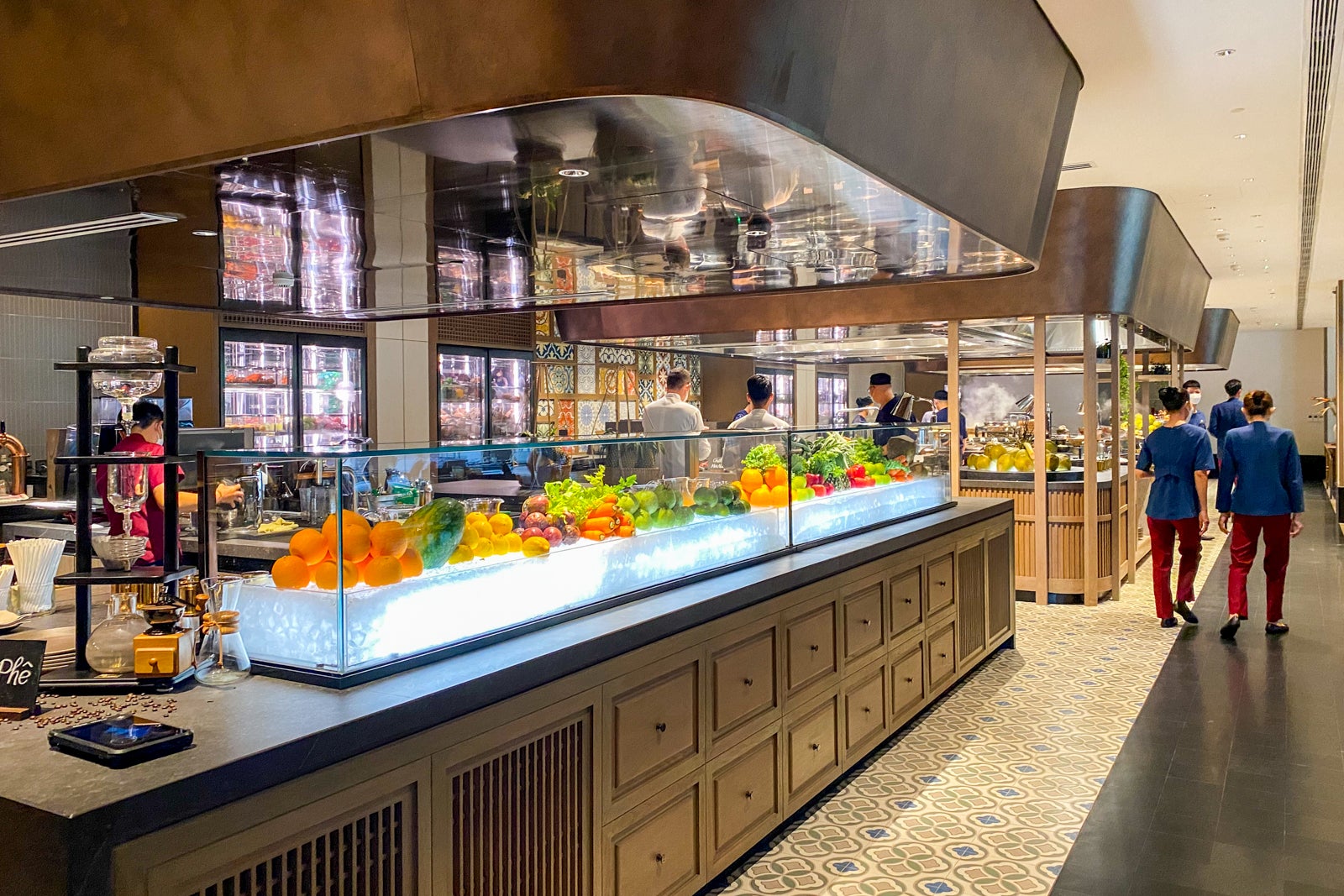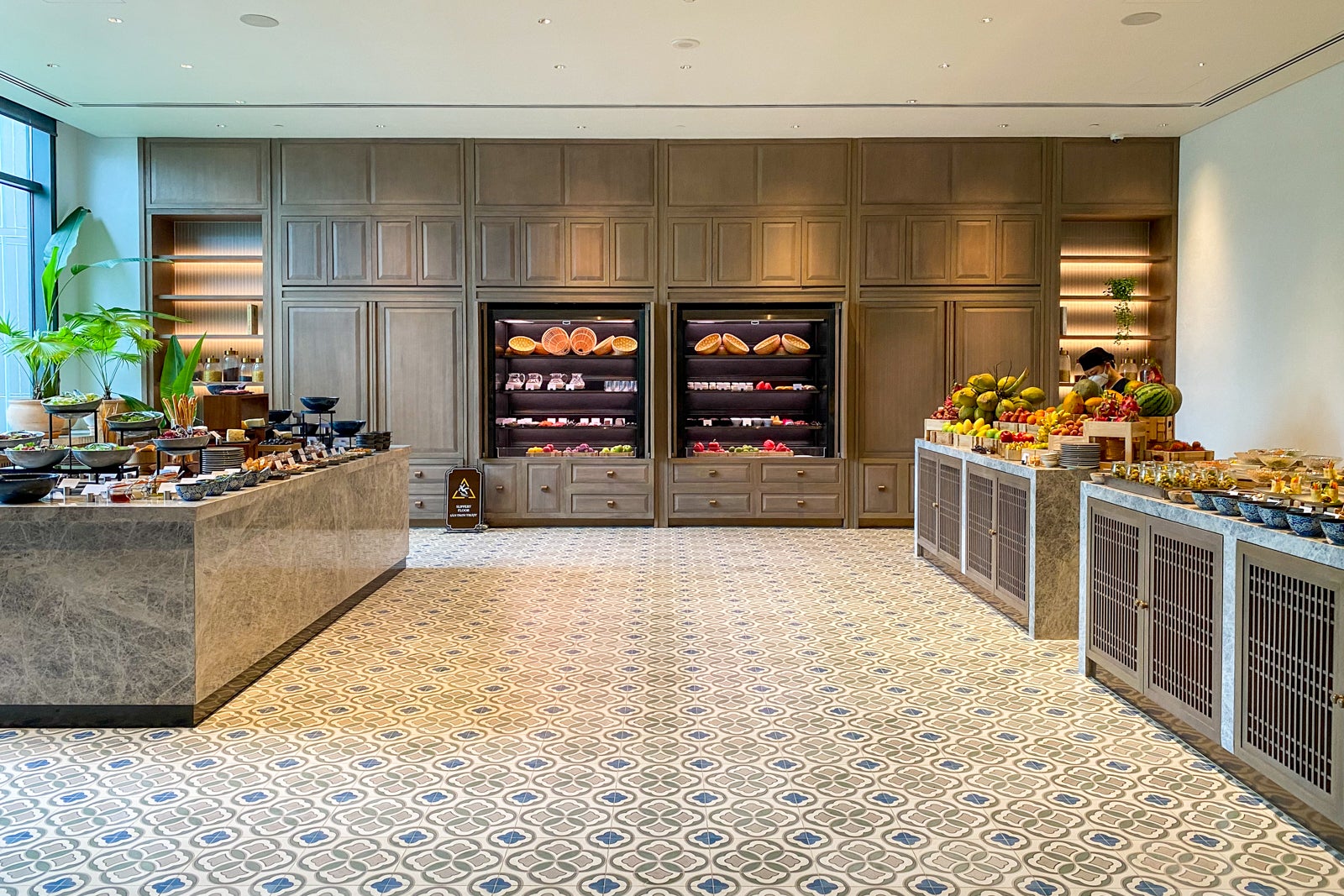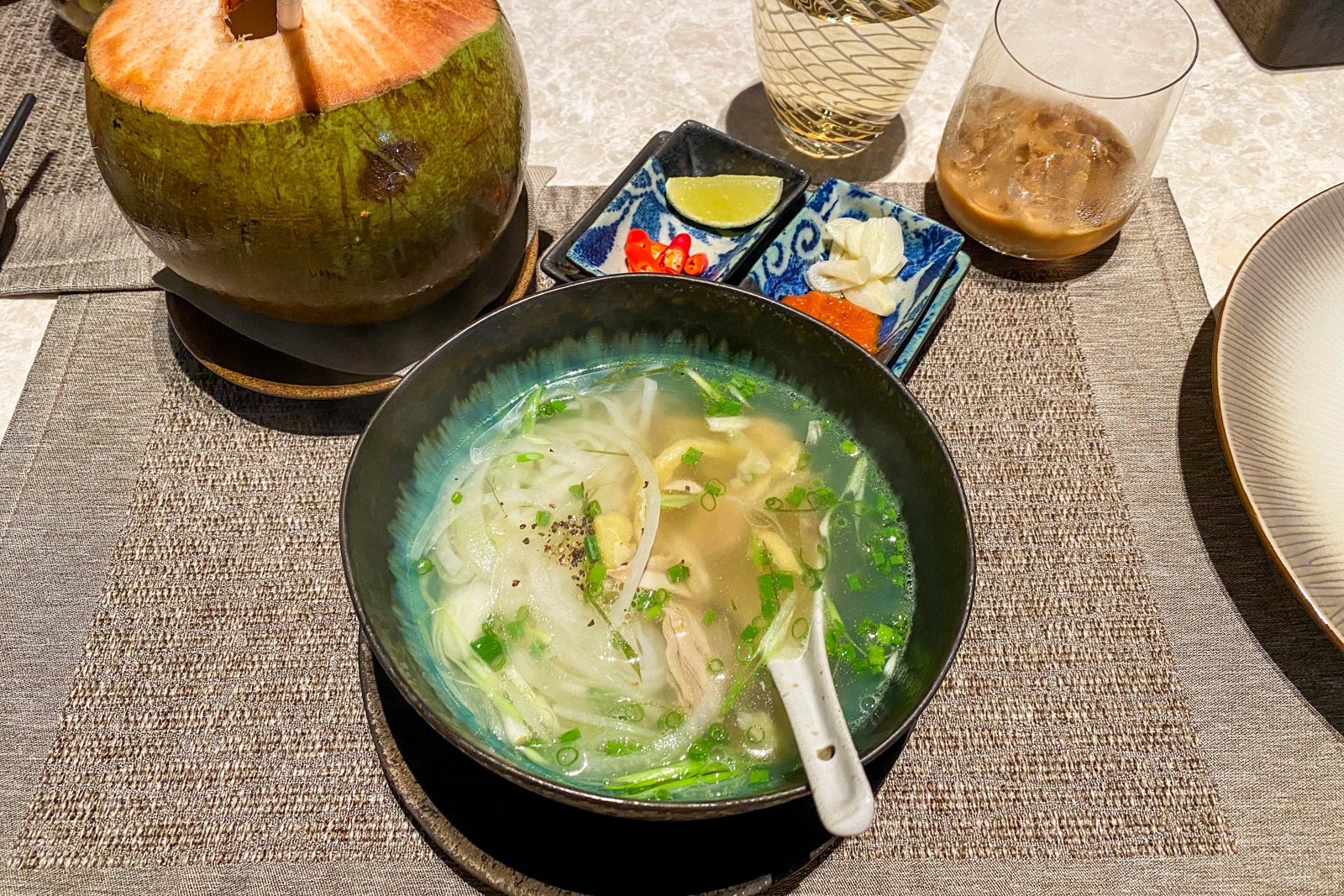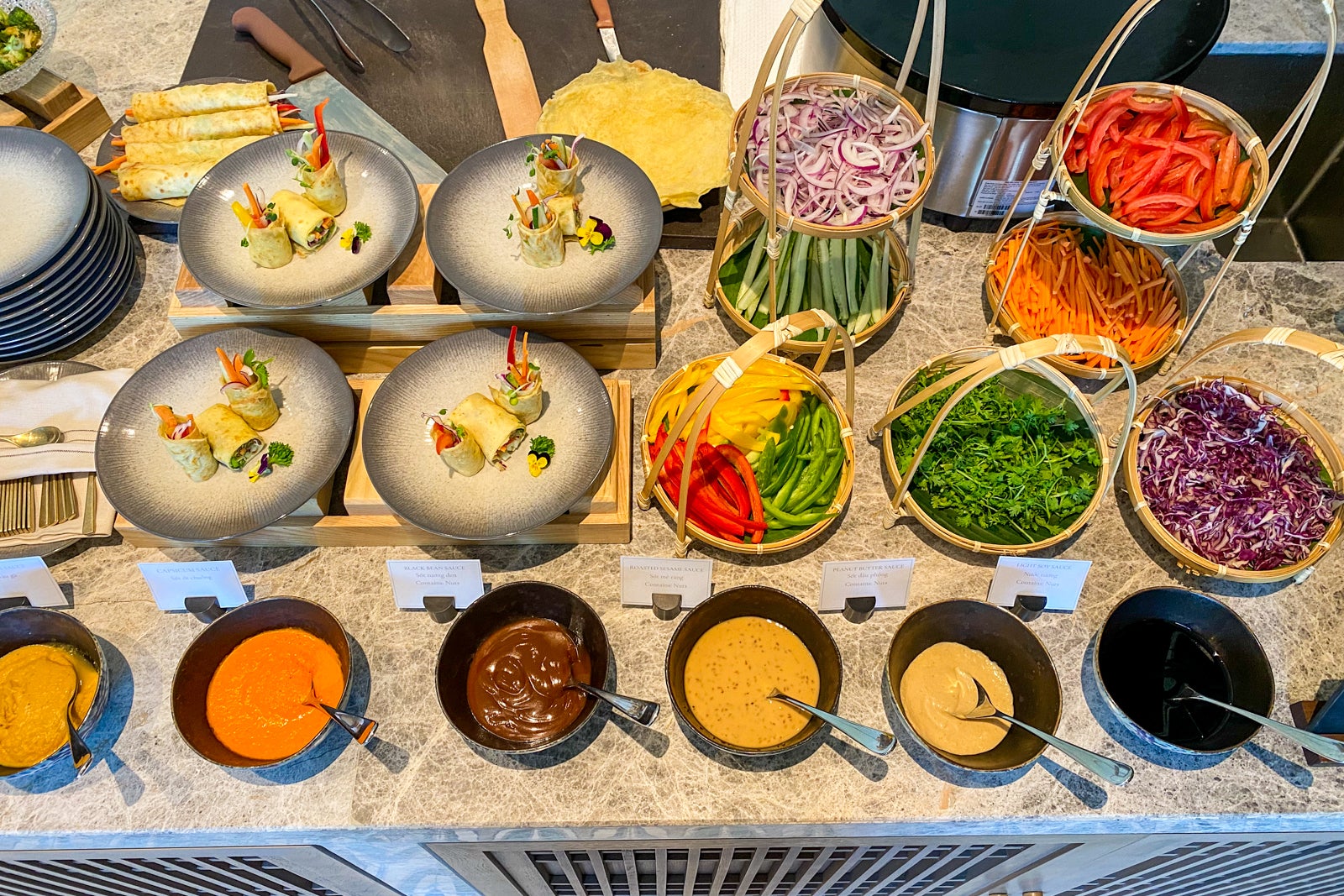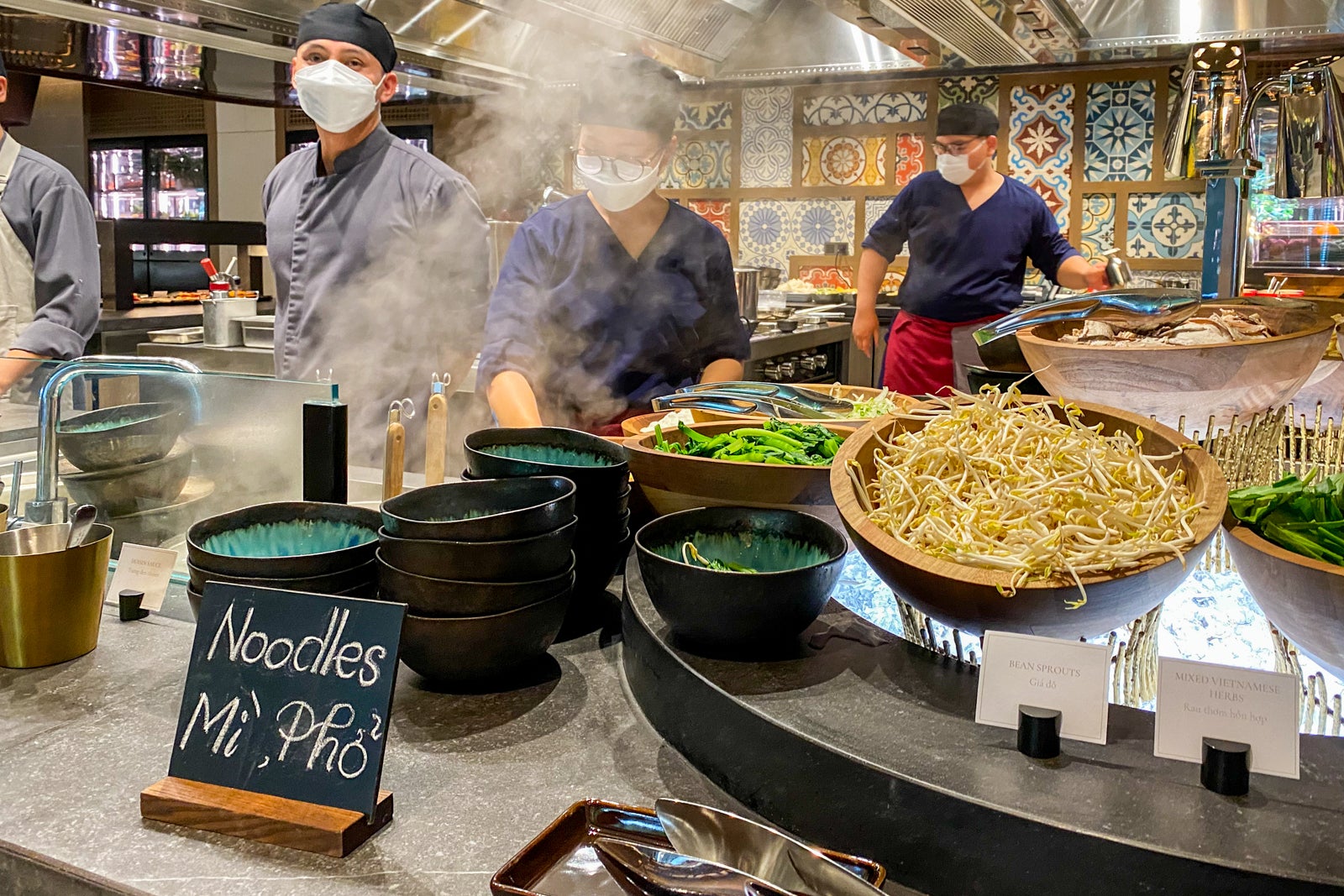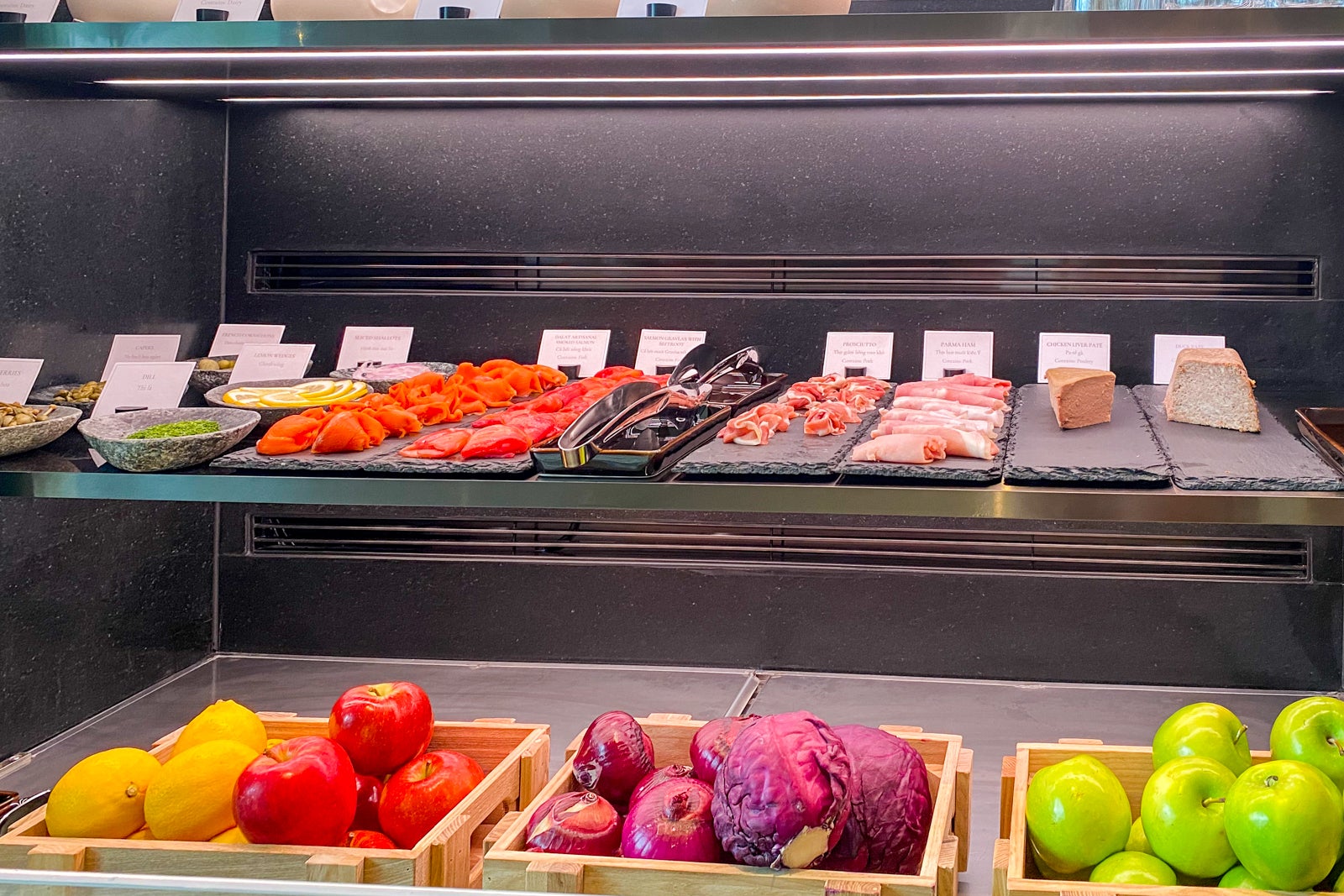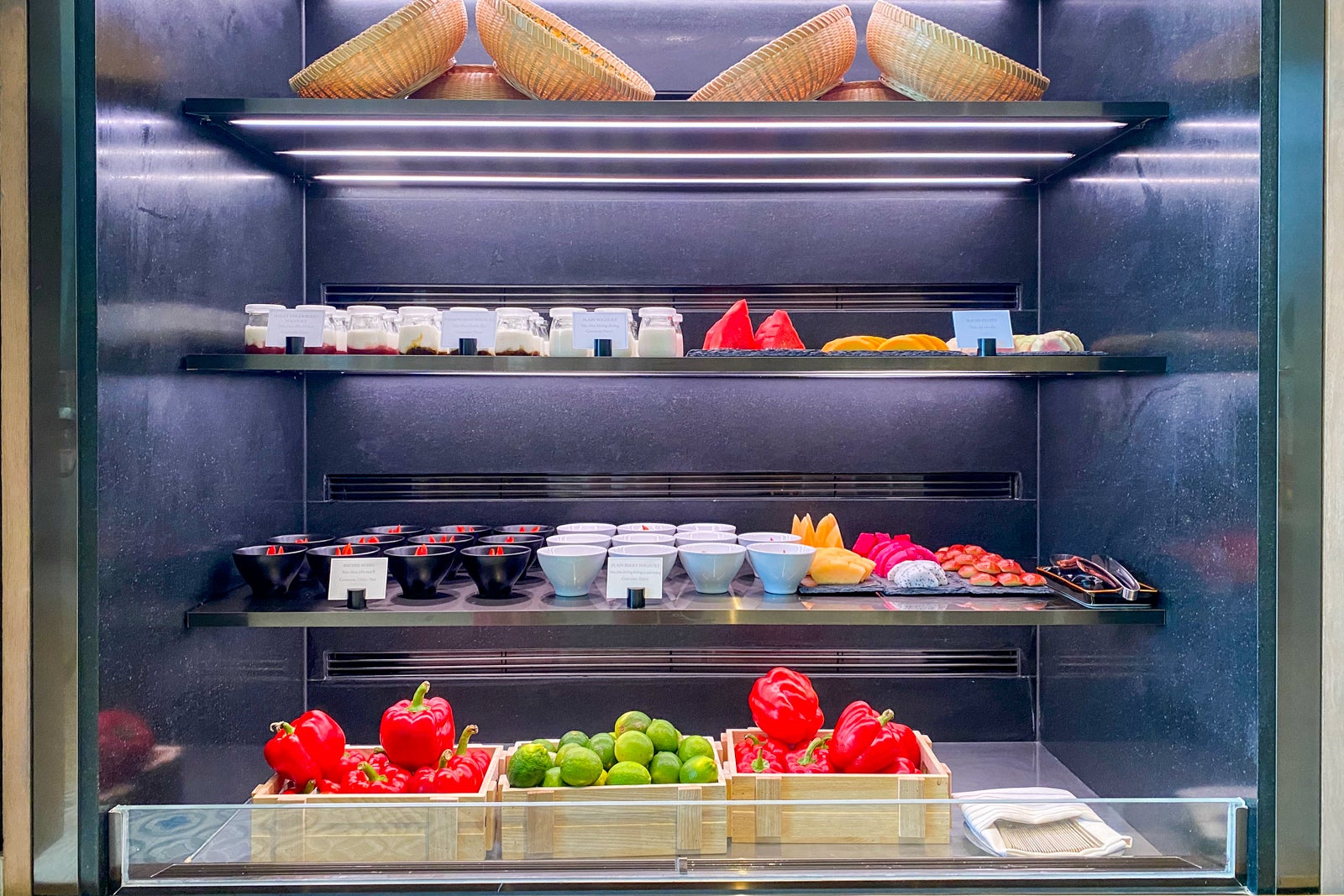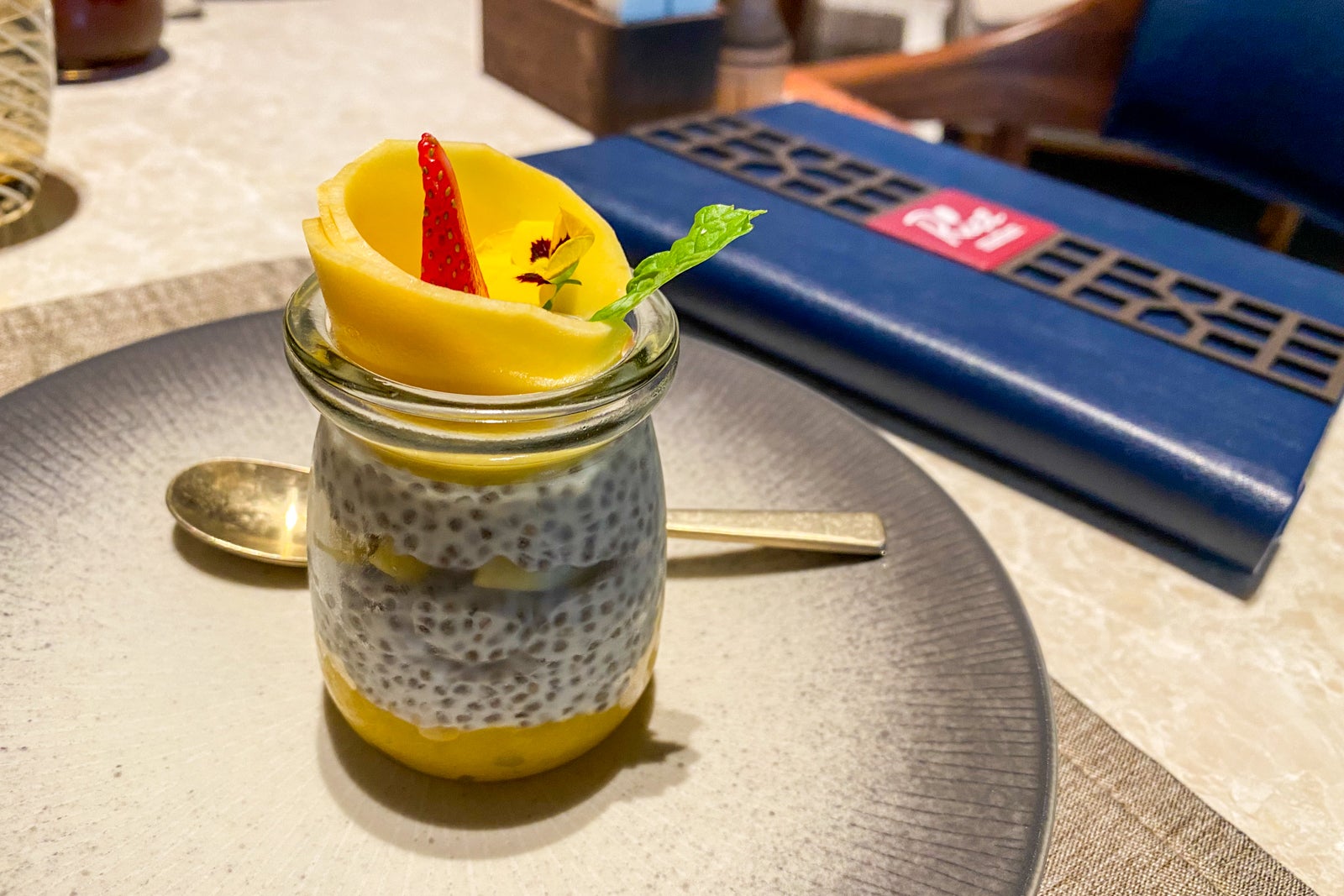 Once seated at each restaurant, a server brought us a cold scented towel, which I enjoyed even more than on other occasions since it was so wonderfully refreshing amid the island humidity.
Before our meals arrived at Ocean Club, they served us a unique little amuse bouche: cream cheese panna cotta with chia seeds, orange honey, prawn and ginger. Our friendly server explained that food on the island tends to be sweeter than in northern Vietnam, and insisted on taking our daughter for a little wander in the beautiful air-conditioned marble bar area inside when she was clearly getting too warm in the outdoor heat.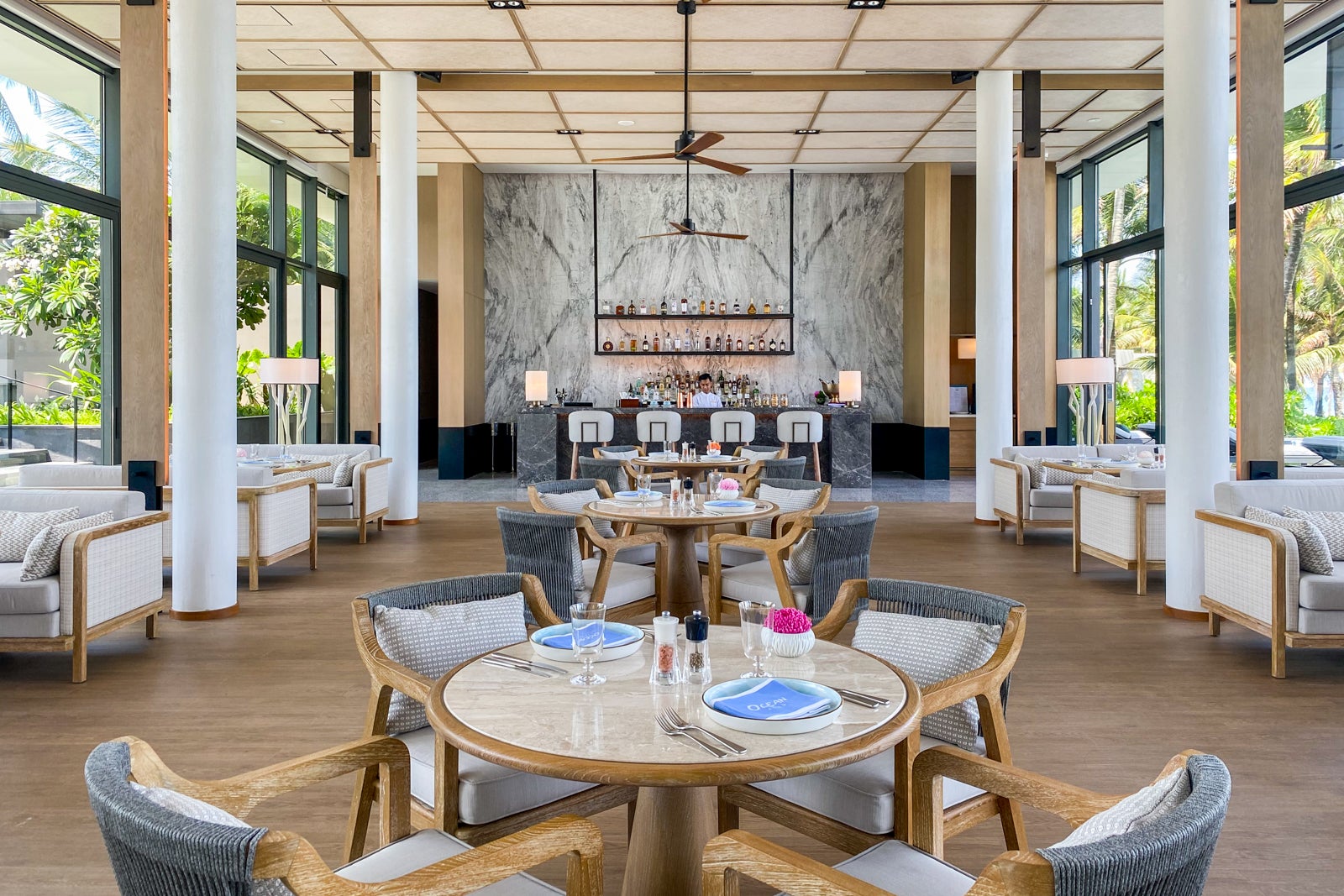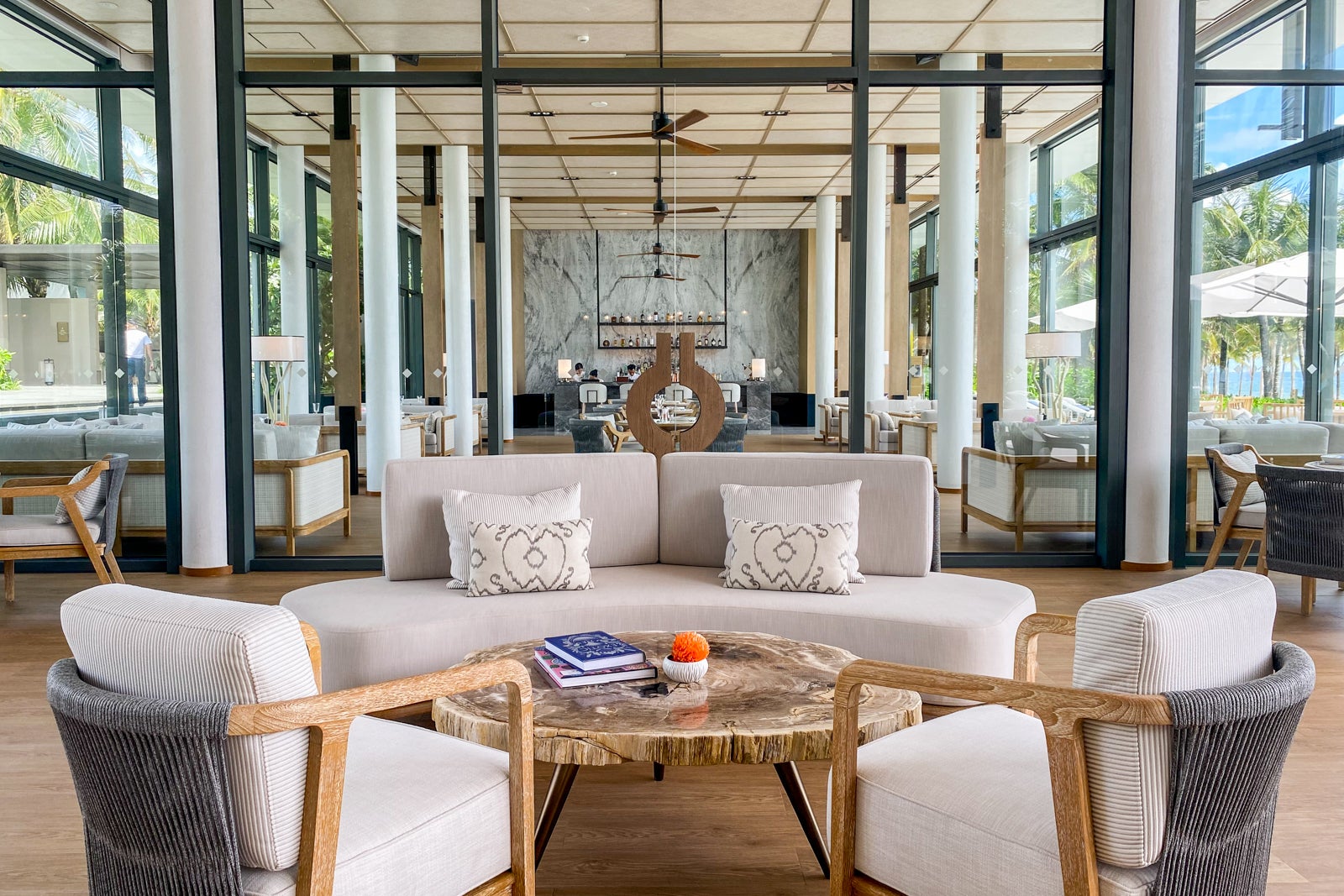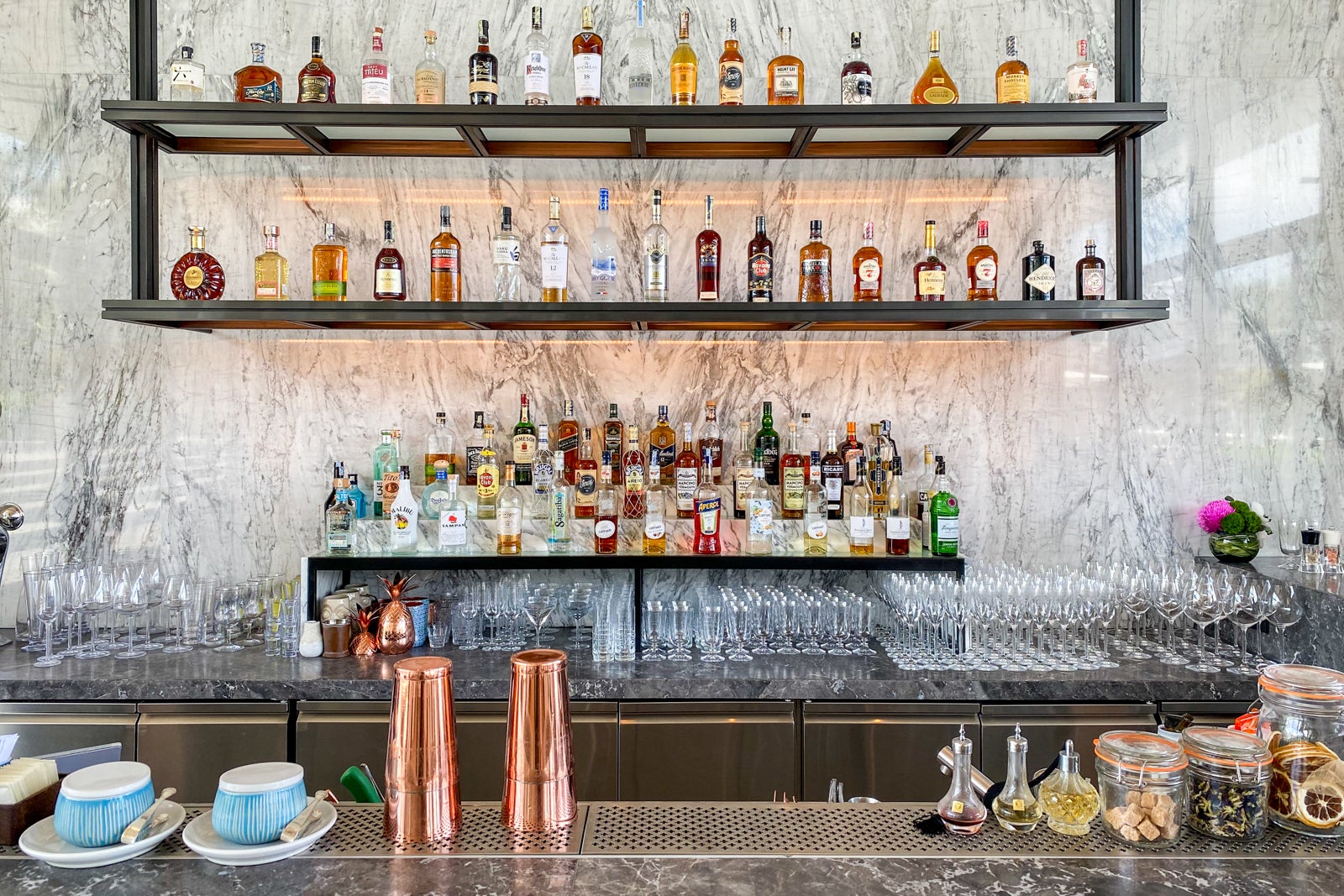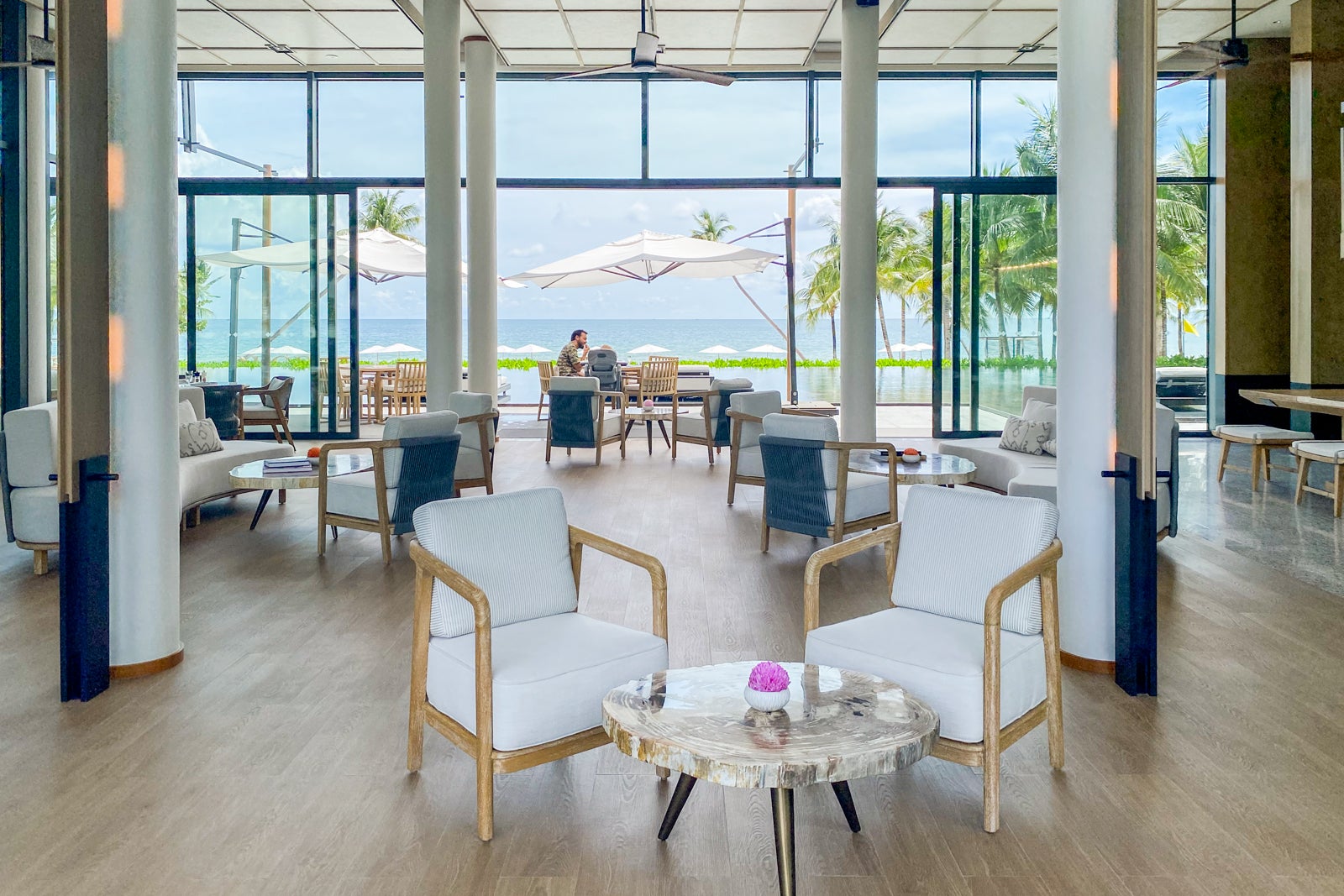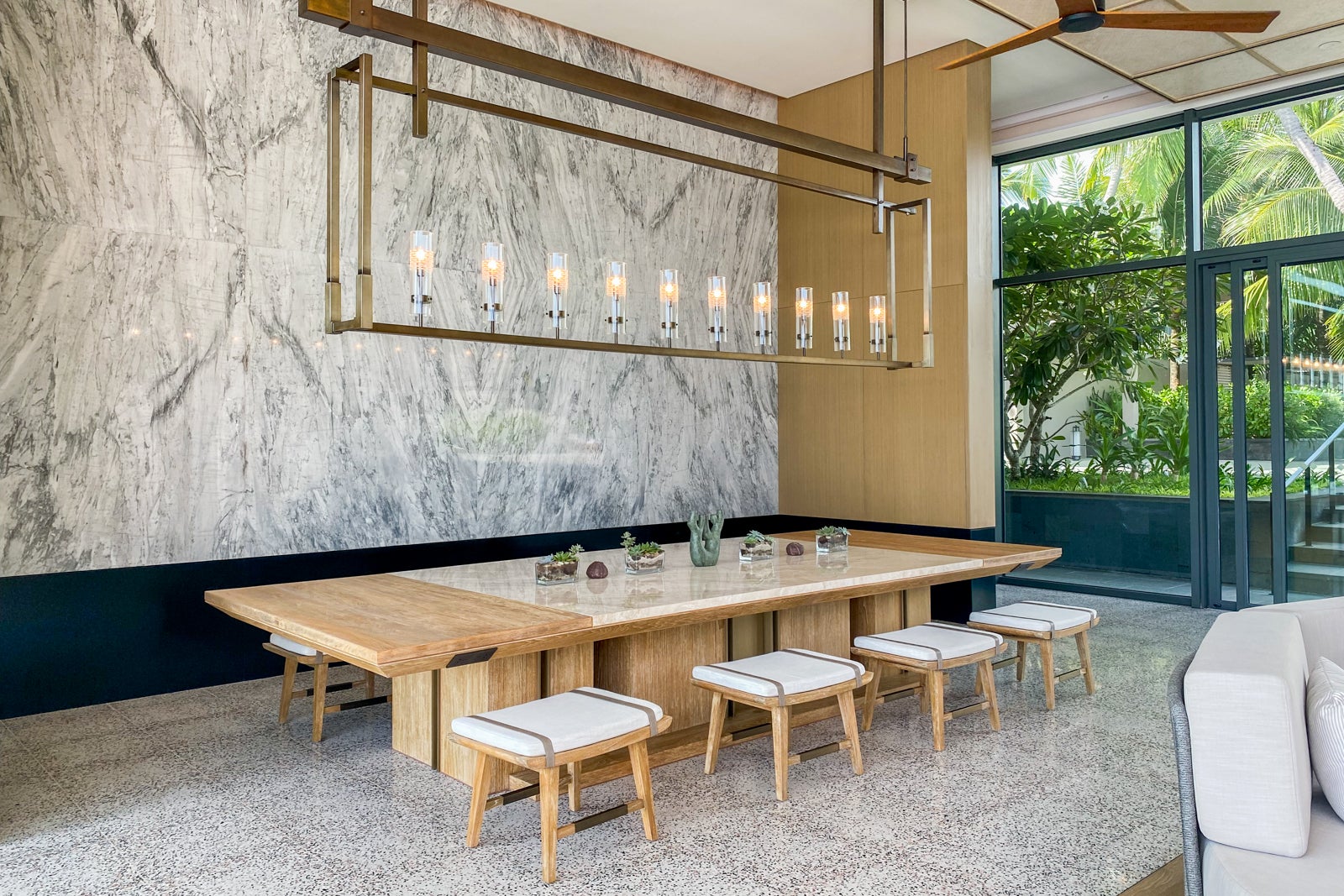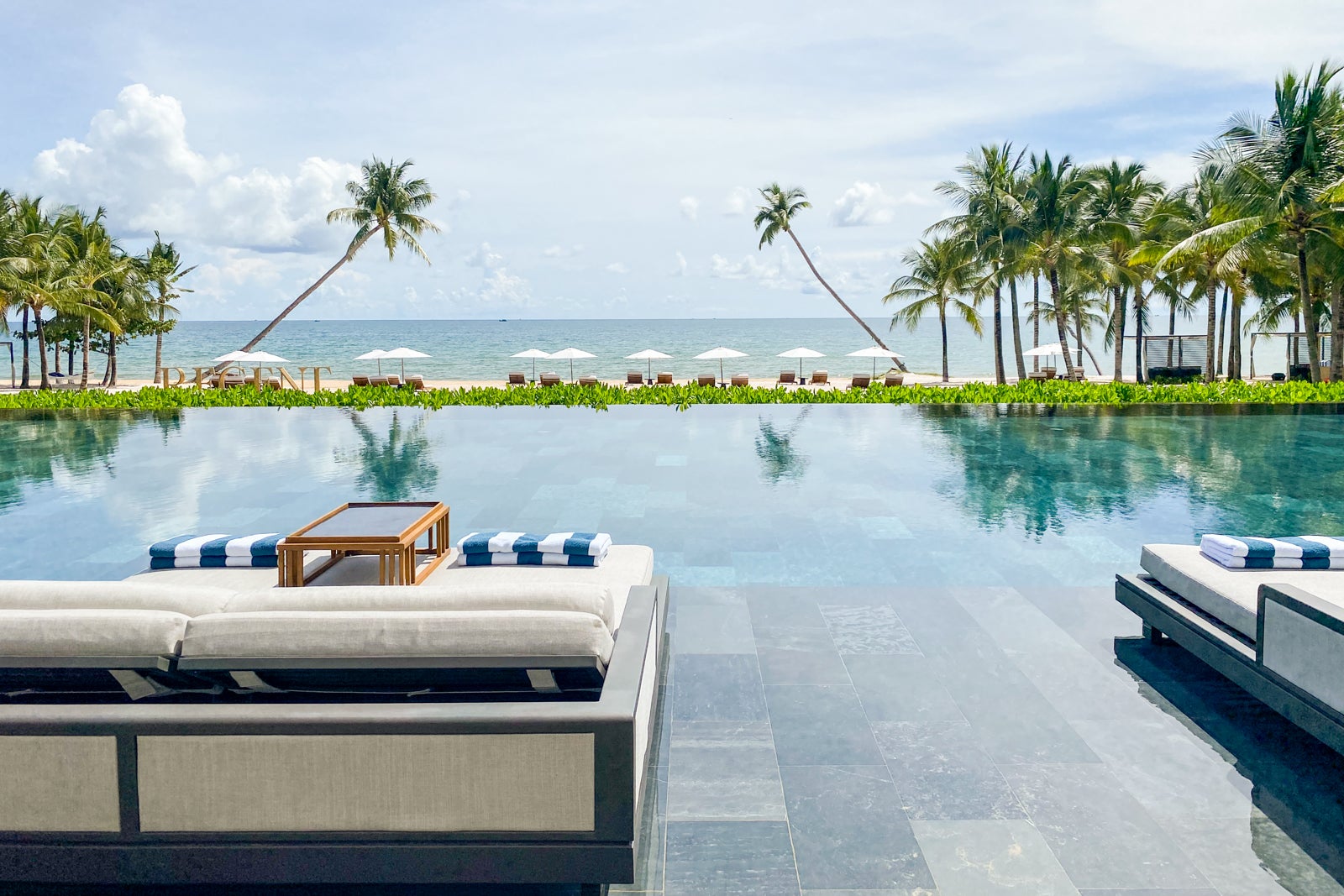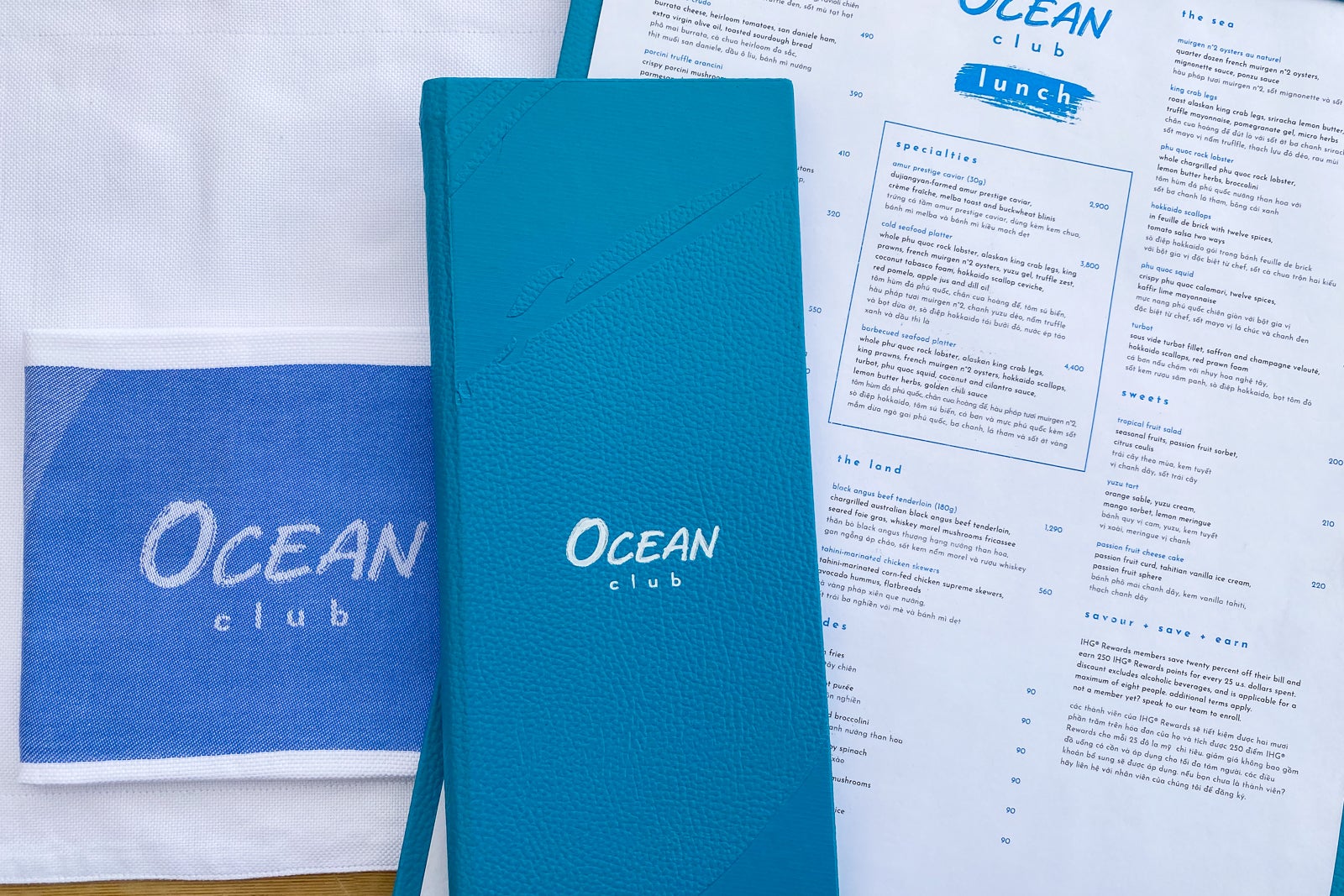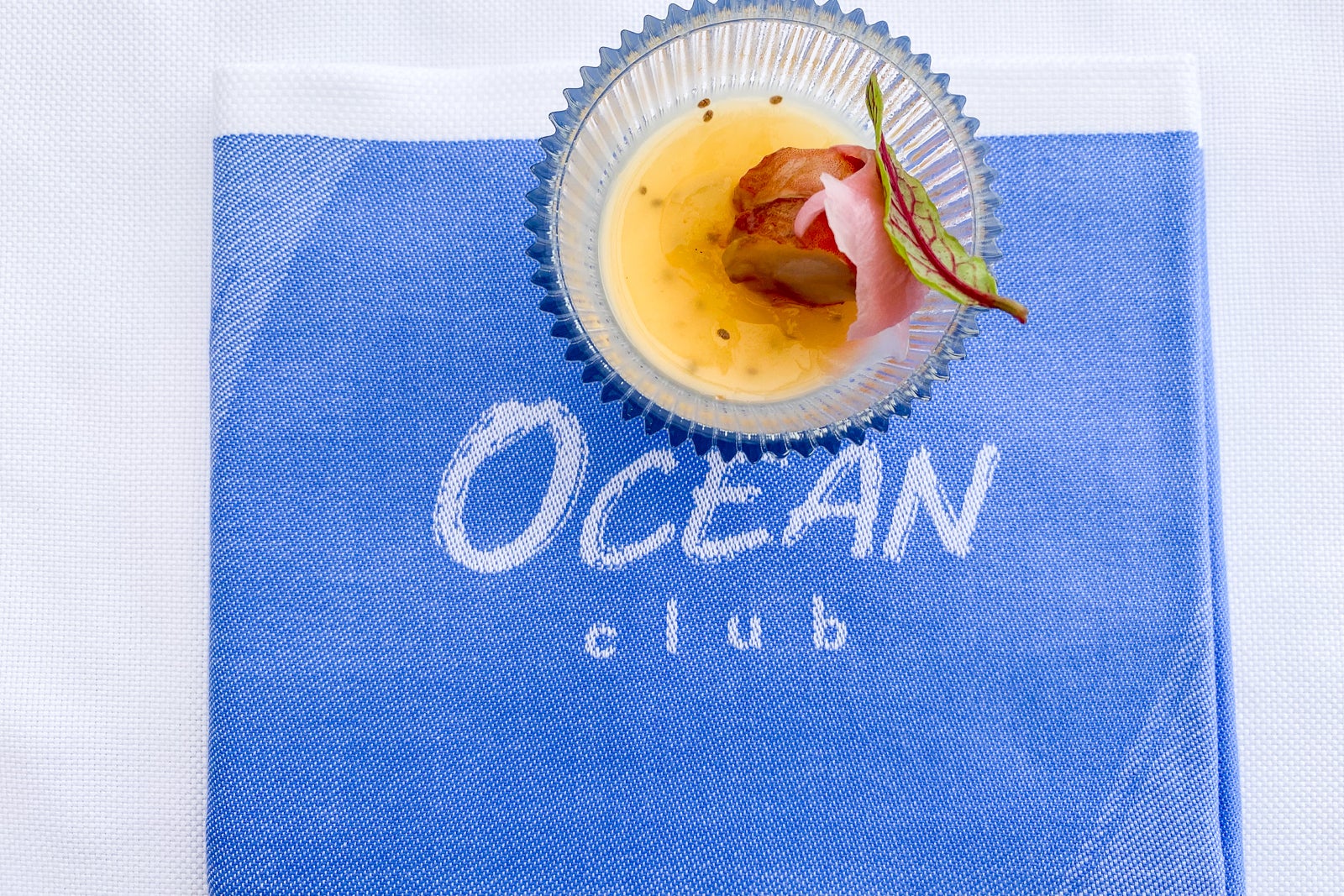 There, with the infinity pool melting into the Gulf of Thailand in front of me, I savored my tahini-marinated chicken skewers with soft, warm pita and avocado hummus ($24) while my husband very much enjoyed his crispy, almost tempura-style Phu Quoc squid with 12 spices and kaffir lime mayonnaise ($14).
Those were on the menu's lower price point. Other dishes ranged up to ($56). Pricier plates included Phu Quoc rock lobster, black Angus beef tenderloin and Alaskan king crab legs.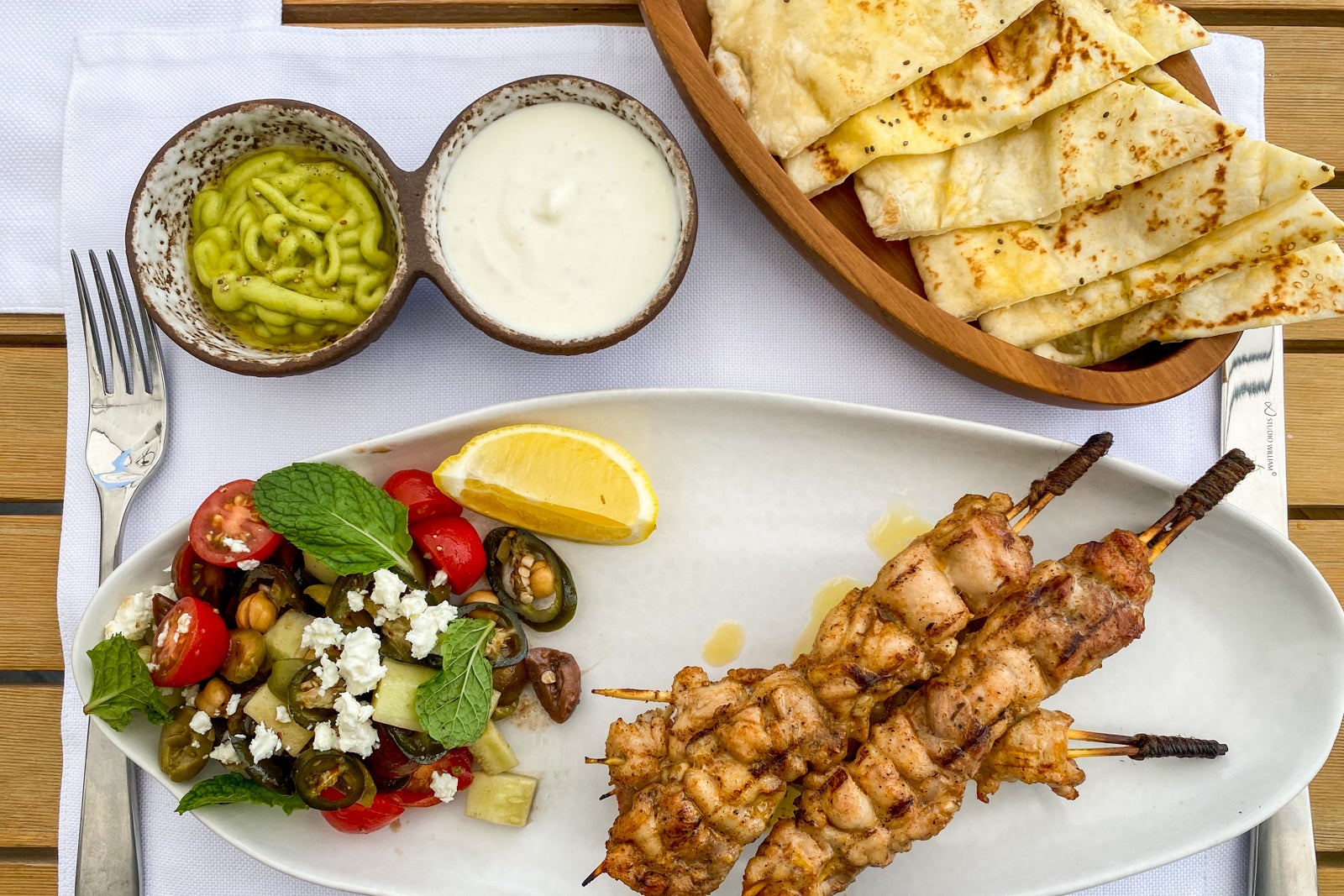 A glass of rosé from Provence was $10. It was served in a perfectly chilled glass, with a taste poured first to ensure I liked it (this was the norm across the resort I noticed). Also standard: a 5% service charge and 18% value-added tax.
At the gin-focused Fu Bar, the Lost in Japan and Fugroni were well crafted and delicious, and the setting over the rooftop infinity pool to the sea was pretty awe-inspiring. The only thing that irked me a little was that the bartender described the first drink as "for ladies" and the other as "for the men." My husband and I bucked convention and ordered the opposite way.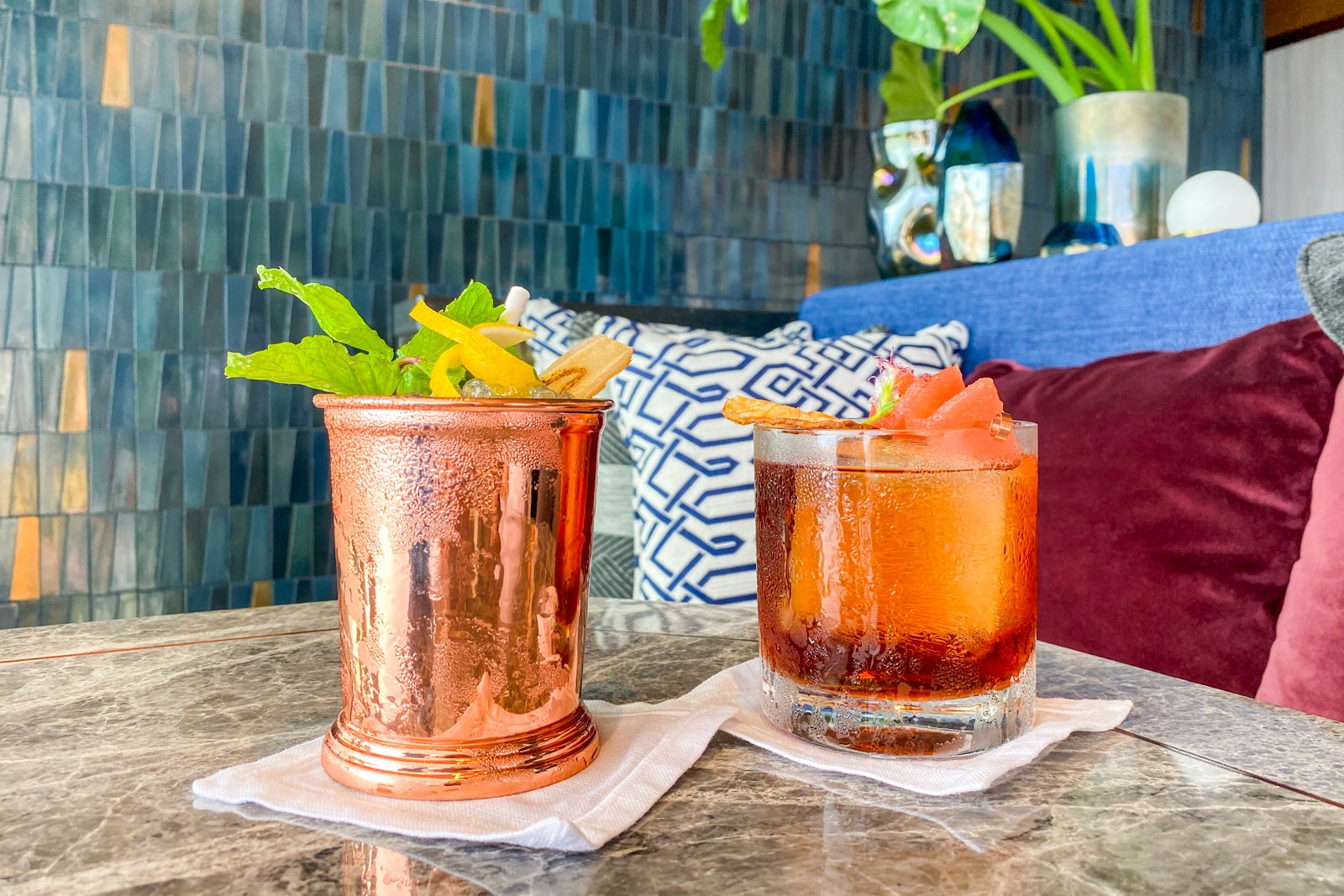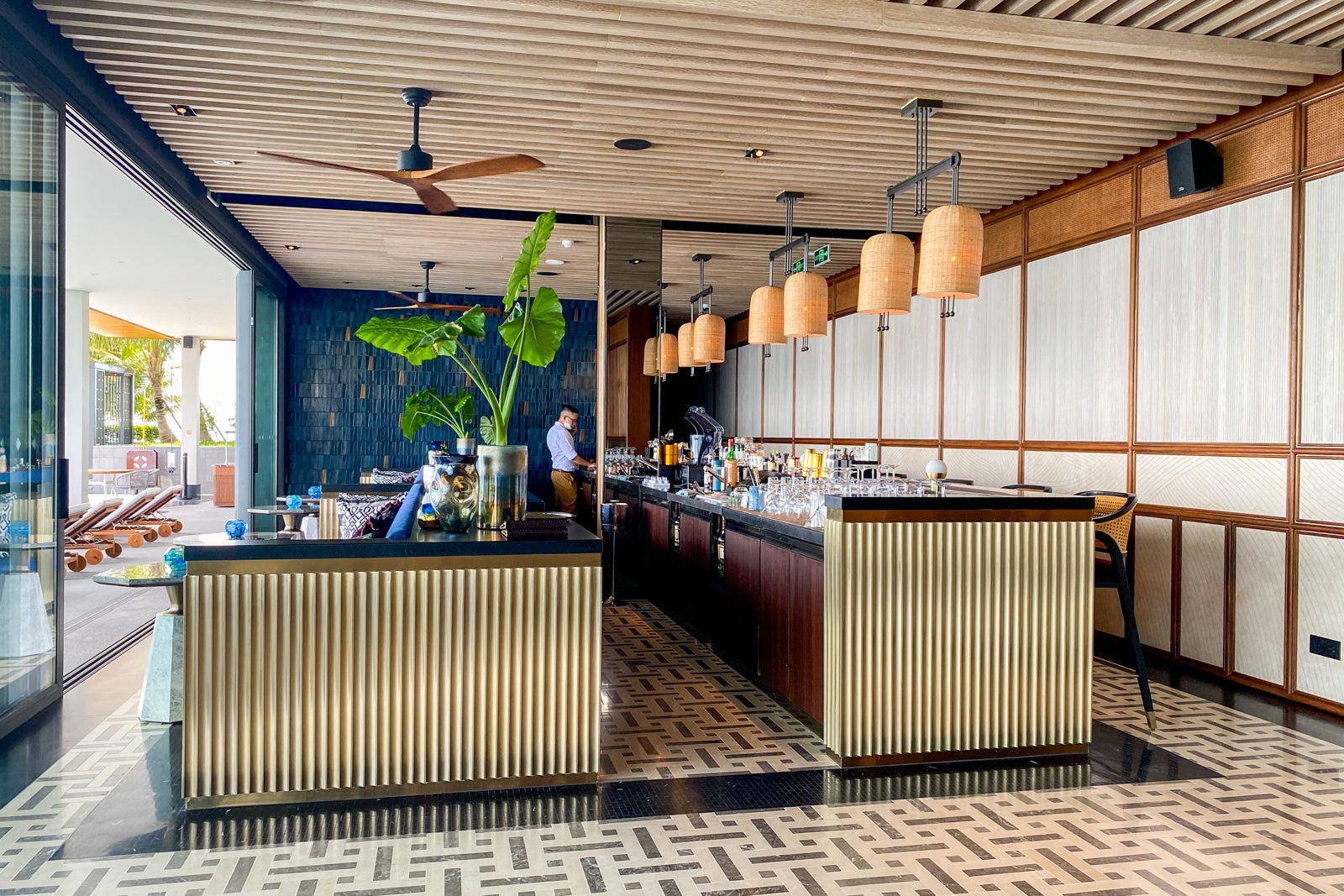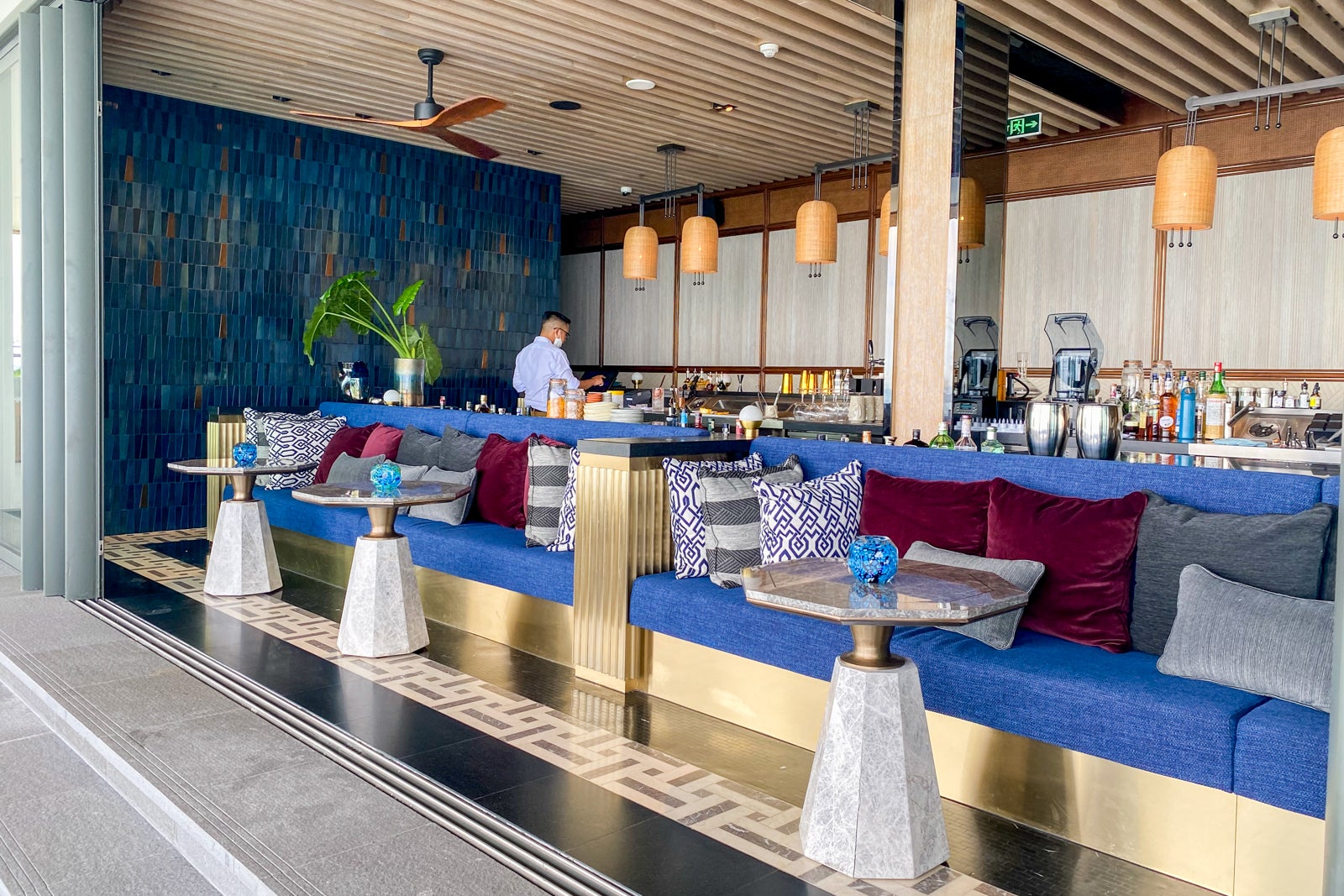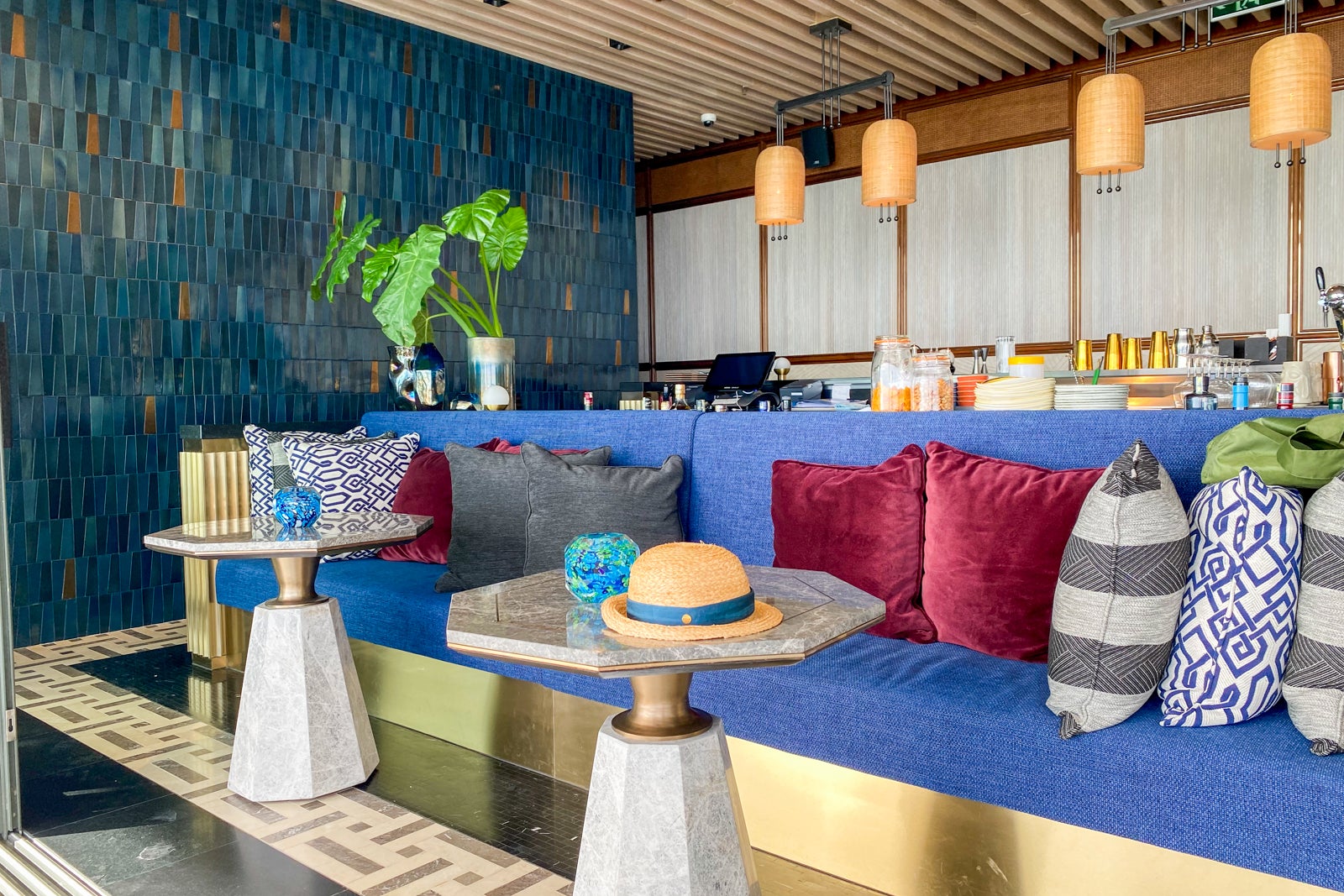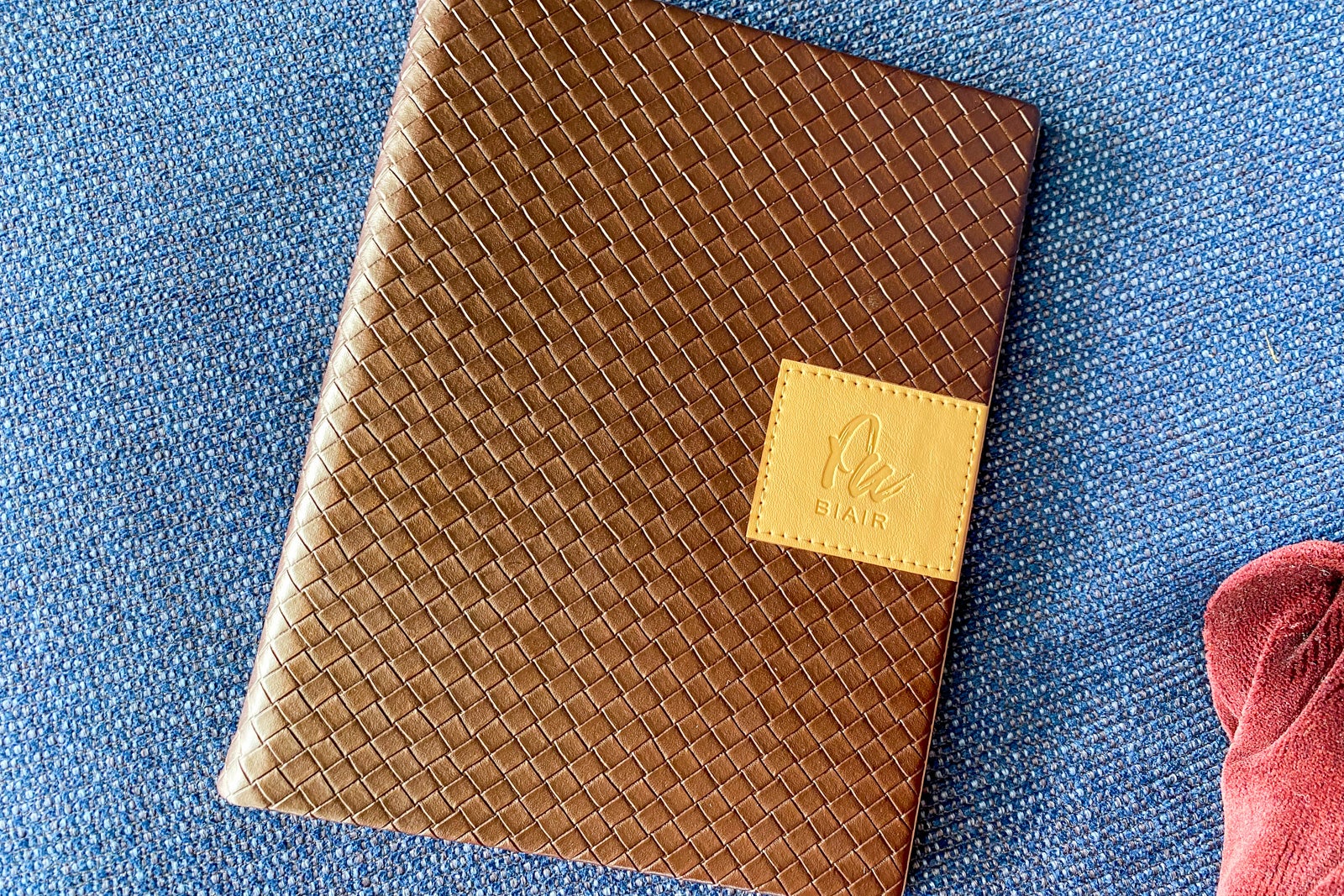 We opted for room service for dinner one night, and I placed our order easily on the website using the QR code provided in the room.
It arrived about 35 minutes later, and the server set a beautiful table on our balcony, complete with a bud vase of fresh flowers. The pretty presentation was matched by the lovely flavors of our fresh spring rolls ($11), Phu Quoc seafood bisque ($13) and juicy honey-glazed king prawns ($18).
We didn't order dessert, but we received something sweet anyway: a little glass box holding a trio of chocolate cupcakes topped with cute fondant sea creatures.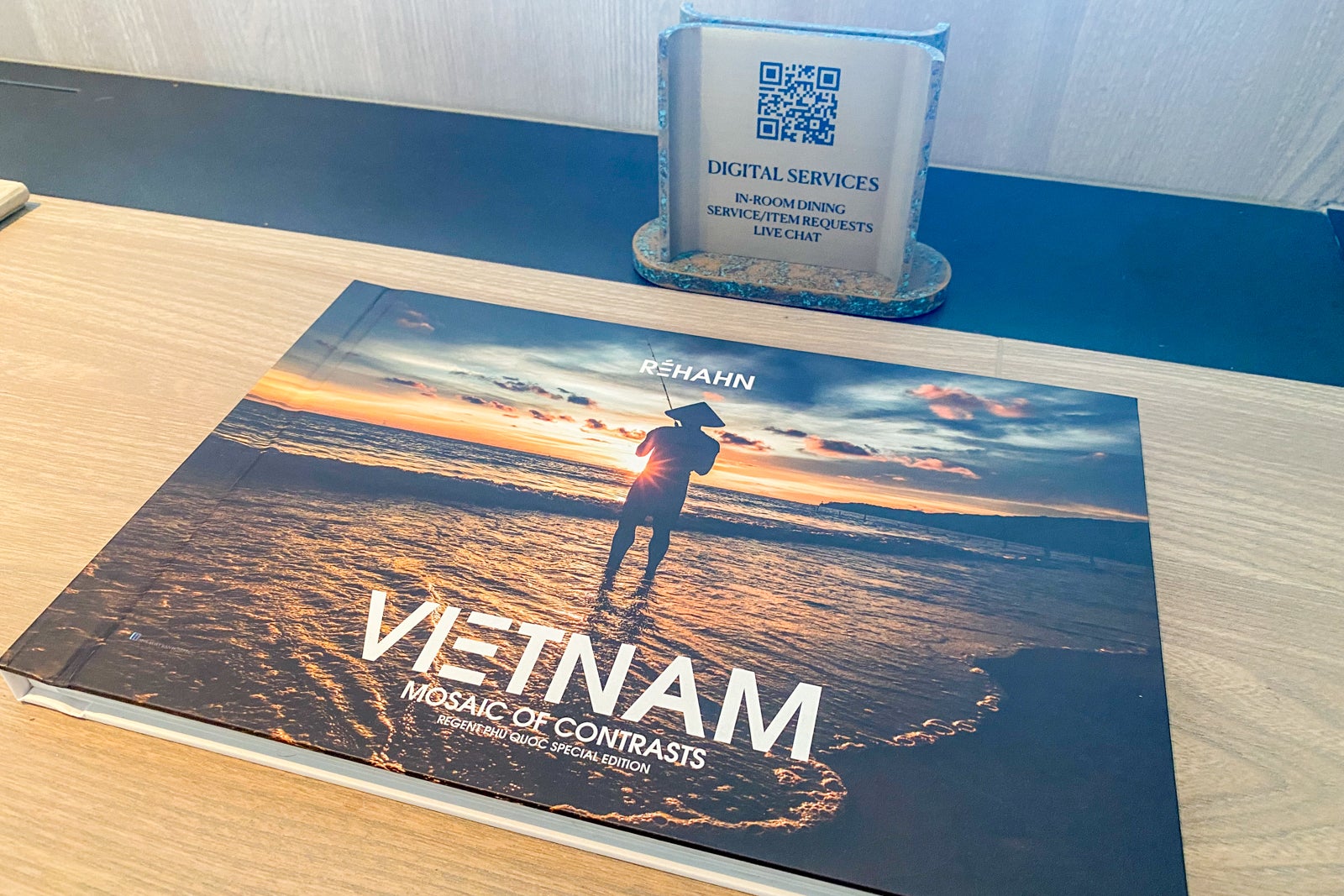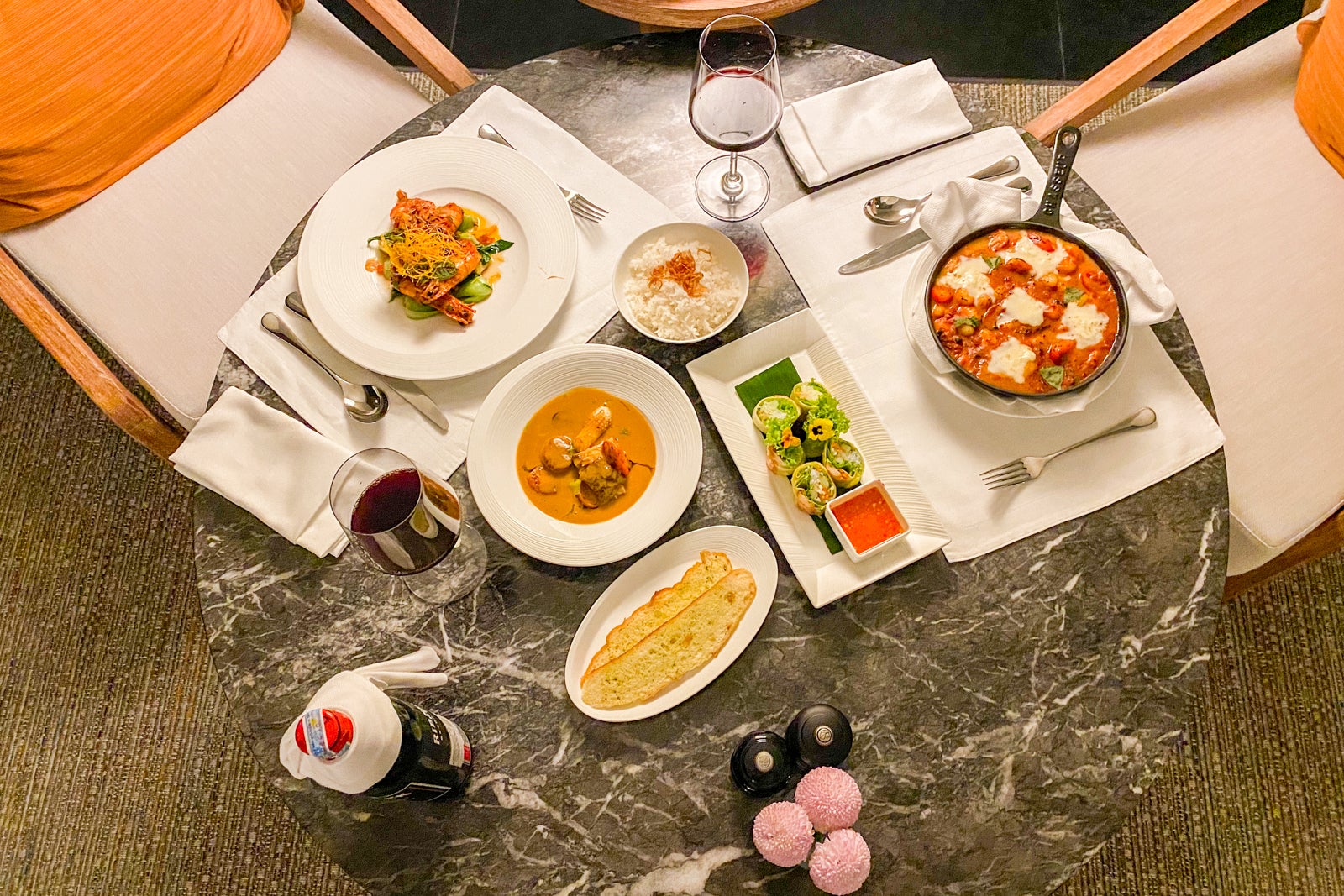 Dinner at Rice Market was stimulating for all the senses, especially sight and taste.
We sat in a beautiful tiled room overlooking the family pools with rattan tables topped with handmade ceramics and twinkling pendant lights hanging overhead.
The dishes we chose from the extensive menu were exceptional: Phu Quoc blue crab fried rice ($16), Iberico five-spice pork char siu ($22) and chargrilled Phu Quoc cuttlefish ($17). The dishes were light, yet full of flavor. They also felt shareable and reasonably priced — though there are dishes on which you could splurge.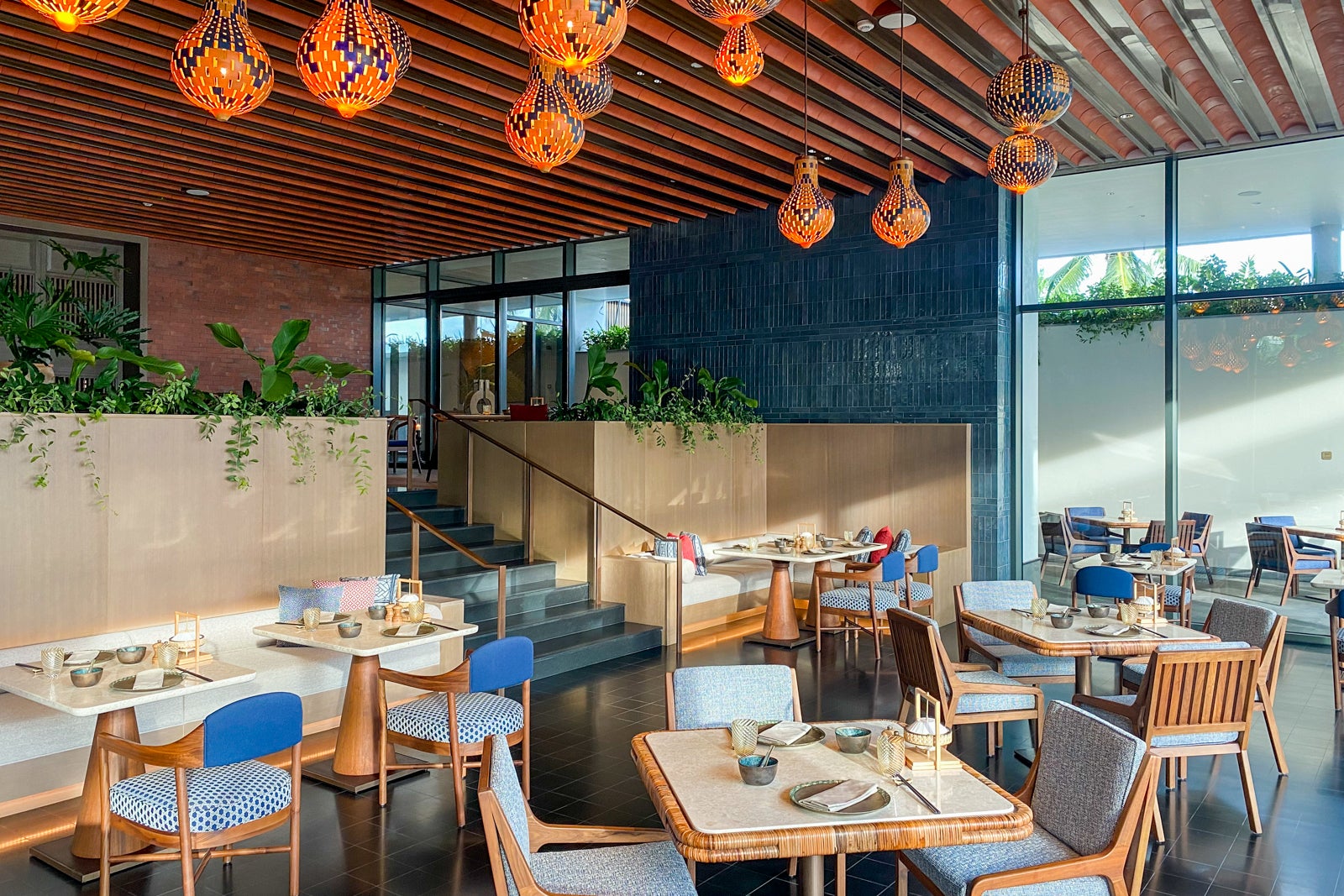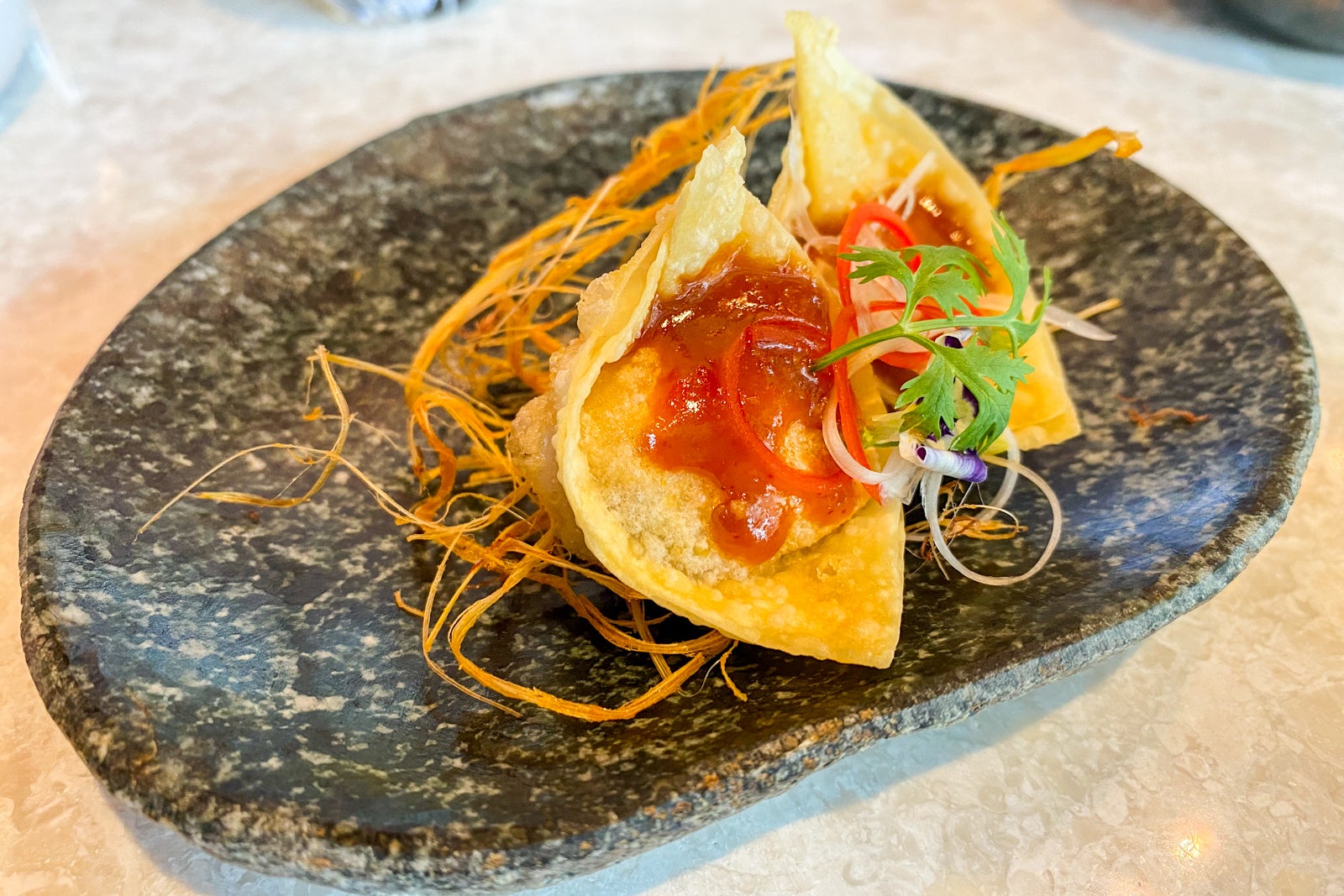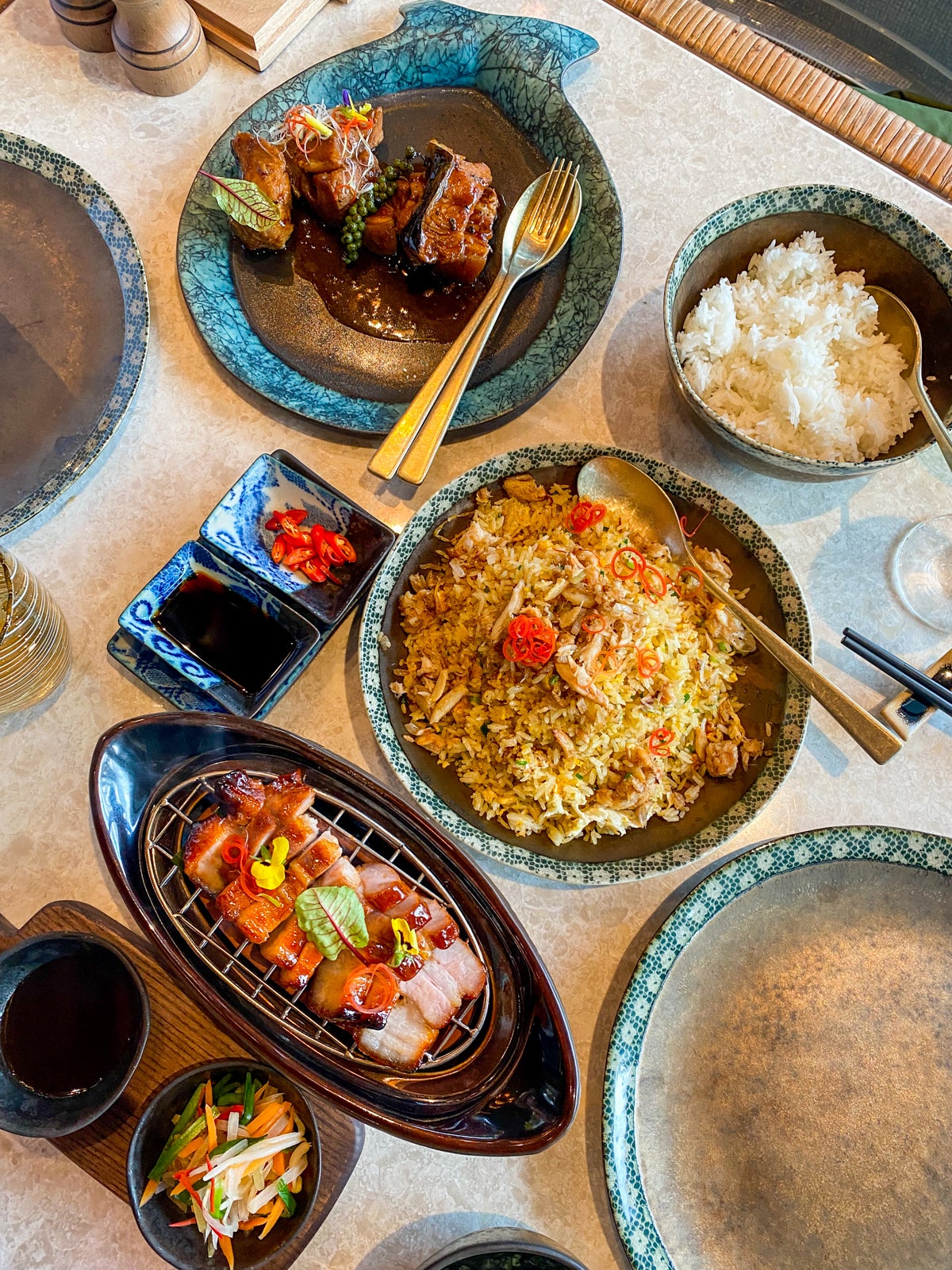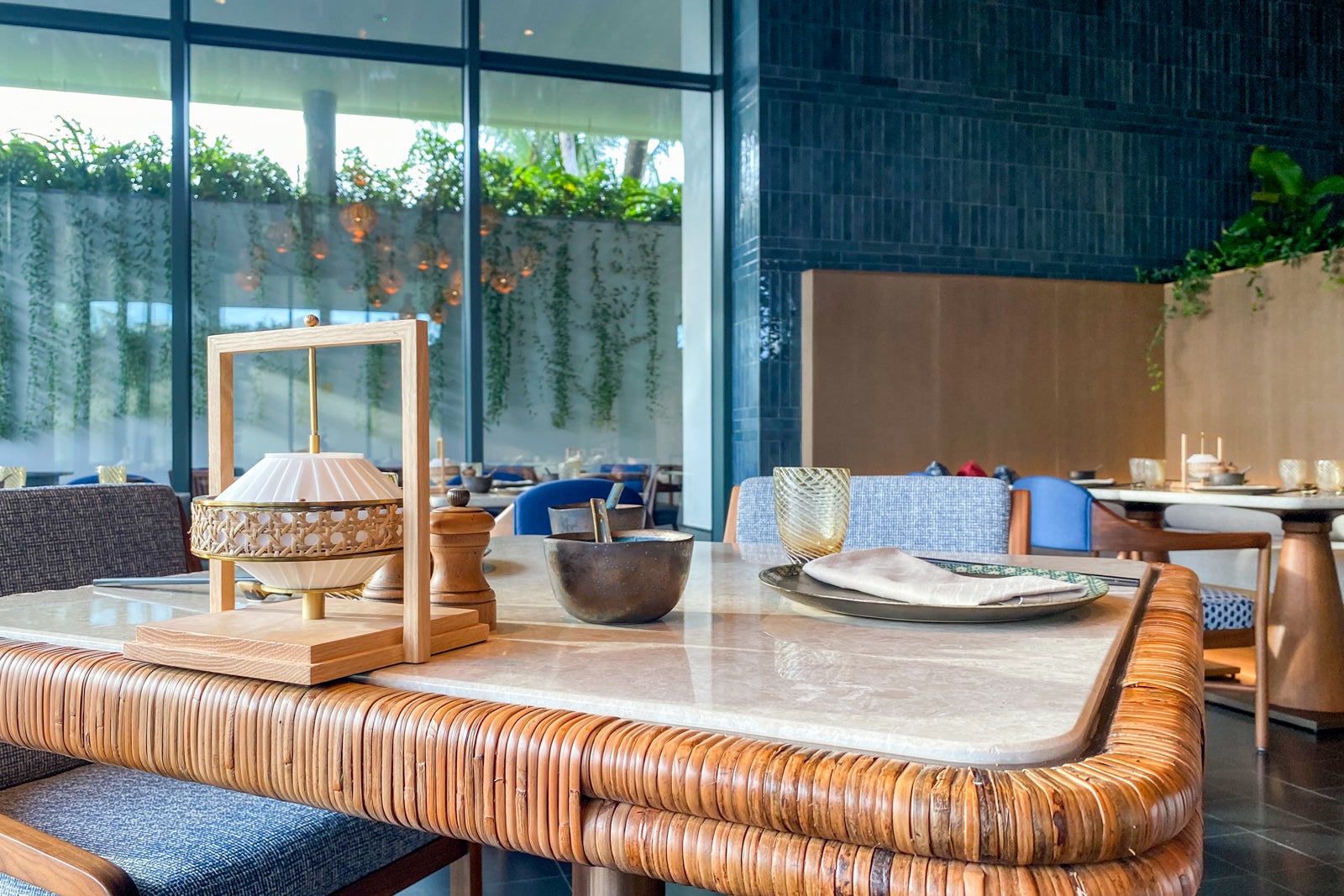 At each of our dining experiences, kind staff politely engaged in conversation, were inquisitive about our travels in Vietnam and excitedly took turns taking our toddler for little back-of-house tours. 
Amenities
Appropriately enough on an island, water is everywhere at this resort, and its colossal pools — five, including two on the rooftops — took center stage. (The villas all have their own private pools, too.)
Leading down to the beach, a seemingly football-field-sized shallow pool offered plenty of daybeds both in and out of the water and was wonderfully cool during the hot days. It was amazing for our toddler, who could happily stand in it and play somewhat independently.
A deeper pool beside it was better for swimming, while the rooftop infinity pools were perfect for long laps and sunset views. Loungers, cabanas and daybeds everywhere were free for any guest to use. The staff were quick to bring us water, beach towels and menus.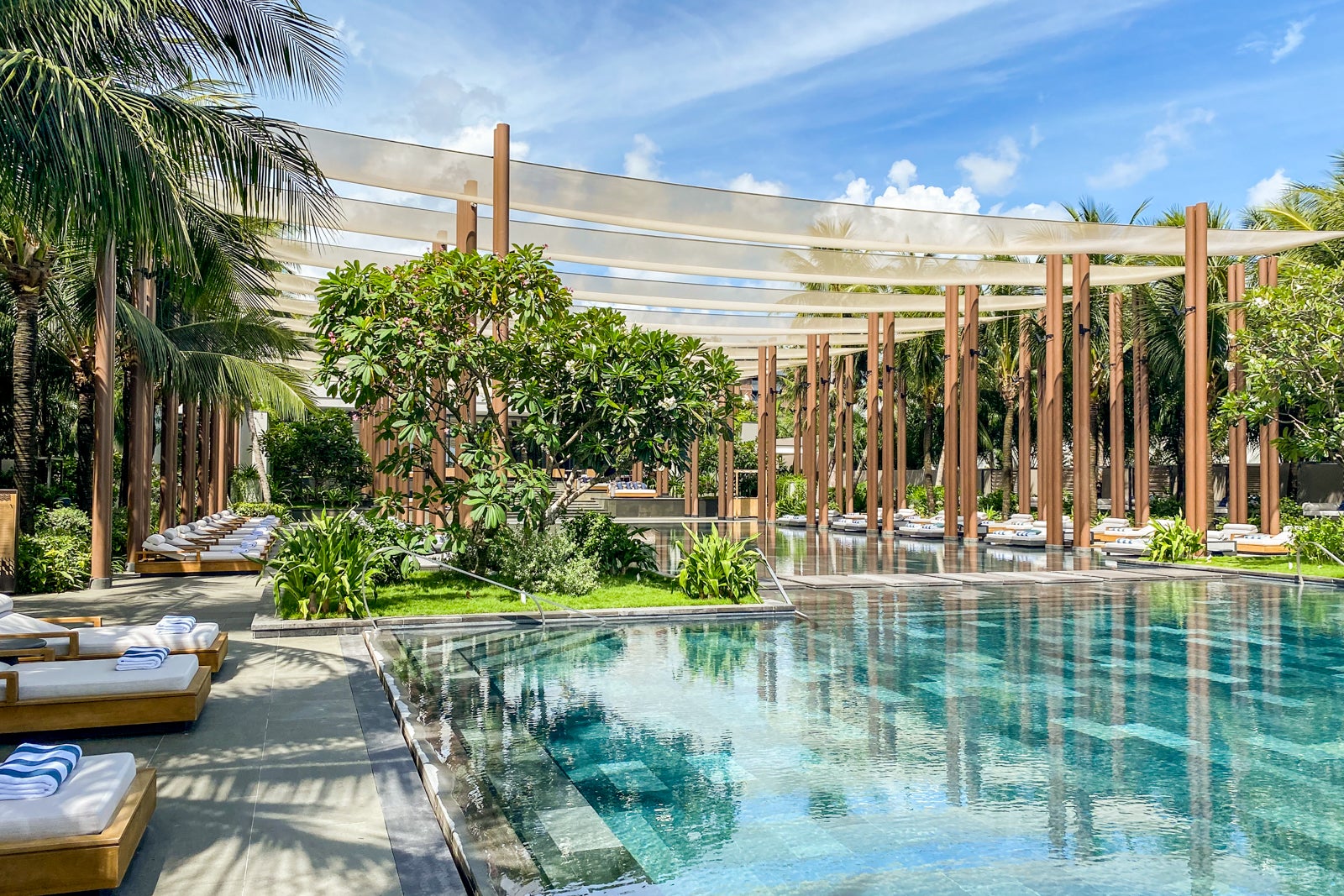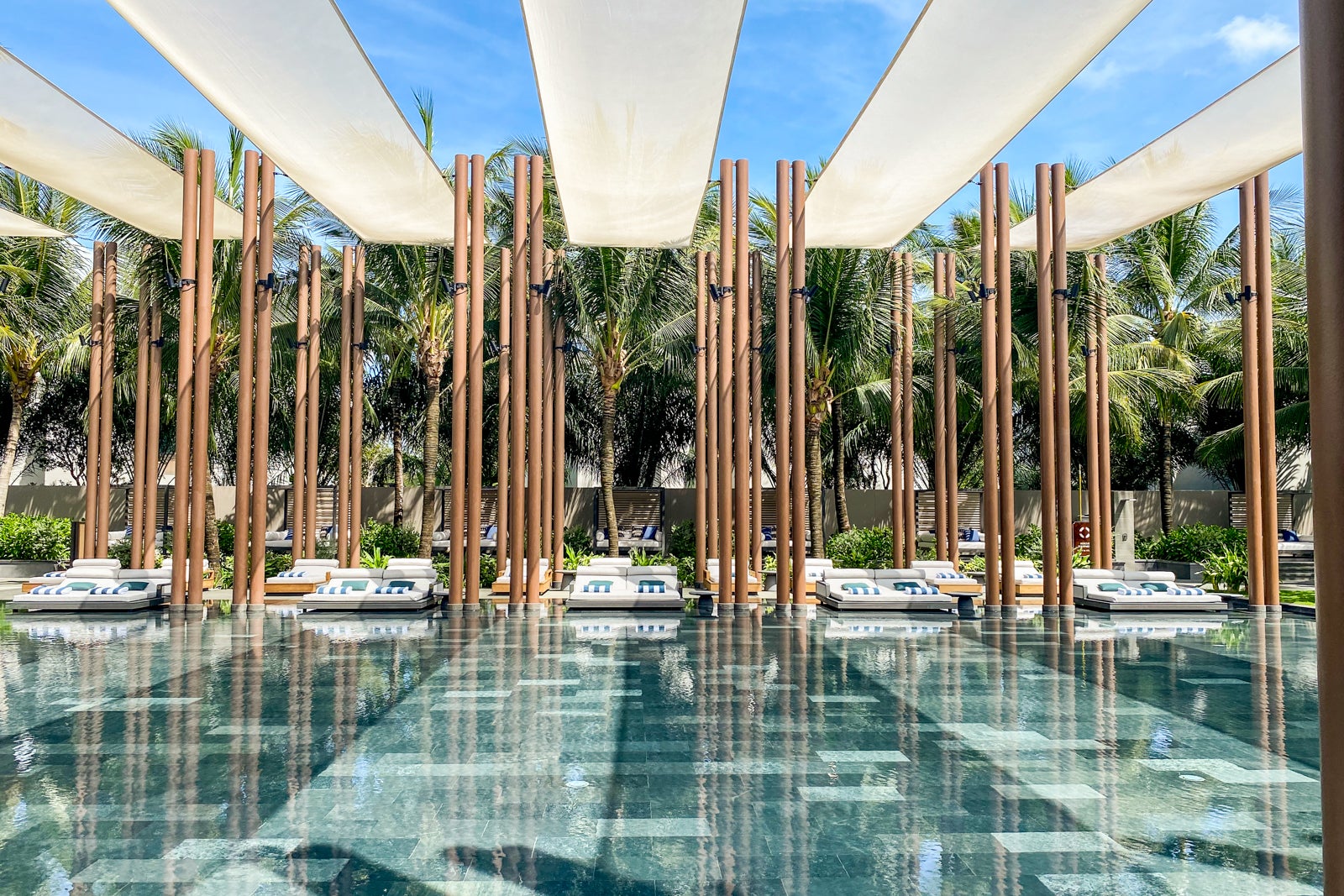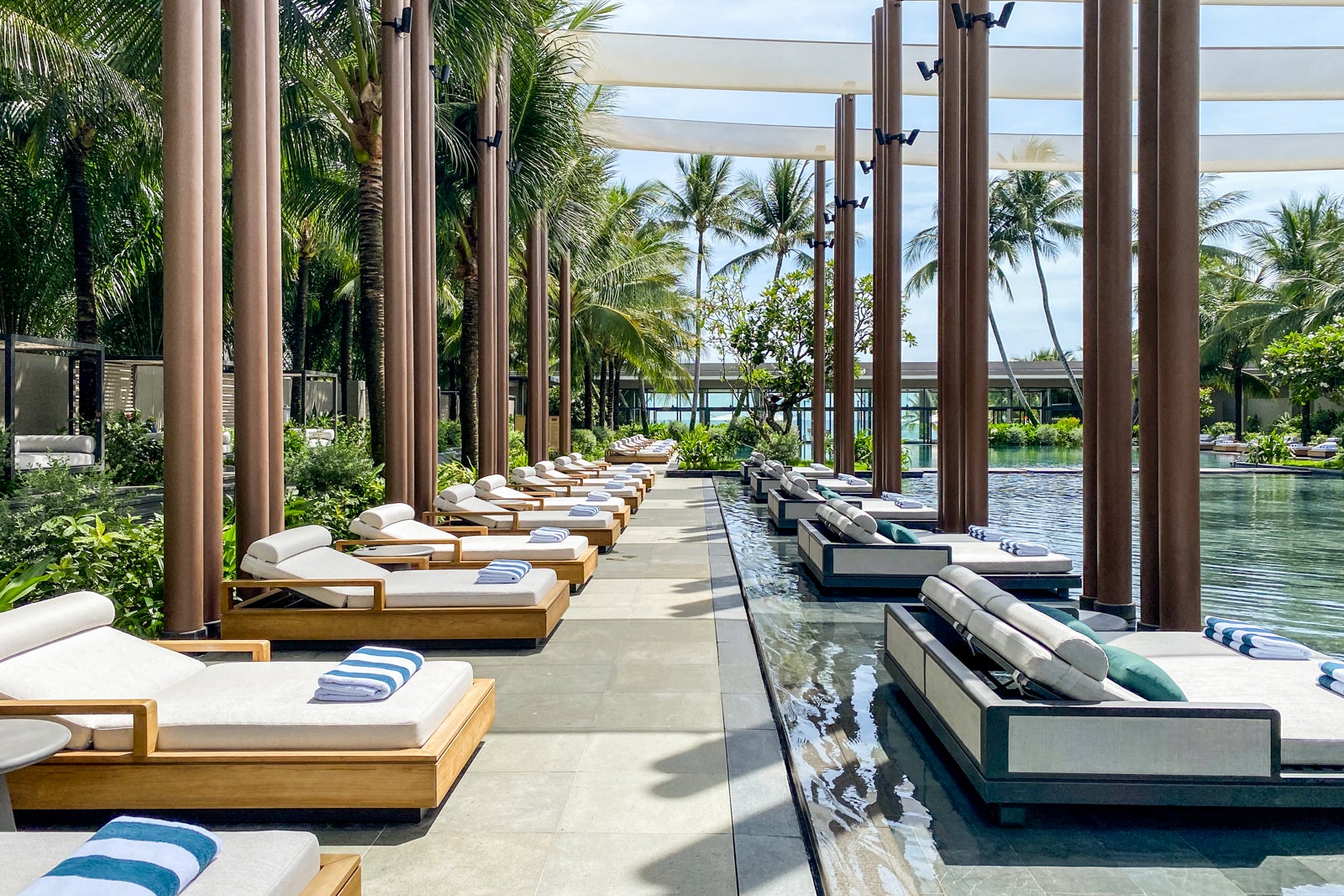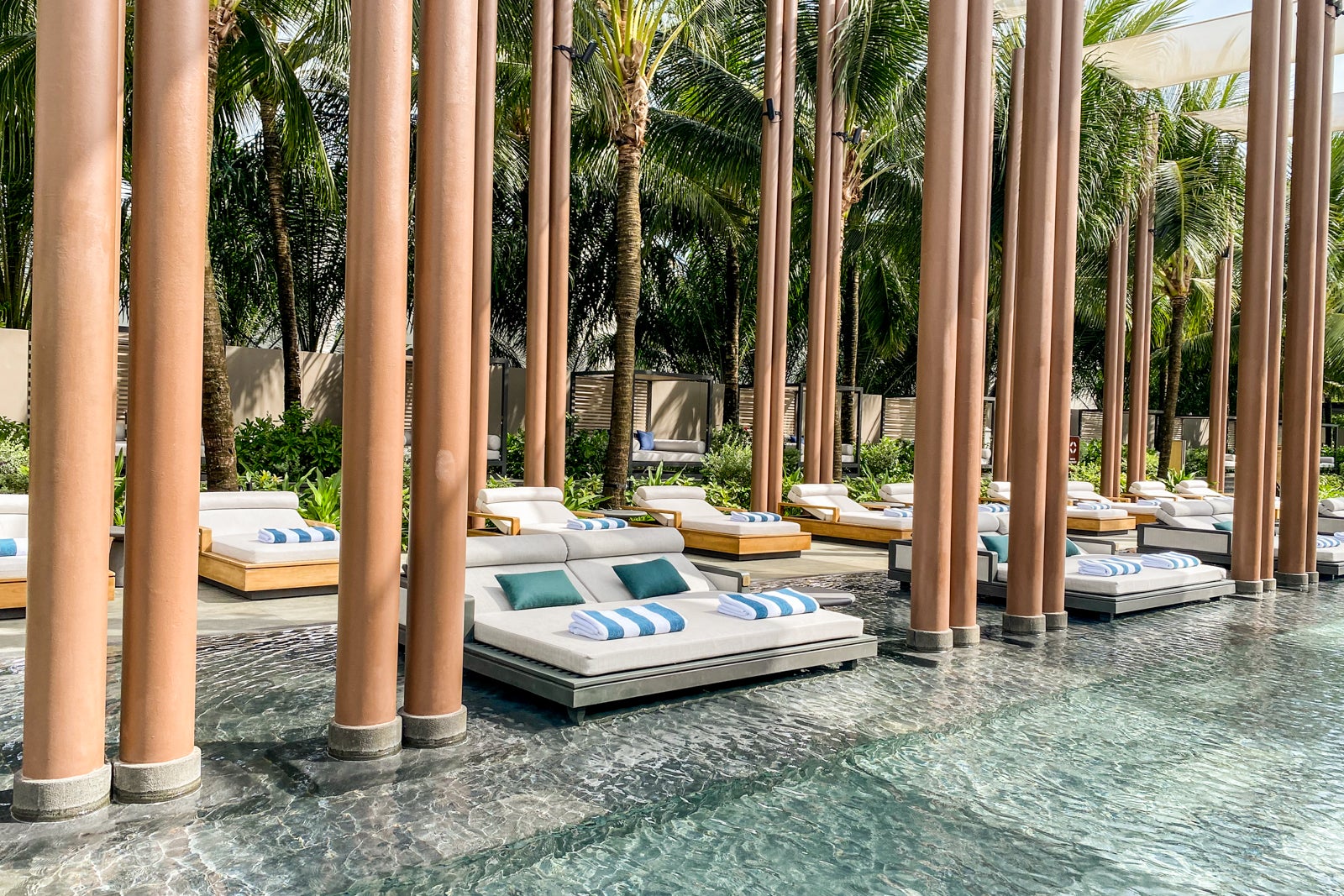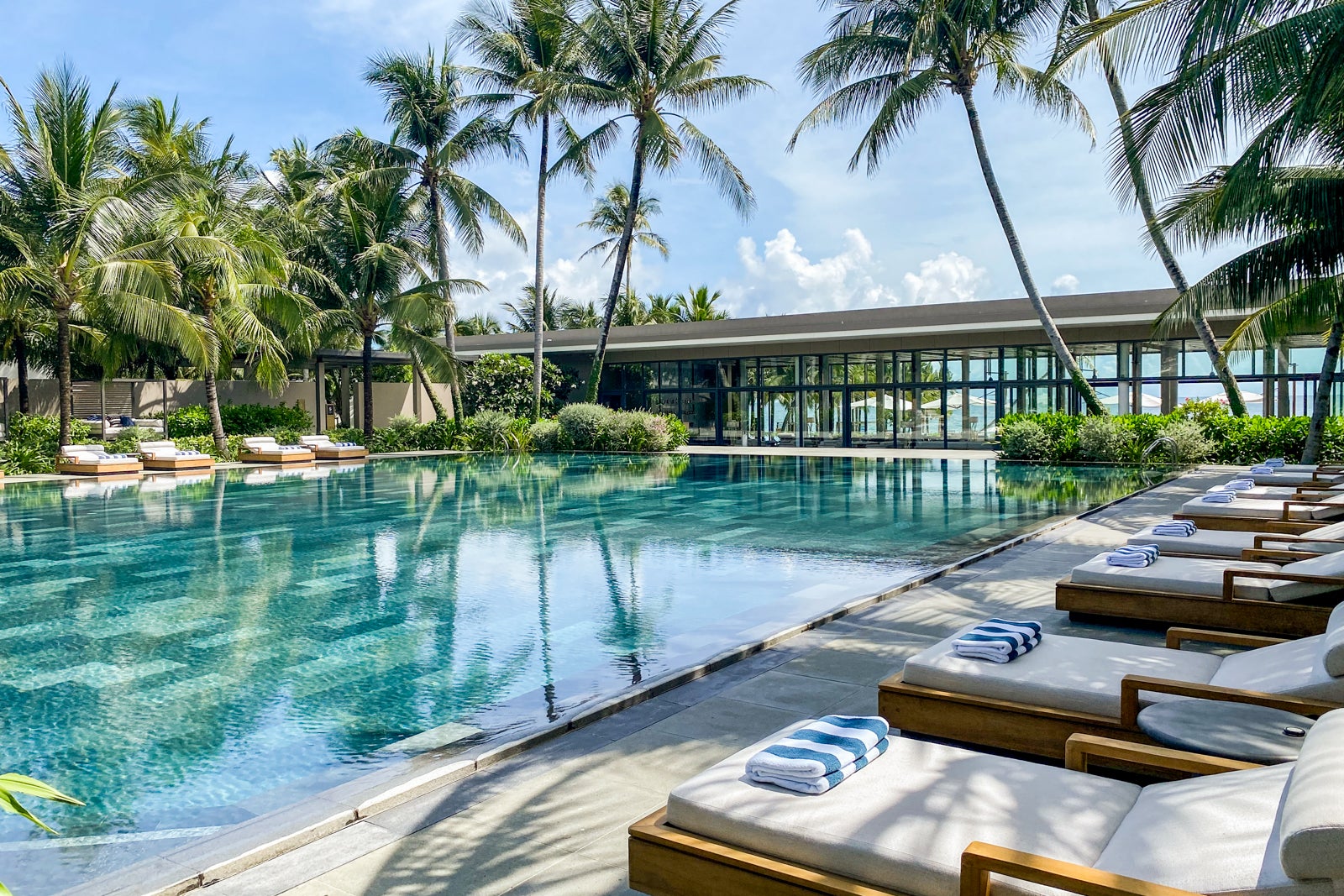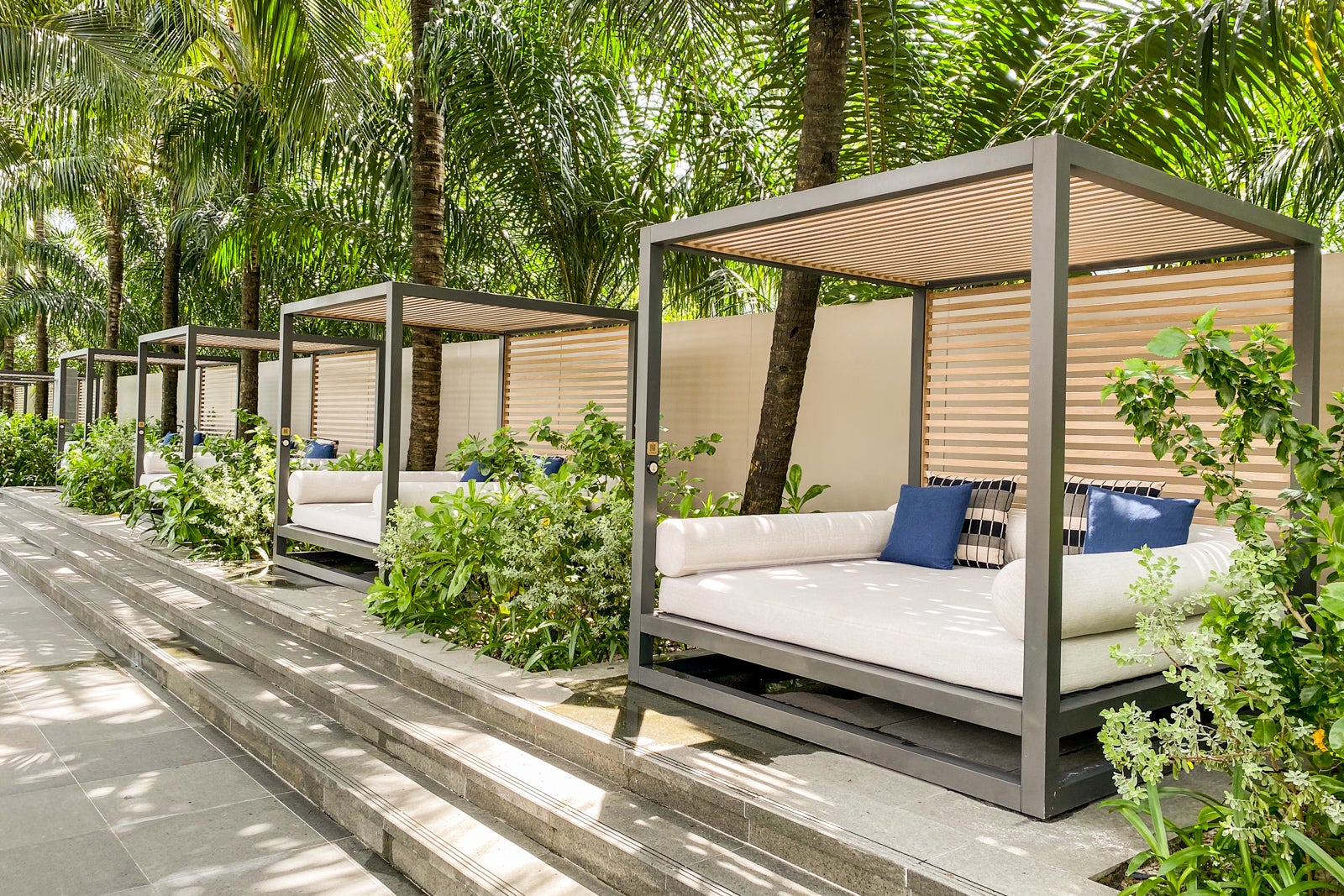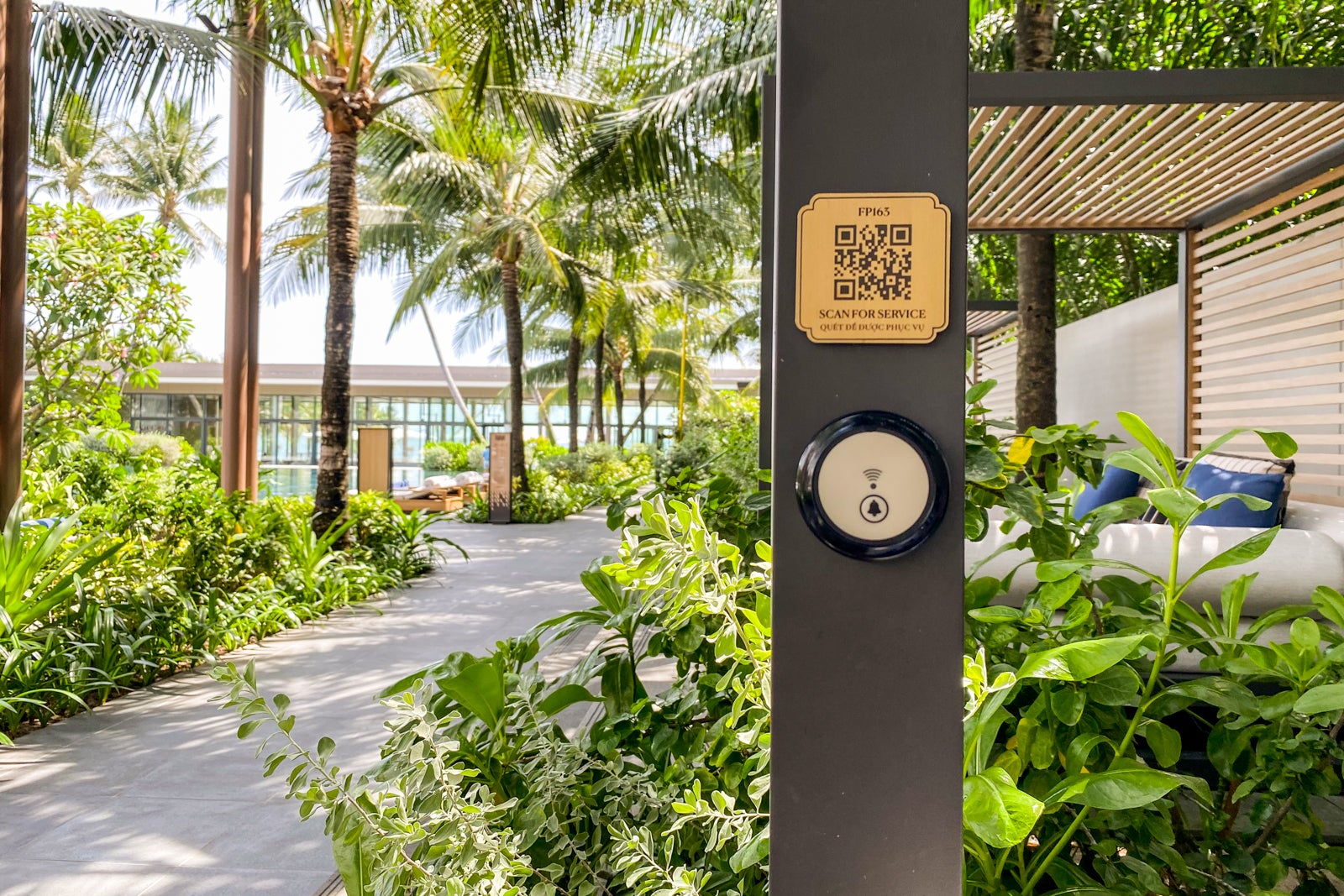 Long Beach, as its name suggests, felt infinite, and it seemed like we had it all to ourselves. The infinity pool in front of Ocean Club overlooked the long stretch of sand. Two palms arched over a clearing and a dozen padded lounge chairs and umbrellas awaited guests. There were also sun beds, hammocks and cabanas with sofas and tables shaded by palm groves, all open without reservation or cost.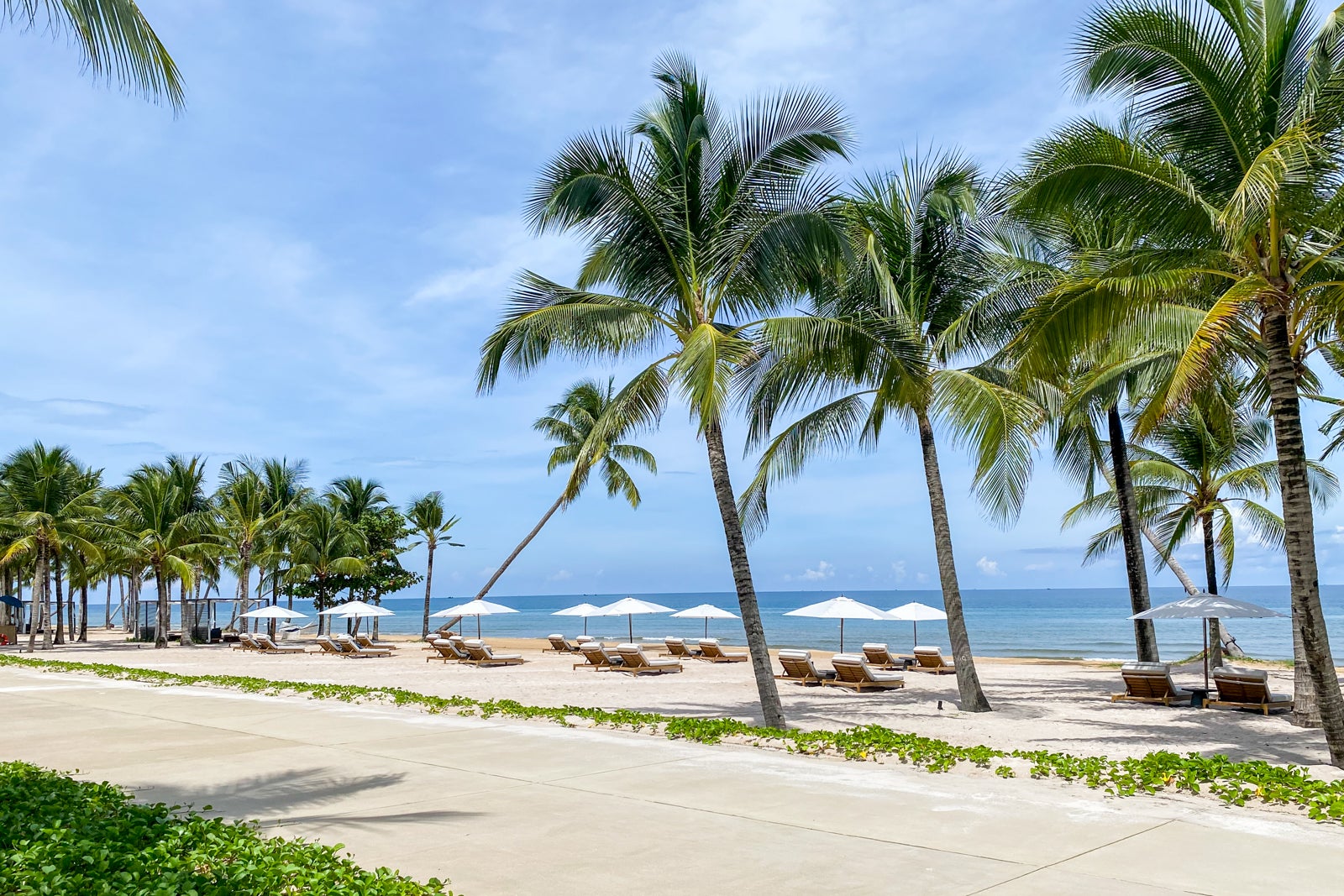 The soft sand provided easy entry into the calm, clear ocean. The water temperature was perfect and soothing to wade in. Both times we visited the beach, the staff offered us a refreshing treat. Once we received a shot of vibrant, purple butterfly pea flower lemonade. On another occasion, we enjoyed a scoop of passion-fruit sorbet.
For anyone wishing to be active, there was a slew of water sports equipment — SUP boards, kayaks, small sailboats and a floating tandem bicycle contraption — all available to guests on a complimentary basis as well.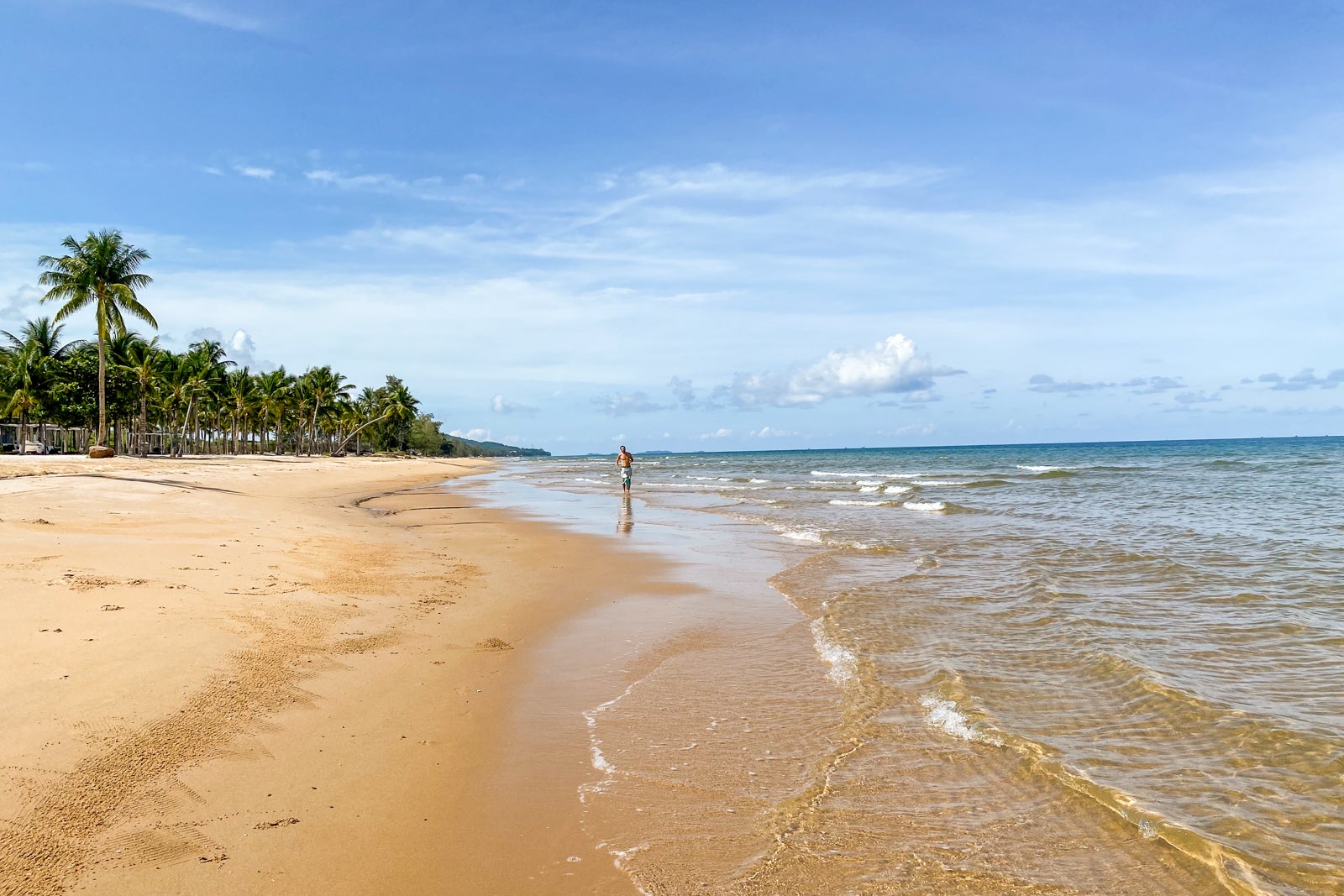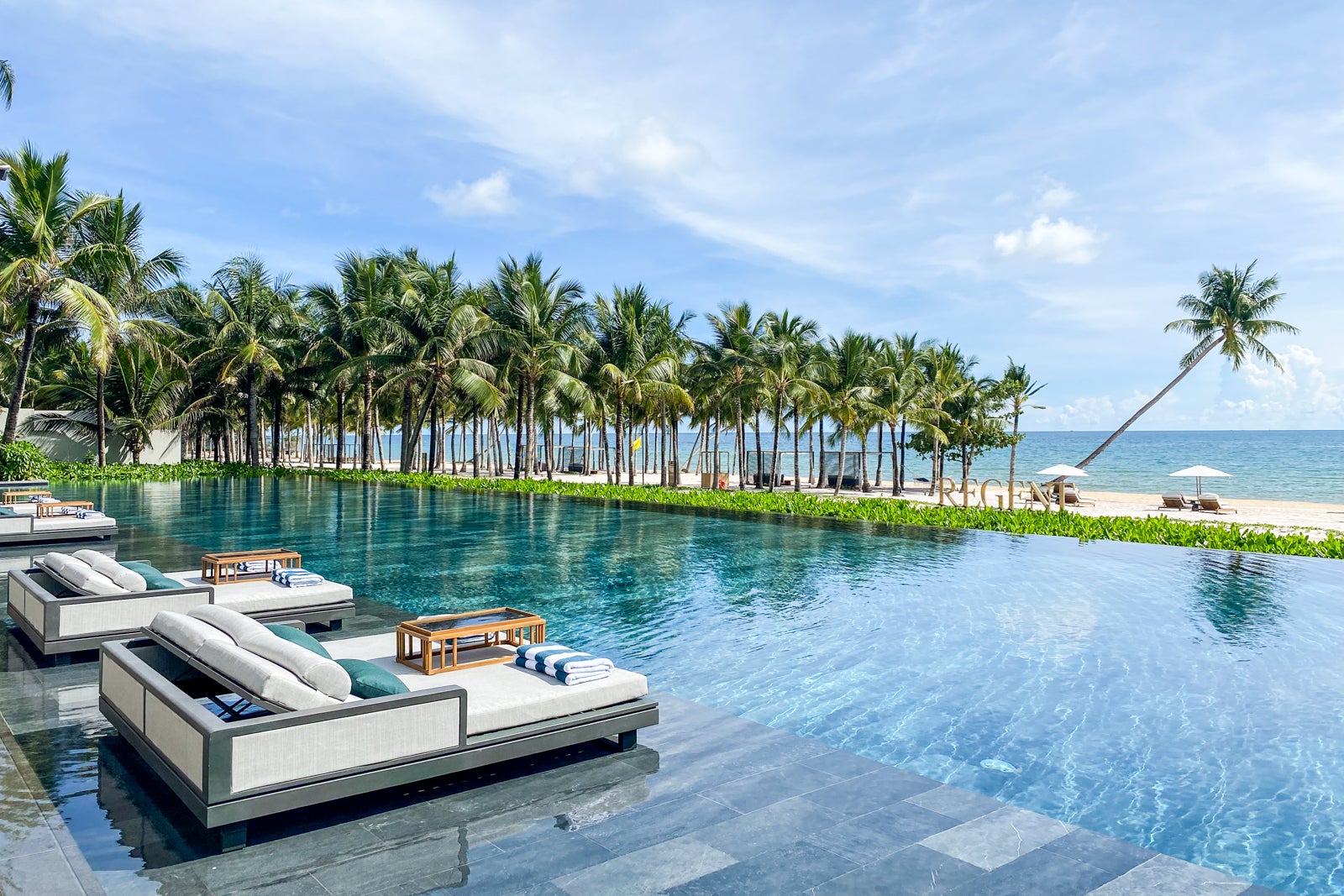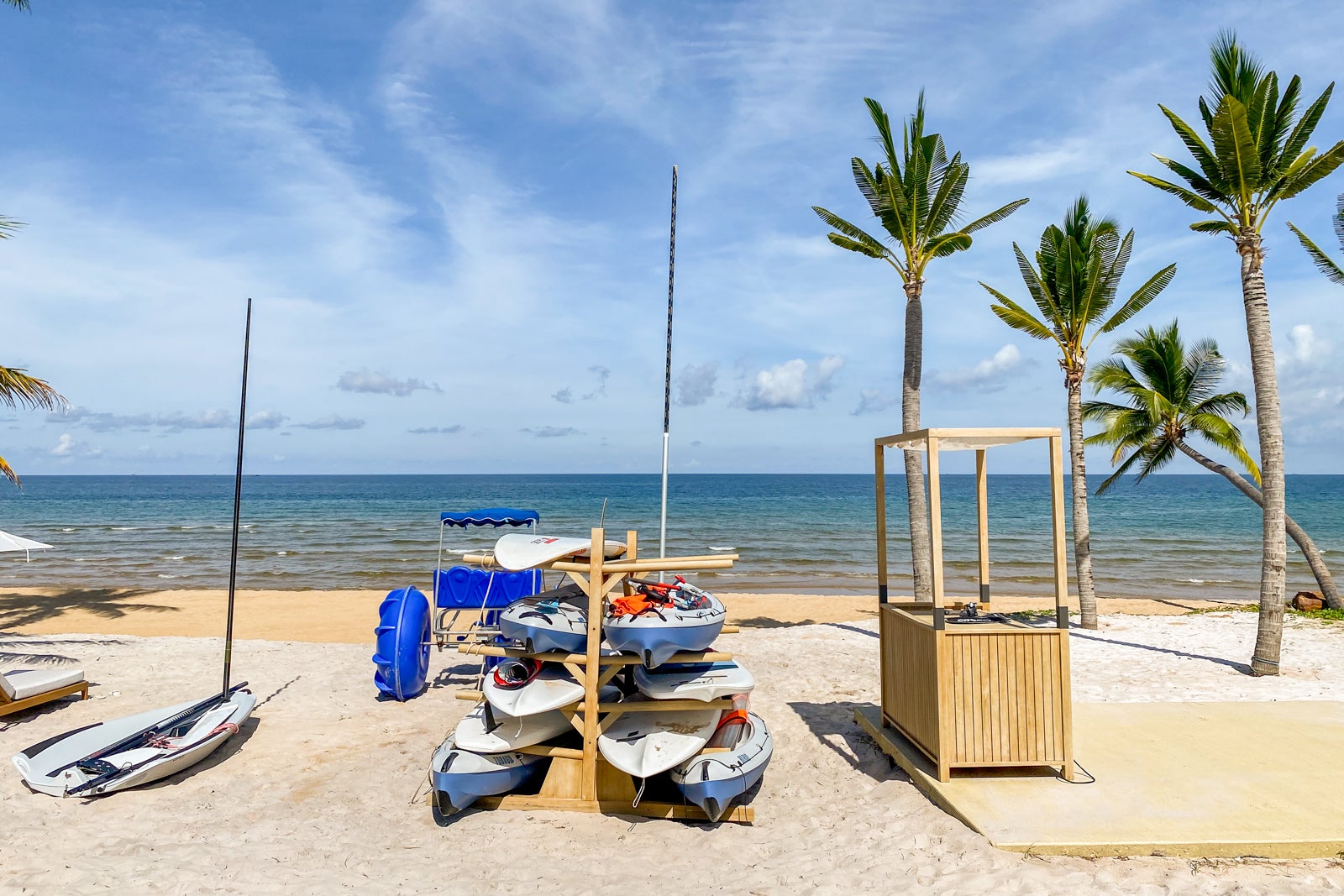 Back in our suite, by scanning the QR code, a whole world of possibilities opened up. I could request to use, on a complimentary basis, a juicer, Apple watch charger, air purifier, reading glasses and a laptop, among many other items.
Complimentary amenities available on request included insect repellent, batteries, contact lens kits, lint rollers and tweezers. The interface was as simple as adding items to your basket and checking out with your room number and last name.
I requested a yoga mat and block, and they were brought to the room 10 minutes after a phone call to let me know the playing cards I'd also asked for were not available yet.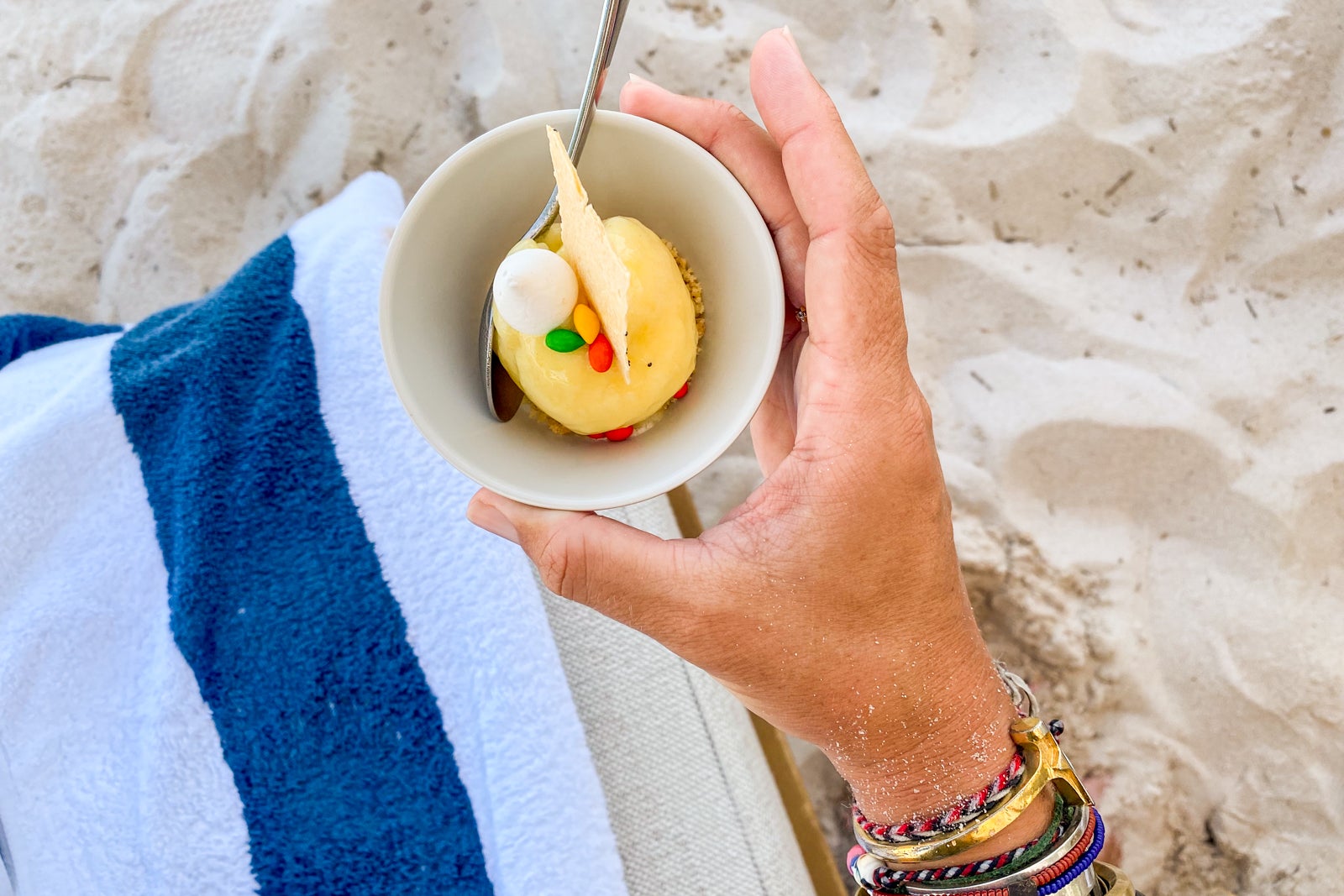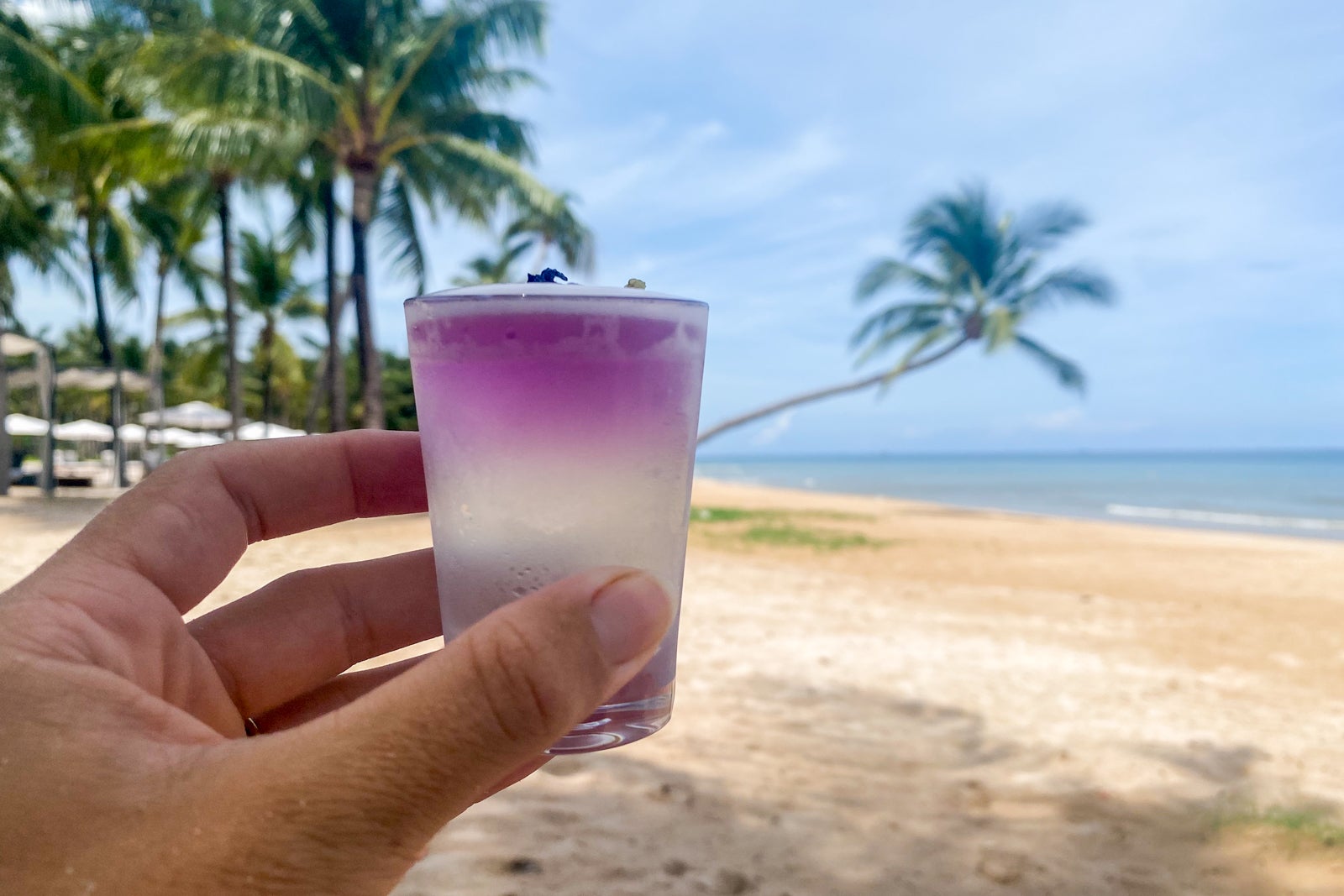 There was also an extensive pillow menu and, for anyone traveling with babies or small kids, a whole list of gear to borrow including high chairs, inflatable swim arm bands, step stools and bed guard rails.
You can even request a new room key on the site, which I did at breakfast one morning. The restaurant manager came by to confirm my request and about 10 minutes later a team member brought a new keycard to my table, assuring me our other cards would still work.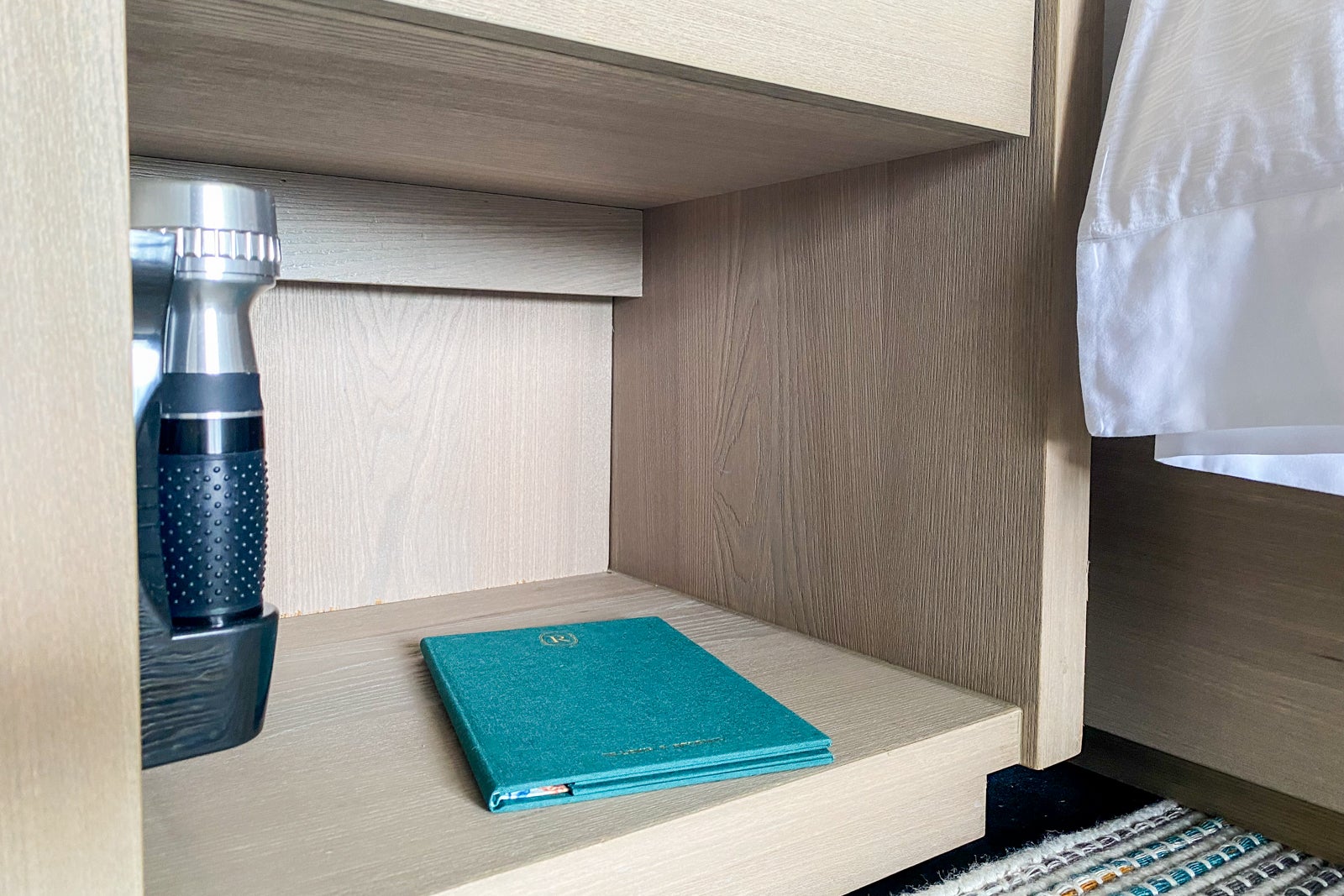 The resort also included a spectacular 24-hour fitness center on the rooftop level. It was expansive and well equipped with all the latest Technogym weight and cardio machines, most of which were positioned to look out the floor-to-ceiling windows with ocean panoramas.
Guests can also make use of the yoga and stretching room, where complimentary group classes and sound bath meditations will be held (though they weren't while I stayed). A selection of beverages is also on hand – water, Pocari Sweat, Red Bull and others. A narrow infinity pool stretching along the rooftop wasn't open yet.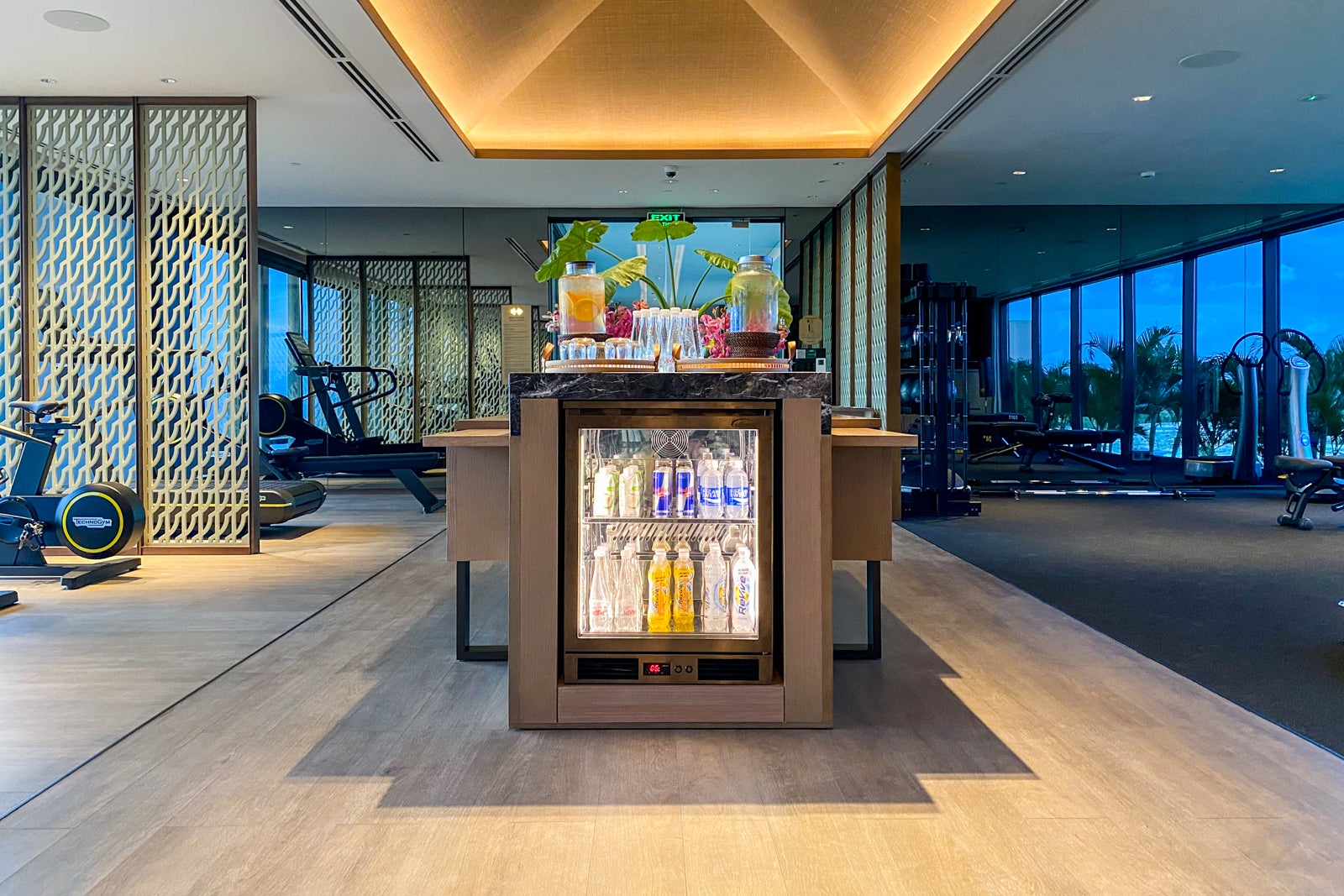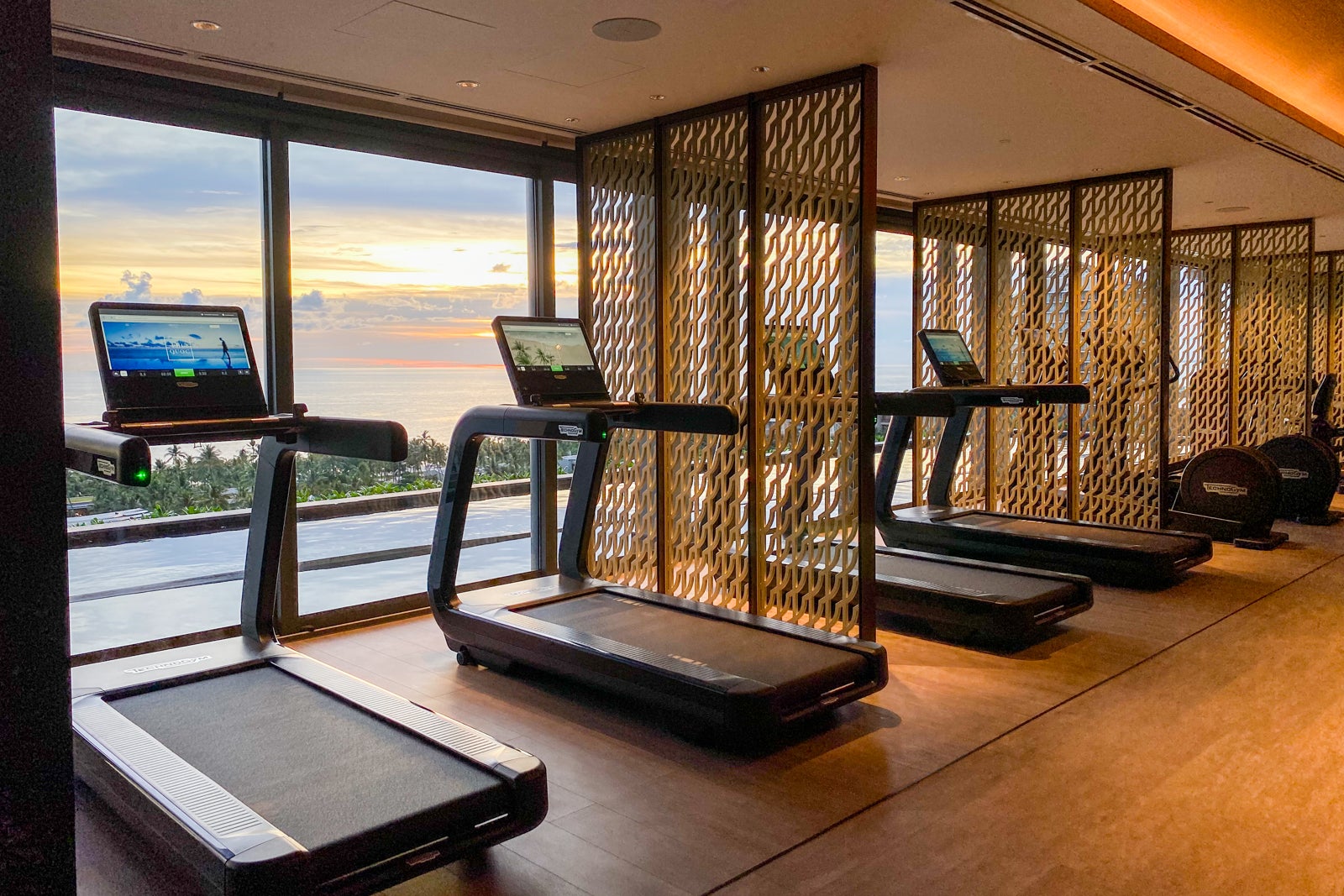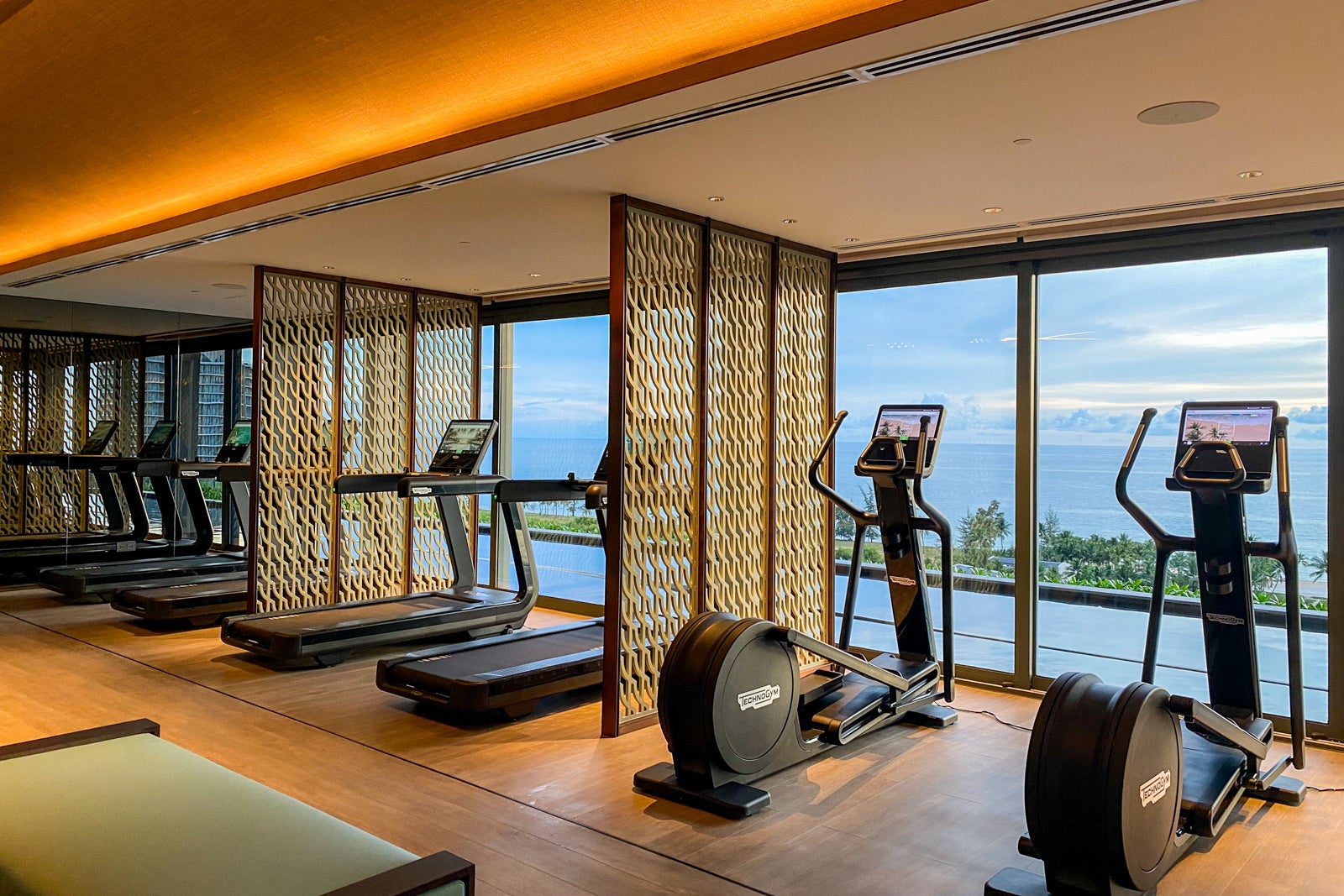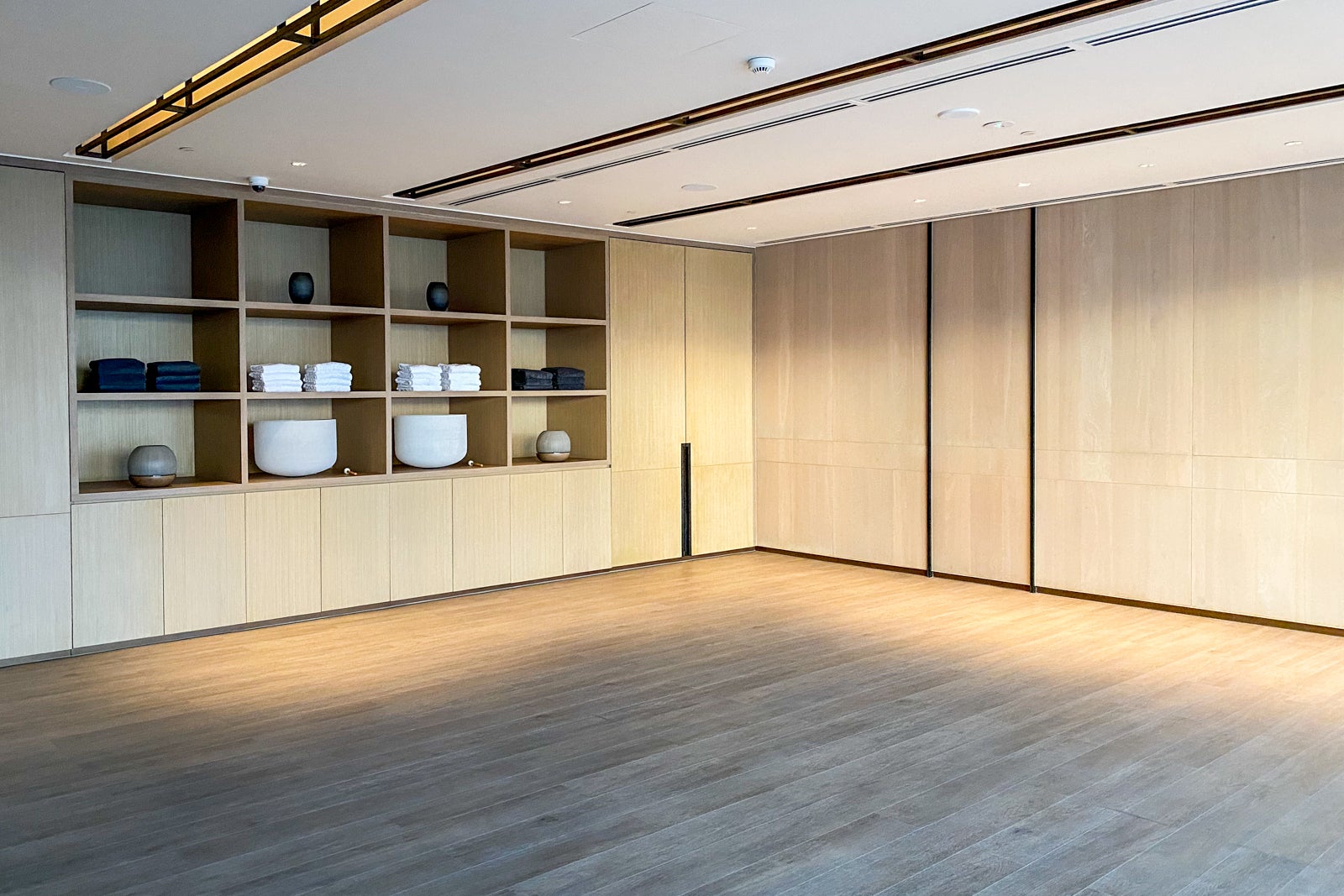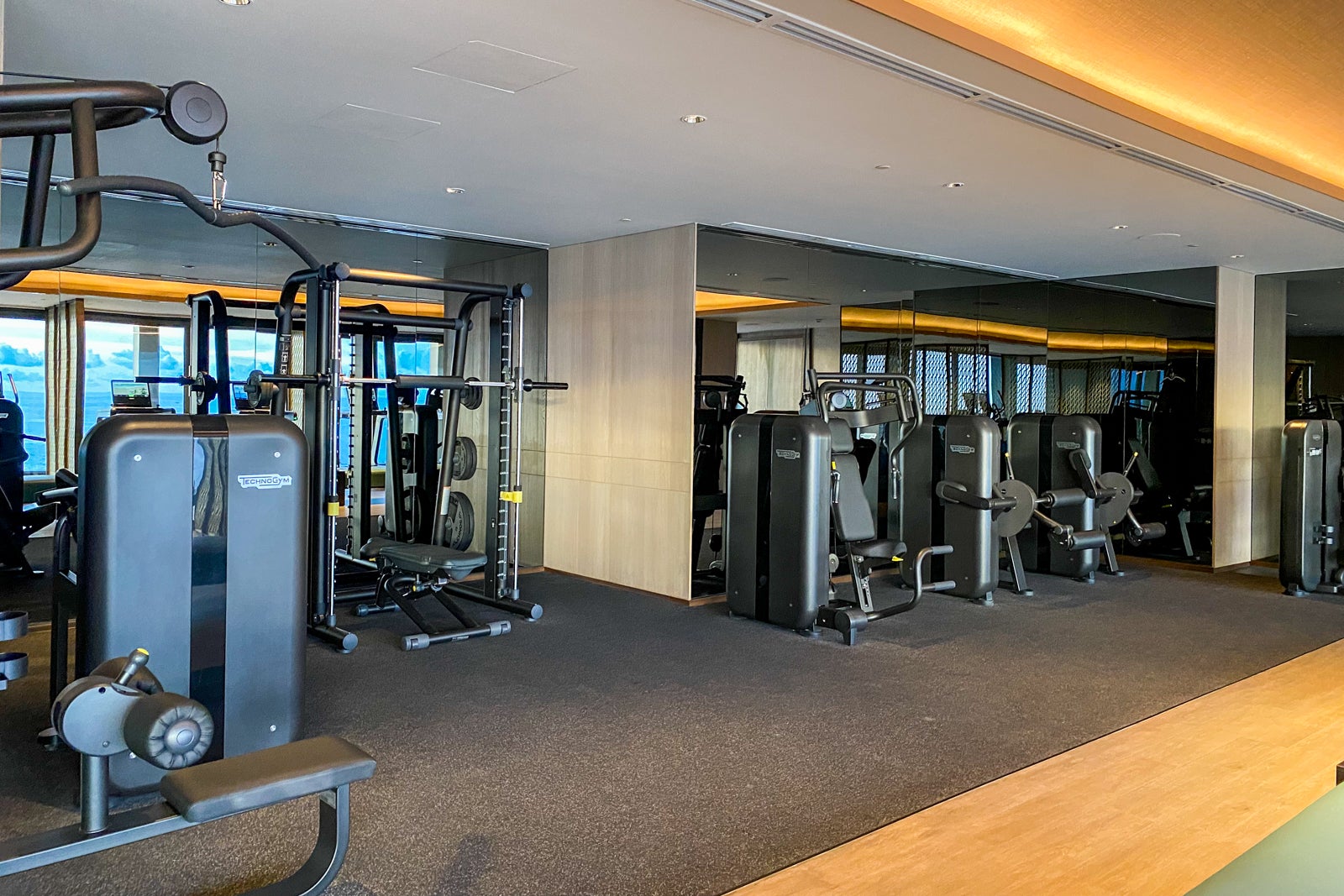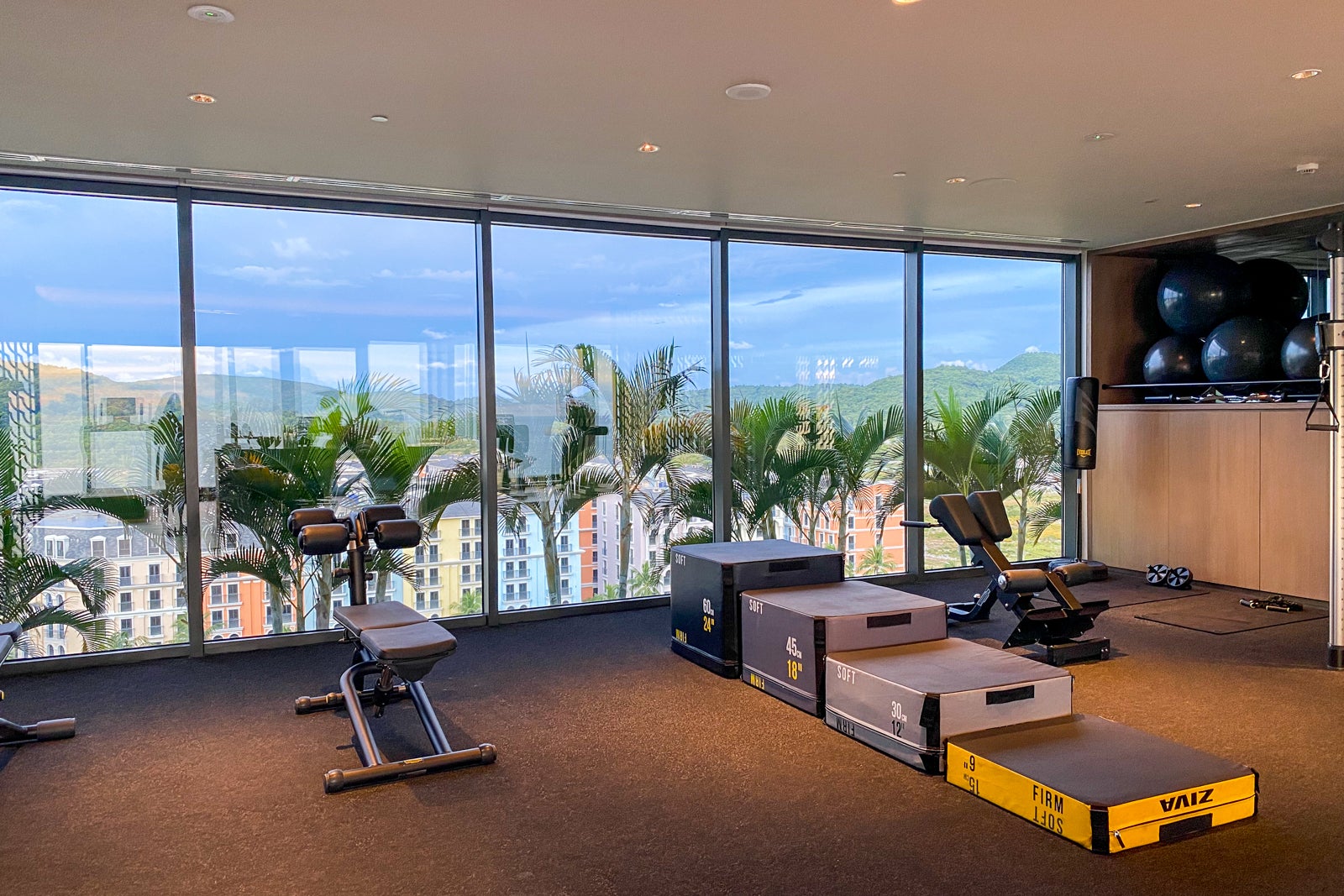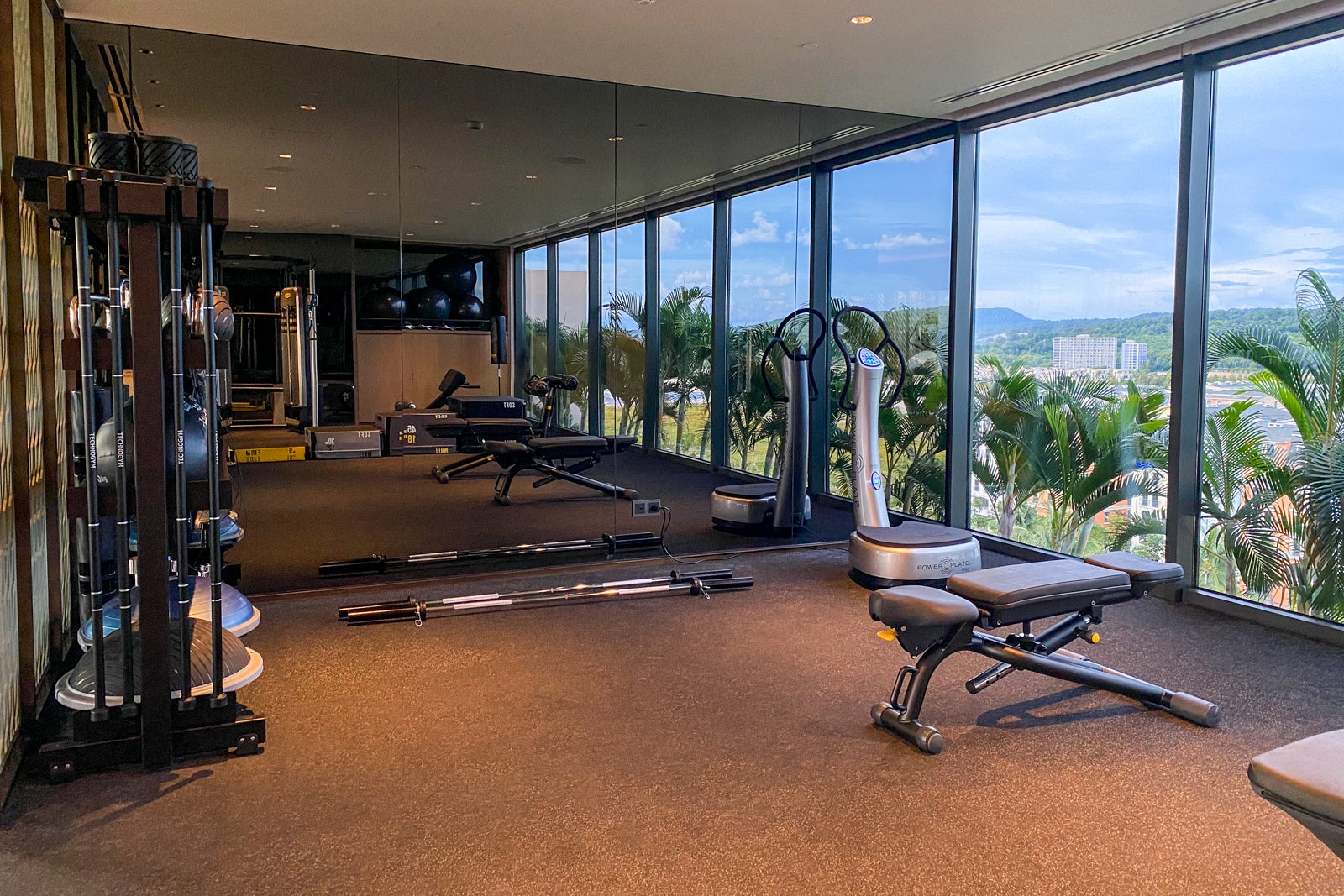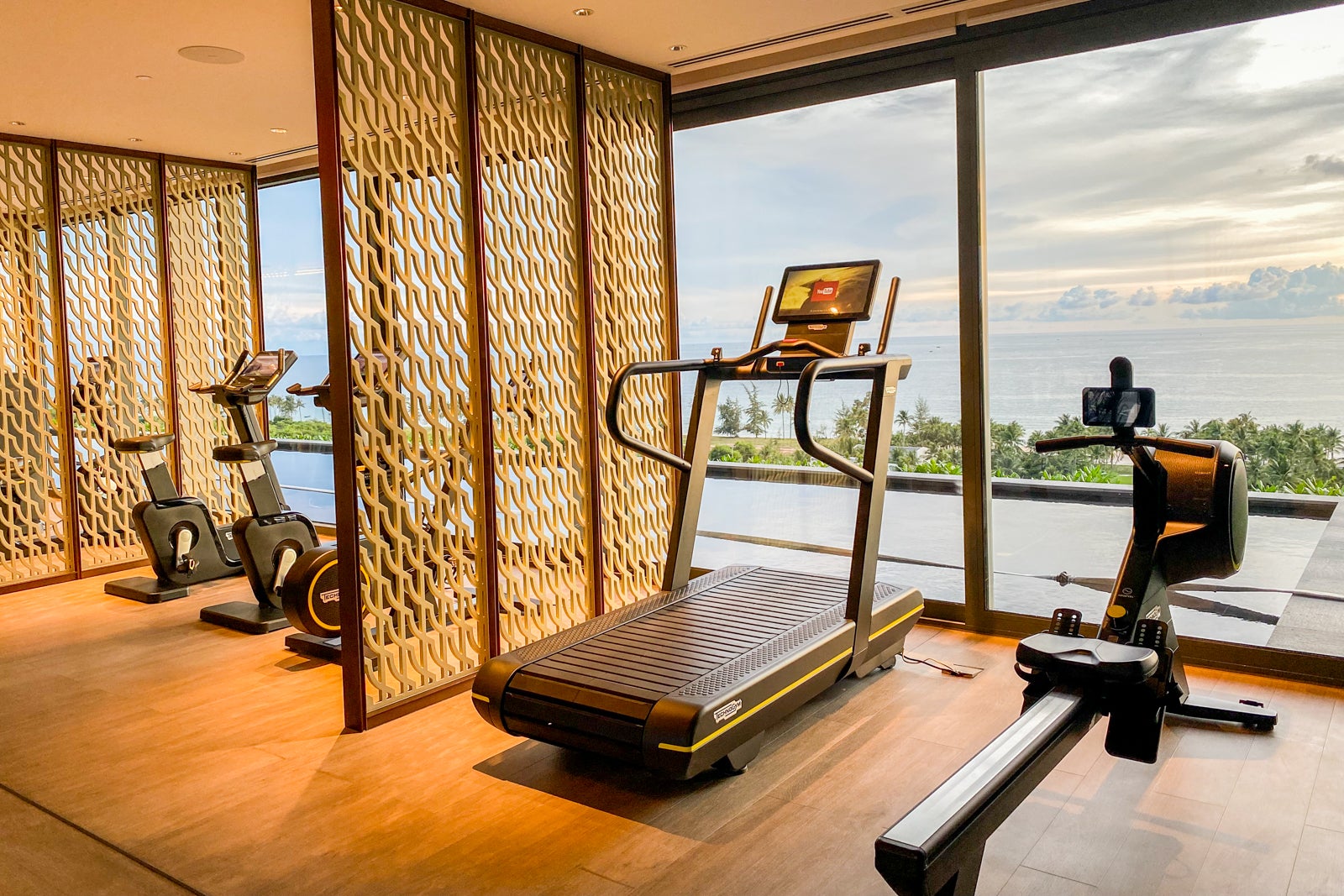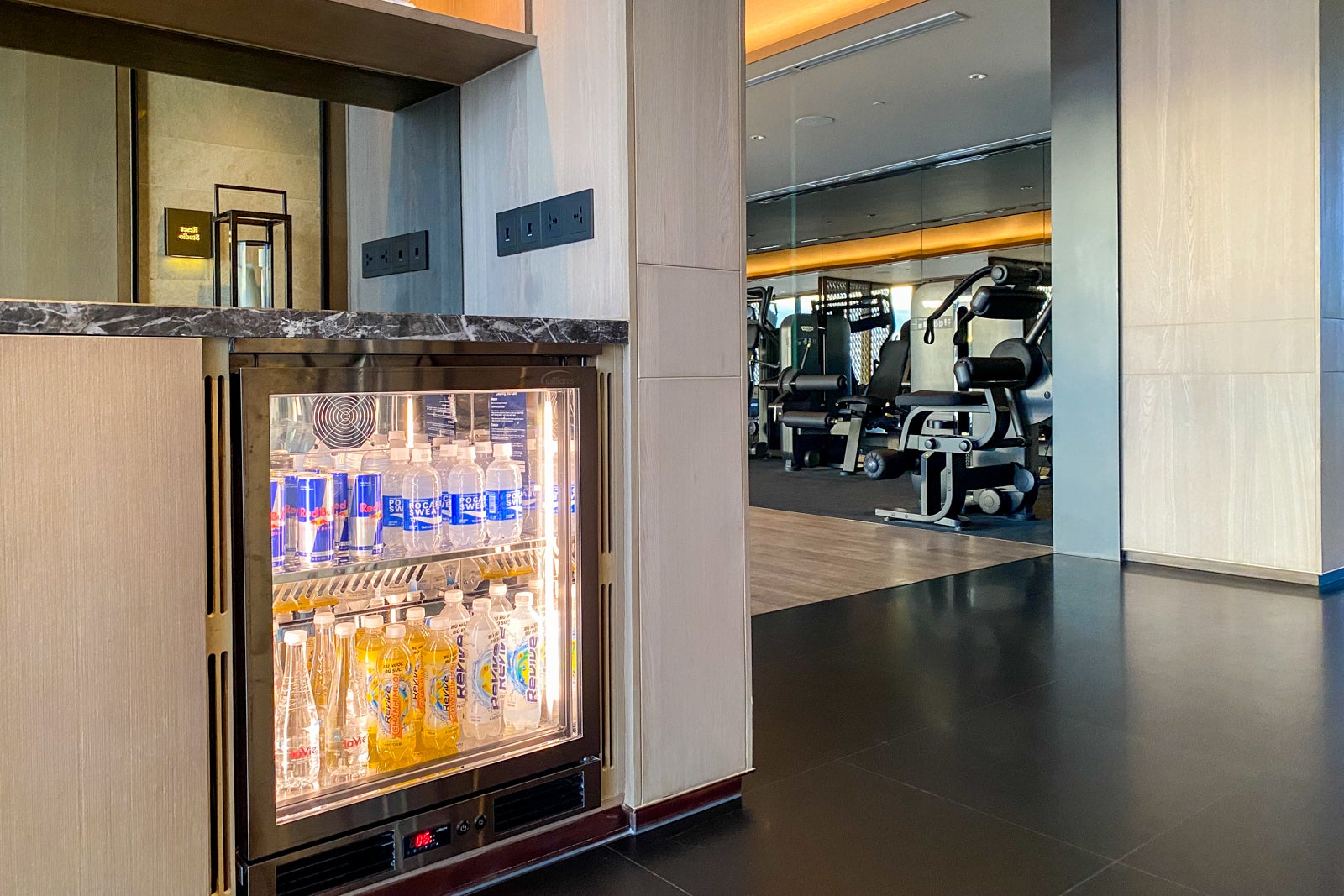 The spa, which seemed to be the most tranquil place of all, featured a slew of fascinating-sounding treatments – the Tam Quat Reviver massage, Alpha Quartz Sand Cocoon Therapy and the Chakra Cleansing Glow. With prices ranging from $112 to $163, though, I didn't spring for one. The spa also included a Bastien Gonzalez nail salon.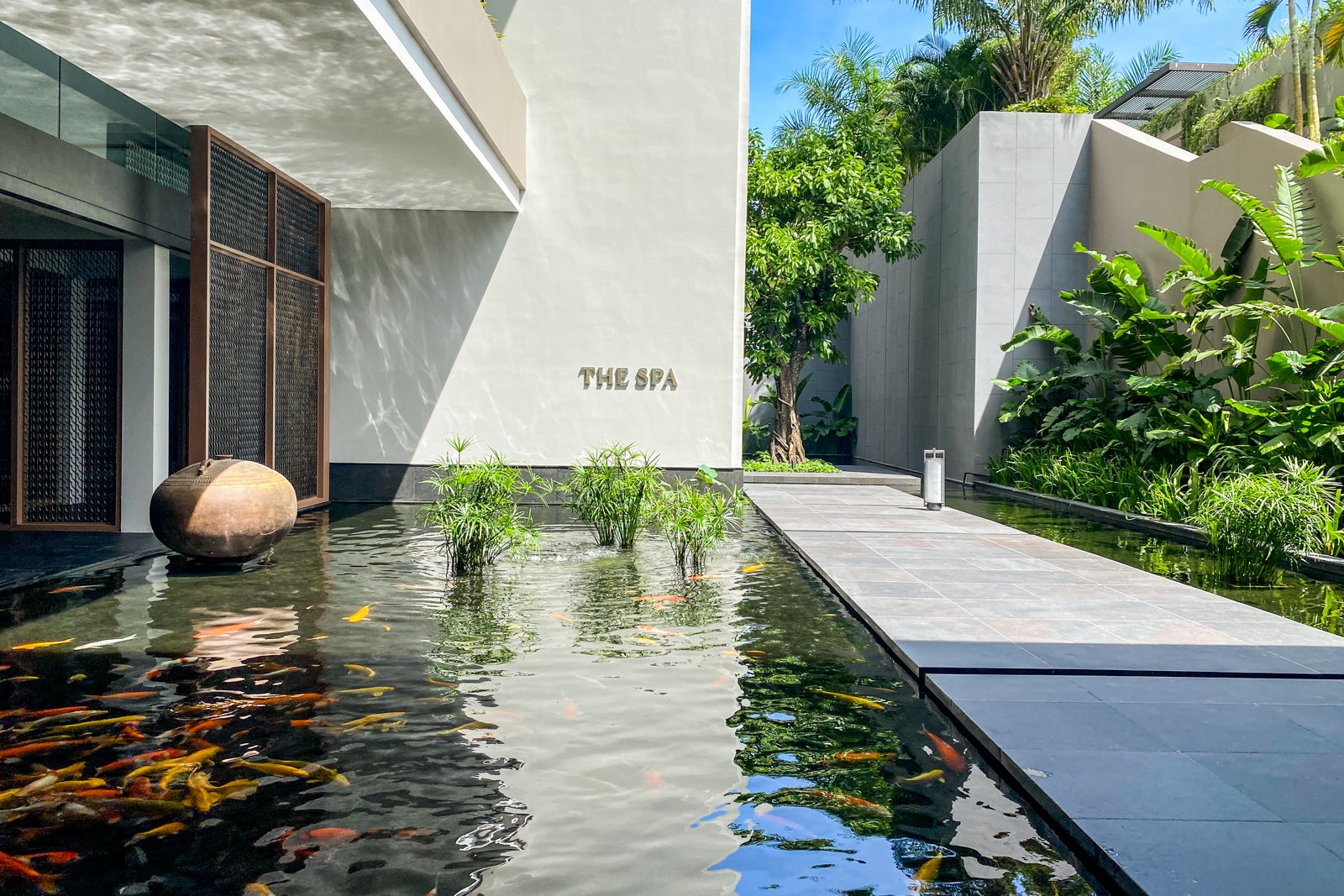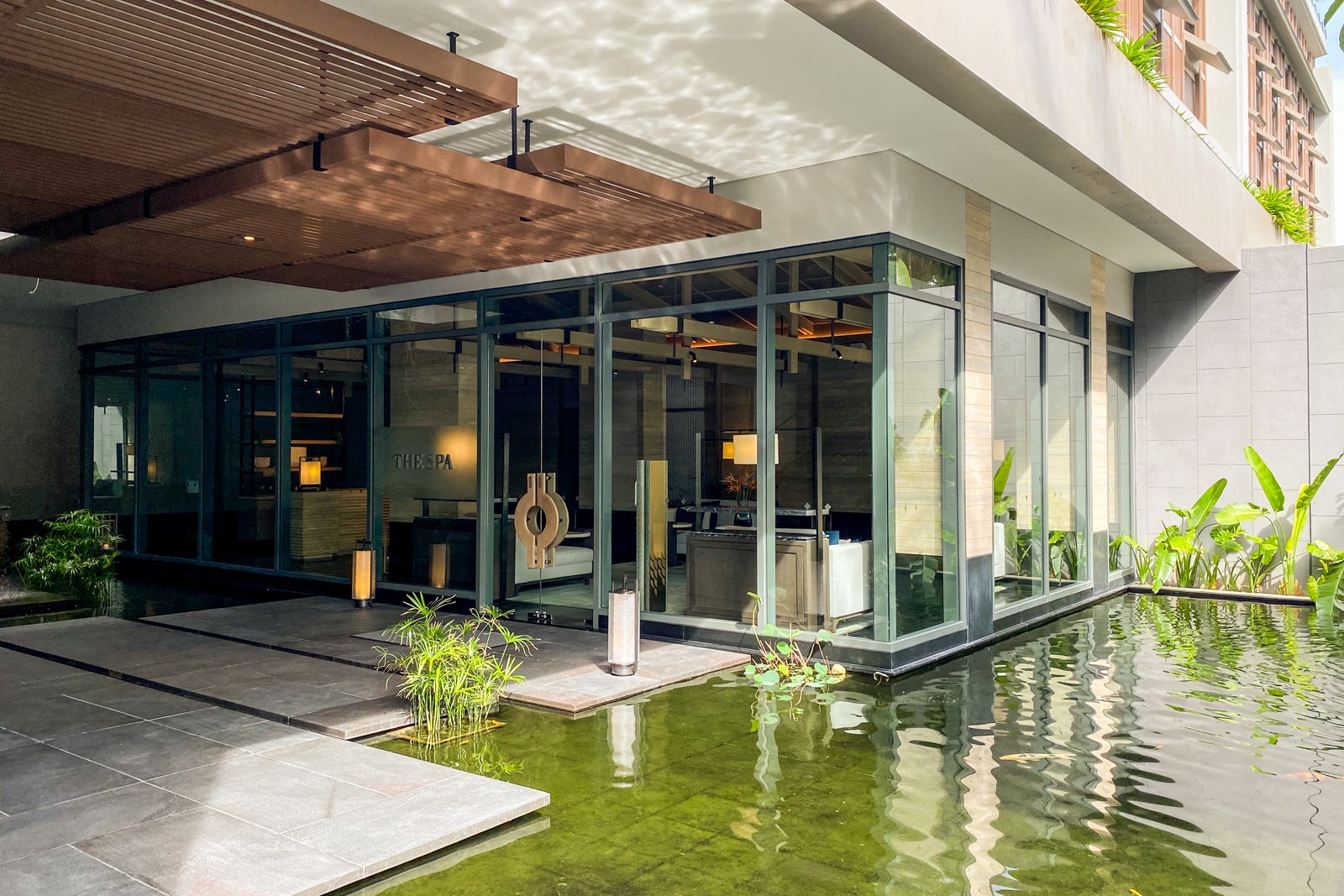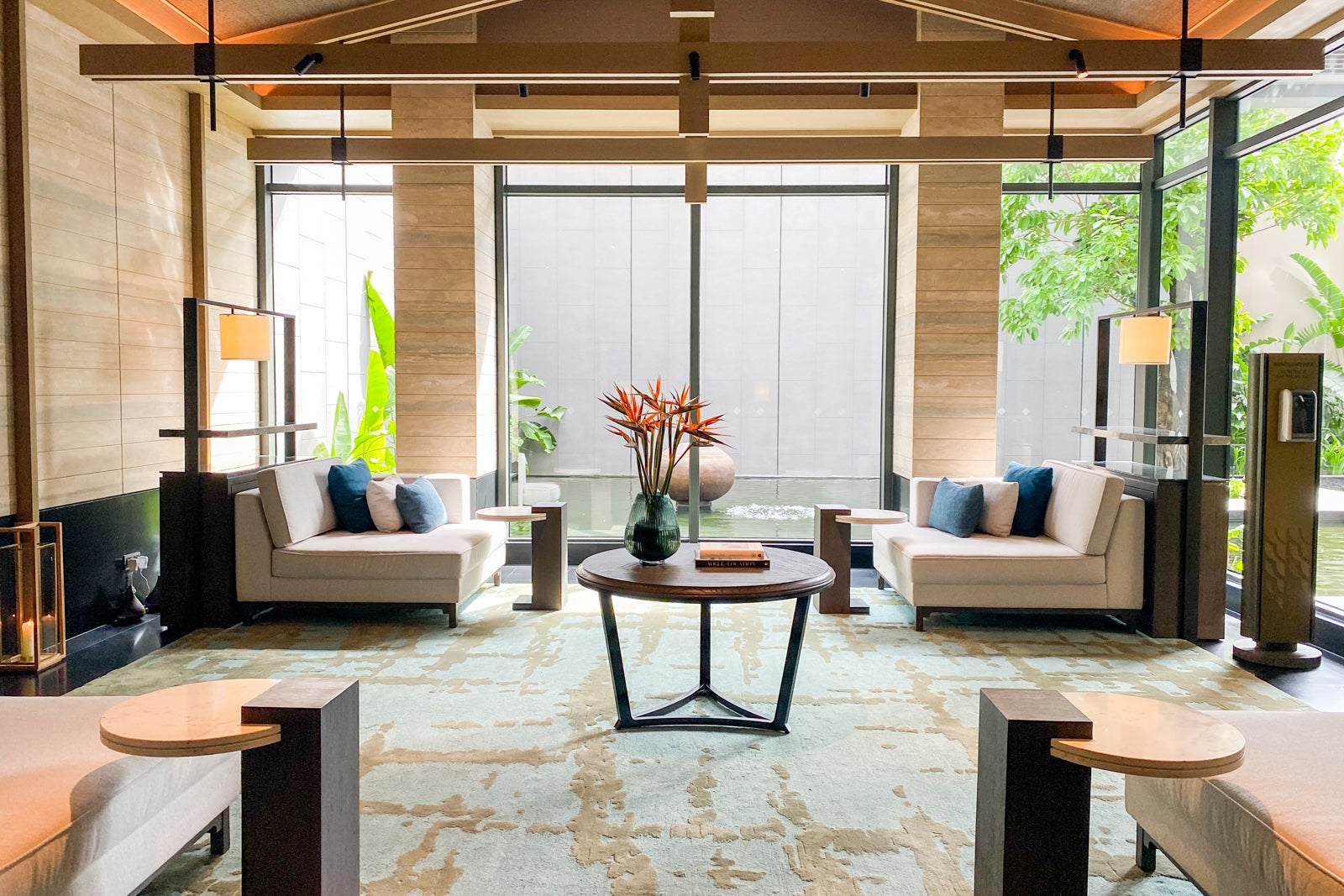 The Kids Club isn't completed. In the meantime, energetic youngsters are corralled in a villa stocked with toys, crafts and child-care professionals. Since I was traveling with a 15-month-old, I was a bit disappointed the hotel couldn't provide a babysitter for little ones under 4 years old. 
Lastly, there was a lovely gallery showcasing and selling contemporary works by Vietnamese artists, including imaginative pieces by an artist named Caubetho. It's well worth a look.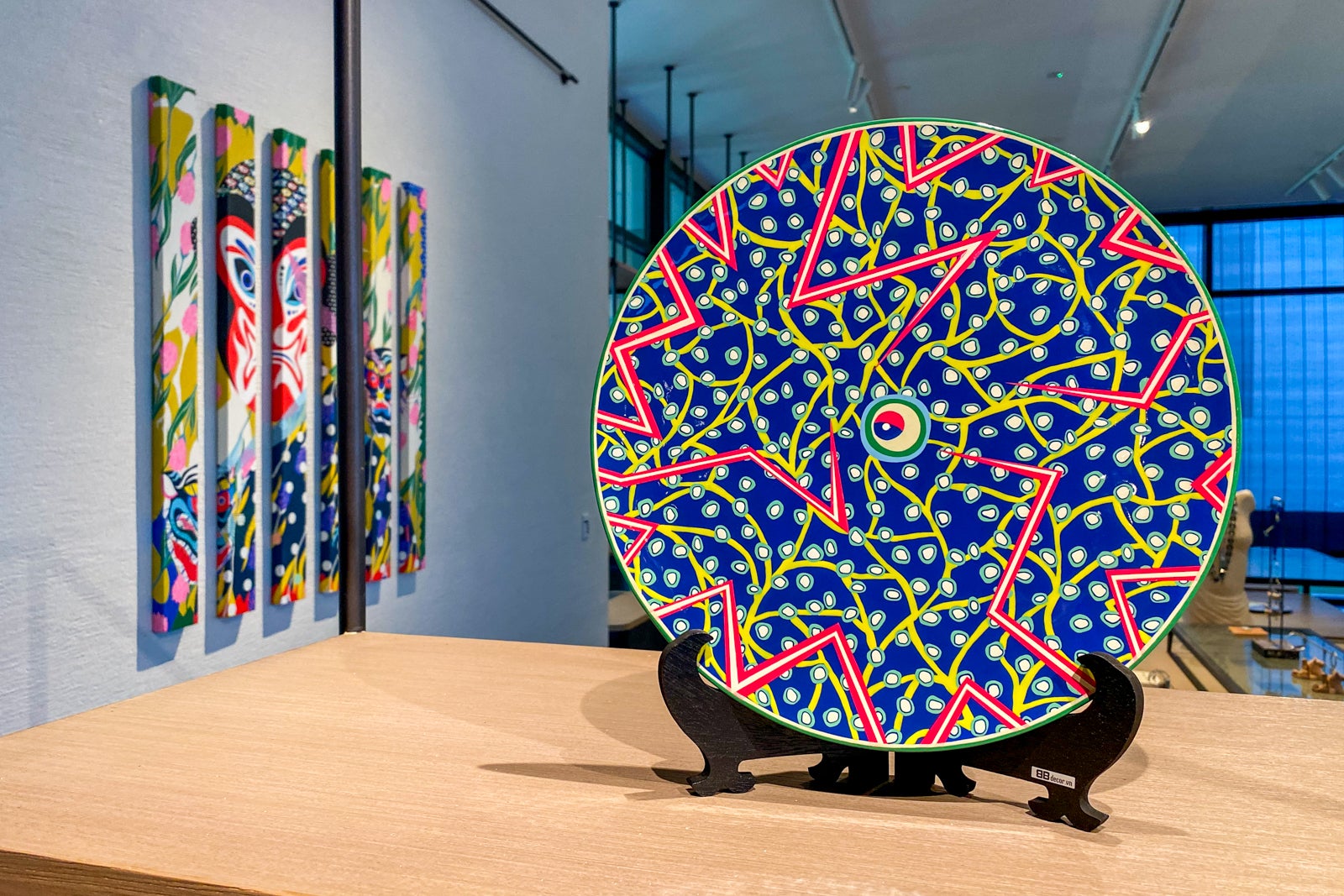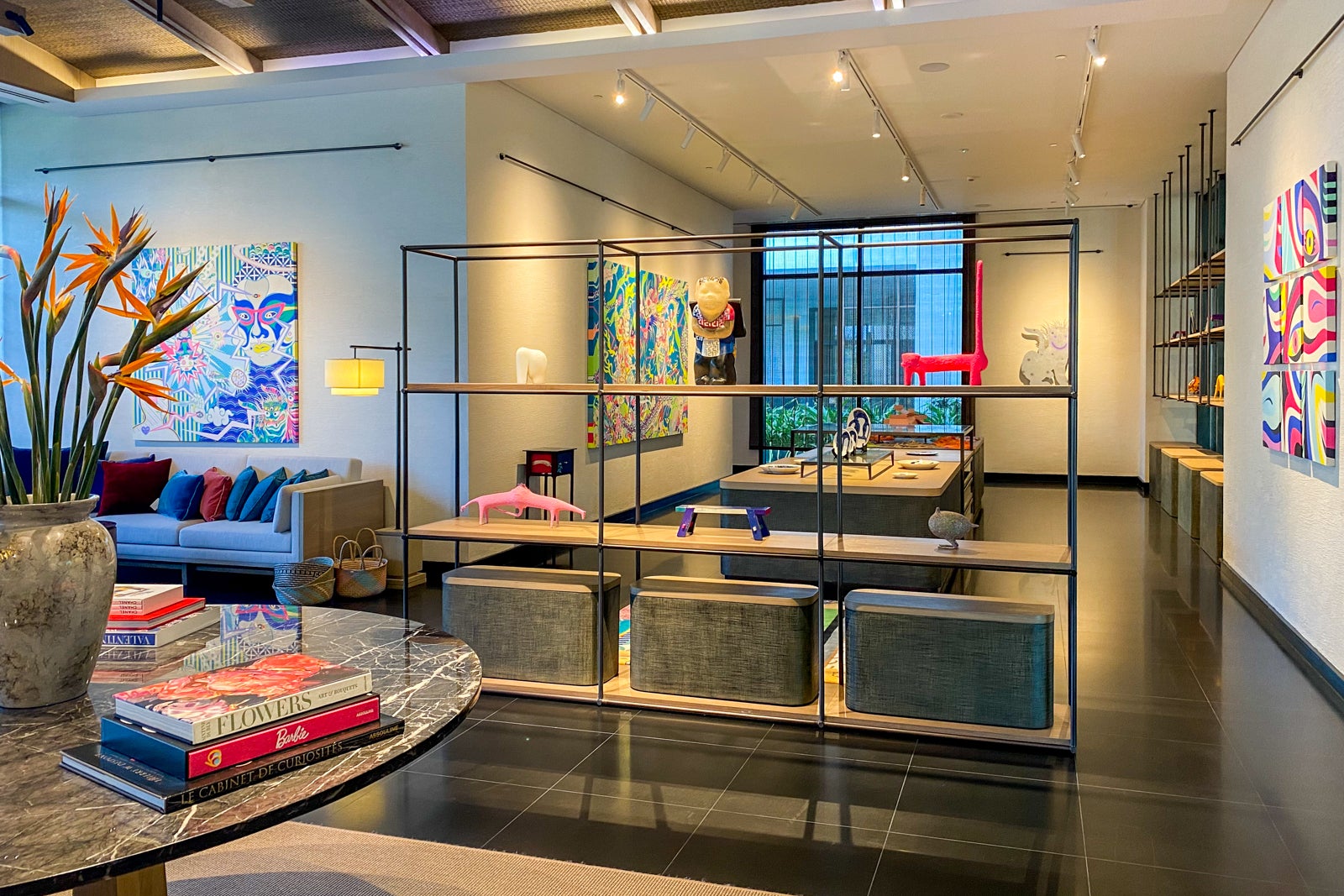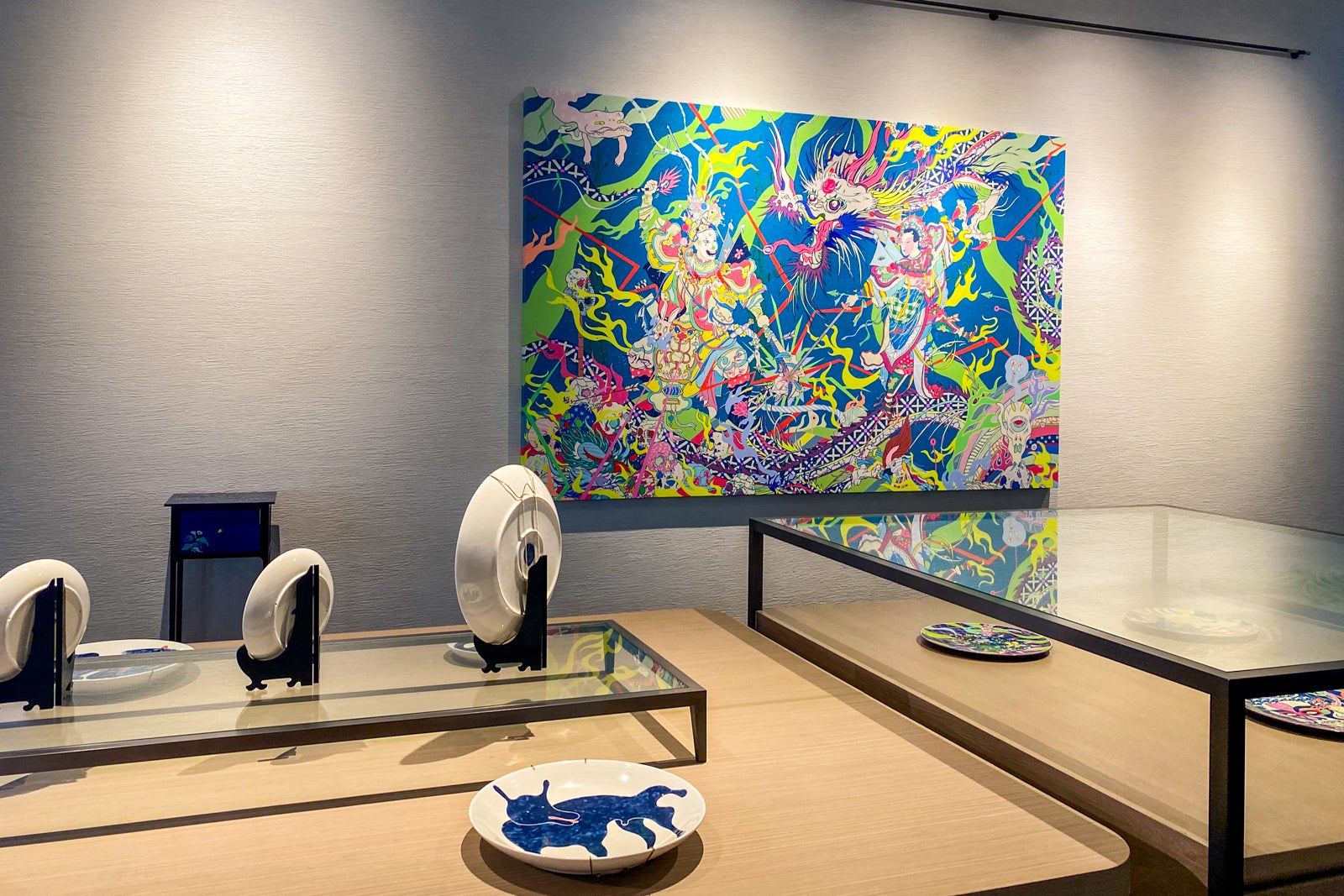 Service
Of the half-dozen resorts and hotels I visited in Vietnam on this trip, the Regent's staff were some of the most personable, interactive and professional of all. Across the board, everyone's English was excellent, which was not always the case in my experience. This made for easier conversation and exchanges. 
Well trained and naturally friendly, the staff seemed to jump if they saw us start to pour our own water. It seemed as though we didn't have to lift a finger.
The sun beds across the property had built-in service call buttons, plus QR codes that registered our exact location for requesting sunscreen, more towels or even a power bank to charge phones.
The staff was so attentive — probably also because there were so few guests — that I didn't have much opportunity to go the automated route. In one case, it didn't work anyway. After I quickly ordered a pizza and coconut to our pool cabana, a server showed up to confirm what I wanted, since the actual order hadn't shown up on her end, only that I had ordered something.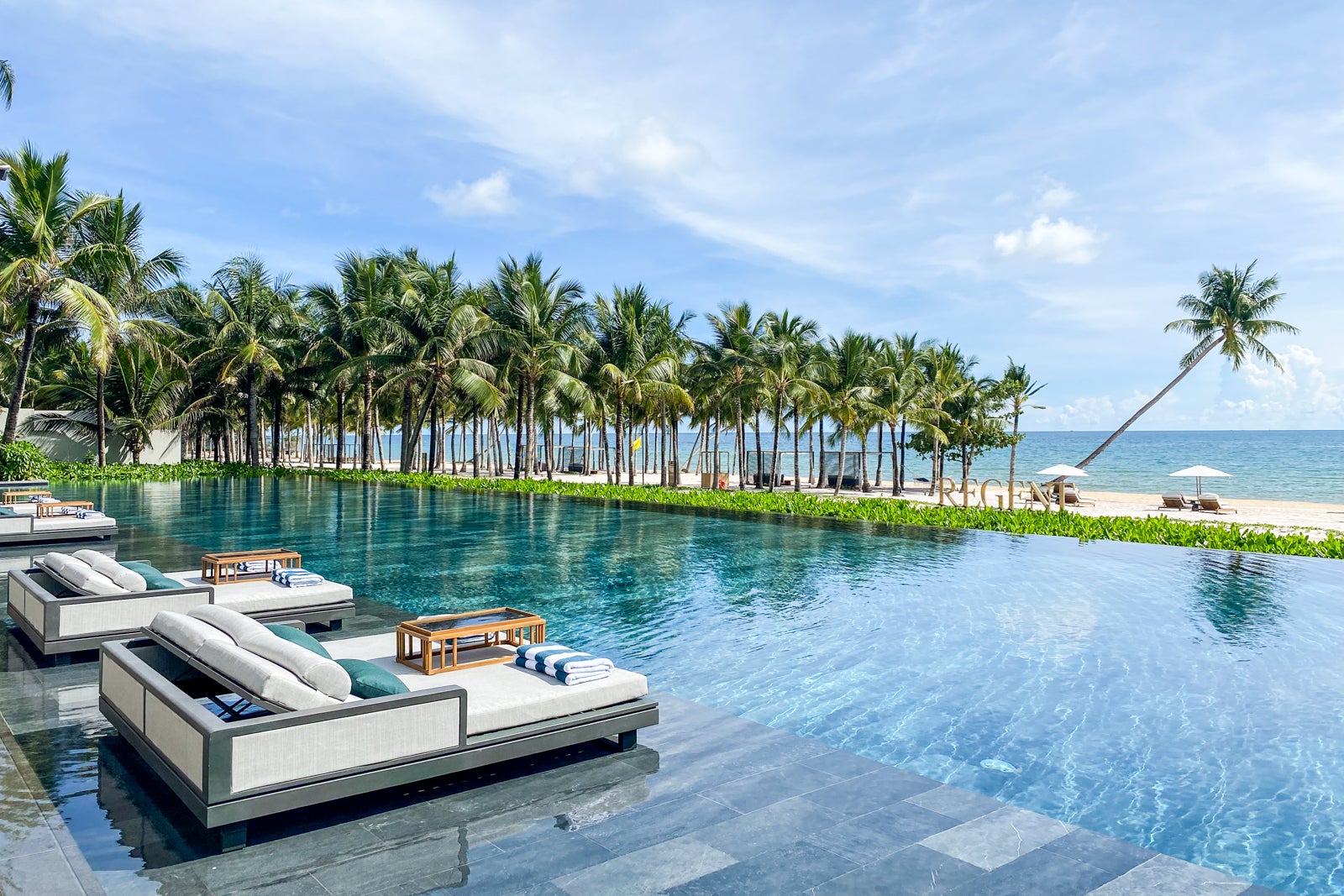 We didn't want for anything, or wait long to be served anywhere. However, the watchful team's efforts never felt overwhelming. I appreciated their readiness, especially when one of our sliding glass balcony doors stopped closing. Within five minutes of calling guest services, four maintenance staff showed up to repair it. 
In the no-go places where there was still construction happening, the resort's signage was clear and elegant. We did hear some construction-related noise from our suite during the day, but it wasn't loud enough to disrupt us.
On our final morning, before we departed, we went for one last swim at the beach and had our most memorable interaction with a staff member, a young man named Duc.
He shared in fascinating detail the legendary folk tale of the Vietnamese king of the Nguyen Empire who came to Phu Quoc and saved his army from starvation by praying to the gods. He told us about the history of the island's pepper plant, why it's so important and how it's used medicinally, and recommended where to eat local dishes in the village. Instances like that one make me feel more engaged in the place we visit.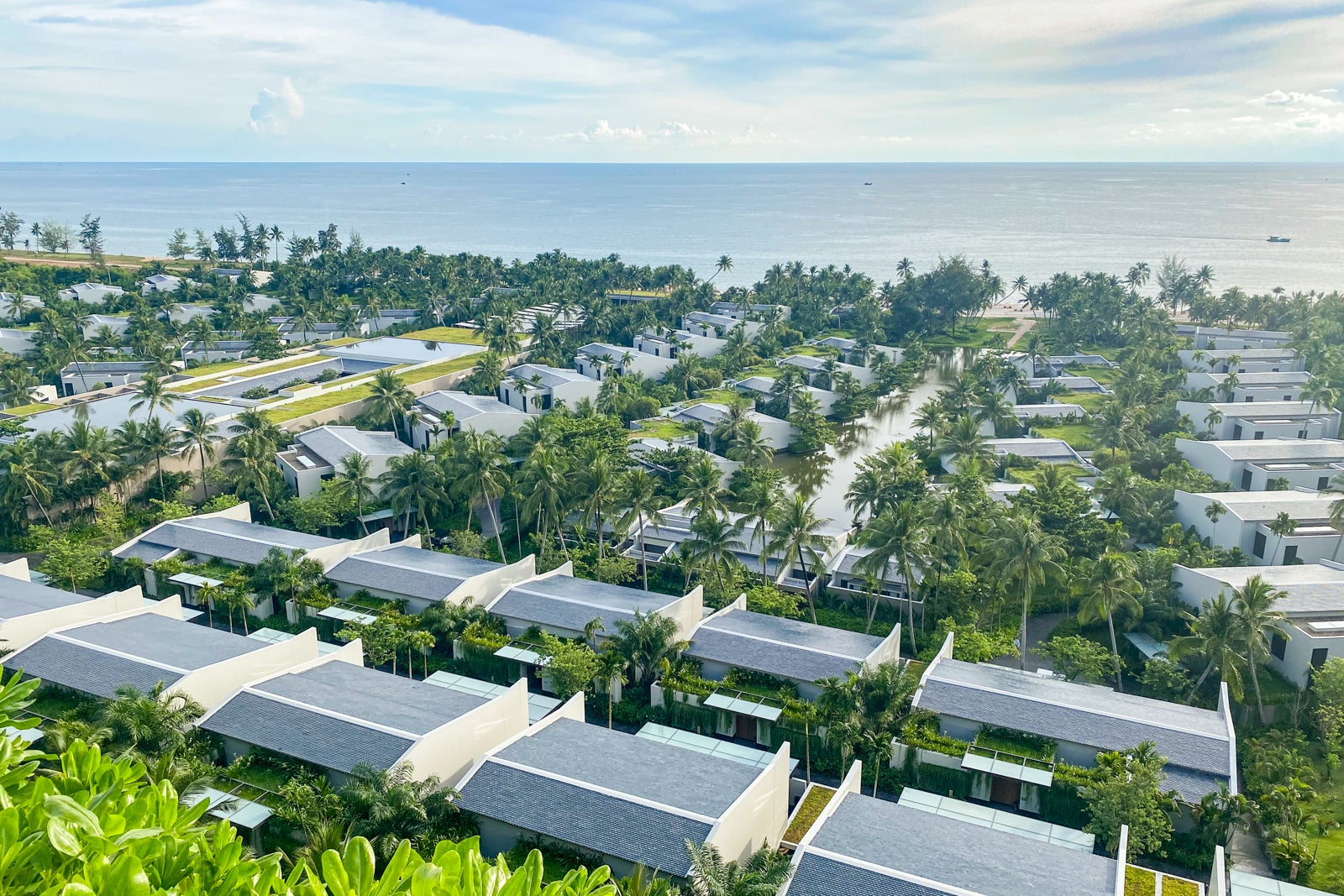 Overall impression
So far, and impressively for being so new, the Regent Phu Quoc is doing everything right.
I had to search for faults, of which there were only a few teeny ones. The glass on our balcony railing wasn't perfectly clean (but it had rained recently). A group of kids loudly rode bikes up and down the path below one evening. The WhatsApp chat option — as opposed to calling from the phone in our suite — wasn't working yet. The buggy ordering function on the website was a little unreliable. The minibar didn't get refilled during one turndown service.
However, those things are hardly anything to complain about and were remedied easily.
If anything, I would have loved seeing even more touches that placed me in Vietnam and Phu Quoc specifically. The evocative bathrobe print — echoed in stationery and keycard sleeves — was such a delightful detail, and I loved seeing the all-Vietnamese art in The Gallery.
I felt the culinary offerings provided the strongest connection to the culture and locale. Our suite, while stunning, could have been overlooking any beach or body of water. 
Ultimately, however, I felt unmistakably connected to Phu Quoc and Vietnam because of the staff.  Duc, who we spent the most time talking with, also told us that as a teen, he translated Linkin Park lyrics to teach himself English. Our encounter with him was so heartwarming and enlightening, it reinforced the power of not only personal connection but of having staff with outgoing personalities and stories to share. 
He also explained, humbly, that Phu Quoc means "rich and developing land," but said, "We did not imagine that one day our island would be famous and be the most popular place to visit on Vietnam's tourism map."
He was thrilled to meet people from countries he'd never even heard of. The pride I sensed in him, for his island and place of work, resonated with me. 
I felt the charm of Regent's staff was not just in their friendliness and impeccable service, but in the realness and joy they exuded. That element, to me, was as valuable to the experience as the generosity I felt in the free-flowing amenities, idyllic natural environments, thoughtful food, and beautifully designed sanctuaries.
Featured photo by Kathryn Romeyn/The Points Guy.