The city has earned the nickname Winterpeg, not for its chilly temperatures but for how Winnipeg does winter right! Many folks shy away at winter travel that doesn't involve running to tropical destinations for a dose of vitamin D but let me tell you, Winnipeg should be on your radar for a snowy adventure. Embrace the season and enjoy the fun things to do in Winnipeg in winter! It can get pretty chilly in the city though so not to worry, there is plenty of adventure to enjoy both inside and outdoors.
Disclaimer: This post contains affiliate links where if you make a purchase, I may receive a kickback at no extra cost to you. It helps keep IBB alive so thank you!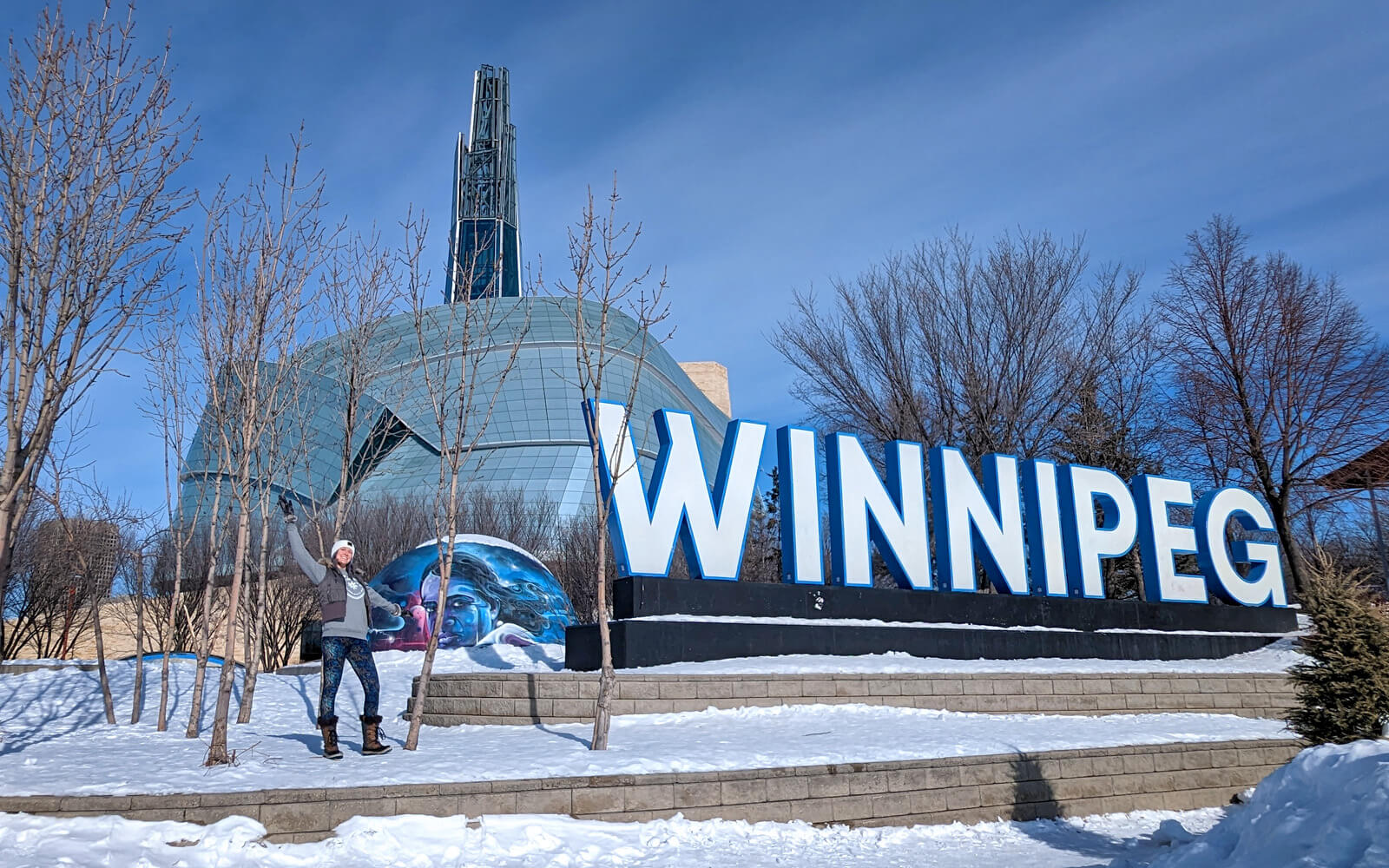 Things to Do in Winnipeg in Winter Outdoors
Pack a few pairs of thermals and let's get ready to rumble. Time to fully embrace Winterpeg with these top outdoor adventures across the city!
Explore The Forks
Located where the Red and Assiniboine rivers intersect, The Forks (known as Niizhoziibean meaning two rivers in Ojibway) has been a traditional meeting ground for thousands of years. In the mid-1700s to mid-1800s, this site saw numerous forts constructed as it was a main hub for the exchange of goods during the Fur Trade. As of 1886, The Forks developed into a key site for railroad development and many of the buildings you see today are from this era. You can read more about its history here.
While it sat abandoned for over 50 years, The Forks has been given new life as it became an all-season gathering and recreational space. Visitors can head inside and enjoy the gorgeous market space where you'll find fantastic eats, unique shops and equipment rentals. One feature that makes this one of the unique things to do in Winnipeg is that you can enjoy a beer or glass of wine as you explore since the entire space is licensed!
FUN FACT: We all hate paying for parking but all of the money earned goes to fund programming, public spaces, celebrations, and operations at The Forks!
The Forks is now a national historic site and spans nine acres as this riverside park encompasses the shores of the red river to the historic St. Boniface area. Run by Parks Canada, you can download their app and learn more about the history of the area with one of their self-guided audio tours. Keep an eye out for the public art as you explore and don't forget to snap a photo with the Winnipeg sign! It's located beside the CN Stage, right behind the Canadian Museum for Human Rights.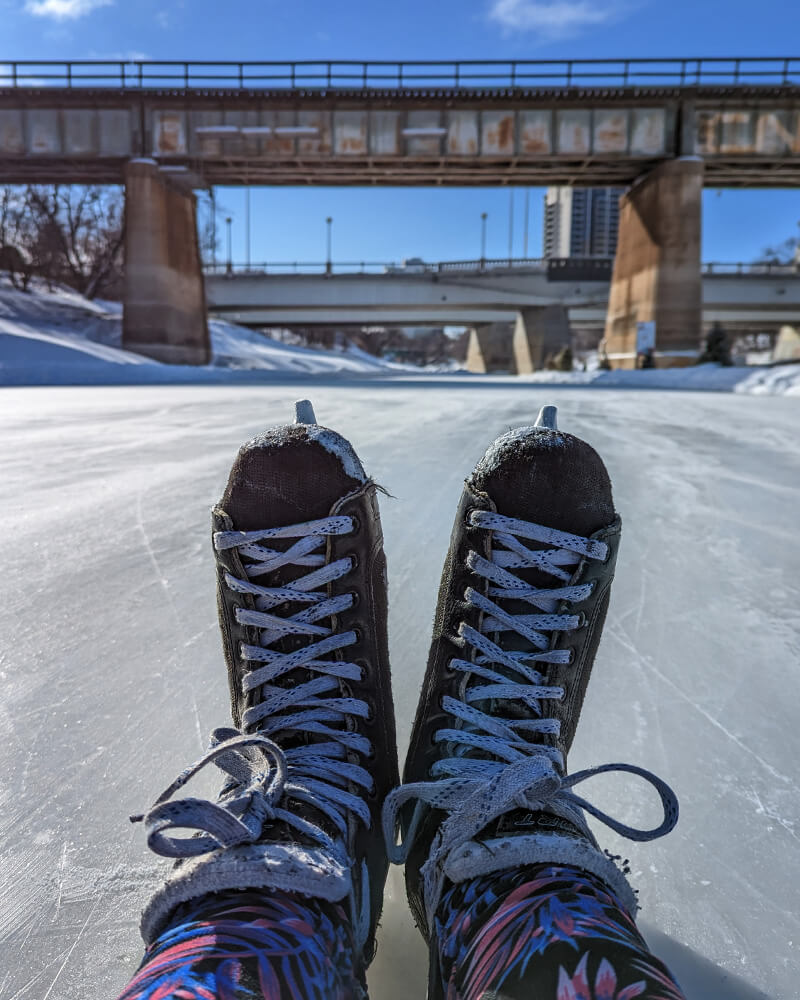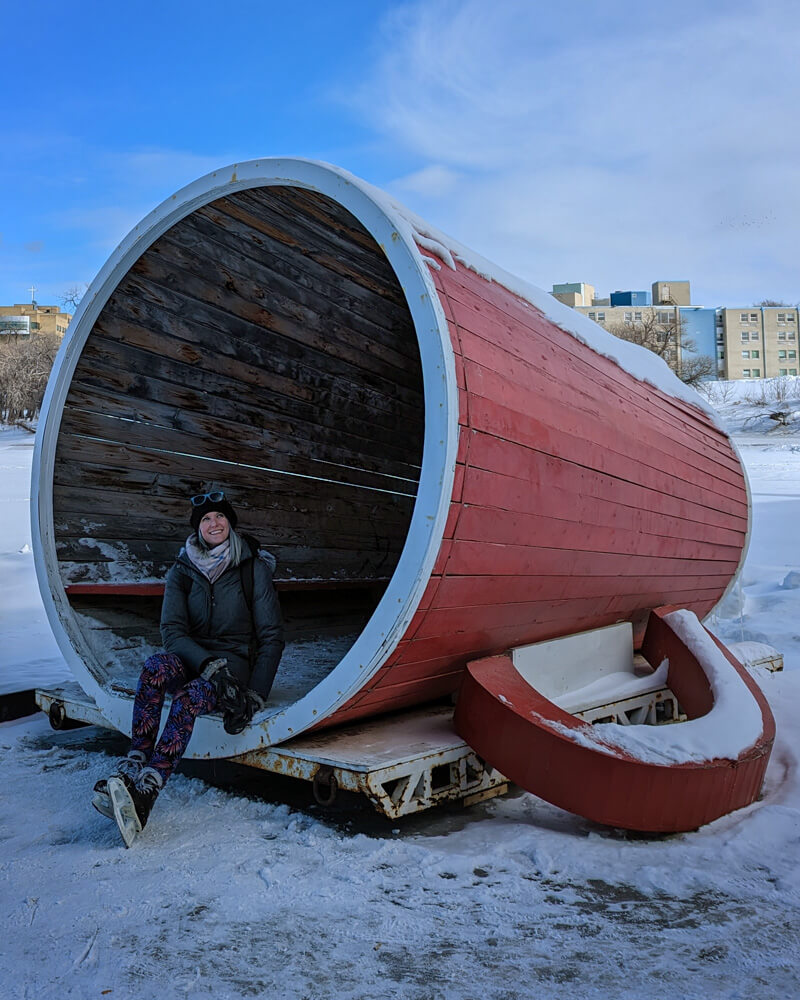 Skate the Nestaweya River Trail
Whether you're looking for things to do in Winnipeg this weekend or any day for that matter, skating the Nestaweya River Trail is not to be missed! Meaning three points in Cree, this refers to the original name for what is now Winnipeg as Indigenous groups came together from three directions: Cree from the Red River to the north, Ojibway from the Red River to the south and the Lakota/Dakota/Nakota or Assiniboine from the Assiniboine River in the west. It still is a space of gathering to this day as folks from all over come to experience this 6-kilometre-long trail!
While skating the river is an experience all on its own, Winnipeg takes it to the next level with adorable warming huts scattered every 250 metres or so. Each one is uniquely designed by local artists and even school groups to add an extra layer of fun. Not to mention there are fun sculptures sprinkled along the route as well! It's a fantastic way to explore Winnipeg and see it from a unique perspective that's only available in the winter months.
If you don't have your own skates, not to worry as you can rent them from Iceland Skate Rentals inside The Forks Market. Head through the entrance at the Canopy Rink and you'll see them to your left as you follow the hallway. Rentals are $7 for adults and $4 for children as well as seniors.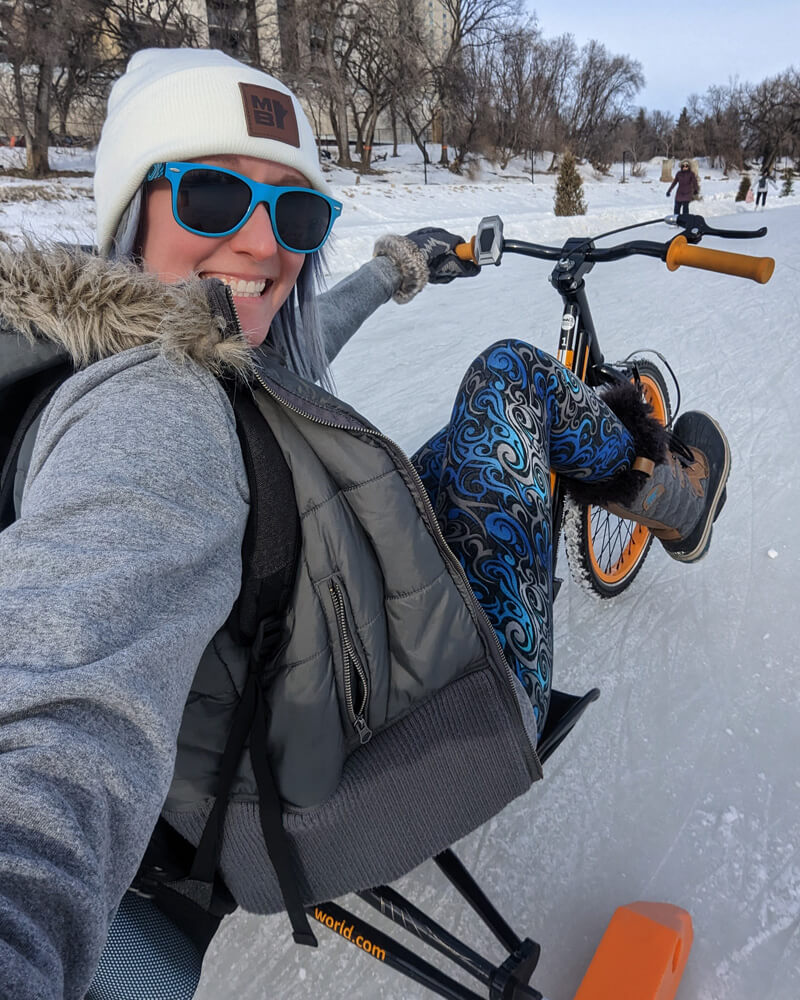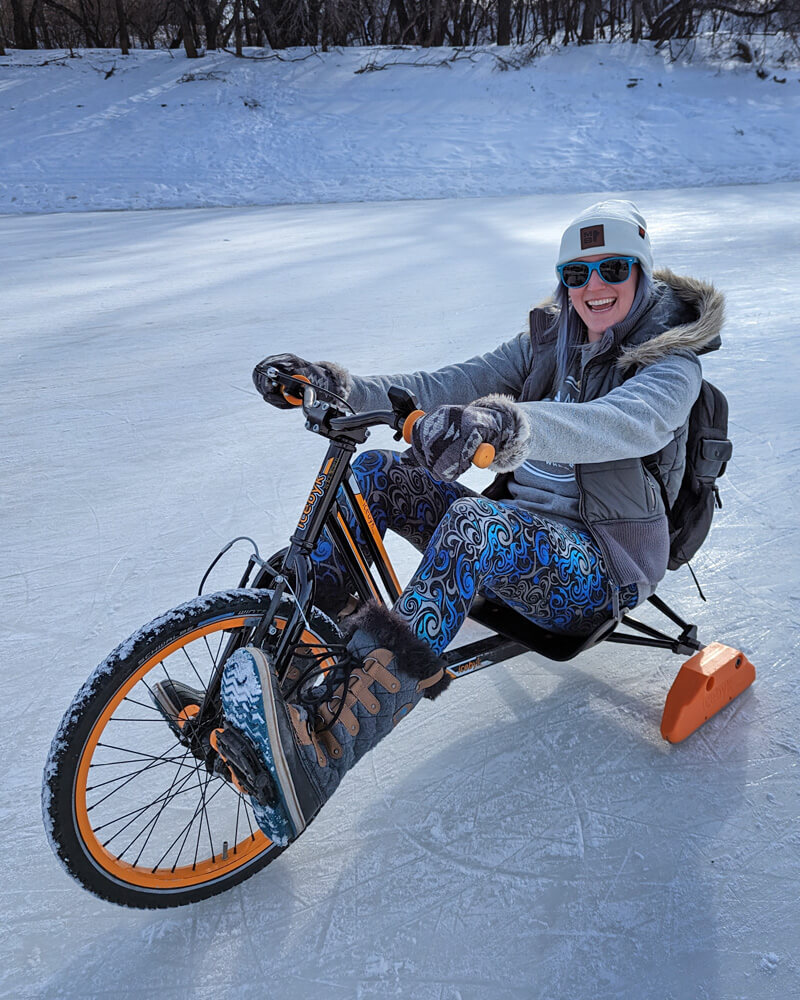 Rent an Ice Trike
Skating the Nestaweya River Trail is certainly fun but renting an ice trike makes the journey extra exciting! Down at the main access by The Forks, you'll find a cute little hut that belongs to Kendricks Outdoor Adventures. This is where you can gear up for some ice trike action!
If you've never heard of an ice trike, I was in the same boat until my trip to Winnipeg. As soon as I heard this was a thing, I KNEW I had to try it! These trikes have a studded tire in the front and blades in the back so you can glide your way around the river trail. No balance is necessary which honestly makes this one of the easiest ways to explore The Forks. It takes a little bit to get used to but you'll be zipping around in no time flat! Just be warned that it's pretty easy to drift on this thing which can catch you by surprise… but in a good way.
I recommend booking in advance online with Kendricks Outdoor Adventures to ensure availability and rentals cost $20 per hour. They also offer ice bikes for rent as well as skating assists for the little ones so they can tackle the trail too.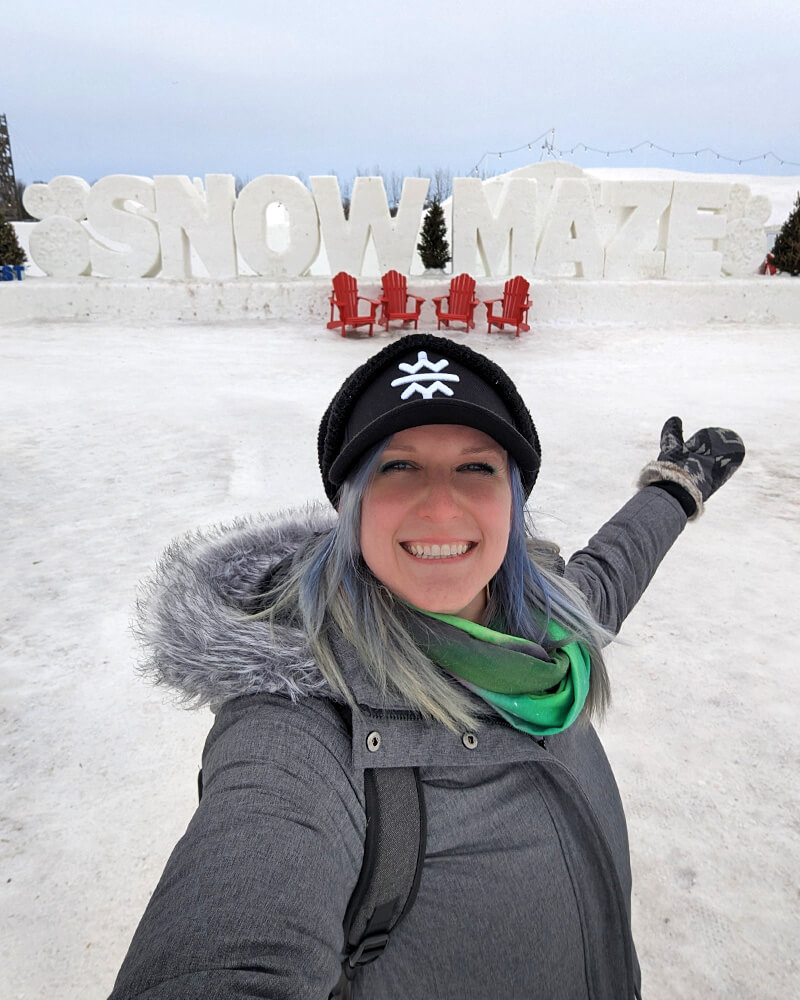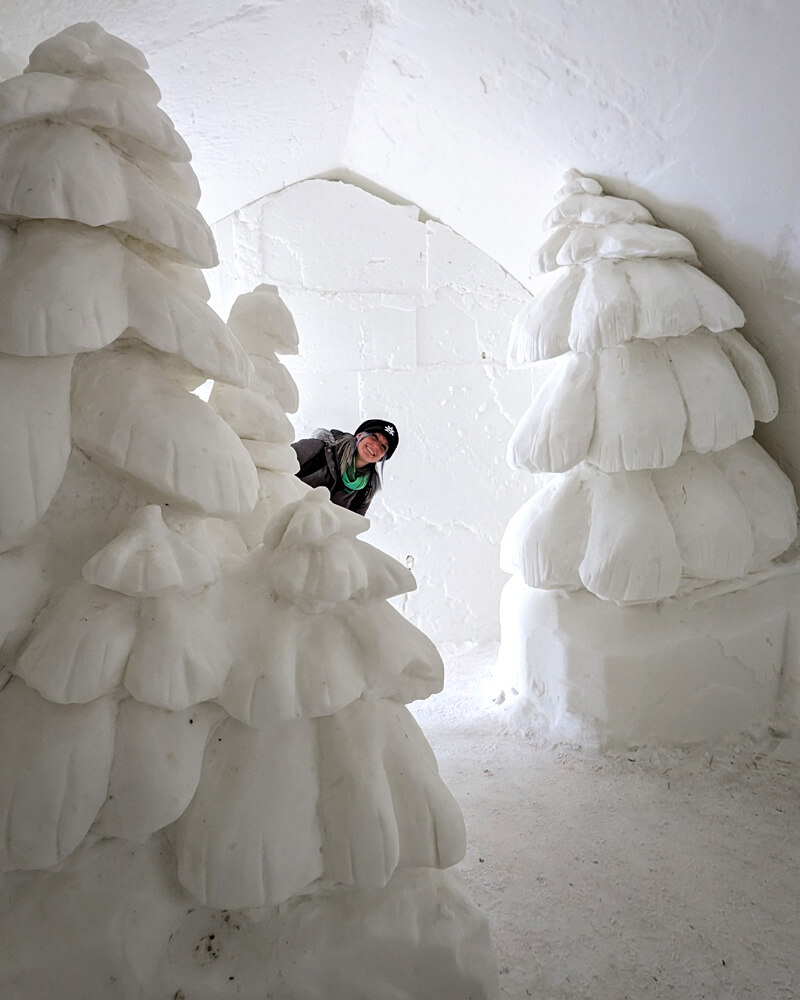 Get Lost in the World's Largest Snow Maze
It might be a 10 minute drive south of the city but it's one of the winter things to do in Manitoba that's not to be missed! While A Maze in Corn is a hot destination in the warmer months with zip lining, a pumpkin barn and more, come winter it's home to the Guinness World Records' largest snow maze!
Get all turned around and question whether to go left or right as you explore this amazing winter attraction. While looking for the exit, try to find the five dens throughout the maze to see intricately crafted snow sculptures including a house, a nature scene and even a theatre! Plus there's a fantastic hill for tubing which is included in admission as well as an epic luge you can tackle for an extra fee. When you're feeling chilly, snuggle up by the bonfires or take a minute to relax in the warming barn.
Admission is $22 plus tax for those 13 years of age and older, $15 plus tax for ages 6-12 and children under 5 are free.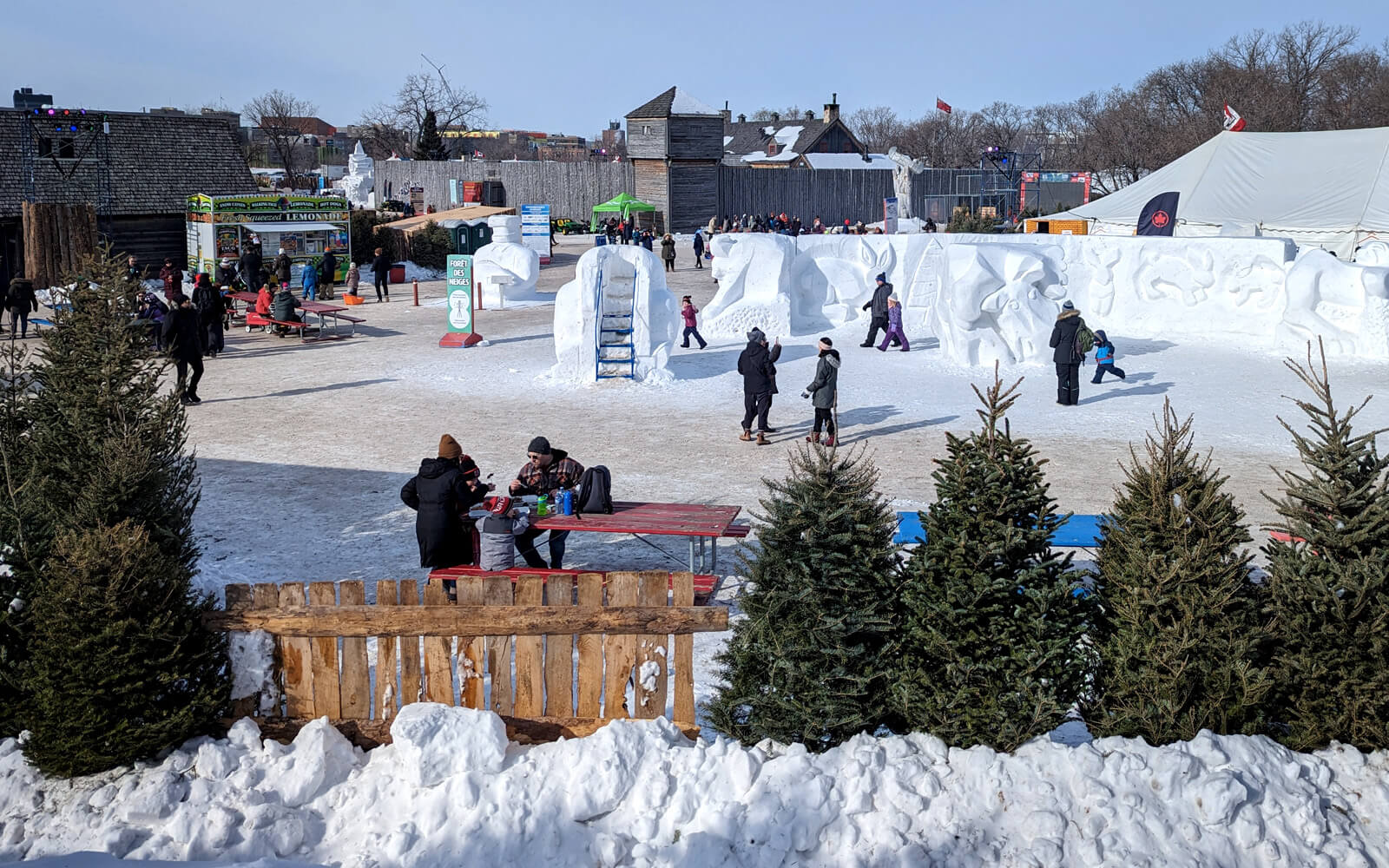 Experience the Festival du Voyageur
Did you know that Winnipeg is home to Western Canada's largest winter festival? Festival du Voyageur has been embracing the days of the fur trade era for over 50 years!
The festival is driven by the Fort Gibraltar Heritage Site located in the Saint Boniface neighbourhood of Winnipeg. A reconstruction of a fort from 1815, it's brought to life by demonstrations and educational experiences all run by the non-profit organization that hosts the festival. The purpose is to share the history of Francophones, Métis and First Nations communities in Manitoba. From there, the festival has grown to incorporate the arts in a number of ways including live music, the visual arts, and more.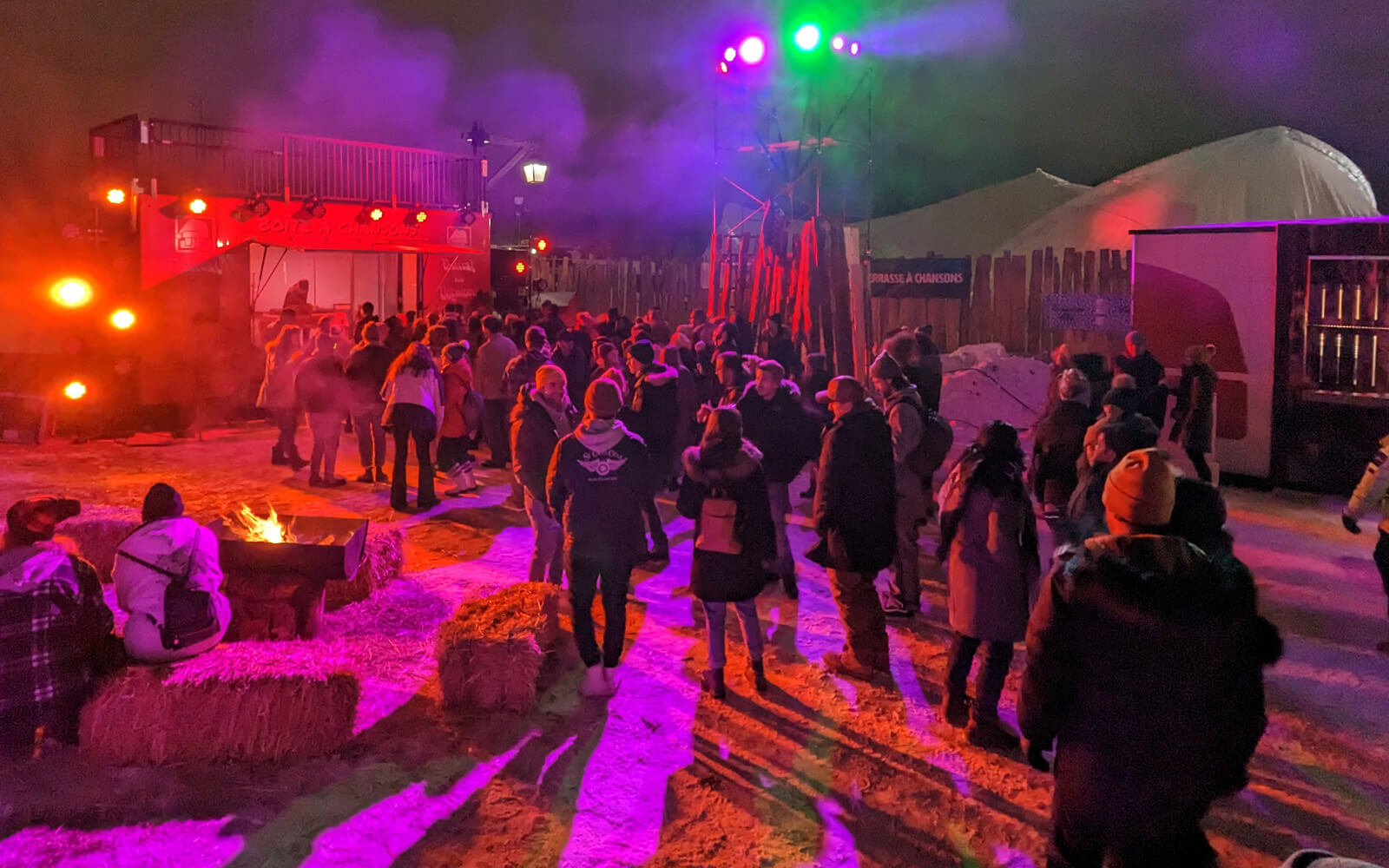 I highly recommend visiting both during the day and at night as the atmosphere is completely different. During the day, Festival du Voyageur is extremely family friendly with plenty of great activities like a toboggan run, axe throwing, snowshoeing, and a winter playground. There's always live music happening including a fiddle competition! Not to mention all the amazing snow sculptures scattered throughout the property. Plus there are plenty of great eats to enjoy and no trip to the festival is complete unless you enjoy some authentic maple taffy made on snow.
In the evening however, the mood changes entirely as it becomes one huge dance party! Head inside one of the tents for bands playing traditional French-Canadian fiddle or indie rock. Outside, you'll find DJs spinning the latest hits as folks dance in their snow gear. Make sure to try some Caribou, an adult beverage of French-Canadian consisting of red wine and rye whiskey that's sweetened with maple syrup. It tastes similar to mulled wine but it's served cold and tastes best out of an ice glass!
Tickets range from $10 to $35 and are valid for the full day you have purchased them.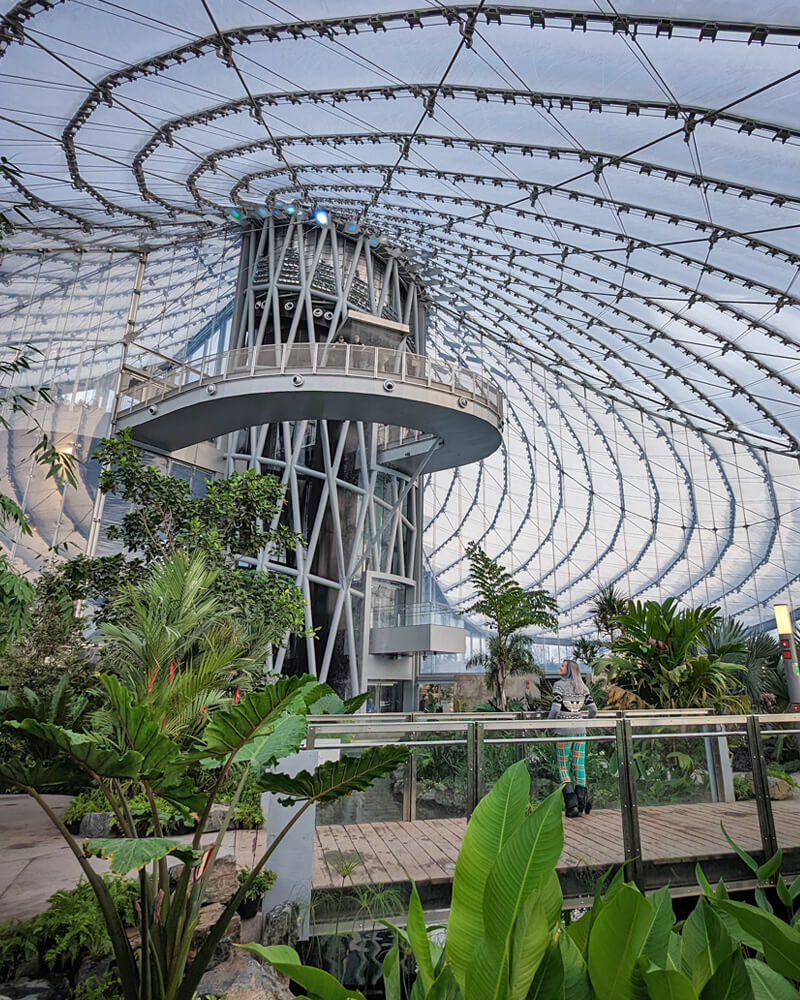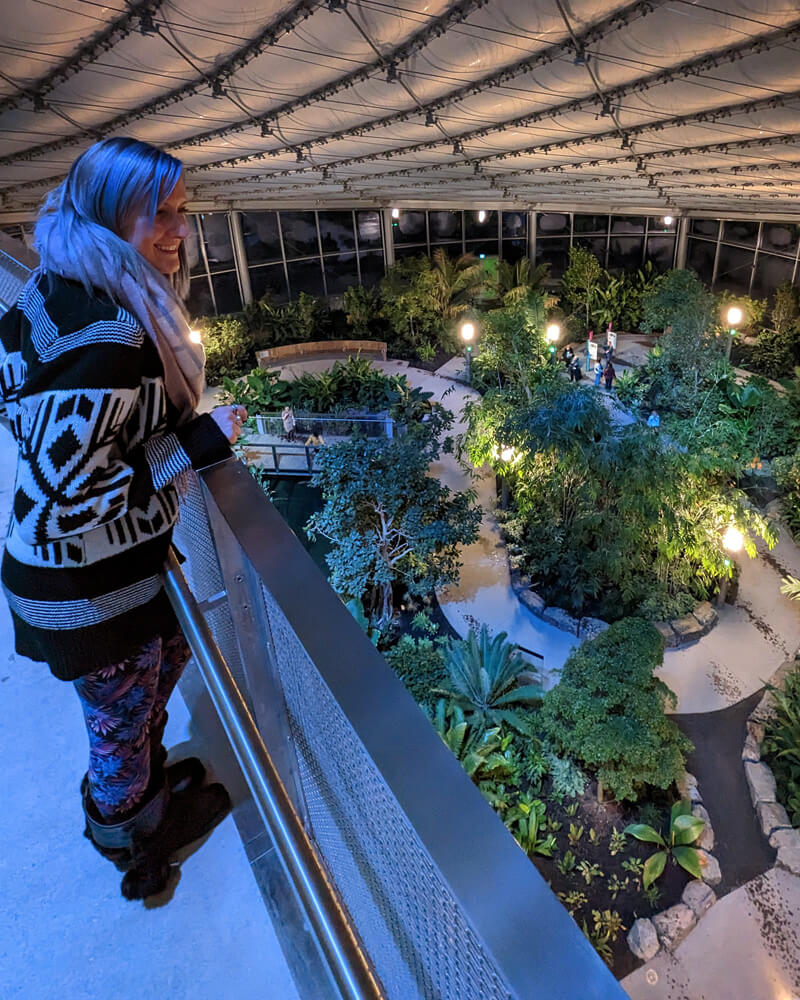 Indoor Things to Do in Winnipeg in Winter
Even with all the adventuring, the Winterpeg chill will eventually set in. When this happens, here are some great things to do in Winnipeg indoors to warm you up!
Warm Up at The Leaf
What you may not know is that Winnipeg has a brand new tropical oasis in Assiniboine Park. The Leaf is a series of indoor biodomes, each with its own unique environment and features. It's the perfect place to warm up when the Manitoba chill gets right into your bones.
Admire the incredible diversity of the four distinct areas: the Hartley and Heather Richardson Tropical Biome, Mediterranean Biome, Babs Asper Display House, and the Shirley Richardson Butterfly Garden. Each one has unique vegetation and plants from lush tropical wonders to herbs and cacti. There are a number of benches scattered throughout The Leaf as well as a lovely seating area in the Mediterranean Biome so bring a book and enjoy being enveloped in the sights and sounds of a far away land right here in Winnipeg!
The highlight of The Leaf has to be that it's home to Canada's tallest indoor waterfall. Stand at the bridge and enjoy the sound of the water tumbling down into the koi pond below or head up to the top for a bird's eye view of the tropical biome. This is another one of the Winnipeg attractions that you'll want to visit both during the day and at night. Admission is $15.50 plus tax for adults, $13.50 plus tax for seniors over 60 and students with a valid ID, $8.50 plus tax for children 3-17 and children 2 and under are free. If you purchase your tickets online, you can save up to fifty cents per ticket.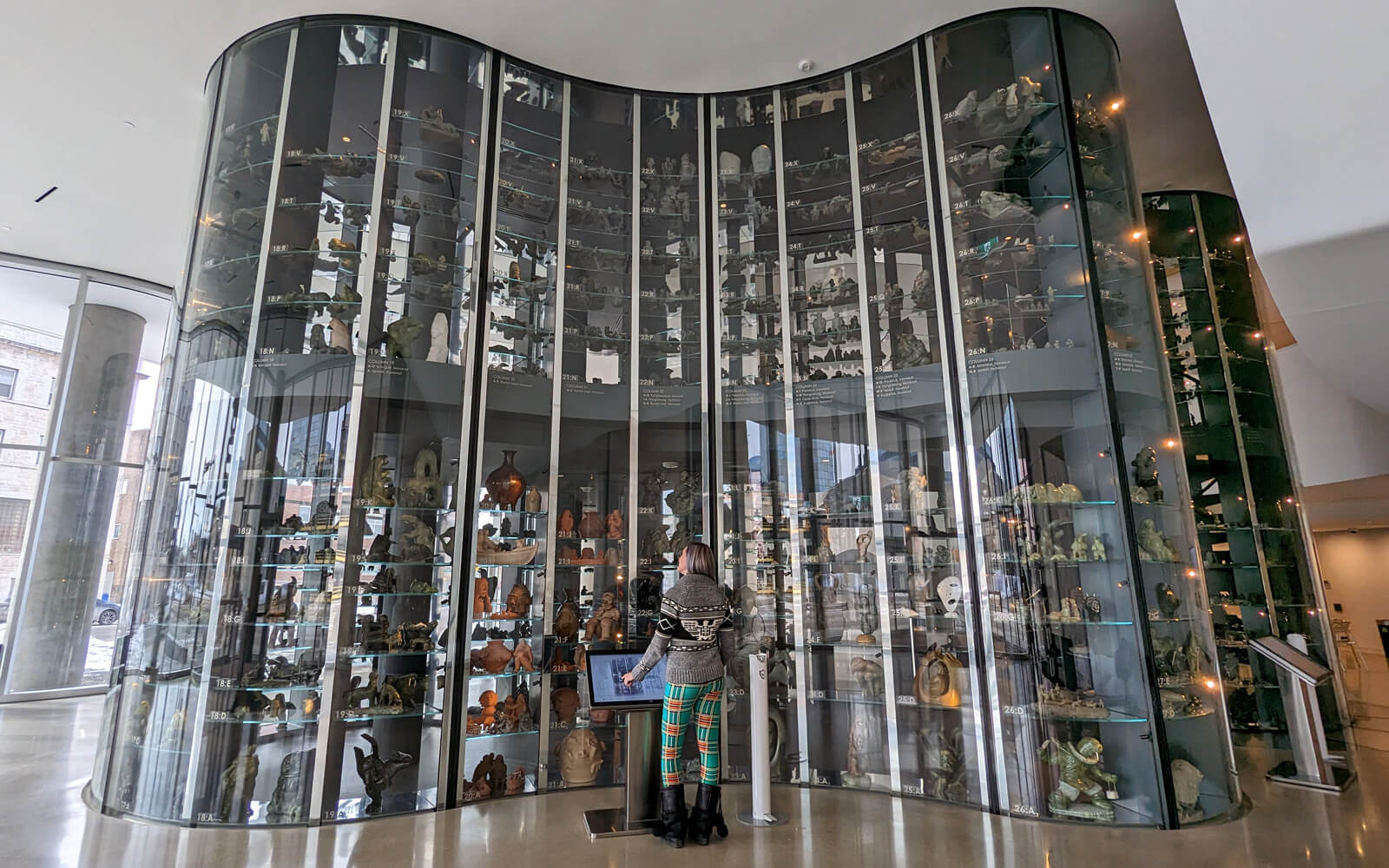 Admire Inuit Artwork at WAG-Qaumajuq
Did you know the Winnipeg Art Gallery is home to almost 14,000 pieces of contemporary Inuit art? Making it the world's largest public collection, this includes carvings, drawings, prints, textiles as well as new media projects. It's one of the reasons why Winnipeg is the perfect home for Qaumajuq as Inuit voices take the reigns for showcasing these incredible pieces! One of those ways is the stunning visual vault in the heart of the lobby. 
Qaumajuq (pronounced KOW-mah-yourk meaning "it is bright, it is lit" in Inuktitut) is more than just a space to display art but rather somewhere all can gather to learn. Inuit-led in partnership with Inuit organizations and government bodies across urban and southern communities, it's a space for all Inuit to feel welcomed and inspired to share their culture with the globe. Read more about the steps being taken to de-colonize the art within as well as the creation of Qaumajuq here.
While Qaumajuq is certainly one of the top Winnipeg tourist attractions, you don't want to miss out on the Winnipeg Art Gallery's exhibitions from their permanent collection. Head past the visual vault and up the stairs to explore the current exhibitions featuring Manitoban and Canadian artists. If you have more time, take a look at their calendar and see what studio programs are available for teens as the Winnipeg Art Gallery has one of the oldest gallery-run art-making programs in Canada!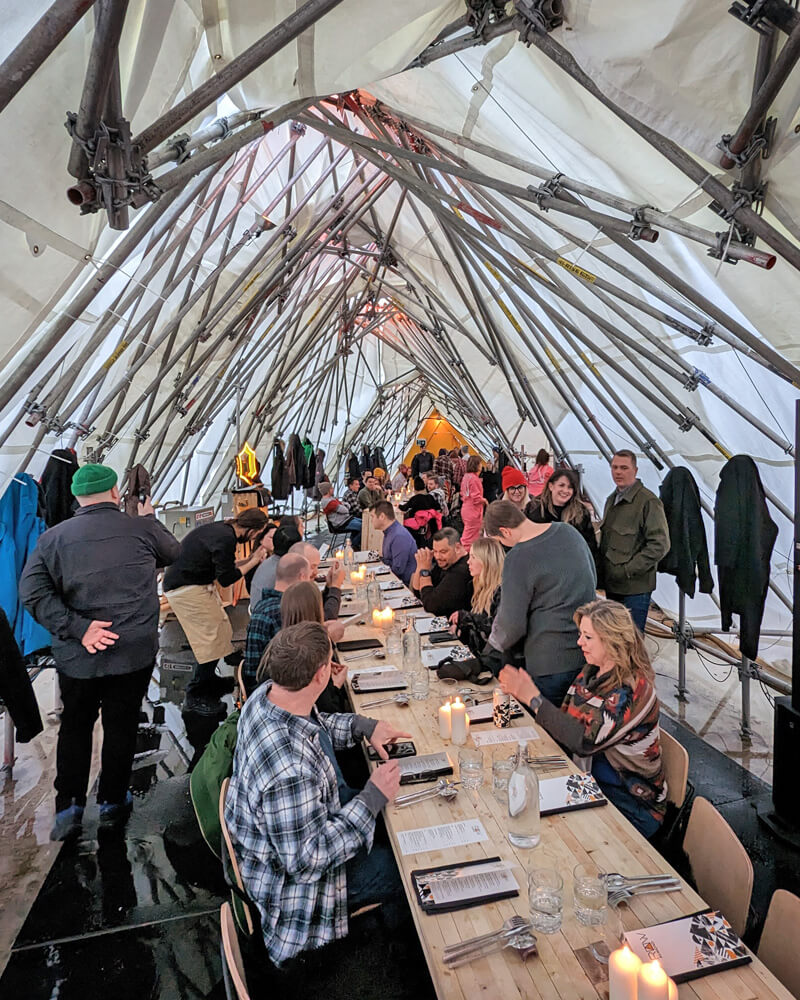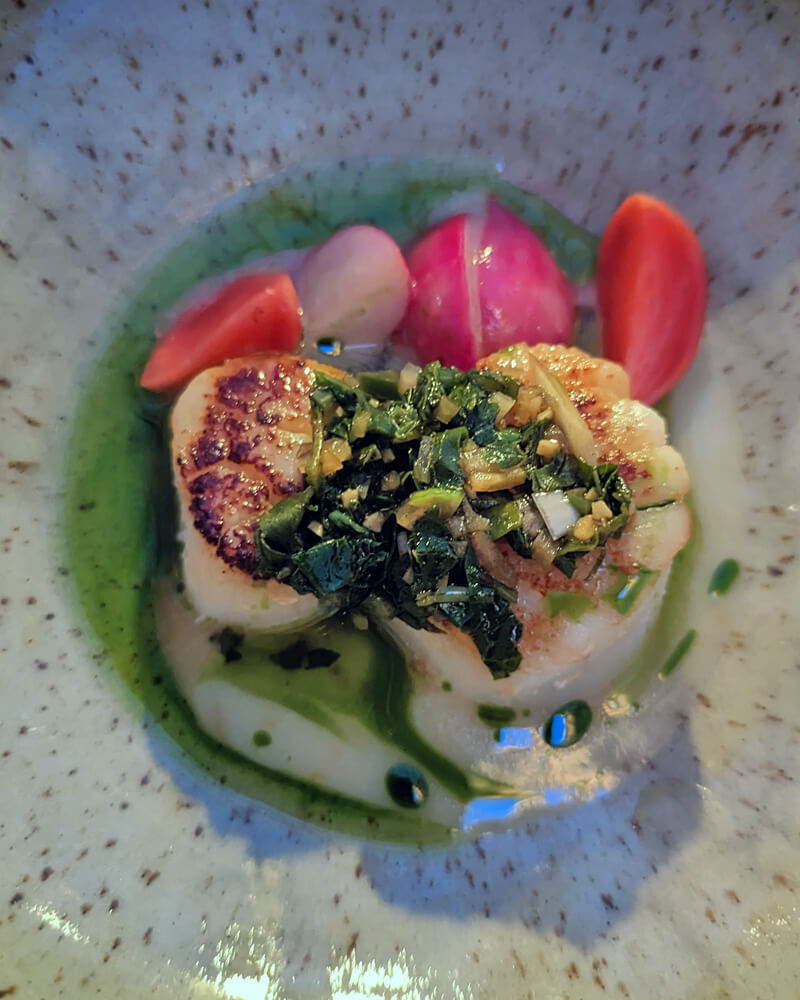 Indulge at RAW:almond
Ten years ago, a chef and a designer had the idea to craft a temporary restaurant on the frozen river in the heart of Winnipeg's winter season. While it seemed like a nutty idea, the concept became a reality and RAW:almond was born!
This 22-day fine dining event hosts different world-class chefs every year to create a culinary event like no other. I caught the final day of the festival this year and was absolutely spoiled by the nine-course meal expertly crafted by Vancouver-based chef Billy Nguyen. Runner-up of Top Chef Canada season nine, his eclectic culinary style of Asian dishes with a British and French twist will make you wonder what's on your plate – until it's in your mouth. The flavour profiles are truly exquisite as we feasted on seared Hokkaido scallops, tuna tataki wild rice, and more.
As you can see, this is one of the unique things to do in Winnipeg in winter that you don't want to miss out on! Tickets sell out quickly so be sure to keep your eyes peeled for when they go on sale. However, you can always catch this culinary project in another one of their locations as it has expanded to both rural and urban destinations across the globe including RAW:Tokyo and RAW:Churchill!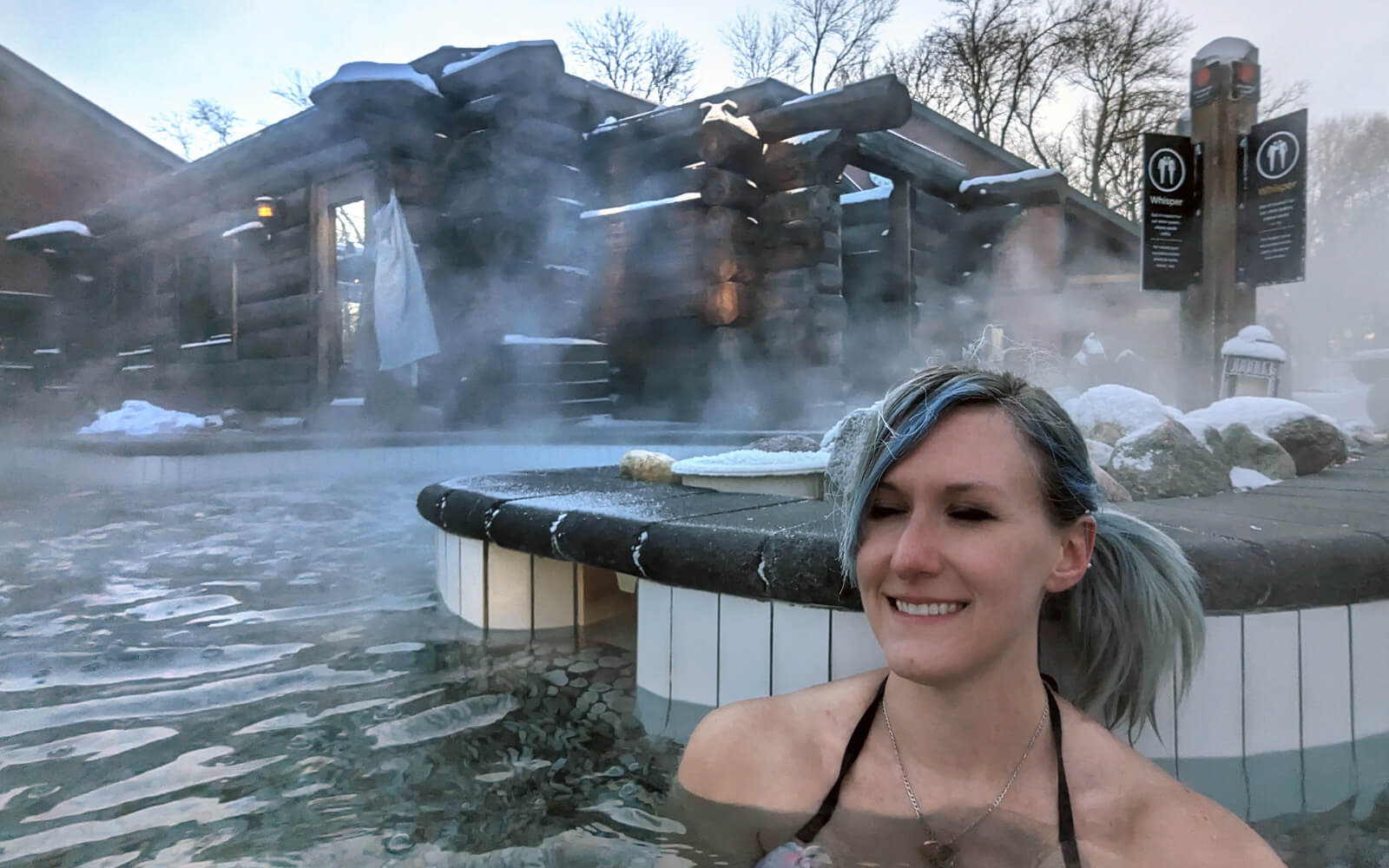 Rest & Recharge at Thermëa
Okay so this is more of a mix of indoor and outdoor but when you're not in the hot tubs, chances are you'll be staying toasty or resting up in one of the buildings at Thermëa! Focusing on thermotherapy and relaxation techniques, the tranquillity of the nature-inspired grounds will certainly wash your worries away. Your mantra will be based on the thermal cycle of hot, cold, rest and repeat, a relaxation ritual practiced by Nordic countries for over 2000 years. Spend your visit exploring all of Thermëa's features: four outdoor baths, four saunas, an exfoliation room, and numerous rest areas both indoors and outside.
During your visit, you'll hear the sound of a gong shortly before the top of the hour. This signifies one of Thermëa's unique features is about to begin, the Aufguss Ritual. German in origin, it's designed to maximize thermotherapy's benefits via a Rituals Artisan who guides attendees through an intensified thermal cycle. This heightens the effects of the sauna by using water infused with natural essential oils for added benefits. The really unique part? No two Aufguss rituals are the same as the choreographed towel movements, atmosphere, soundscape, scents, length and intensity can all vary. 
As you can imagine, Thermëa is a spot you'll want to enjoy for at least a few hours, if not a full day. What does one do for food? Enjoy the incredible dishes at the Resto in the comfort of your robe! The menu features fresh locally-sourced ingredients based on the season. With shareable dishes such as baked brie and charcuterie, handhelds like burgers and sandwiches, bowls and entrees such as their Manitoba pork chop with sweet potato puree, crunchy mustard maple glaze and roasted brussel sprouts, there's something for you whether you're starving or just looking to graze.
Admission to the spa including a bathrobe, towel and locker is $79 plus tax. Meals at Resto average between $20-$35 plus tax and tip.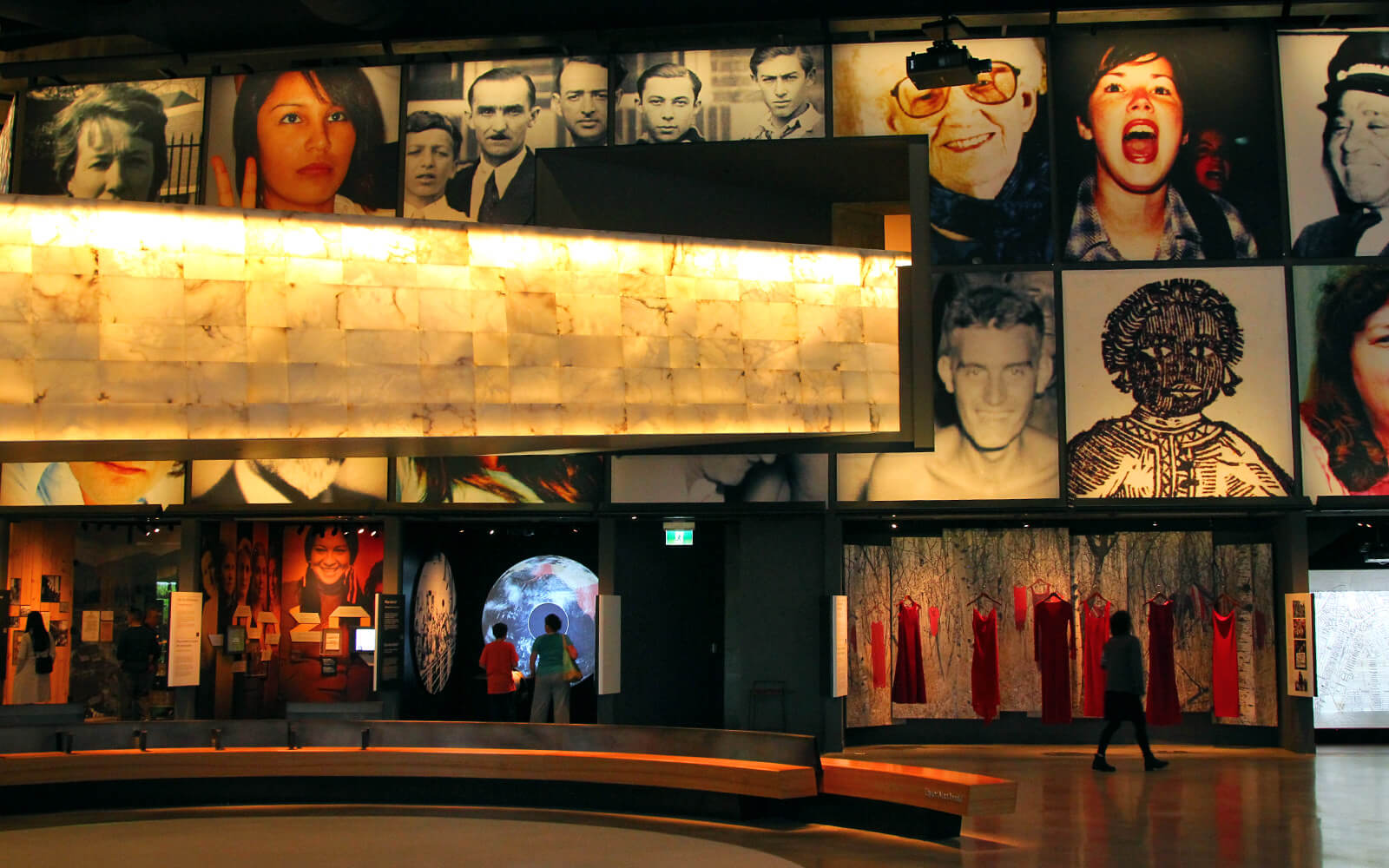 More Fun Things to Do in Winnipeg
While four days and three nights is a solid amount of time, it just isn't enough to experience everything Winnipeg has to offer! If you're spending an extended amount of time in the city or are just looking for more fun places to visit in Winnipeg, here are some more recommendations.
Learn at the Canadian Museum for Human Rights – The first museum focused on educating visitors on human rights, their evolution and important people as well as events related to them. Visitors will leave with a deeper appreciation for the rights and freedoms as well as a deep reflection on the darker parts of Canada's history both past and present. 
Explore Assiniboine Park – Take a stroll around this 400 acre park as you meander through popular Winnipeg attractions like the English Garden and the Leo Mol Sculpture Garden. Pop by the Park Cafe and grab a coffee as you do so!
Say Hello to the Animals at the Assiniboine Park Zoo – Unlike many other zoos, the Assiniboine Park Zoo is an accredited member of a number of official organizations to ensure their animals get the utmost care. It's open all year round with both indoor and outdoor exhibits and a number of educational programs to teach those who visit about the animals in their care and promote positive animal welfare practices. Make sure to say hello to the polar bears!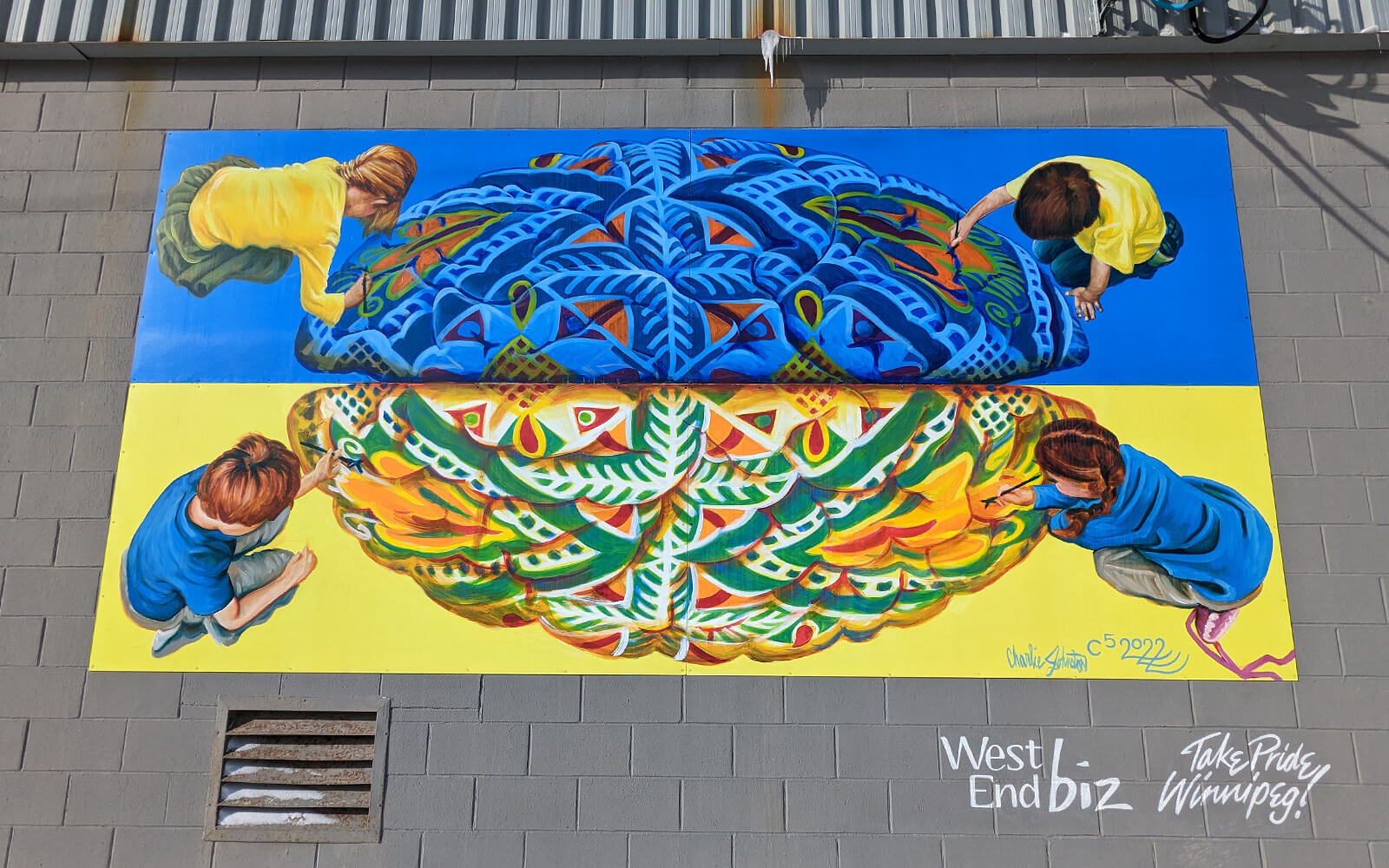 Hunt for Street Art Across the City – One of the things to do in Winnipeg for free, it will certainly keep you busy as there are over 600 murals to be found! The west end is the best place to start as it has the largest collection of public art or you can enjoy The Loop, a 3.5 hour long self-guided tour through downtown Winnipeg, the Exchange District and Old St Boniface.
Visit the Royal Canadian Mint – Take a guided tour of this manufacturing facility where every Canadian coin in circulation is produced! You'll learn about the state-of-the-art technology used to mass produce these coins, the skill required in designing them, and the story behind the Royal Canadian Mint's Million Dollar Coin.
Tour the Manitoba Legislative Building – Said to be one of the most impressive public buildings in all of Canada, pop in and take a peek around the Manitoba Legislative Building. Public tours are offered at 2:00 pm September through June with tours hourly during opening hours in July and August.
Catch a Sports Game – Winnipeg is home to a number of sports teams including the NHL's Winnipeg Jets, the CFL's Winnipeg Blue Bombers as well as the Valour FC Canadian Premier League soccer team. Not to mention all of the university teams around, there are plenty of sports events to catch if you're a fan!
RELATED: Of course, Winnipeg isn't the only spot in the province to explore! If you're here for an extended period of time, take a look at my Manitoba road trip guide for more ideas of destinations to visit.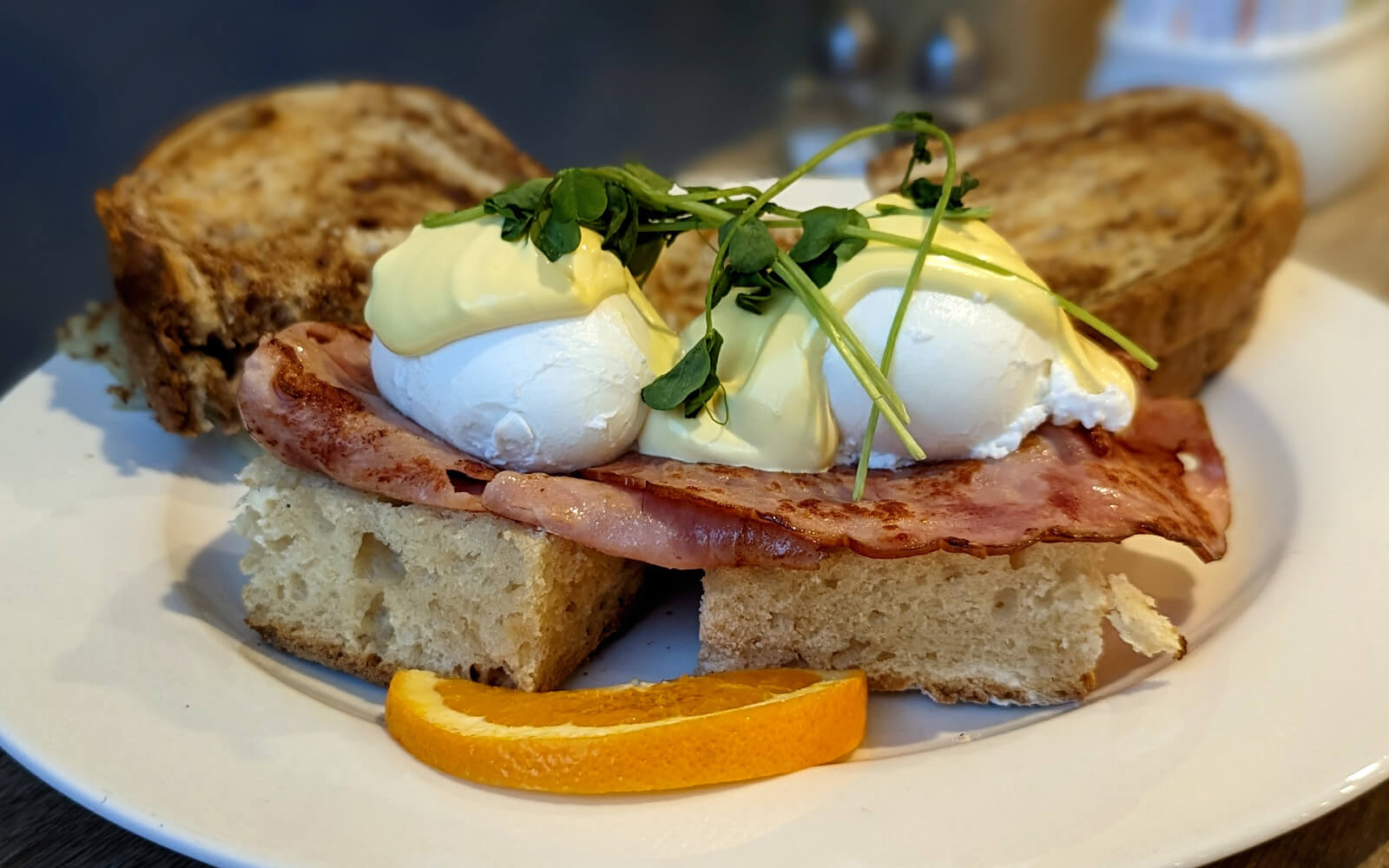 Fantastic Winnipeg Restaurants For a Bite
I cannot stress enough how incredible the food scene is in Winnipeg. There are so many fantastic places to eat and my stomach just wasn't big enough to hit them all in a few short days! You can guarantee that these restaurants in Winnipeg will keep you fuelled for all your adventures.
Manoomin Restaurant
Address: 460 Madison St, Winnipeg
Hours of Operation: 6:30 am to 9:00 pm Daily
It's only natural that an Indigenous-owned hotel would have a restaurant influenced by Indigenous cuisine. Located on the  Long Plain First Nation Urban Reserve, Manoomin (meaning wild rice in Ojibway) is worth a visit even if you aren't a guest at the Wyndham Garden Winnipeg Airport. Under the helm of Jennifer Ballantyne, Red Seal chef from the Opaskwayak Cree Nation, these dishes are inspired by homegrown favourites from her childhood.
On the menu, you'll find numerous dishes utilizing local ingredients including bison, berries, grains, and more. During my visit, I enjoyed an Indigenous spin on an eggs benedict. Made with your choice of either house-smoked salmon or ham, enjoy two poached eggs topped with house-made hollandaise atop fluffy bannock. It takes the whole dish to the next level! This dish pairs fantastically with a latte or you can pop by the Onishkaan Café (meaning to get up or wake up in Ojibway) to get one along with some bannock to go. The cafe is open from 6:30 am to 2:00 pm.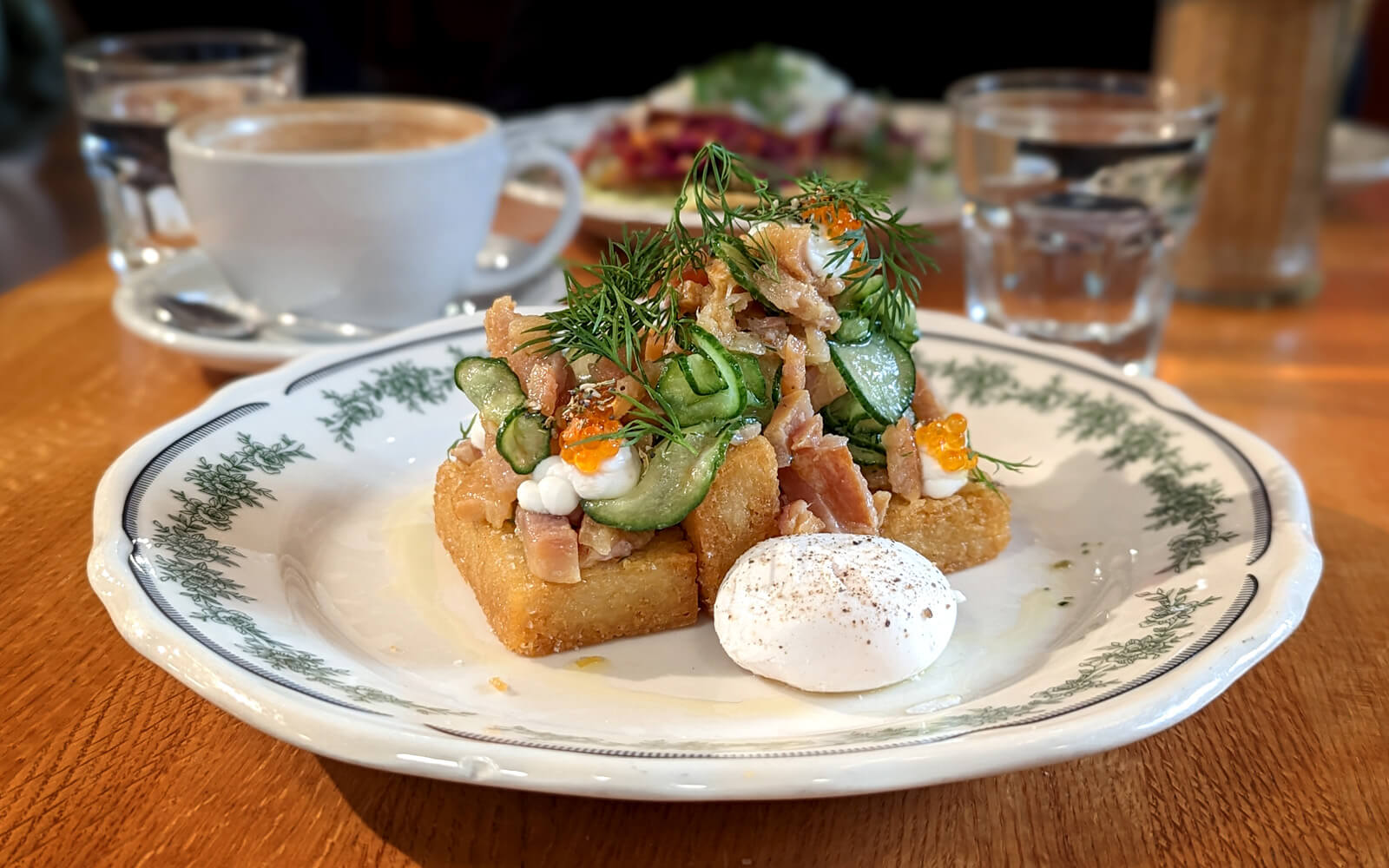 Clementine
Address: 123 Princess St, Winnipeg
Hours of Operation: 9:00 am to 2:00 pm Daily
Even if you arrive 15 minutes before they open, it's not uncommon to see a lineup forming on weekends at Clementine. And yes, it's worth standing in the cold for because it's that good!
Head downstairs into a surprisingly bright and airy space to settle in for one of the most unique brunch experiences of your life. Chances are you're used to the typical eggs benedict, pancakes, etc but what Clementine has to offer is next level. Chef Chris Gama has crafted a menu that infuses flavours from Latin America to the Mediterranean which are guaranteed to warm you up from the inside out. Alongside the cozy atmosphere and paired with some of the best caffeinated beverages in the city, you'll be ready to seize the day whether you're in prime form or nursing a hangover from previous shenanigans.
Adorning one of the walls, you'll see neon cursive writing: eat this it'll help and they aren't kidding. This food fuels your soul! Whenever Arctic Char is on the menu, I'm hard-pressed not to get it as it's my favourite fish and hard to come by in Southern Ontario, even when the eggs benedict is my ultimate go-to. I seized the opportunity to indulge in their Smoked Arctic Char dish and wow, I was blown away. Crispy potato cakes are adorned with tender morsels of fish, cured dill cucumbers, stunningly bright roe and a horseradish crème fraîche. From the flavour to the texture, everything was magnificent. Oh, and be sure to add the poached egg, it absolutely completes the dish!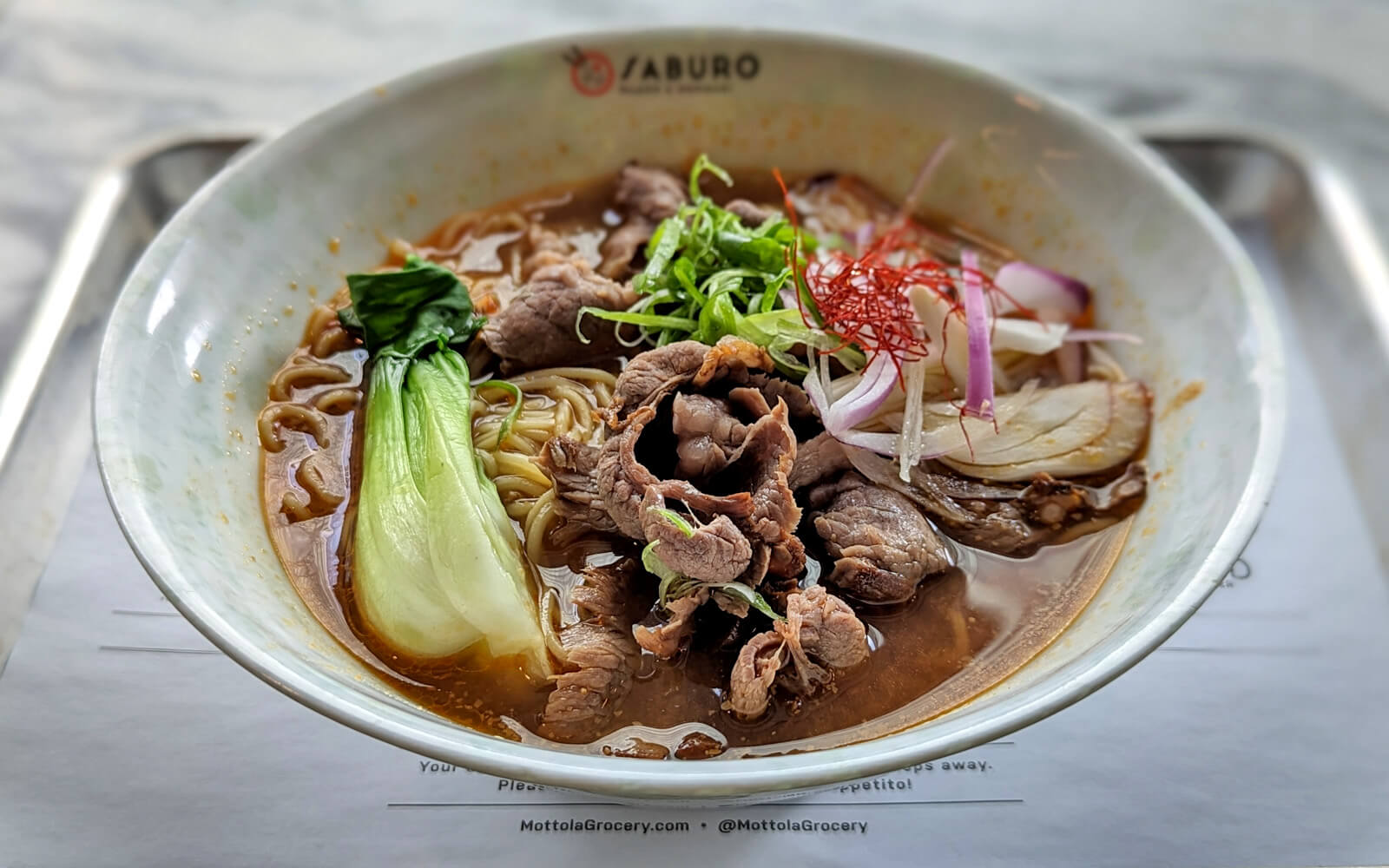 Hargrave Street Market
Address: 242 Hargrave St, Winnipeg
Hours of Operation: Monday to Thursday from 8:00 am to 9:00 pm, Fridays from 8:00 am to 10:00 pm, Saturdays from 9:00 am to 10:00 pm and Sundays from 9:00 am to 3:00 pm
Whether you can't decide what you feel like eating or you're in a big group that can't choose one place, Hargrave Street Market is the place to go in Winnipeg's Sports, Hospitality and Entertainment District. Pulling inspiration from food halls across Europe and North America, it gathers a variety of cuisines all under one roof and is the answer to your foodie indecisiveness!
Step up to order whatever your heart desires from the restaurants all under Hargrave's roof. If you are looking for your traditional sit-down experience, Gusto North provides fantastic Italian eats just like Nonno used to make with the full service of a restaurant. Otherwise, place your order at the counter for tasty handhelds at Yard Burger, a mix of Asia and Latin America at The Good Fight Taco, Miss Browns for house-smoked meats and brunch dishes, and a taste of Ontario in Manitoba with Lake of the Woods Brewing. However, on a cold winter day, you cannot go wrong with some Tsurai Ramen from Saburo. It's got some serious kick that will knock the chill right out of your bones!
Of course, you can always just enjoy a beverage as you take in the sights and sounds of this beautiful space. For your caffeinated needs, head to Fools & Horses or imbibe a little with the handcrafted cocktails from the Rose Bar. Short on time? Pop by the Mottola Grocery located on the first floor of the complex for some great grab-and-go items. This upscale grocer has everything you could imagine from prepared eats to appliances to vanity items like hand soaps, perfumes and more.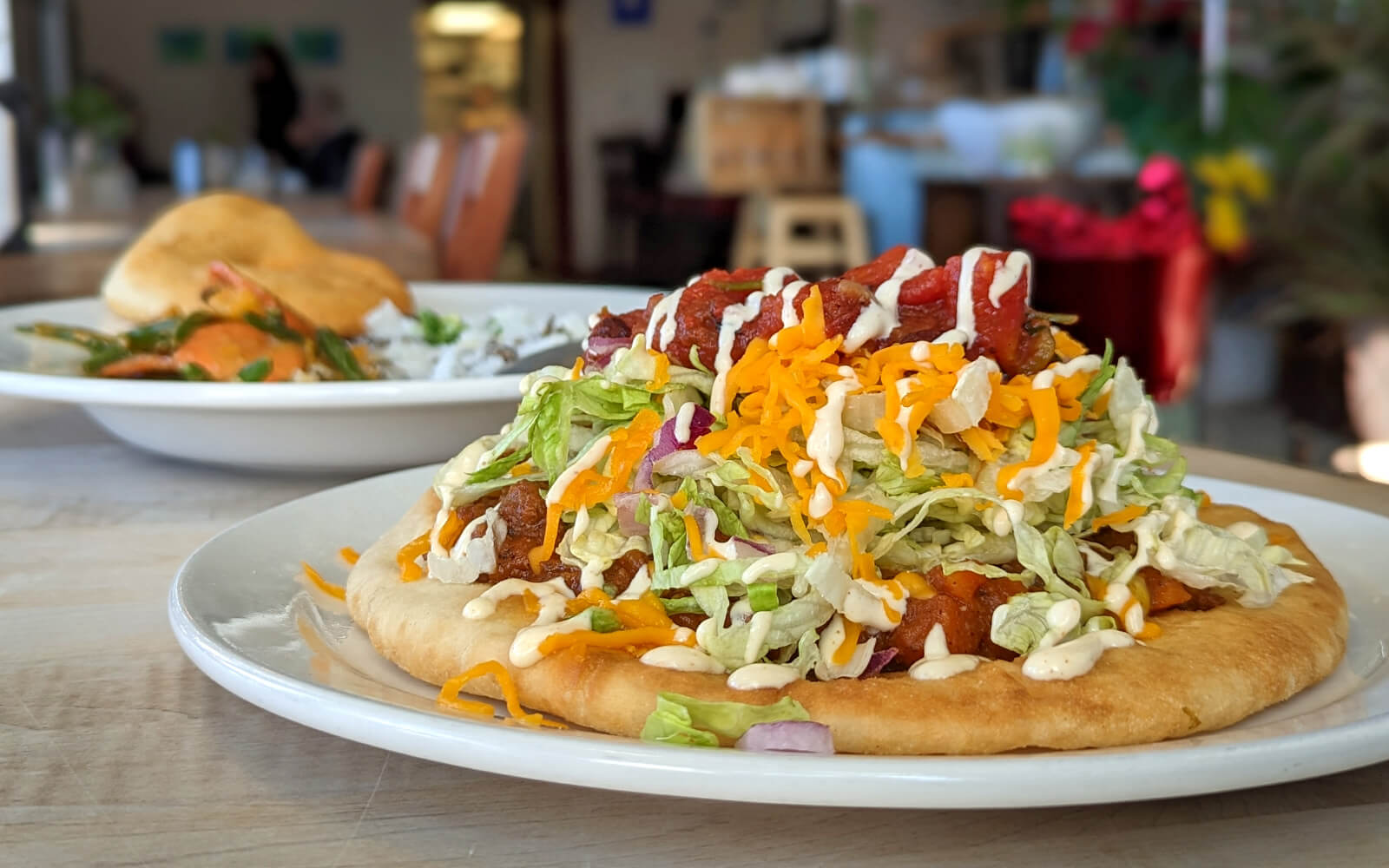 Feast Cafe Bistro
Address: 587 Ellice Ave, Winnipeg
Hours of Operation: Tuesday to Saturday from 11:00 am to 9:00 pm, Closed Sundays and Mondays
One of the prime teachings in the Indigenous way of living is to always have good intentions. This is exactly what Feaset does as they harvest, cook and eat while paying respects to the plants and animals that give themselves to feed our minds, bodies and spirits. Feast's owner, Christa Guenther, began as a home cook and transformed into an incredibly talented restauranteur. You might even recognize her as a judge from Wall of Chefs on the Food Network! A proud member of Peguis First Nation and local Winnipegger, she has infused her ideals and teachings into every aspect of Feast to become a pillar of the West End community.
Everyone who enters is greeted with a warm welcome and a sense of belonging. Illuminated with plenty of natural light, settle into one of the cozy tables as you peruse the menu. You'll probably recognize the dishes, they are rooted in traditional First Nations ingredients, stemming from Christa's own home and the spirit of her culture. While I'm sure everything on the menu is fantastic, the bannock is made fresh to order and is some of the best I've had the pleasure of eating. I cannot recommend the Pow Wow Tipi Tacos enough as this fluffy morsel is topped with shredded lettuce, red onions, roasted tomato, bean and corn salsa, Bothwell cheddar cheese, maple chipotle lime sour cream and a splash of bison chili to unite all the flavours into one hearty dish that will feed your spirit.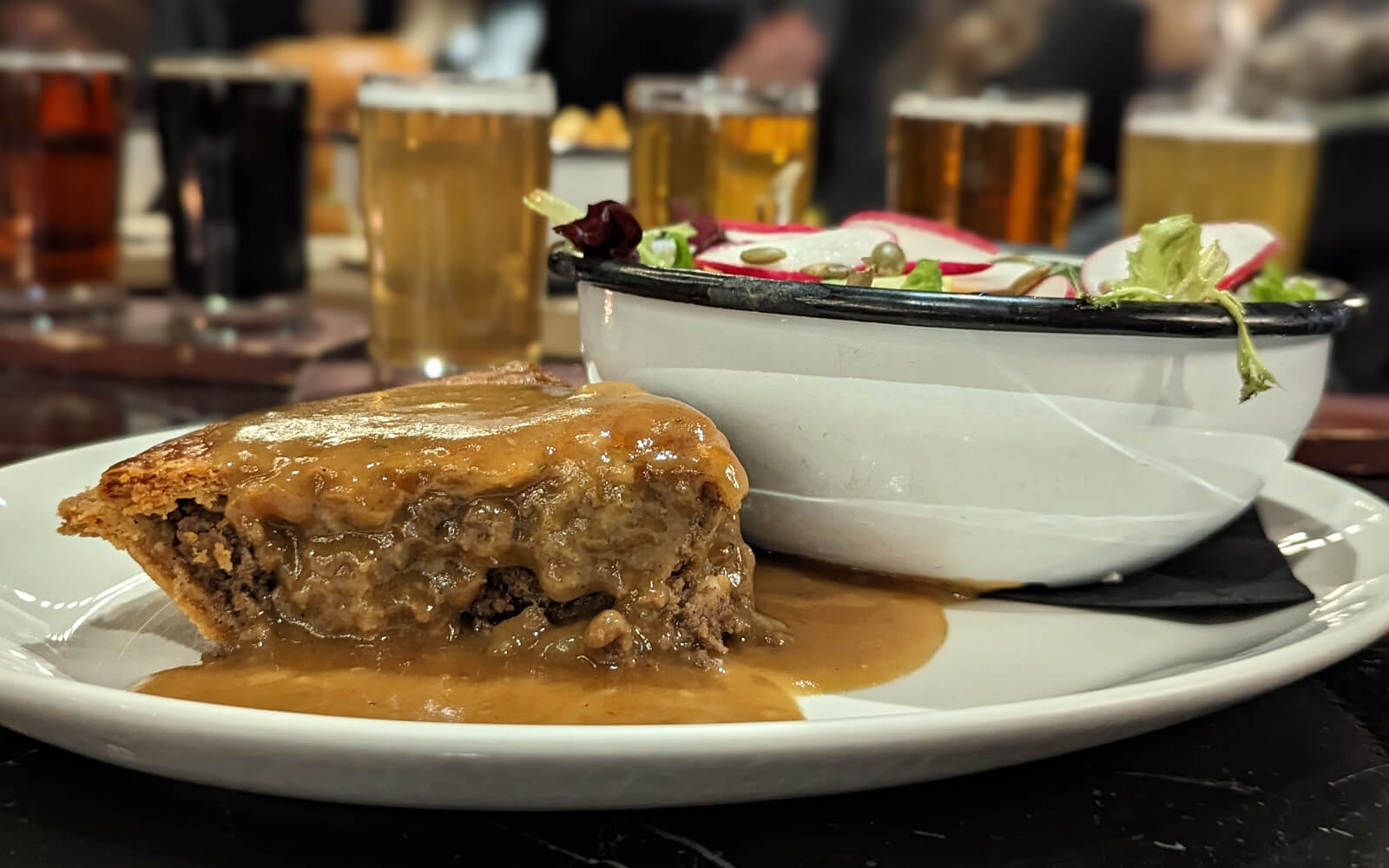 The Wood Tavern & Grill
Address: 112 Marion St, Winnipeg
Hours of Operation: Monday to Thursday from 11:00 am to 11:00 pm, Fridays from 11:00 am to 12:00 am, Saturdays from 10:00 am to 12:00 am and Sundays from 10:00 am to 11:00 pm
After a long day of exploring, sometimes you just need some comforting eats and The Wood Tavern & Grill has just the pub grub you're looking for!
Located in the Saint Boniface neighbourhood of Winnipeg, The Wood Tavern & Grill offers campfire-inspired cuisine with big portions and an abundance of shareable dishes. Grab a gaggle of friends and pass around some shareable eats like their wings, campfire cauliflower, and signature flatbread pizzas. Or, sink your teeth into hearty meals like their sirloin sandwich or the wood burger. Whatever you do, make sure you get an order of their duck fat poutine. As a poutine snob, I can honestly say this is incredibly delicious and you won't want to miss it!
FUN FACT: If you visit during the Festival du Voyageur, The Wood Tavern & Grill features a separate menu inspired by this festival such as tourtiere and French Canadian pea soup alongside festival-inspired cocktails and special craft beers.
If you find yourself visiting Sunday through Thursday from 3:00 pm to 5:00 pm or 9:00 pm until close, take advantage of their happy hour snack bundles as well as their drink specials.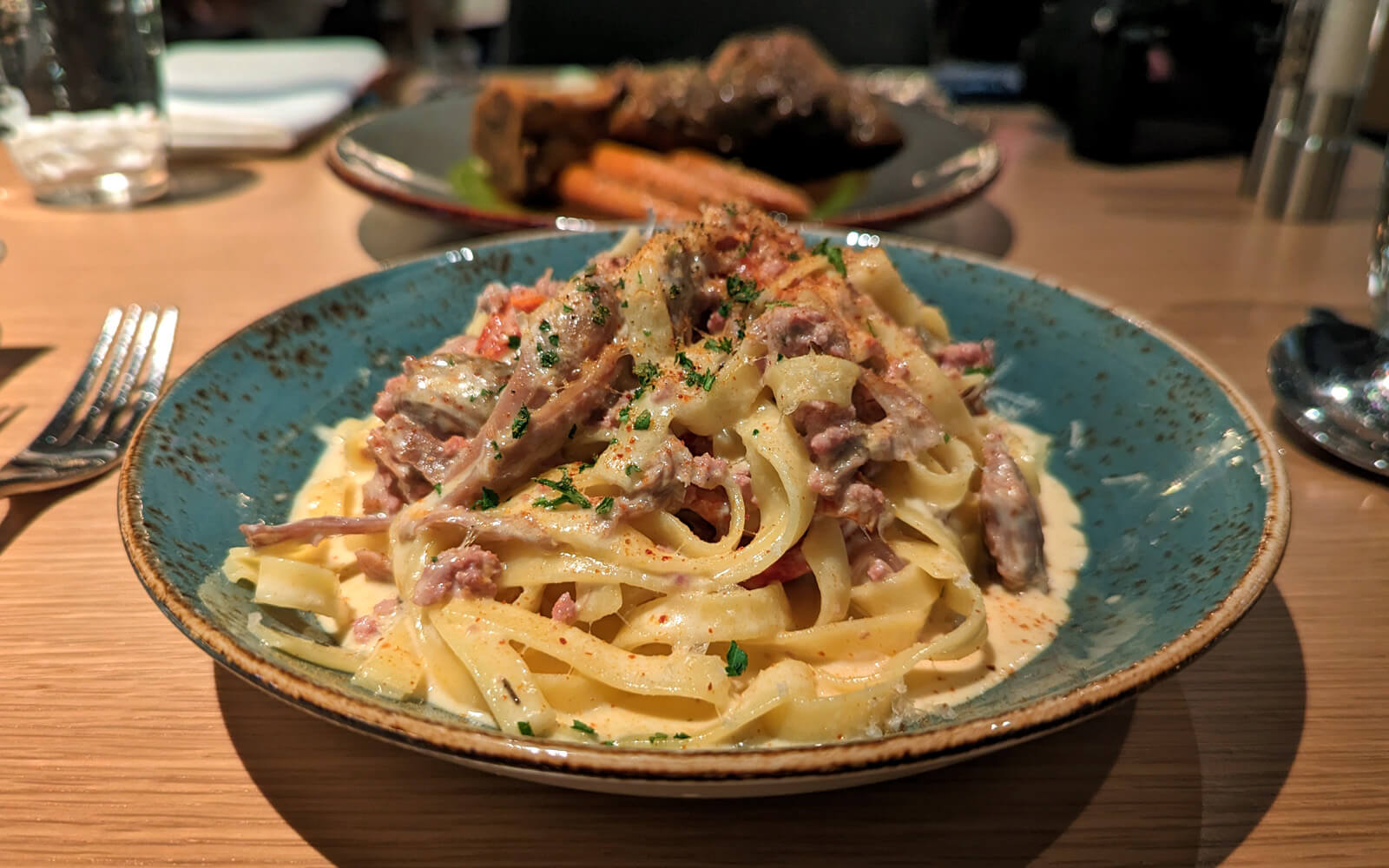 Gather Craft Kitchen & Bar
Address: 145 The Leaf Way, Winnipeg
Hours of Operation: Tuesday to Sunday from 11:00 am to 11:00 pm, Closed Mondays
Located in Assiniboine Park's The Leaf, Gather Craft Kitchen & Bar does exactly what its name suggests – it gathers friends, family and loved ones all together so they can enjoy dishes assembled from countries all over the world. Each dish incorporates fresh, locally sourced ingredients as well as seasonal items right from the park's gardens. Whether it's pickled, fermented, preserved or straight from the source, Gather's dishes all highlight the incredible farmers of Manitoba that work hard to feed our communities. 
How you experience Gather is entirely up to you! Indulge in some small plates to try a variety of dishes or opt for one of their inventive main courses such as their fettuccine. These hand-cut noodles are topped with slow-roasted duck confit, duck sausage, Moliterno pecorino and chives as it all mixes and mingles in their sundried tomato Bourisn cheese sauce. Of course, make sure to take a peek at their cocktail list as it's inspired by cardamom, guava, sugar cane and coconut all found in The Leaf's biomes!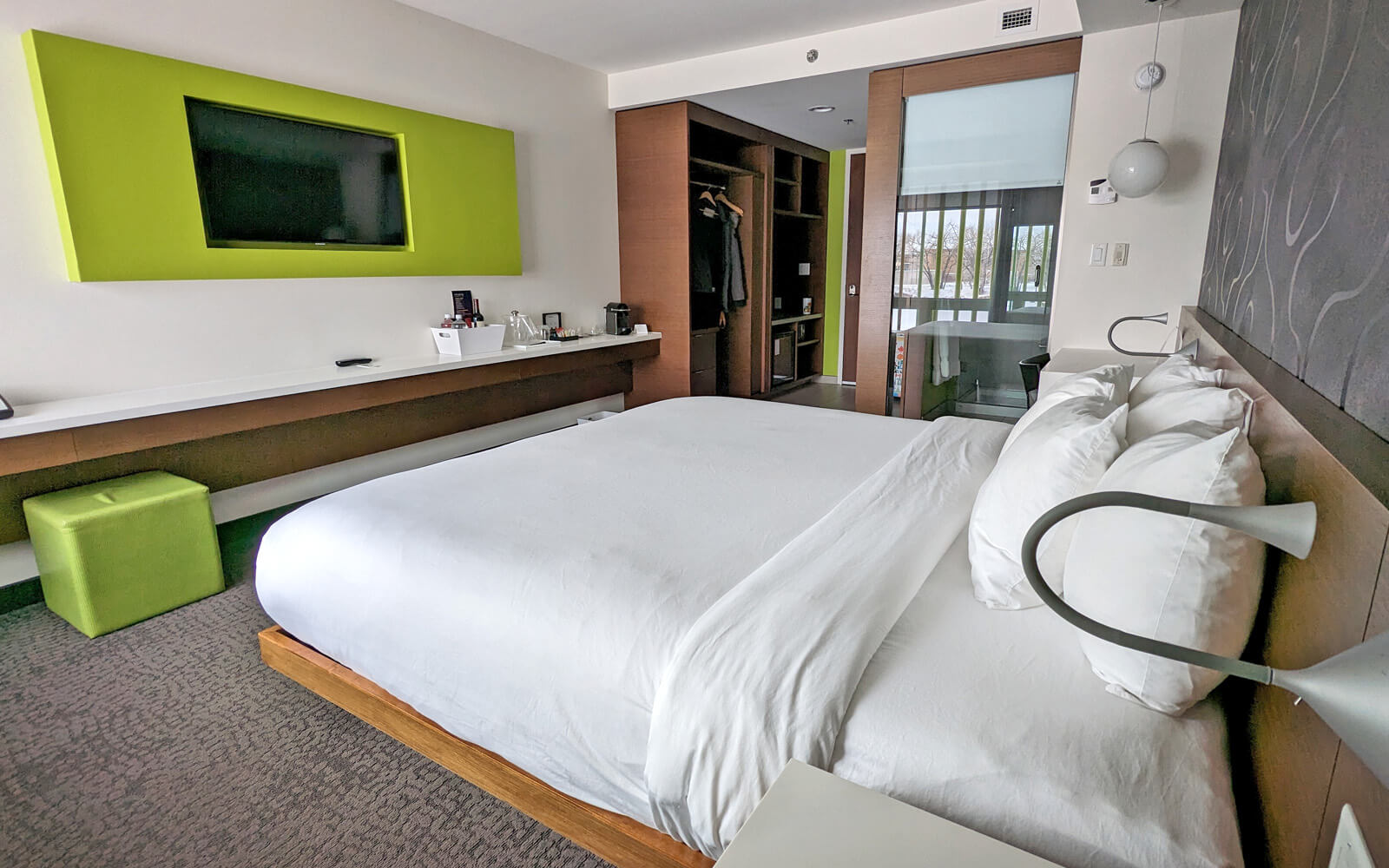 Top Winnipeg Hotels to Stay At
There is no shortage of great places to stay in Winnipeg as there are a number of hotels scattered across the city. Here are my recommendations to call home base for your winter adventure and if they're booked up for your visit, you can always check out these other great options for hotels in Winnipeg.
Mere Hotel
If you're looking for a hotel in the heart of Winnipeg, the Mere Hotel is a fantastic option. Located in the bustling Exchange District with the Canadian Museum for Human Rights and The Forks less than a 15 minute walk away, the Mere is nestled along the shores of the Red River. Guests will enjoy the beautiful views no matter the season!
You can't mistake the Mere as the hotel's bold exterior as vertical coloured pipes adorn the building. At night, lights dance behind the pipes to give an effect reminiscent of the aurora borealis. These bright accents are found throughout the interior of the hotel as pops of colour bring both common spaces and private rooms to life. Guestrooms are spacious with large windows to allow for plenty of natural light. You'll sleep soundly in their luxurious beds, especially once you decompress with their walk-in rain showers after a busy day of exploring. In the morning, perk yourself up with a coffee from their Nespresso machines as you connect your tunes to the Bluetooth bedside clock.
While this hotel doesn't have amenities such as a gym or pool, it makes up for it in style and pizazz. It's not hard to feel like a queen when the rooms are so elegantly decorated! Take a look at what other guests have to say about their experience or if you're ready, book your room at the Mere Hotel now.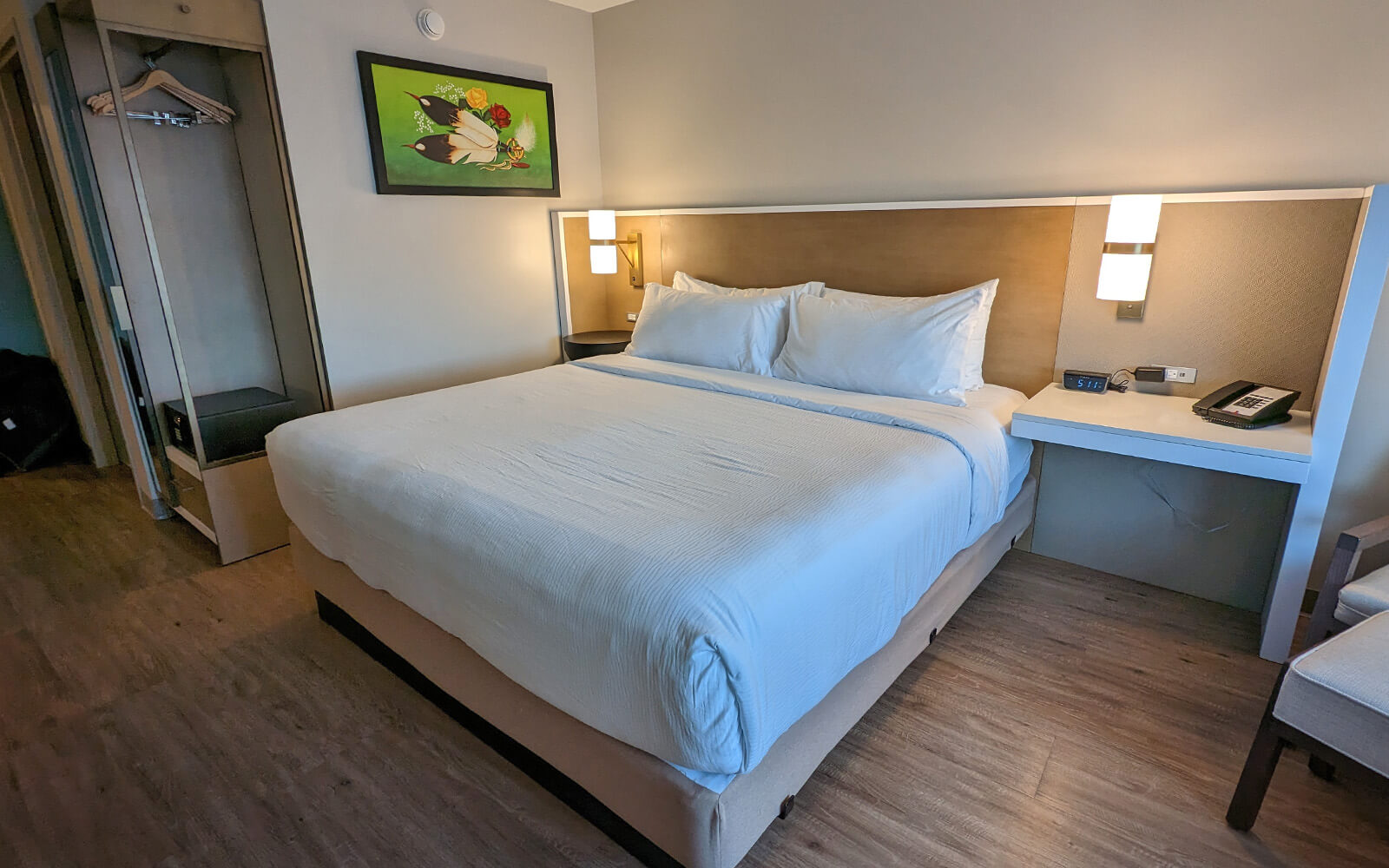 Wyndham Garden Winnipeg Airport
Another fantastic option for your stay in Winnipeg is the Wyndham Garden Winnipeg Airport. Opened in October 2022, this hotel is owned by Long Plain First Nation and located on Treaty One Territory on the Long Plain Madison Reserve, Winnipeg's first urban reserve!
The hotel features 132 rooms and has a number of unique elements that incorporate Indigenous teachings and beliefs into its design. Its unique curvature is a nod to the circle of life and the main entrance faces the east, representing the beginning of a journey as it greets the sun each morning. There is even a space for smudging and pipe ceremonies which are such an important part of Indigenous culture! Step inside as you feel a wave of calm with its serene colour scheme inspired by nature and welcomed by Ode' Ackiing behind the reception desk – translating to the heart land in Ojibway. Not to mention all of the incredible artwork you'll see throughout the hallways and rooms of the hotel.
As for the rooms themselves, they are bright and offer plenty of space for their guests. Settle into their comfy beds (with ample plugs nearby!) or take a seat at the desk to get some work done. Each room has a coffee maker, mini-fridge and a safe to store your valuables. Plus they have great bath products, a hair dryer AND an interactive mirror with great lighting settings! Not to mention you can always go for a swim in the heated indoor pool (with a waterslide!) or get a workout in at the on-site gym. Also, don't do yourself the disservice of not grabbing a bite to eat from their Manoomin restaurant or Onishkaan Cafe! With all these amenities, it's a fantastic spot to call home base so book your room now.
Just make sure that before you leave, stop by Kookum's Korner in the lobby. Open 24/7, it offers gorgeous handmade pieces of jewellery and dream catchers by artists from the Long Plain First Nation. What better spot to grab a souvenir from your visit?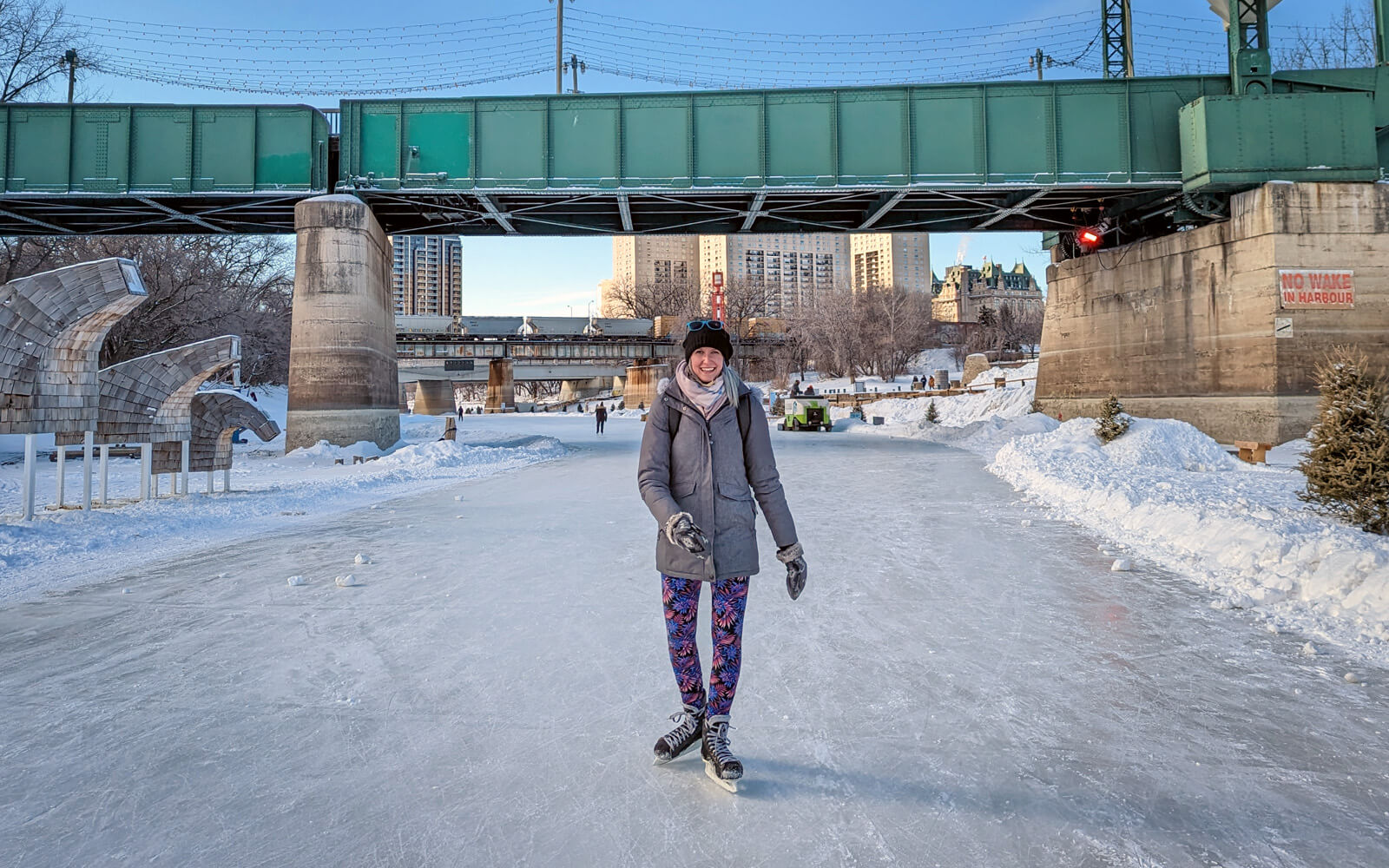 Things to Know For Your Trip to Winterpeg
As the saying goes, there's no such thing as bad weather, just bad clothing and you will want to bundle up for your Winterpeg adventure! Here are a few more things to know about your visit to the city.
How Cold is Winnipeg in Winter?
Like most Canadian cities, the weather can fluctuate though you'll need to be prepared as Winnipeg can get quite chilly in the winter months. It's not uncommon for highs around -20C (-4F) and lows to drop below that. Make sure you pack proper winter clothing including thermal layers, especially if you plan on doing some outdoor exploration. For ideas, check out my winter gear guide.
What is Winnipeg Known For?
Winnipeg is known for a number of things including its rich history in the Fur Trade, as being the heart of the homelands of the Métis, its unique neighbourhoods, booming arts scene, plethora of festivals and, of course, all of the unique winter experiences to embrace the ice and snow!
Is It Hard to Find Parking in Winnipeg?
There is plenty of street parking as well as parking lots located throughout Winnipeg. However, it's tough to find free parking options in the city. Chances are you'll be paying by the hour or for a full day's worth of adventure. Also, having cash on hand isn't helpful as most machines now take only credit cards or require you to pay by app or phone so this is something to be cognisant of during your visit!
Is Winnipeg Worth Visiting in the Winter?
Yes, a thousand times yes! It might be chilly but Winnipeg is 100% worth a visit. As you saw earlier in this post, there's a great mix of indoor and outdoor experiences you can't find anywhere else.
Thinking About Visiting Winnipeg in Winter? Pin This Guide for Later!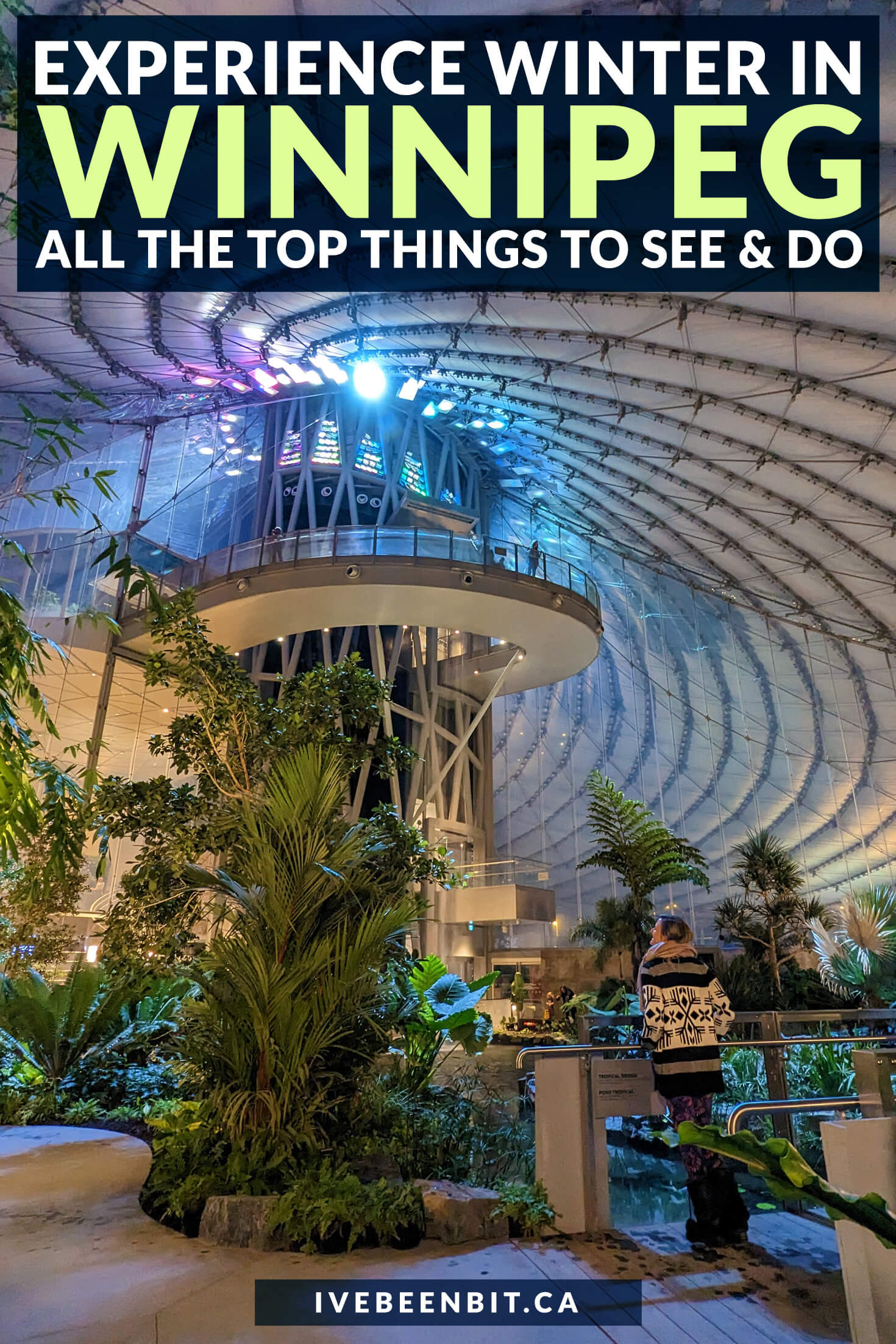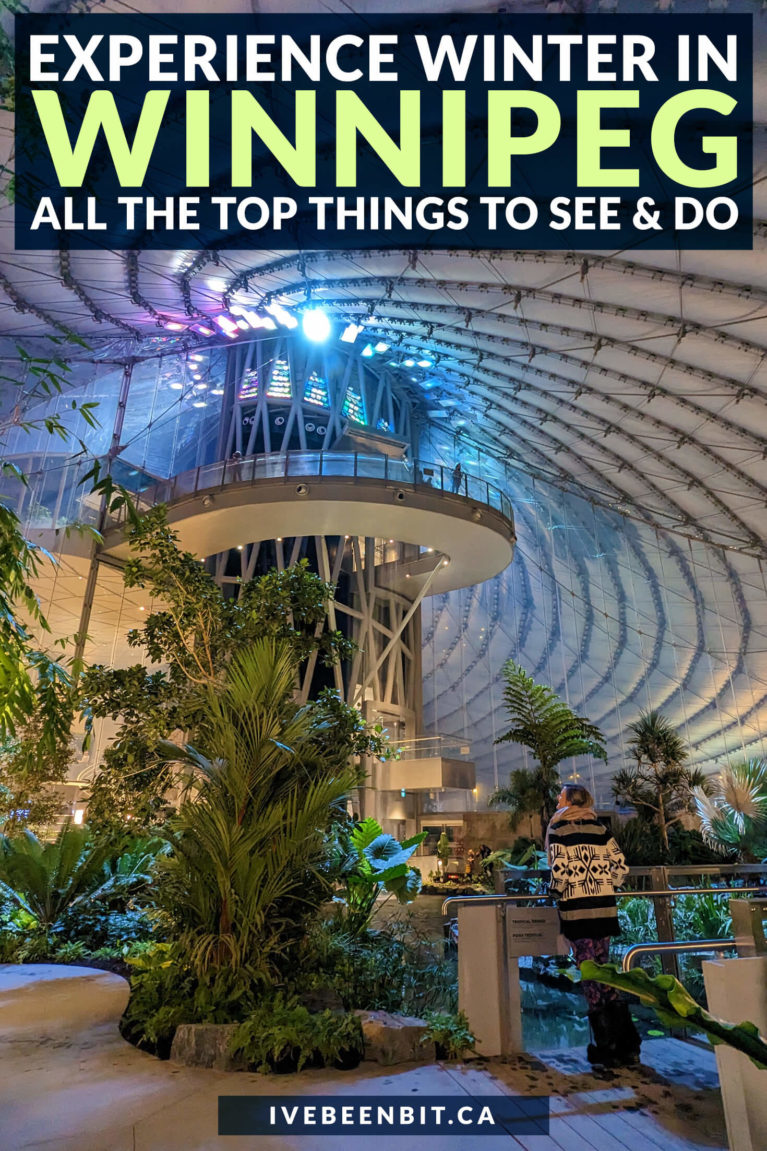 Disclaimer:
This post is brought to you in partnership with Winnipeg Tourism and Travel Manitoba. However, all of the content and opinions here are honest and speak to my personal experience as always!
The post Fun Things to Do in Winnipeg in Winter Exploring Canada's Heart appeared first on I've Been Bit! Travel Blog.