Dua Lipa has got the official seal of approval from the Brit Awards' original Union Jack wearer Geri Horner, following her performance at this year's bash. 
The Spice Girls singer cemented herself in pop culture history when she donned the famous mini dress made of the British flag on stage with the band at the Brits in 1997.
Dua wore a twist on the outfit when she performed a medley of her recent hits during Tuesday night's ceremony, where she was also the night's biggest winner.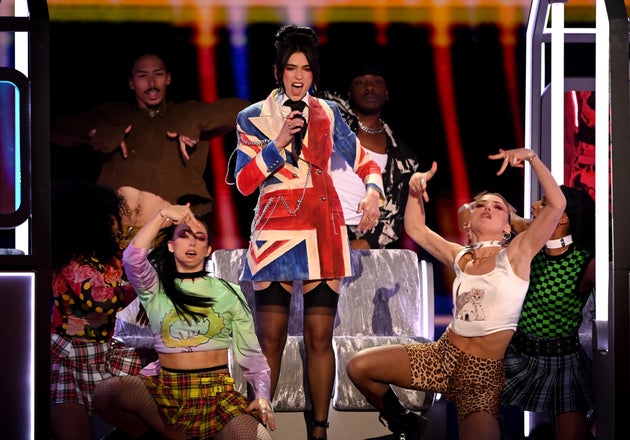 Geri posted a picture of Dua on stage in the Union Jack miniskirt – created by designer Vivienne Westwood – adding: "Wow @dualipa you wore it well." 
Sharing an image of herself in her famous outfit, Geri added it was "so special" to see Dua wear it 24 years later. 
She wrote: "Trust yourself. This dress is a reminder to follow your instincts and be yourself. 24 years ago I had an idea-to wear a Union Jack to celebrate The Brit Awards. Despite the doubts, I trusted my instincts and wore it anyway.
"All these years later to see it worn by a fellow sister is so special #girlpower #followyourdreams."
She added that her dress was much less designer than Dua's noting: "P.S. it was £5 tea towel on a Gucci dress."
Geri also posted on her Insta Story, "GIRL POWER! LOVED THE OUTFIT AND PERFORMANCE." 
Meanwhile, her fellow Spice Girl Mel C said they were both "amazing women".