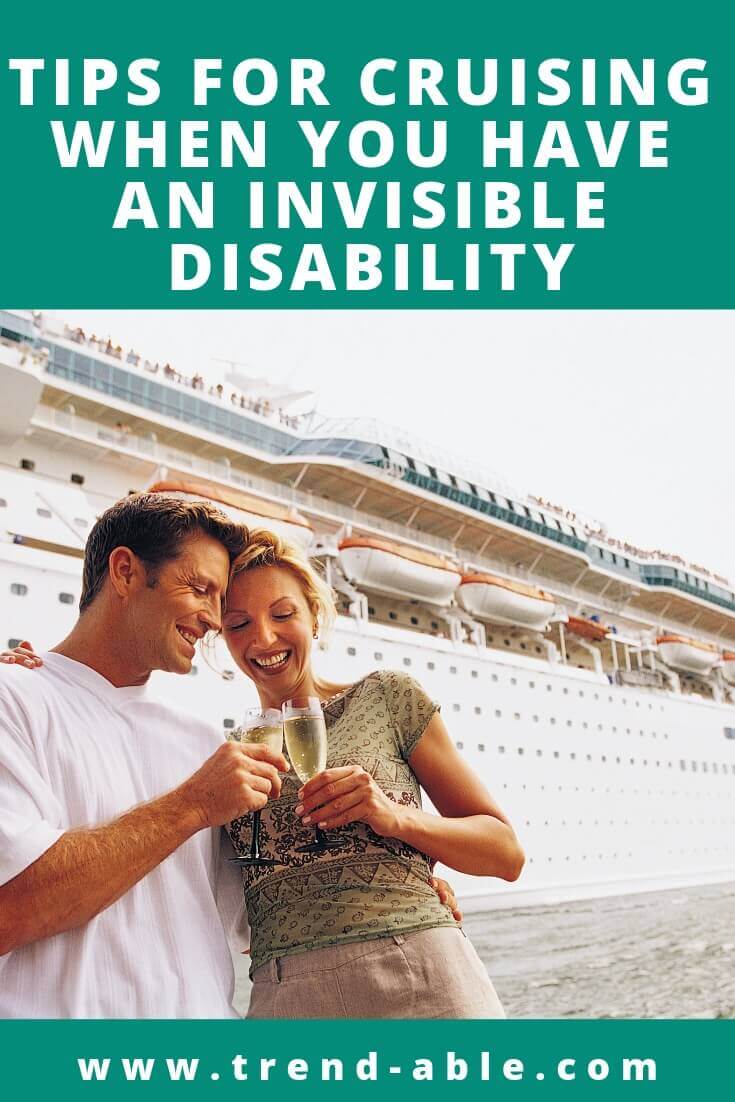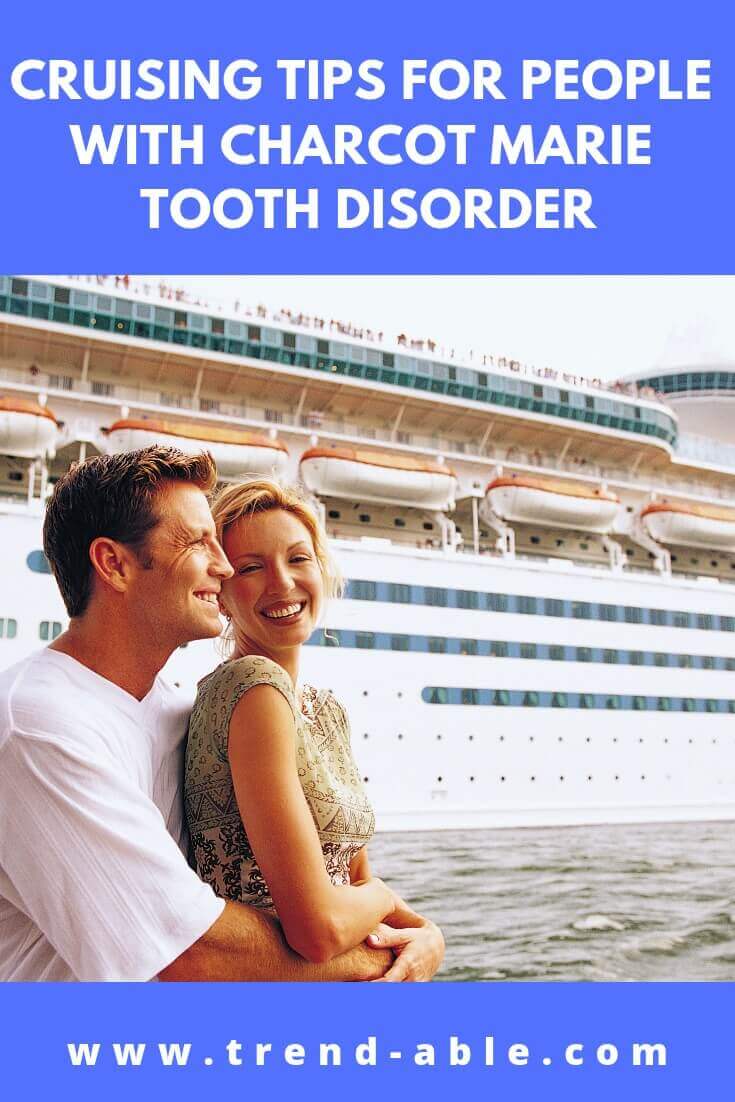 This post has been updated as of June 2022 to include current information and product availability
 If you grew up watching The Love Boat, then the prospect of going on a cruise might trigger childhood fantasies of dining at the selective "Captain's Table" or kissing handsome men on the Lido Deck. But, when cruising with a disability, those Julie McCoy fantasies may be replaced with nightmares of being stuck on the Titanic.
Traveling in general can be stressful when you have physical challenges, beginning at the airport.
While the airport screening process probably doesn't help anyone relax and get into that Jimmy Buffet vacay mode, a bad experience when you have a disability, can set a negative tone for the rest of the vacation. In my post, First World Problems, I give tips for dealing with airport screening when you have an invisible disability and wear afos.
Although cruising is not my first choice when it comes to getting some quality R & R time with my hubby, vacation is definitely at the top of my list when it comes to vacationing with my kids and extended family. There is literally something for everyone to do 24/7.
You can be comfortably sipping mojitos by the pool all day while your teenagers zip line across the ocean, and your mother is busy making sushi and folding towels into cute animals.
Cruises are also a fabulous vacation option for people with physical challenges and disabilities. But, there are some things to know and do well before setting sail, and while on board, that will help to make the entire cruising experience easier and better.
When it comes to cruises, I always use the services of an experienced travel agent who can use their connection with the cruise line to advocate for us should the need arise (and it has).
Not mentioning any Cruise-lines by name, (Starts with an R) but when our family's spring break cruise was cancelled just this year (for "scheduled" maintenance), our travel agent Missy worked her butt off to help get us onto a new ship quickly and with lots of added perks for the inconvenience.
Plus, a good travel agent can help with arranging accommodations, airline scheduling, pre-cruise hotel planning and port/airport transports.
2. LOCATION, LOCATION, LOCATION
For people with disabilities, cabin location definitely matters. Although booking a "guaranteed cabin" (letting the Cruise line choose your cabin) saves money, it isn't worth it if your cabin location negatively impacts the entire experience.
If possible, try to choose a cabin that's located mid ship and close to the central set of elevators. The lower the floor and the closer your cabin's location is relative to midship, the less swaying and steadier you will feel. If you primarily use a wheelchair and need an ADA accessible room, book early, as these rooms sell-out quickly.
Bonus Tip: If you like to go to sleep, cabins located by service areas and laundry rooms tend to be the noisiest.
3.MAKE RESERVATIONS OR YOU'LL BE SCREWED
If you want to ensure a fun and stress-free cruise, pre-planning is necessary. Of course, your plans do not have to be set in stone. Be sure to download the Cruise-line's App before sailing, so that you can make changes from anywhere on board and avoid having to stand in long concierge lines.
Accommodations
Many Cruise-lines have dedicated "Special Assistance" coordinators assigned to handle the needs of guests with disabilities. Although each cruise-line differs in their available accommodations, most require advance (90 day minimum) notice. If you have any difficulty walking long distances, it's best to rent a wheelchair, or bring your own, since cruise lines typically have a limited supply for use during the boarding and debarking processes only.
Dining
Thanks to the popularity of "freestyle cruising" vacationers no longer have to commit to a set dinner time each night and can walk-in any time they choose. But, without an advance reservation, the wait times are typically long. So, if you have difficulty standing (or get cranky) in long lines, make a reservation.
Shows
The same holds true for the off broadway productions and other nightly shows. Even though most shows are complimentary, you will wait in long "standby" lines to get in unless you have pre-reserved a seat.
Bonus tip, there are typically 4 main entrances to the main theater on most ships. If you have difficulty balancing in crowds of people, note that the shortest line to enter is usually the one in the middle corridor without a direct hallway (from the staircase or elevator) attached to it.
Shore Excursions
Unless you enjoy overpaying, or the feeling of being herded around like cattle, I suggest booking your cruise excursions independently, instead of with the cruise line. This will save you a ton of money and allow for a more personalized experience, catered to everyone's physical abilities and desires.
If you use a wheelchair or have difficulty with steps, be sure to do research on each port stop before going as some do not allow for ship's to dock at port and require the use of tenders (small boats from the ship) which are often not disability friendly.
To plan our excursions, I first go through the Cruise's list of shore excursions to get a sense of each port and highlight the ones that look interesting. I then search Cruise Critic and Trip Advisor for similar excursions and book the ones with the best reviews.
Bonus Tip: In some Ports, I use an App called, Resort for A Day, to purchase a day pass at an all inclusive resort. Once at the resort, I can enjoy all the resort's amenities (spa, massage, facial) while my family goes jumping off waterfalls, or anything else I can't (& don't really want) to do.
4. DON'T FORGET TO PACK….
If you read my post, 8 Lessons Only A Girlfriend Will Tell You About Neuropathy, then you already know what happened when I went on a vacation and broke one of my afos. I learned the hard way to always pack 911 and back-up supplies for the things I rely on.
Cruises are not the carry-on bag type of vacation. How do people even do that? Whether you have a disability or not, there are some additional items to pack for a cruise that will increase the enjoyment factor. Here are some of my cruising essentials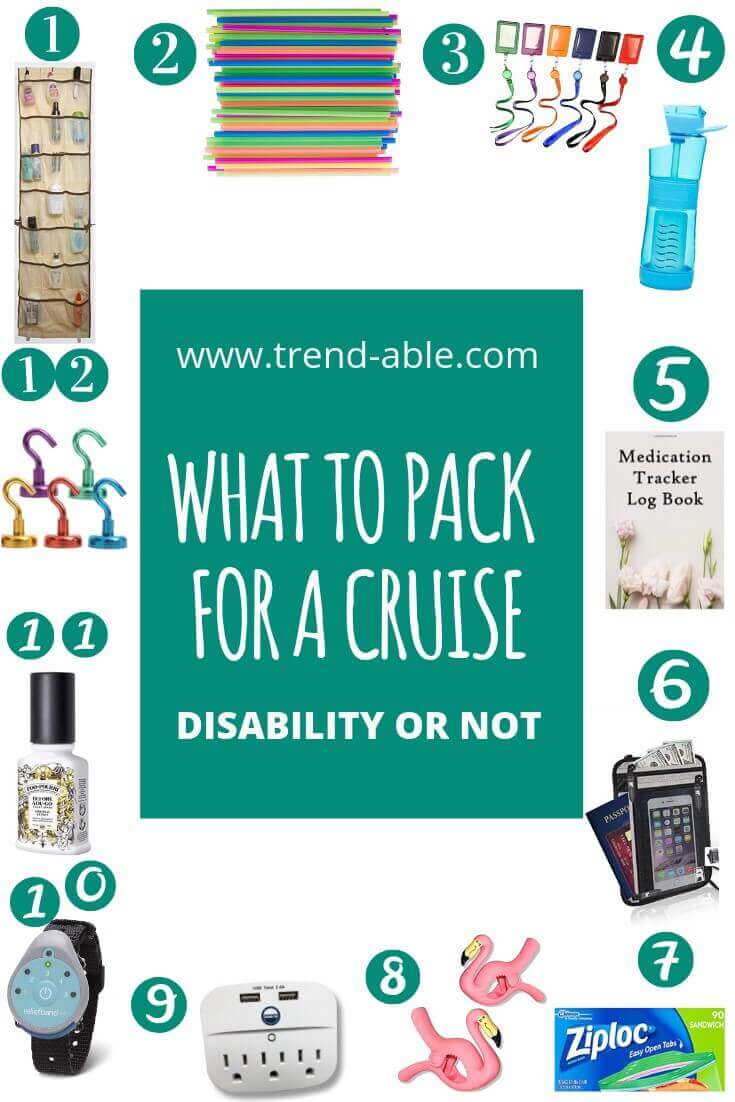 Shop Cruising Essentials Here
5. AVOID THE CROWDS ON EMBARKMENT DAY
If this is your first cruise, you may be tempted to get to the Port early in order to be one of the first passengers on board, but this is typically when lines are the longest. Since cruise-lines require passengers to board a minimum of 1 hour prior to sailing, I've found that an arrival time of around 2pm is ideal.
If you've already checked in online (do this several weeks before sailing), you'll get on board quickly and still have time to explore the ship and have a late lunch without having to wait all day to access your cabin.
Many early to board cruisers pack swimsuits in their carry on bags. Since my disability makes it difficult for me to balance while changing (especially into a bathing suit), I'm not so eager to lay out at the pool on embarkment day.
Bonus Tip: Visit the Spa on Embarkment Day as this is when they do raffles and giveaways.
Since it can get pretty hot in afos when the ship isn't moving, I like an embankment day outfit that's cool and comfortable.  How cute is this one below? Click on the product images below to shop.
Also, these are my new favorite travel shoes by our friends at Revere. Not only are they super comfortable and come in a wide width, they also have completely removable foot beds so they will fit bulkier leg brace styles. Be sure to use this link and use coupon code "Trend-Able" to receive 15% off at checkout.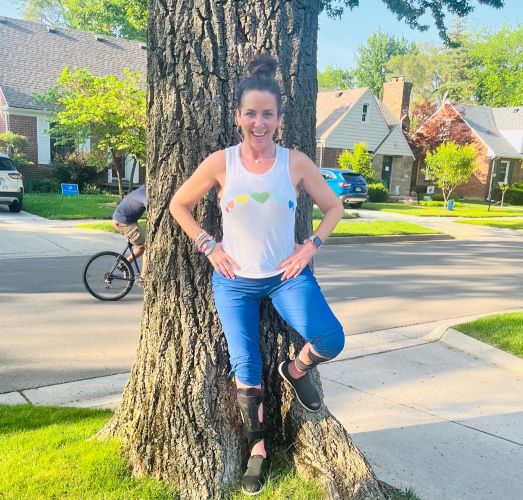 6. DON'T BE LATE FOR THE EMERGENCY DRILL
Shortly after setting sail on most ships, passengers are required to attend an emergency safety drill. At the time of this drill, elevator service is suspended and passengers are instructed to walk as fast as possible (using the stairs) to their cabin's pre-assigned emergency station.
If you have mobility issues and/or cannot use stairs, I suggest getting a solid head start on the drill time and securing a seat at your meeting spot about 30 minutes before the start of the drill.
7. SHOW ME (OR THE CRUISE STAFF) THE MONEY
Even if gratuities are included on your cruise, be sure to take plenty of singles, especially if you have special requests or require extra service. For example, a well-placed tip at the beginning of the cruise can do wonders to help ensure your cabin steward hooks you up with all the extras you may want or need.
Another instance might be a bartender or waiter — a nice gratuity on the first day of sailing can go a long way in having him or her recognize your face in the crowd at the pool when you need or want something
8. THE EARLY BIRDS GET THE WORM & A POOL UMBRELLA
If you want to get a prime lounge chair close to the pool (a must for me if having to walk without leg braces), then it's smart to bring a set of clean towels (exchange the old set for new ones) back to your room each night. In the morning, use your pool clips, fresh towels, and a few scattered personal belongings (like old magazines and hats) to mark your spot.
Note that some cruise lines instruct staff to remove people's belongings when chairs are left unoccupied for hours (when other passengers complain), so either check-in on your chairs every so often, or tip a staff member ahead of time. For specific tips on how to enjoy pools when you wear afos or have other invisible disabilities, go here.
Bonus Tip: Cruise pools are most enjoyable on shore excursion days when the majority of passengers are off the ship.
I greatly dislike buffets. I am not sure if this is because my disability makes it challenging to balance plates and walk at the same time, or if it's because I love food and find buffets gluttonous and overly tempting. Irregardless, I avoid the breakfast buffet (and the lure of French toast) by pre-ordering a healthy room service breakfast the night before.
Bonus Tip: You might want to pull out a few singles to give to the room service delivery person before going to bed. Believe me, after a fun-filled night of cruise trivia and margaritas, it may slip your mind in the early A.M.
10. RELAX, ENJOY & UNPLUG
One of the best parts of cruising is that it forces you to unplug and be present. Even if you choose to purchase the ship's wi-plan, you will find it to be slow and spotty and won't want to use it for long periods.
At the time of writing this post, I'm counting down the minutes until our cruise in August. I love interacting daily with many of you via the Facebook Page and other social media pages, but it will be nice to get away and spend some quality time with my family.
Are you going on a cruise anytime soon? What are your best cruise tips? Do you have any advice for first time cruisers with disabilities? Please leave a comment below and share your experiences.
Xo
Lainie
The post CRUISING HACKS, TIPS, AND SECRETS FOR PEOPLE WITH DISABILITIES appeared first on Trend-Able.