Breath & Beats : A Breath Work & Sound Healing Experience at Superblue
Thursday, 03/09/2023-, 07:00 pm-08:30 pm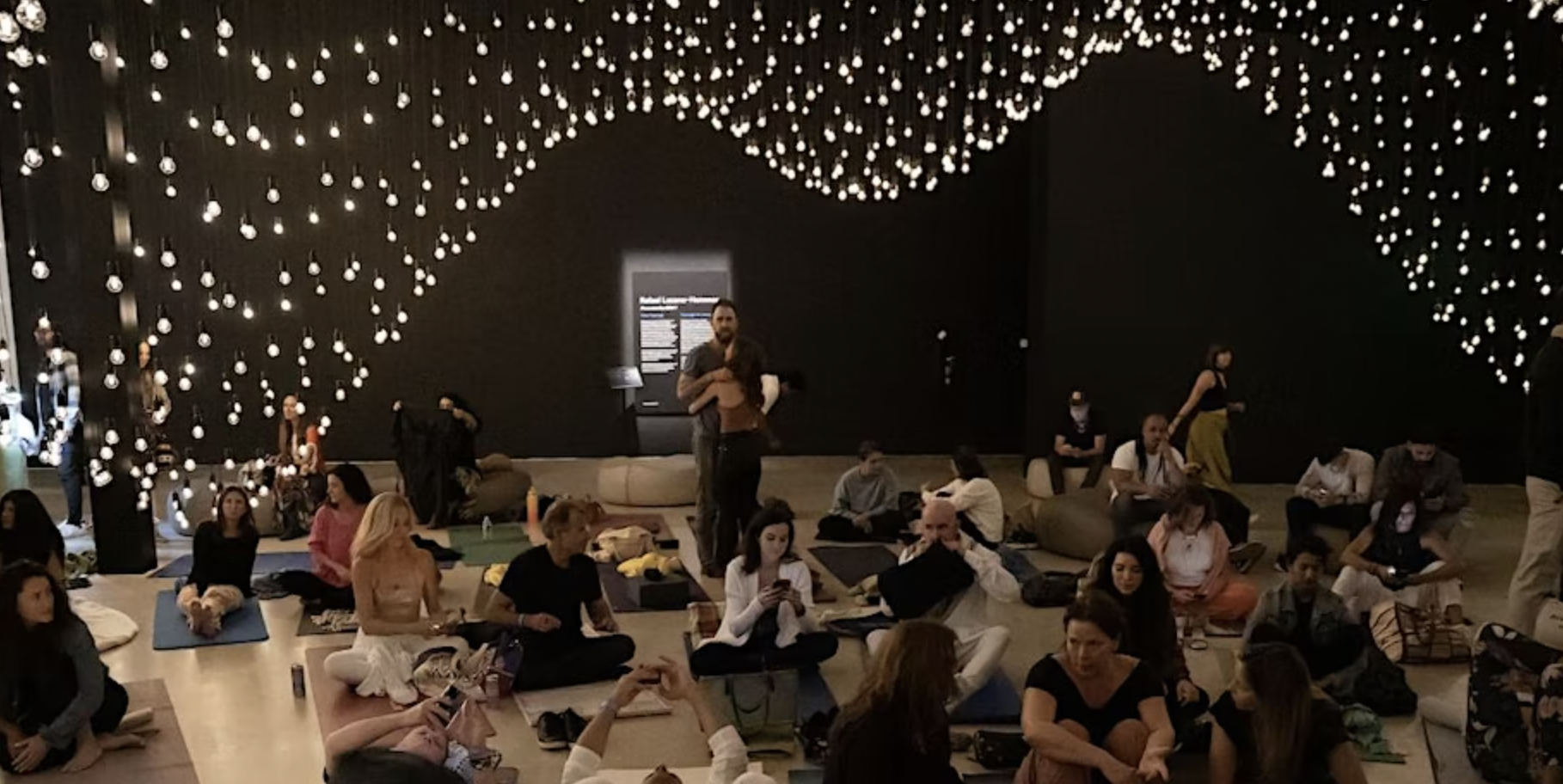 Superblue Miami
1101 Northwest 23rd Street,
Miami, Florida, 33127
Website
Cost: $60
Don't miss the experience The New York Times calls "Trippy, Meditative, Gorgeous…"
Michelle takes you through a gentle guided meditation practice with breathwork, live music and sound healing to transport you into another dimesion in your mind. Vishnu brings in the soothing elemnt of the violin. The session will be held under a Pulse Topology, a stunning immersive artwork by renowned Mexican-Canadian artist Rafael Lozano-Hemmer, available for public viewing from November 17, 2022 – August 2023 at Superblue Miami.
Pulse Topology is an immersive biometric artwork consisting of 3,000 suspended light bulbs, each of which glimmers to the heartbeat of different participants. As visitors traverse a series of crests and valleys of pulsing lights at Superblue, sensors detect and record new heartbeats, which replace the oldest ones, creating a memento mori in which the trace of individual heartbeats gains poetic strength as a powerful choir of human connection.
The sounds of everyones heart beat in the room creates a fertile state of emptiness. Participants absorb the healing frequencies of each others pulse as well as the sounds created by Michelle & Vishnu.
Walk through mirrored labyrinths, transcend boundaries, and enter an enveloping light-based experience.
Create a fertile state of emptiness to absorb the healing frequencies with Michelle Berlin & Vishnu Ramankutty . A journey inward in a magical space that inspires creativity and wonder!
Price includes entrance into the museum and the sound experience.
Please bring your own mat and towel to lay on.
Photo Credit: teamLab, Exhibition view of Every Wall is a Door, 2021, Superblue Miami, Miami, Florida