I tend to roll my eyes when someone posts about their vacation on social media with the overused "Take me back!" caption.
Alas, here I am, looking back at photos of my stay at the Four Seasons Hotel Bangkok and muttering to myself, "Ugh, take me back!" — both about Thailand and this hotel specifically.
While the hotel may be in the center of Bangkok, this isn't just a city hotel. The abundant green outdoor spaces, expansive pool, and wide array of dining and drinking spots make the hotel feel more like a resort than a staid city property. Multiple staff members even referred to the hotel as an "urban sanctuary" during my short stay.
Four Seasons may be one of the herald-bearers of luxury hotels, but this property also managed to show a fun, down-to-earth side of the brand: Its staff members are warm and approachable, and the property embraces the surrounding Creative District neighborhood. It's the ideal hotel for those looking to get a taste of Bangkok while also getting pampered.
Seriously, though: Take me back to the Four Seasons Bangkok.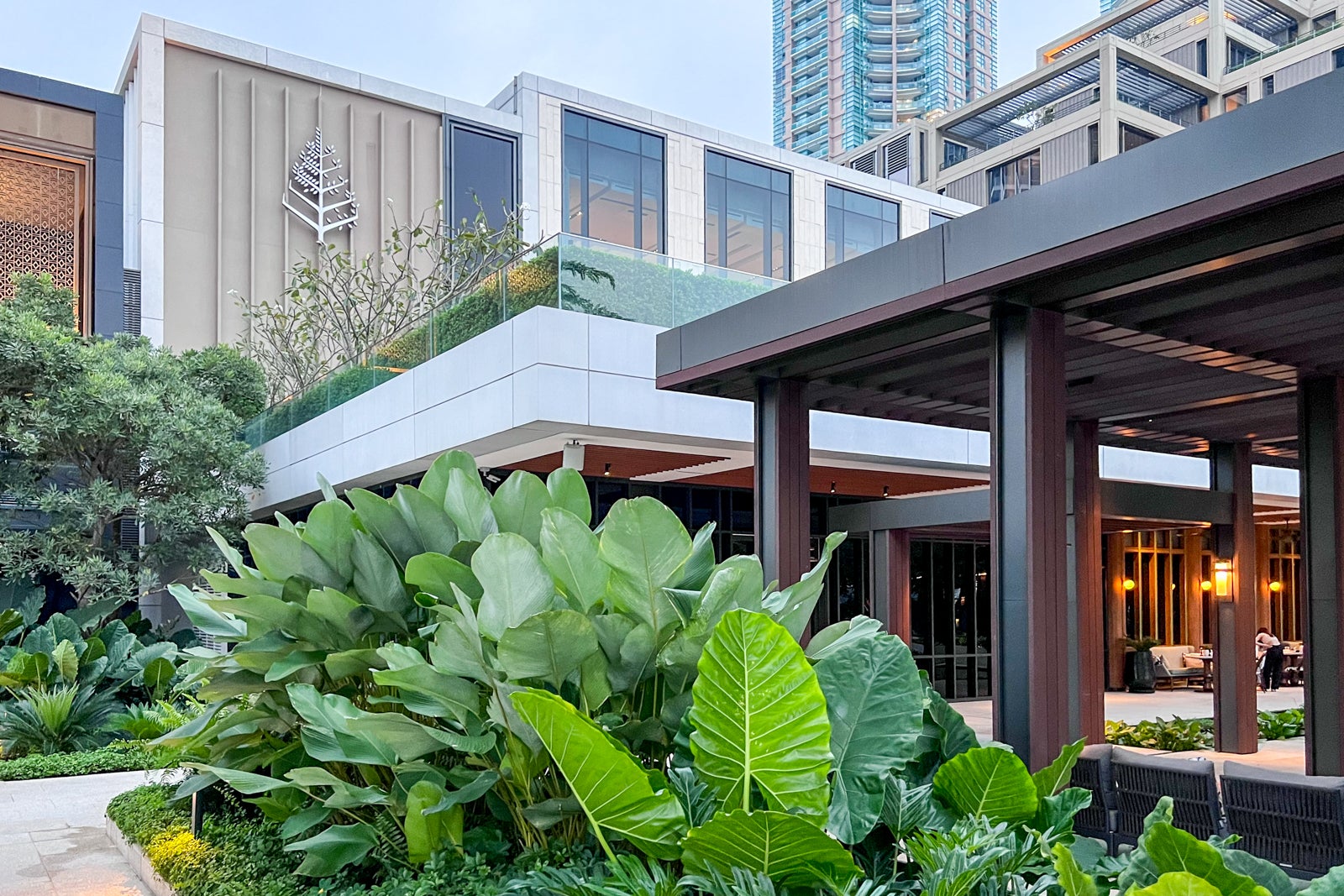 Booking
I booked my one-night stay through Brett Snyder, who runs the booking service Cranky Concierge. This reservation came with Four Seasons Exclusive Preferred Partner Benefits like free breakfast in one of the hotel restaurants, a $100 on-property credit and a one-category room upgrade based on availability.
I initially booked a Deluxe Room with a king-size bed for 19,000 Thai baht, or about $546, per night. Thanks to availability, I was upgraded two categories to a Deluxe River-View Room with a king-size bed at check-in.
Four Seasons doesn't have a traditional loyalty program for members to earn and redeem points on stays, but cash rates at the Bangkok hotel currently start at 17,000 Thai baht, or about $489, per night.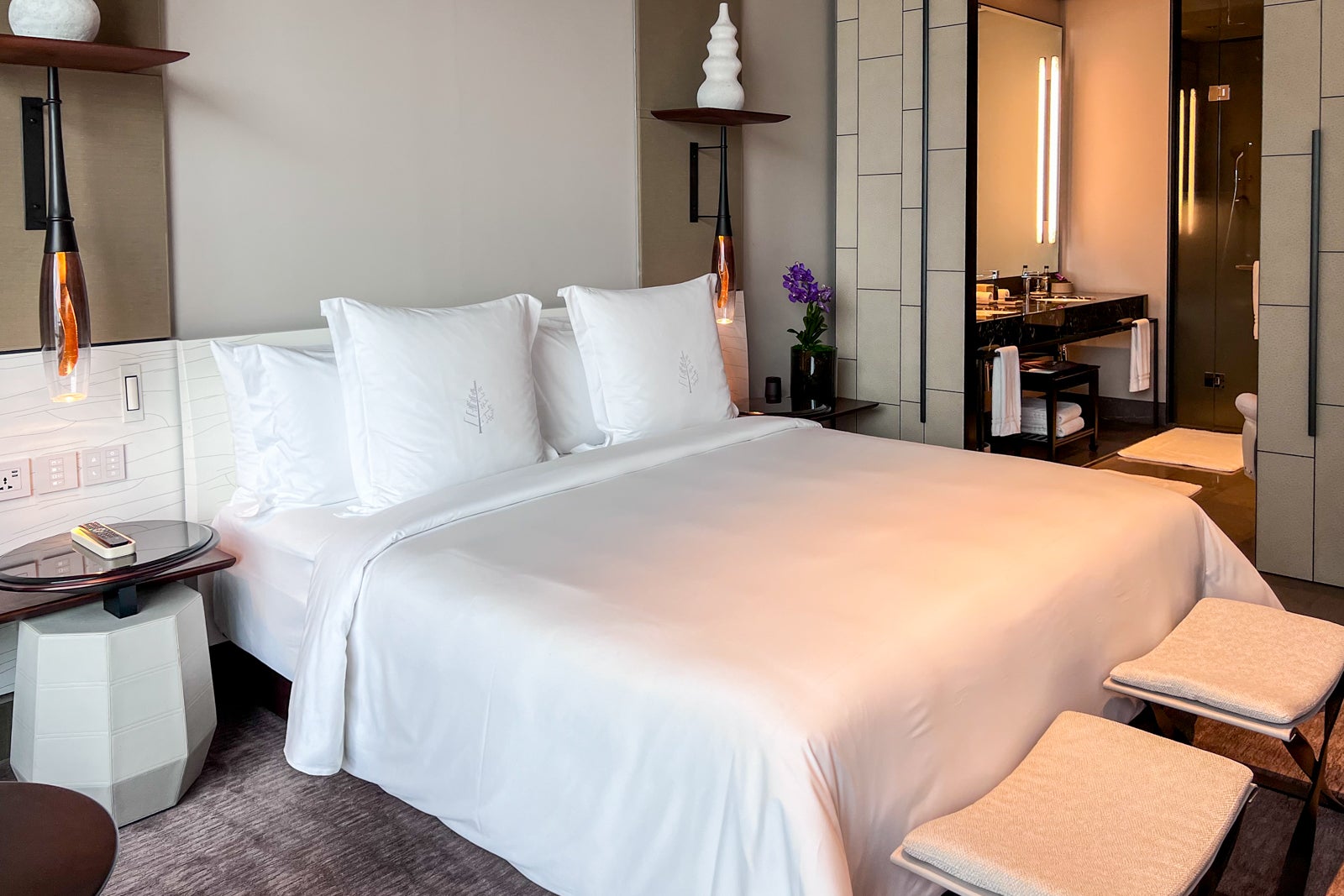 Getting there
The Four Seasons, which first opened in late 2020, shares a hotel and residential compound with a separate Four Seasons Private Residences Bangkok tower as well as the Capella Bangkok hotel. Additionally, it's part of a stretch of the Chao Phraya riverfront dotted by several high-end hotels like the Shangri-La Bangkok and the Mandarin Oriental, Bangkok.
I was coming from the Standard, Bangkok Mahanakhon, so I used the ride-hailing app Grab to take a 20-minute drive for 276 Thai baht, or $8, from the Central Business District.
Without too much traffic, it's a 30-minute cab ride from the Four Seasons to Bangkok's Suvarnabhumi Airport (BKK).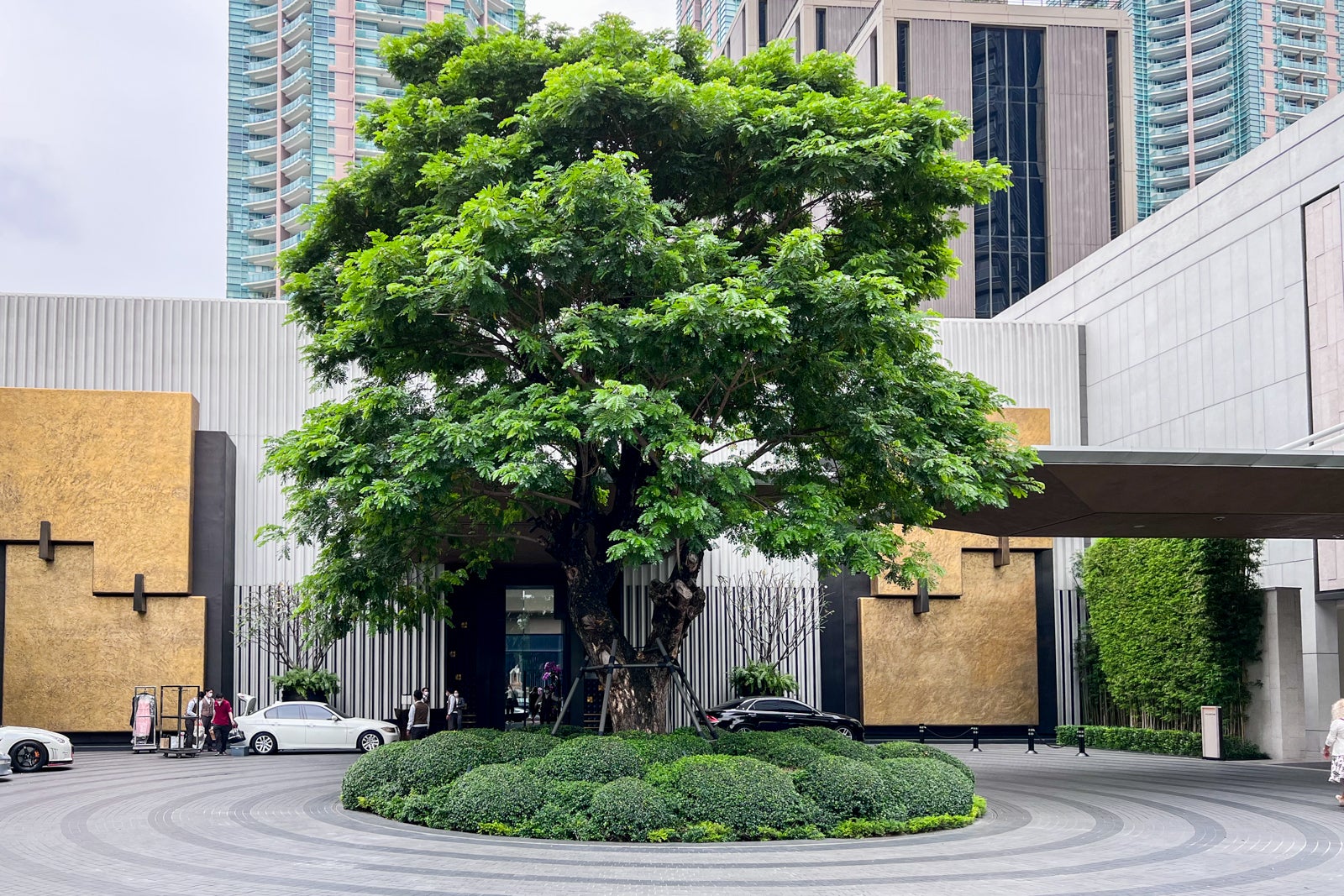 Standout features
The Four Seasons was so staffed up that it felt like walking into a parallel universe where hotel labor shortages weren't a concern at all. To top it off, the staff were all incredibly friendly, helpful and fun to be around.
BKK Social, an Argentine-themed cocktail lounge, ended up delivering one of the best nights I had during my entire trip to Thailand. The crowd was a mix of Bangkok locals and international hotel guests. Everyone was convivial, chatty and attentive, and I even considered heading back for a drink after I moved on to my next hotel after checkout.
The fitness center at the Four Seasons Bangkok was well-equipped, sleek and felt more like an Equinox than a hotel gym. Additionally, there was an outdoor lap pool to get another level of cardio in before breakfast.
The overall ambiance was elegant and hospitable but at the same time didn't seem stuffy; this surprised me since the wall surrounding the complex made the Four Seasons initially feel like a walled-off fortress.
Drawbacks
The suggestion to make requests almost entirely through a messaging platform from a tablet in each guest room falls flat. Responses are usually fast, but there were instances where staffers just stopped communicating on multiple occasions for pretty simple requests like "When is my laundry getting returned" or "How do I get to the gym?"
Speaking of the gym, I wish there were a better way to access the gym and rooftop lap pool beyond having to trek through the main lobby. Guests might feel self-conscious going by such a fancy-looking lobby crowd while in gym gear or still damp from a morning swim.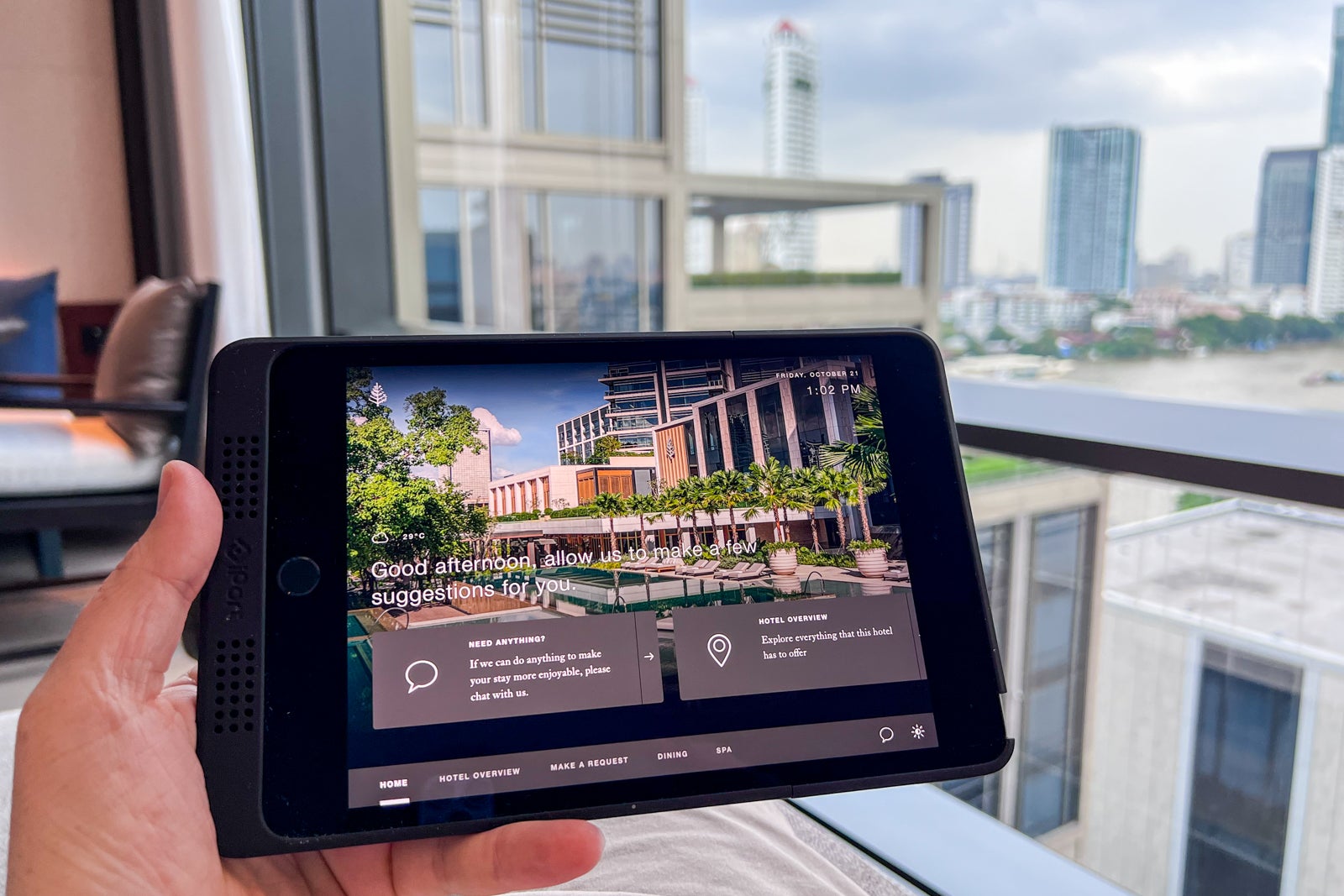 The vibe
At first glance, the Four Seasons Bangkok comes across as an unapproachable kind of hotel — and not just because of the massive wall surrounding the place. The main entrance is heavily staffed, making it feel like you better have a reason to be there if you even try to go through the front door. But the rest of the experience belies first impressions.
Once you get past the cluster of staff greeting arriving guests, you walk into an ornate lobby with soaring, wavy stone walls, profuse floral arrangements and a view into an interior courtyard with a pond.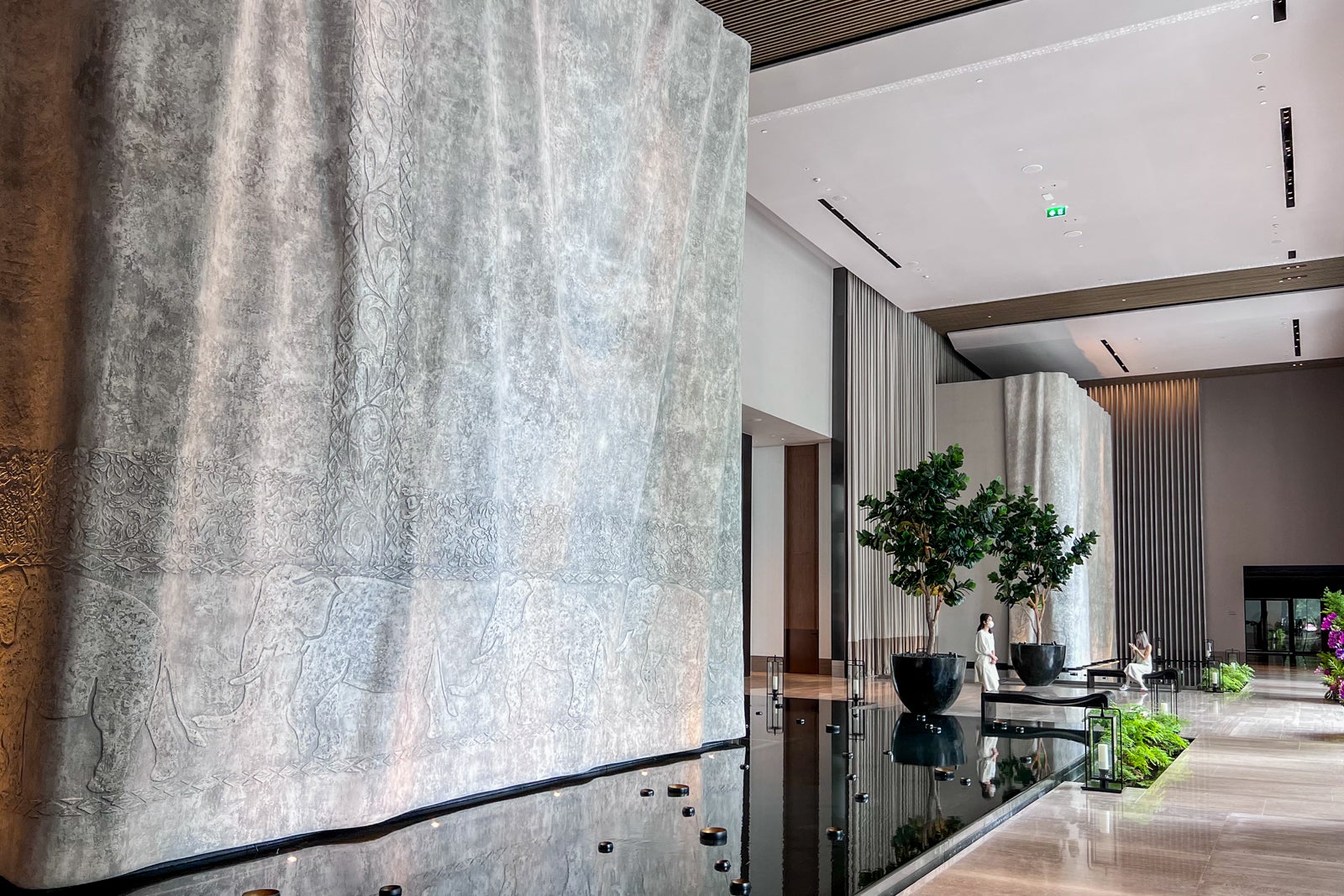 It's a significantly more inviting place to enter than the imposing entrance might suggest. Members of the staff are friendly guides to the sprawling property and give the hotel a much more relaxed feel than the minimalist gray and black aesthetic exudes.
This is a place where you can easily fit in wearing a three-piece suit and sipping a glass of Champagne in the lobby lounge, or just donning your casual Friday finest and swaying to the music at BKK Social, the hotel's signature cocktail bar. Luxury comes in various forms, and this hotel successfully excels at entertaining the variety.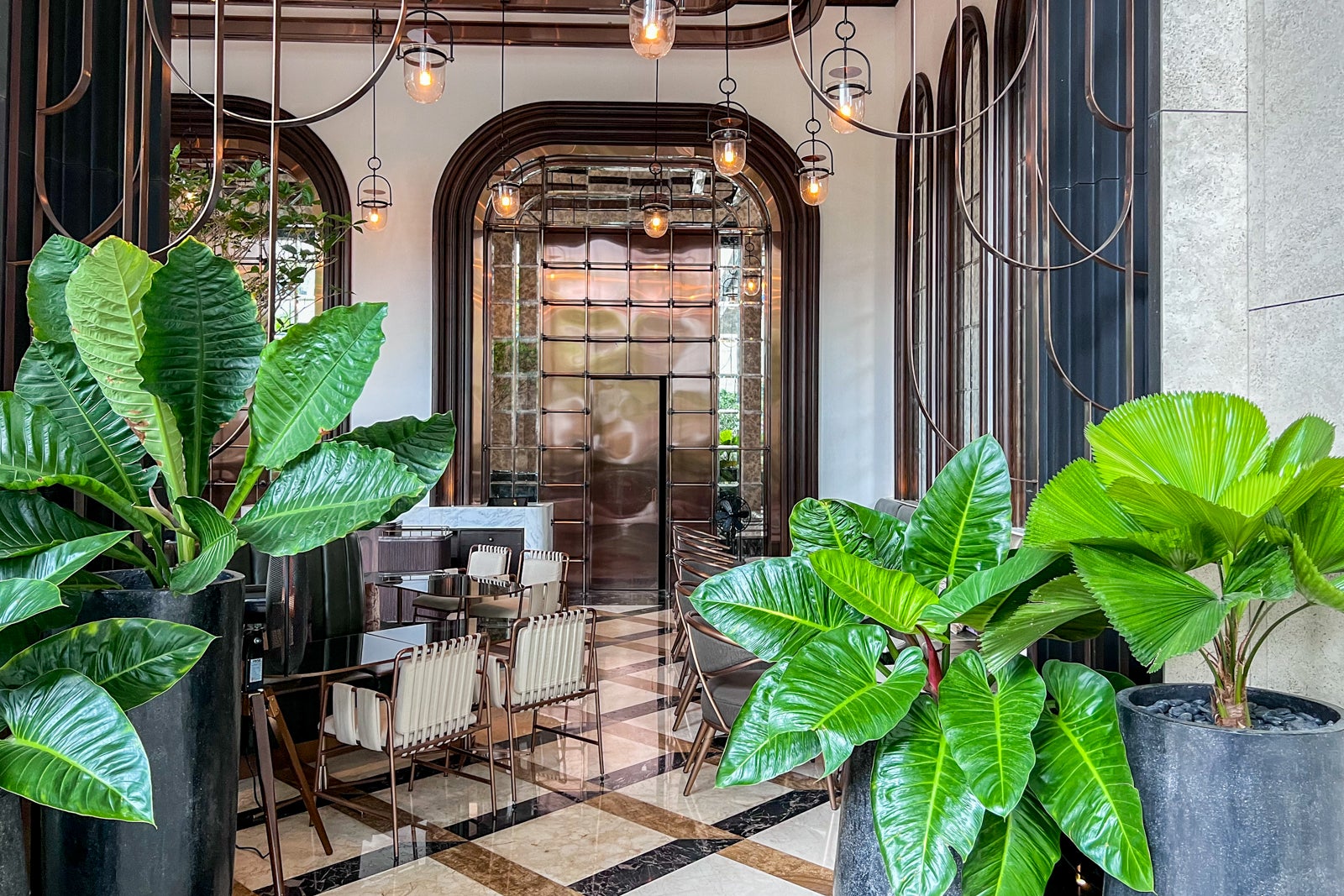 The room
My ninth-floor Deluxe River-View Room was an extraordinarily spacious place to spend a night in Bangkok. One of the front desk staff members led me to my accommodations and showed me around to explain all the room's features — including the tablet that served as the main point of communication with the concierge team and the blinds that lowered with the push of a button over the nightstand.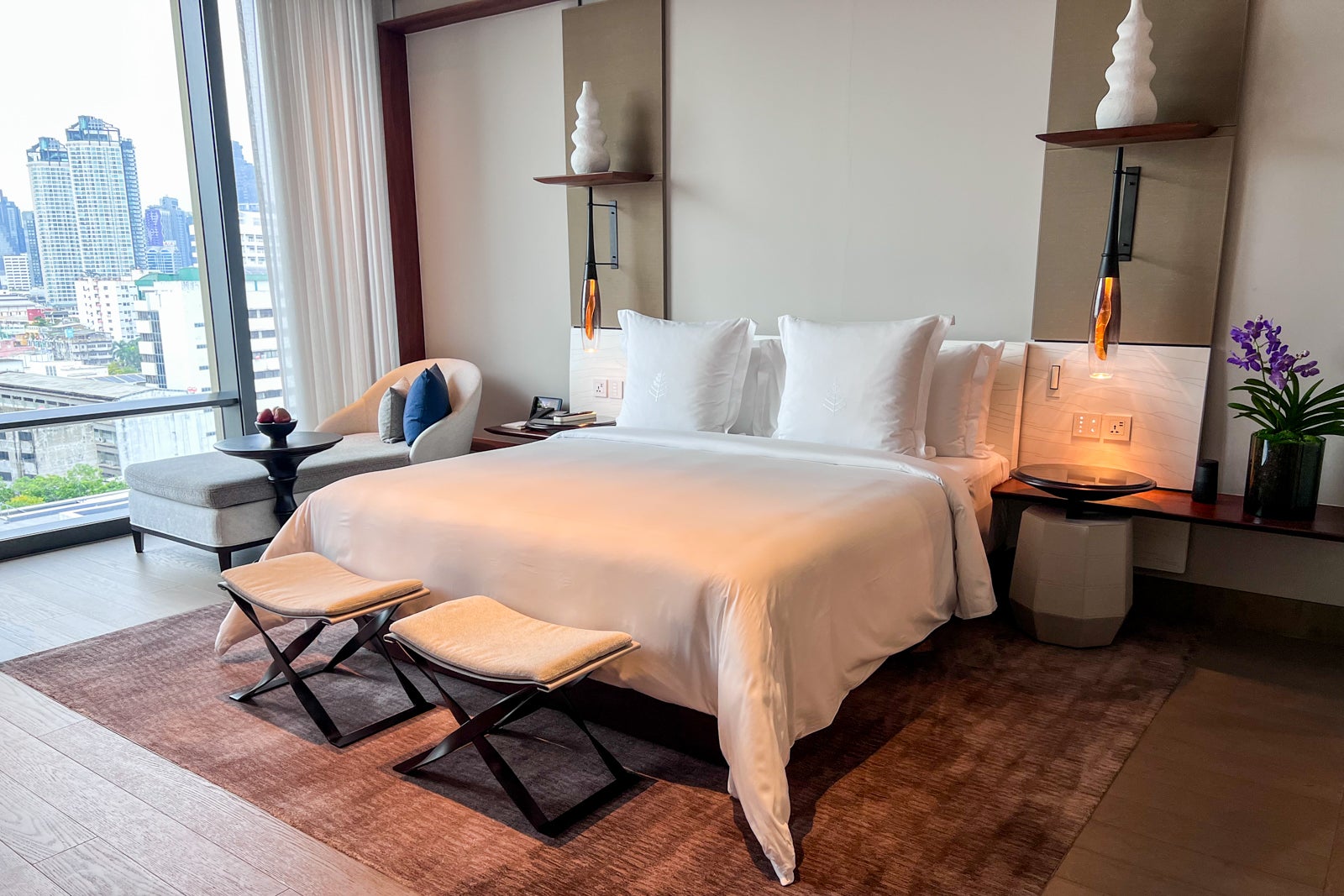 The bathroom was just off the entry foyer and featured a stand-alone tub (which I would use later in the evening to soak, sip a glass of red wine and listen to a new Taylor Swift album that came out that day), an enormous walk-in rainfall shower and a dual, black marble vanity stocked with dental kits, shaving kits and shower caps.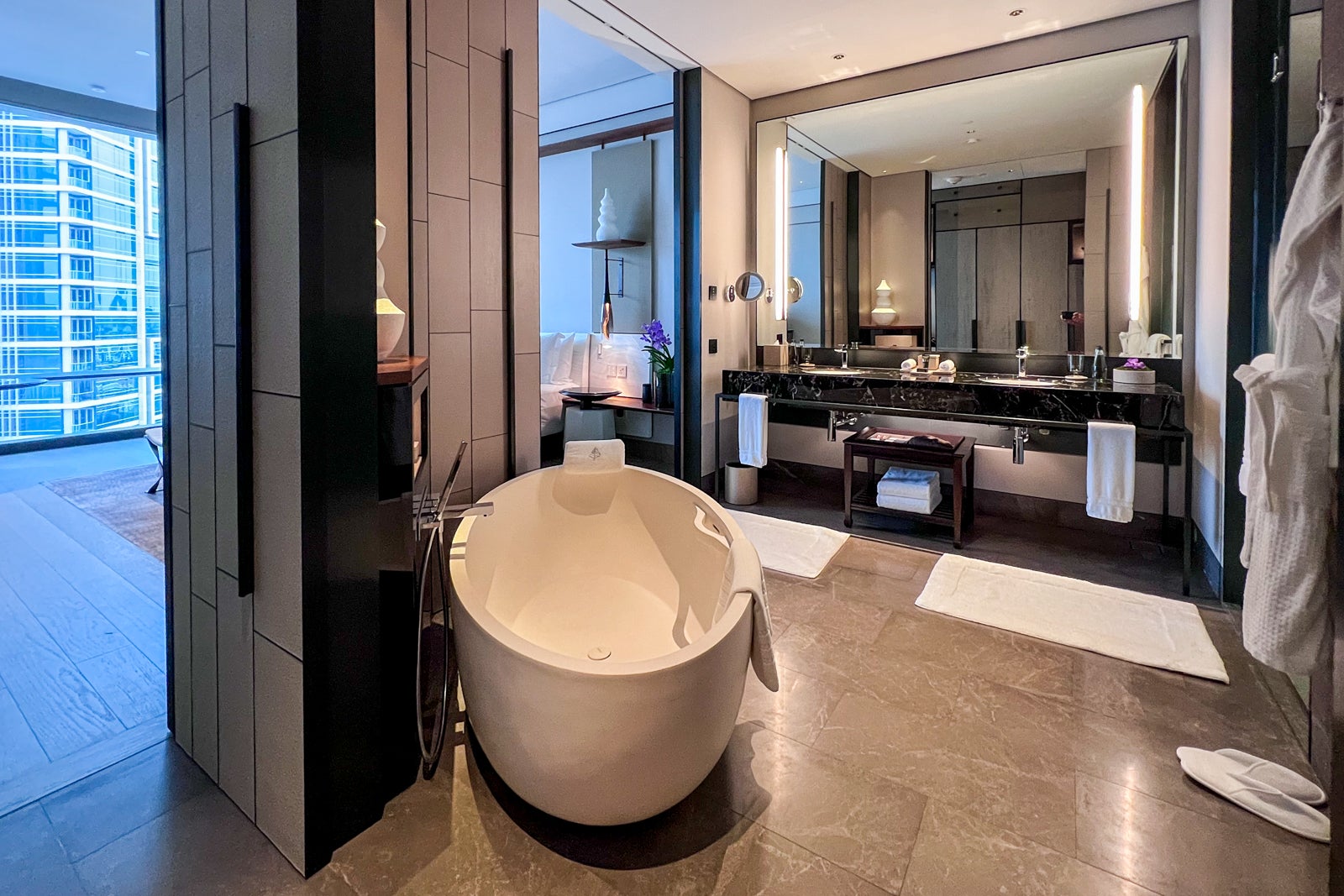 One of my biggest disappointments with hotel rooms with stand-alone tubs is that there often isn't more thought put into actually using the tub. Can hotel procurement teams start ordering more bubble bath when they see these things are in the bathroom? The Four Seasons, however, appears to recognize a show-stopping tub is more than just decor.
There was a terrycloth pillow attached to the edge of the tub to rest one's head and a jar of bath salts to add to the water. I still used some of the hotel's Pañpuri shower gel products to get some bubbles going, but it was nice to see at least more attention, and more amenities, than usual.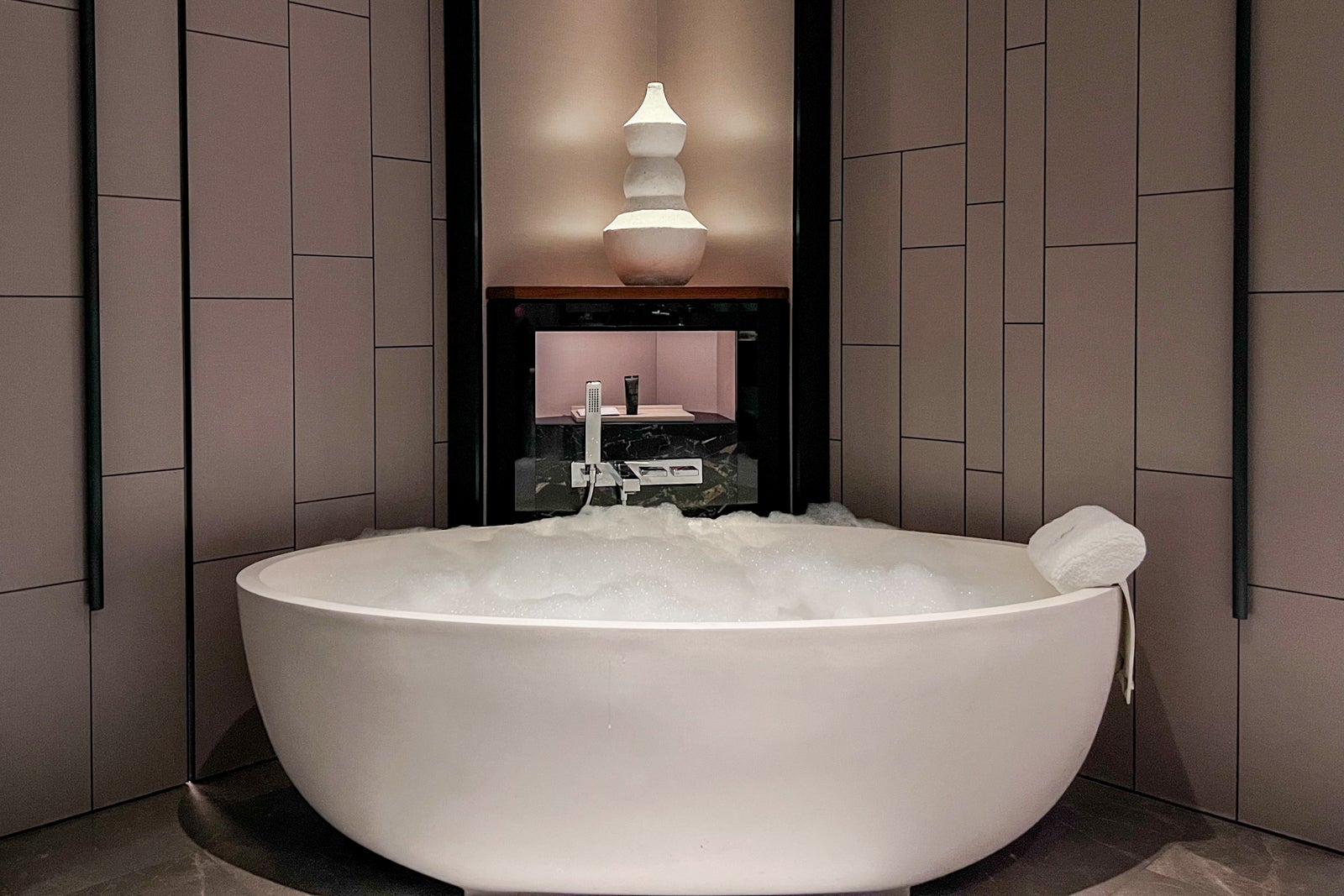 The one downside was the lack of hanging hooks and racks with which to dry towels. With two people in the room, you'd be hard-pressed to find enough suspension for all the linens.
The bathroom opened directly into the bedroom, but there was a panel you could close for more privacy. The guest room followed the hotel's broader design ethos of muted gray, black and white tones with elegant dashes of warmer colors and dark wood.
The king-size bed was dressed in all-white linens and the usual square, Euro pillows emblazoned with the Four Seasons logo. The bed was so comfortable to sleep in that I've been perusing the Four Seasons home collection store online since checking out, and it's probably only a matter of time before I finally go ahead and buy these pillows for my own home. Coupled with the blackout shades, the Four Seasons bedding gave me the best sleep of my entire week in Thailand.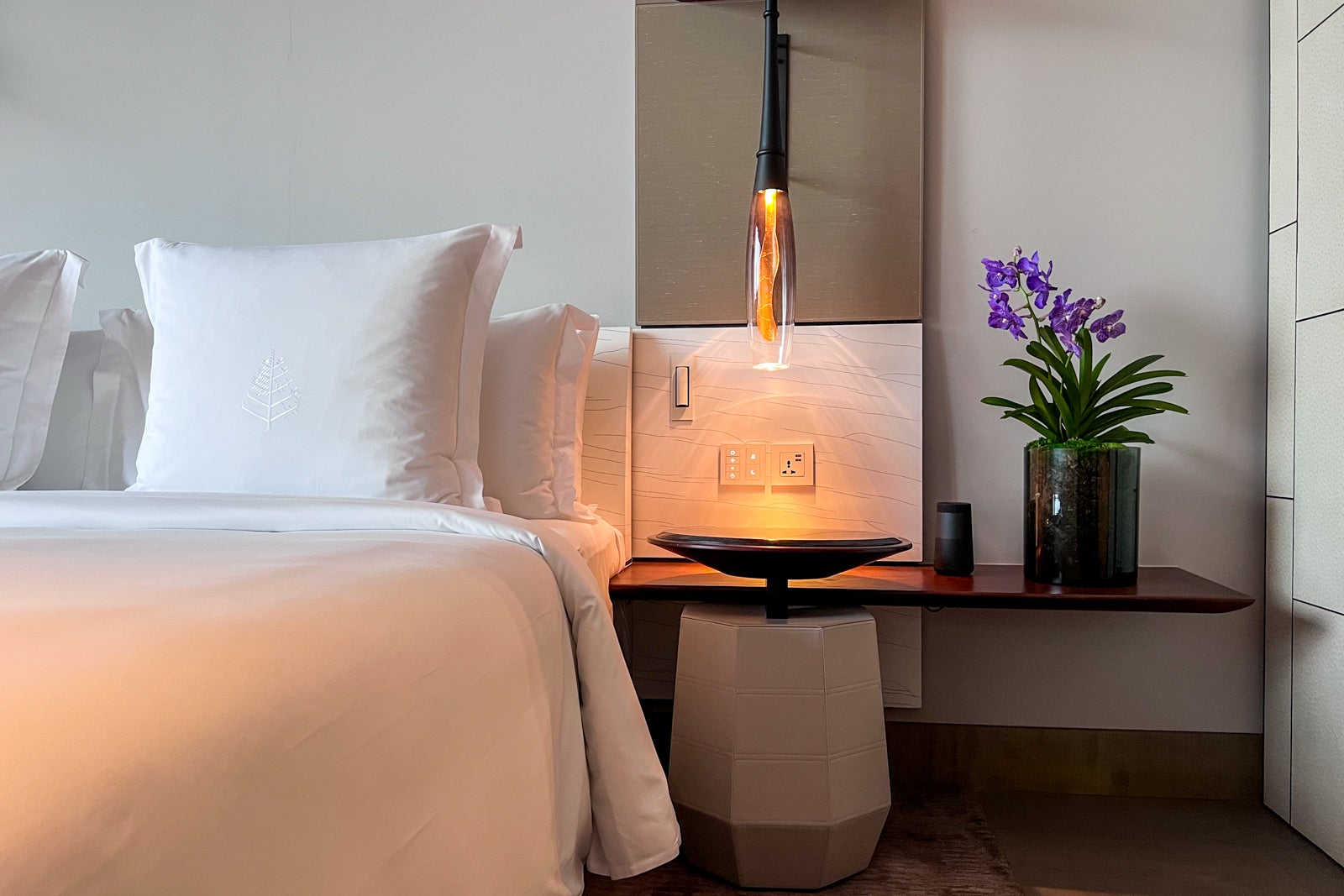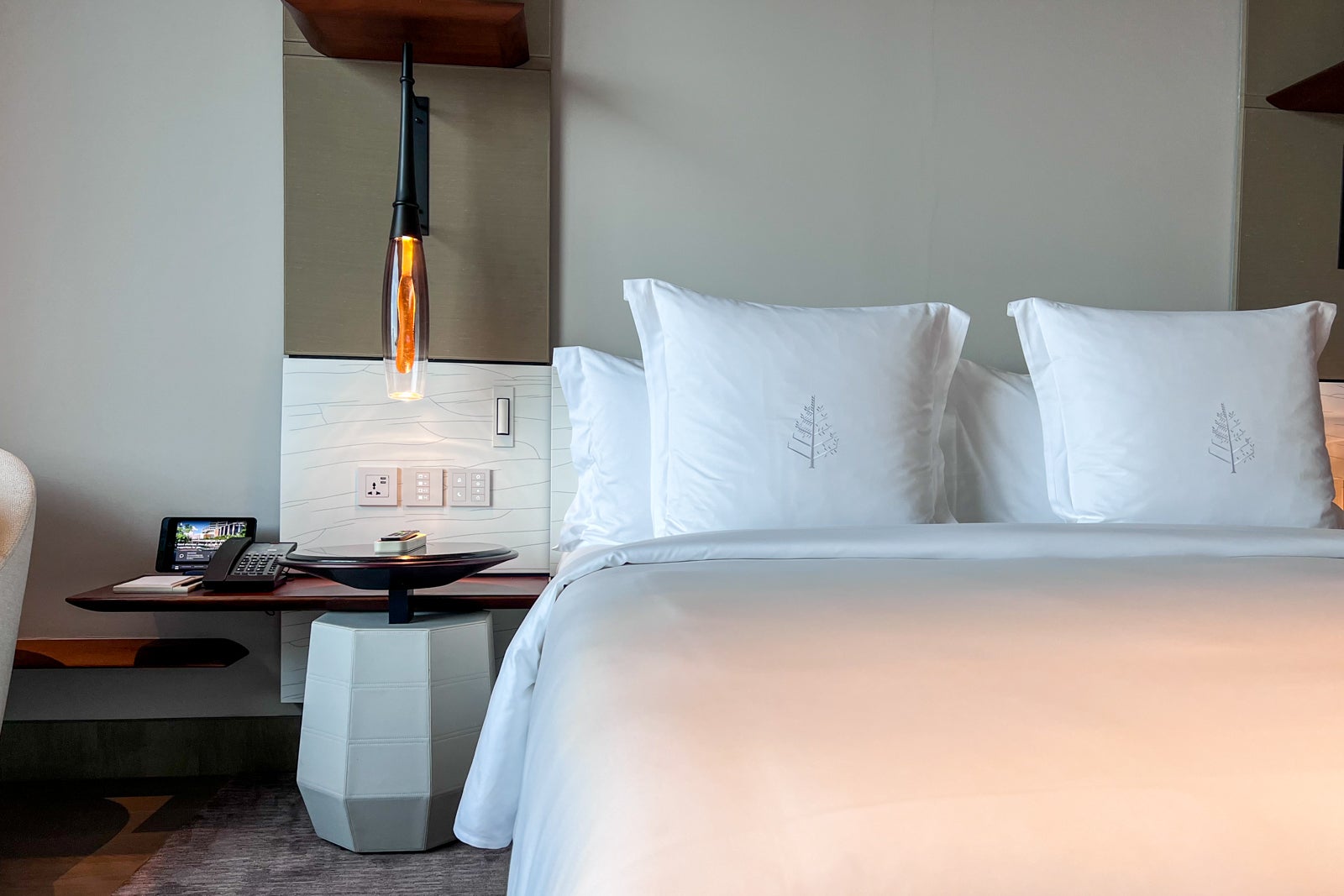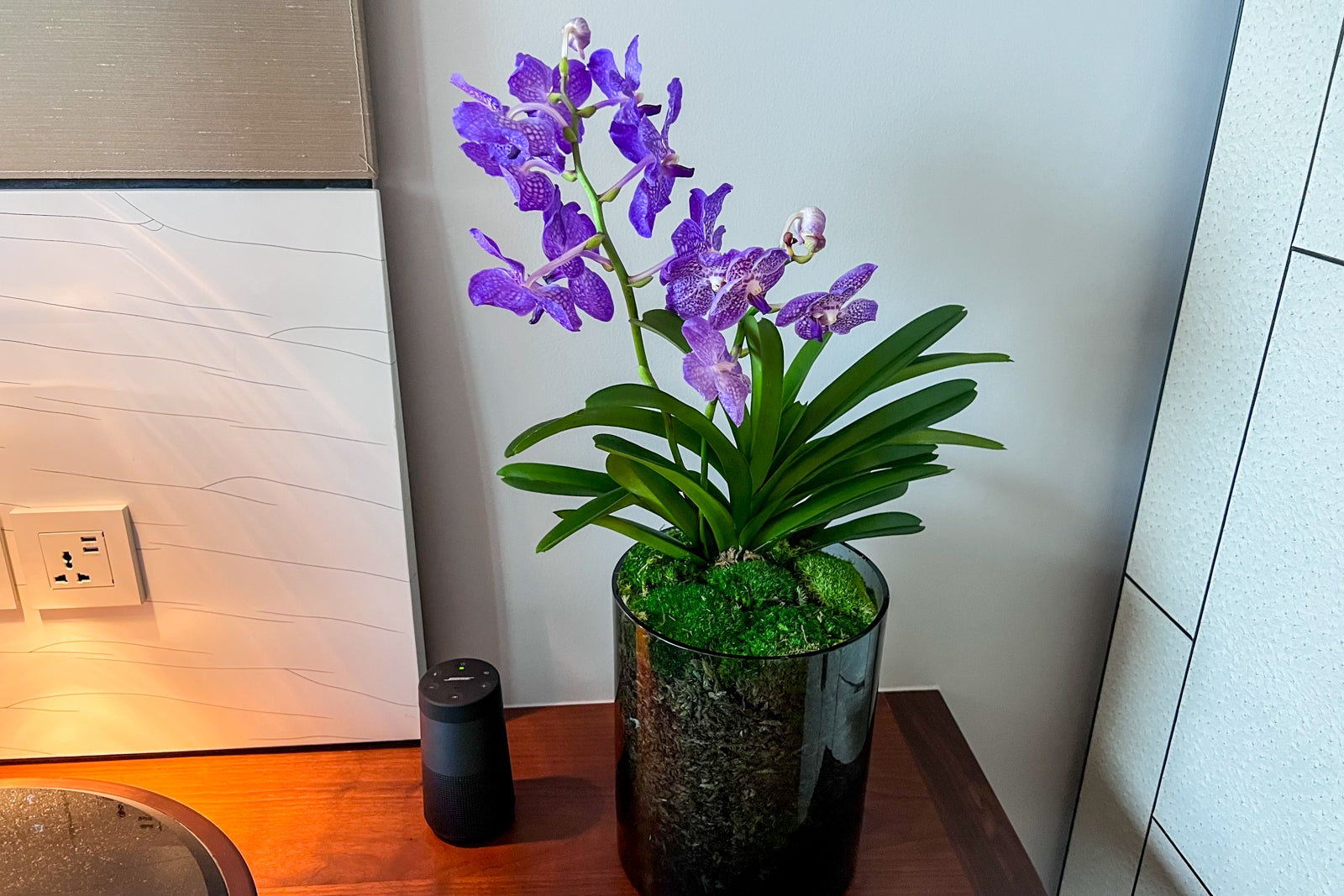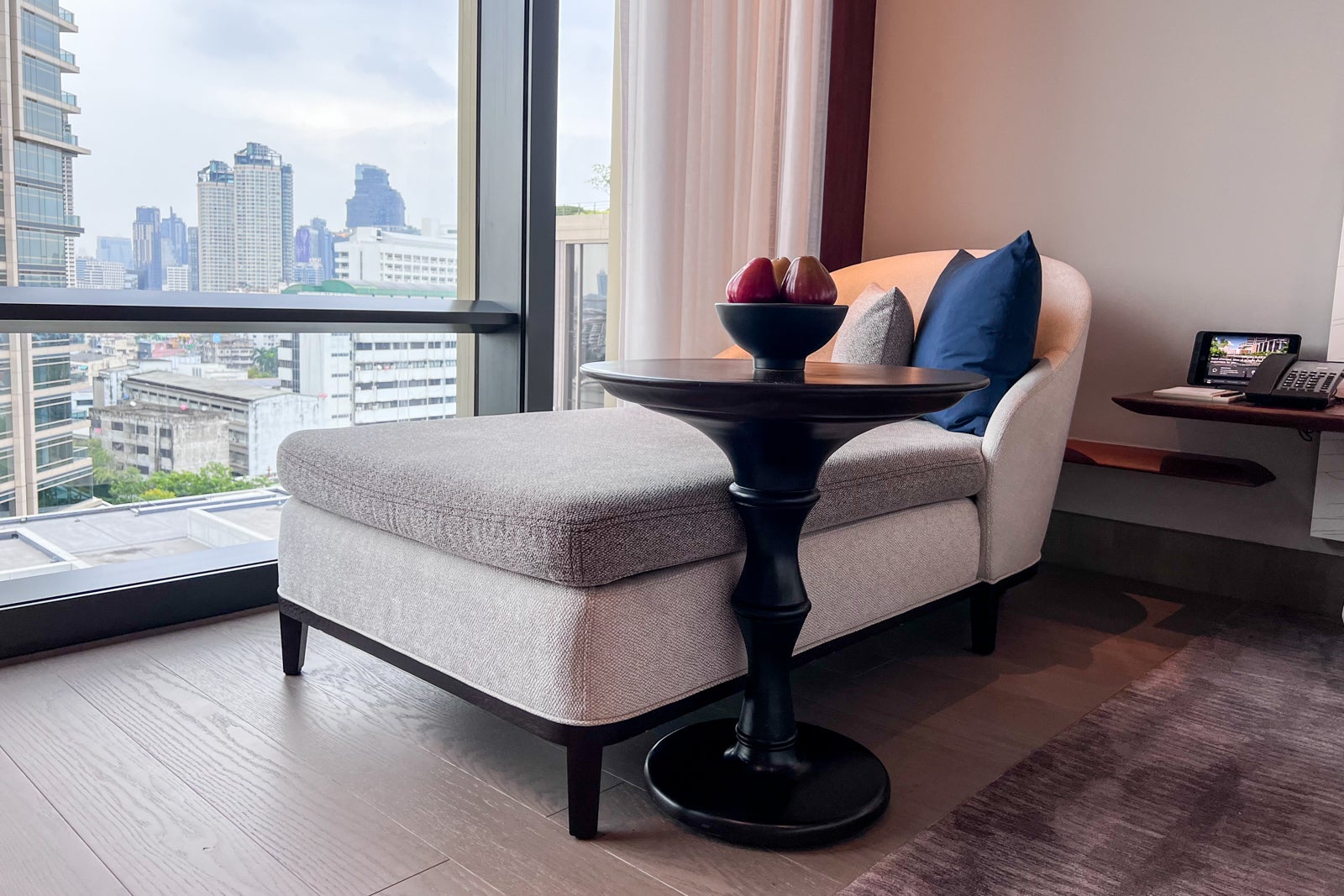 Nightstands on either side of the bed included golden pendant reading lights as well as panels of buttons to control the window shades (both sheer and blackout) and lighting throughout the room. There were also universal electrical outlets (no need for a converter) on either side that included two USB-A ports.
While the room was billed as a river-view room, I'd say the layout of the hotel gave it more of a recessed river view. I could still see the Chao Phraya, but those looking for uninterrupted river panoramas might want to call ahead to ask for a room closer to the water. Additionally, there was a pretty significant dirty mark on the window exterior. I was only there for a night, but it did take away from the river view.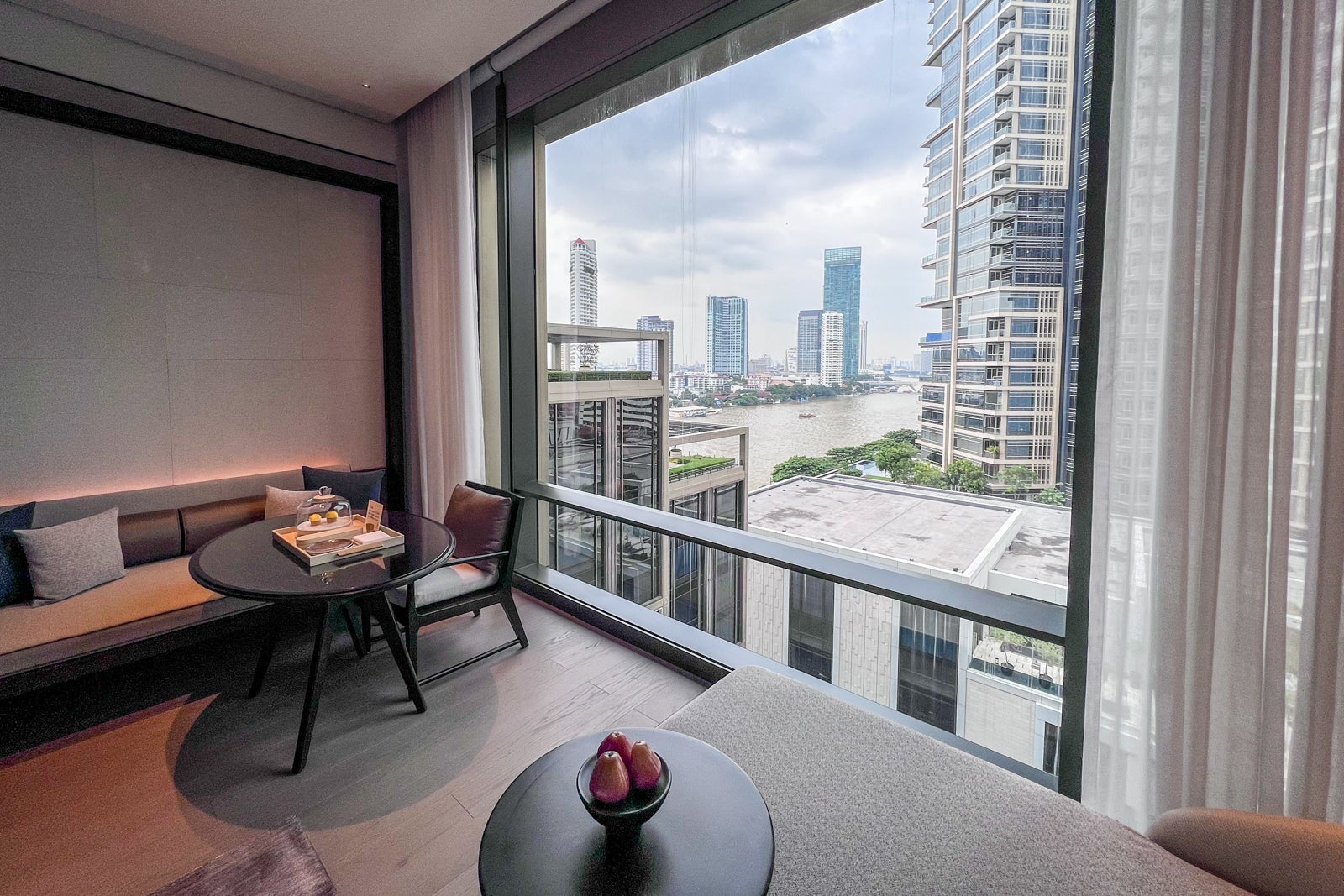 There were several seating areas throughout the room, from two stools at the foot of the bed to a chaise lounge closer to the windows. A table by the chaise lounge held a tray of fruit that staff refreshed at evening turndown. There was a stand-alone seating area with a table, couch and chair in the corner of the room where I found a welcome pastry from the chef (a result of the Cranky Concierge booking providing Four Seasons Exclusive Preferred Partner Benefits).
There was a large TV that I didn't use, but it did allow guests to stream content from their own mobile devices. There was also a very well-stocked minibar that I did frequently use for the free Nespresso because the jet lag was beginning to hit pretty hard at this point of my trip. The minibar included free tea, Nespresso, and snacks like rice crackers and Thai mango gummies.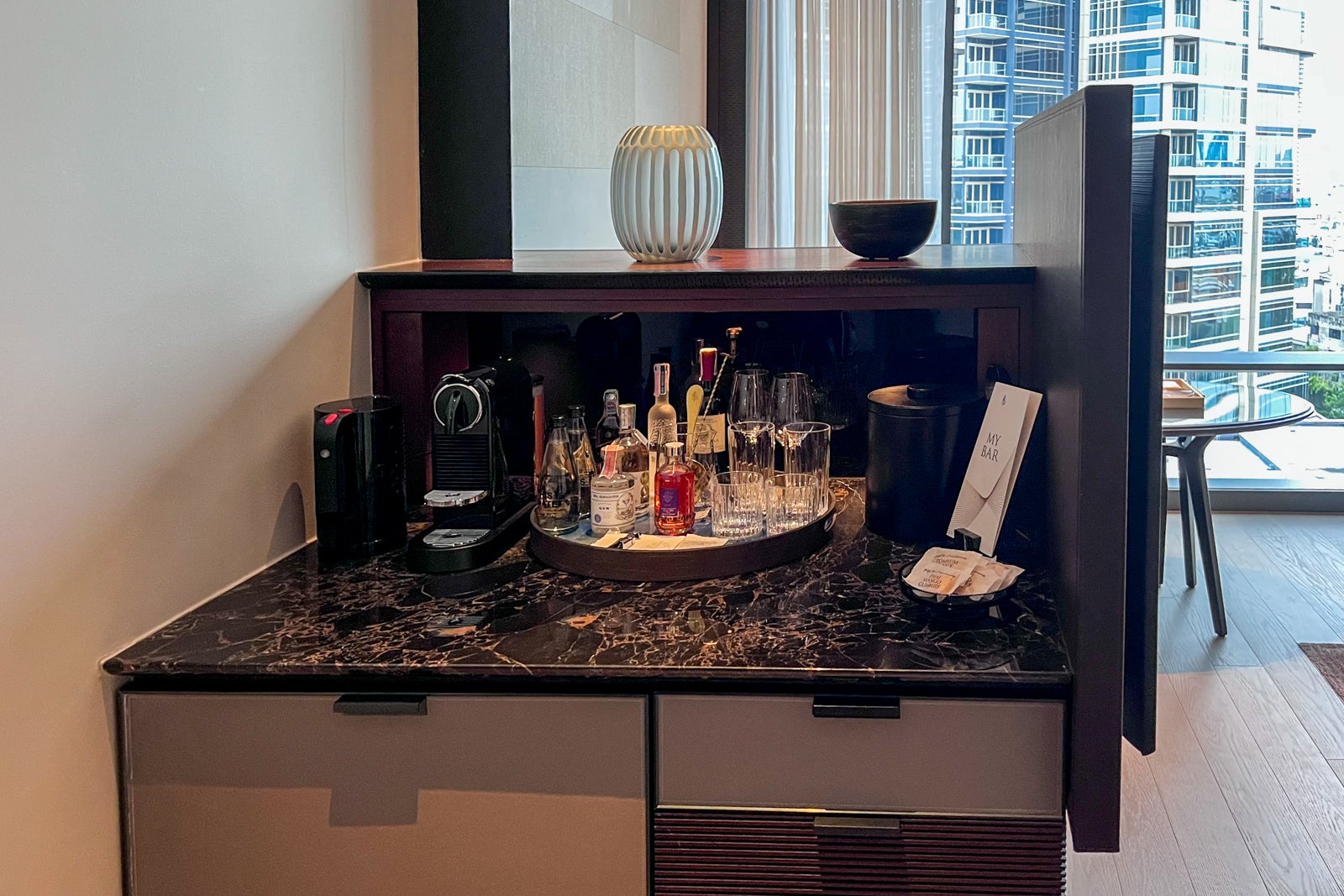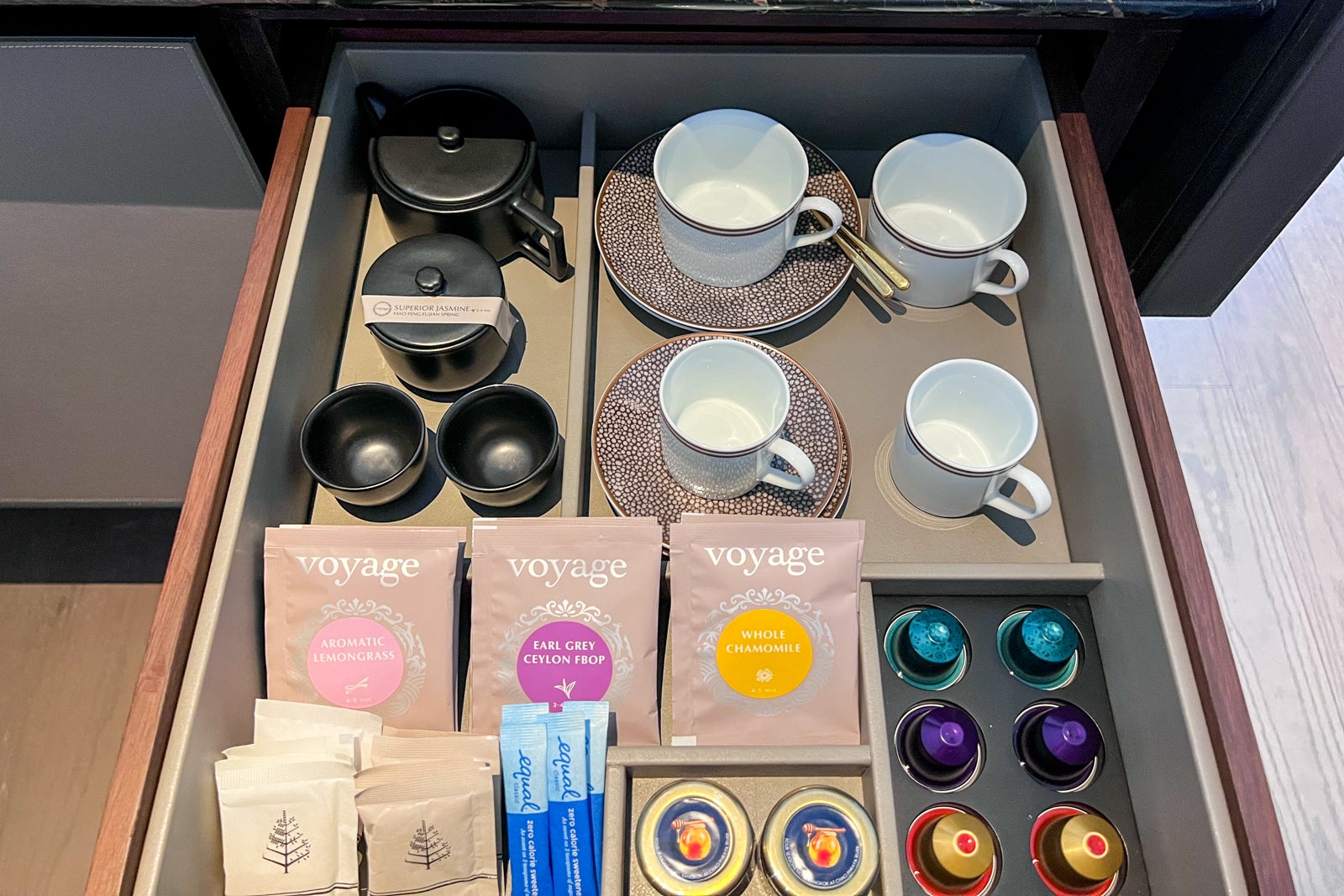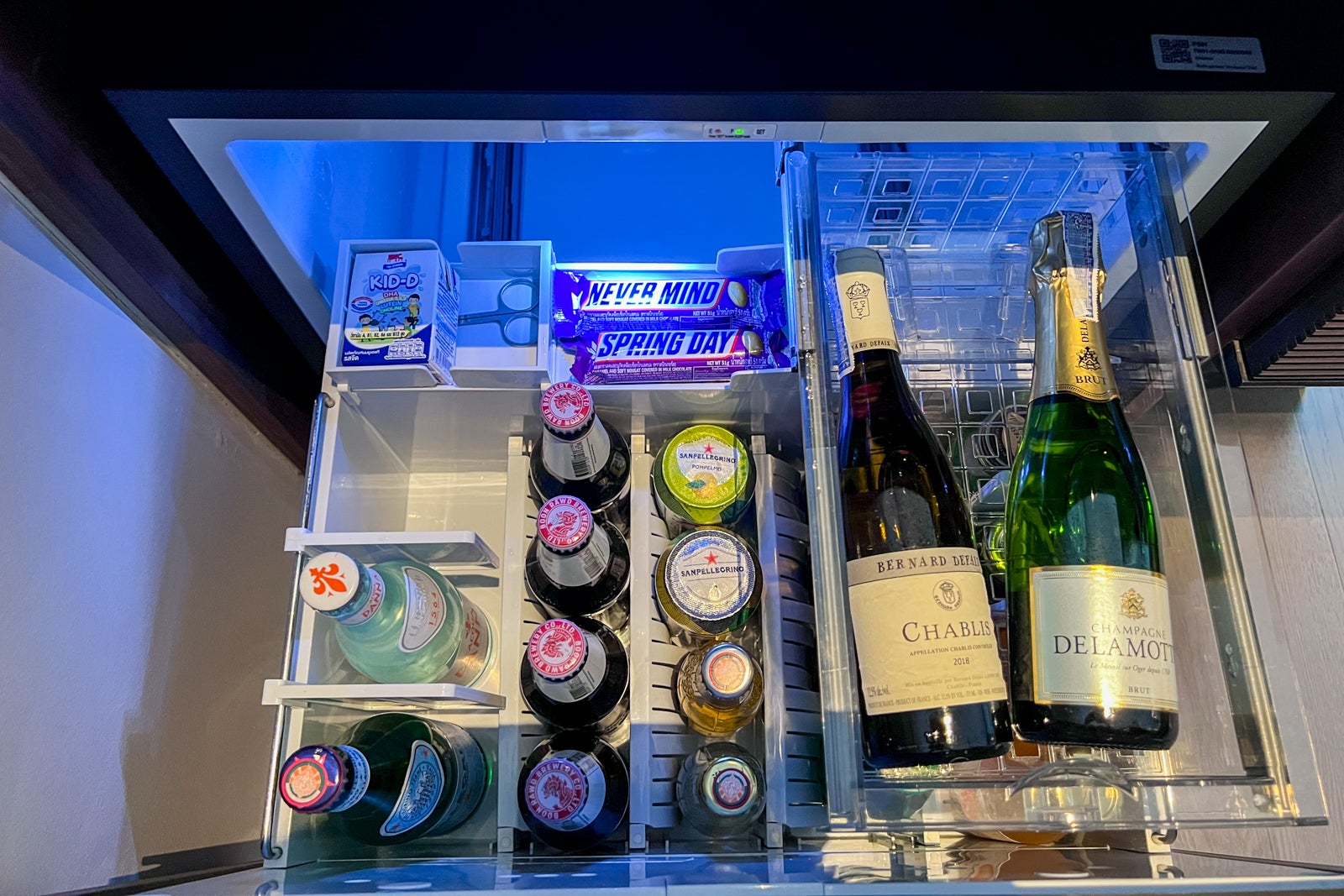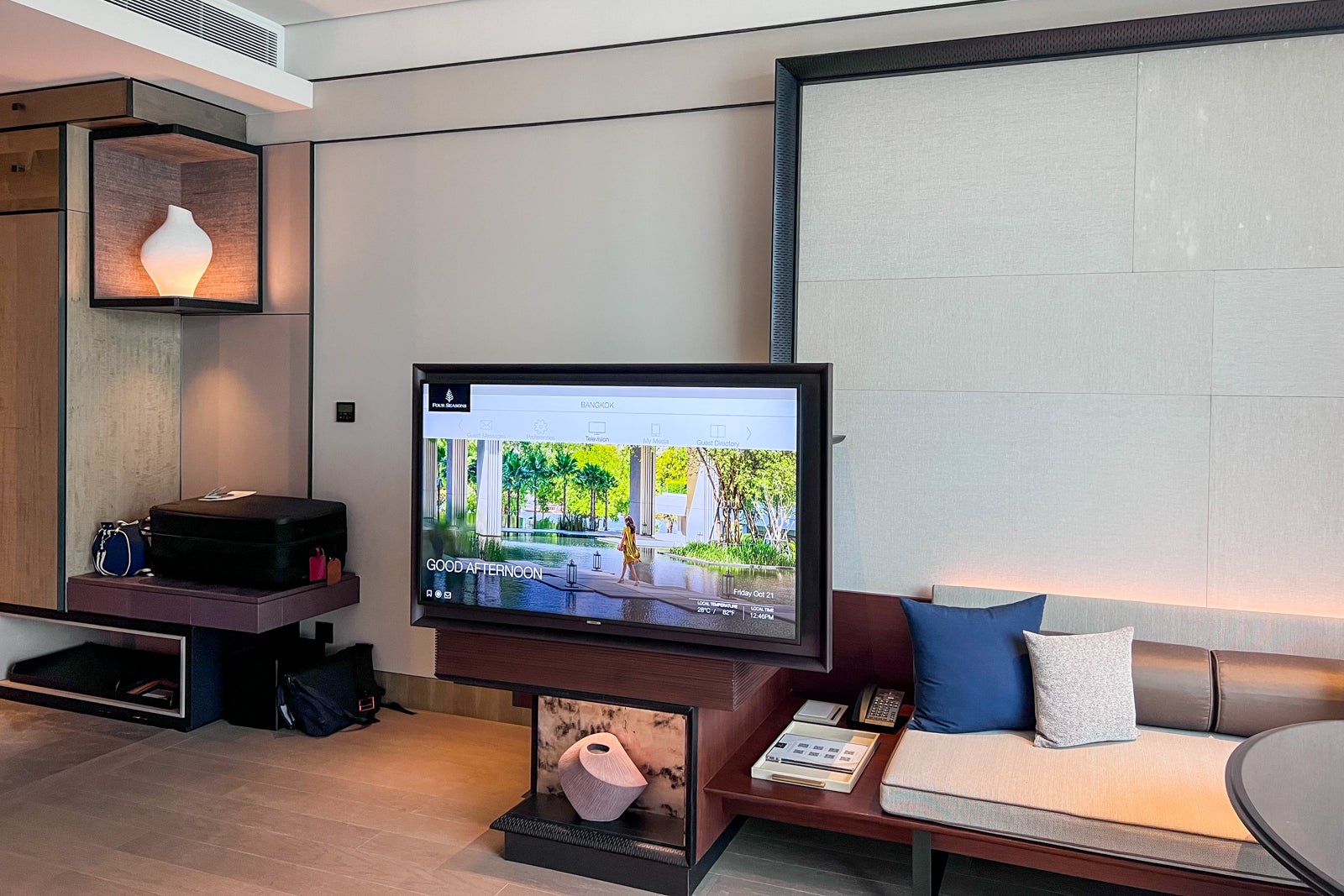 There were various snacks and beverages available for purchase, from potato chips to dried Thai strawberries on the snack front and sparkling water and Champagne on the drink front. There were also local beers from Boon Rawd Brewery and pre-made cocktails from the hotel's own BKK Social.
The guest room was very well thought out, and even small corners featured design flourishes like a purple orchid here or an ornate ceramic jar there. One of the touches I appreciated was a beach bag made of recycled materials hanging in the closet next to the bath robes. The bag was great for transporting gym clothes when heading to the fitness center or a bathing suit en route to the pool in the morning; without it, I would've had to dump everything out of my laptop bag and use that as a de facto tote during my stay. There was even a stand by the door with umbrellas in case it rained outside.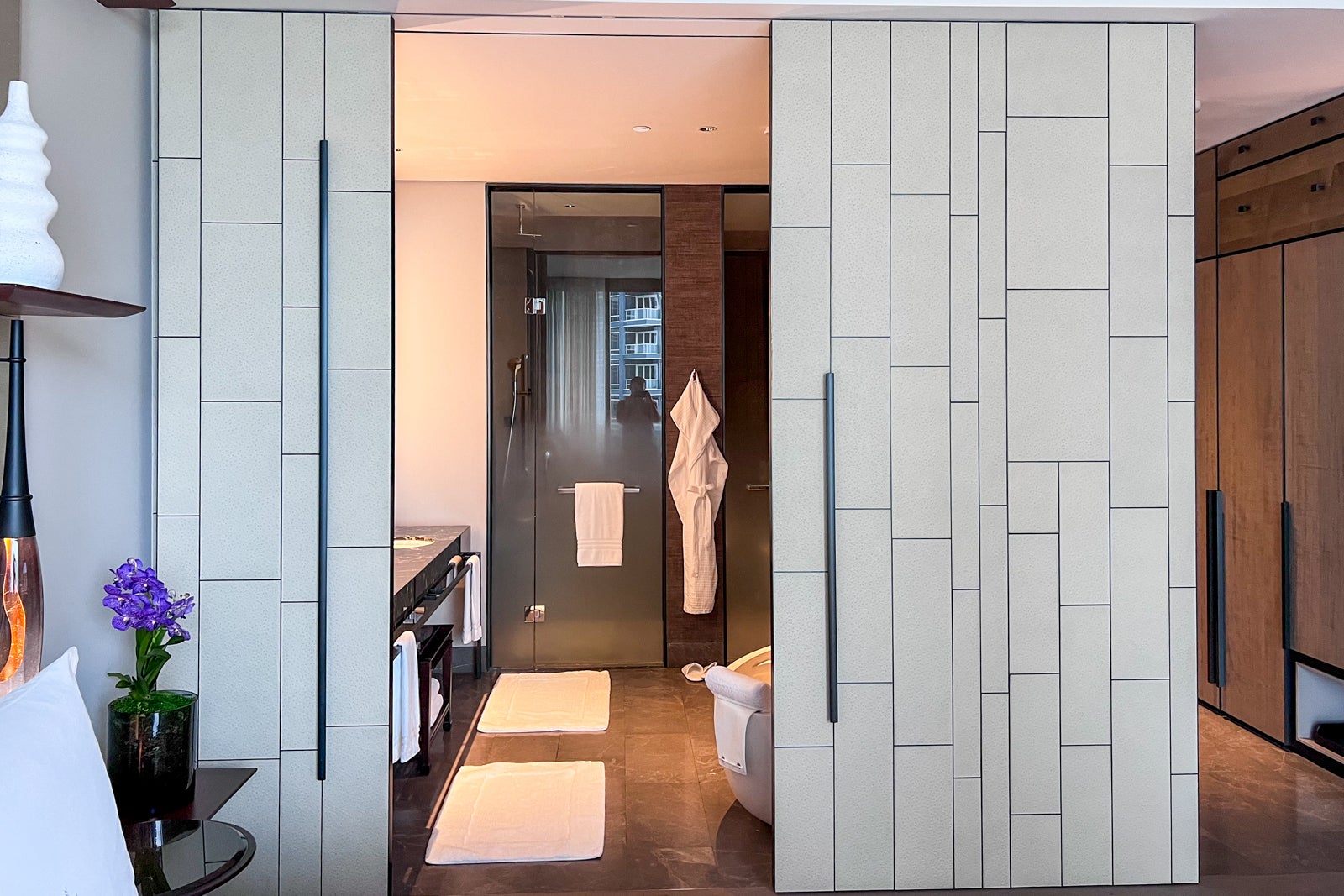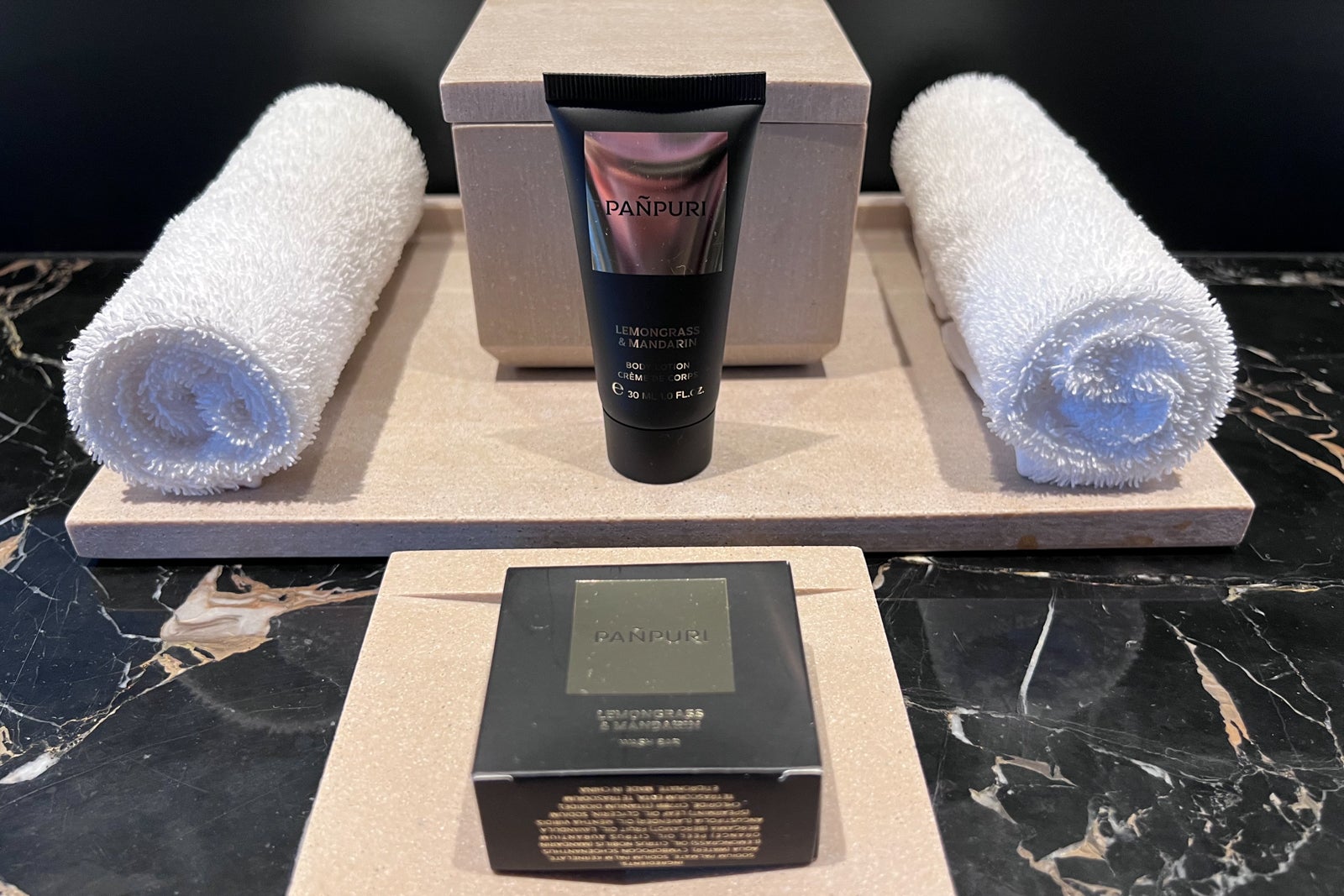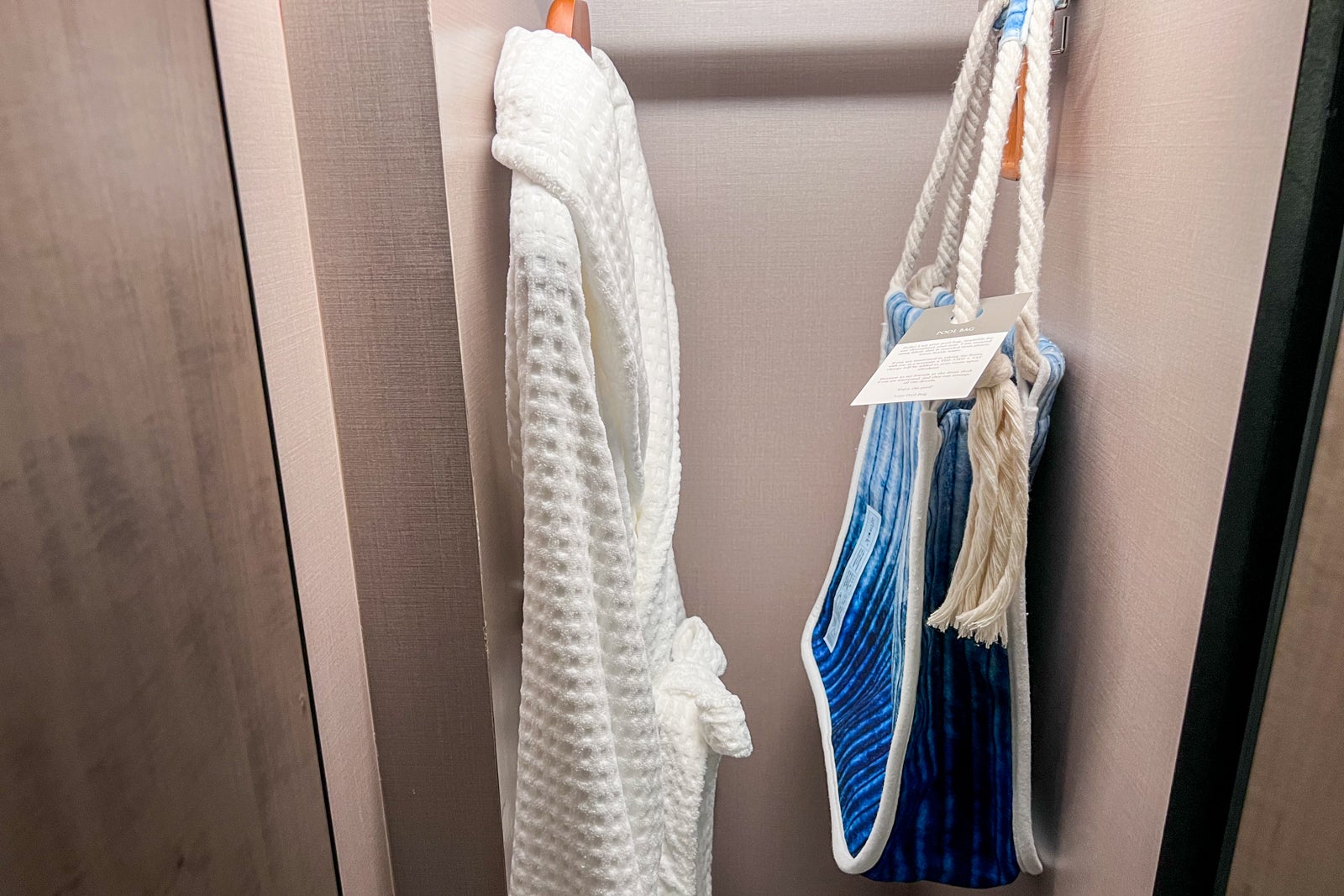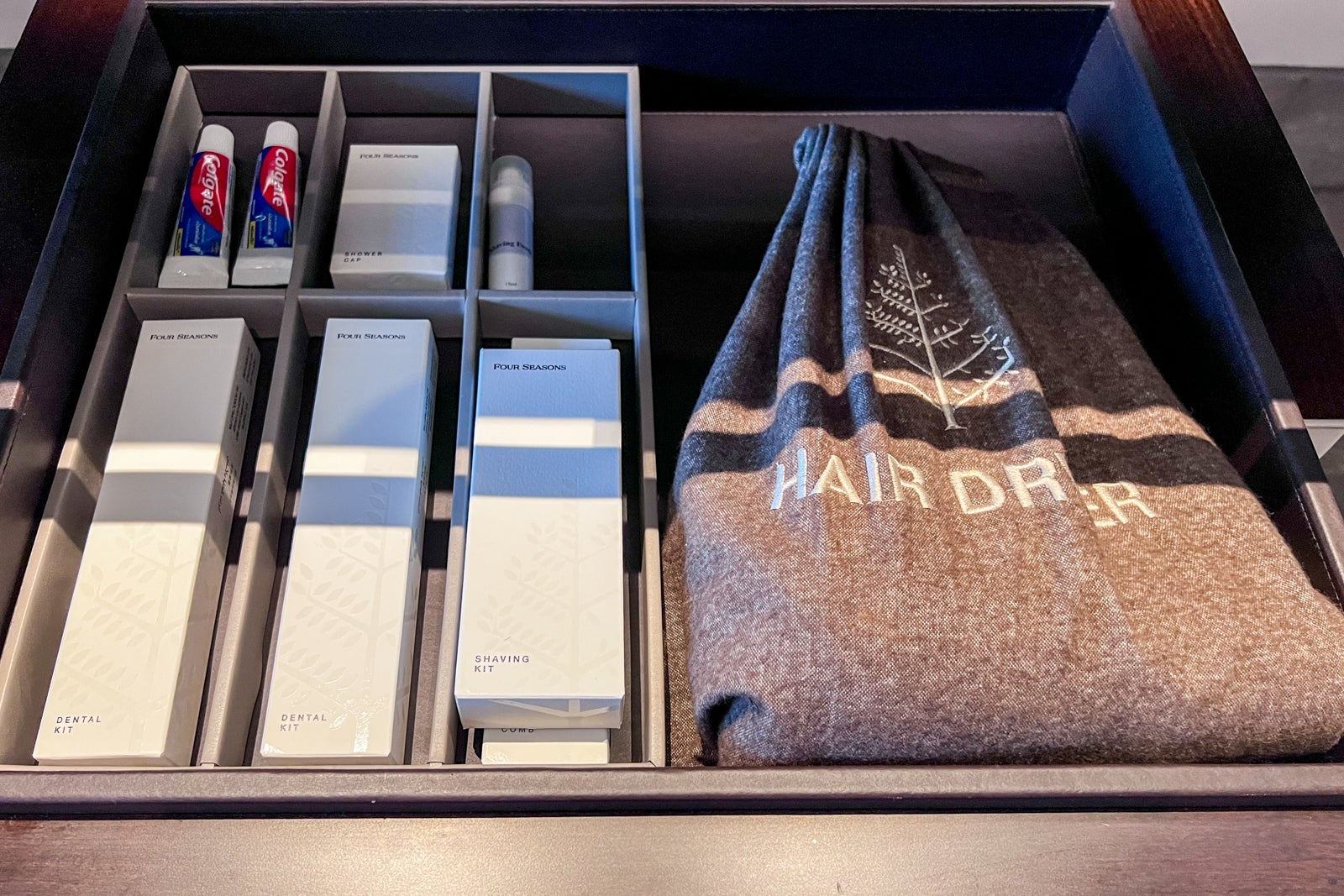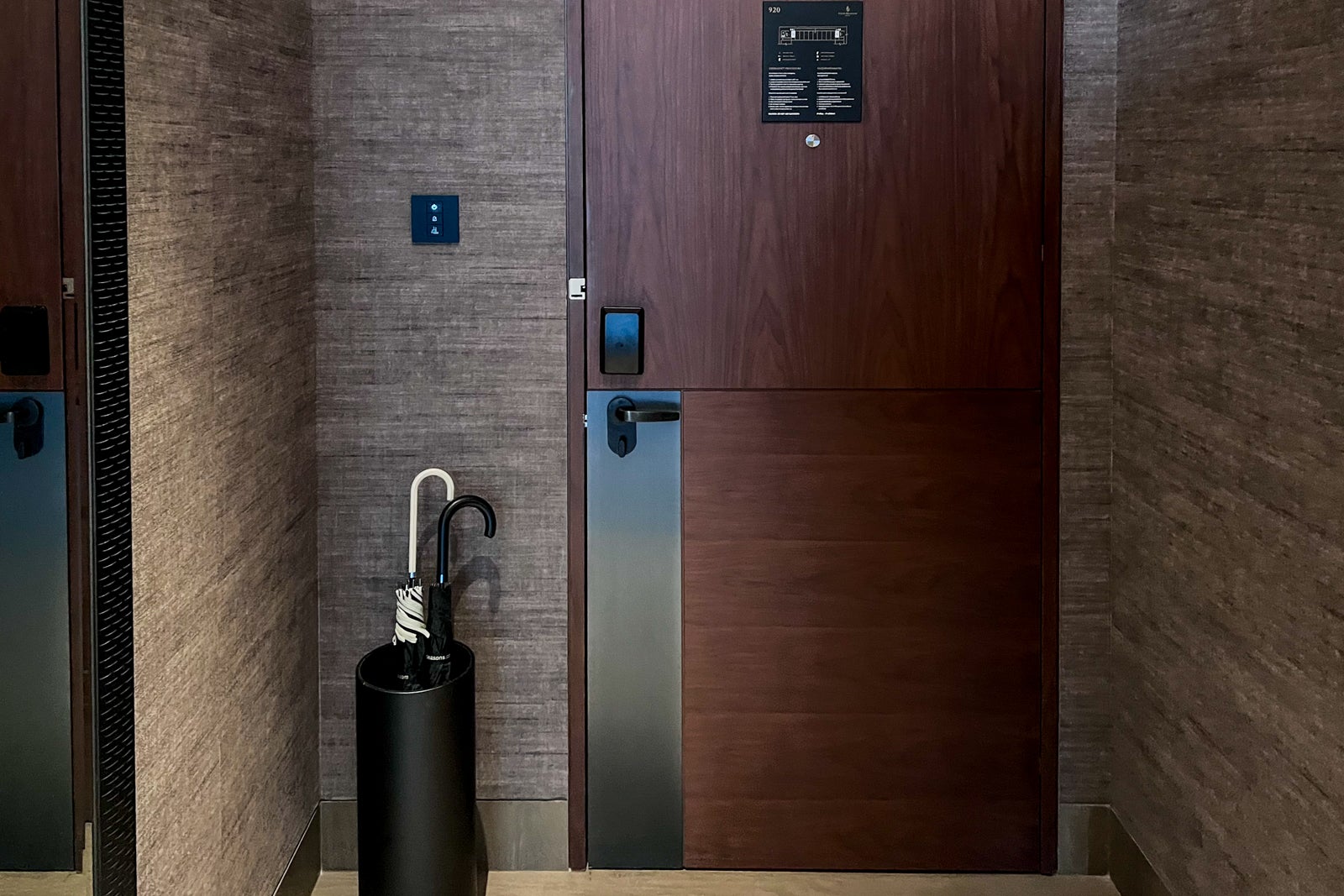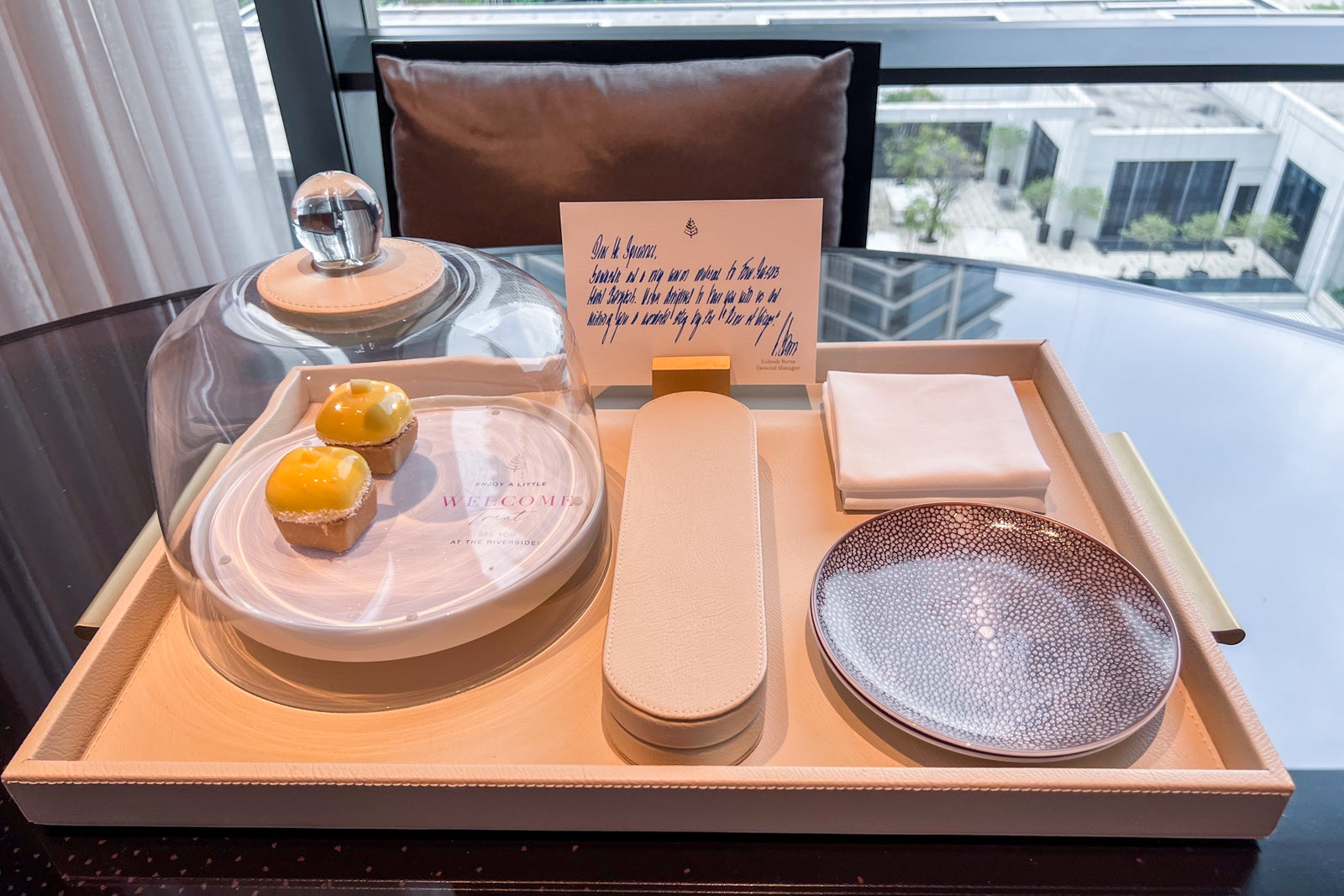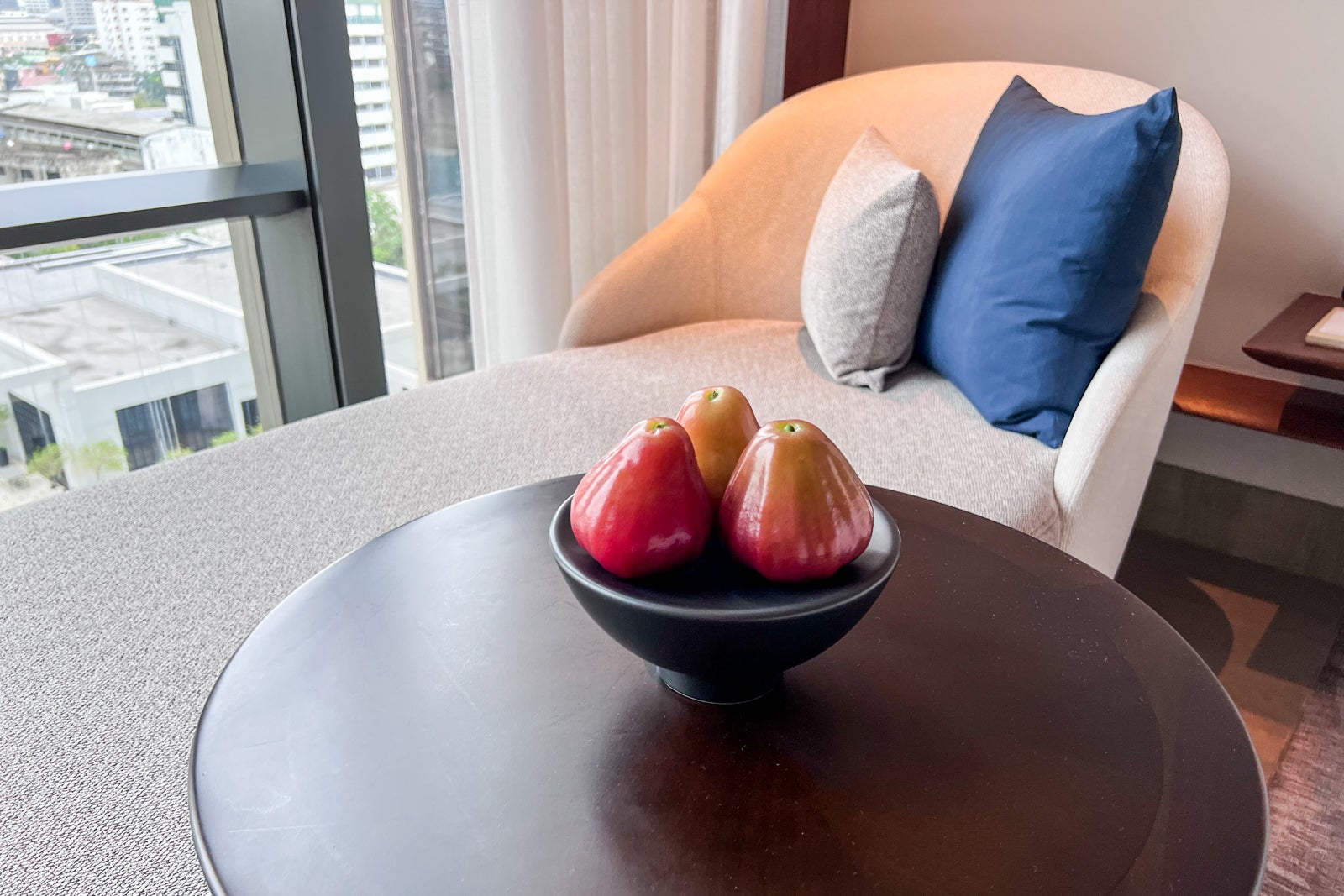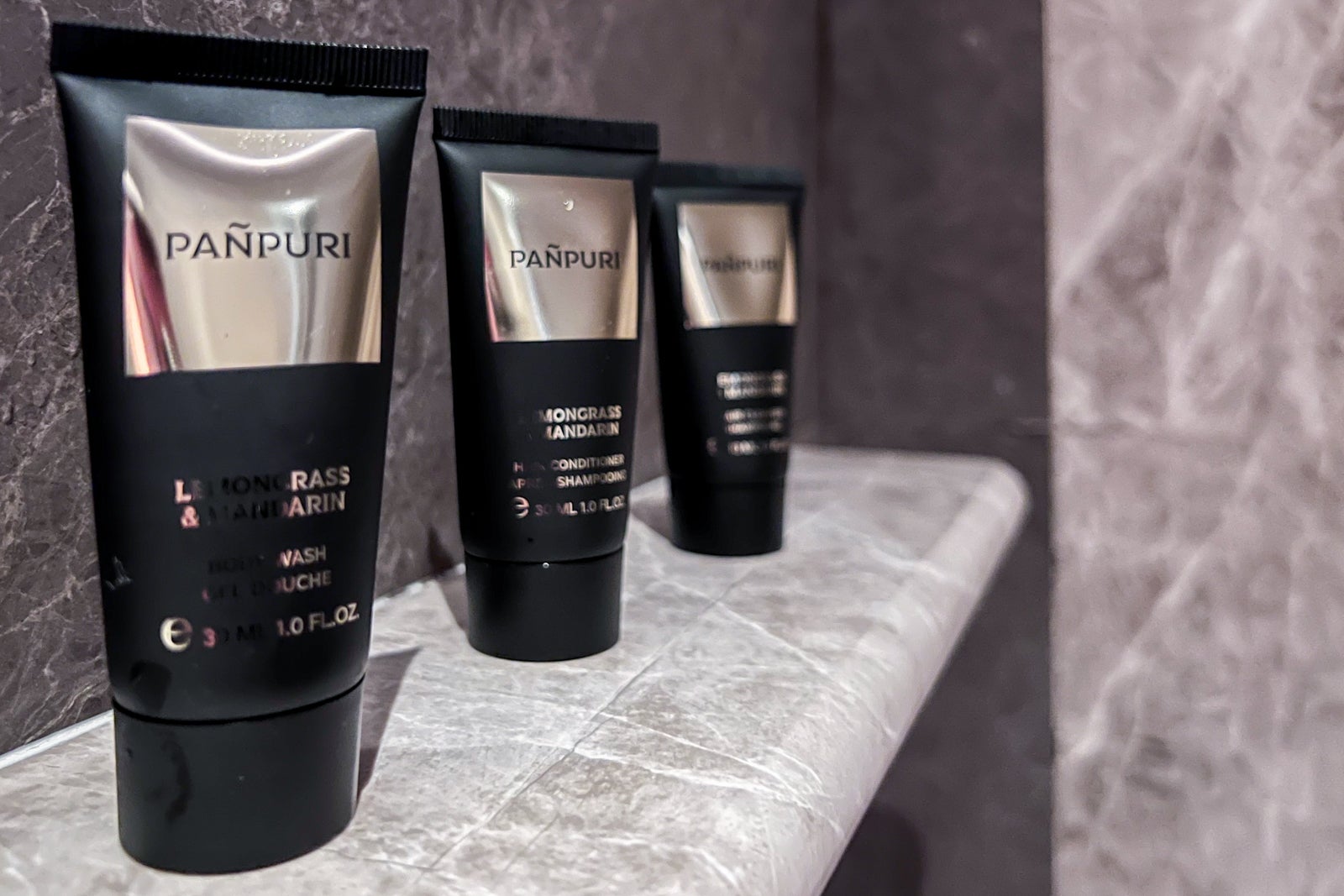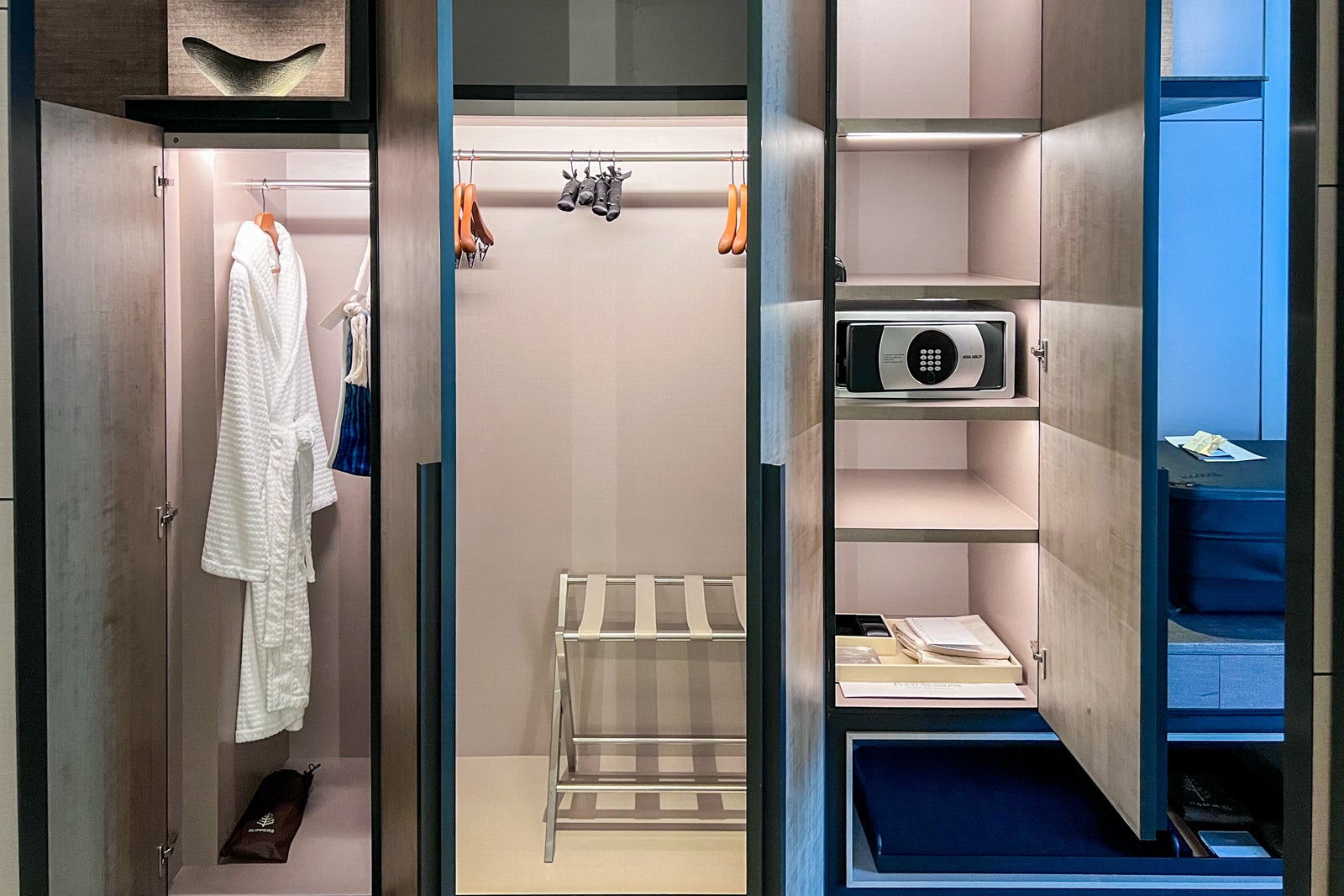 Food and beverage
I went into my stay with high expectations for both BKK Social, the Four Seasons Bangkok's cocktail lounge, and Yu Ting Yuan, the hotel's Michelin-starred Cantonese restaurant. I also wanted to spend time at other Four Seasons outlets like Riva Del Fiume Ristorante, an Italian restaurant. The hotel operates the Lobby Lounge as well as Café Madeleine, a coffee and pastry shop, and the French-focused Brasserie Palmier.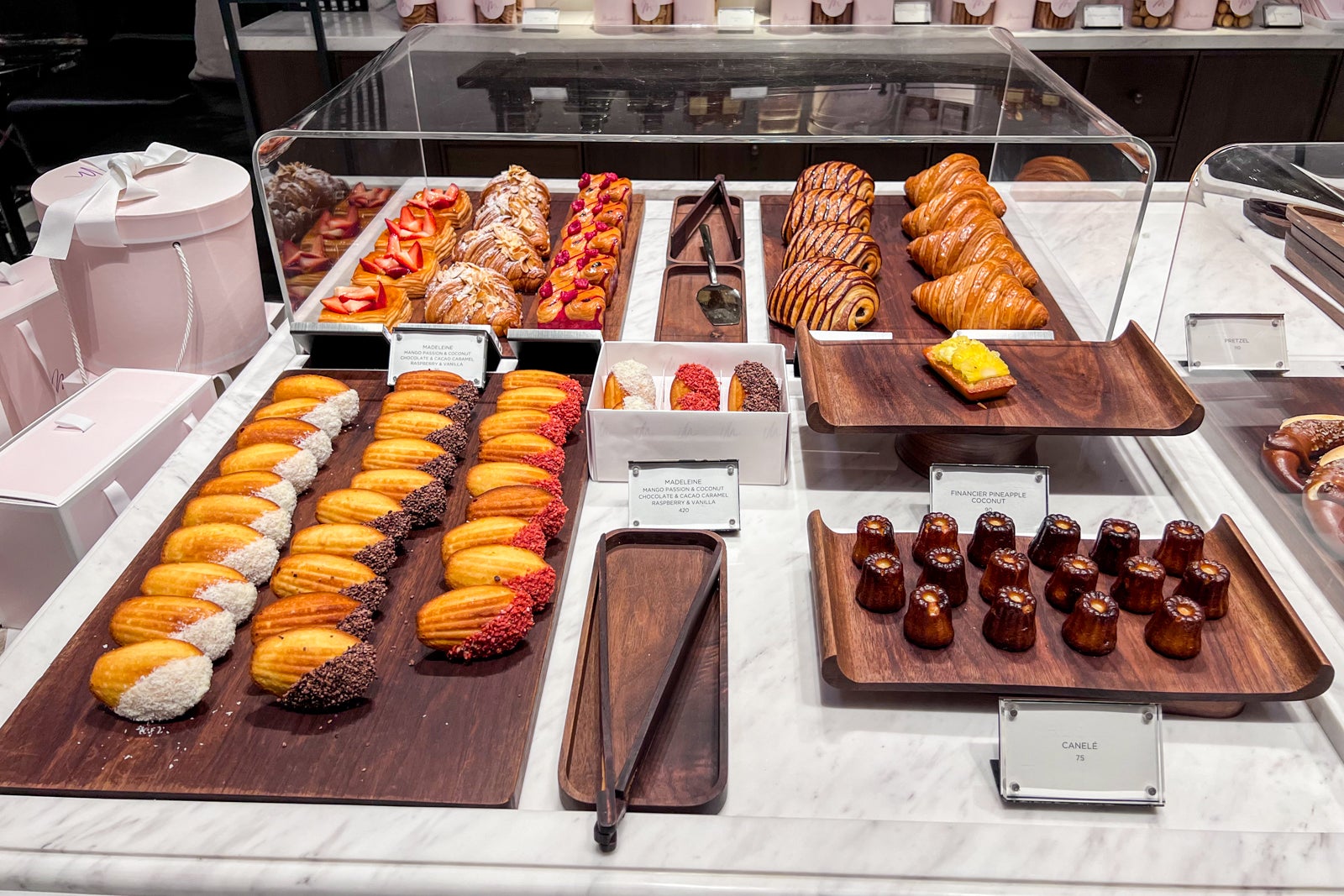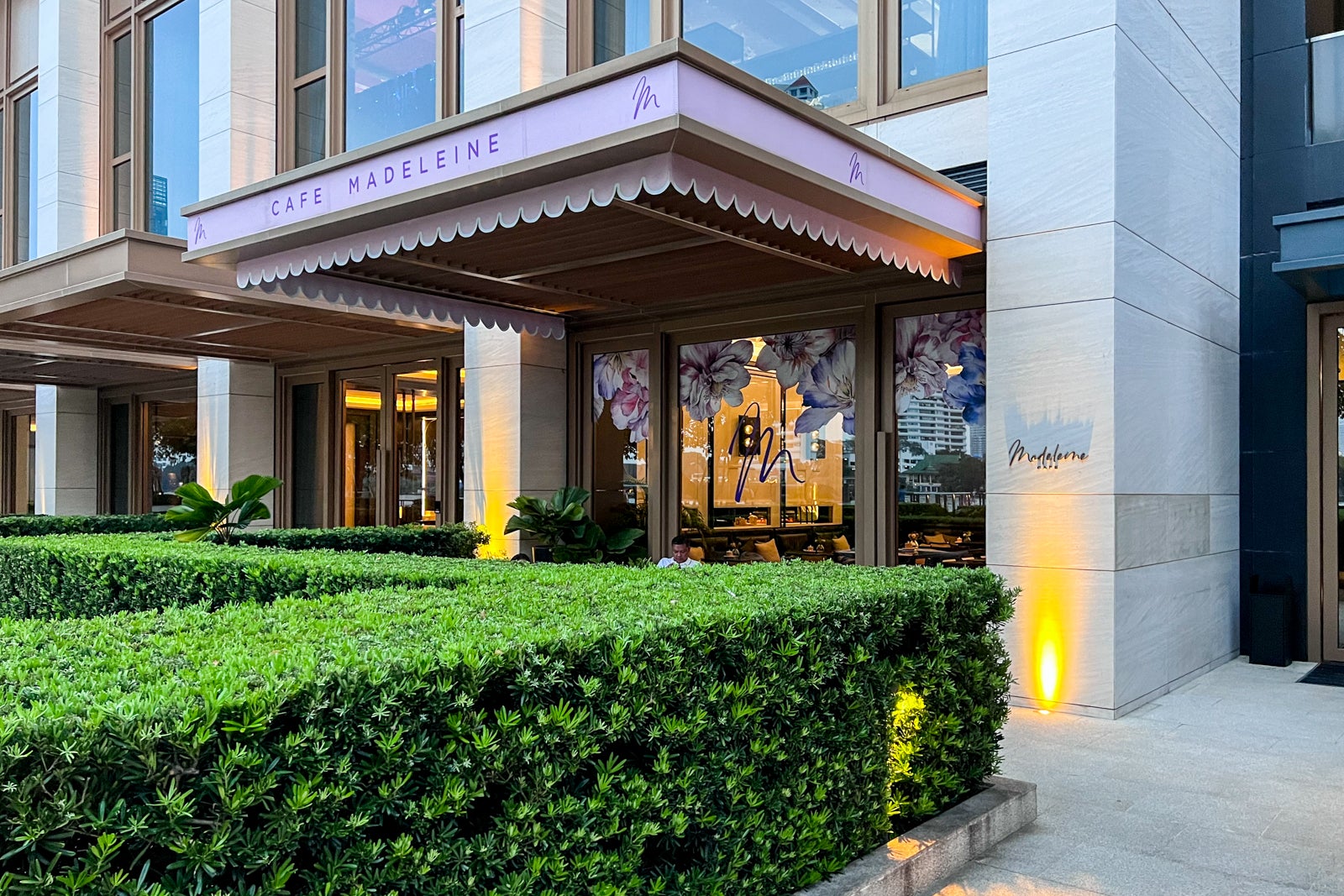 Since I was only at the Four Seasons for one night, I decided to skip the Lobby Lounge (a very elegant space for a quieter cocktail or power lunch overlooking the various courtyards) and focus on BKK Social and Yu Ting Yuan for my first night; I went to Riva Del Fiume the following morning for breakfast.
I first went to BKK Social for a pre-dinner cocktail and immediately fell in love with the space. I had walked by the lounge earlier in the day while checking out the nearby courtyard, and I loved its indoor-outdoor feel and the large, arched bar as its focal point.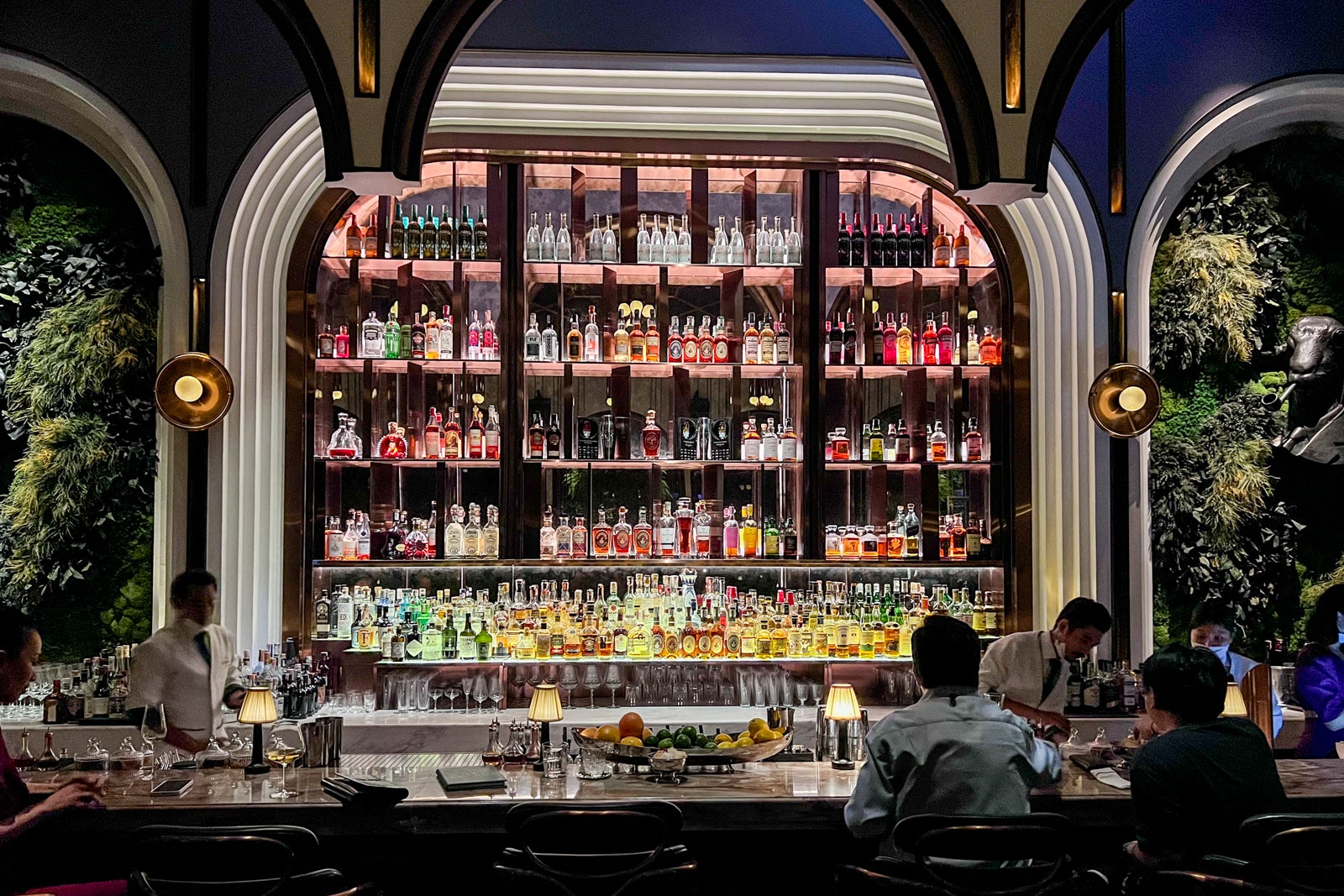 CAMERON SPERANCE/THE POINTS GUY
The drink names gave nods to Argentina (such as the Negroni-inspired "Evita" and the tequila-focused "Hand of God"). I went with the Hand of God (480 baht, or about $14), and I admired how the ice cube featured an imprint of a soccer ball. The drink also featured Campari and a cacao-Malbec cordial, combining to give the Hand of God a slightly bitter finish — it was very enjoyable.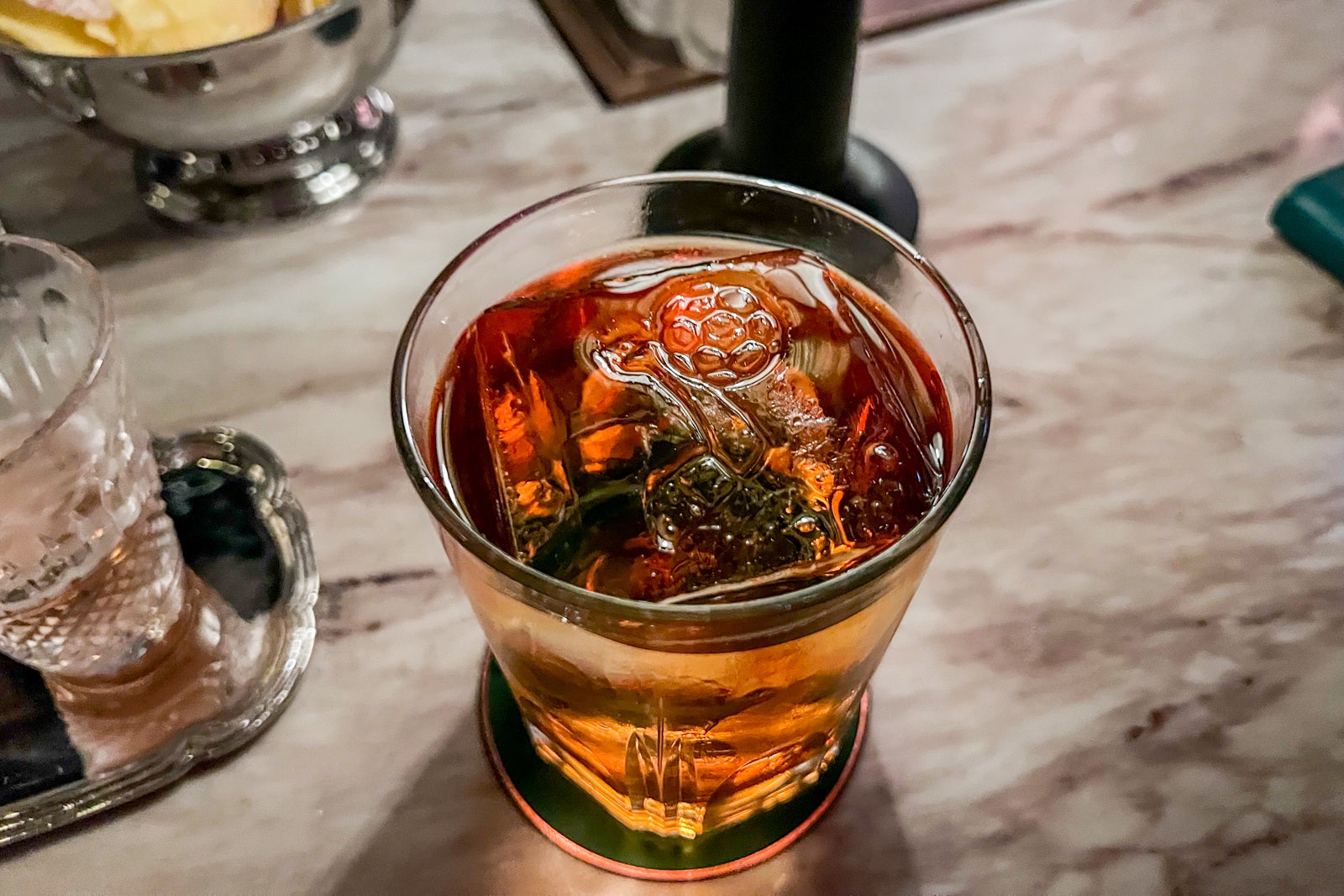 Seeing I was alone and interested in what was on offer, the bar team also brought over a small bowl of potato chips and samples of other cocktails. The evening crew was a fun bunch, as the conversation wasn't forced. They were incredibly considerate by squeezing me into a standing-room spot at the bar at the last minute, and they ensured I got a seat as soon as one opened up.
Philip, BKK Social's bar manager, and his colleague, Gift, were two highlights; they made it one of the more enjoyable evenings of my trip. They were just fun to chat and joke around with, and through them, I learned more about Bangkok. Gift even walked me over to Yu Ting Yuan when it came time for dinner.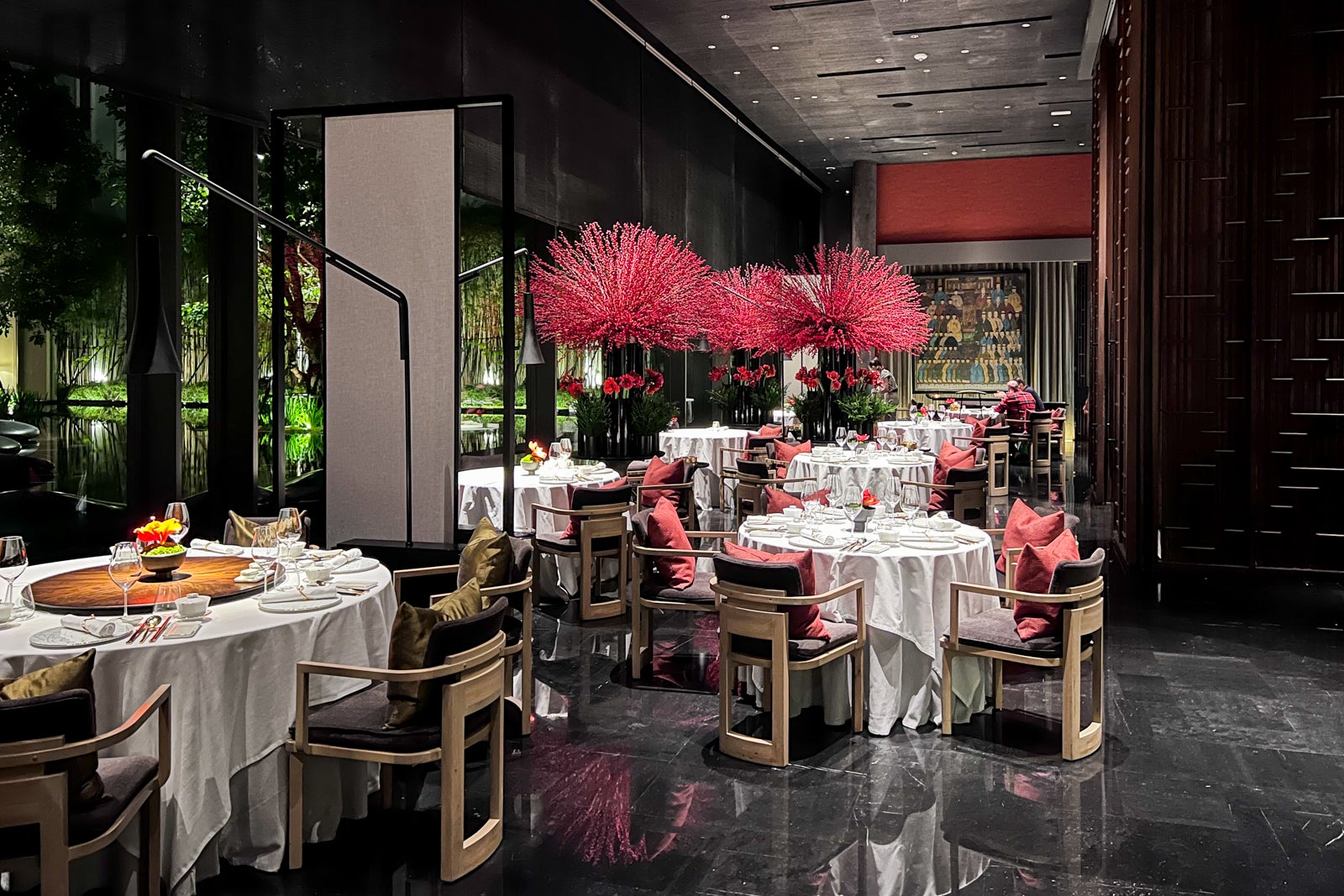 While BKK Social was a boisterous beginning to my night, Yu Ting Yuan was a more refined way to spend the main part of my evening. The dining room was sleek, hushed and dramatically decorated with enormous red floral sprays. It was one of those places where I initially felt awkward dining alone because guests at surrounding tables were clearly there for various celebrations. However, members of the staff were kind and kept me occupied.
I ordered barbecue pork with honey sauce (580 baht, or about $17) to start and followed it with wok-fried Canadian lobster with Szechuan pepper, peanuts and basil leaves (3,600 baht, or $104) as an entree. To cut down on some of the spice, I also ordered steamed rice and bok choy for 430 baht, or about $13. The staff even brought an extra chef's treat of spicy squid on the house.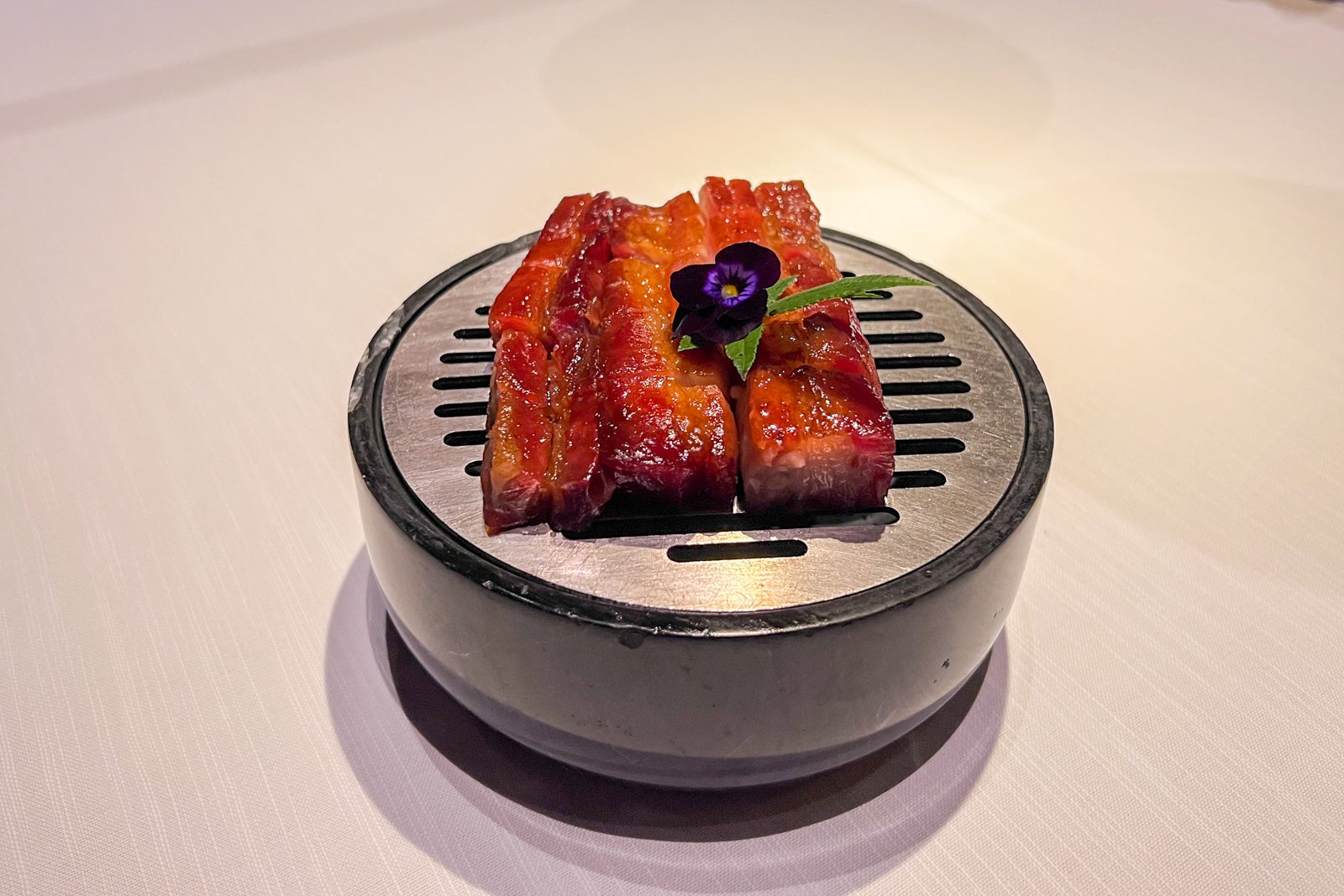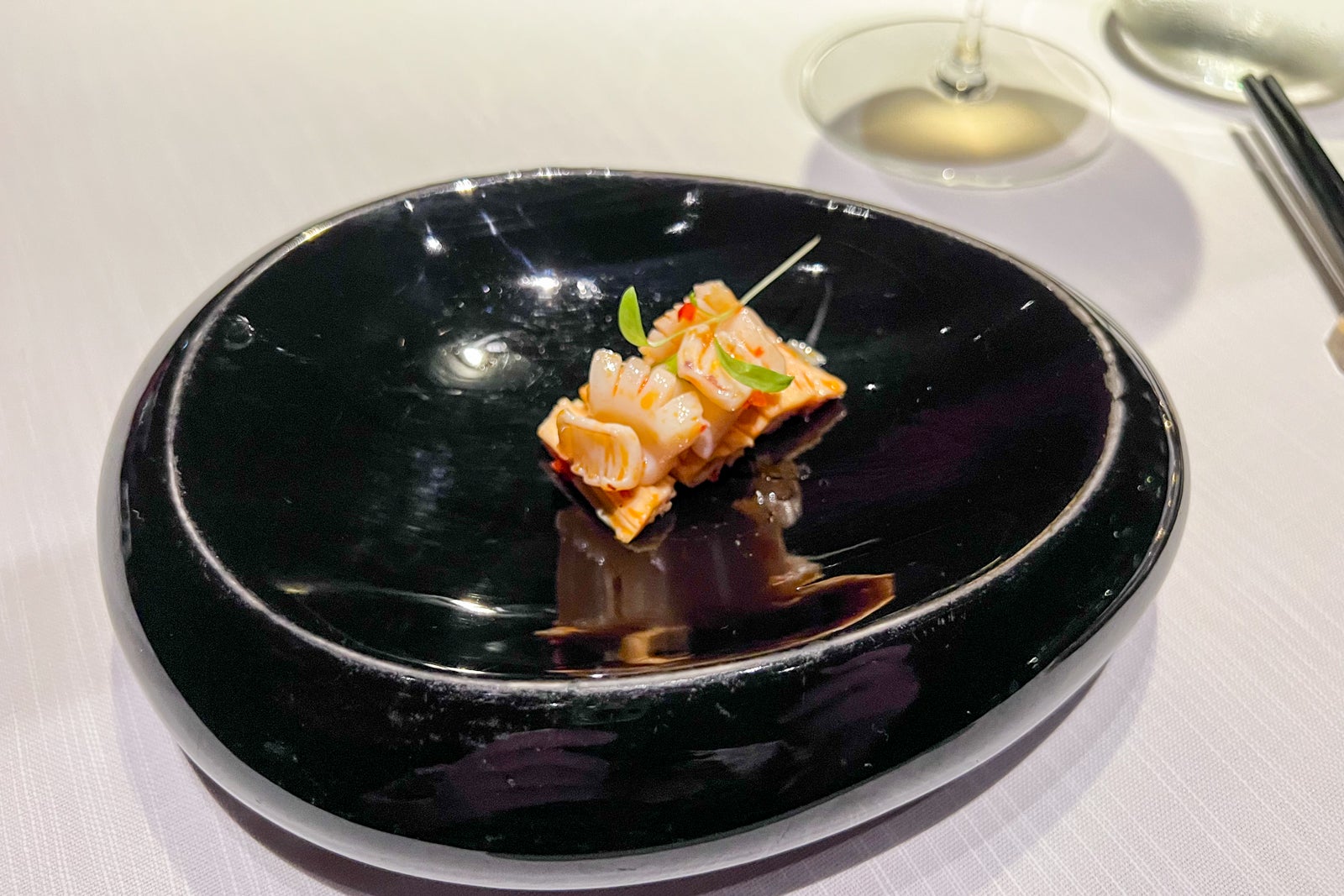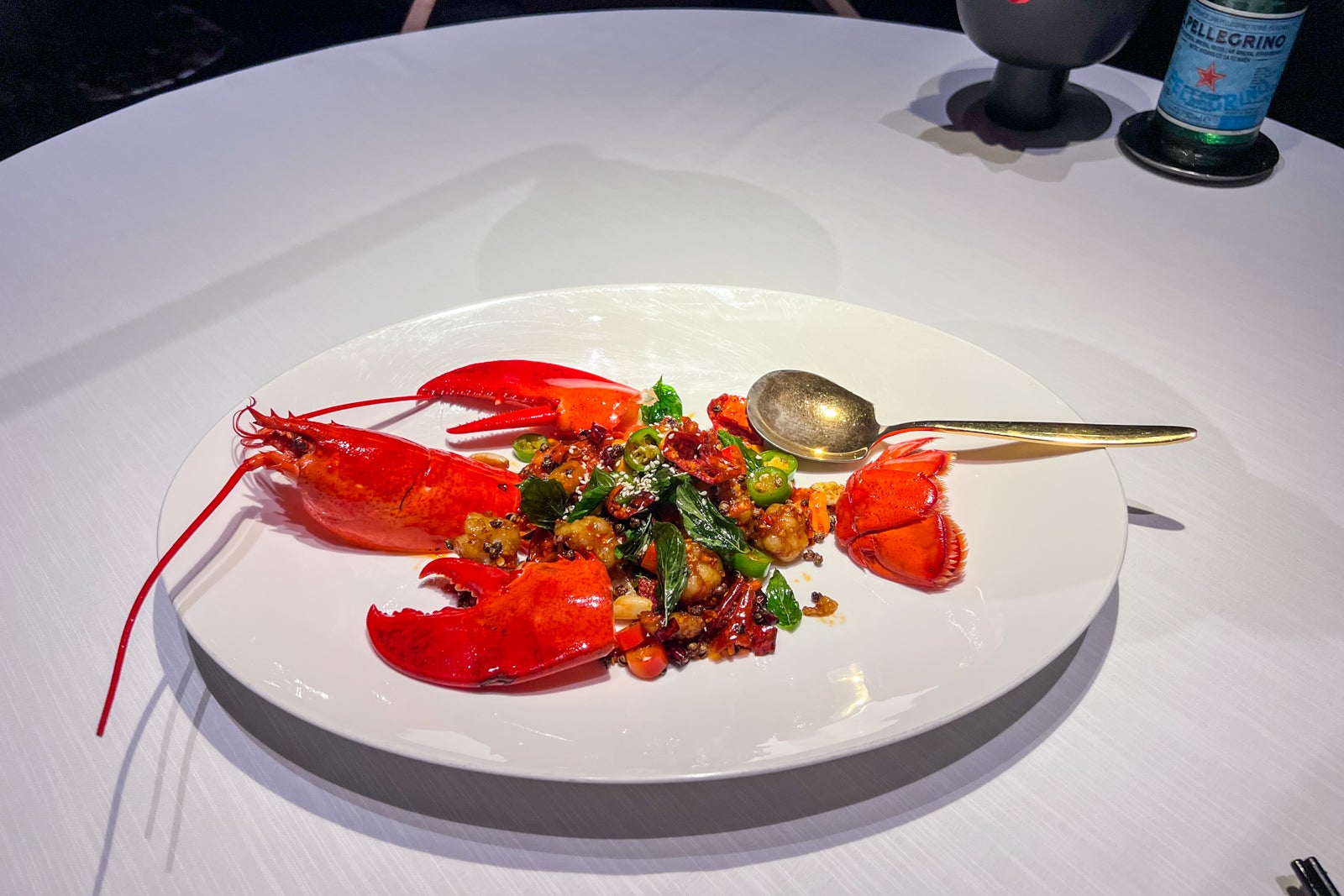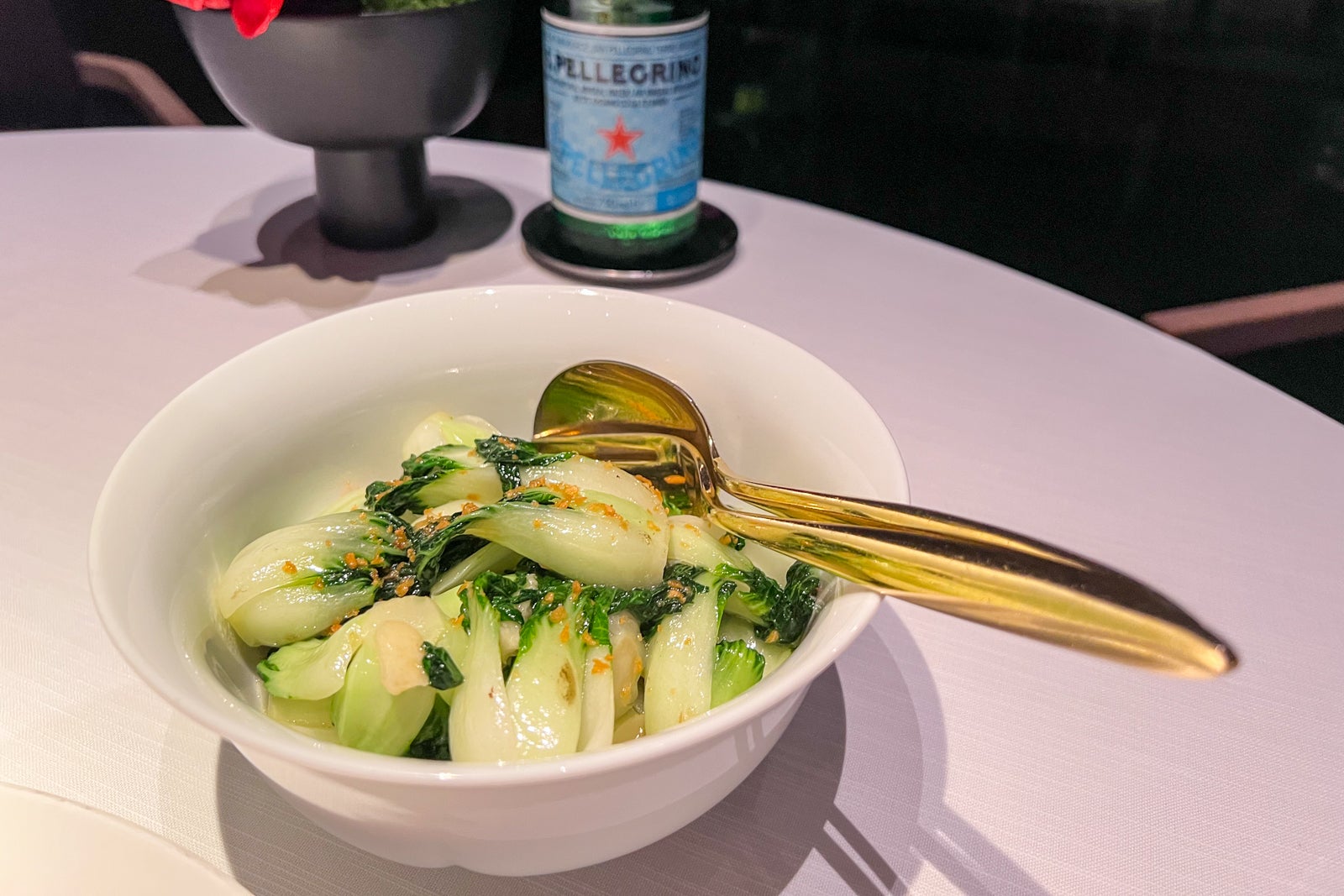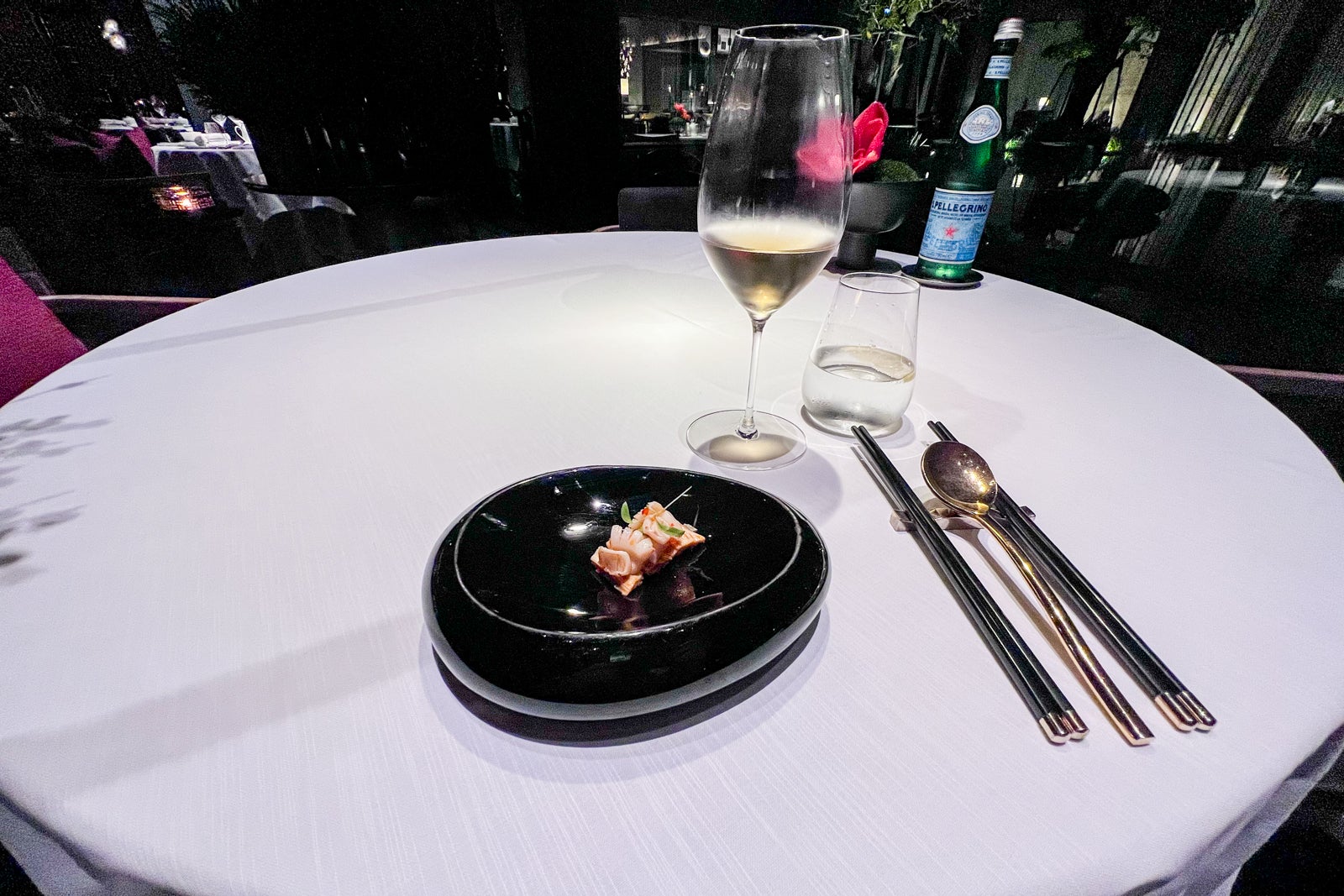 The plates were elegant and delicious, as were the beautiful views of the courtyard outside. The barbecue pork was juicy and had an excellent balance of sweet and savory; the squid provided a nice opening salvo to the main, spicy event. The Canadian lobster caused my tongue (and forehead) to water in light of the spice-forward Szechuan seasonings, but I wasn't complaining — even if the waiter came by a few times to ask if I was OK.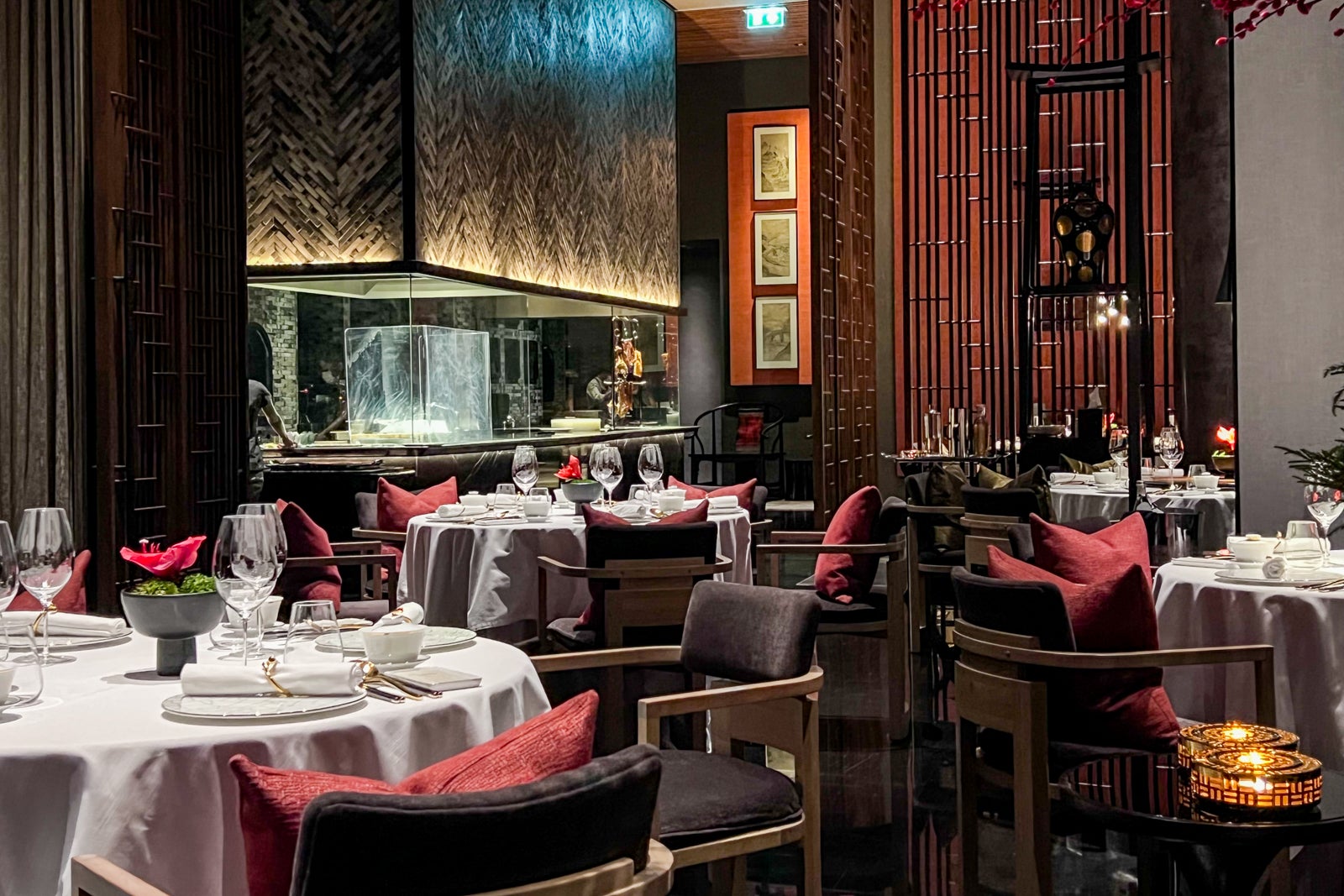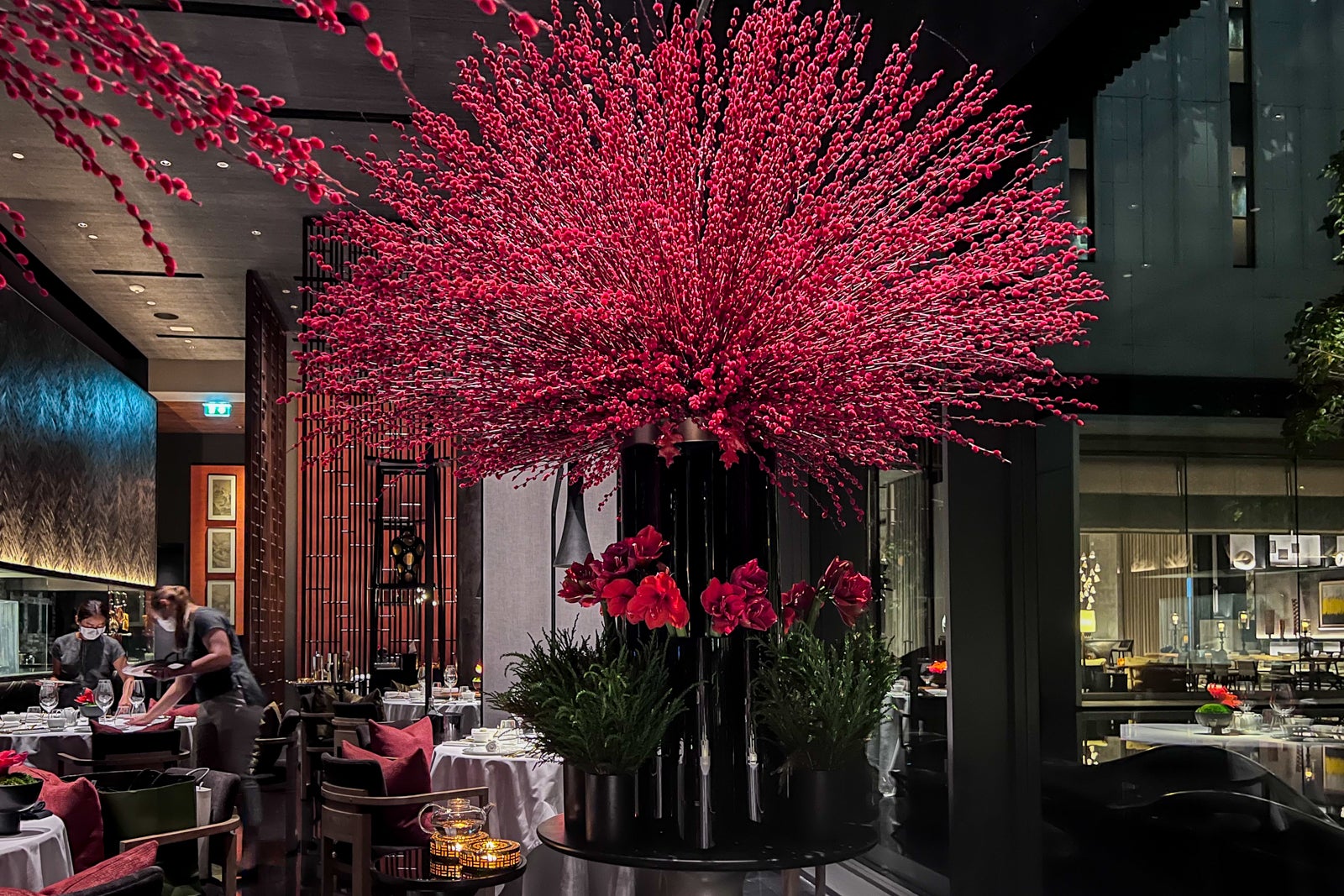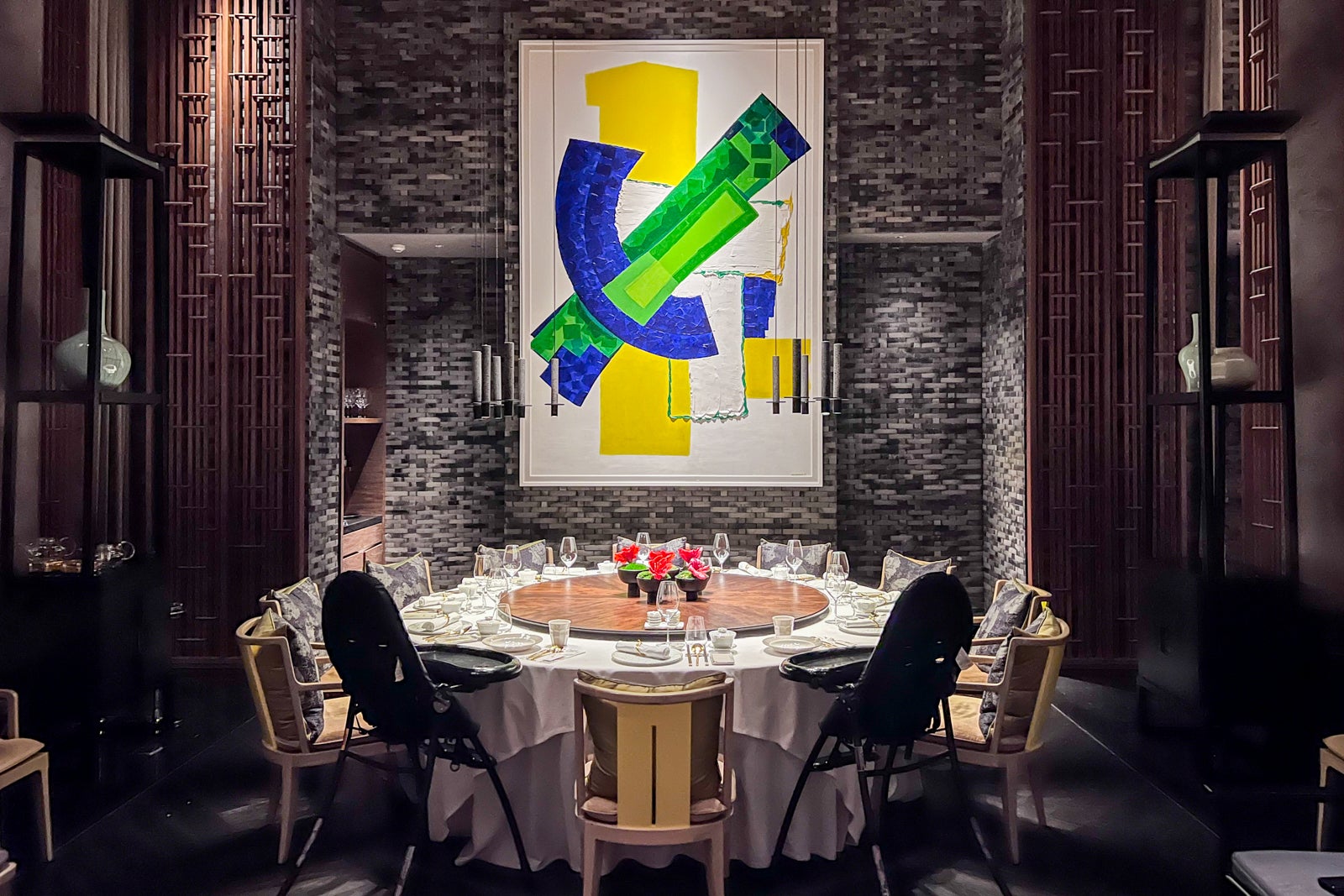 The dish did, however, cause me to order multiple rounds of water and a second glass of Sancerre (690 baht, or about $20) to try and set some of the heat at bay.
Instead of dessert, I ended up going back to BKK Social for a nightcap. Once again, I ran into Gift and Philip as well as the rest of the talented team. It was fun to see the bar at this point of the evening, as there was a broad cross-section of patrons — from local residents to travelers — passing through. The courtyard outside was packed with folks clearly busy self-producing fashion shoots for their Instagram and TikTok feeds.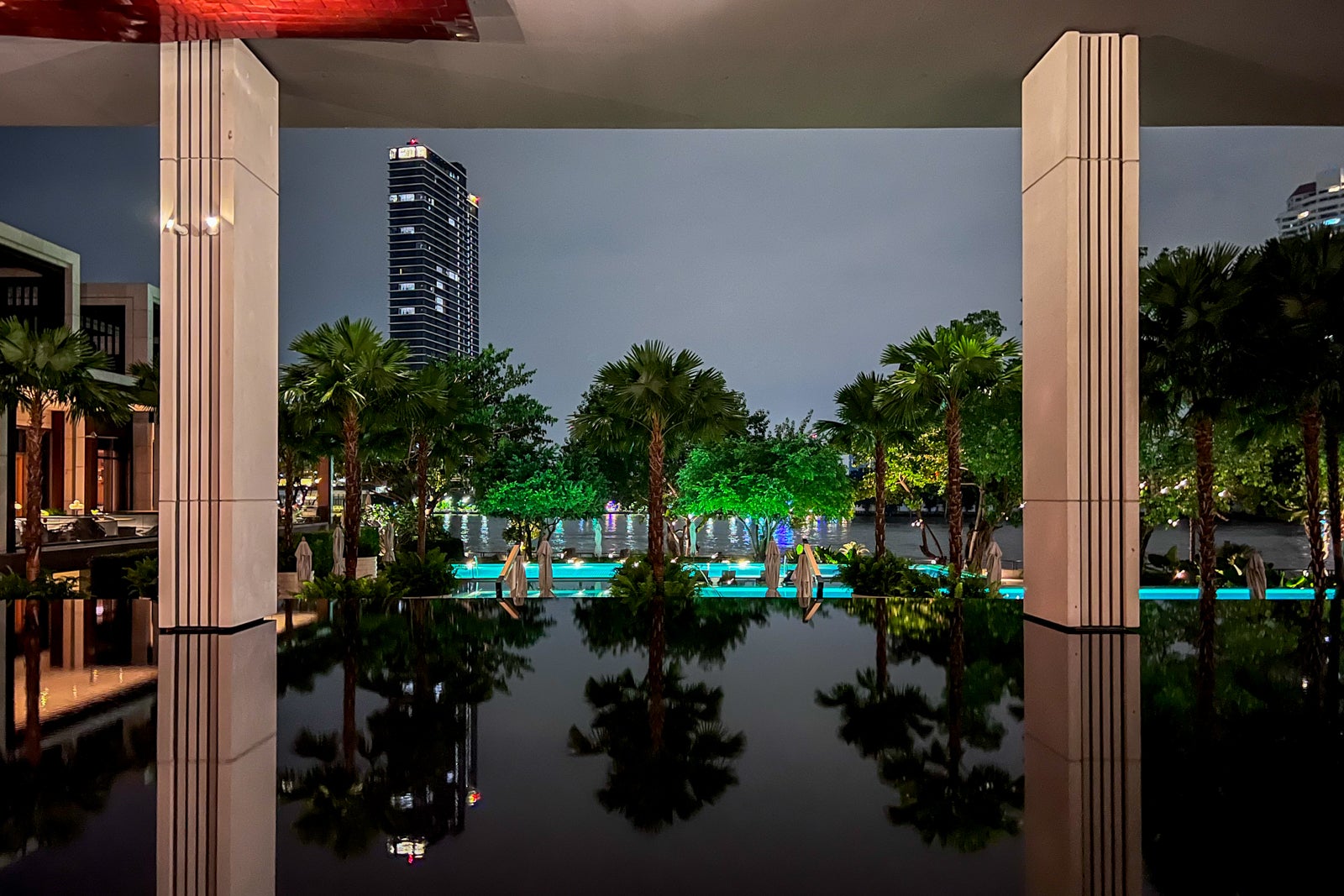 The following morning, I went down to Riva Del Fiume, which hosts the morning breakfast buffet. Let's just say the Four Seasons breakfast buffet is the epitome of the phrase, "If you leave here hungry, it's your own fault."
Breakfast was included in my stay, and it was hard to finally throw in the towel after trying my best. There were stations for everything, from dim sum, pork buns and miso soup to spicy Thai green curry omelets with sweet chili, basil and garlic. (Guests could also request other egg creations, but who is going to say no to a green curry omelet? It was divine.)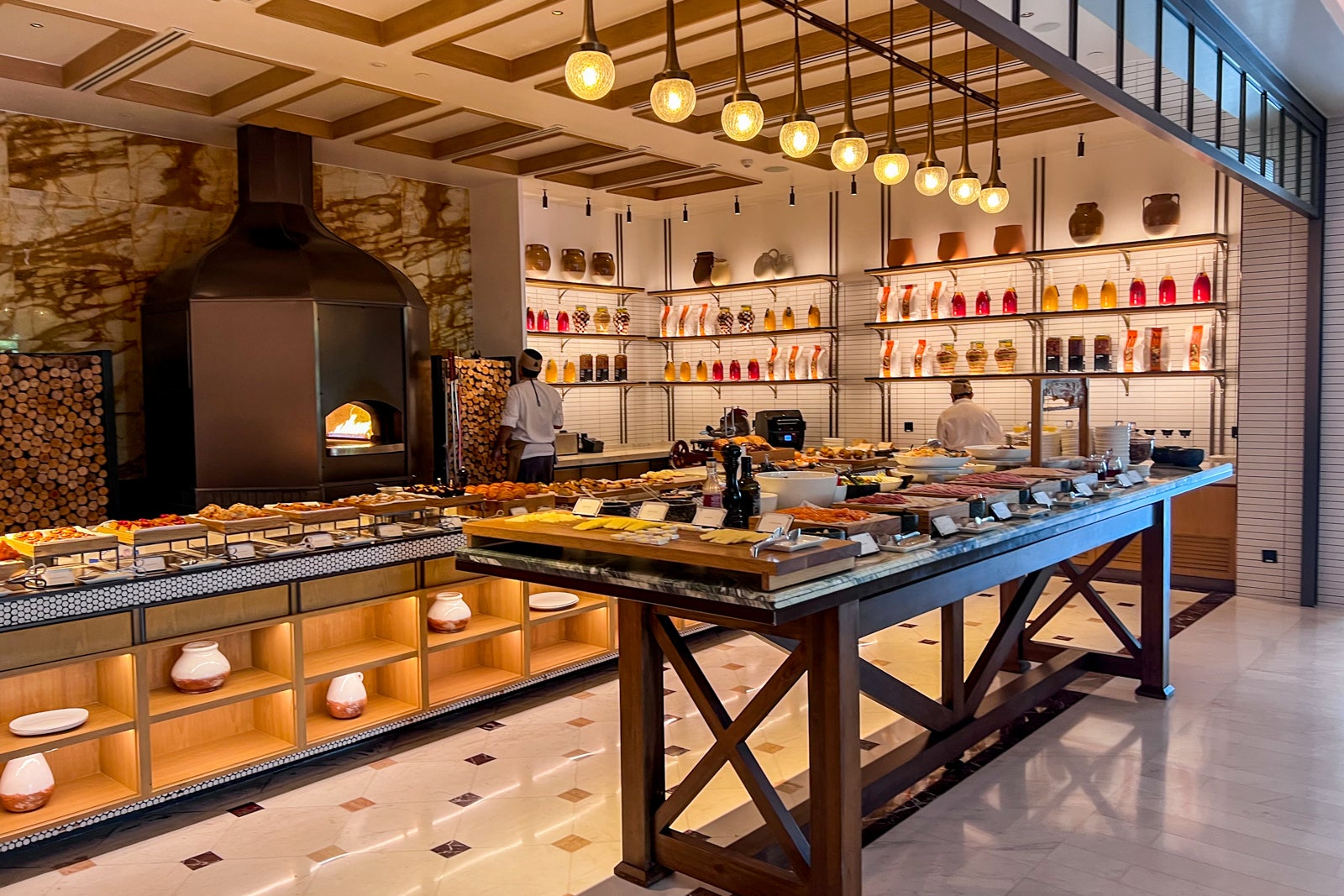 There were waffles, French toast, a gluten-free bread station, a very glutenous bread station and even an area for breakfast pizzas. With morning laps in the pool still fresh on my mind, I attempted to be healthy at first, nibbling on fresh fruit, smoked salmon and an assortment of salads. I quickly caved on a second pass, however, after I saw the crispy bacon, the green curry omelet and those shrimp dumplings.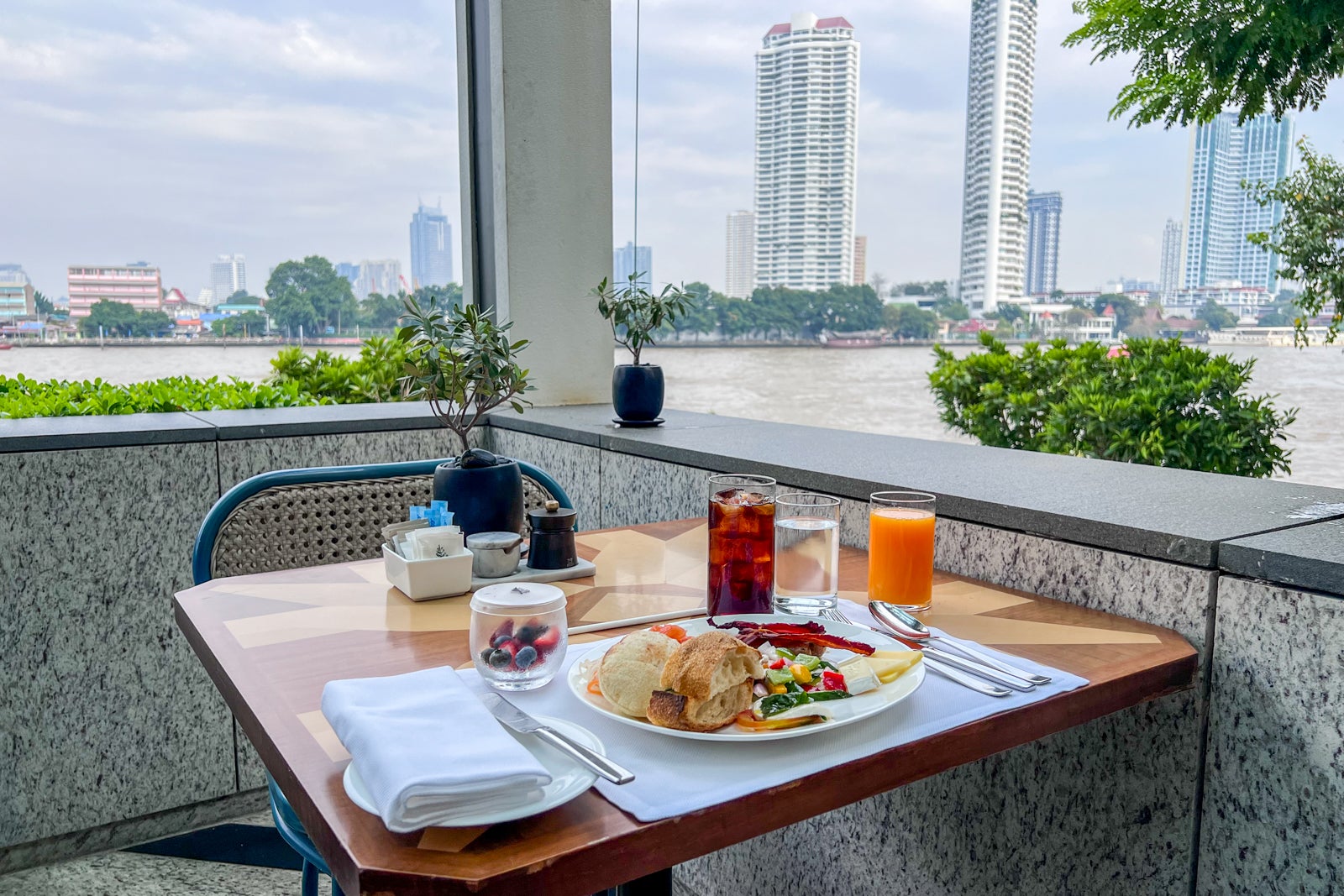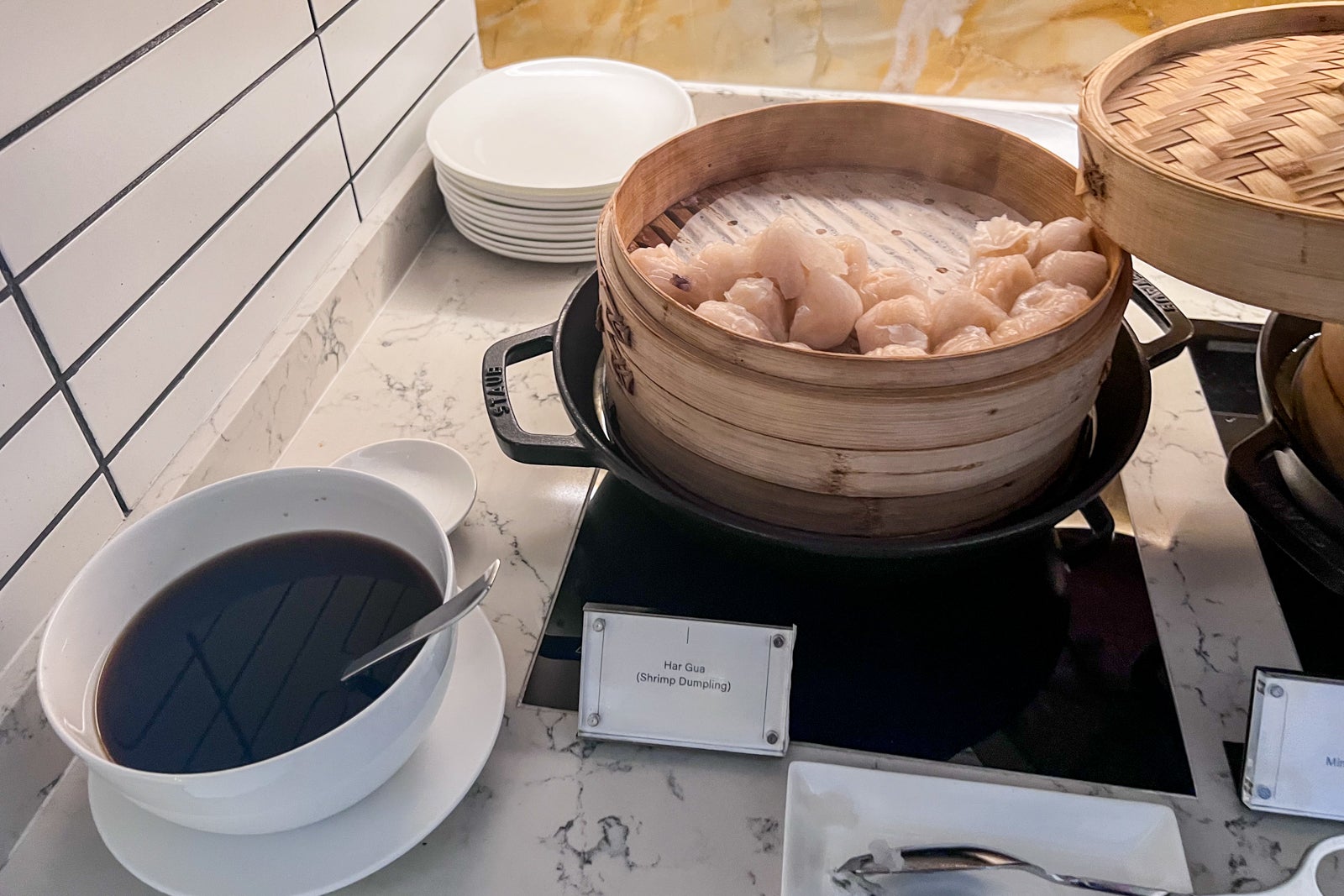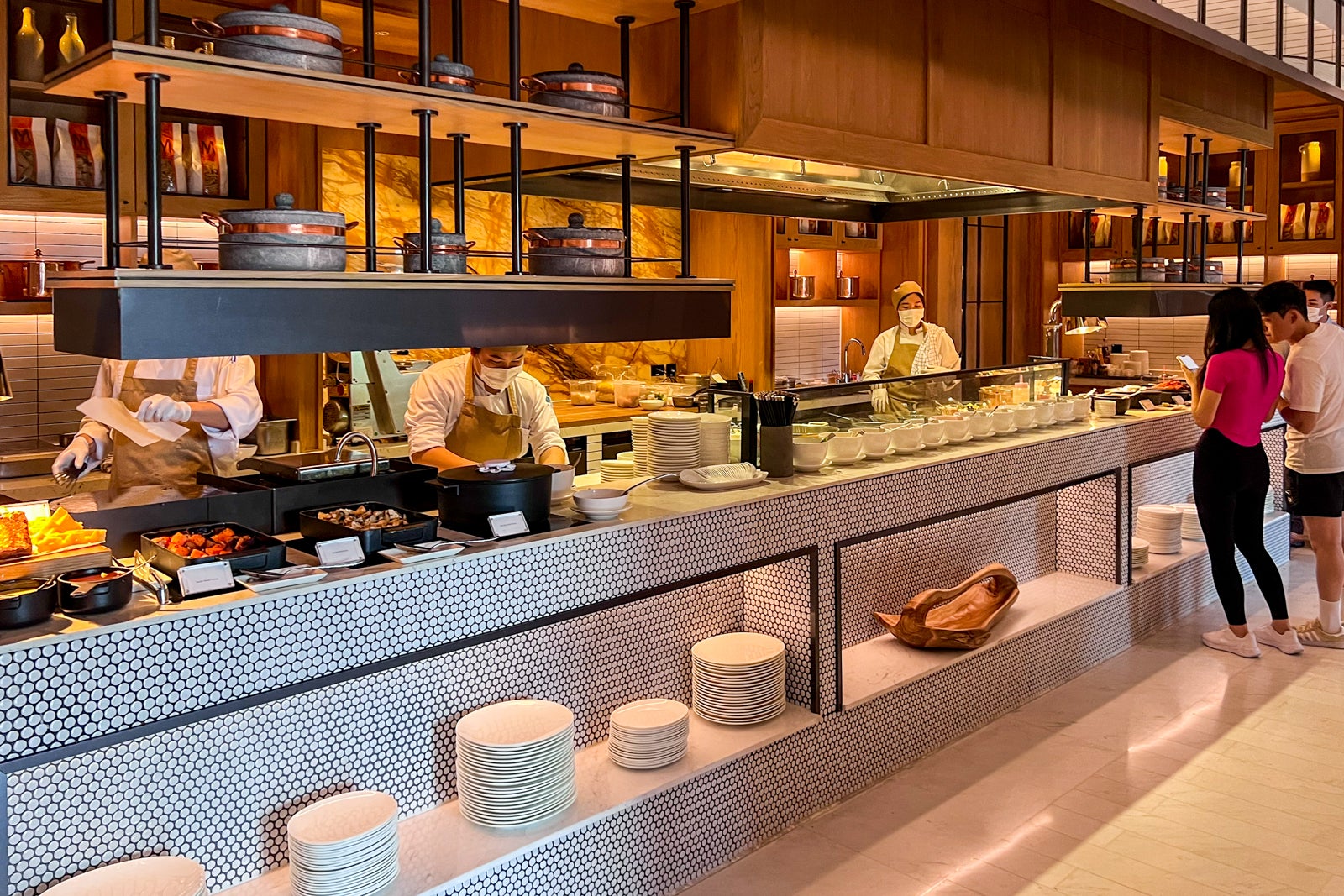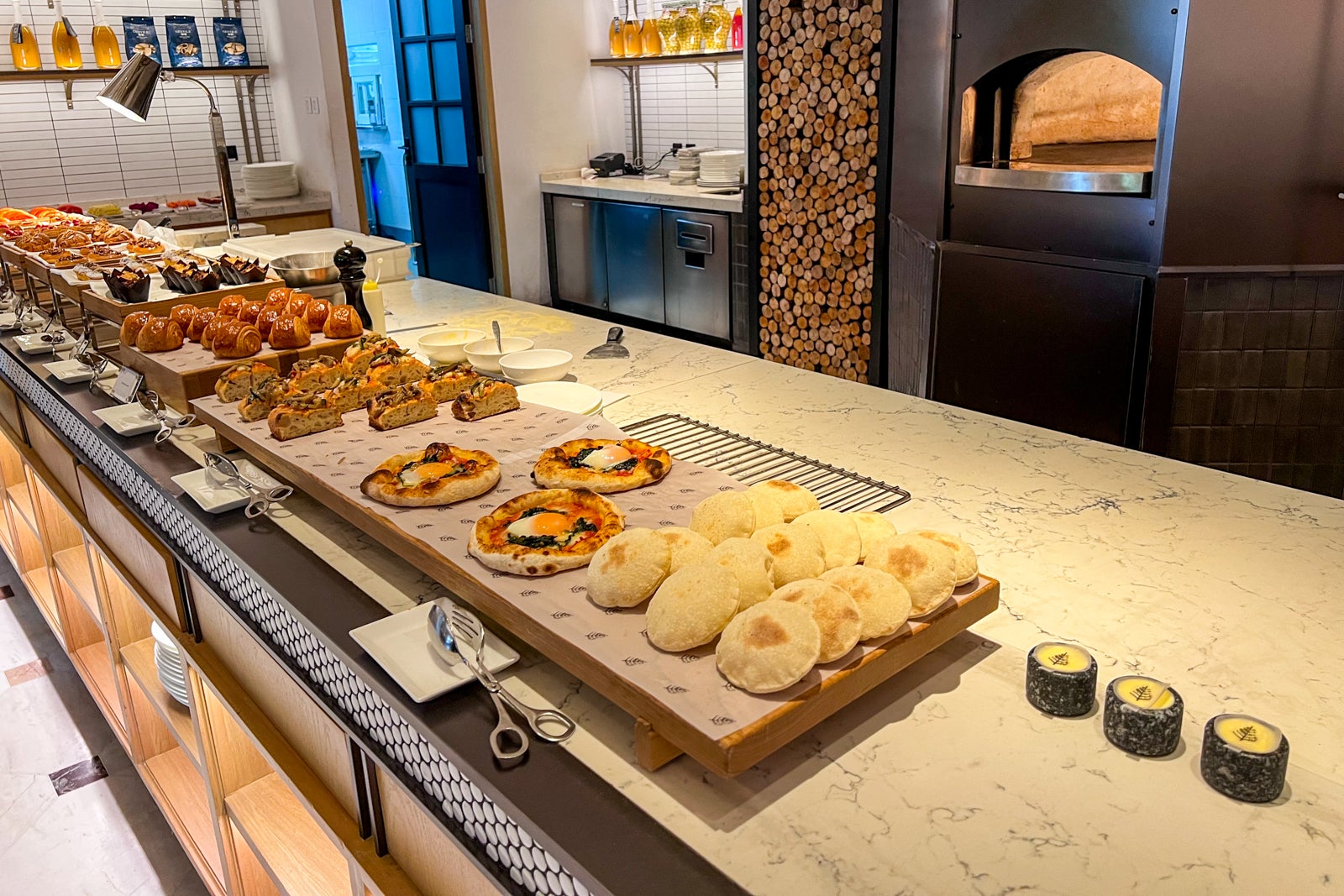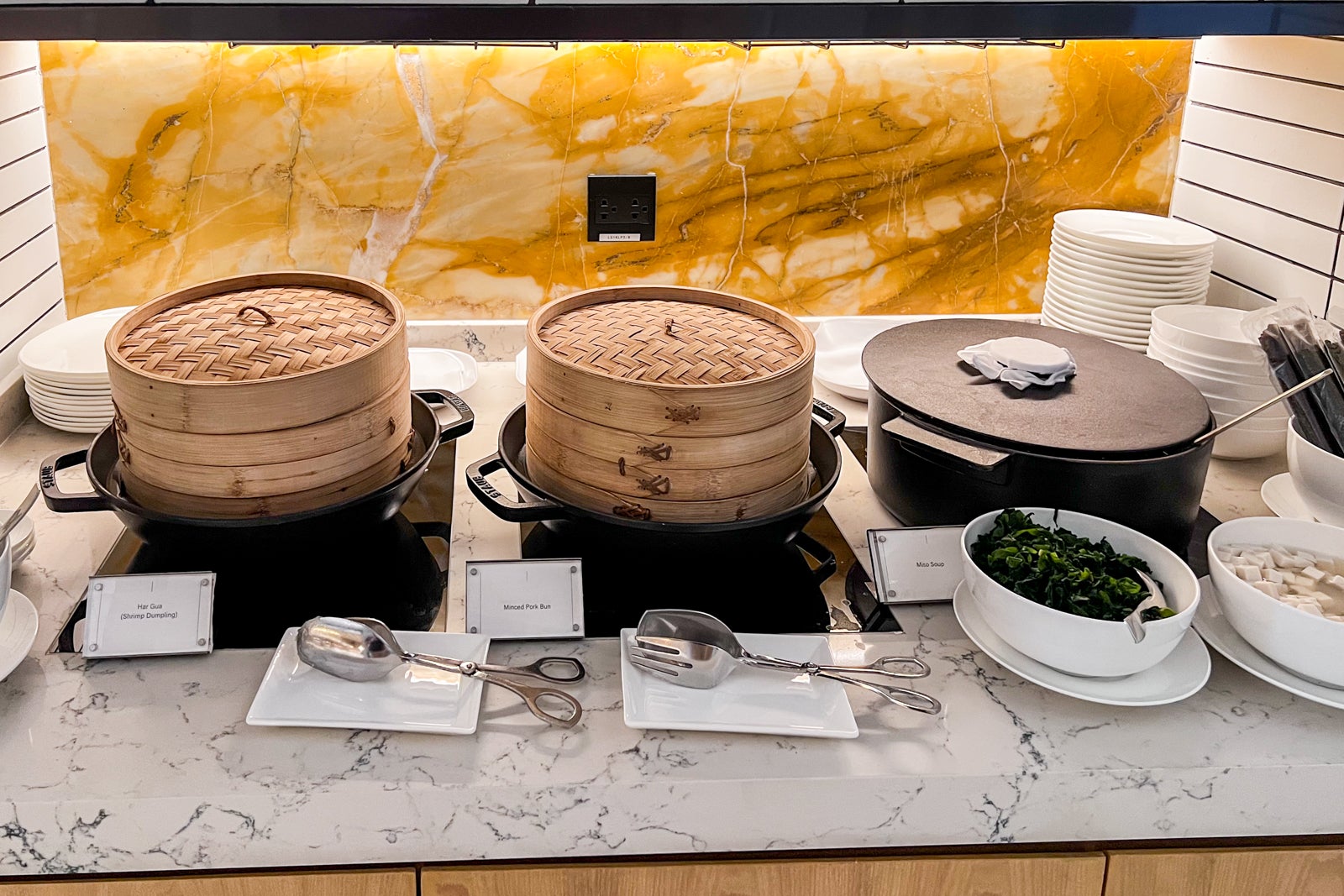 Once again: Four Seasons Bangkok, take me back!
Service and amenities
Throughout my brief stay, the level of service at the hotel was stellar without being overbearing.
When I stopped by the front desk to ask about touring some nearby attractions, the concierge was more than happy to map out several itineraries for me depending on how ambitious I was feeling. The concierge also recommended walking to some local stores and restaurants which I appreciated. Again, for a place set back behind a wall, it's nice to see how the property embraces the surrounding community. This was also evident in the hotel's art gallery, which is dedicated to Thai artists.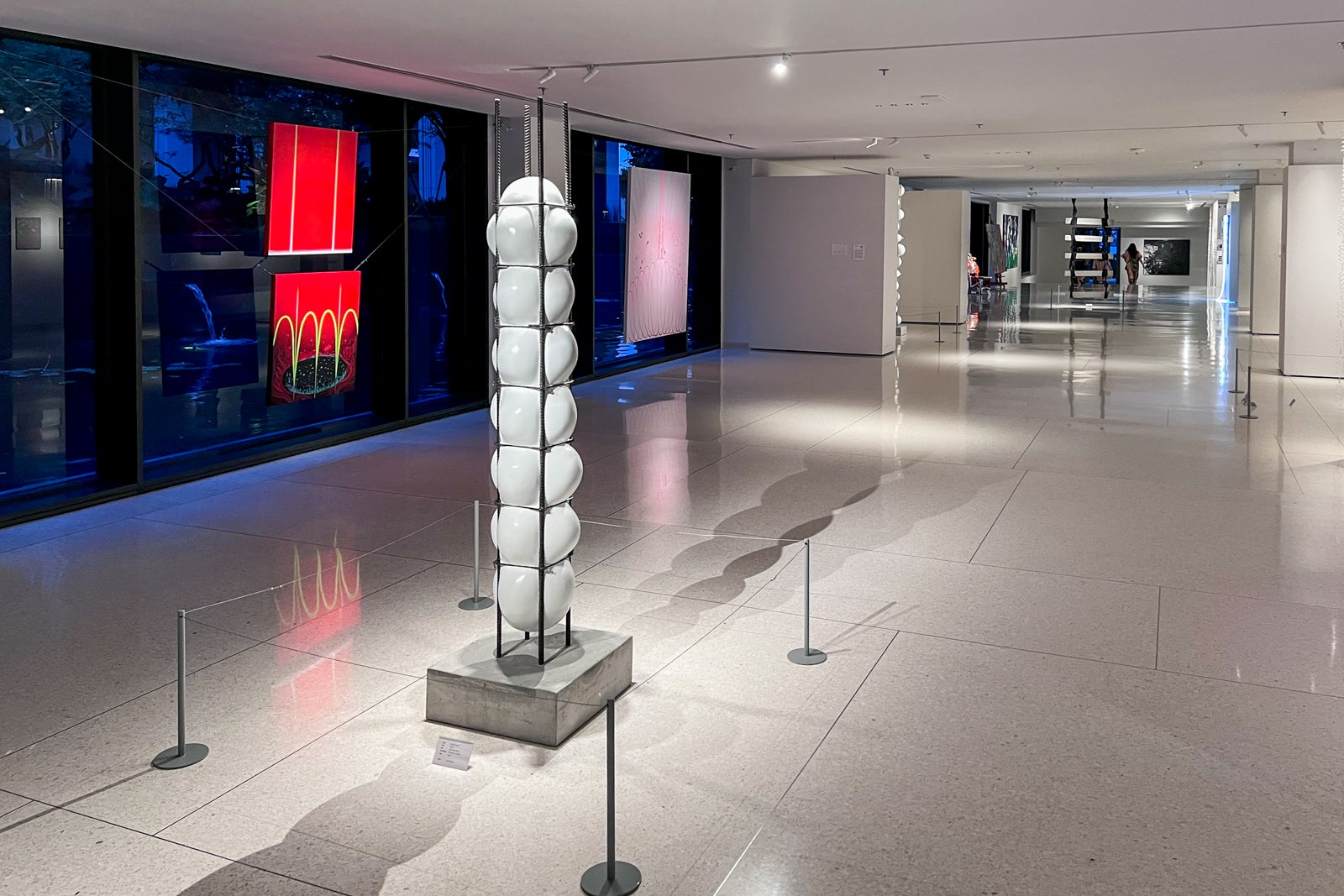 The gym at the Four Seasons is a luxurious fitness facility; however, it might be difficult to find, depending on where you're staying in the hotel. This caused some frustration on my end: I wanted to know how to get to the gym, so as instructed, I tried to use the in-room tablet to communicate with the front desk. I never got an answer to my question, and I ended up calling down. It's not a big deal, but it just sticks out as a friction point because the technology was heavily promoted as the key mode of communication.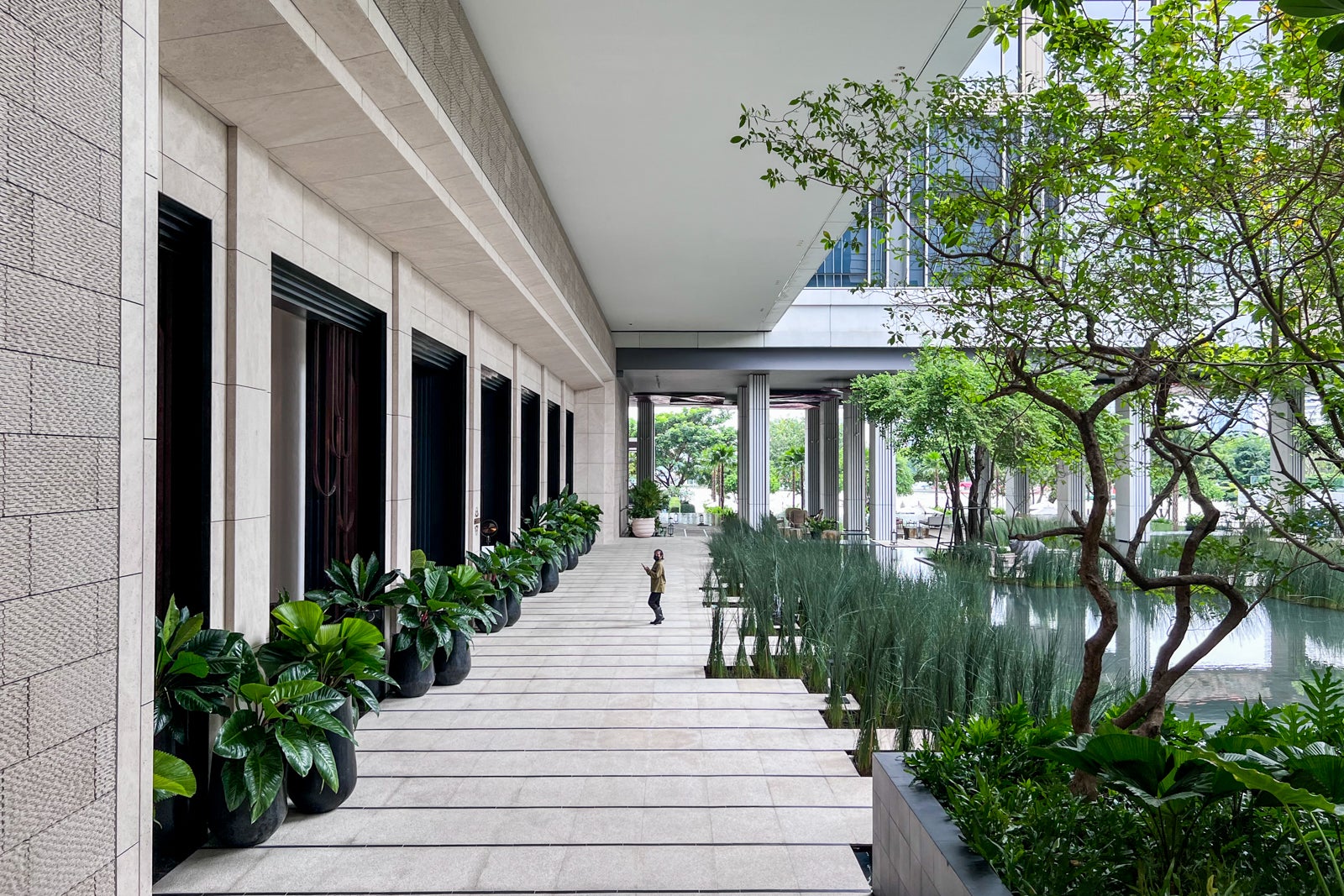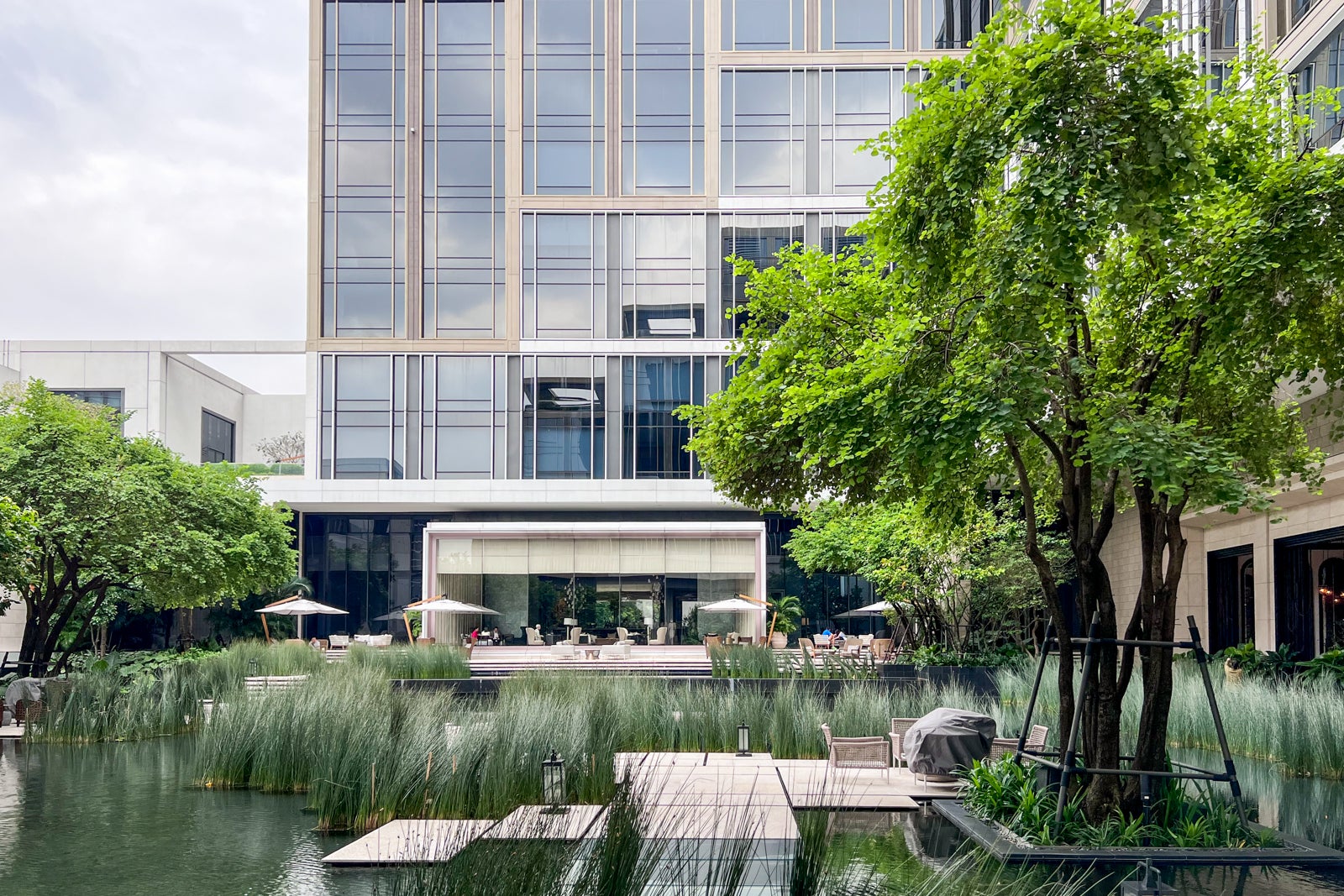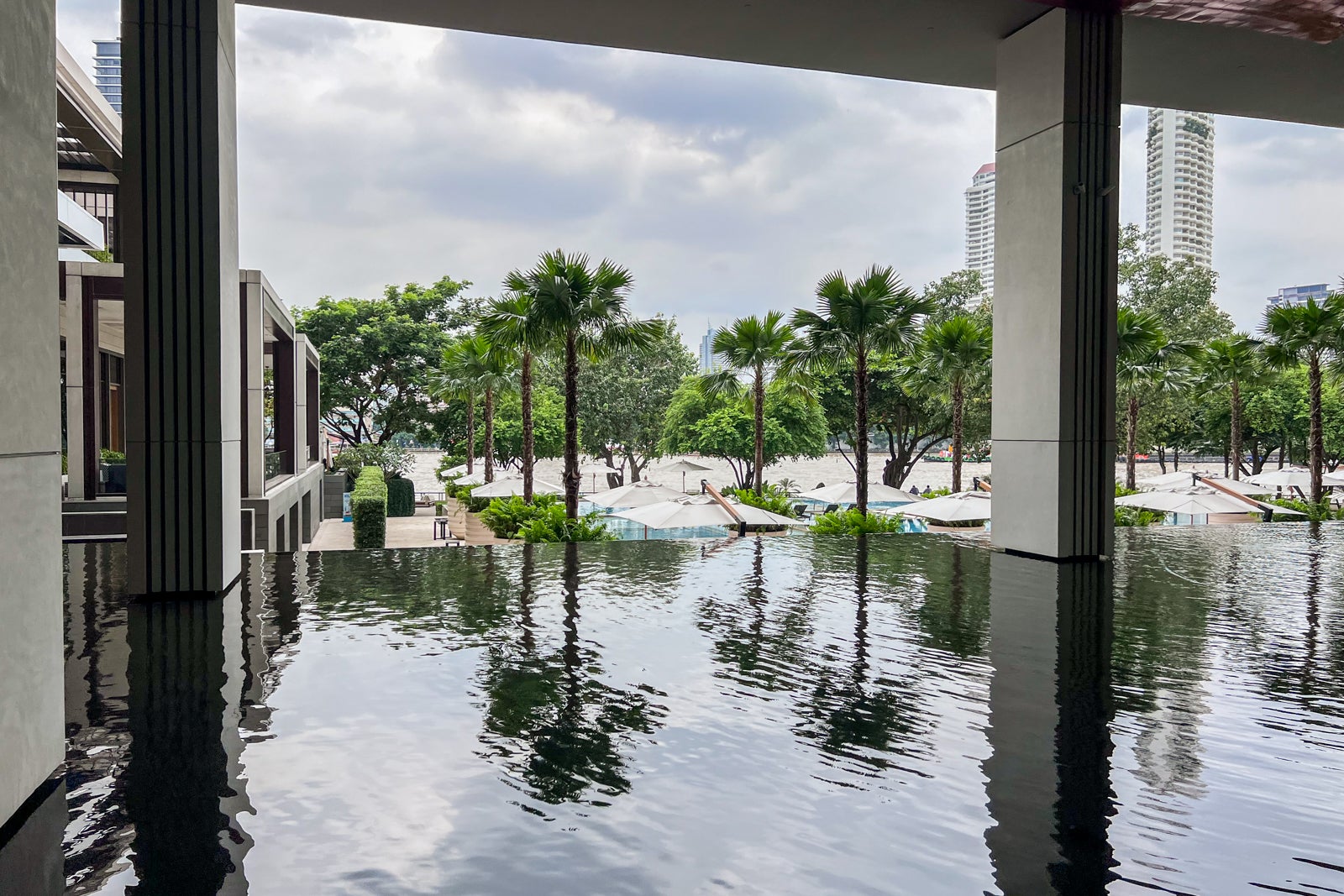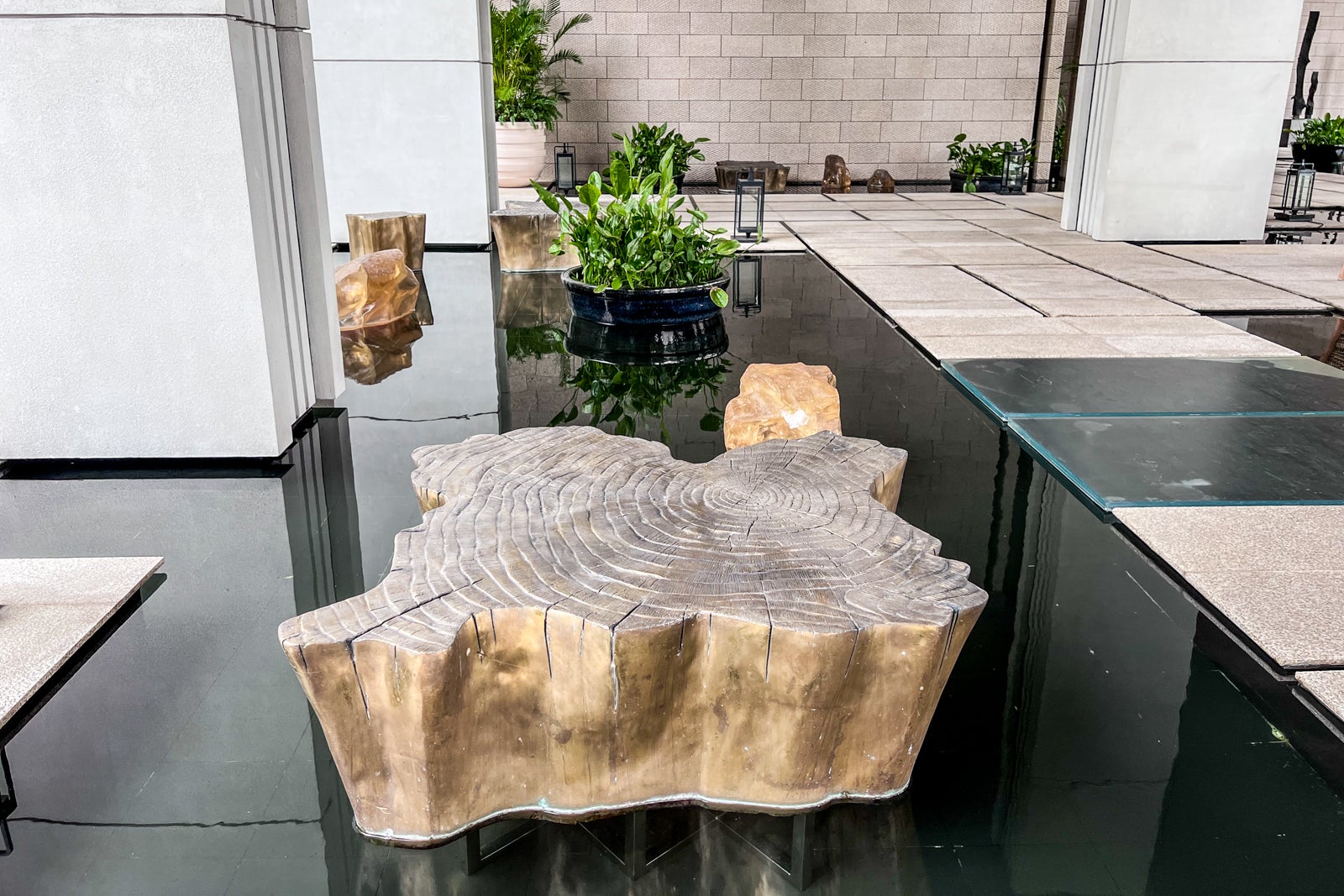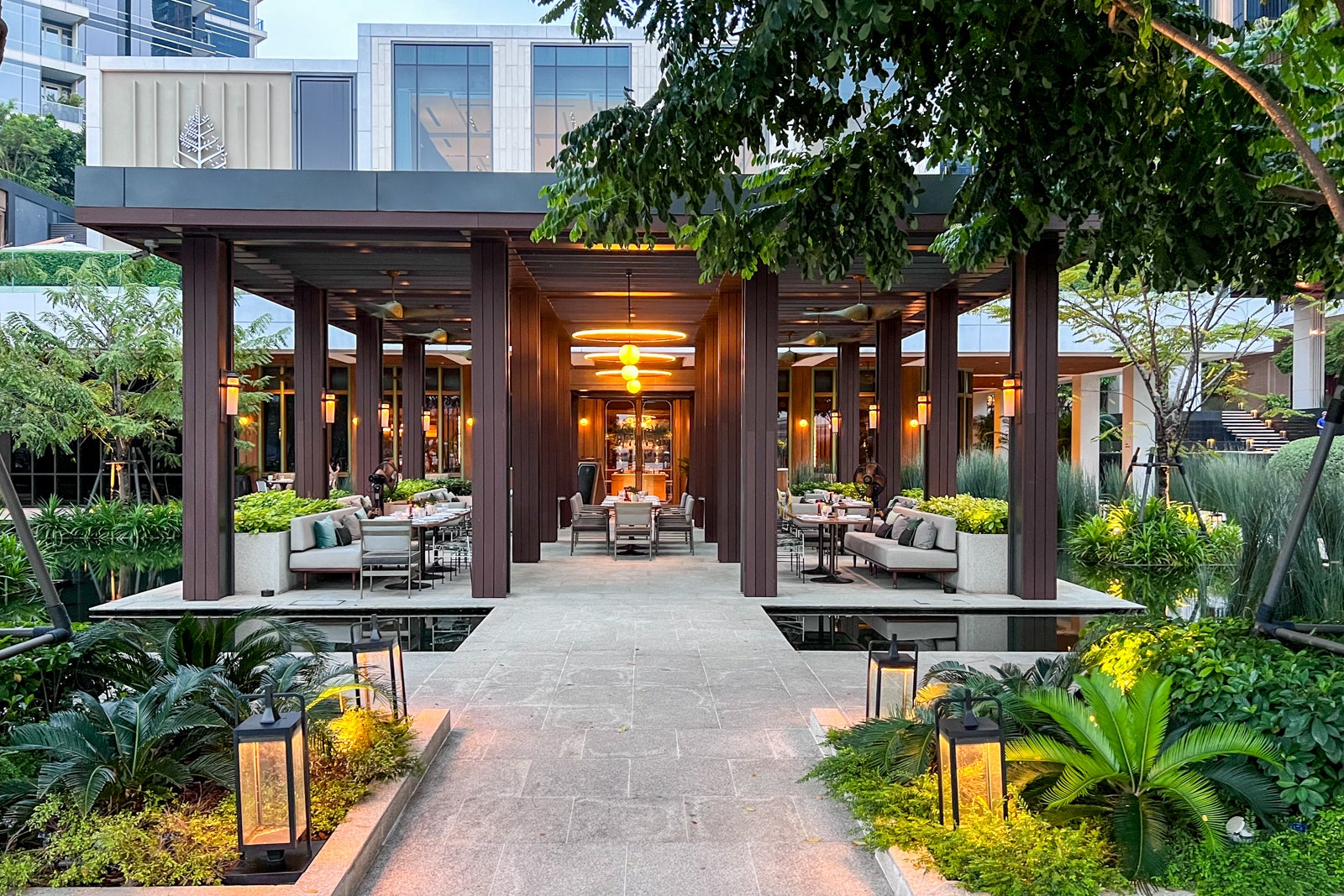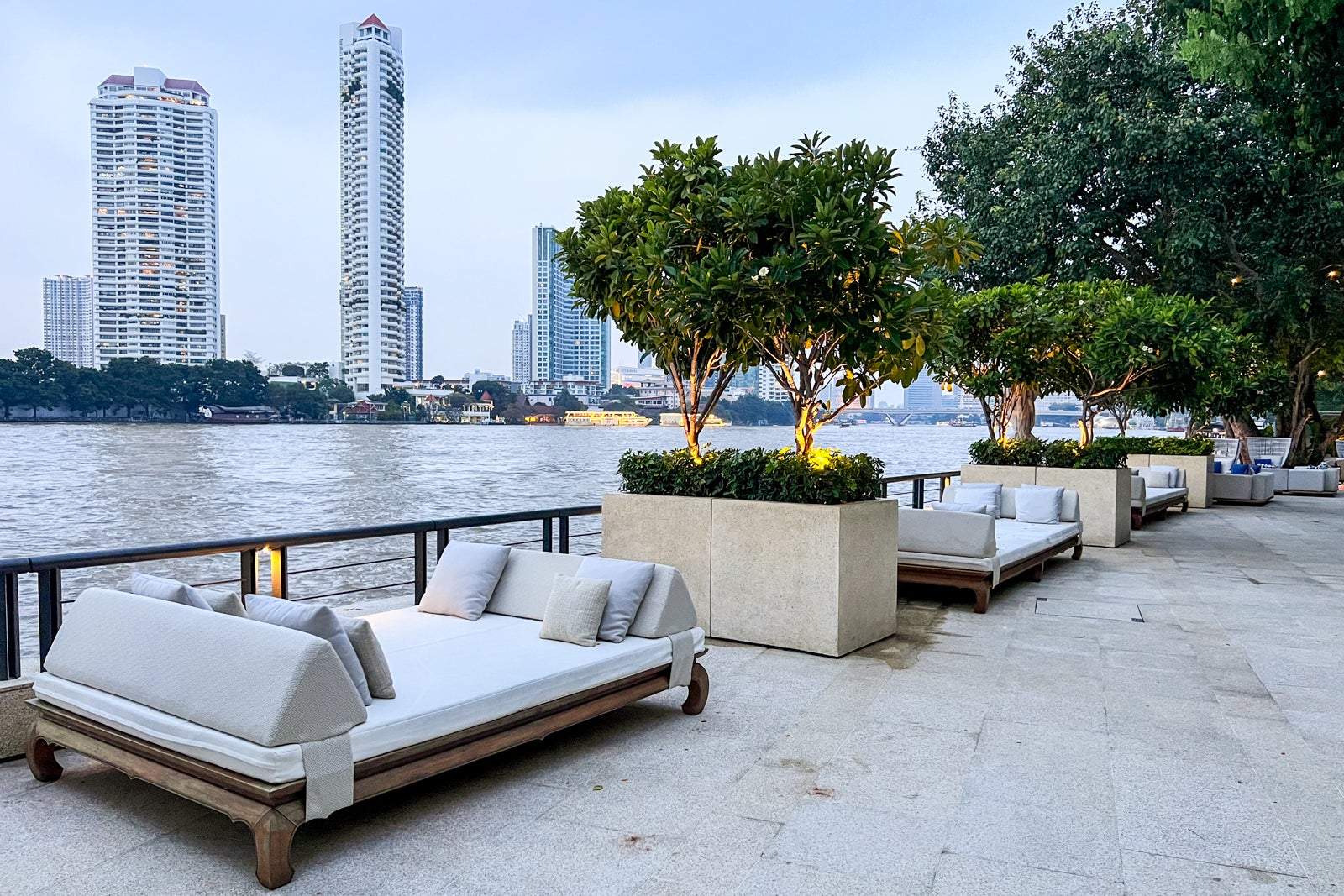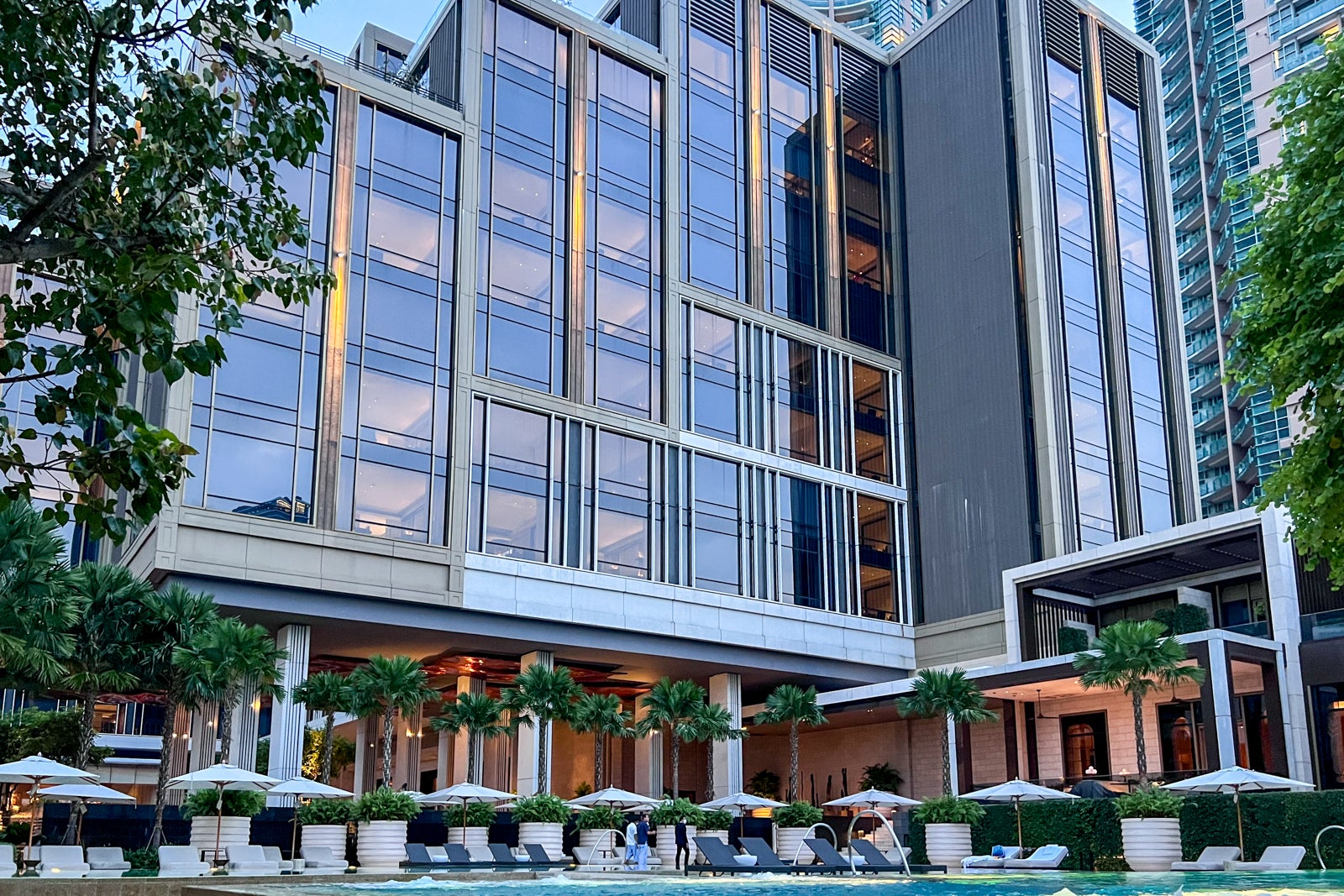 By the time I finally figured it out, I realized I couldn't just take an elevator to the floor with the fitness center. Instead, I had to go downstairs, walk through the entire lobby, and then head back upstairs to the gym and lap pool area. I didn't feel so bad doing this in the morning since it was early and I needed to change into my swimsuit anyway. However, it was awkward later when I had to walk past all the fancily dressed folks sipping Champagne in the lobby lounge while I was wearing my gym clothes.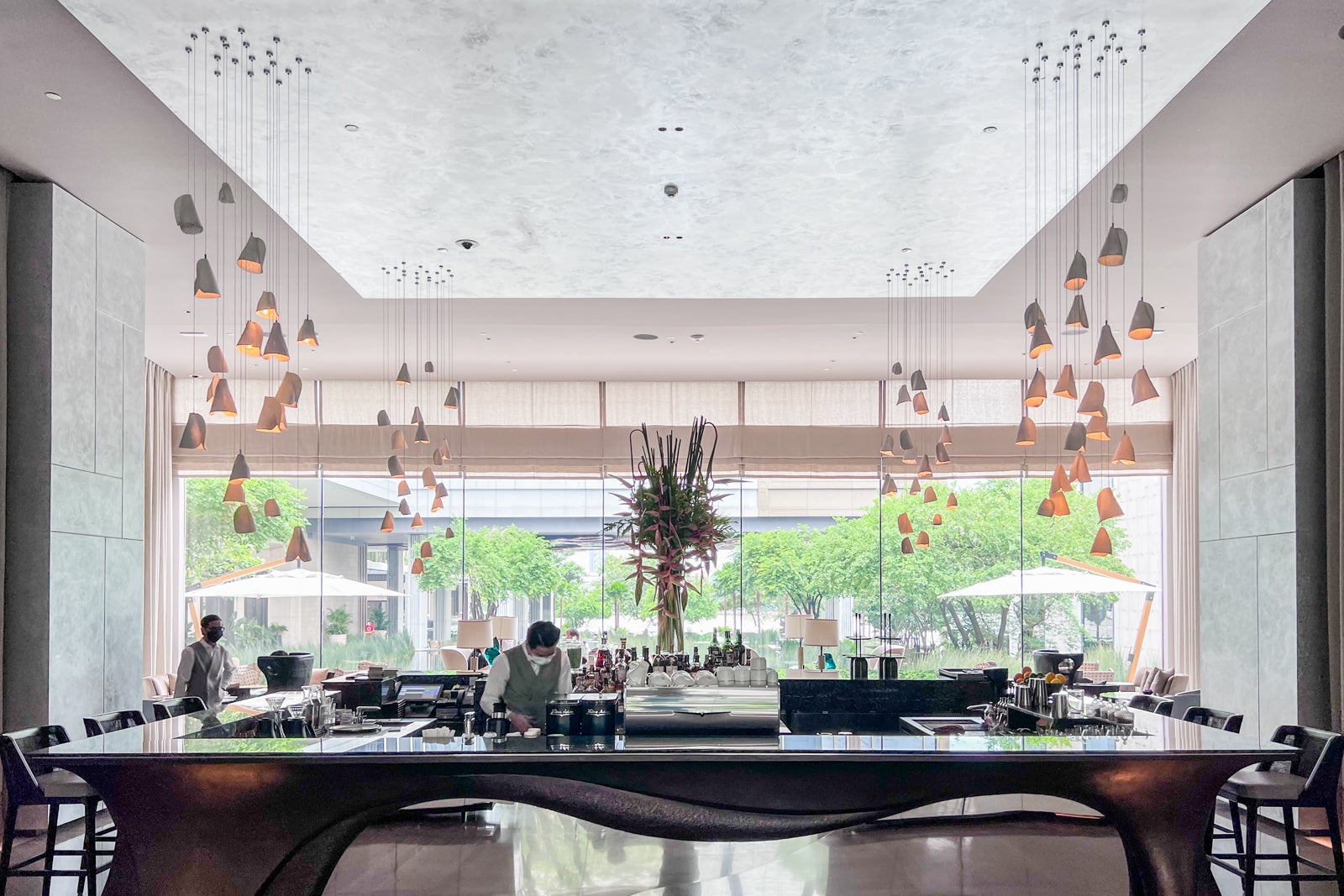 Sartorial snafus aside, the gym was lovely. The hotel offers personal training sessions to those who want it, and there is a mix of cardio equipment, strength training machines and free weights. There's also a stretching area and a lap pool outside with several lanes. The facility was never overcrowded, and the staff even grabbed me a pair of goggles so I could swim in the morning.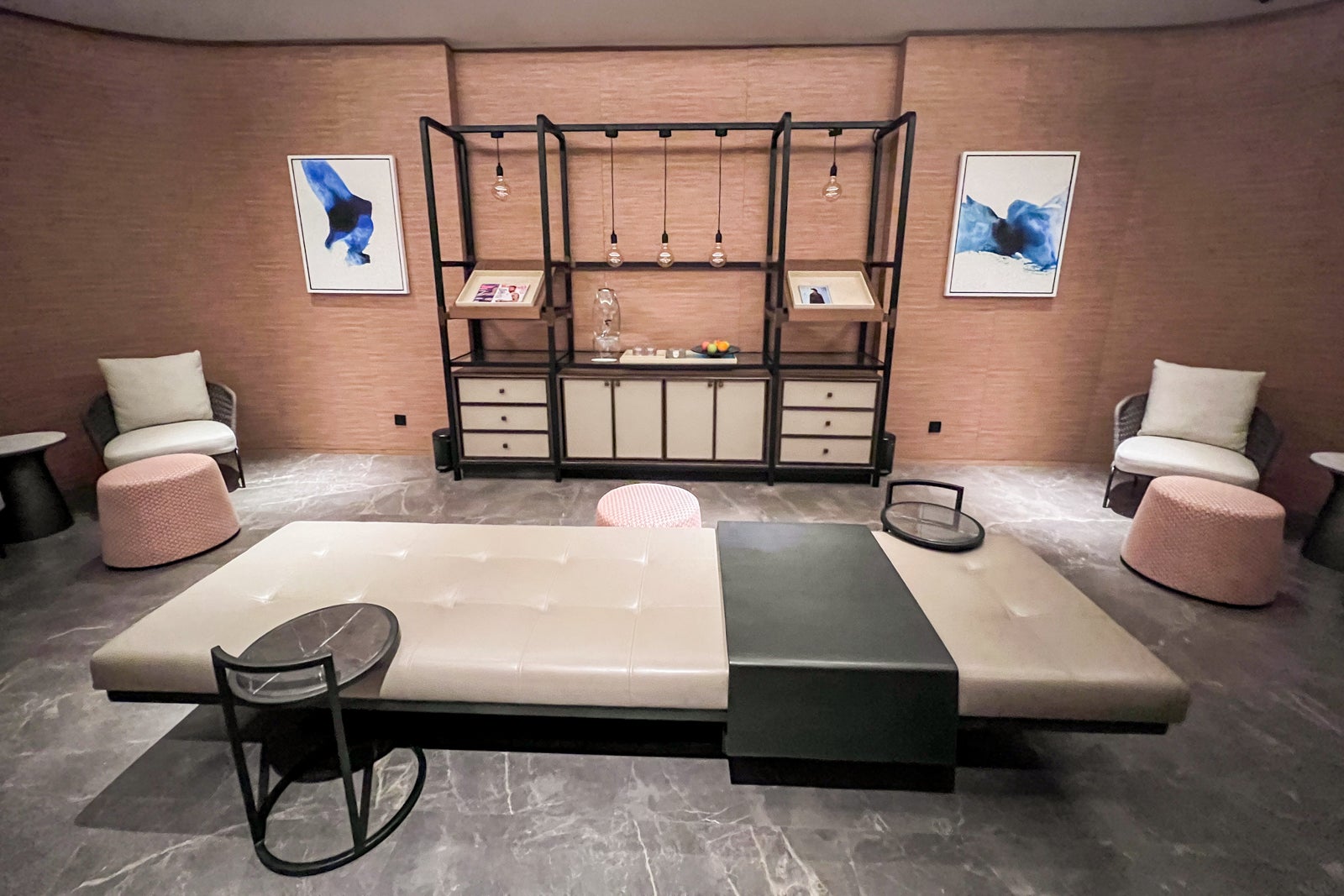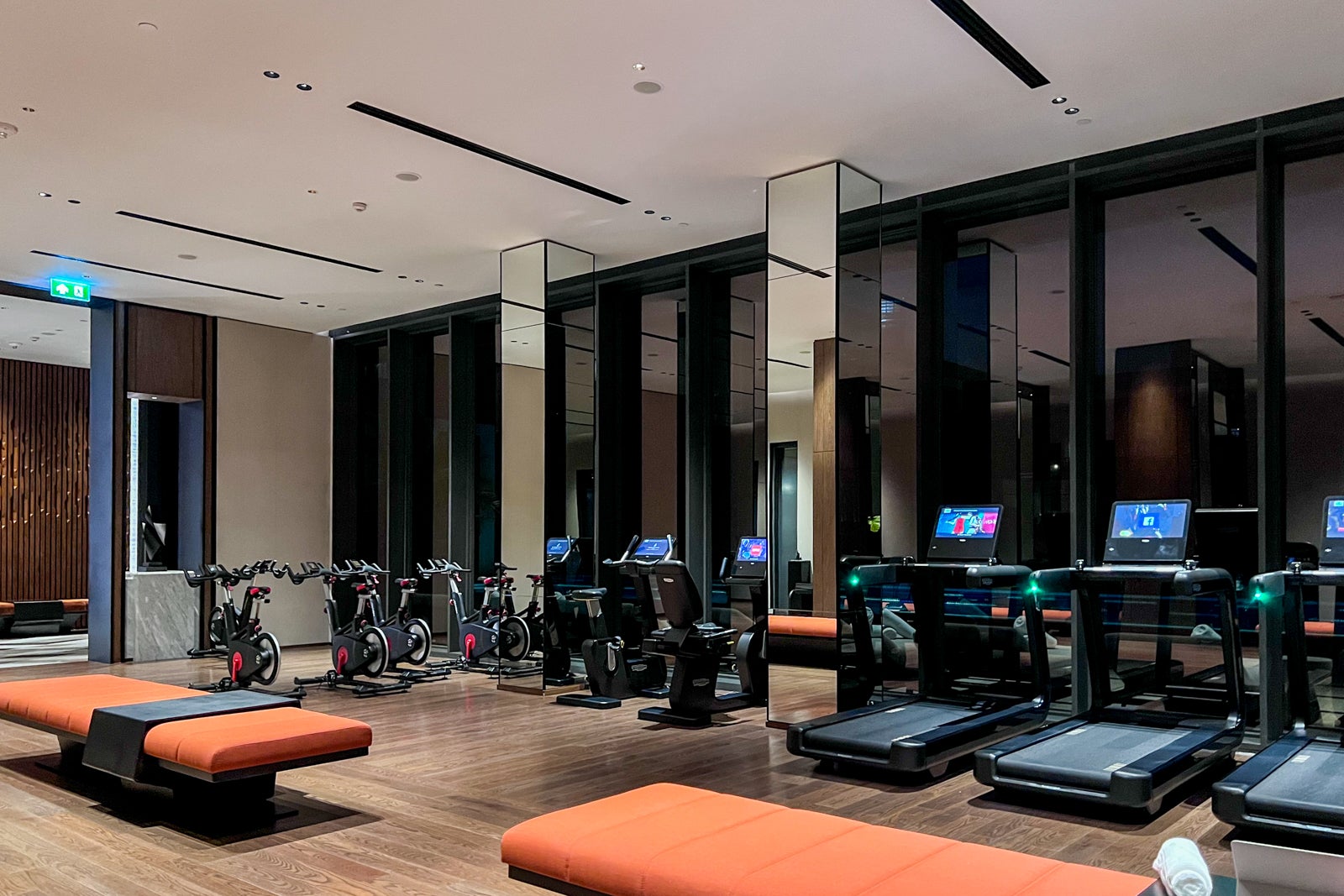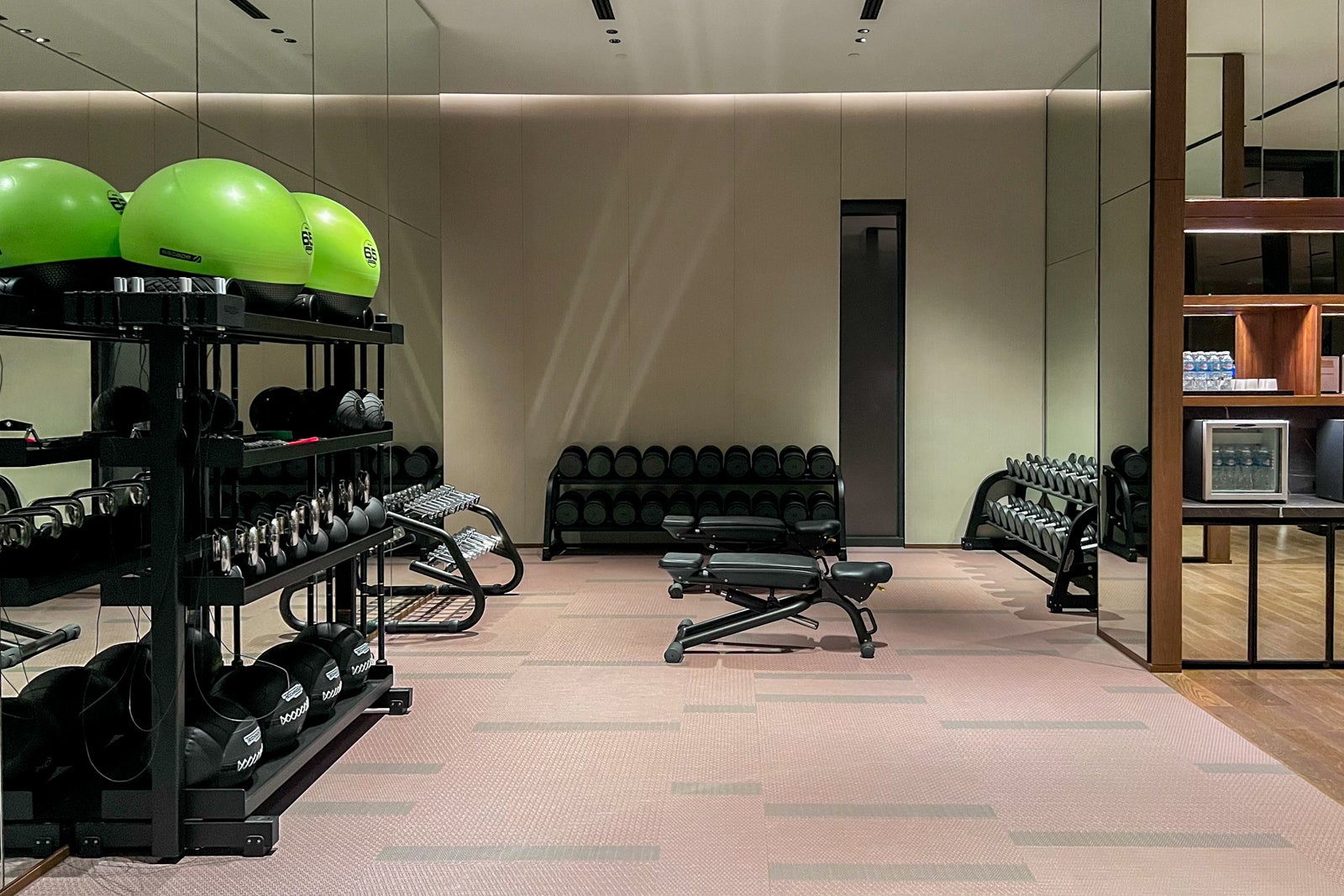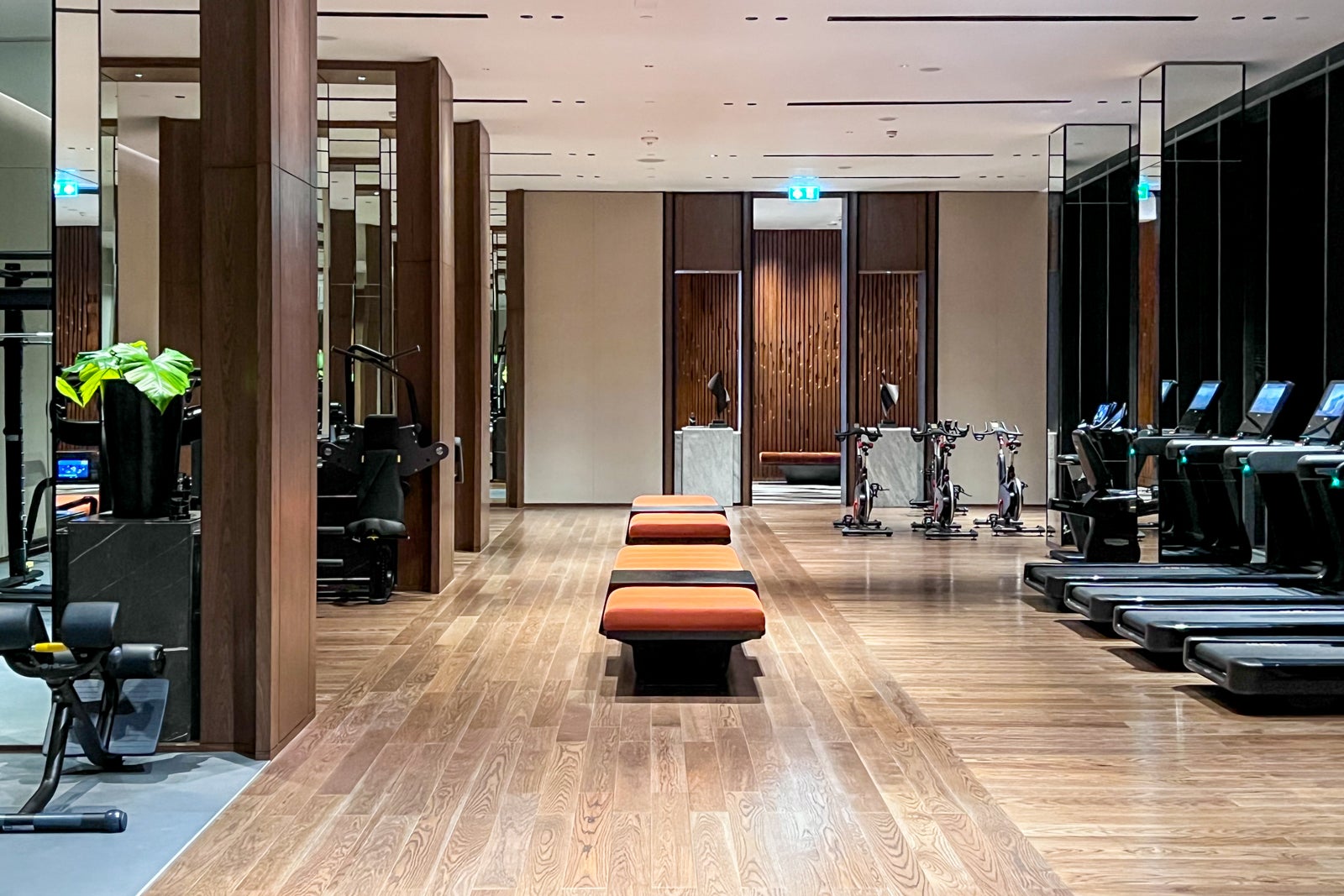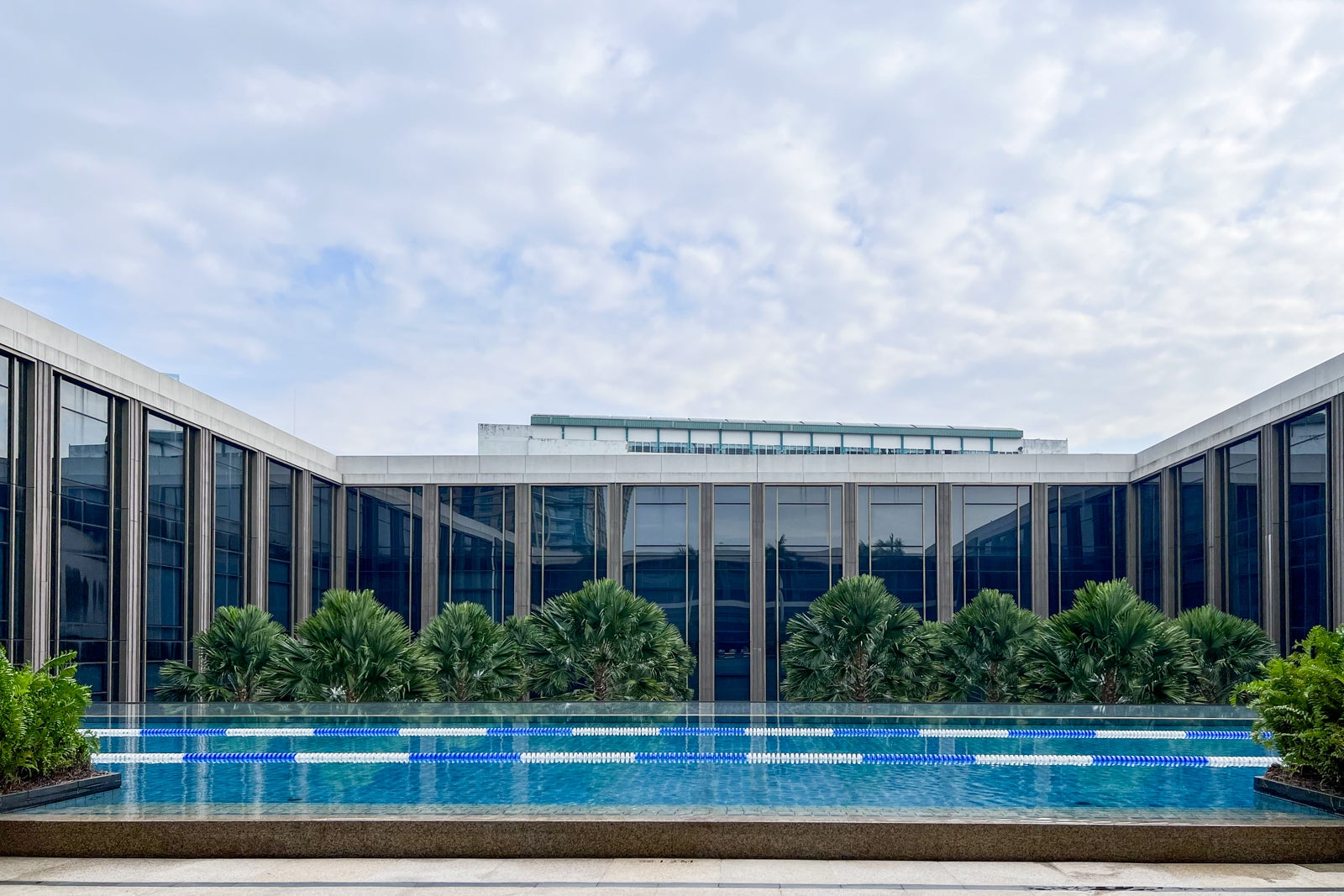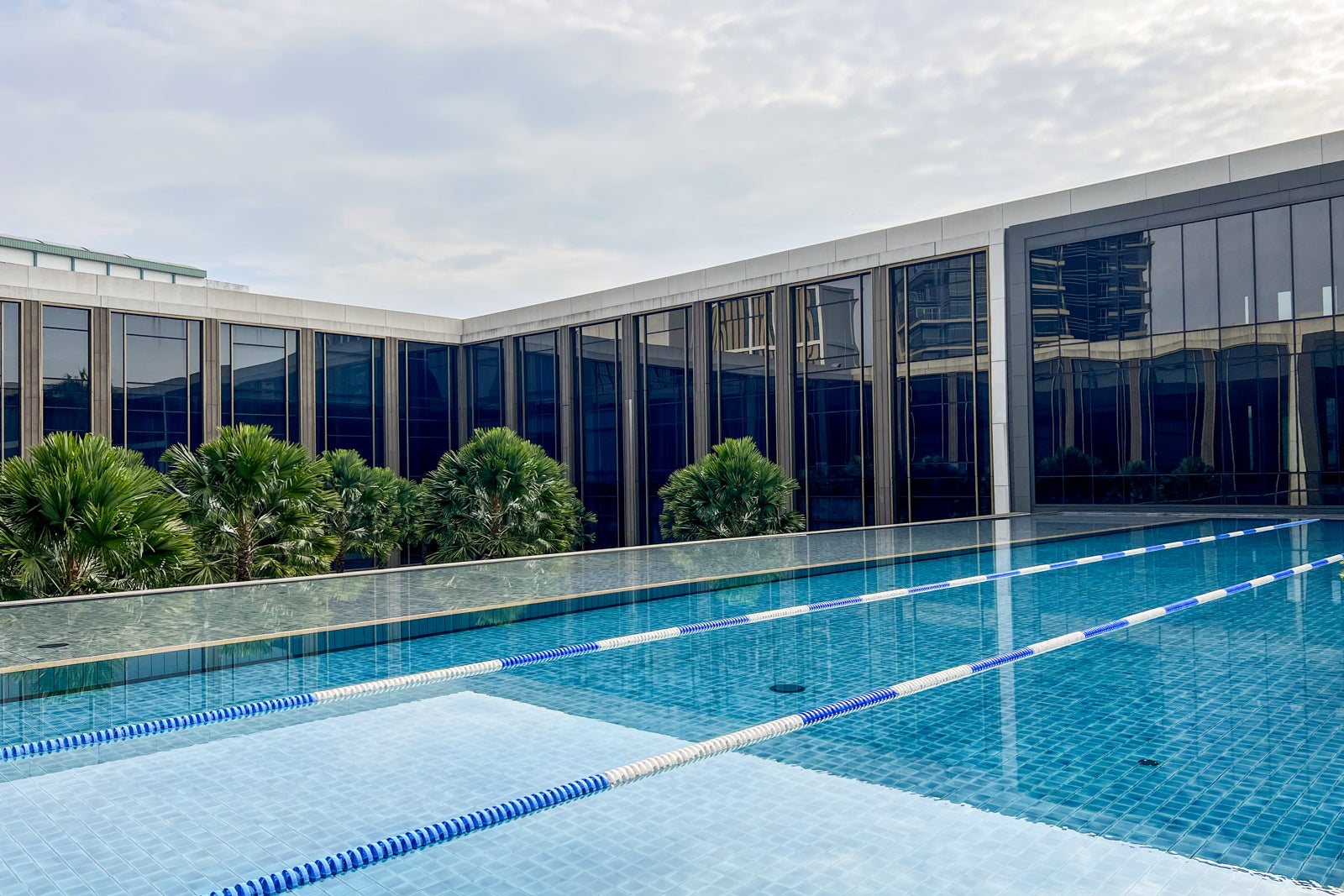 On the more leisurely swim front, there are two large infinity pools closer to the river where guests can soak up some sun. Attendants are on hand to take drink orders or bring sunscreen if you left your own in your room.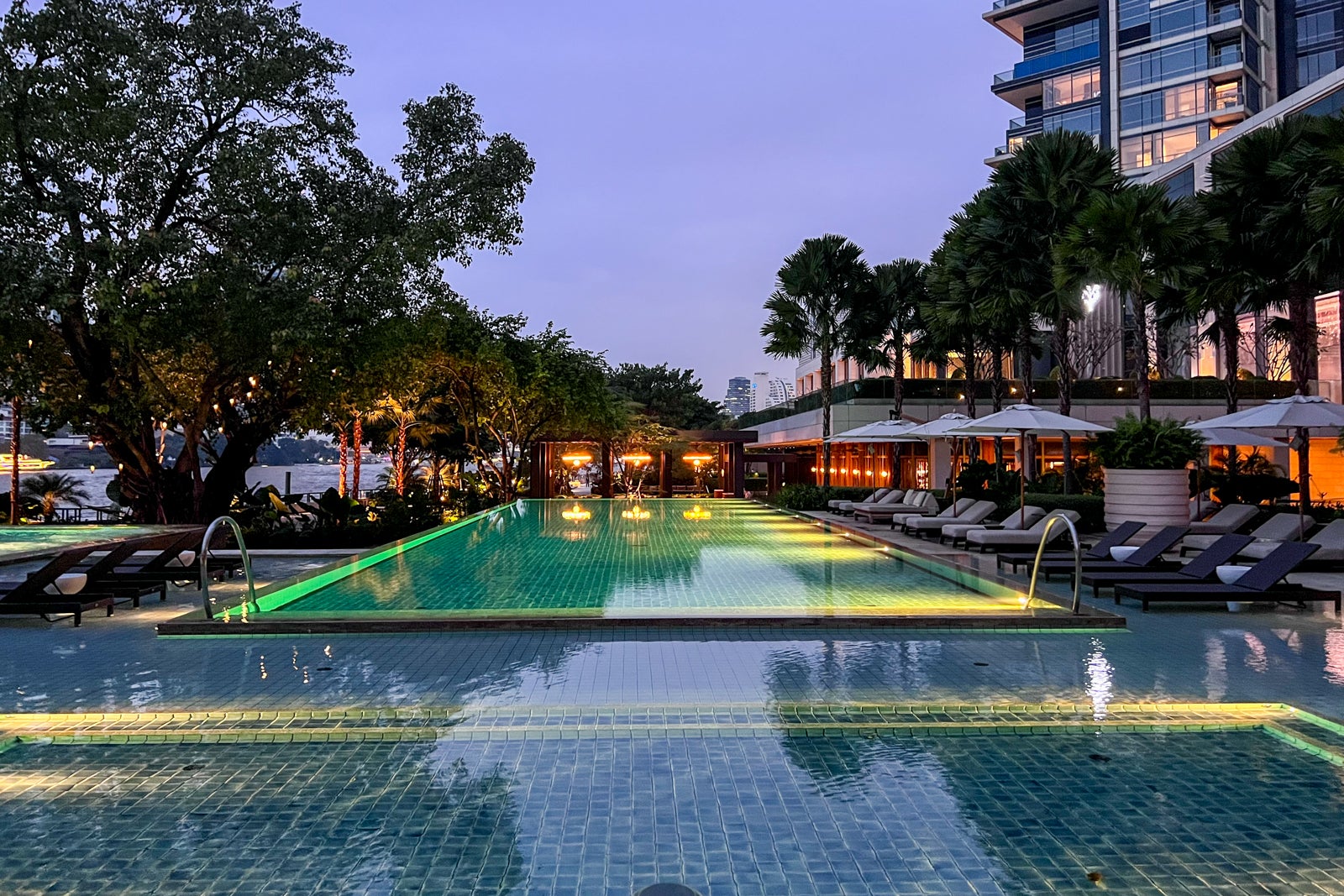 By this point of my trip, I needed laundry service, and I sent out a small load just before dinner; I received the clean clothes by the time I checked out the next afternoon at 2 p.m. This service came out to around $40 — a bit of a necessary extravagance thanks to the humidity that caused me to run through shirts faster than expected — but worth every penny given how carefully it was handled and how neatly it was presented upon return.
Out and about
The hotel's concierge team was attentive and took time to sit down with a map and point out various neighborhoods and markets to visit during my stay. I also appreciated how, when I mentioned I was starving for lunch shortly after check-in, they pointed me to local Thai restaurant Kurissara — located 10 minutes down the street — instead of just directing me to one of their own (significantly) more expensive restaurants.
Since I had a tight timeline before I needed to be back to review dinner, I also took the concierge's recommendation to check out the Warehouse 30 art and creative space; it's a collection of art galleries seven minutes away via cab. I used the Grab ride-hailing app to get there for 108 Thai baht, or $3. From Warehouse 30, I eventually walked four minutes to the River City art-focused shopping mall to check out more galleries.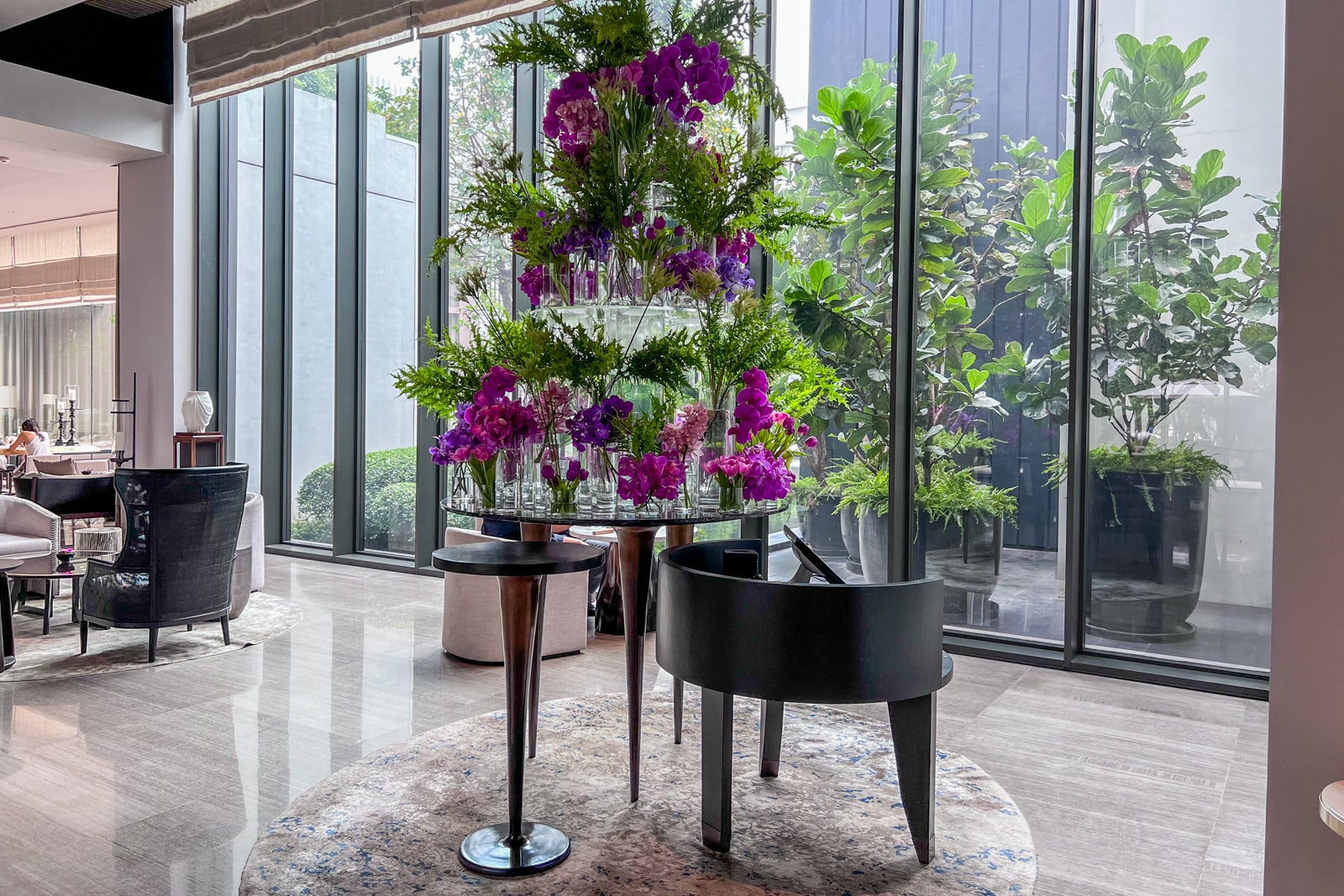 You can also take a free ferry from River City across the Chao Phraya River to the Iconsiam shopping mall, which is one of the largest shopping malls in Asia. It includes everything from a more commercialized version of a Thai floating market to glitzy retailers like Apple and Louis Vuitton.
The Four Seasons runs a complimentary river shuttle each hour to and from Iconsiam that takes about a half hour each way.
Accessibility
The Four Seasons features select accessible rooms with bathroom emergency pull cords, a grab bar near the toilet, low-height counters and sinks, and raised toilets. The lobby is wheelchair-accessible, and guest rooms and suites are accessible via an elevator off the lobby. It isn't easy to book these rooms on the hotel's website, so guests should call ahead to find the right room.
There wasn't a chair lift into the outdoor pools, and the most direct routes to the pools required the use of stairs.
Checking out
The Four Seasons Bangkok's streak of stellar service didn't end with just my signature on the bill. The Capella next door was my next stop, and the staff very kindly sent my bags ahead of me to the hotel. Another member of the Four Seasons team even walked me to the Capella to make sure I didn't get lost (knowing me, even I could find a way to fall off the clearly marked path between the two hotels).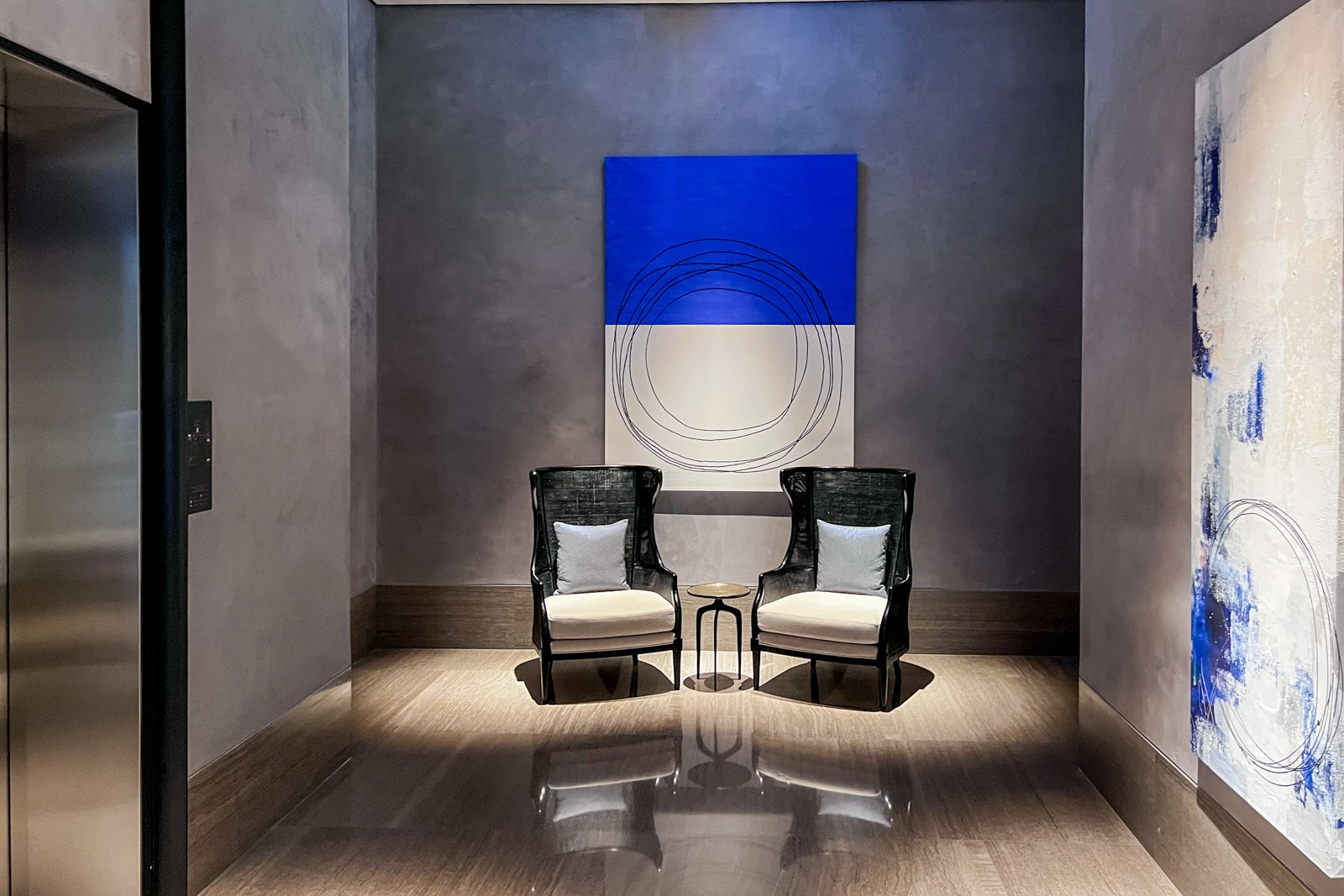 All in all, I had an excellent experience at the luxurious Four Seasons Bangkok. Now, I'm eager to explore the city's other luxury hotels, but the Four Seasons set the bar high.