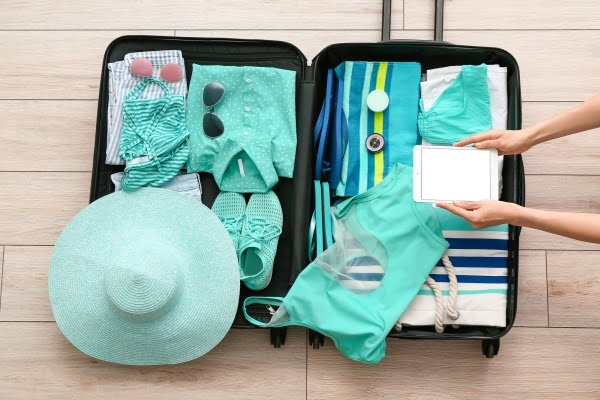 Though vacation is essential to take year-round as numerous studies have shown it's good not just for your mental but physical health too, with summertime on our doorstep, many of us are planning to get out of town. While vacations are made to rest, relax and explore, they can come with some stress of their own leading up to the trip. From housesitters, pet sitters, and curating the perfect packing list, it's a lot to take care of. While we can't book your sitters for you, this list can provide all the essentials you need to include in your suitcase if you're heading on a romantic getaway with your partner. So, save yourself the headache, immediately add to the cart, and then add the following to the bag.
An Oversized Hat
Nothing makes you feel chicer when lying on a beach than an oversized sun hat. You may have all your outfit ideas for your tropical getaway, but if an oversized hat isn't in there, you're not quite finished. They look amazing and are never going out of style, but large hats protect your face from harmful sun damage. No matter how much SPF you put on, the skin on your face is much more delicate than your body, so stave off those fine lines and wrinkles, not to mention melasma and other skin concerns, with a fun, oversized sun hat.
Designer Sunglasses
You know when you've had too much fun the night before, and it hurts even to step outside? You can't let your vacation get put on pause because of a little Rose, so make sure you invest in designer sunglasses before your romantic trip. Not only can they take the place of undereye concealer during brunch, but they also protect the delicate skin around the corners of your eyes. Go ahead and cancel your Botox appointment for those crow's feet and get some oversized designer sunnies instead.
Luxury Lingerie
When you look good, you feel good – and this getaway is all about romance and reconnection. Investing in some high-end intimates will instantly put you in the mood no matter how tired you are from a day of sightseeing. You know what you like and feel good about if you're already a bit of a lingerie collector. Perhaps you haven't bought intimates before; if that's the case, shop online until you find what appeals to you. Don't wear the lingerie for your partner; wear it for yourself to remind you of how powerful and sexy you are. Put yourself in the mood with a set that evokes confidence in you.
A Chic Travel Bag
Whether you're a pro at packing like a minimalist or want to bring your whole wardrobe with you, a chic travel bag that you can fit all your essentials in and carry-on is a must for a romantic weekend. You'll want your passport, any medications you rely on, phone charger, and wallet, but it's also a good idea to be able to fit in other items like a change of clothes, a water bottle, and even your laptop for the plane ride. Your travel bag also doubles as great storage while shopping and exploring your destination. You'll be able to fit a towel, water bottle, and any souvenirs you pick up along the way.
A Gift For Your Partner
You may be thinking to yourself – "I am the gift!" While this is true, a nice gesture if your partner is the one who planned the getaway for the two of you is to pack something special for them to say thank you. If you're limited by budget, even a letter outlining how important they are to you and how grateful you are for the thoughtful trip is plenty. Showing those we love how much they mean to us is essential for any successful relationship, so don't forget this detail on your essentials list.
Getting out of town is excellent for couples whether you're going through a rough time or everything is perfect between the two of you. Don't let the stress of preparing for your trip overwhelm you and make you start the vacation on a sour note. Use the above mentioned items as a starting point to what you bring and build on that. Happy Trails!
The post 5 Romantic Getaway Essentials For Women appeared first on Style Motivation.