Those gorgeous little girls scattering flowers on the aisle during a wedding march are the flower girls. Before the bride walks down the aisle, the flower girls decorate the entire aisle with flowers. They usually wear a smaller version of the brides outfit and are members of the bride or grooms extended family. The flower girl symbolizes the transition of the bride from a young girl to an adult from innocence to her donning mature roles of a wife and a mother. The flower girl also may carry candies, a single bloom, or a ball of flowers instead of petals, which symbolize fertility, innocence, and formation of a new family.
What is the difference between a bridesmaid and a flower girl then, you ask? It is the age. A flower girl is generally aged 10 years or less while a bridesmaid is usually 17 or above. However, if a girl is too young to be a flower girl and not old enough to be a bridesmaid, i.e., between the age of 11-14, she is called a junior bridesmaid.
On the wedding day, the flower girls are offered various gifts. The gifts range from stuffed toys and charming accessories to personalized gift items. If you have a wedding coming up, here is a list of 30 fabulous gift options to make the flower girls blush and bloom!
1. Fujifilm Instax Mini 9 Instant Camera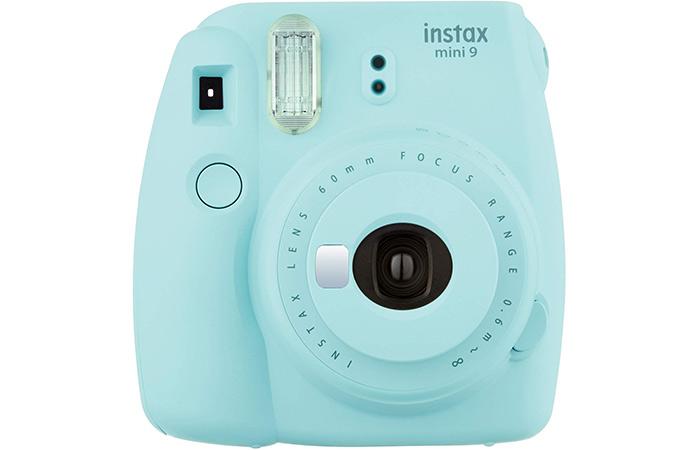 Gifting an instant camera is a great way to immortalize the wedding day memories of a flower girl. The Fujifilm Instax Mini 9 Instant Camera is the perfect choice for the same. It has a new selfie mirror and automatic exposure measurement and takes 62 x 46mm pictures. The camera comes in various vibrant and pastel shades. The high-key mode enables the users to take brighter pictures every time supported by a high-quality LED flash light.
Key Features:
Runs on 2 AA batteries
62 x 46 m pictures
1/60 sec shutter speed
Macro lens adapter to take close-ups up from 35-50 centimeters
Automatic exposure measurement feature for perfect pictures
6m focus
2. LEGO Classic Medium Creative Brick Box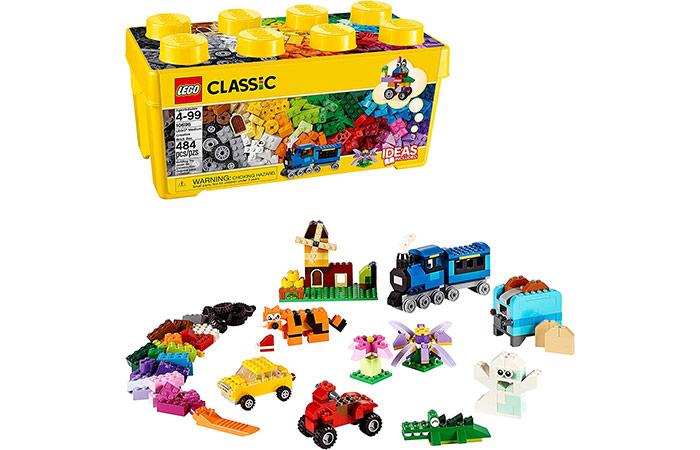 This set of LEGOs Classic Medium Creative Brick Box will bring a smile on your flower girls face. These wonderful toys can be used years after years from the wedding day. It is a medium-sized building kit that comes with 484 colorful LEGO bricks. The toy set also includes windows, 18 tires and toy wheel rims, and bricks in 35 different colors. LEGO toys are very popular among kids, and this kit will not only make the girls playtime productive, but it will also boost their creativity.
Key Features:
Comes with 484 bricks made from 35 different colors
Comes with windows, tires, and toy wheel rims
Long-lasting
3. RPJC Picture Frame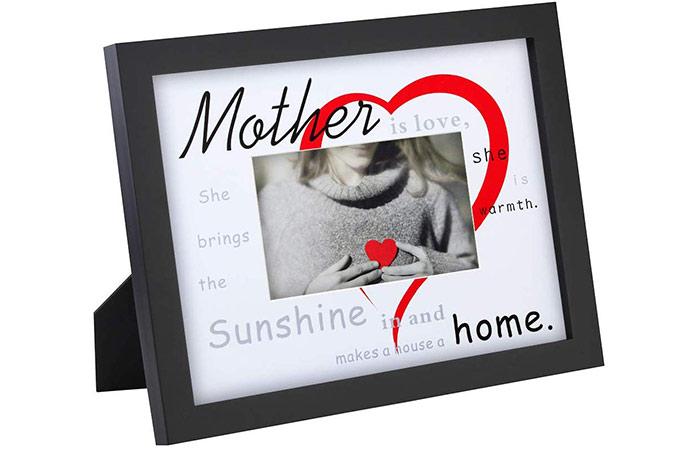 Your flower girl will cherish this customized photo frame forever. Simply insert a picture of the flower girl with the bride and groom in this frame. This frame by RPJC is 8x10 in size, made of solid wood, has a high-definition glass display, and can be hung on the wall. It is highly durable and has a classic design. The picture frame fits 4x6 pictures (with the mat and 8x10 pictures without it. It also has tabs at the back that open easilyto insert and remove pictures effortlessly.
Key Features:
Simple and durable design
Made of solid wood
High-definition glass display
Smooth opening tabs for easy access
Exclusively safe packaging for delivery
4. Schylling Butterfly Tea Set Basket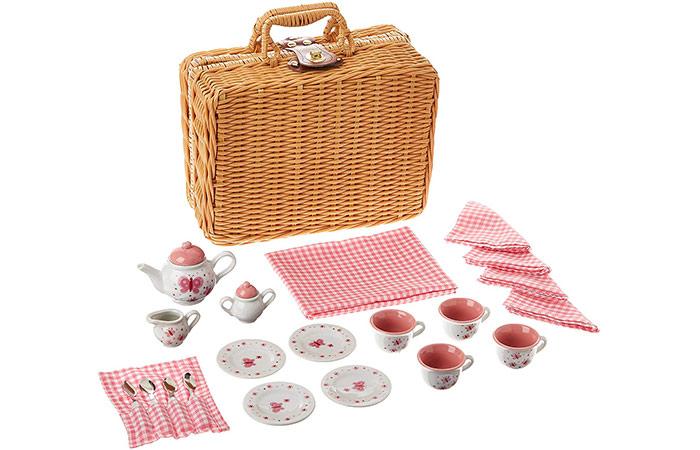 If your flower girl loves weekend trips, this is the perfect gift for her. This cute Butterfly Tea Set Basket by Schylling is a 23-piece porcelain tea set with an adorable basket. The 23 pieces include 4 tea cups and saucers, a classic tea pot with lid, a sugar bowl with a lid and creamer, 4 napkins, and a tablecloth. This is a very pretty, portable tea set with a butterfly design and vivid colors. It is perfect for girls aged 8 or over, so you can let your little hostess have a gala tea party with her friends!
Key Features:
Beautiful tea set basket with butterfly design
Includes tea pot, cups and saucers, sugar bowl, napkins, and tablecloth
Perfect for children aged 8+ years
5. GUND Abby Cadabby Stuffed Animal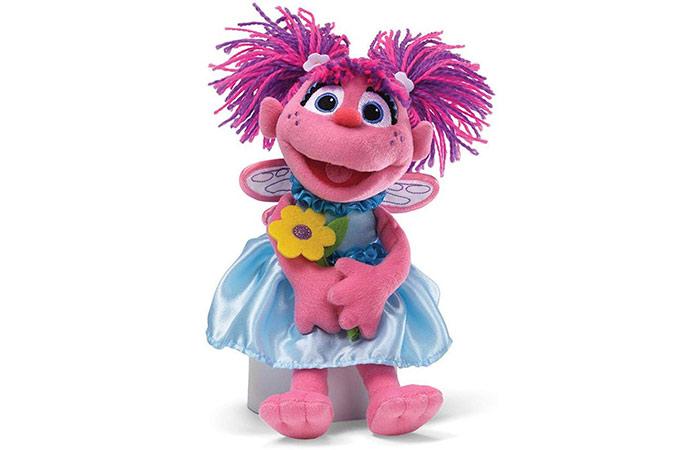 Stuffed animals are very popular among kids and will be a hit with your flower girl. You can get her this Abby Cadabby stuffed animal by GUND and make the wedding occasion special for her. The fabric is soft and sturdy. If your flower girl loves stuffed animals, this is the ultimate stuffed toy to gift her.
Key Features:
Plush toy with vibrant colors
Washable
11 inches tall
Soft and huggable GUND quality material
6. GUND Philbin Plush Teddy Bear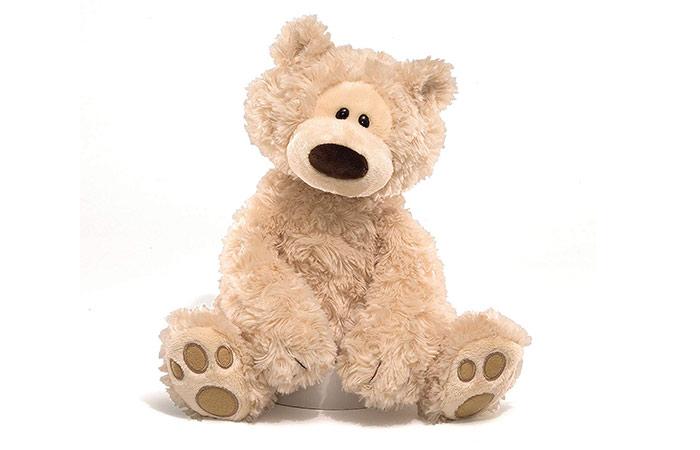 Surprise the flower girls at your wedding with this cute stuffed teddy. This furry animal will bring a smile on their faces. This stuffed teddy by GUND is made of a polyester blend. It is fluffy and 12-inches tall. Its huggable fabric and cute paws make this teddy even more adorable. It is surface washable and available in two colors chocolate and beige.
Key Features:
Cute plush toy in beige and brown
12-inches tall
Soft polyester blend fabric
Surface washable
7. Kidkraft Vintage Kitchen Set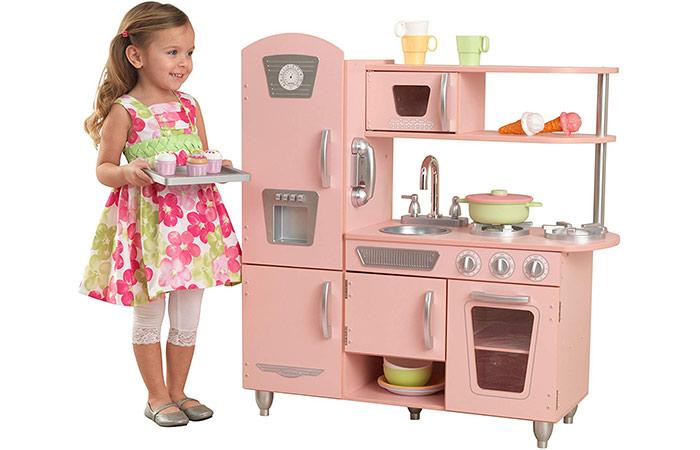 This toy kitchen set by KidKraft will make for a grand gift for your flower girl. This vintage kitchen set in pink has a cordless phone, a removable kitchen sink, and oven knobs. The flower girl can pretend to cook all the dishes she wants using the refrigerator, oven, sink, microwave, and stove. The essential kitchen items will keep the child engaged and thrilled for hours. This is also the perfect gift if the flower girl loves cooking and is an aspiring chef.
Key Features:
36-inches tall kitchen set
Comes with a toy microwave, kitchen sink, swinging faucet, and cordless phone
Realistic and interactive features
8. Jellycat Bashful Beige Bunny Stuffed Animal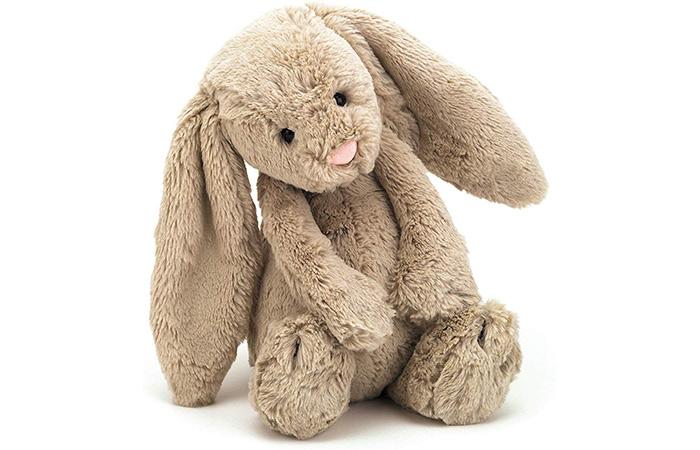 Bunnies are the perfect cuddle companions, and this Jellycat Bashful Beige Bunny is a great gift to offer your flower girl. This cute bunny with long ears is 12-inches tall and made of polyester and high-quality faux fur. Your flower girl will find this bunny irresistible and treasure it for years to come.
Key Features:
High-quality material
12-inches tall
9. PANDORA Moments Bracelet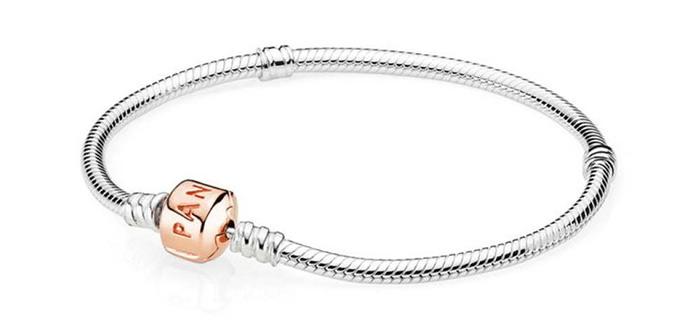 Charm bracelets make for the most wonderful and useful gifts for flower girls. If you love the idea of personalized charm bracelets, consider gifting this Pandora hand-finished silver charm bracelet to your flower girls. The bracelet comes with a barrel charm clasp. This is a 925-sterling silver bracelet with 92.5% silver and 7.5% other metals. It is a handpicked item that is perfect for gifting on weddings. This elegant and classy bracelet does not cause any irritation and is lightweight, making it perfect for a 10-year old.
Key Features:
Made from 92.5% silver
Personalized bracelet
Barrel charm clasp that holds the bracelet securely
10. Schylling Rubber Piggy Bank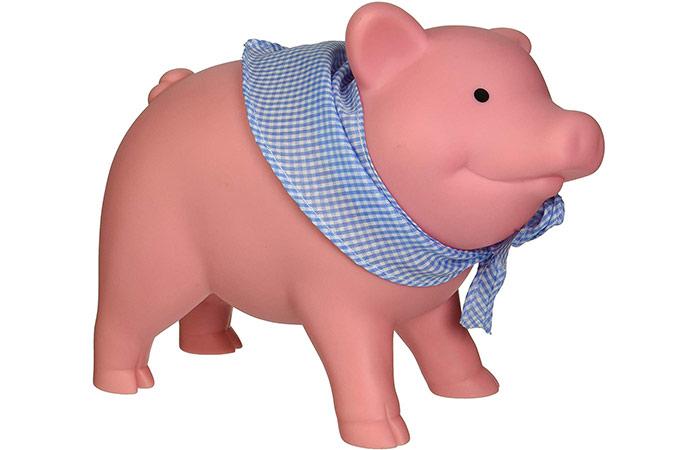 This is a gift that your flower girls will be able to use every day. This Schylling piggy bank is made with vinyl with a slot on its back. This 7.5-inch piggy bank allows the flower girls to store money in a fun way. It has a movable head and comes with a cute gingham scarf. It is durable and not prone to breakage. It also has an opening in the piggys belly from which money can be taken out.
Key Features:
Pink, rubber piggybank
Gingham scarf on the neck
Movable face
Opening at the bottom to take out money
11. Lamaze Gardenbug Footfinder And Wrist Rattle Set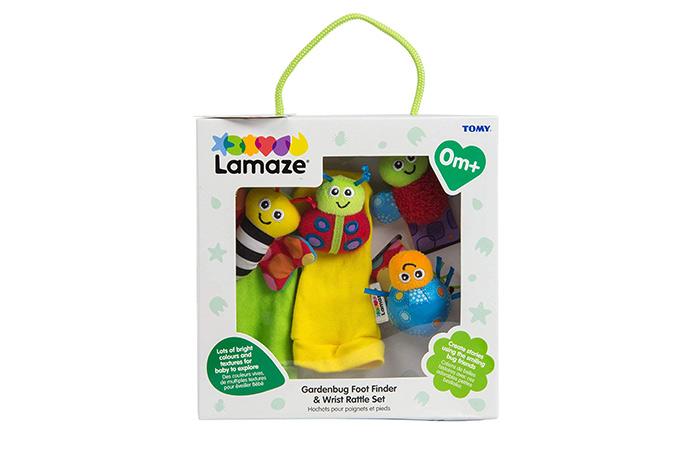 If your flower girl is a toddler, surprise her with this cute gift set. The Lamaze Gardenbug Footfinder And Wrist Rattle Set has multi-texture bugs and socks. The colorful and smiling bugs are inviting for kids, and the rattle set keeps them engaged for hours. They are not too noisy and can be attached to play pads, carriers, and wrists.
Key Features:
Colorful and vibrant rattle set
Comes with socks, bugs, and handcuffs
Not too noisy
12. Barbie Fairytale Ballerina Doll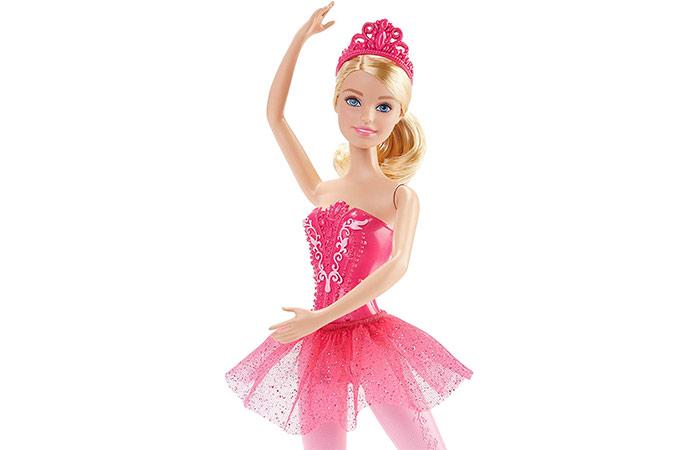 This handpicked gift is one of the best options to gift your flower girl on the big day. The Barbie Fairytale Ballerina Doll makes for the most thoughtful gift for a flower girl, especially if she aspires to become a ballerina. The Barbie comes with a beautiful ballerina costume with an attached bodice and a removable sheer pink tutu. The Barbie also wears a removable tiara and detailed ballerina shoes. This gift will surely bring a lot of joy to her!
Key Features:
Removable tutu and tiara
Standard ballerina shoes
13. Robotime DIY Dollhouse Wooden Miniature Furniture Kit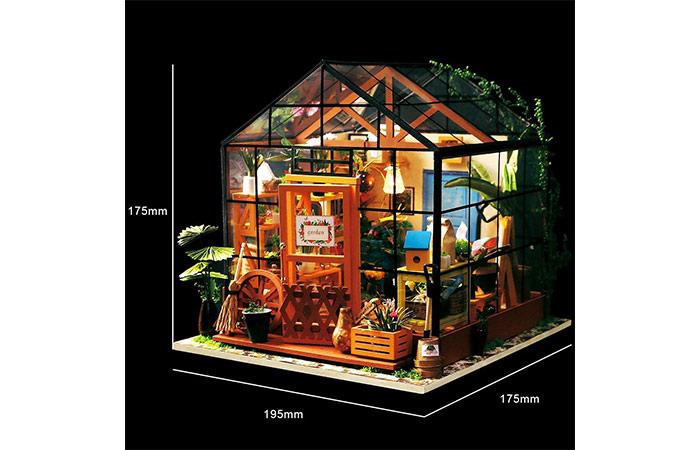 This miniature furniture kit makes for the sweetest gift for a flower girl. Not only will she enjoy playing with it, but she will also learn a lot. Robotimes DIY Dollhouse And Wooden Miniature Furniture Kit comes with a mini garden house, assembly instructions in English, and a detailed illustration page. The furniture kit has stunning LED lights and is made of eco-friendly, safe, and non-toxic materials. This is a family toy that both kids and their parents will love.
Key Features:
Miniature furniture kit with showcases and tables
Mini garden
LED lights
Safe and non-toxic
14. Doctor Unicorn Drawstring Backpack With Makeup Bag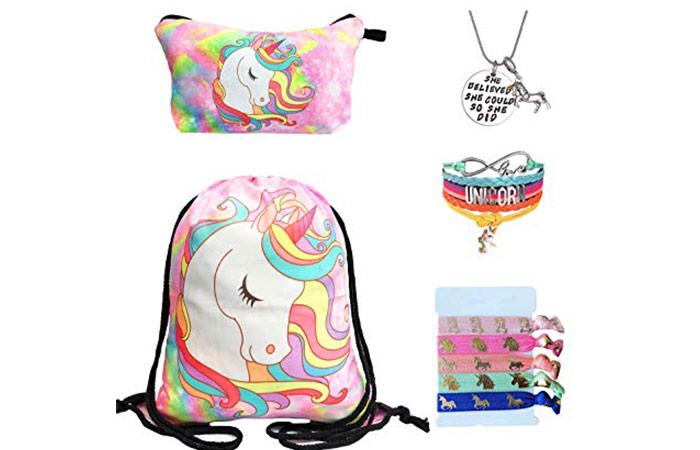 Make your flower girls day by gifting her this multi-purpose backpack and makeup bag kit. This Doctor Unicorn backpack and makeup bag come with colorful unicorn hair ties, an elegant neck piece, and a charming rainbow bracelet. You can also add other gifts to the backpack to create a personalized gift for your flower girls to make them feel special.
Key Features:
Gift set with drawstring bag, makeup bag, bracelet, hair ties, and necklace
Made using 100% polyester and durable
15. Easthill Colored Canvas Storage Pouch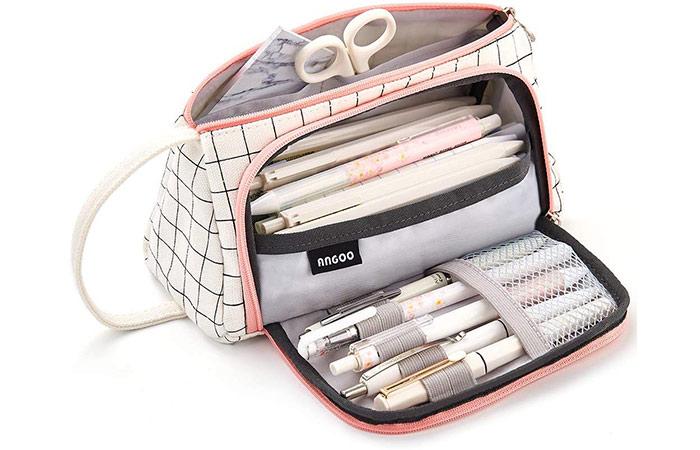 A stationery bag makes for the best gift because your flower girl can use this bag every day. Easthills Colored Canvas Storage Pouch comes with a zipper and can accommodate up to 50 pencils and pens, makeup tools, and other items. The bag can also be used to store small note cards, travel essential accessories, and cosmetic items. The design is very classy, and the strong zipper holds all the items securely in the bag.
Key Features:
Capacity to hold 50 pens, pencils or brushes
Made of sturdy canvas material
16. Fascigirl Hair Clip Set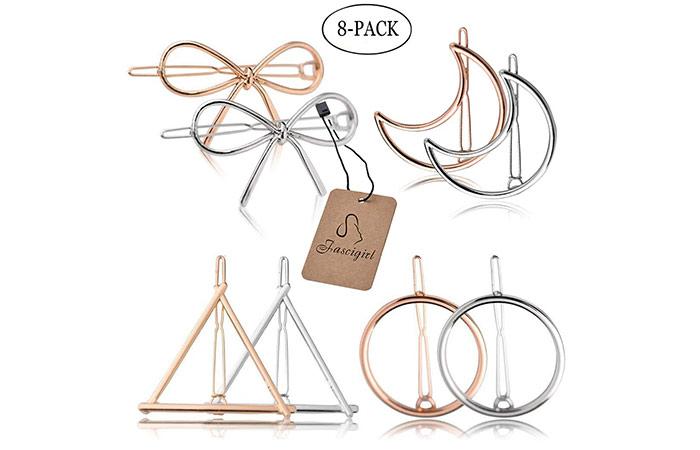 Fascigirls vintage hair barrettes are the perfect hair accessories that can be used not onlyon the wedding day but also every day. The set includes four pretty metallic hair clips. These chic geometric hair clips look fabulous on various hairstyles. The set also includes 2 bow, 2 triangle, 2 moon, and 2 circular hair clips. Your flower girl can wear these pins to parties, Christmas holidays, weekend trips, and weddings.
Key Features:
Different geometric shapes
Sturdy metal
17. Fettero Customized Heart Necklace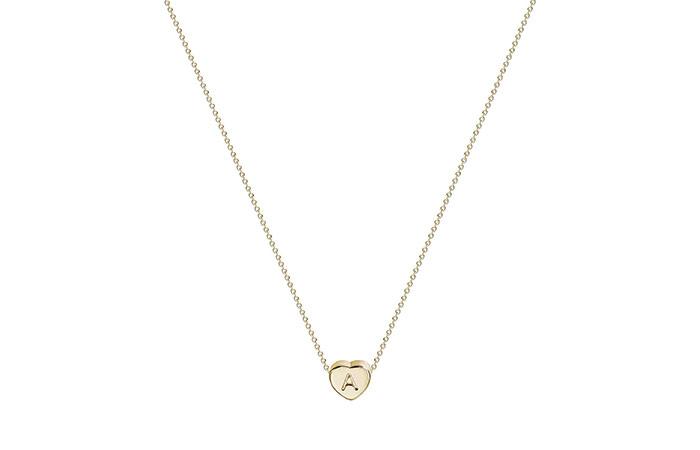 If your flower girl loves cute accessories, this personalized heart necklace will become her favorite. This tiny heart necklace comes with a 14k gold-filled pendant and initials that dont fade over time. It is nickel- and lead-free to prevent skin irritation. It comes with a customized message in a cute gift box that will bring a smile on the kids face.
Key Features:
Personalized necklace with initials
14k gold-filled pendant
No skin irritation
Lead- and nickel-free
18. HWD Kawaii Flower Fairy Stuffed Soft Plush Toy Doll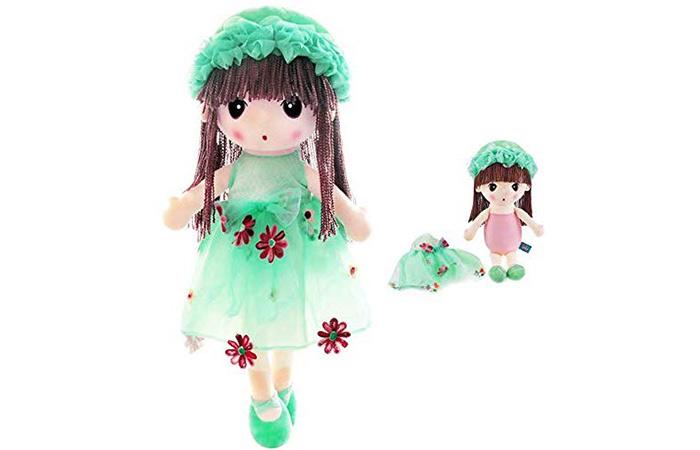 Surprise your flower girl with a cute plush toy on your wedding day. Give her the HWD Kawaii Flower Fairy Stuffed Plush Toy. This 18-inch doll made of high-quality cotton comes wearing a beautiful floral embroidered skirt and a cute ruffled hat made of gauze. You can change the clothes and hairstyles of this doll and have fun. This stuffed toy will keep your flower girl completely busy and engaged for hours.
Key Features:
18-inches tall
Embroidered skirt and cap
Made of high-quality cotton
19. Lings Moment Wrist Corsage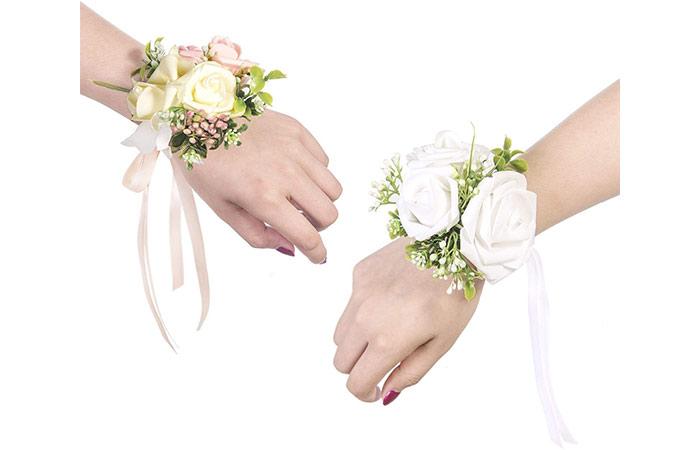 Wrist corsages are stunning, no doubt, and this Lings Wrist Corsages Bracelet is a great gift for flower girls. Especially if its a beach wedding, this customized wrist corsage will make your flower girl look adorable. These are made using foam flowers, ribbons, and rattan. The serene white color of the corsage with floral accessories looks really elegant. This is perfectly suitable for boho weddings, beach weddings, French weddings, country weddings, etc. This gift set comes with 6 pieces, a perfect number for flower girls and bridesmaids.
Key Features:
Made using foam flowers, ribbons, and rattan
Adjustable ribbons
Great for beach weddings
20. Jinvun Compact Purse Mirror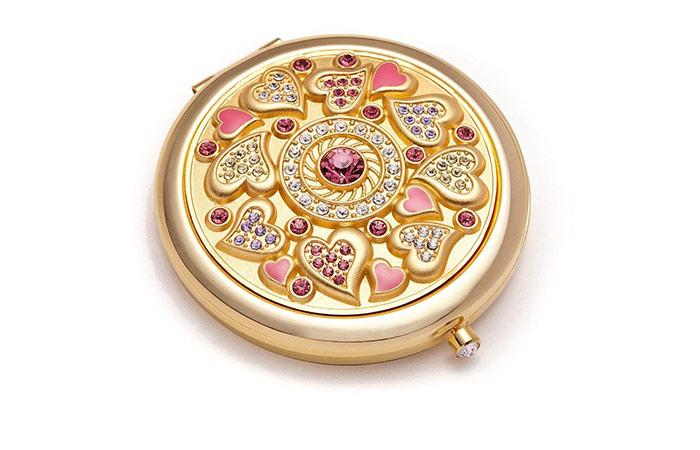 Amaze your flower girl with this pretty gift on your wedding day. This cute and elegant compact mirror by Jinvun, is a must-have for little girls. This princess-style mirror with an embroidered surface embellished with sparkling hearts and gorgeous colorful diamonds is electroplated with 24k gold on both sides. The diamond locking clasp makes it look fancy. Little girls can freshen up and check their makeup on the go with this adorable handheld mirror.
Key Features:
Embroidered surface
Offers clean vision and magnification
Diamond locking clasp
24 k gold electroplates
21. Bloomsbury Im a Flower Girl! Activity And Sticker Book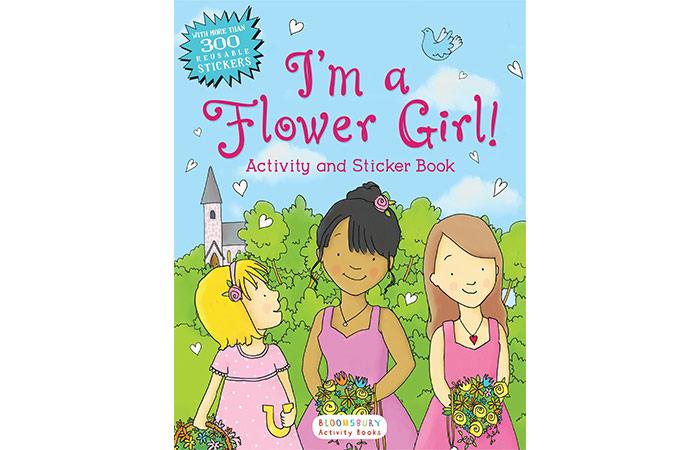 You can let your little flower girl have her quota of fun with this playful and amazing activity book. This activity and sticker book by Bloomsbury is about a flower girls preparation for the wedding day. This book has more than 300 colorful and reusable stickers, which can be used for designing wedding invitations. The flower girls can color the pictures, too. This activity book is a great way to keep your flower girl busy for hours during the reception.
Key Features:
Colorful and interesting stickers
Stickers can be used to design wedding invitations
22. Tickle & Main Flower Girl Gift Set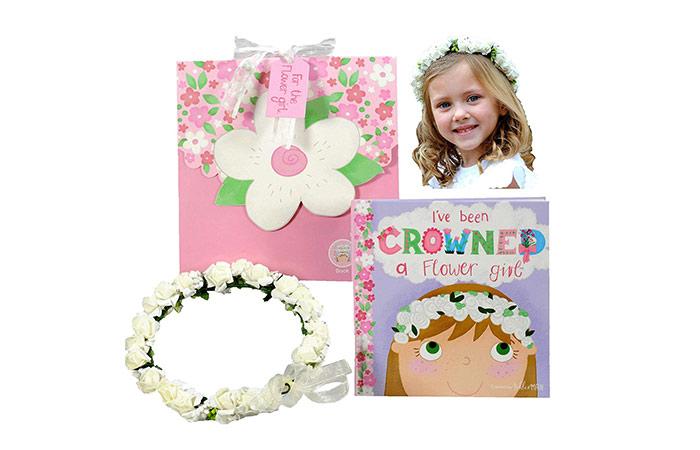 A flower girls look for a wedding is simply incomplete without a tiara. This adorable Flower Girl Gift Set by Tickle & Main consists of a headband or a floral tiara, in a catchy-looking gift box with an exciting tag of I have been crowned a flower girl . The headband is made of white ivory and has floral embellishments. The floral tiara is hand-constructed and made of a rattan-covered wire base. The ivory rose-shaped foam flowers look awesome with green silk-based leaves. The green berry accents and organza silver ribbon make the headband look even better.
Key Features:
Tiara with foam flowers and silky leaves
Organza ribbon and berry accents
Attractive packaging
23. Wonderfit Kimono Robe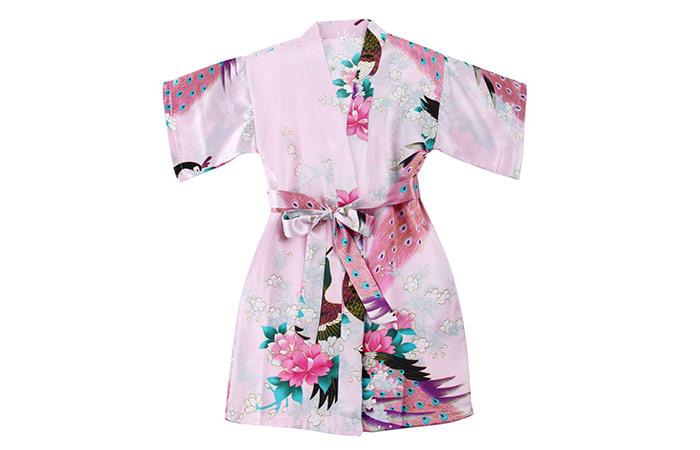 Just like the bride, the flower girl also deserves to wear a stunning satin robe before getting dressed for the wedding, and Wonderfits Kimono Peacock Flower Robe is just perfect for that. The robe is made of satin, is silky smooth, and has pretty blossoms and peacocks design printed on it. Little girls will look adorable in this robe.
Key Features:
Made of satin
Floral printed kimono
Available in multiple colors
24. Lillian Rose Flower Girl Tote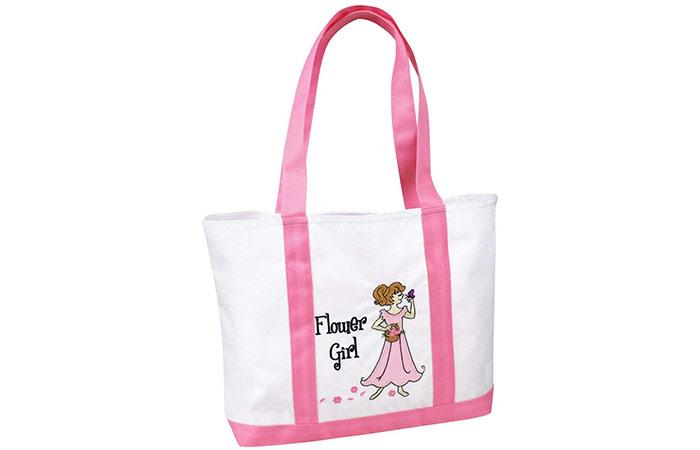 The Lillian Roses Flower Girl Tote Bag is a lovely gift for little flower girls. This tote bag has screen-printed artwork and can be used to carry flowers. Offer your flower girl this wonderful vinyl tote bag accented with a pink rim bottom, with the words Flower Girl printed on it, and she will cherish the wedding memories forever. This can also be used to store other goodies like coloring books, accessories, and snacks.
Key Features:
Screen printed bag
Comes with a Flower Girl tag
25. TRUE LOVE GIFT Ring Bearer Pillow And Wedding Flower Girl Basket Set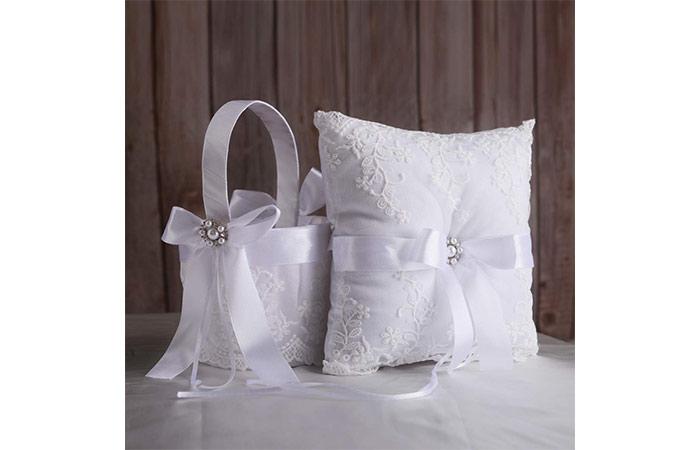 Go luxurious with this pretty basket set on your wedding day. Give her this ring-bearer pillow and flower-girl basket by True Love Gift to your flower girl make the big day memorable for her. This ravishing set is made using ribbons, satin lace, and pearls, and looks amazing during any wedding function. The satin fabric, bow-knot, and pearl and rhinestone patches make the set look royal and stunning. Hand this luxurious basket to your flower girls and create amazing memories.
Key Features:
Flower girl basket and ring bearer pillow
Made using ribbons, satin lace, rhinestones, and pearls
26. Mligirl Headbands Set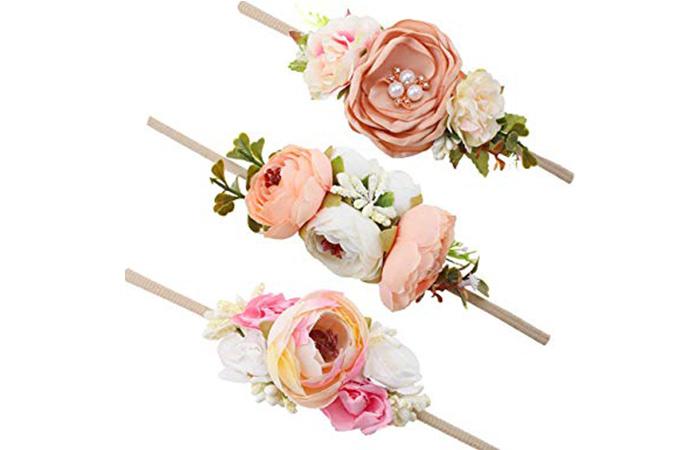 Girls love embellished headbands, and this set of floral headbands is an ideal gift to offer to your little flower girls. This floral headband set by Mligril comprises of 3 headbands. These one-size-fits-all accessories are made using silk ribbons, fabric bows, and flowers. The headbands are 100% skin-friendly and do not cause any irritation. These hair accessories look exceptional and can be worn on Christmas, during the holidays, and many other special occasions.
Key Features:
Made using leaves, flowers and silk ribbons
100% skin-friendly
27. Bienvenu Hair Wreath And Veil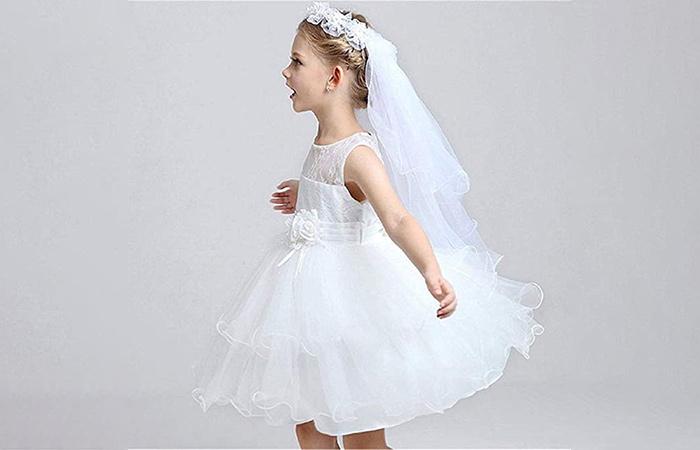 Just like the bride, the flower girls loving wearing gorgeous dresses and veils, too. If you already have a stunning outfit for the flower girl in place but the pretty veil is missing, grab the thiswreath and veil by Bienvenu. This 19.6-inches veil comes with an exclusive tiara headpiece that is an ideal accessory for weddings and first communions. This veil comes with a bowknot and is easy to wear and take off.
Key Features:
6-inches long
Great for weddings and first communion
28. MeiMei Flower Girl Doll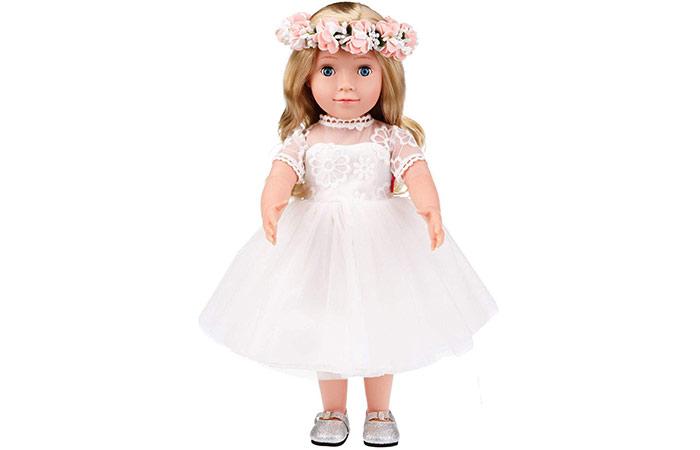 Your flower girl simply wont be able to resist a doll who is a flower girl, too. This beautiful 18-inch doll by MeiMei is a perfect gift for your little flower girl. This wears a stunning flower-girl outfit with a pretty crown and sparkling shoes. It is made of vinyl, has a movable head, and can open and close its eyes. The dolls hair is washable and can be styled in many different ways. This flower-girl doll is a perfect addition to your flower girls collection of precious toys.
Key Features:
Comes with crown and shoes
Movable eyes
Movable head
18-inches tall
29. Ultra-Homes Hooded Princess Towel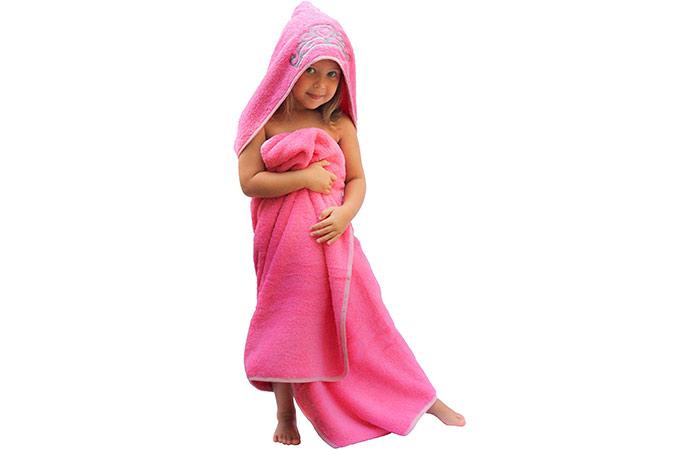 This is a gift that your flower girl can use for years. She will love the Ultra-Homes Princess Hooded Kid Towel it is cuddly, soft, and big enough to wrap her up completely after a pool session or a bath. The towel is made of 100% cotton of the highest quality and is available in two blissful colors. Let your flower girl experience bliss in this amazing towel.
Key Features:
Made from 100% cotton
Soft fabric
30. Disney Mini Mouse Padded Sleeping Mat

It might be your wedding day but your flower girl definitely needs to nap and feel rejuvenated as well. Gift her this wonderful Minnie Mouse Padded Sleeping Mat by Disney, and she will love it. This pink mat comes with a slight padding to offer the utmost comfort and a cushiony feel. It also comes with an attached pillow.
Key Features:
High-quality mat with padding
Attached pillow
Pick one of the gifts from this list and give it to your flower girl to make sure she remembers your special day forever. Do you have something special in mind that you want to give your flower girl? Comment below to let us know!
The post 30 Best Gifts For Flower Girls appeared first on STYLECRAZE.