Vintage tiles can add color to any kitchen and bathroom. Now, kitchen and bathroom tiles are usually designed for easy cleaning and washing, but years ago, they came in intricate and bold designs to give any space a vivacious look. They were eye-catching and practical, and they were considered as everyday art.
Vintage tiles are making a comeback. That is if they ever left. Now, more people appreciate the styles of past generations. From walls, floors, and backsplashes, vintage tiles are here again.
You can find authentic vintage tiles at antique shops or salvage yards, with their price depending on their condition, style, and size. Some go to auction houses, where prices can go as high as $50,000 for a small set of vintage tiles.
If you live in a house where vintage tiles are already installed, then you are lucky as you no longer have to spend on the renovation. You only have to work on the paint colors and maybe some accessories to achieve the look that will go well with your tiles.
If going authentic is out the question because of cost, you can go with vintage-looking tiles. Ceramic tiles are great for this as they come in vintage designs. The durability of ceramic makes them the best choice as floor tiles. You can also arrange them in patterns popular during the old days to make them look more vintage.
DECORATIVE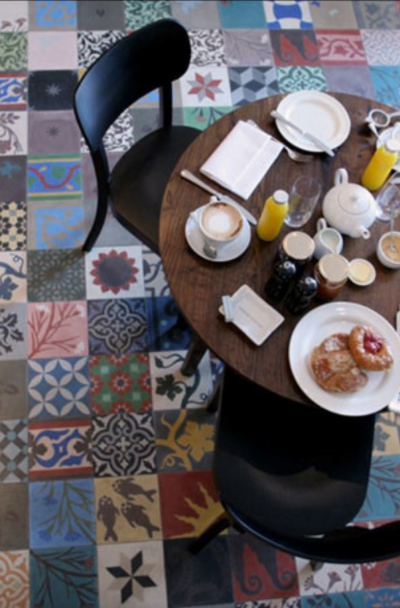 These Spanish vintage tiles are outstanding and unique.
MEDITERRANEAN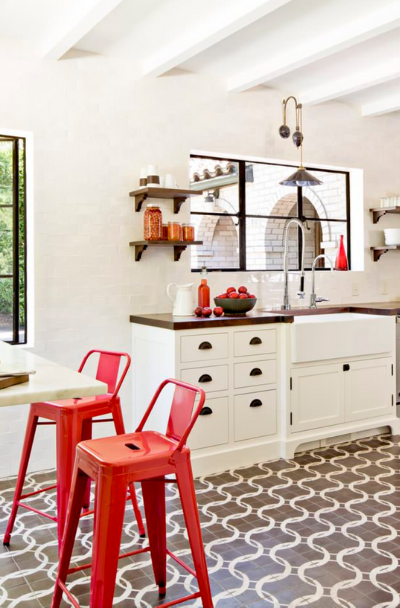 ANTIQUE
Classic octagon tiles, free-standing bathtub, and furniture-like cabinets for this chic bathroom.
SALVAGED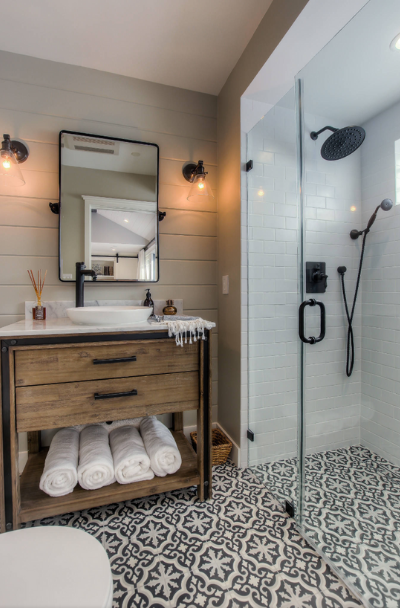 TERRACOTA
 The terracotta floors by Arto give warmth and character to this kitchen.
ENCAUSTIC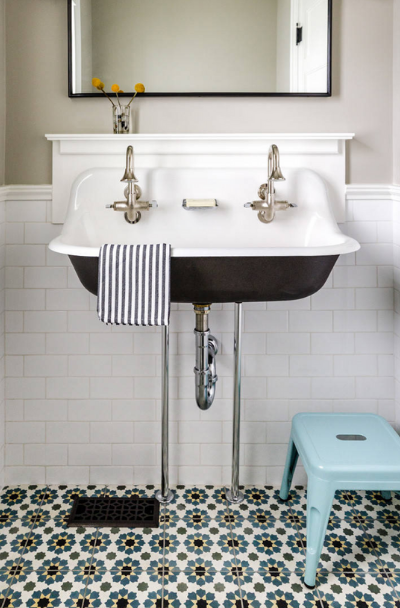 Attractive encaustic tiles with floral pattern from Cement Tile Shop.
OLD FLOOR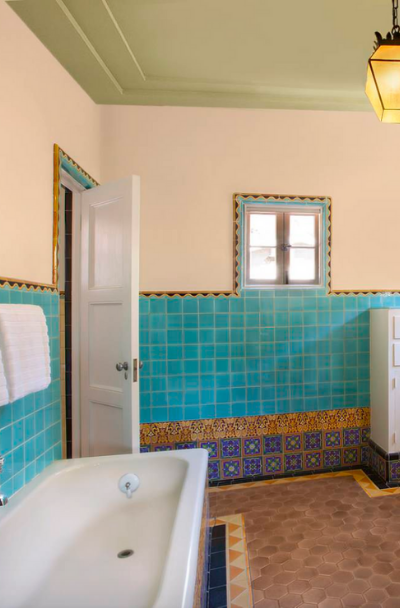 The tiles were reused from the 1920s, the time when the house was built.
FARMHOUSE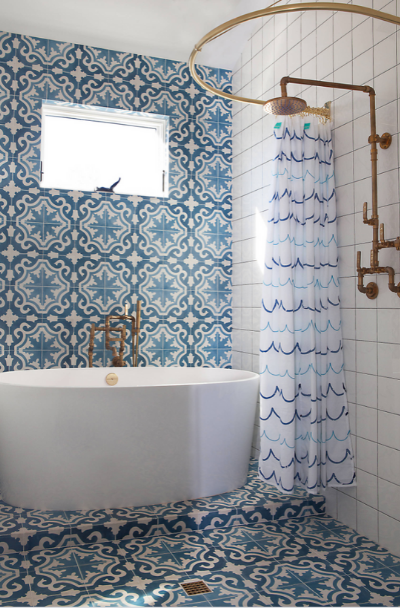 Cottage blue tiles for this modern vintage bathroom make the overall look extra refreshing.
LUXURY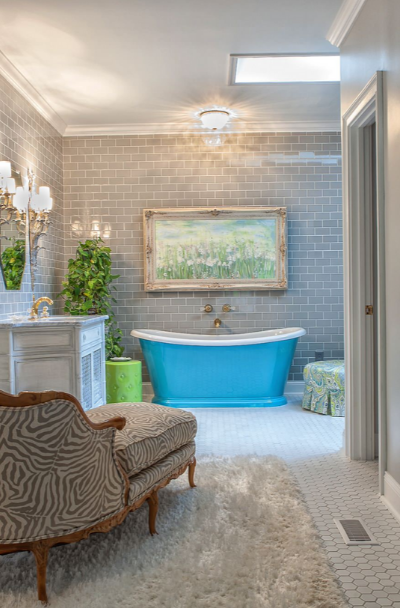 The hexagon floor tiles and subway tiles are all from Dal-tile. The color of the subway tile is Lt Smoke, Gloss. The hexagon tiles are in matte white with matching light grey grout.
CLASSIC
Terrific hexagon tiles in cream, black cabinets, round mirrors, patterned curtains, and few black and brown accent tiles make this bathroom truly vintage.
Different Vintage Tile Patterns
Aside from the color and design, the pattern in which tiles are arranged also makes tiles look vintage. If you buy modern tiles that you want to look vintage, you can follow these pattern ideas when installing them.
A typical tiling pattern is a straight or stack band. Here, the tiles are simply stacked in straight lines, creating a rectangular grid. This pattern will give your kitchen or bath a minimalist look. A diagonal bond pattern is similar to straight or stack bond, except that the tiles are titled at 45 degrees, making the tiles look diamond (if they are originally square). This pattern is ideal for backsplash and walls as they make space look bigger. Also perfect for vintage tile backsplash is the windmill pattern. To create this, place four rectangular tiles around a square tile, resembling a windmill. Make this pattern more evident by having the color of the square tile and grout different form the color of the rectangular tiles.
For a vintage floor tile design, herringbone tile pattern works great. This pattern is created by arranging the tiles in a zig-zag pattern. The pattern forms sort of the letter "V," which on floors look like arrows leading you to specific directions. The basket weave pattern is also ideal for vintage-looking tile floors. To create this pattern, form a square by laying rectangular tiles and tow tiles next to each other, positioned at 90 degrees. The alternating horizontal and vertical lines create a pattern similar to that of a woven basket. Another excellent vintage floor tile pattern is the pinwheel, where large square tiles surround a small square tile. This arrangement creates a pattern that looks like a spinning pinwheel, hence the name. For this pattern to pop out, have the color of the small tile contrasting to the color of the bigger tiles.
UNGLAZED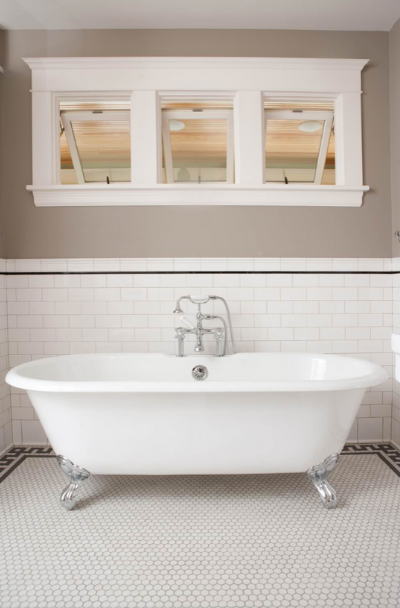 The unglazed porcelain tiles were carefully arranged with natural grey grout to replicate that bathroom's tiles 100 years ago.
TRADITIONAL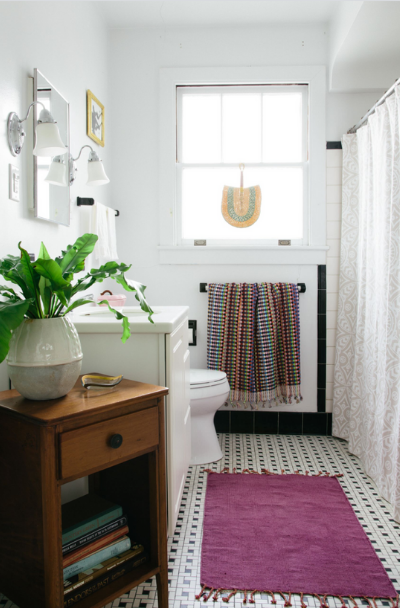 Fabulous black and white tiles with a square pattern. The floors give character to this white-walled bathroom.
VICTORIAN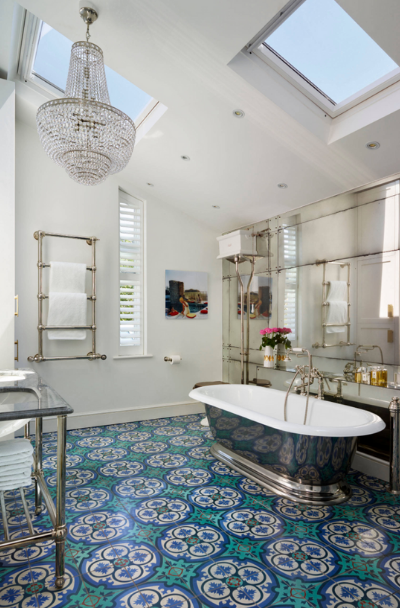 Breathtaking floral cement tiles with encaustic style, custom-made and provided by Rustico Tile and Stone.
CUSTOM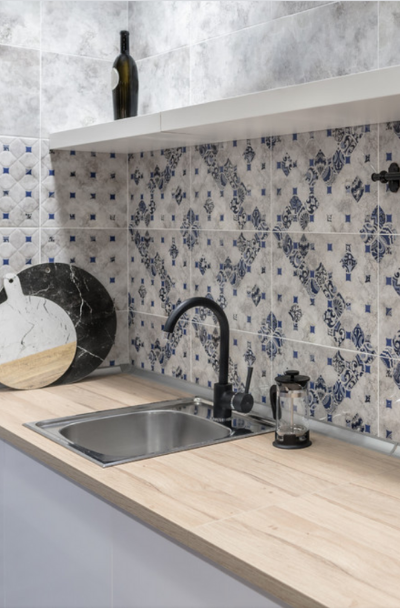 Beautiful kitchen backsplash with an intricate design and lovely colors of blue, grey, and white.
How To Decorate Vintage Tile Bathrooms That Come In One Color
If you are stuck with vintage style bathroom tiles that come in a color that you will not personally choose if given a chance, do not worry as we have tips for you
Sea-foam green as bathroom tile color may look outdated. You can bring it to the 21st century by covering your walls with wallpaper. Cyan and orange stripes will go well with white trim. Also, color the ceiling white. For accessories, place translucent glass shelves, preferably light green, on the wall for your grooming items. To make your bathroom have more light, use shower curtain in light orange.
If your vintage bathroom tile color is light blue, go with white porcelain toilet and sink if they are not already white. White will also be the right paint color for your bathroom's walls and ceilings. If you have a claw-foot bathtub, color its outside with yellow paint to complement the vintage bathroom floor tile. You can also frame a dominantly-yellow art piece and position it over the toilet. For your shower curtain, also go with white but with charcoal or gray patterns.
Vintage style bathroom tile in blush or beige can be texturized. If the porcelain sink is white or pink, replace it with something green, then have pink as countertop and backsplash. If not white porcelain, replace your sink with a copper bowl and have a wood-framed mirror hanging above it. Cabinet handles should also be in bronze. For your shower curtain, go with one in with a gold and redwood pattern.
MID-CENTURY
The patterned tile with blue, orange and green colors mix well with the olive bathtub. The choice of colors makes a gorgeous vintage bathroom.
SPANISH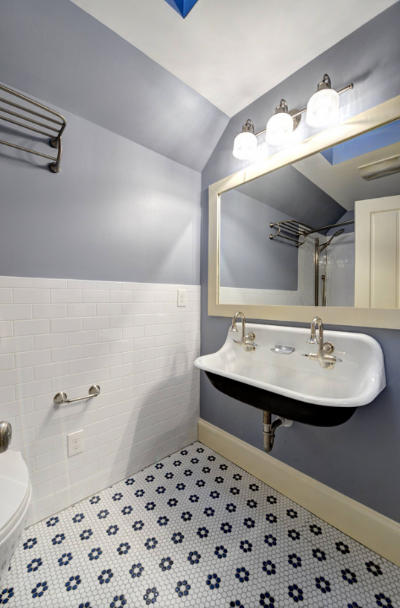 Cobalt blue flowers and white hexagon porcelain mosaic tile from Luxetile make this bathroom extra dainty and warm.
ITALIAN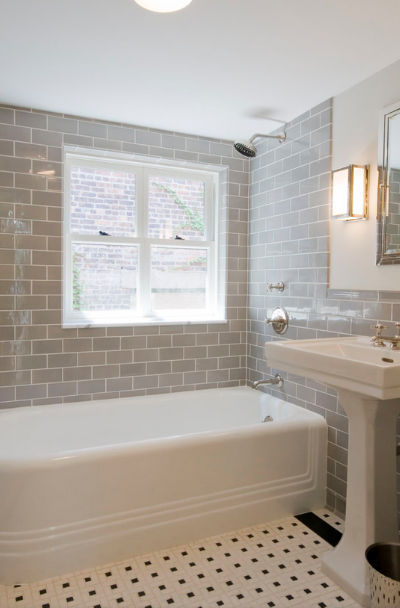 You can get the same tile from Waterworks. On the other hand, the tub was salvaged and refinished from the original house.
RESURRECT
White octagon tiles with gray dot combine well with the salvaged sink from the original house's kitchen in the 1900s. This means the bathroom is truly authentic and vintage.
RECLAIMED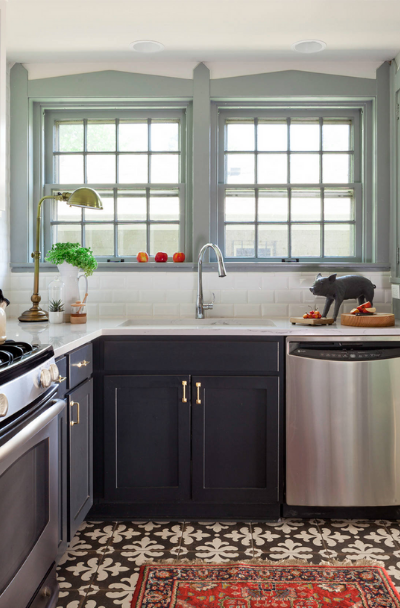 Handmade cement tile for a classic touch to this traditional kitchen.
ORIGINAL
Although the bathroom was remodeled, the designer kept the old tiles and just added splashes of color to make it more "girly." That is the request of the owner for their little kid.
Working With Different Vintage Tiles Color Combination
If you happen to move into a house with a vintage-tile bathroom, and you do not have the resources to renovate, or you simply cannot renovate because you are just renting your place, you can give it a modern look through paintwork and accessorizing.
Vintage bathroom tiles are often in pastel colors. If they are too green, blue, or pink for you, toned them down with whit. You can paint the wall white or accessorize with white shower curtains and towels. If, on the other hand, you have vintage bathroom floor tile in monochromatic black and white, balance it off with giving the room a refreshing paint color like light blue.
What if the vintage tiles come in unusual color combinations? Black and green tiles can be held together by decors in earth tones. A combination of black and pink tiles is already great and may simply be played up by white shower curtains. Pink and mint green tiles that make your bathroom look like a free-school can feel more grown-up with well-framed modern paintings. Also, do the same for vintage tiles that have two different shades of green. Contemporary art installations will keep your bathroom from looking like the inside of a kiwifruit. What if there are more than three shades of green in the bathroom? Then, the super simple accessories in your bathroom, preferably in earth tones or white. Mustard and blue tiles can be accentuated with gilded accessories – mirrors, towel holders, wooden frames for paintings. The walls can be in white or any light shade.
RETRO
The house is old and historical, and the owner chose to keep the tiles for a more traditional look. You can get similar tiles by purchasing Medina Handmade Cement Tile in Multicolor.
HANDCRAFT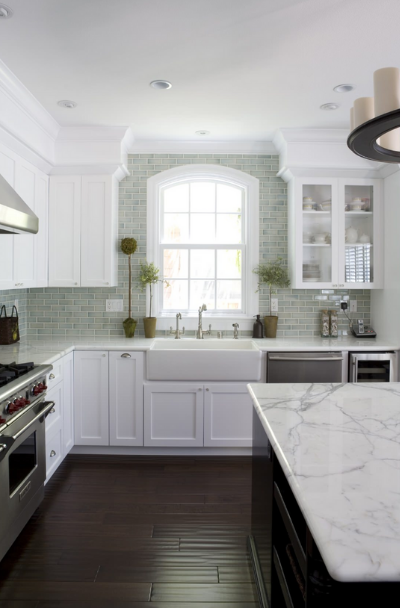 Vintage Tiles For Kitchen
A vintage look for your kitchen will never go out of style, and to achieve this look, the tile you will use is fundamental. Vintage kitchen tiles often come in geometric shapes and in vibrant colors, making them great for cheering up space, especially if they go with a kitchen in minimalistic colors, like white.
In the 50s, pink was a common kitchen color. If you want to have a chic, vintage 50s feel, use dusty pink tiles for countertops, which you can pair with pale pink curtains. The combination gives your kitchen movement and texture despite being monochromatic.
A conventional vintage floor tile design is a checkerboard. To create this design, use black and white ceramic tiles or vinyl tiles. You do not have to limit it to black and white, though, as you can have a combination of vibrant hues. This floor would look fabulous with a vintage refrigerator and a purple wall.
If you find checkerboard floors too much of a commitment, use the design for a backsplash instead. Match your vintage tile backsplash with your cabinetry for a more toned-down look.
For walls, using vintage mosaic tile will definitely give your kitchen that extra punch. Go with mosaic tiles with whimsical flower designs to make walls between your counter and cabinets more brilliant looking. The vintage mosaic tile will also make your wall easy to clean. Vintage subway tiles are also lovely to have on walls. These tiles first became popular in the 1900s after being used in a New York subway station. Just like a mosaic tile, a vintage subway tile is also preferred by many because it is easy to clean, especially in kitchens that can be messy.
Final Thoughts
Today's kitchen and bathroom are often minimalist. They usually have safe, if not boring, colors and clean lines. However, as vintage is starting to become trendy again, more kitchen and bathrooms are being decorated with vibrant colors and bold decors. One sure thing that can give these spaces the retro appeal is vintage tile. If you do not have vintage tiles in your home yet, you can go with vintage-looking tile. To do this, you have to choose tiles in pastel colors or arrange them in certain patterns. If you already have the right tiles installed, you can still make them better with the proper paintwork, accessories, and fixtures. With these things in mind, your bathroom and kitchen can achieve that great vintage look that still fits right in the present century.
This is an image roundup post, curated to showcase and promote other reputable contracting companies' and their amazing work.  To have any of the images removed, please reach out to us and we would be happy to do so.
The post 23 Vintage Tile Design Ideas For Your Kitchen & Bath appeared first on Home Remodeling Contractors | Sebring Design Build.