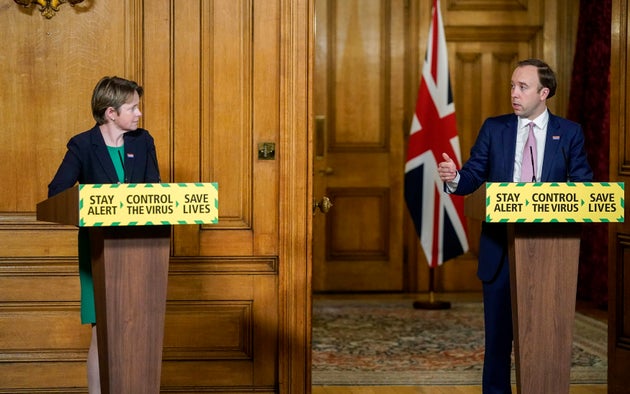 You're reading The Waugh Zone, our daily politics briefing. Sign up now to get it by email in the evening.
Let em eat cake
Another day, another U-turn. Matt Hancock was characteristically, irrepressibly ebullient, despite having to confirm his long-cherished NHS England test and trace smartphone app was nowhere near ready. His favoured centralised version had proved incompatible with Apple's iPhone security and a hybrid model would now have to be devised.
Having already had to water down the status of this tech, from crucial baked-in ingredient to just the glace fruit on top, Hancock still promised Baroness Dido Harding all was not lost. "We will put that cherry on Dido's cake," he said, managing to combine his usual Accidental Partridge with a dash of Carry On Nurse.
Apple's role in all this may be subject to some serious questions. I'm told that a global digital health roundtable, chaired by Australia and attended by 12 different health ministers, today saw several countries share their huge frustration with the tech giant's stance. They wondered: does it want to help or hinder the fight against Covid?
But Hancock didn't betray any sign of that. He was more focused on accentuating the positive and eliminating the negative. Adopting a TV gameshow host smile, he even at one point appeared to say "Appsolutely", and jokingly referred to "Zoom...other products are available!" For him, the new focus was on getting the non-app version of NHS Test and Trace improved every week.
It's true that many experts had warned for weeks that more traditional human-based test-and-trace techniques would be easier to set up and had a long track record. But as Channel 5 News' Andy Bell rightly pointed out, the whole point of the app idea was that it could identify close contact with strangers on a train, not just friends and colleagues. That would be a hugely invaluable asset in the fight against the virus. "We are working on it, we are not going to put a date on it I'm afraid," Hancock could only say.
Perhaps more worrying was the fact that the new tracing system is still not reaching more than a quarter of people who test positive for coronavirus. The good news is that once people are found, then 90% of them offer up all their close contacts, who then self-isolate. But we still don't know how many are being identified within 48 hours, and one in four of those testing positive are not being reached in the first place, there is plenty more work to do.
Given how important this all is to preventing a second spike, if that 25% figure isn't reduced soon, it may be that Hancock switches to making this a mandatory system. But a carrot rather than a stick may be needed, in the form of cash payments to those worried about losing wages from self-isolation.‌
Sage itself warned on May 1: "Risks include individuals becoming less willing to comply… if they are impacted financially from being asked to isolate. An accessible offer of financial support to those in need could reduce the risk of non-adherence." Yet there is still no special rate of sick pay for quarantined individuals, many of whom may be put off by the paltry £95 a week.‌
The other big worry about today's stats is that they show that the number of average contacts of infected people had risen from 5.88 to 10.28, a near doubling in just a week. The easing of lockdown is certainly having an impact and ministers will be hoping that the number of cases of infection falls a bit quicker to ensure all this new social contact won't spark fresh spikes.
One area where test and trace is at least more manageable is in schools. And ahead of Gavin Williamson's big catch-up plan tomorrow, there were several glimmers of hope today that schools could accept all children from September. First, Tory backbencher Geoffrey Clifton-Brown said he was "quite certain" the 2m rule would have changed by then, linking the shift specifically to schools.
Second, Northern Ireland actually declared today it was indeed cutting the 2m distance to 1m in its schools when they reopen after the summer break. Arlene Foster said that would allow class sizes to return to near normal levels. Handwashing, staggered arrivals, one-way systems and other measures will still be needed but the idea of full classrooms will cheer many parents.
Hancock himself hinted England could follow, saying "I get the interaction between the 2m rule and getting back to school". If schools operate 'bubbles' of 30 children rather than 15, there will be some real issues of fairness for comprehensives. If you have to stay with the same group of pupils for all subjects, that will lead to rigid grammar school-style streaming. How would that work for a child who is in top set for English but third set for maths, for example?
Autumn will be a very nervous time for the government. As well as the end of its furlough schemes and possible unemployment rises, it looks ready to take the gamble on a new 1m rule in schools and other settings. If Hancock can somehow get his test and trace contact rate numbers up, and if Apple helps get that elusive app in place, he and Boris Johnson will be able to sleep a bit more easily. If not, we may all need to worry about the winter wave of Covid-19.
Quote Of The Day
"I'm from Newmarket, we backed both horses."
Matt Hancock, who's from Cheshire, explains his App philosophy
Thursday Cheat Sheet
Boris Johnson met French President Emmanuel Macron in Downing Street to mark the 80th anniversary of Charles de Gaulle's famous wartime broadcast. They both watched a flypast of French jets and British Red Arrows.
The Bank of England announced it will pump an extra £100bn into the UK economy to help fight the "unprecedented" coronavirus-induced downturn.
Matt Hancock revealed that the over-50s, people with heart or kidney disease, and possibly BAME Britons, could all get priority for a vaccine for Covid-19 when one is ready.
Dominic Raab had to rapidly educate himself after suggesting that the Black Lives Matter gesture of taking the knee felt like "a symbol of subjugation or subordination" derived from Game of Thrones.
Two separate post-mortems on Labour's shattering 2019 election defeat appeared. Labour Together found that 'toxic' infighting, poor digital campaigns and Corbyn's leadership were all to blame. Labour for a European Future found that the Tory pledge of 50,000 more nurses was more important to Labour Leave switchers than Brexit itself.
What I'm Reading
Lessons From South Korea: Return To Normal Is A 'Fantasy' - FT (free)
Got A Tip?
Send tips, stories, quotes, pics, plugs or gossip to waugh.zone@huffpost.com. 
Subscribe To Commons People
Each week, the HuffPost UK Politics team unpack the biggest stories from Westminster and beyond.
Education select committee chair Rob Halfon is our podcast guest this week. Hear him chinwag with us about school reopening, fears for the economy and the parliamentary party's current mood. There's a lovely bit where he says the No.10 policy unit and Dominic Cummings' Vote Leave crew see Tory MPs as 'hobbits' that can be ignored.
Listen to the full podcast HERE on Audioboom. Search for Commons People wherever you listen to podcasts and subscribe.