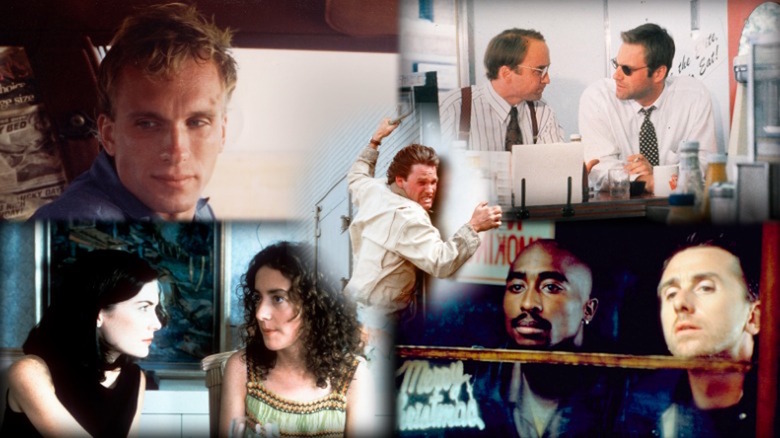 The 1990s was a decade rich in cinematic quality. It may have run with the action and science fiction fare of the '80s, but the period distinguished itself with a new class of independent filmmakers, including Quentin Tarantino, Steven Soderbergh, Richard Linklater, and Paul Thomas Anderson.
Cinephiles, critics, and historians have pored over the decade. Peter Biskind wrote, "They lacked the cohesiveness of the movie brat generation of the 1970s... [but] it's clear that the generation of the 1990s was a movement." Still, even with books, retrospectives, and the ease of streaming, many titles from this period elude audiences both casual and committed. 
The films below represent a fairly severe cross-section of '90s cinema. Pathologies and nihilism can be found in about half of them. But there is levity, action, and existentialist spectacle here, too. What links them all together is that they are underrated '90s movies that you need to see.
I Stand Alone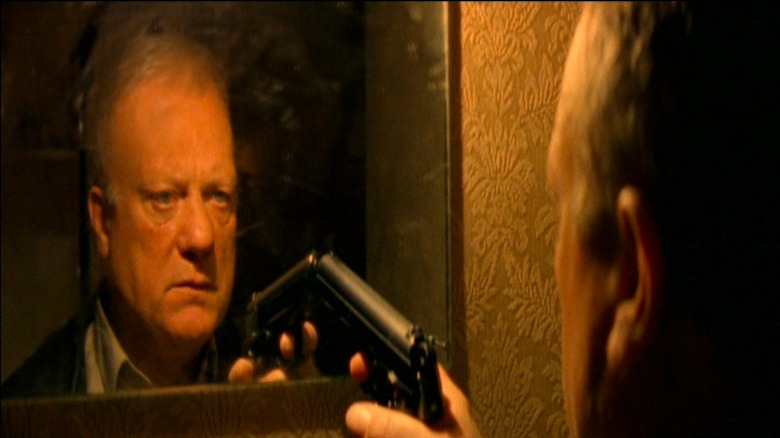 Those approaching Gaspar Noe's short, potent canon are likely to start with his notorious second film, "Irreversible," rather than his 1998 debut feature, "I Stand Alone," a similarly jaded piece of work that inhabits, to quote the poster, the "bowels of France."
Deep within these bowels is a man known only as the Butcher (Philippe Nahon), a sixty-something ex-con with a dead-end job, a belligerent partner (Frankye Pain), and a worldview of festering nihilism. The Butcher drifts through life with few feelings beyond anger that remains dormant until a brutal argument leaves his partner beaten and their unborn child likely dead. With his life in tatters, the Butcher flees to the industrial fringes of Paris, where he roams the streets looking for work.
The film pins us down in this miserable scenario with the novel use of film grammar. First-person narration is a common cinematic device, but "I Stand Alone" uses it almost constantly, submerging us in the Butcher's stream of consciousness that's punctuated by jarring camera movements, crashing drum beats, and almost comically dour observations such as "It's all useless. Even children. Children don't care. Filial love doesn't exist. It's a myth ... human relations are nothing but cheap business."
It may be too unremitting for some, but "I Stand Alone" is a compelling vision of angst and misery.
If you or someone you know is dealing with domestic abuse, you can call the National Domestic Violence Hotline at 1−800−799−7233. You can also find more information, resources, and support at their website.
Clean, Shaven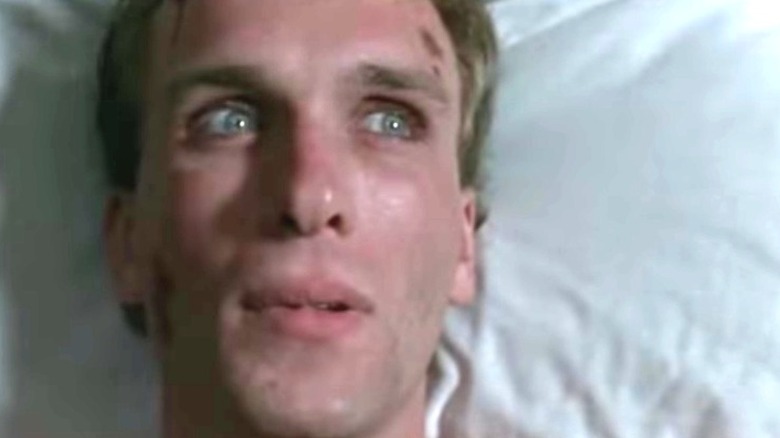 "Clean, Shaven" is a film that experiments with the medium to depict the terrible (un)realities of schizophrenia, a condition that dogs Peter (Peter Greene), a young man caught in neuroticism, paranoia, and psychosis.
Director Lodge Kerrigan uses a range of audiovisual tics and quirks to depict Peter's condition. We hear buzzing, voices, screams, barks, and a litany of other ambient noises (real or imagined) that are derived from Peter's memory. They begin as distractions but soon mount into auditory hallucinations that cut through Peter's skull. All he can do is fall to the ground with his head in his hands or mutilate his body in search of "transmitters," which he believes to be embedded under his skin.
Peter may not be the only victim, though. As he drives in search of his daughter, it is suggested that Peter may have killed someone. However, we cannot know if he is guilty or if the crime even took place because "Clean, Shaven" is a first-person feature with the most unreliable of narrators.
If you or someone you know needs help with mental health, please contact the Crisis Text Line by texting HOME to 741741, call the National Alliance on Mental Illness helpline at 1-800-950-NAMI (6264), or visit the National Institute of Mental Health website.
Nil By Mouth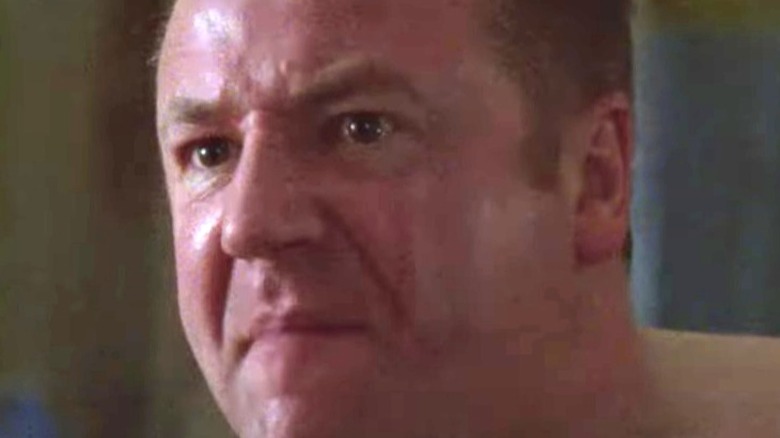 "Trainspotting" is a grim film. It's a story of dirty needles, drug overdoses, and a dead baby. But through some combination of music and visual energy, the 1996 indie classic is also cool enough for its poster to adorn student accommodation. It did when I was at university, anyway.
"Nil by Mouth" channels similar themes from the same period, but it has never been fashionable. There is no "Cool Britannia" here, just addiction, dysfunction, and ferocious anger in the streets and council estates of South East London. It's a "kitchen sink" drama with all the trappings of Ken Loach or Mike Leigh, but "Nil by Mouth" was written and directed by Gary Oldman, who grew up in the same ends of London as characters Ray (Ray Winstone), a violent alcoholic, and Val (Kathy Burke), his long-suffering wife. Both performances are at the very peak of naturalism, and so are those of the wider cast. Ray and Val share their lives with Billy (Charlie Creed-Miles), Val's heroin-addicted brother; Janet (Laila Morse), Val and Billy's mother; and Mark (Jamie Foreman), Ray's best mate and loyal "yes man."
Harmony is possible in this dysfunctional unit, but it depends on Ray's temper, which explodes with intense violence. Honestly, you have never seen anger like this on screen, and the worst thing about Ray's behavior is that it's not isolated. It has happened before, and it will happen again. "Nil by Mouth" depicts just the latest cycle of it
If you or anyone you know is struggling with addiction issues, help is available. Visit the Substance Abuse and Mental Health Services Administration website or contact SAMHSA's National Helpline at 1-800-662-HELP (4357).
Croupier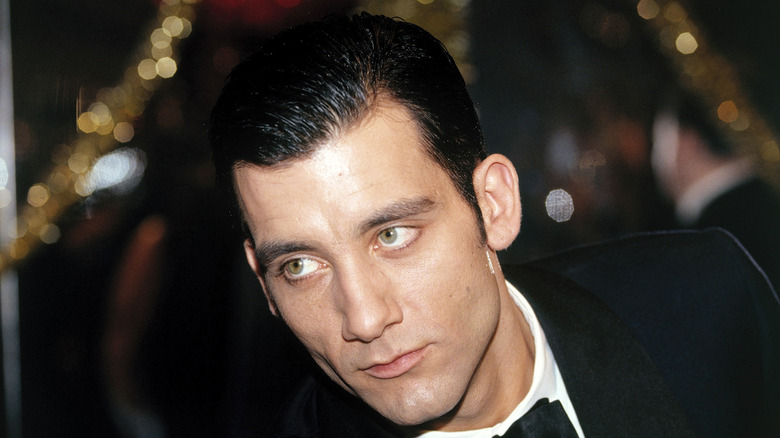 "Croupier" has a cool after-hours ambiance that takes you through a noirish London nightscape of alleys, car parks, and the basement flat of Jack Manfred (played by Clive Owen at his insouciant best).
Jack is a struggling writer who is coolly reticent but never lost for words. His smooth and often cutting narration steers the film, putting you in the perspective of not only an observant writer but also that most inscrutable of service workers, the croupier. Challenged by writer's block and commercial publishing executives, Jack takes a job at the Golden Lion casino to lift the financial burden on his girlfriend Marion (Gina McKee). He has casual contempt for the place and the people in it, especially his boss, David (Alexander Morton), but Jack is deft at the job, and he doesn't mind the women, either.
With its mirrored walls and royal blue carpets, the casino is a gaudy contrast to the streets of London. Yet, this chintzy domain is inhabited by the same breed of night crawlers, people of vice and dubious occupation.
Soon, Jack attracts the attention of femme fatale Jani (Alex Kingston), and a heist plot unravels, but genre conventions are not what makes this film great. Rather, it is its offbeat and immersive sense of place, character, and mood.
A Shock To The System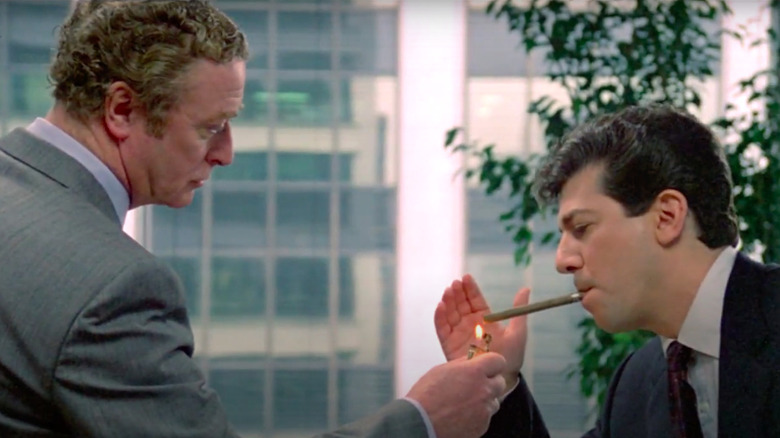 There are "better" films I could recommend than "A Shock to the System." "One False Move" and "A Simple Plan" spring to mind. But what happened to this corporate comedy from 1990, a film with just 5.3k user votes on IMDb?
The film's premise and themes place it somewhere between "Wall Street" and "American Psycho." Graham Marshall (Michael Caine) is an advertising executive and company lifer who is about to head his division, replacing his old friend, George (John McMartin). However, with the deal all but done, Graham is passed over in favor of Bob Benham (Peter Rigert), a snide careerist who is about 10 years Graham's junior.
Dejected, Graham leaves the office early and begins his commute home to Connecticut, where he lives with his wife, Leslie (Swoosie Kurtz), the proverbial materialist. Before Graham boards the metro, he has an altercation with an aggressive homeless person, who falls onto the tracks and is killed by an arriving train.
Graham is not just relieved when he gets away with the quasi-accident — he's inspired. From now on, there will be no compromises. If someone gets in his way, Graham will kill them. Not with a gun or knife, though. That's vulgar. Instead, the executive gets creative, engineering the deaths to look like accidents. This Machiavellianism unfolds with brisk plotting, gallows humor, and satirical observations about career, money, and suburban life. It could be sharper in dialogue and bite, but "A Shock to the System" is an engaging 90-minute power trip.
Breakdown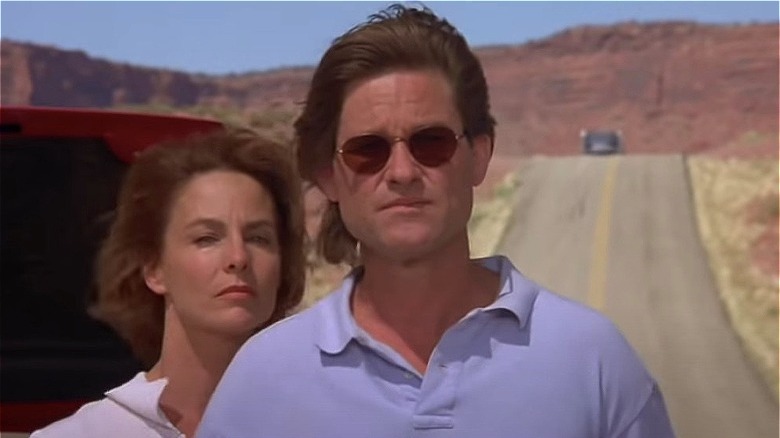 "Breakdown" is a great American action thriller, although it doesn't quite fit the conventions of one. Jeff Taylor (Kurt Russell) is not a muscle-bound hero. He's a middle-class guy with a Ralph Lauren polo tucked into his slacks. But when his wife, Amy (Kathleen Quinlan), is kidnapped by a mysterious truck driver in the Utah desert, Jeff must do everything it takes to get her back.
The film's tagline, "It could happen to you," suggests that this is a "Straw Dogs" story with serious notions of "might is right," but "Breakdown" is more fun than that. It is a white-knuckle thriller with bad guys, adrenaline, and reversals of fortune. Admittedly, the "everyman" quality gets lost in all the explosions and gunfire, but you will gladly suspend your disbelief for an actioner of this craft, character, and sheer energy.
Aside from the peerless script and direction, "Breakdown" benefits from a great antagonist in J. T. Walsh, who is callous, shadowy, and yet disarming when he has to be. 
In The Company Of Men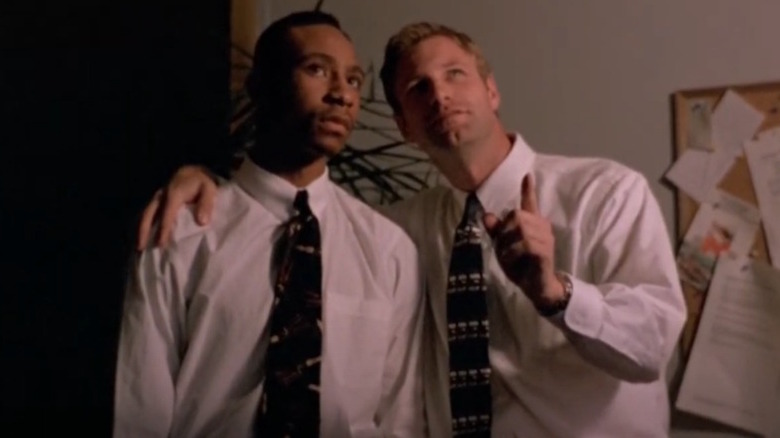 Do you want to become a jaded husk of a person? If so, then please let me introduce you to Neil LaBute, the filmmaker and playwright once dubbed "American theatre's reigning misanthrope." LaBute's dim view of humanity can be found in several of his works. However, it is best represented by "In The Company of Men," a film of almost unwatchable psychological cruelty.
Middle managers Chad (Aaron Eckhart) and Howard (Matt Malloy) are in a nameless airport lounge when they get talking. Howard doesn't have strong opinions, but he's impressed by Chad's strident indignation about work and women.
Later, over drinks, Chad suggests a remedy for their bruised egos: Find a vulnerable woman, court her with as much credible romance as they can, and then cut off all contact without warning. Howard squirms at the idea but can't offer any objection beyond, "It's funny. it is. It's just way out there!" Before returning to their hotel rooms, Howard agrees to Chad's evil game. It doesn't take them long to find Christine (Stacy Edwards), a deaf colleague. Chad and Howard launch their ambushes, but the latter gets cold feet. Then, as the game reaches the final stage, Chad reveals that his psychopathic deceit is even more layered and repulsive than we realized.
"In the Company of Men" is another film that's hard to recommend in the conventional sense, but with writing and performances this queasily observant, it's required viewing for anyone interested in '90s cinema.
Killer: A Journal Of Murder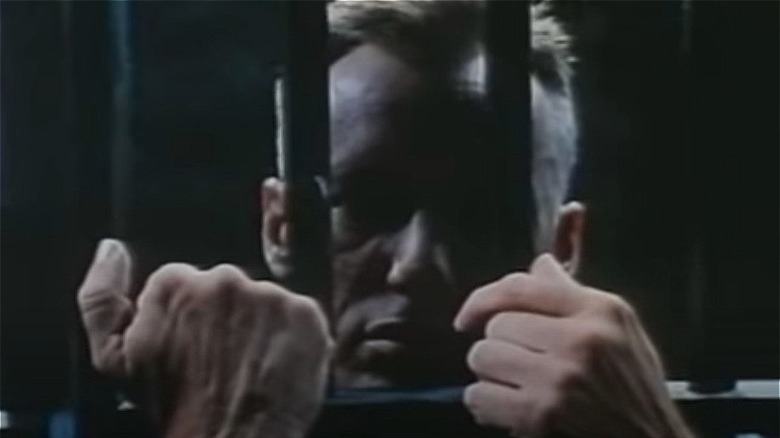 You may not have heard of him, but Charles "Carl" Panzram was one of America's worst criminals. Born in 1891, Panzram confessed to thousands of crimes, including theft, assault, rape, and murder. It may be only a matter of time before Ryan Murphy depicts Panzram's life, but he won't be the first. That distinction belongs to Tim Metcalfe, the writer and director of "Killer: A Journal of Murder."
Very few people saw "Killer" back in the autumn of 1996. Box Office Mojo shows that it earned just $82,029 worldwide. Viewership remains low to this day, with only 2.3K user votes on IMDb. That's a pity because "Killer" is an interesting true-crime film despite its modest production values.
James Woods embodies Panzram with steely menace. He's a smart man with an active mind, but he's also pathological in the extreme. Panzram was able to form positive relationships, though, and the most consequential one was with Henry Lesser (Robert Sean Leonard), an idealistic prison guard who helped Panzram write the titular journal, which was released in 1970.
The main concern of this short film is the degree of sympathy it has for its subject. In one scene, Lesser actually hugs Panzram, a man who beat a prison guard — his colleague — to death. This softness gets even worse when you skim through the actual journal, which details a scale of theft, rape, and murder that beggars belief.
Baraka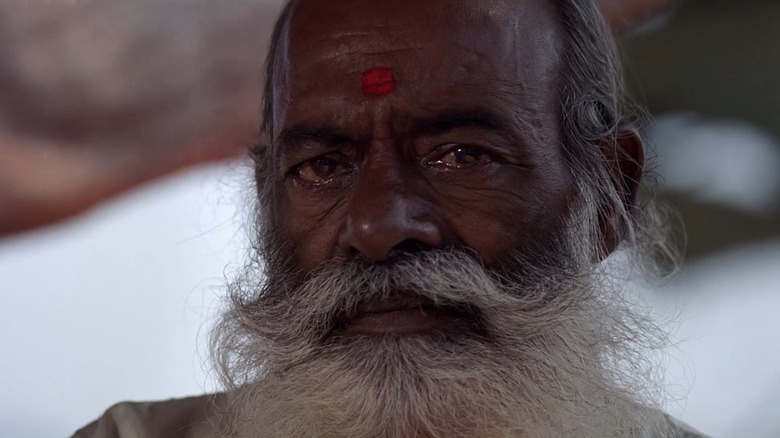 Does life ever seem small? Does it ever feel rote or banal? Well, remind yourself of the world's grandeur with "Baraka," one of the most arresting and sobering documentaries ever made.
There are no talking subjects or narration in this film. Instead, director Ron Fricke shows nature, culture, technology, and history from across the world, capturing them with a 70mm camera to the sound of Michael Stern's evocative ambient score. By the film's end, the viewer has seen Asia, Africa, Australia, Europe, the Middle East, and the Americas. However, this isn't a holiday. Fricke's film is darkly thematic, comparing, for instance, the disturbing machinations of a chick factory with the frenzied grind of public transportation. We see the landmarks of human cruelty, too, namely Auschwitz and Tuol Sleng, a site of the Cambodian genocide.
"Baraka" is not the first example of the non-narrative documentary genre. Its main predecessor is "Koyaanisqatsi," which was championed by Francis Ford Coppola back in 1982. Today, it is recognized among the finest documentaries ever made, appearing on numerous "greatest" lists, including our own.
"Koyaanisqatsi" is innovative and often brilliant. (The Pruitt-Igoe sequence is masterfully haunting). But "Baraka" is superior in both pacing ("Koyaanisqatsi" takes too long to fire up) and image quality.
Gridlock'd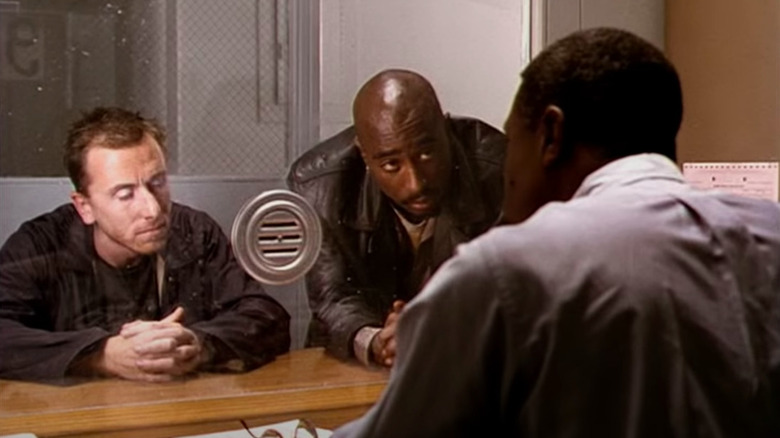 Tupac Shakur starred in six features before being murdered in September 1996, just four months before this film's premiere on January 31, 1997. You'd think his death would have boosted ticket sales, but the film, which co-stars Tim Roth at his '90s peak, reached a worldwide gross of just $5,571,205. I suppose that isn't a surprise, Tupac or no Tupac. Films about heroin addiction don't tend to enjoy lucrative box office returns unless that film is "Trainspotting," of course, the ground zero of dope movies.
"Gridlock'd" is similar to Danny Boyle's film in that it finds humor in opioid abuse. However, the problem for jazz musicians "Spoon" Whitmore (Tupac) and "Stretch" Rawland (Tim Roth) isn't so much the brown powder but the byzantine bureaucracy of government rehab. The men are serious about "kicking," but all the clerks have to offer them are stern faces and useless questions. They waste time even when their friend Cookie (Thandiwe Newton) is overdosing, asking for IDs, addresses, and Medicaid numbers.
Desperate, the pair resort to comically drastic measures to get themselves in the hospital so they can be safe — not only from drugs but also from a gang of criminals on their tails. It may be a grungey spectacle, but "Gridlock'd" is a neglected buddy film.
If you or anyone you know is struggling with addiction issues, help is available. Visit the Substance Abuse and Mental Health Services Administration website or contact SAMHSA's National Helpline at 1-800-662-HELP (4357).
Happiness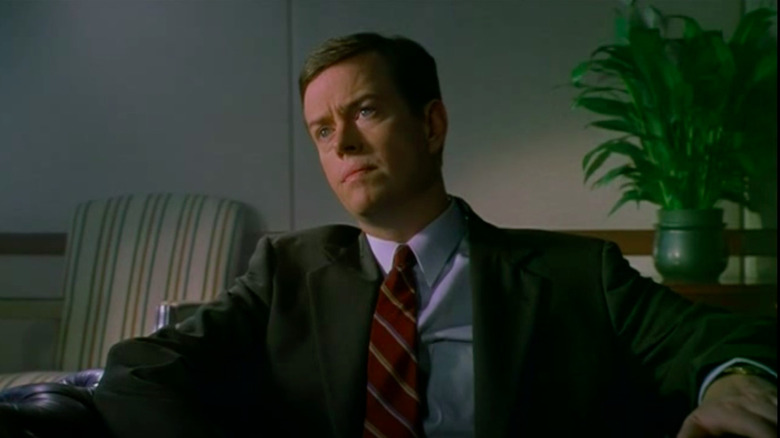 This list is already pretty dark, so I might as well end it with "Happiness," perhaps the most transgressive American film of the 1990s. Written and directed by Todd Solondz, "Happiness" focuses on sisters Trish (Cynthia Stevenson), a successful author; Helen (Lara Flynn Boyle), a doting homemaker; and Joy (Jane Adams), a purposeless office worker. Joy may seem to be the "weak link" of her family, but none of these women are fulfilled. Helen is deeply alienated by her success, and Trish is in a sexless marriage with psychiatrist Bill Maplewood (Dylan Baker). 
A comparison to "American Beauty" isn't unreasonable at face value, but Solondz's commentary on suburban life goes deeper and much darker. Philip Seymour Hoffman shines as Allen, a slovenly sad-sack fantasist, but the real nexus is Maplewood, whose temperate demeanor belies a mind addled with mass shootings and 11-year-old boys. Bill never buys a gun, but he does find a boy, and he acts on his urges with disturbing aforethought. Bill is monstrous, but he isn't a monster. Solondz and Baker present a human being, not a bogeyman. "It's a very disturbing film," Baker told Backstage, "[but] the ability to go in and really find the depths of this character was a little releasing and actually invigorating."
The clash of taboo and humanity makes "Happiness" an unsettling experience. Other filmmakers may have tripped and created something grossly flippant, but Solondz's film remains balanced with a deft mix of humor, pathos, and narrative scope.
If you or someone you know may be the victim of child abuse, please contact the Childhelp National Child Abuse Hotline at 1-800-4-A-Child (1-800-422-4453) or contact their live chat services.
Read this next: The 15 Best '80s Comedies Ranked
The post Underrated '90s Movies That You Need to See appeared first on /Film.