This post contains affiliate links - using affiliate links from Homeschool Coffee Break helps fuel this blog. 
Teaching literature in middle school and high school might seem daunting, but sometimes it's a matter of choosing a curriculum that's a good fit. In our homeschool, we used mostly all-in-one Language Arts courses, at least for the older kids. However, with the younger ones we were able to review some courses that focused on Literature specifically for middle and high school grades. Here's a collection of curriculum we've used or reviewed.
********************
Illuminating Literature: When Worlds Collide
 and Illuminating Literature: Characters in Crisis are two full-year one-credit literature courses from Writing with Sharon Watson.
 We initially reviewed
When Worlds Collide
and thought it was wonderful, but didn't have time in that school year to do the entire course, but I saw how good it would be in a group setting, so last year I taught it in our co-op. This coming year I plan on teaching
Characters in Crisis
in the co-op. 
These courses are designed to teach literature in a relaxed atmosphere that will appeal to both eager and reluctant readers. Each course guides students through several novels, teaching
 literary terms and elements, and hopefully inspiring an appreciation for fine literature. The curriculum is written from a Christian worldview perspective for use in Christian high schools, homeschools, and co-ops. (But not all the novels studied are written from this same perspective, and some may contain words or events that may be offensive. However, the curriculum also strives to teach students how to analyze stories to separate wheat from chaff, and to be discerning readers.) The guide is written to the student, with clear lessons and reading schedules, so the student can work on their own, while the Teacher's Guide provides answer keys and grading grids to make the instructor's job easy! There are plenty of tips for how to use the course in a book discussion group or co-op class as we've done.
There is a Quiz and Answer Manual that is optional, because the quizzes are available online. There are three kinds of quizzes - "Yes, I read it", literary terms quizzes, and opinion surveys. There is also Novel Notebook goes along with the textbook, which is a required element of the course. It is available as a free PDF download from the website. Students use the notebook to record favorite passages and quotes from the books they read, collect examples of the literary devices and themes they see in the literature, and jot down some of their own opinions and conclusions about the books.
With a student guide that acknowledges that not every student is excited about reading, and is written in a conversational and sometimes humorous tone, this course is an excellent choice for both avid and reluctant readers, and invites friendly discussion, questions, and opinions. The choice of assignments is varied and includes things like artwork, performance, watching and evaluating movie versions, and creative writing.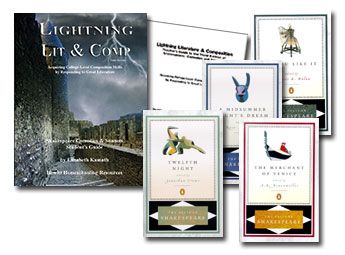 The 
Lightning Literature series
has studies designed for elementary, junior high, and senior high students. The focus is on whole books and classic literature, teaching deep reading and writing skills, and building a love of reading and learning. Each of the Lightning Lit studies for high school students is an in-depth focus on reading and writing, and are designed to be completed in one semester. Each centers on a particular time and place, author, or subject. The guides include biographies of authors, comprehension questions, writing exercises, discussion questions, and additional reading suggestions.
We used and reviewed 
Lightning Lit & Comp for Grade 7,
and followed up with 
Lightning Lit & Comp for Grade 8. 
These middle grades guide taught grammar, literary elements, and composition. The writing exercises in each unit challenge the student to try their hand at writing short stories, poetry, and other compositions using the techniques they are learning about. 
We also used and reviewed a couple of the high school level courses, and found them quite challenging in terms of the amount of material covered. We used the pick-and-choose method of using these study materials for some of the novels. We reviewed 
Shakespeare Comedies & Sonnets,
a one-semester study that covers eight of the bard's sonnets and four of his comedies. The study begins with an introduction that includes the basics of writing a good paper.
 The Student Guide is written directly to the student. Each unit begins with the study of one of the comedies, and ends with a study of two of Shakespeare's sonnets. There is background information on the play, a plot summary, comprehension questions, a literary lesson, and finally a selection of writing exercises. 
A few years earlier we reviewed and used some of 
Lightning Lit and Comp: American Mid-Late 19th Century. 
By the end of this course, a student will have read four important American novels, and several selections of shorter works and poetry by American writers. It also introduces a couple of American poets, and guides students in writing up to a dozen papers analyzing and responding to the literature. 
In each of the high school courses, the Teacher's Guide gives lots of tips for grading student writing. The tips are specific to Nonfiction, Fiction, and Poetry writing assignments. There is a Checklist for grading each type of writing, and Grading Templates are included. The Teacher's Guide is also the source for the Discussion Questions for each Unit.
We found the pace of the high school courses challenging, especially for students that don't like to read or write. They are one-semester courses, but there is a full-year study schedule suggested, which may work much better for reluctant readers, or students without previous experience in thorough literature study.
See our reviews here: 
********************
Progeny Press
 has been publishing study guides for literature since 1992, and have many guides available covering literature for Kindergarten through high school. The guides approach literature from a Christian perspective, and focus on critical thinking, comprehension, literary analysis, and Christian application. The Interactive Study Guides are available on CD or as downloadable E-Guides, and students can enter answers directly into the interactive .pdf guide if they wish to work on the computer. We reviewed studies in middle school and high school grades from this publisher, and liked the interactive format of the Study Guides and the thorough literary analysis from a Christian perspective. These high school study guides are designed to take between ten and twelve weeks to complete, and recommend that students read through the entire novel in the first week and then re-read in sections while completing the study in the following weeks. Again, students that are reluctant or struggling readers may find the pace of the high school level courses challenging.
Since the high school guides are intended to be completed in a little more than half a semester, each would be worth about a quarter credit. These guides are a great choice if you want to pick and choose which books you study rather than get a full curriculum.
********************
You may also take a look at our review of 
Moving Beyond the Page.
These are literature based unit studies, and we used one for The Hobbit and thought it was excellent. 
********************
Take a look at what 
SchoolhouseTeachers.com
has to offer. Among their wide selection of 
high school level Language Arts courses
 there are a number of literature courses. These include African-American Literature, American Literature in Historical Context, Science Fiction Literature, British Literature, World Literature, and more.
With all the literature courses to choose from, plus curriculum for every other subject at every grade level, you can find what works for you without spending a lot of money on a curriculum that may leave you swimming in circles. Simply point, click, and teach with 
SchoolhouseTeachers.com
! Code: SHARK secures new members a discounted rate of $179 for two full years and a free tote with a PRINT back issue.
I also shared some reading lists and more information on how we've taught literature in 
Lots of Literature.
As always, I'd be delighted to answer further questions about these resources, or any questions you may have about homeschooling. 
©2006-2020 Homeschool Coffee Break. All rights reserved. All text, photographs, artwork, and other content may not be reproduced or transmitted in any form without the written consent of the author. http://kympossibleblog.blogspot.com/ 
 We are a participant in the Amazon Services LLC Associates Program, an affiliate advertising program designed to provide a means for us to earn fees by linking to Amazon.com and affiliated sites.